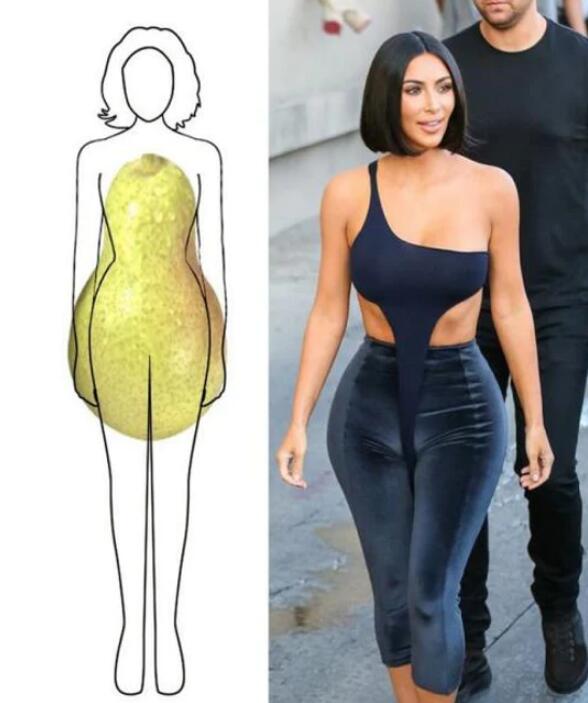 The pear body shape is the most common female body type, which means you have the widest range of clothing available to fit your dimensions!
But as there is more than one type of pear-shaped figure, lots of women struggle every day with the proportions they need to dress.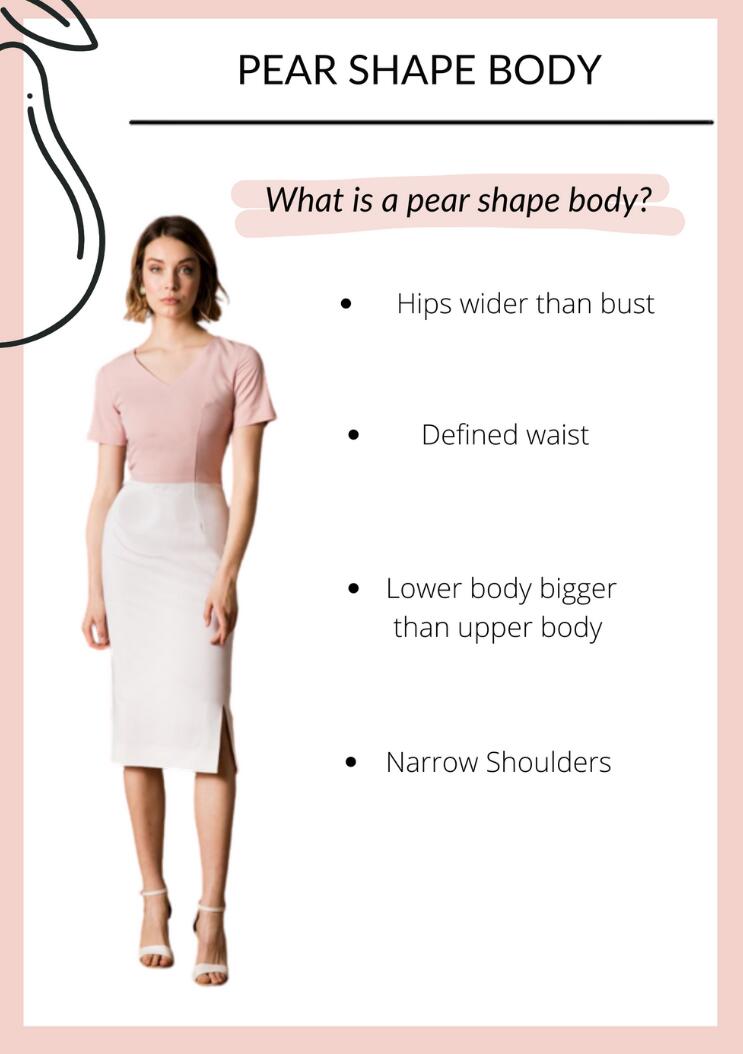 This article deals with all aspects of successfully dressing a pear body shape and is a complete guide to building-up a wardrobe of well-fitting garments that flatter your personal shape and size!
Very few women have received any sort of guidance on their natural silhouette and how to choose their best styles out of an ocean of fashion trends that swamp our shopping malls.
However, if you've landed here, I can assure you that you will learn everything you need to know to help you dress better.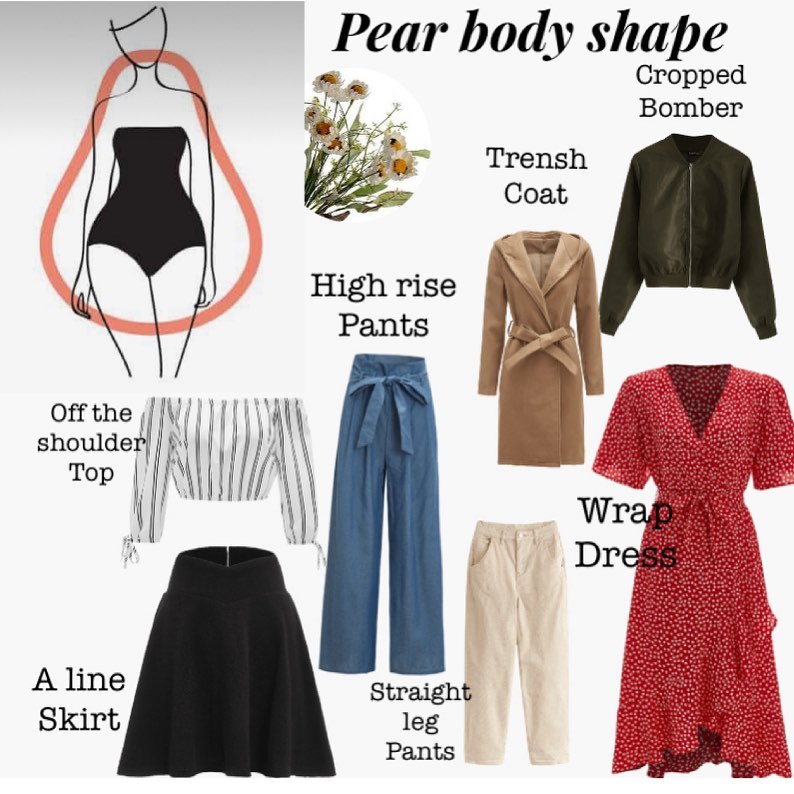 And in addition, you'll get better value for money out of the garments you buy in the future, because you'll enjoy wearing them and feel confident in your new wardrobe of figure-flattering clothes.
So get ready to learn the answers to so many of the questions that haunt you in your quest for elegant and casual style!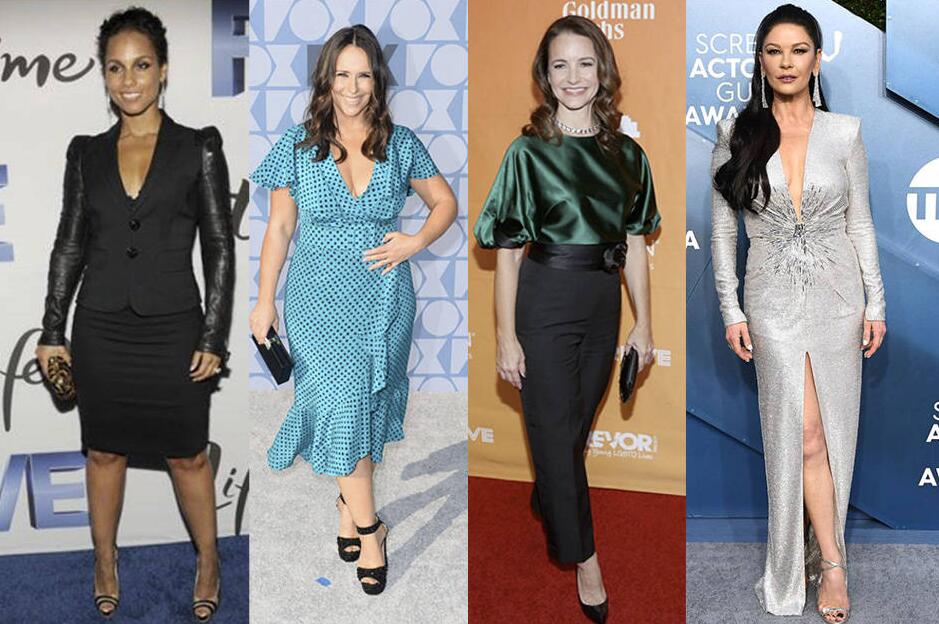 a) What are the different types of pear body shape?
Each pear body shape has narrower shoulders, a high waist and wider hips. And any extra weight is usually carried around the hips and abdomen, but not on the bust or upper back.
But don't expect all pear-shaped women to have the same measurements, as within this shape there are many different variations.
Moreover, there are plenty of slim, pear-shaped women, too.
At present, most fashion designers recognize four different type of pear body shape:
Athletic pear
Curvy pear
Gentle pear
Slim pear
But you'll know you're a pear-shape if your hips and thighs are the widest part of your body.
You will have a smaller bust, shoulders and waistline compared to your hip measurement and your waist will likely be wider than your bust.
Pears usually have thicker thighs, sometimes with a 'hip-dip', which helps your waist to be well defined.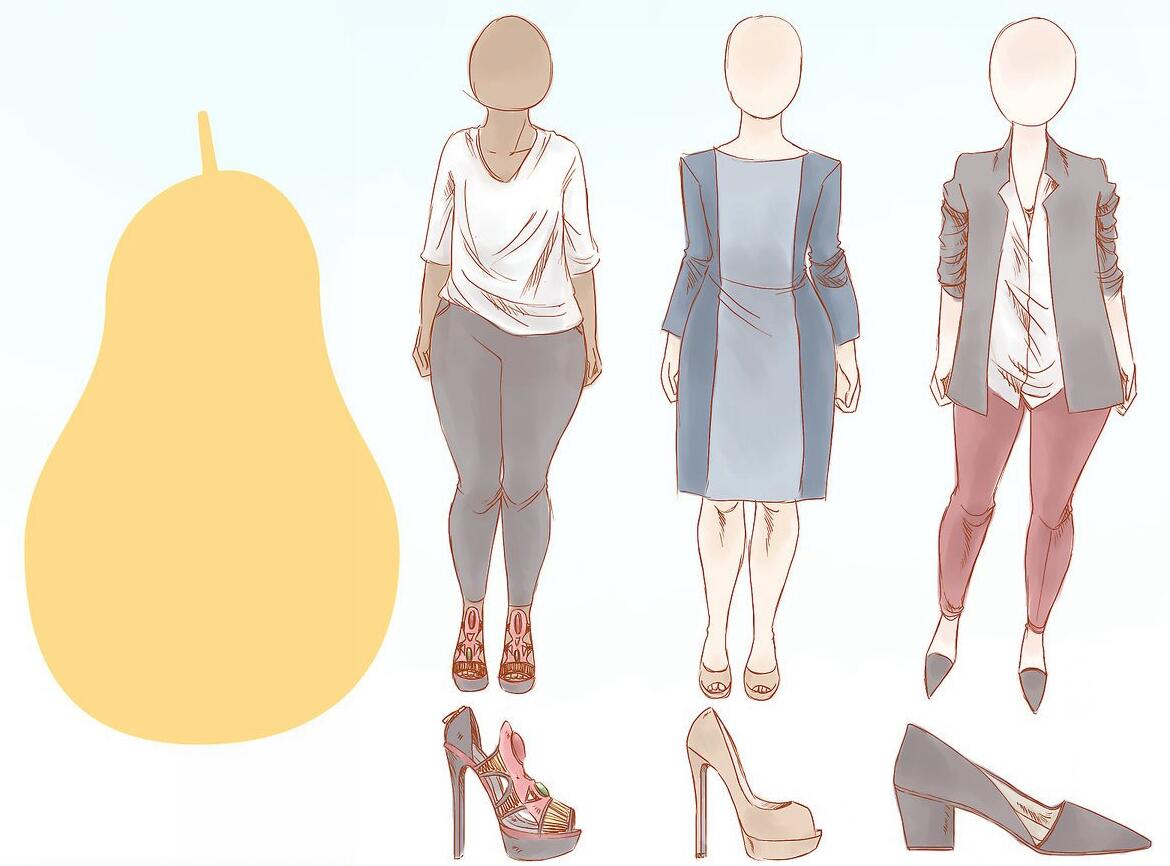 Some pear types have a fuller, rounder bottom and most have a weight gain pattern that sees weight show up first on the abdomen and/or the top of your thighs.
And if you are one of the slim pear shapes, your style goal will probably be focused on lengthening your vertical line, rather than 'playing down' your hips.
b) What style aims should pear body shapes have?
The classic style aim for pear body types is to balance out your proportions by accentuating your upper body and minimizing your hips and thighs.
And this is a great way to bring you nearer the balanced 'hourglass' figure.
This illusion can be achieved with a variety of visual tricks, such as using heels to make you appear taller and clothing that helps your legs look longer.
One particular mistake I would like to highlight is outfits that accentuate the bottom half of a pear-shaped body, like patterned or brightly colored pants.
This naturally draws attention to your widest section and makes your whole lower section appear heavier.
But there's a lot more to balancing a pear-shaped figure than that and you'll find out exactly how to do it with this detailed guide.
c) What are the best garment styles for pear body shapes?
First of all, remember these three golden rules for styling pear-shaped figures:
Accentuate your upper body – bust and shoulders
Define your smaller waist – never hide it
Lengthen your vertical line
These guidelines will help you understand what type of garments you should be buying as you build up a flattering wardrobe for your shape:
Clothing with strong shoulder lines helps widen your top section and balance with your hips
Get measured for your correct bra size as the better it fits, the more it will highlight your bust and waist
Wear tops in patterns and brighter colors
Try to stick to darker shades below the waist to help lengthen your vertical line
Select looser blouses and shirts to add volume above the waist
Wear sleeve-styles that have volume
Wear thin belts to emphasize your waistline
Keep your skirts and dresses knee-length
Some pear shapes also look great in a shorter hemline, but not as short as a mini
Athletic pear shapes should avoid above-the-knee skirts altogether
Jackets are excellent for adding width above the waist, as long as they don't hide your waistline
Choose shoes that make your legs appear longer to enhance your vertical line and slim your legs
Avoid
Boxy jackets and garments that cling to your hips and cover-up your waistline
d) What not to wear on a pear body shape?
Some fashions just don't suit certain body types and skinny jeans or highly tapered trousers are two of the styles pear shapes should certainly avoid.
However, if you like wearing comfy, stretchy, skinny jeans, try to balance your body shape by taking extra care to highlight your bust, shoulders and waistline.
And in addition to that, here are some other suggestions about what other clothes to avoid:
light-colored or patterned trousers and skirts, which add width to hips and thighs
sailor pants with decorative buttons placed on either side of the stomach
skirts or trousers with fancy details – look for flat-front trousers without pockets if possible
short-legged shorts and Lycra cycling shorts
stretchy body-con dresses that leave hips and thighs no place to hide
shoes with rounded or squared-off toes as they will make your legs and hips seem wider
e) What general fashion 'rules' help flatter a pear body shape?
Use layering, especially with a jacket or cardigan to add visual volume above your waist.
If you struggle with separates to fit your waist and hips, switch to dresses – they may cost more, but will give you better body confidence and last well if you choose good quality fabrics.
Look for dresses with details/ornamentation/shoulder details to accentuate your top section.
Embrace puffed sleeves, all types of fancy or dramatic sleeve and garments with strong shoulder lines or epaulettes.
If you're not already doing so, wear a bra with some padding.
And remember to look for accessories that help elongate your line – see further down
Up-to-date pear body shape guide to wardrobe basics


1. Shirts, tops & blouses for pear-shape guide to wardrobe basics
Give plenty of attention to these garments, as they can make or break a body-balancing pear shape outfit.
Look for items with decorative features, fancy sleeves and interesting shoulder details to draw the eye towards your upper section.
To help show off your defined waist and accentuate your shape, try wearing fitted/shaped shirts, but not tightly-fitting stretchy tops.
And a tucked in top is a brilliant way to accentuate your waist, especially if it's soft enough to create the blouson effect of volume just above the waist.
You can also use the contemporary French Tuck to show your waist at the front, but leave enough shirt or blouse to just cover your hips at the sides and back.
Layering shirts and blouses also creates extra volume above the waist, but make sure the top layer is a shorter length.
Crop tops are a good choice if they finish just above the waist and are loose-fit, never tight.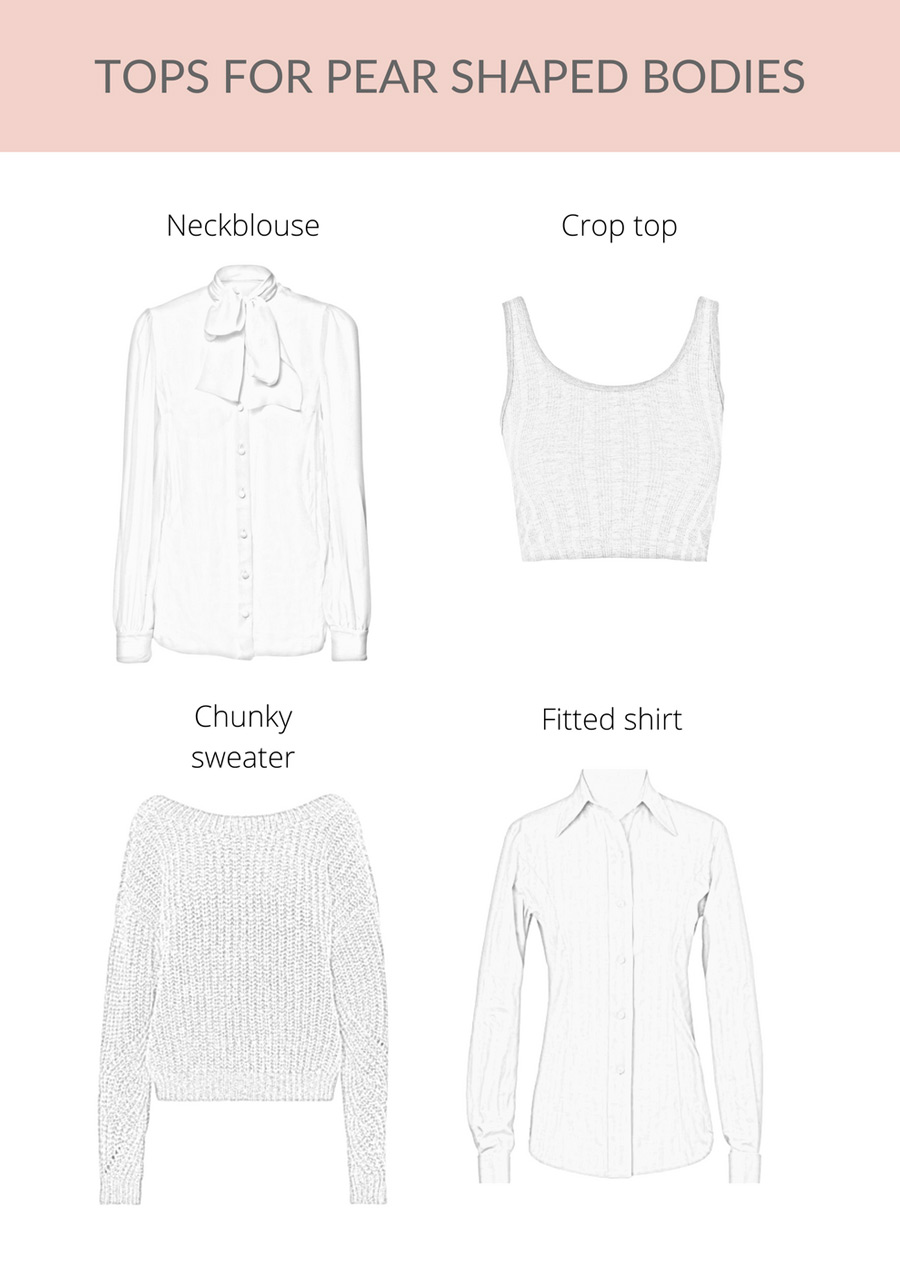 And any shirts with extra volume or decoration around the neck and shoulders are a great choice.
For example, pockets on the bust-line, puffed or fancy sleeves and a pussycat bow or ascot neckline.
Remember that the best hemline length for pear shape tops is the middle of your hips and no longer than that.
This will cover the flared-out shape and just leave the section that tapers inwards on show.
Shirt, top & knitwear checklist for pear-shape guide to wardrobe basics
Ascot worn with shirt
Bardot bare-shoulder styles
Blouse with short line of ruffles down the front
Chest pockets – never wear tops with hip-pockets
Medium to heavy-gauge knitwear with pattern around the neck or shoulder detail
Cable knits are a flattering style for you if they are finish above the widest part of the hips.
Longer cardigans – If you like wearing longer cardigans, choose one that ends at mid-thigh, as this will make your torso appear longer and wear shoes that help make your leg-line look longer
Fancy sleeves of any type, puffed, pleated, split or gathered
Fitted shirt – half-tucked in at the waist
Loose-style cropped-top
Tie-necked blouse
Patterned, horizontal striped tops
Wrap Tops can look great on some pear shapes, as long as the hem is above the hip-line and the V-neckline isn't too low
Try on each wrap-top and evaluate carefully to see if it's right for your proportions
Avoid
Corset-style tops
Loose or oversized shirts that create more volume below the waist
Fine-gauge knitwear
Knitwear with raglan sleeves
Long shirts/tops that cover your bottom and hips completely
Open cardigans or shirts/tops below the waist
Peplums, ruffles, waterfall styles below the waist
Tube tops, corset-styles and laced bodices
2. Necklines for pear-shape guide to wardrobe basics
Fortunately, pear body shapes have plenty of choice when it comes to necklines.
But the most important thing to bear in mind is not to draw attention to narrow shoulders or a small bust.
So this means not wearing slim collars or spaghetti/thin straps on your shoulders, as this would 'cut-through' the horizontal line you need to make your shoulders seem wider.
Boat-necked garments are very helpful in making shoulder appear broader.
Pear shapes look great in the cowl neckline, as it creates a focal point around the neck area and away from your hips.
And if you are a petite, pear-shape the cowl-neck is highly recommended for lengthening a short neck.
V-necks can be tricky for pear shapes, as they draw the eye down towards your hips.
And V- or scooped-necks may gape when worn on a smaller chest, minimizing your upper section – so give them a miss.
Necklines checklist
Boat necks
Cowl necks
Off-the-shoulder tops
Queen Anne neckline – wide and deep
Sabrina neck – for medium to tall pear shapes only, this is good to wear with a padded/push-up bra
Bateau neck – a Sabrina shape, but scooped out deeper
Thicker turtlenecks are useful for adding volume to your neck/shoulder area.
Turtleneck – very flattering for petite pear shape body, it lengthens a short neck and creates a focus around the neck.
Wide Square neckline – avoid a narrow square-neck as it minimizes the bust-line
Tie-neck blouses
Avoid
Tube tops
Spaghetti straps
Plunging necklines
These three styles make the upper section appear smaller and the hips appear wider.
3. Best sleeve shapes for pear-shape guide to wardrobe basics
Luckily for you, all of the fun and fancy sleeves are recommended for pear body shapes!
And sleeves with shoulder-padding or any interesting seams at the shoulders are great.
Look for sleeves that add volume to your upper body, like shorter, structured, puffed and fluttery sleeves.
However, be careful to avoid long styles, like Bell-sleeves, which add volume at the wrist and make your hips appear wider, when your arms are down.
Sleeve-style checklist
Puffed sleeves – especially for petite pear body shapes to add shoulder width
Padded/stiff shoulders
Cap sleeves
Juliet sleeves
Petal sleeves
Flutter sleeves – short
Elbow length sleeves
Sleeves tapered in to the wrist
Avoid
Cape sleeves
Cascade sleeves
Long bell-shaped sleeves
Raglan sleeves
Sleeveless top with thin straps
Soft, slouching sleeves
4. Jackets for pear-shape guide to wardrobe basics
Jackets that flatter pear shapes should never finish at the widest section of your hips.
Choose a length that ends below the widest part of your hips, or at your mid-thighs.
Or you can go for a cropped jacket that ends at your waist or slightly below.
Try to find jackets with strong shoulder lines and avoid kimono-style jackets in soft, flowing fabrics.
If you are buying online, remember that the model illustrated wearing the jacket will probably not be a pear-shape, so you won't get an accurate idea of how the jacket will look on your body.
It's always best if you can try the jacket on before a full-length mirror before you invest in anything expensive.
Best Jackets for the Pear Shape Body
Belted jacket without hip-pockets
Cropped denim jacket
Cropped leather jacket
Long blazer
Short Bolero or Shrug made from thick wool/fabric
Avoid
Double-breasted blazers
Jackets in soft fabric, unlined or flowing
Peplum jackets
5. Coats for pear-shape guide to wardrobe basics
The most flattering coats for your body type will finish either above or below your hips' widest point.
Concentrate on where the hemline appears on your body, because coats that end just below your bottom or mid-thigh help create the best outfit balance.
A coat that's fitted around your upper body with a swing-out shape at the hips is perfect for you.
But box-shaped or straight up and down coats create an unflattering, rectangular look, and if it's thick below the waist it will naturally exaggerate the size of your hips.
Coat checklist
Trench coats – strong shoulders will be fine if the coat comes down below your knees, otherwise mid-thigh lengths are recommended
Wrap-coats – in nearly all styles look good on pear body shapes, especially those with a large collar
Princess-seam – this structured style helps accentuate your top section and drapes nicely over the hips
A-line – this is an excellent choice for any pear body type, as long as there are no fancy hip-pockets – and the fastenings are above the waistline
Parka with belt – vital for very low-temperature locations, these look best with a fitted waist or a belt and mid-thigh length
Funnel collar coats – fine as long as it has a structured top section and isn't boxy
Double-breasted coats – as the buttons on this coat style are set higher up and not around the hips, the double-breasted coat is another good choice
Avoid
Peplum coats
Hip-pockets or details around the hips
Straight-cut or boxy shapes
6. Best dresses for pear-shape guide to wardrobe basics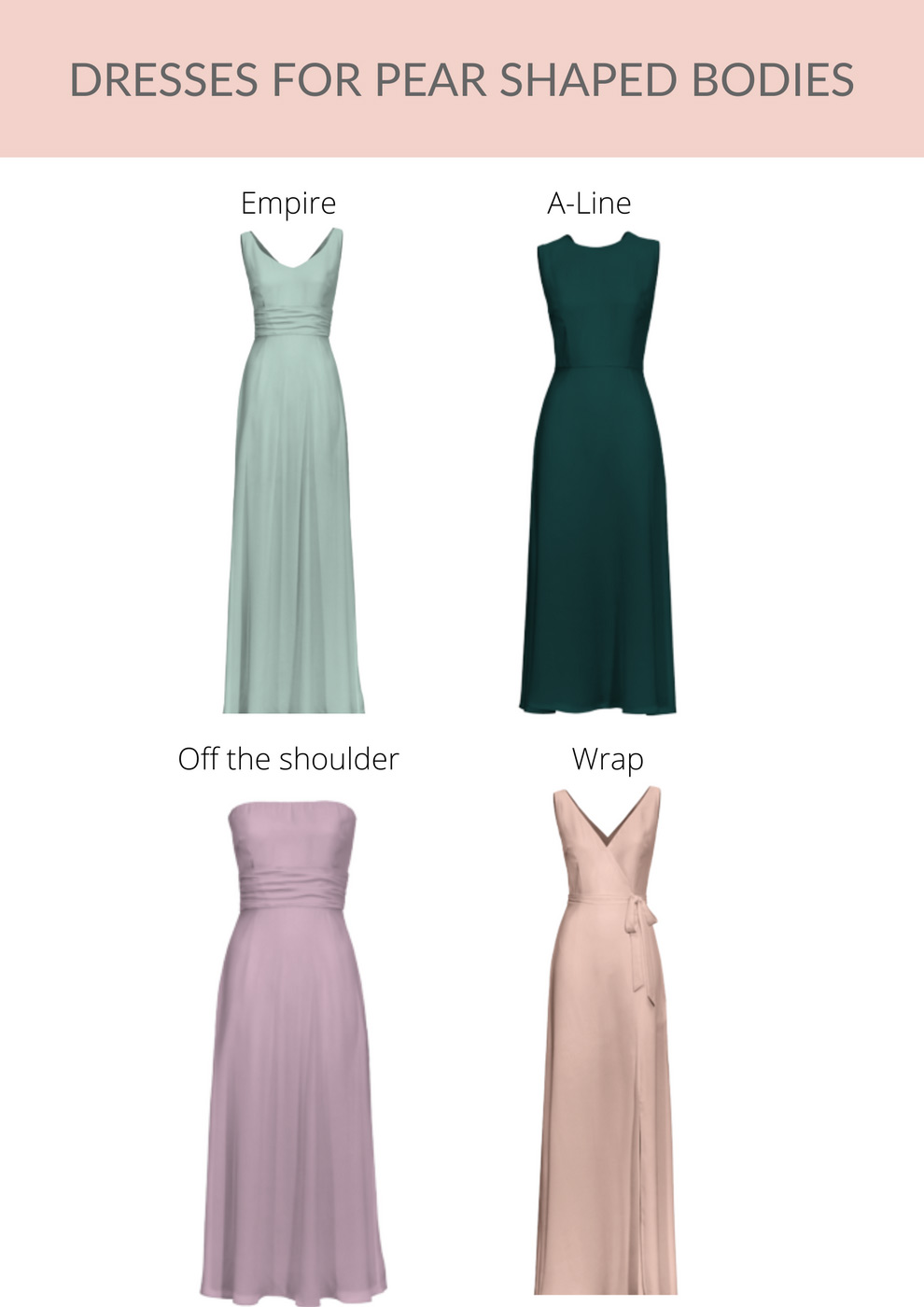 Dresses can add elegance to your everyday appearance and make it easy to get ready in a couple of minutes.
And the main thing to look at is how to put more focus on your top half and less emphasis below the waist.
So this could include patterns and colors that attract the eye above the waist, plus decorative details and breast pockets.
Also, try to find dresses that accentuate your waistline as this is a great way to make your figure appear better balanced.
Obviously, avoid dresses that cling to your hips and make your top look smaller.
Dresses checklist
A-line dresses – this is the ideal style for pear body shapes as they are especially cut to create a slimmer looking waistline and hips
Wrap dresses – are an excellent choice for you as long as you don't wear a deep V-neckline
Off-the-shoulder dresses – always a great choice for pear body shapes as they add width to the shoulders and are extremely feminine
X-dresses – this style also does a fine job of distracting the gaze from your hipline and has an open sleeve that makes for a strong shoulder line
Shirt dresses – another good style as long as it's loose around your hips
Fit & flare dresses – these are good as long as the flare starts above the hips, to give a similar silhouette to the A-line cut
Circle skirt dresses – these are recommended as they swirl around the hips in softly draping fabric
Avoid
Skirts with a lot of gathers as this adds volume at hip level
Body-con styles
Mermaid styles
7. Skirts for pear-shape guide to wardrobe basics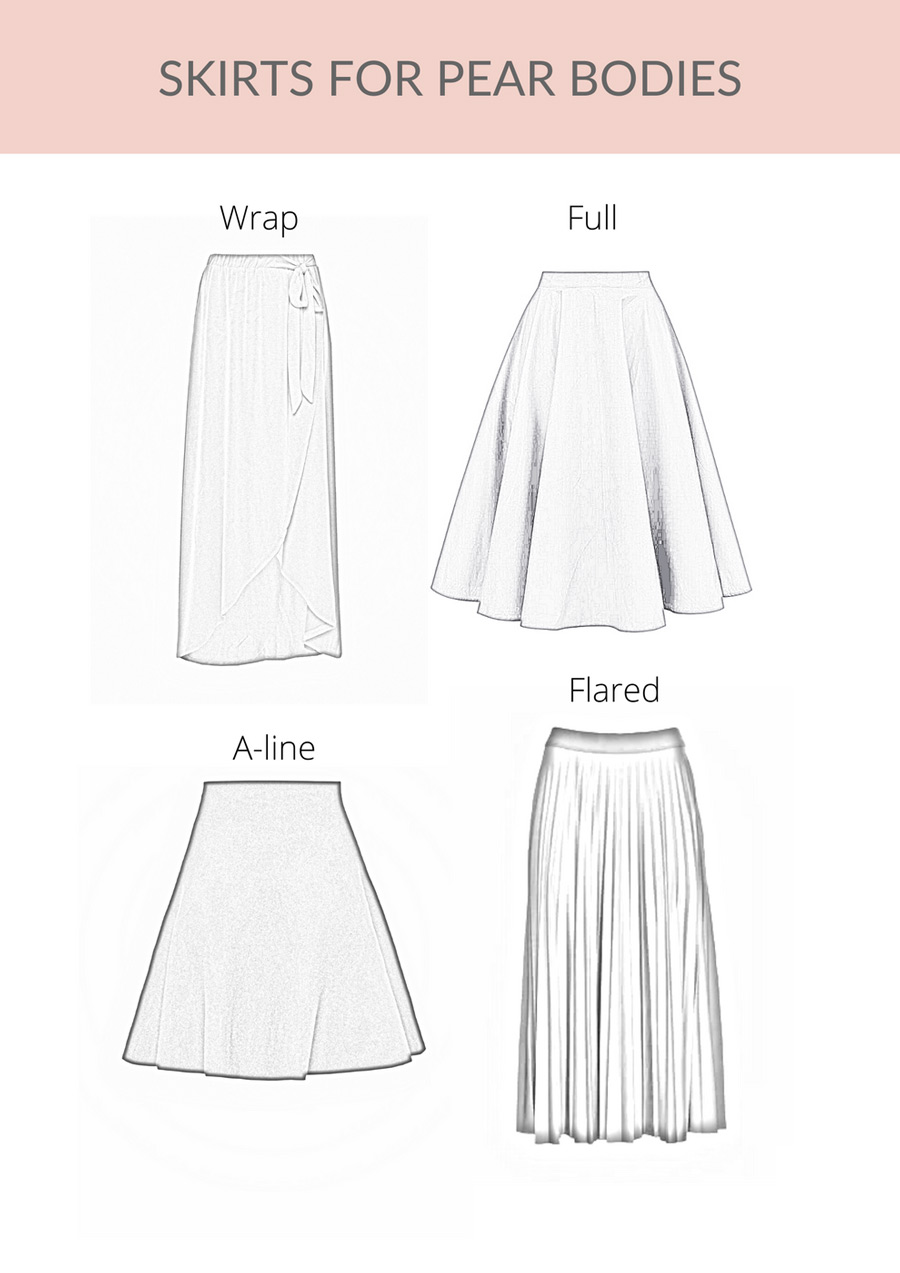 Skirts are an excellent wardrobe basic for anyone with a pear body shape, and these guidelines will ensure you only buy the most flattering lengths and shapes for you.
Skirts are a good way to elongate the body, if you wear hemlines that stop just above the knee or reach down to mid-calf.
Choose medium or high-waist styles and avoid low-rise denim skirts that widen the hips and cut the vertical line to make your torso appear shorter.
The best styles are A-line skirts, paneled skirts and unlined circle skirts in well-draping fabric, which all flow lightly over your hips and never add width.
Skirt checklist
A-line
Unlined circle skirt – (not one with a stiff petticoat underneath)
Paneled skirt – as long as it is not tightly fitted at the hips
Straight midi or knee-length skirts
Bias-cut skirts – look great if they are not fitted or tapered and don't cling at hip-level
Asymmetrical bias-cut skirts are easier to wear than 'slip' skirts
Wrap Skirts – as long as they don't add hip volume and the tie is at waist level, not hip level
Avoid
Large pleats
Waistline gathers
Peplum styles
Pencil skirts
Tulip skirts
Tiered skirts
Body-con
Mini-skirts – make hips appear wider
Floor-length skirts – give lots of volume below the waist
8. Best jeans for pear-shape guide to wardrobe basics
A good way to make your hips and thighs appear slimmer is to always wear darker colors below the waist and lighter shades above.
This creates a strong visual illusion that works in your favor.
High- or mid-rise jeans?
To decide whether you look best in high-waist or mid-waist jeans, look at your hips and identify which part is widest.
The majority of pear body shapes look best in high-waisted jeans, which brings the shape inwards to highlight the waist.
However, if you are a slender pear shape or your widest hip-section is higher up than average, you could find that mid-rise jeans flatter you more.
Jeans styles to choose from
And the best jeans will be styles that are cut to be straight-legs down from the hips or gently flared styles.
So look for straight-legs, boot-cuts and wide-legs. Flared jeans work on some pear body shapes, as long as they are not tight around your thighs.
Women with a highly defined pear shape find it difficult to get jeans that fit both their hips and their waist, which is a nuisance for them as jeans are virtually a fashion 'uniform'.
However, some of the jeans' cuts in the Curvy Section of online stores are better shaped to fit your full hips and smaller waistline well, so give them a try.
Take a look at these brands for a better extreme fit:
Madewell 'curvy jeans'
Paige
Everlane
NYDJ's Curve 360
Avoid
Bell-bottoms
Slim-fit jeans
Skinny jeans
Pleated waist jeans
Low-rise jeans – emphasize and widen hipline whilst cutting your vertical line
Cropped jeans – make your whole look appear wider
Above all, avoid jeans with decoration around hip-level especially all types of 'wear marks'.
'Wear' marks are the artificially added 'faded lines' and 'crease lines' around hip level, which draw attention to the size of your hips.
9. Top trousers for pear-shape guide to wardrobe basics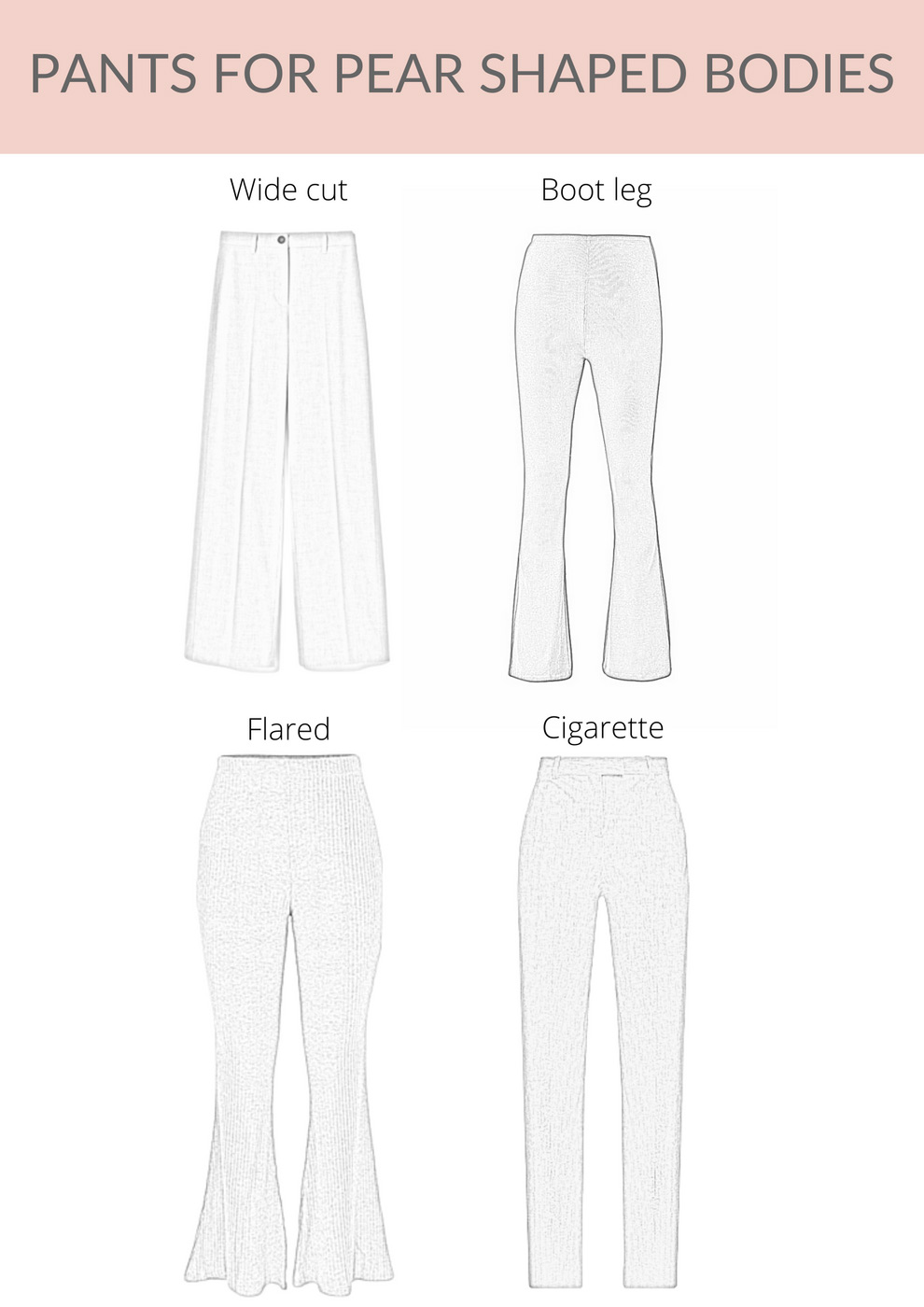 Generally speaking, you'll want to build a wardrobe that includes trousers that are the same silhouettes as your jeans, but in fabrics that look professional for work-wear and smarter for 'going out'.
Trousers checklist
Straight-leg trouser
Wide-leg trouser
Flare trouser
Bootcut trouser
High or mid-rise
Avoid
Tapered and skinny styles
Front-pockets
A paper-bag waistline
Palazzo pants
Peg-tops
Pleats
Decorative buttons like the sailor-style
10. Flattering shorts for pear-shape guide to wardrobe basics
The best styles of shorts for pear shapes have a high-waist, with an A-line or flared shape.
Some pear shapes can wear straight, Bermuda shorts, but it depends on your exact proportions, so try them on before you decide to buy.
Shorts that have a tie at the waist or some sort of waistline decoration help to balance out your figure well.
And shorts with a tailored look (but not tight-fitting), rather than loose shorts in a flowing fabric are also more flattering.
Avoid
Tight shorts
Pedal-pushers
Low-rise
Hip-level pockets
Hip-level decoration
11. Jumpsuits for pear-shape guide to wardrobe basics
If you fancy wearing a trendy jumpsuit, look out for: styles that accentuate the waistline, romper-suits, and styles with strong shoulder lines or decoration around the neckline.
The best leg shape is straight and bright colors, or vertical stripes, will look fine if they have a well emphasized waistline.
Avoid
Printed fabrics that overwhelm the body
12. What are the best accessories for the pear body shape?
Accessories make a vast difference to the look of any outfit and especially for women with a pear body shape.
So I recommend you concentrate your accessories on drawing attention to your head, shoulders, neck and upper chest.
So that could be hats, scarves, eye-catching earrings, sunglasses and necklaces, all of which will draw the eye upwards.
If you need to wear a belt, keep it slim or wear a tie-belt around your waistline, as belts can draw too much attention to your mid-section.
Shoes with heels always help make legs appear longer and hips slightly slimmer, but platforms don't really work on pear body shapes.
Avoid
Bags that rest at hip-level
Shoes with ankle straps that shorten the leg
Heavy bracelets that draw attention to your hip section
Broad or fancy buckled belts
Here are some examples of contemporary accessories that look great on your body shape:
13. Which celebs have pear body shapes?
As the pear body type is the world's most common female shape, there are endless famous women to get inspiration from!
Beyoncé
Christina Aguilera
Eva Longoria
J Lo
Kim Kardashian (pretends to be an 'hourglass' shape, but is in fact a pear)
Kristin Davis
Paris Hilton
Rachel Bilson (slim pear)
Rihanna
Outfits & Style Tips for Pear Body Shape Wardrobe Basics
1. Brightly-colored dress with thin tie-belt & cropped denim jacket for pear body shape guide
This shows how you can use color and shape to produce a highly attractive outfit that flatters your shape!
The waist is lightly defined with a thin belt and the short denim jacket adds the required extra volume to the model's upper section and shoulder line.
Most pear shapes shy away from wearing a bright color that could draw too much attention to the hips.
But I've included this lovely outfit to demonstrate that with the right dress shape, belt and jacket some pear shapes will be able to highlight their good features and balance out a large color-area.
So don't be afraid to experiment and challenge the rules from time to time!
2. Dark jeans with fitted tank-top & jacket for pear body shape guide
This attractive and fashionable outfit makes an excellent example of a correctly balanced 'look' for a pear body type.
High-rise dark-blue jeans help to make your bottom section appear slimmer.
And worn with a waist-defining, fitted tank-top, plus a jacket adding visual strength at the shoulder – covers all guidelines well!
3. Black trousers & brightly-printed top for pear body shape guide
Love prints and fresh, bright colors? Well, you can wear them very successfully along with black trousers or skirts.
The print will draw attention to your upper section and as I'm sure you know well, the black trousers will slim your hips and thighs beautifully!
4. Slimming dark jumpsuit & pastel faux-leather jacket for pear body shape guide
A dark or black jumpsuit has a slimming effect on body and legs, and a bit of waist emphasis plus straight legs helps elongate your vertical line.
A pastel-colored faux leather jacket creates extra volume in your top section and if you can find one with decoration that strengthens the shoulder line – great!
Remember that a brightly-colored lip-color and possibly sunglasses, depending where you live, also draw attention upwards!
5. Off-the-shoulder ruffled dress for petite pear body shape guide
This wide and deep neckline is perfect for slim or petite pear body shapes. You get the look of wider shoulders and a nicely accentuated waistline.
This is a feminine look that shows off nice shoulders in a very appealing way, so if you need warm weather clothes, look out for off-the-shoulder dresses and tops!
6. Trench coats for pear body shape guide
If you follow this guide to building a wardrobe that flatters pear body shapes, you'll see that your outfits will balance out your body type brilliantly!
And by using accessories, embellishments and details you'll be able to decide exactly where you want the emphasis to be.
For example, this lovely trench coat draws attention to the shoulders, and has details on the top section.
So there's no suggestion that the model may have pear shaped hips.
7. High-waist jeans with T-shirt & blazer with padded shoulders for pear body shape guide
Fitted jeans plus a high-waist can look very attractive on pear shapes, as long as the jeans aren't skin-tight.
The half-tucked in T-shirt is such a clever trick and loved by fashion-conscious women all over the world now.
It gives a touch of waist definition, yet manages to cover a lot of the hip area!
And padded shoulders are an excellent style for all pears to wear.
8. Straight-leg trousers under long blazer for pear body shape guide
Slim or athletic pear shapes can look wonderful in this clever combination.
A long blazer and straight-leg pants work really well on this body type and a vertically lined blazer is a smart way to make your whole body appear longer.
Wear with heels to add even more to your vertical line and get excellent balance!
9. Ruffled sleeves & high-waist jeans for pear body shape guide
Ruffled, open and 'fluttery' sleeves can work wonders in switching the look of your shape from pear to hourglass.
High-waisted jeans accentuate the waist and fluttery sleeves on a cute blouse combine to add balance and appealing curves.
——————————————————————————————————————–
So, I hope this pear body shape guide to wardrobe staples will show you how many different ways there are to dress in balanced and fashionable outfits.
Of course, these few suggestions are only offered as the basis of your fabulous, new wardrobe of flattering clothes.
Because now you know the main guidelines to dressing your body type, it's time to experiment and learn exactly what suits your individual dimensions.
Within the pear-shaped body type there are many different examples, so treat yourself like an adventure and spend time in stores trying on different items to see which silhouette is the best for you.
Once you've refined your understanding of your most flattering styles, you'll find future clothes shopping so much easier and quicker!
And when you have colors and styles that combine well, you'll see how much fashion-stress you've left behind.
Dressing well is really all about feeling comfortable and self-confident, whilst showing the best version of yourself to the people around you.
You don't need a lot of money to dress well, just the right knowledge of what shapes, silhouettes, styles and colors are best for you!
Your Comments
I hope this article has helped you feel a lot more positive about your body shape!
Pear-shapes are in the majority and this guide shows how many ways there are to dress better, feel better and enjoy building a dream wardrobe!
Take your time in changing to a figure-flattering, new wardrobe and plan what you need to buy carefully.
If you try to avoid impulsive buys and stick to your personal style goals, you'll get far more wear and value for money out of the clothes you buy.
And you'll feel more confident with a set of figure-flattering wardrobe basics that combine into a wide variety of outfits you'll love wearing!
Tell us what you think in the space below – your feedback is important to us:
Has this article helped reduce your 'fashion anxiety'?
Have you started putting together more flattering outfits?
Have you stopped wearing styles that don't flatter you?
Has it made shopping trips easier and restrained your impulse buying?
Have you gained in self-confidence?
Thanks for sharing your thoughts with the international HerStyleCode community!
HerStyleCode is a popular fashion and beauty magazine for forward-thinking women of all ages in the US, UK, Australia, Canada & New Zealand – and, of course, lots of other fabulous English-speaking countries!