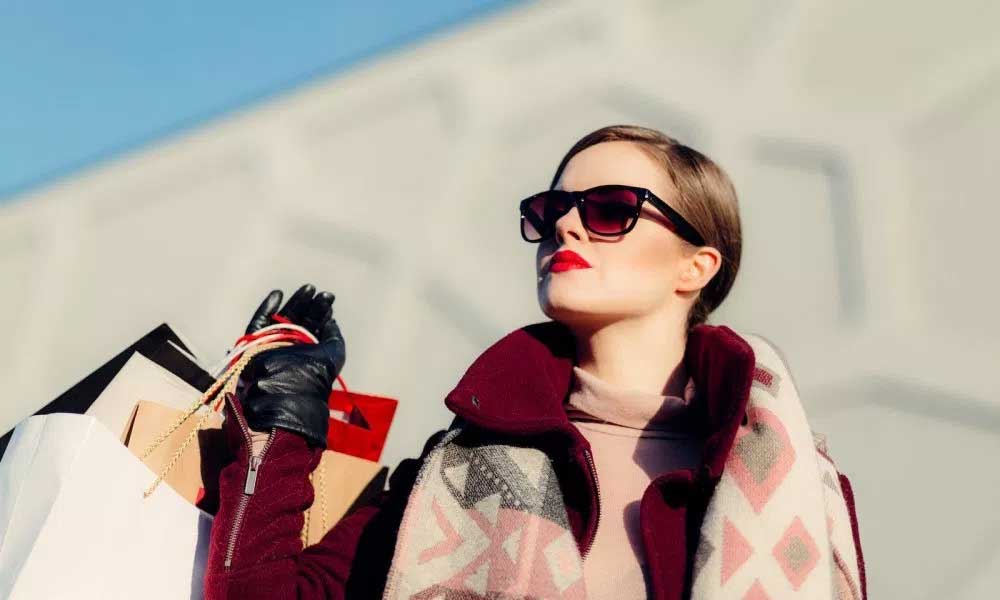 Every woman needs at least a few reliable brands she knows she can trust to provide quality pieces when she's shopping out of necessity or just for fun. Otherwise, you end up having to flounder around in department stores or online shops, sifting through endless brands with no knowledge about the quality, fit, or comfort of the pieces they offer.
There are few things more frustrating than buying a new dress or a pair of gorgeous shoes, only to have the fabric pill or the soles wear down within just weeks or months (or even after the first wash). Cultivating a collection of reputable favourite brands helps you avoid accidentally wasting money on low-quality pieces. Shopping from the same few high-quality fashion brands also helps you add cohesiveness and continuity to your wardrobe so you can polish and personalize your style before presenting it to the world. Check out these top ten luxury fashion brands, each one of which represents the best modern fashion has to offer in terms of both trend consciousness and quality.
10. Kate Spade New York
A versatile and vibrant brand, Kate Spade New York is renowned for its luxury shoes, handbags, trendy phone cases, and other accessories. However, the brand also carries a very wide range of clothing options.
Clothing collections from Kate Spade include everything from dresses to sweaters to sleepwear to athleisure. The brand even carries a bridal shop collection featuring wedding-ready heels as well as sexy lingerie and cutesy robes and PJs for brides-to-be. Like their beloved handbags, clothes from Kate Spade are bright and colorful while maintaining a sophisticated, put-together finish.
9. Lucky Brand
Lucky Brand is a classic luxury fashion brand known for their denim that speaks for itself in terms of quality, fit, and trendiness. Along with durable jeans of impeccable quality that fit like a glove, Lucky also carries tops, sweaters, dresses, loungewear, accessories and more.
The aesthetic of Lucky's pieces are crafted around Southern California heritage and culture. Many of their pieces take inspiration from vintage styles, art, music, and nature, giving them a carefree, artistic finish. Lucky jeans are meticulously hand-stitched and detailed in Los Angeles, California.
8. For Love & Lemons
Ideal for women who like to take bold fashion risks but still want to look polished and sophisticated, For Love & Lemons is a contemporary luxury brand founded in 2011. Its pieces–which include tops, dresses, skirts two-piece sets, and tons of creative floral prints-are artsy and bohemian with a feminine finish. These designs help women everywhere embrace their individuality and express their own unique style fearlessly.
The creative team at For Love & Lemons collaborates to create inspired sketches for the upcoming season's new pieces in-studio. In fact, every step of the brand's production process is personal and filled with creative energy that contributes to the artistic, earthy vibe of the pieces they eventually release.
7. Parker

Parker designs their clothing for trend-conscious city women who want to stand out in styles that look chic and effortless at the same time. Specializing in cocktail dresses and evening-wear, this luxury fashion brand also carries more casual tops, dresses, and jumpsuits.
The color scheme of clothing from Parker ranges from muted neutrals to vibrant floral prints. Many of the brand's pieces play with textured materials featuring adventurous lace and ruffled detailing in unexpected places. Overall, the vibe of the brand's releases is preppy and polished with a creative, carefree twist.
6. findersKEEPERS
A quirky, trend-conscious fashion label based in Australia, findersKEEPERS' clothing collections include dresses, tops, bottoms, and outerwear.
The design of pieces from findersKEEPERS help women express their own individualistic style while staying on-trend. This brand's releases are creative and take risks with textures and patterns while maintaining a polished finish.
5. Trina Turk

 
Trina Turk is another luxury fashion brand with an aesthetic that takes inspiration from the incomparably beautiful state of California.
This brand carries a refreshing blend of styles that borrow from vintage, classic American designs as well as creative, contemporary trends. Bold prints and unique shapes are common in collections from Trina Turk. Their pieces include casual and formal dresses, tops, bottoms, jumpsuits, outerwear, athletic wear, and an extensive collection of basics.
4. Mara Hoffman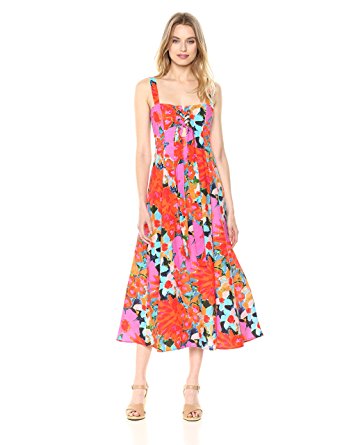 Environmental conservation is woven into every piece of clothing designed, produced, and released by luxury fashion brand Mara Hoffman. This environmentally-conscious brand focuses on using sustainable materials and processes. These extra steps allow the brand produce durable, top-quality pieces with a long lifespan that reduces clothing waste worldwide.
Clothes from Mara Hoffman include primarily organic and recycled materials. This brand's responsibly-made pieces come in vibrant colors and neutrals in creative, flattering patterns. Mara Hoffman's pieces include dresses, tops, bottoms, jumpsuits, outerwear, and more.
3. Ella Moss

 
Ella Moss carries a versatile selection of chic, boho pieces. The modest, sophisticated design of this brand's releases make them ideal for style-conscious, young-at-heart women.
This luxury fashion brand offers a broad range tops, dresses, sweaters, swimwear, and more. They also use a wide variety of materials to create pieces that are on-trend, soft, and comfortable at the same time.
2. Rachel Zoe
Los Angeles and New York, two of America's biggest cities and major fashion hubs, inspire styles by Rachel Zoe. Models and celebrities wearing Rachel Zoe pieces at special events, award shows, or on the runway are not uncommon.
Clothing from Rachel Zoe is elegant and chic with a polished and sophisticated finish. This luxury fashion brand offers a versatile selection of clothes and accessories ranging from casual, carefree jumpsuits to sleek, glamorous wedding dresses and much more in between.
1. Ted Baker London
Rich with unique character, every piece from Ted Baker London has a personality that is all its own.
This lighthearted luxury fashion brand produces a range of carefree, whimsical designs. In fact, all dresses, tops, skirts, jeans, swimwear, outerwear, and loungewear from Ted Baker make unique statement pieces that add creativity and style to your wardrobe.
All of the luxury fashion brands on this list carry versatile lines of well-made clothing and shoes. Their quality releases command the respect of fashion lovers everywhere. Explore some of these brands to expand your unique and style and start developing your own closet full of trendy, top-quality pieces.