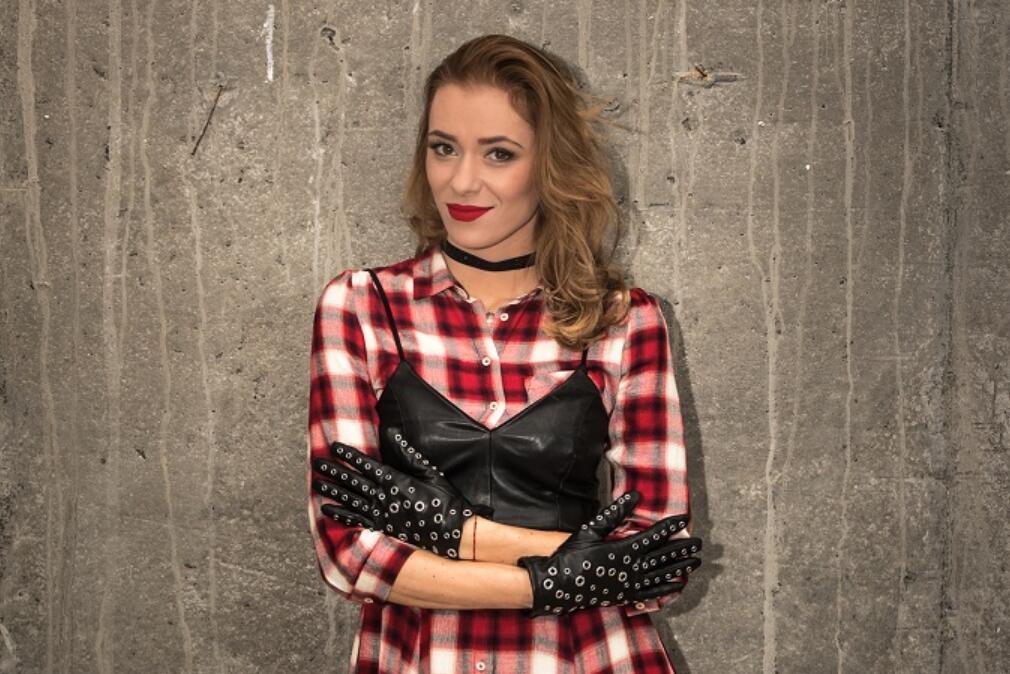 Glam rock fashion is all about being over-the-top and making a statement. It's often flashy and colorful, and it's not afraid to be outrageous. If you're looking to stand out in a crowd, glam rock is definitely the style for you.
What is glam rock fashion style?
Glam rock is a musical style that emerged in the early 1970s. It is characterized by its flamboyant, often outrageous fashion sense and its use of make-up, glitter, and outrageous stage costumes. Glam rock performers often used outrageous hairstyles and make-up, and they often wore tight, revealing clothing. Glam rock was a reaction against the more restrained and conservative styles of the early 1970s. It was also a reaction against the hippie movement and the counterculture of the 1960s. The genre was initially popular in the UK, but it later spread to other countries, such as the US. Glam rock was eventually eclipsed by other genres in the late 1970s, but its influence can still be felt in many current musical styles. The music is often guitar-driven and has a strong backbeat.
One of the most famous American glam rock bands is Kiss. They became a household name and their popularity only grew with each subsequent album release. Kiss became one of the most successful rock bands of the 1970s and their influence can still be felt today. Kiss has always been a band that pushes the envelope, and their stage outfits are just one way they do that.
Music and Fashion
Since the dawn of time, music and fashion have been intertwined. The two have always had a symbiotic relationship, with each influencing the other in a never-ending cycle. The styles of the most popular musicians have always had a huge impact on fashion trends, with people clamoring to imitate the latest look. In turn, the fashion industry has always been quick to capitalize on the latest musical trends, creating garments and accessories that reflect the zeitgeist.
In recent years, this relationship has only become stronger, with fashion designers and brands increasingly turning to musicians to help them sell their products. Musicians are now some of the most sought-after celebrities when it comes to fashion campaigns, with their names and faces appearing on everything from clothing to perfume. And as the lines between music and fashion continue to blur, it's clear that this relationship is only going to become more and more important in the years to come.
Glam Rock Fashion
Glam rock fashion is often associated with the glam rock music genre, which was popular at the time. The style was also popular among punks and new-wave musicians in the late 1970s and early 1980s.
Some of the most iconic glam rockers were David Bowie, Freddie Mercury, and Alice Cooper. They were known for their outrageous stage costumes and their willingness to push boundaries. Glam rock fashion is all about being unique and making a bold statement. Elton John is another well-known glam rocker, and he often wears sequined and glittery clothing. While some may say that his fashion choices are over the top, there's no denying that Elton knows how to make a statement. And, at the end of the day, isn't that what fashion is all about?
How to dress like glam rock?
If you're looking to make a statement with your style, glam rock is the way to go. Here's how to rock this style (pun intended).
1. Glam Rock Outfit Ideas: Animal Prints
Animal prints and glam rock fashion go hand in hand. Glam rock fashion is all about being flashy and over the top, and animal prints add an extra element of fun and excitement. Pairing animal prints with glam rock clothing is a great way to make a bold fashion statement that is sure to turn heads.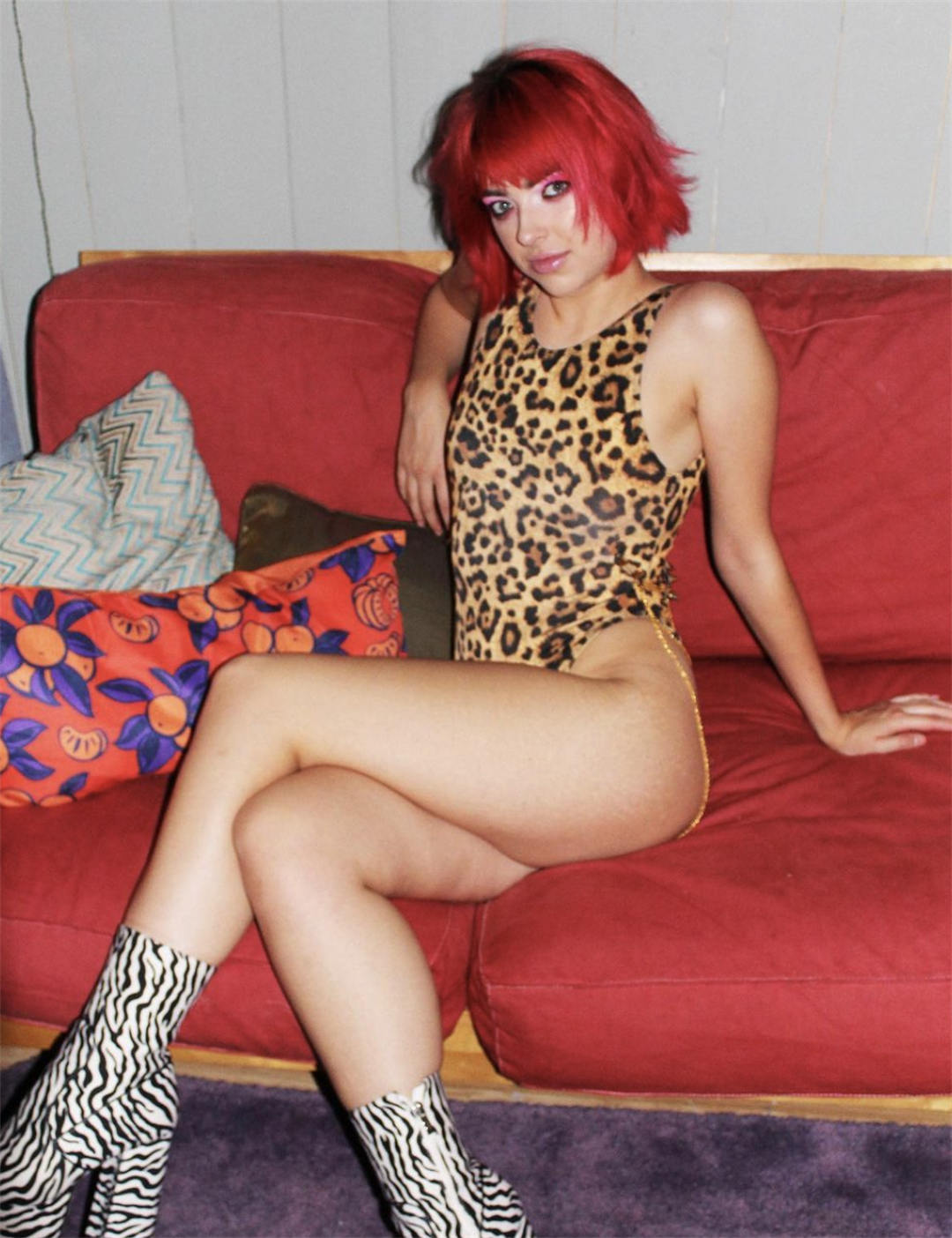 2. Glam Rock Style: All Leather
Leather has always been associated with sexiness and fashion. The all leather look is sleek and stylish, and it can be worn in a variety of ways. Leather clothing is often seen as edgy and fashionable, and it can be a great way to stand out from the crowd. Whether you're wearing a leather dress, skirt, or pants, you're sure to turn heads.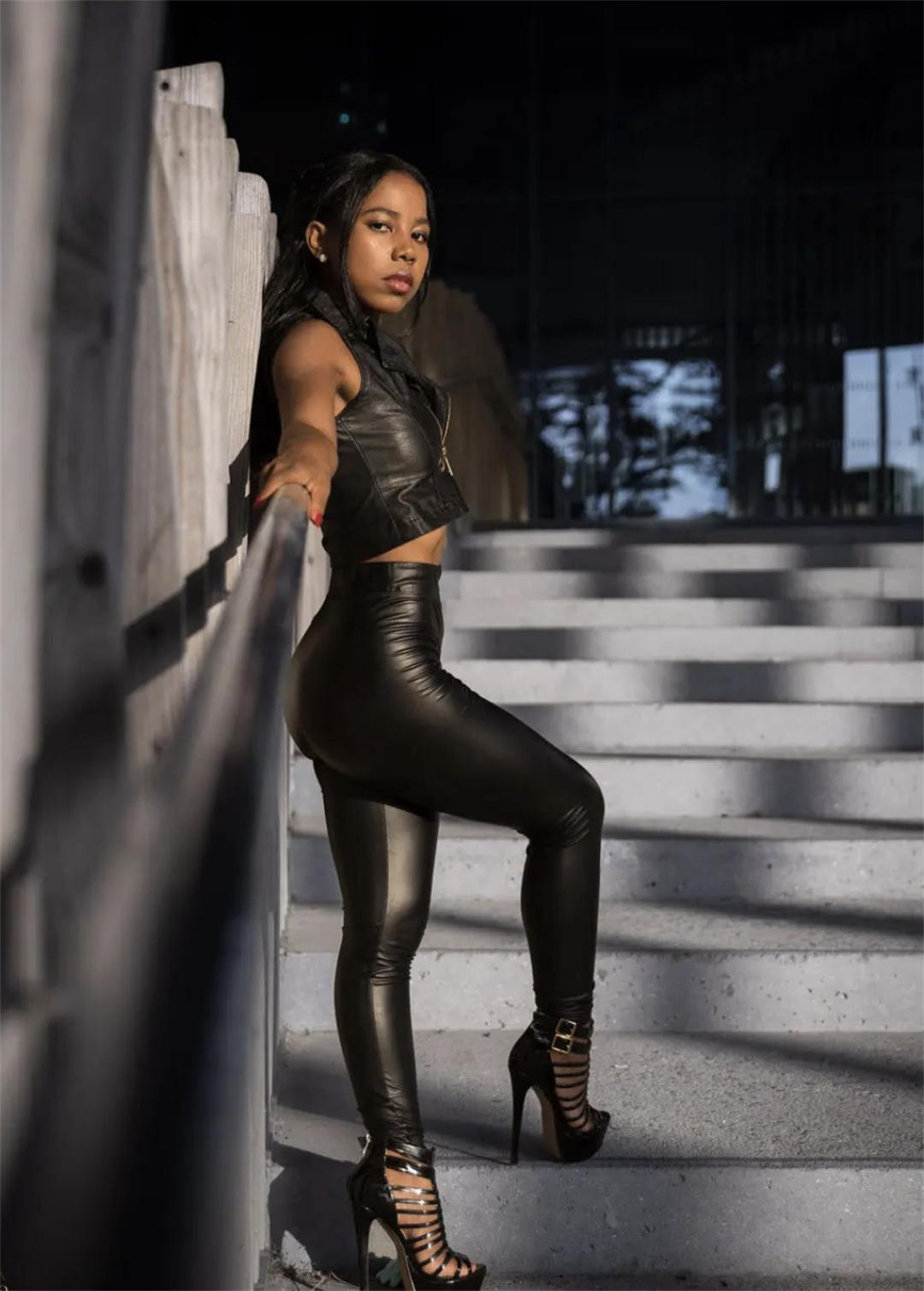 3. Glam Rock Fashion Outfit Ideas: Biker Jacket
The biker jacket is a timeless piece of outerwear that has been embraced by the fashion world time and time again. This season, the biker jacket is back with a vengeance as one of the key pieces in the glam rock trend that is taking over the runways and the streets. The biker jacket adds a touch of edge and attitude to any outfit, making it the perfect choice for those who want to make a statement. Whether you pair it with skinny jeans and a tee or a floaty dress, the biker jacket will give you the cool, effortless look that is so coveted this season. Choose a biker jacket lined with fur for extra warmth and comfort.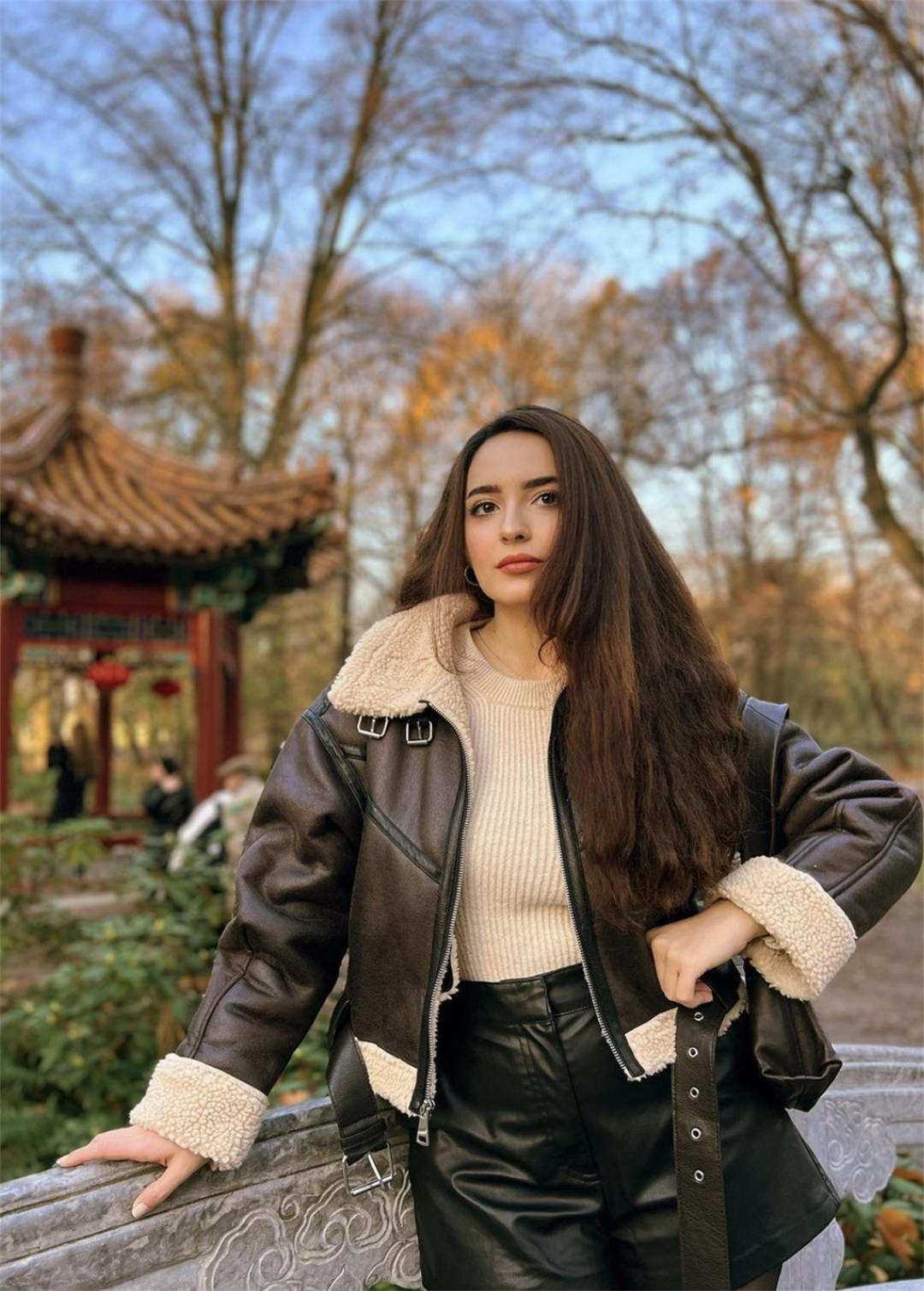 4. Glam Rock Outfit: Silky Shirt
There's something about a silky shirt that just exudes elegance and sexiness. Perhaps it's the way the fabric drapes over the body, or the way it clings in all the right places. Whatever the reason, a silky shirt is the perfect way to show off your assets and turn heads. Whether you're wearing it on a night out or just for a special occasion, a silky shirt is sure to make you feel like a million bucks.
This item is what gives the "glam" in Glam Rock.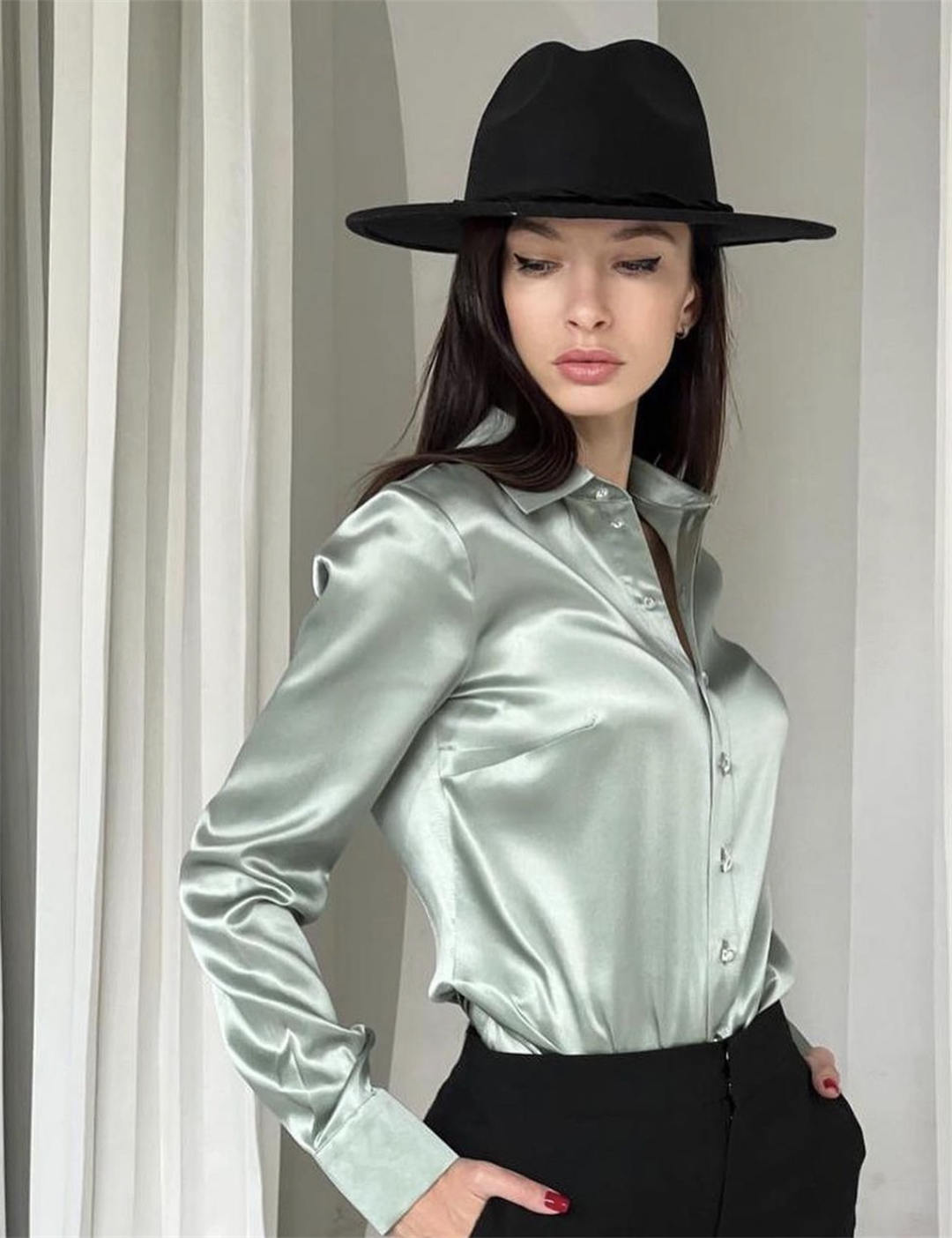 5. Sequin Dress
There's something about a sequin dress that just oozes glam rock. It's the perfect combination of flashy and feminine, and it's sure to turn heads when you walk into a room. Whether you're channeling your inner David Bowie or just want to feel like a rock star for a night, a sequin dress is the way to go.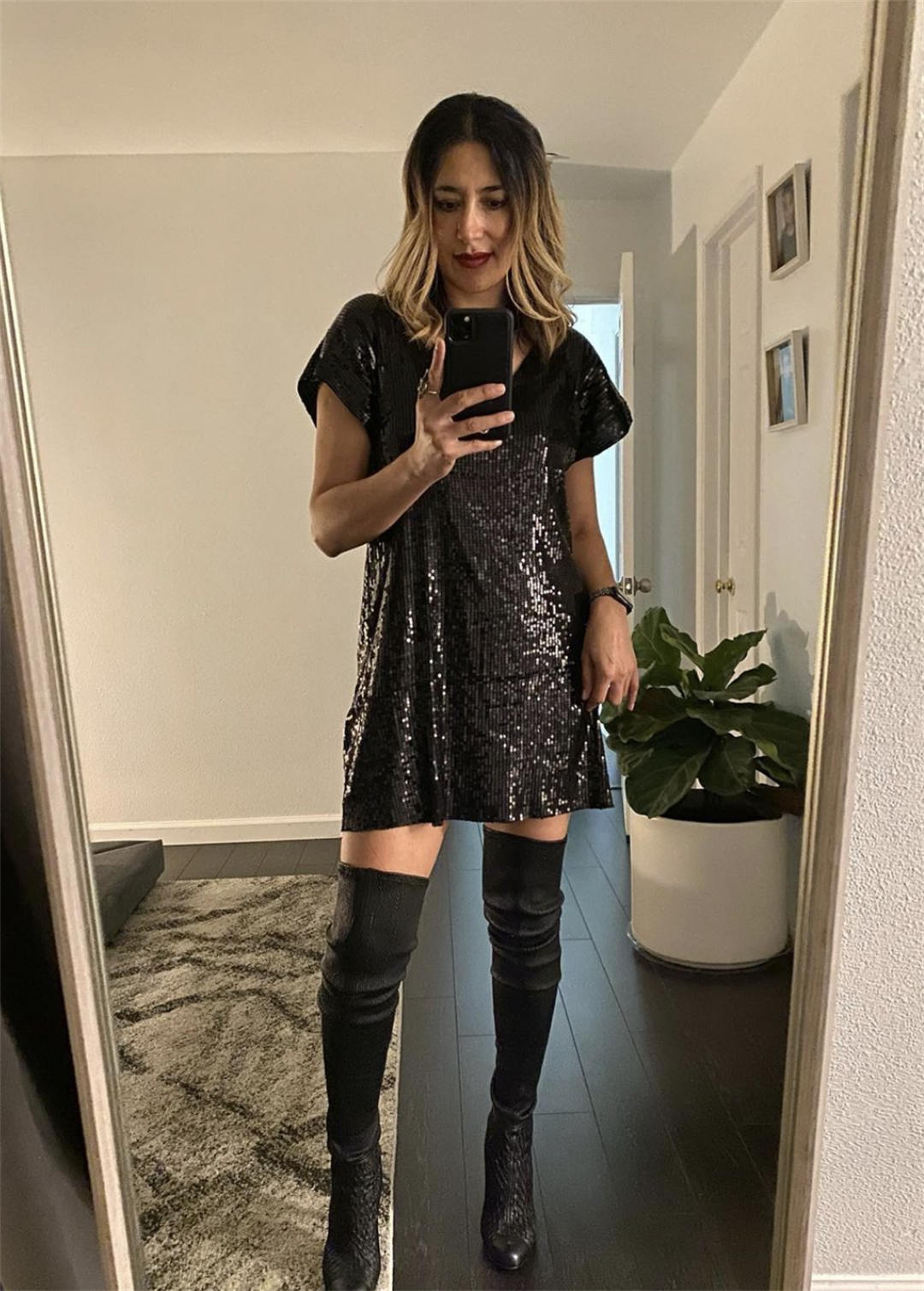 6. Glam Rock Fashion Makeup: Glitter
Glitter makeup is cool because it is unique and sparkly. It can make you stand out in a crowd, and it is fun to apply. Glitter makeup is also versatile – you can use it to create a subtle look or a dramatic look, depending on your mood.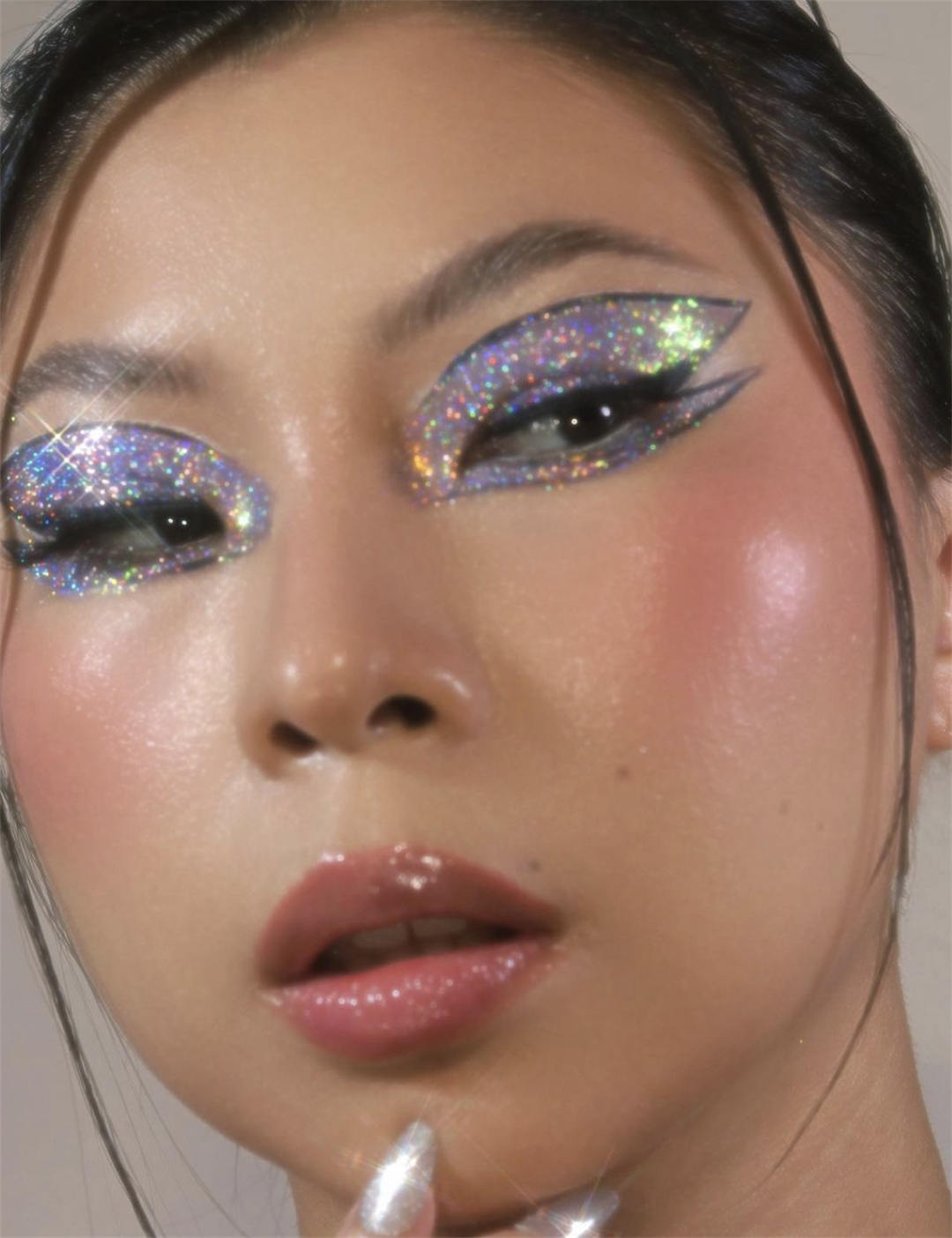 7. Velvet Trousers
Velvet trousers have been a fashion staple for the glam rock style since the 1970s. The luxurious fabric and tight fit make them the perfect choice for a night out on the town. They can be paired with a variety of tops, from sequined blouses to leather jackets. Whether you're going for a classic look or something more edgy, velvet trousers are a great way to make a statement.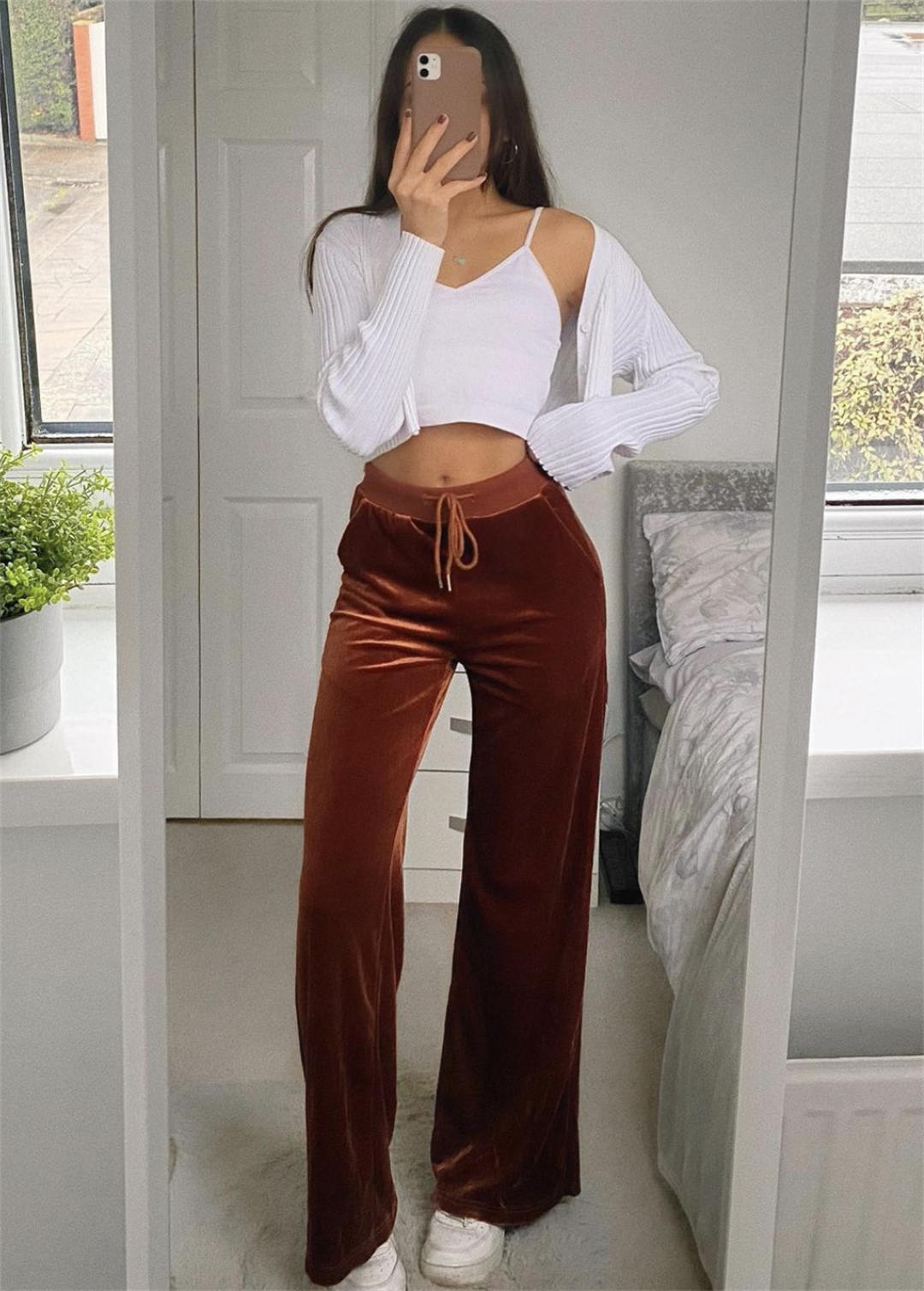 8. Funky Jumpsuit
In today's fashion landscape, the jumpsuit is having a moment. And what better way to make a statement in a jumpsuit than by opting for a funky, colourful style? This season, we're seeing lots of jumpsuits in bold hues and eye-catching prints, perfect for making a statement on your next night out.
If you're looking to really stand out, go for a glam rock-inspired jumpsuit with sequins or other embellishments. This head-turning style is guaranteed to get you noticed, whether you're hitting the dance floor or the red carpet. So go ahead and make a splash in a jumpsuit that shows off your personality and style.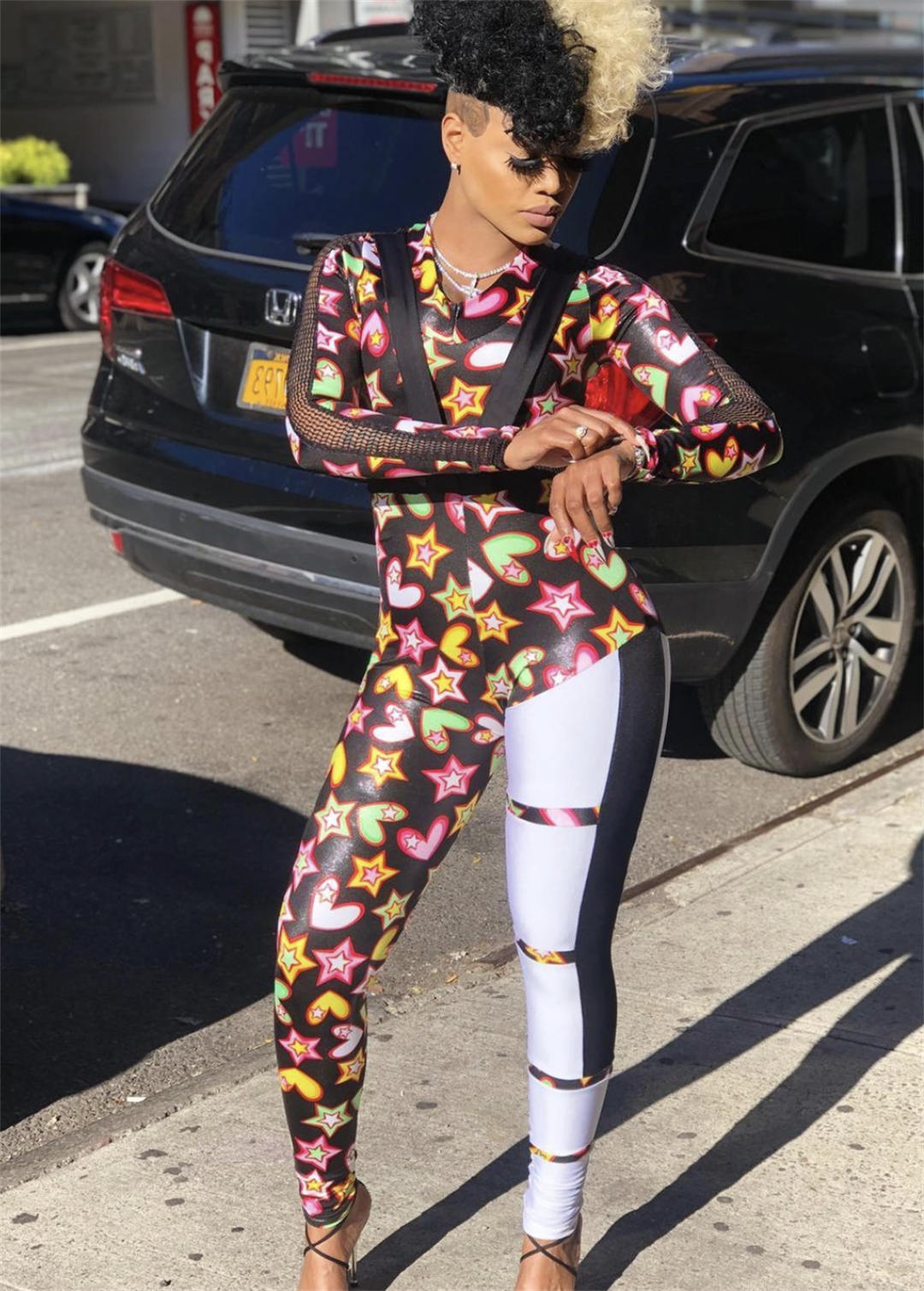 9. Platform Boots
There's just something about platform boots that makes them so glam rock. Maybe it's the extra height they give you, or the way they make you feel like you're ready to take on the world. Whatever the reason, we can't get enough of them!
Whether you're pairing them with skinny jeans and a leather jacket or a floral dress and tights, platform boots are the perfect way to add a little edge to your outfit. And if you're looking for the ultimate in glam rock style, don't forget to add a pair of fishnet tights!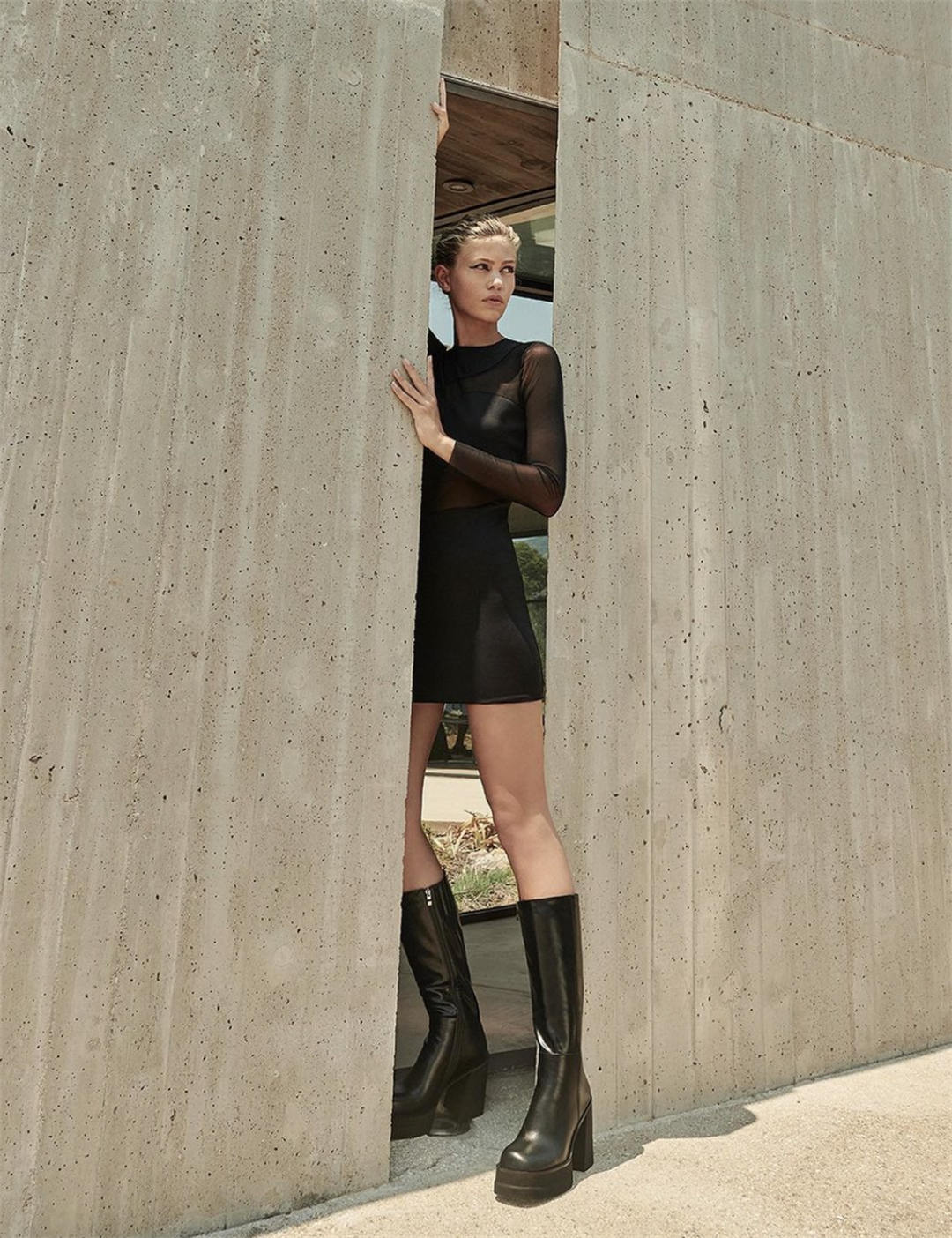 10.Feather Boa
The feather boa is a classic piece of glam rock costume. It's often seen in photos of musicians from the 1970s, like David Bowie and Freddie Mercury. The boa adds a touch of glamour and mystery to any outfit. It's also a great way to keep warm on a cold night!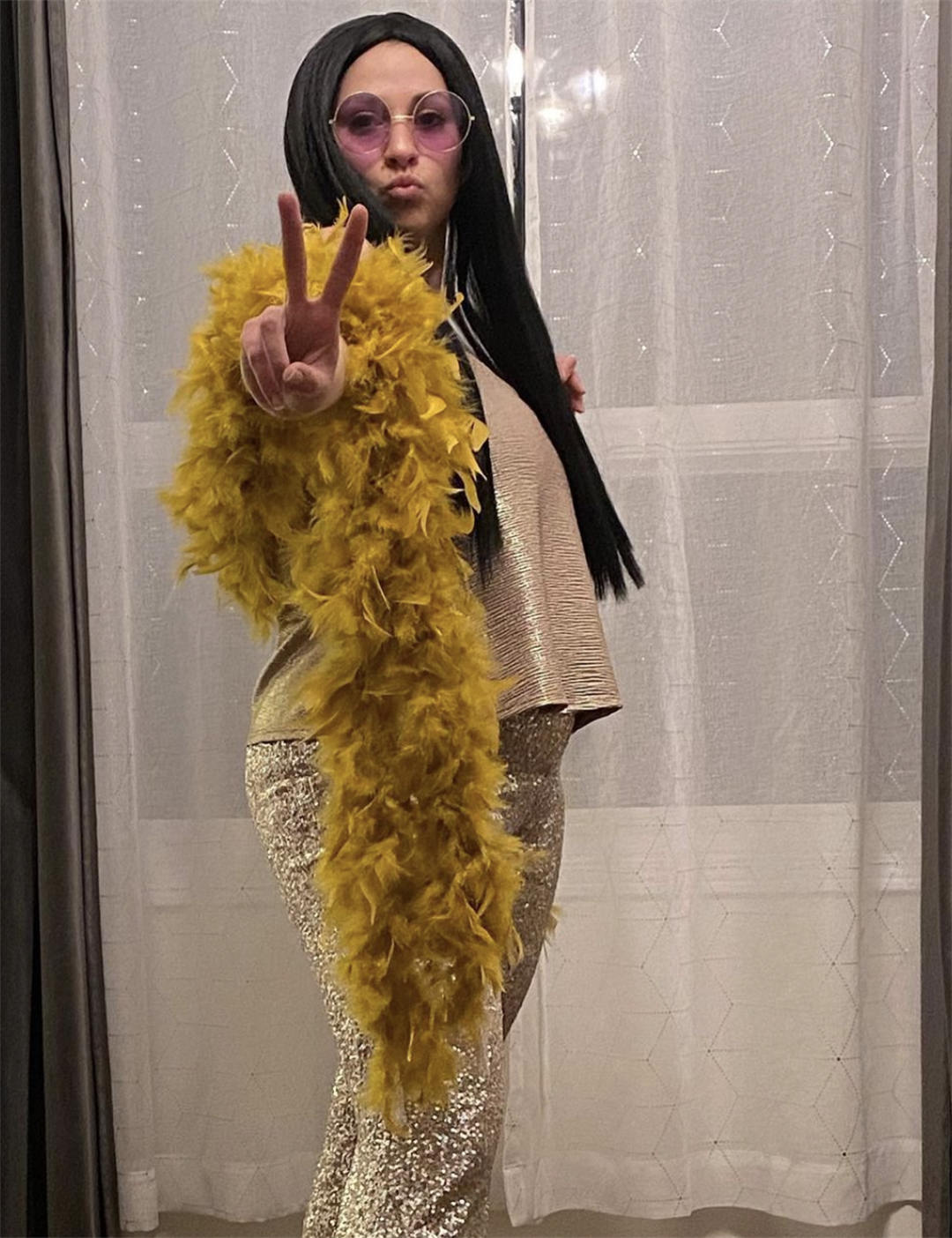 Who's your favorite Glam Rock artist? Velvet trousers- yes or no? What color is your feather boa?