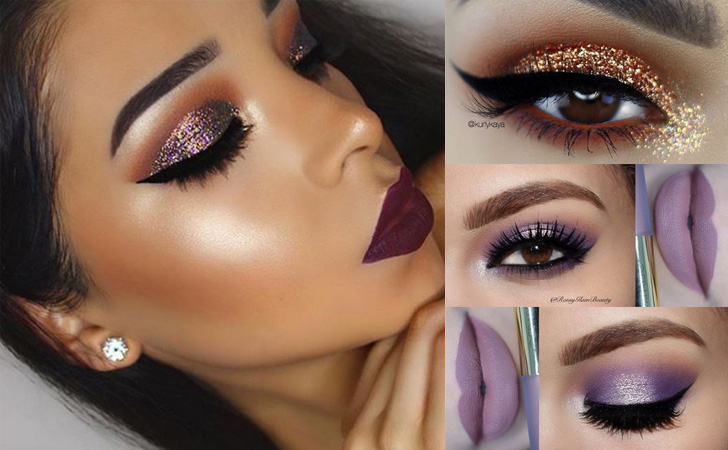 Glitter makeup can be a fun trend to try if you are hoping to add some whimsy and adventure to your makeup routine. If done right, glitter makeup can add an intriguing pop of color and sparkle to your face and can bathe your skin in a a bright and youthful glow.
While glitter makeup is a dramatic makeup look and shouldn't be incorporated full-force into your daily makeup routine, it can be a great way to amp up your look in a bright and colorful way for any special occasion.
Read on to discover the top ten best glitter makeup products of this year. (And you can find more glitter eye makeup ideas at the end of this post.)
10. Eye Candy Beauty Treats Loose Glitter Powder
This loose glitter powder from Beauty Treats is a versatile set of six glitter powders in different colors. The powders come in silver, white, gold, green, pink, and dark magenta. The glitters look vibrant and rich when applied without appearing chunky or heavy.
These glitter powders need to be applied over an eyeshadow primer in order to stick securely to your eyelids. After applying primer, you can sweep the glitter over your eyelids with no fallout onto your face or into your eyes.
9. Elegant 100 Piece Glitter Eyeshadow Makeup Kit
This eyeshadow palette contains one hundred separate shades of bright glitter eyeshadow. The many shades in this palette provide you with choices that allow you to create countless versatile glitter looks with only one product.
The one hundred eyeshadows in this palette come in an easily transportable black palette case. They also contain an included applicator so you can have everything you need to create the perfect look right at your disposal.
8. NYX Cosmetics Diamond Sparkle Lipstick
Who says glitter is only for your eyes or your cheeks? This sparkle lipstick from NYX Cosmetics revolutionizes everything you might have previously thought about lipstick. The velvety lipstick is formulated with a vibrant shimmery finish that applies smoothly to your lips without looking chunky or flaky.
This glitter lipstick is long-lasting and will not smudge off of your lips even when you wear it all day long. It is also infused with natural mineral oils that moisturize and condition your lips to leave them soft and smooth even after you remove the lipstick.
7. Too Faced Cosmetics Shadow Insurance Glitter Glue
This glitter glue primer from Too Faced is designed to help loose glitter powders stick to your eyelids without falling or flaking off throughout the day. If you're going to experiment with loose glitter eyeshadow powders, this glitter glue will make applying them and wearing them all day long much less frustrating and help keep their color vibrant and bright.
The glitter glue is formulated specifically to seal loose glitters onto your eyelids or anywhere else you want to apply loose glitter powders onto your skin. It is a lightweight primer that does not feel heavy or cakey on your skin but instead smooths on invisibly to lock in glitter products that are applied over it.
6. Tmalltide Natural Nudes Professional Diamond Bright Colorful Eye Shadow Palette
This eyeshadow palette from Tmalltide includes nine glittery diamond eyeshadows in a variety of nude colors, including taupe, lavender, silver, and champagne. The palette is a versatile product that allows you to create glittery makeup looks for an everyday look without looking excessively dramatic.
The eyeshadows in this palette have an extremely high-quality, professional formula. They are long-lasting and will not smudge or flake off throughout the day. Despite their nude tones, the eyeshadows have a rich pigment that applies smoothly to your eyelids with only one simple coat. The eyeshadows come in a beautiful golden palette case with an included double-ended brush for easy application even while on the go.
5. e.l.f. Glitter Primer
This product is an eyeshadow primer designed specifically to prep your eyelids for the application of glitter eyeshadow, eyeliner, or any other glitter eye makeup. It creates a bond that secures the glittery eye makeup in place without creasing, fading, or flaking off all day long.
Glitter makeup can often be harsh on your delicate eye area and cause irritation. Fortunately, this primer is infused with jojoba oil and shea butter that helps nourish and moisturize your eyelids to keep them soft and soothed even after the application of glitter makeup. Its formula is lightweight and never feels sticky or heavy on your eyelids, but it is ultra-nourishing and hydrating.
4. NYX Cosmetics Roll On Eye Shimmer
This eye shimmer is perfect for adding a hint of glitter anywhere on your face or body. This shimmer is a powder formula that provides you with a subtle shine that is easy to blend into your skin and doesn't feel sticky or wet like some other similar glitter products.
The eye shimmer comes in a simple roll on applicator that you can easily roll onto your skin. You can build up the shimmer to your desired intensity by rolling on either single or multiple coats of the product.
3. Unicorn Snot Glitter Gel for Body and Face
This aptly named product is a highly pigmented glitter gel that can be used anywhere on your body or face. It has a very light scent and, unlike many other glitter products, it is easy to wash off at the end of the day.
This glitter gel is available in many different colors, including silver, gold, pink, yellow, and blue. After you apply the glitter gel, it dries translucently to add a lightly tinted shimmer to your skin.
2. NYX Liquid Crystal Liner
This glittery liquid eyeliner from NYX is great glitter makeup for eyes because it adds a bright and colorful pop of glitter to your makeup look without looking excessively dramatic. It is available in many different neutral and bright colors, including gold, blue, lavender, silver, black, and translucent.
The eyeliner is infused with special moisturizers that condition and hydrate your eyelids in order to prevent them from feeling itchy or irritated. It also includes very finely milled glitter so that it never looks chunky or tacky. The NYX liner has a very thin brush applicator to help you draw a precise line of colorful glitter where you would normally apply your standard eyeliner.
1. e.l.f. Studio High Definition Powder, Shimmer
This powder from e.l.f Cosmetics is specially designed to coat your skin in order to blur fine lines, wrinkles, blemishes, and other imperfections. It is very lightweight and applies almost invisibly without smudging or marring the rest of your makeup. This powder ensures a flawless finish for you
The powder is infused with very finely milled shimmering dust. When applied, it dusts a subtle shimmer onto your skin to create an all-over glow that never looks shiny, oily, or chalky. This product is contained within a sleek black case that is easily transportable for instant shimmer even while you are out and about.
Good glitter makeup that is high quality and isn't dry or flaky can be difficult to find. However, all of the products described on this list are trustworthy glitter makeup products that can add a pop of brightness and shimmer to your makeup routine. Try any of the products on the list above to experience some of the best glitter makeup products on the current cosmetics market.
Gold Smokey Eye
purple makeup ideas