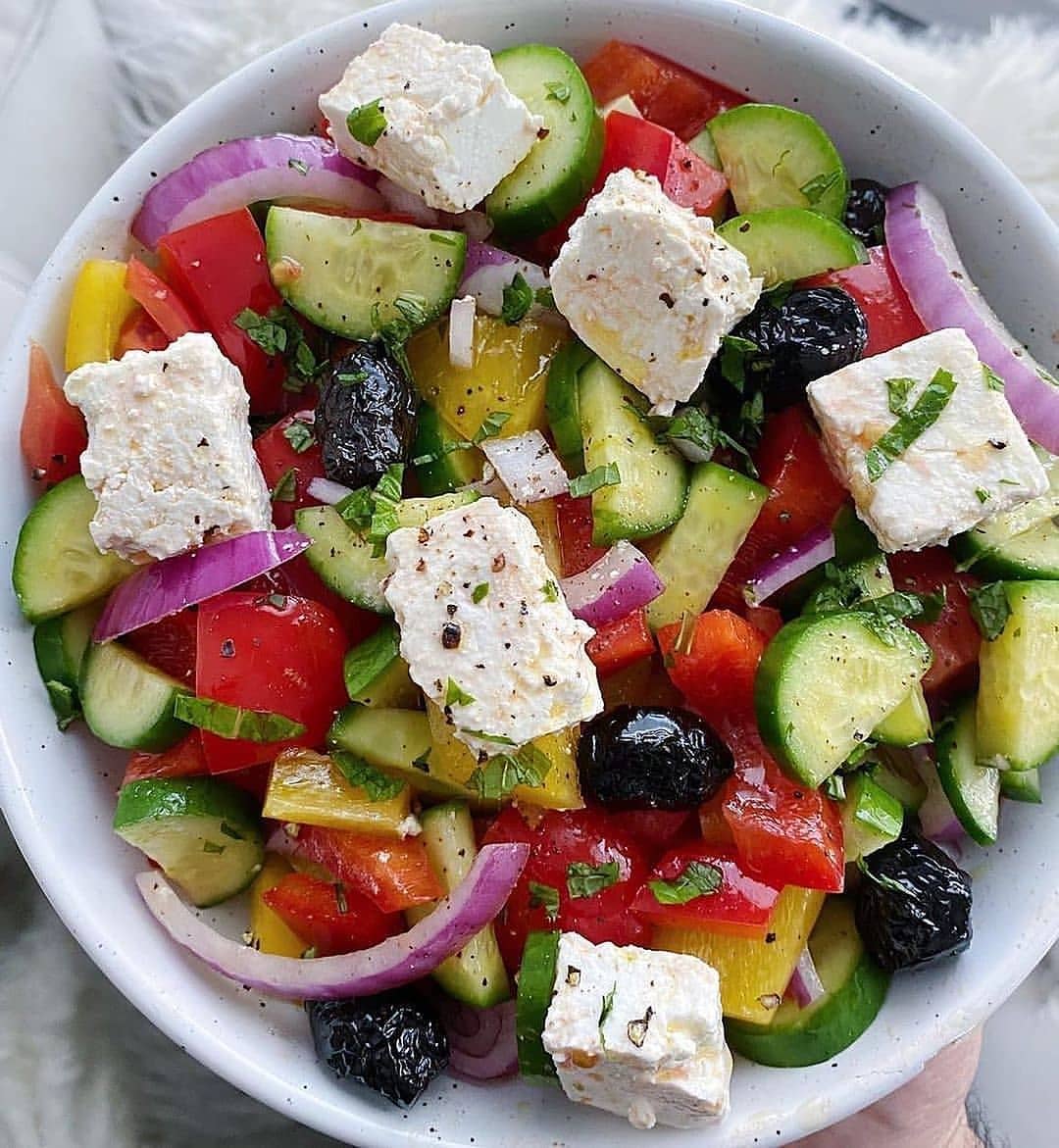 People with diabetes and pre-diabetes need to reduce the amount of glucose-sugar from carbohydrates in their blood stream. And it is important to know there are two completely different types of diabetes.  Type 1 diabetes mellitus is a permanent condition, caused when your pancreas has never been able to produce enough insulin.
However, Type 2 diabetes is a different medical condition, which is linked with obesity causing insulin resistance, and this alters the way your body processes blood sugar. Type 2 is not necessarily a life-long condition; it often starts when people become over-weight. And in the last few years, researchers have found it can be controlled and even cured by changing your diet and losing surplus weight.
Keto dieting for Type 2 diabetes
This article is aimed at informing those with Type 2 diabetes and pre-diabetes on how to improve blood sugar levels and reduce the need for insulin. However, it is not intended for anyone with Type 1 diabetes, as without stringent medical supervision, serious complications can arise for Type 1 patients who try a keto diet.
Energy from fat not sugar
The big difference between the keto diet and other medically backed weight-loss diets, is that you change your diet to include more fats and less carbs. This switches your liver away from using glucose-sugar from carbohydrate foods. So instead you eat a high-fat diet, which deprives the liver of sugar, so it's forced to use surplus fat as the brain and body's energy source.
And this includes your reserves of extra body fat! Carbs from any source just become sugar once you've eaten them, so if you reduce your carb intake dramatically with the keto diabetic diet, you will lose weight and improve your symptoms. In the keto diet for diabetics and pre-diabetics, the following foods should be cut out or greatly reduced:
Foods to avoid on keto diabetic diet
Alcohol: Due to its high-sugar content, alcohol can prevent you achieving ketosis
Beans and other legumes: Chickpeas/garbanzos, lentils, peas, kidney/red beans
Fruit: All types of fruit, with the exception of small amounts of berries such as strawberries
Grains and starches: Cereals, pasta, rice and wheat products
Low-fat and 'diet' products: These highly-processed foods are usually packed with carbs
Root vegetables and tubers: Carrots, turnips, sweet potato, potato, parsnips
Sauces and condiments: Highly-processed additions which are full of unhealthy fats and sugar
Sugar-free 'diet' foods: Highly-processed foods, which instead of normal sugar, mostly contain high levels of sugar alcohols that lower ketone levels.
Sugary foods: Fruit juices, soft drinks, ice-cream, smoothies, cake, sweets and caramels
Unhealthy fats: Avoid all processed vegetable oils and variations on mayonnaise
Best foods for Keto diet for diabetes
Try to cook your meals from scratch with whole, unprocessed ingredients. Avoid as many processed foods and drinks as possible, as they are very unhealthy for everyone and will prevent you reaching a state of ketosis.
Avocados: Whole avocado or fresh, home-made guacamole
Butter and cream: Preferably from grass-fed cows
Cheese: Cheddar, cream-cheese, goat, blue, mozzarella and other non-processed cheeses
Condiments: Fresh herbs and spices, salt and pepper
Eggs: Preferably omega-3 or pasteurized, whole eggs not processed products
Fatty fish: Salmon, trout, sardines, mackerel and other fatty fish
Healthy oils: Natural oils including extra-virgin olive oil, avocado oil, and coconut oil
Low-carb vegetables: Green leafy vegetables, onions, peppers, tomatoes
Meat: Bacon, ham, sausages, steak, red meats, turkey and chicken
Nuts and seeds: Chia seeds, almonds, pumpkin seeds, flax seeds, walnuts
Sample one week keto diet meal plan
Sunday
Breakfast: Fried eggs, bacon and mushrooms
Lunch: Beef-burger with hot sauce, cheese and freshly-made guacamole
Dinner: Steak and fried or scrambled eggs with a side salad
Monday
Breakfast: Ham and cheese omelette with veg
Lunch: Slices of cheese and ham with nuts
Dinner: White-fish, with an egg and spinach, fried in coconut oil
Tuesday
Breakfast: Egg, tomato, fresh basil and goat cheese omelette or scrambled eggs
Lunch: Milkshake with peanut butter, cocoa powder, stevia and almond milk
Dinner: Meatballs, cheddar and low-carb vegetables
Wednesday
Breakfast: Eggs, bacon and tomatoes
Lunch: Chicken salad with feta cheese and olive oil
Dinner: Salmon plus asparagus (frozen or fresh) or green leafy vegetables cooked in butter
Thursday
Breakfast: Omelet with avocado, salsa, peppers, onion and spices
Lunch: A handful of nuts and celery sticks with guacamole and salsa
Dinner: Chicken stuffed with pesto and cream cheese, along with vegetables
Friday
Breakfast: Sugar-free yogurt with peanut butter, cocoa powder and stevia
Lunch: Beef stir-fry cooked in coconut oil with vegetables
Dinner: Bun-less burger with bacon, egg and cheese
Saturday
Breakfast: A ketogenic strawberry milkshake with stevia extract drops, chia seeds whipped cream or coconut milk
Lunch: Shrimp and avocado salad dressed with olive oil
Dinner: Pork chops covered with Parmesan cheese, with broccoli and salad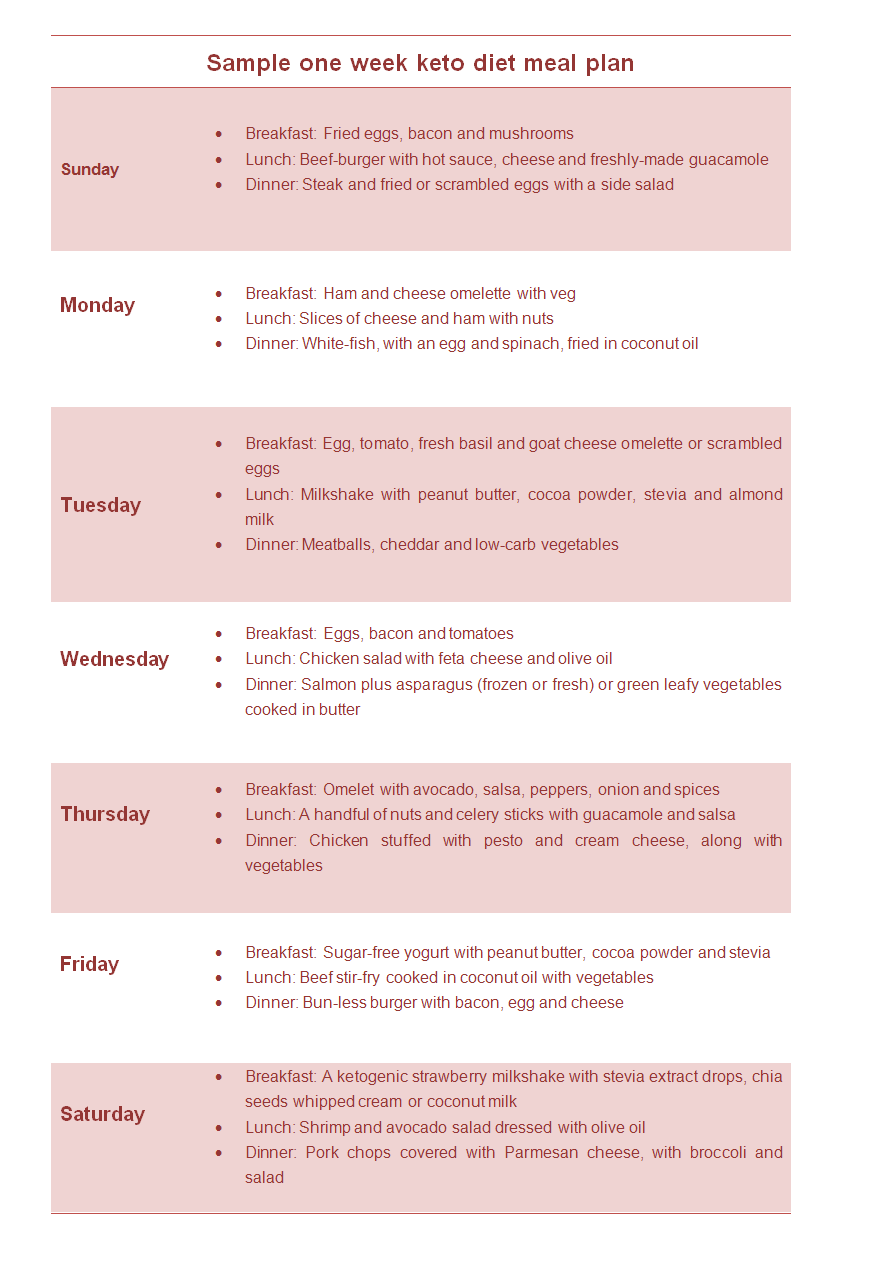 Healthy Keto Snacks
Strawberries and cream
1or 2 hard-boiled eggs
A handful of nuts or seeds
A low-carb almond milk milkshake with pure cocoa powder and nut butter
A few squares of 90% cocoa solids dark chocolate
Celery with salsa and freshly-made, not supermarket, guacamole
Unprocessed cheese including cottage cheese with or without olives
Fatty meat or fish
Full-fat yogurt with nut butter and pure cocoa powder
Small portions of leftovers
Eat healthy fats
Don't take the keto diet as an opportunity to overdose on saturated fats, even though you will be eating more of these in fatty meat, butter and cream. Remember to load up on the healthy unsaturated fats you get from these tasty foods:
avocado
cottage cheese
eggs
fatty fish such as mackerel, sardines and salmon
all types of nuts and nut butters
olives, but not too many as they contain a lot of salt, and olive oil
a wide variety of delicious seeds
Nutrition & Diabetes journal study
According to the Nutrition & Diabetes Journal study, the keto diet is recommended as a slimming diet, which improves the symptoms of pre-diabetes, metabolic syndrome and Type 2 diabetes. Various other studies have found that:-
The keto diet can improve insulin sensitivity by an impressive 75%.
In another study, one-third of the 21 Type 2 diabetic participants were cured of their diabetes and no longer needed to use any diabetes medications.
A comparative study between a keto diet group and a diet group eating more carbs, the keto group lost 244 lbs./111 kgs., but the higher-carb dieters only lost 152 lbs./69 kgs.
And in this same study, 95.2 per cent of the keto dieters were able to stop or reduce diabetes medication, compared to a paltry 62 per cent in the higher-carb diet group.
Consult your doctor
This article is intended as a general guideline on keto dieting for Type 2 diabetics and pre-diabetics. It is not intended as medical advice. You should always discuss your diet with your doctor and never embark on a special diet without close medical supervision.