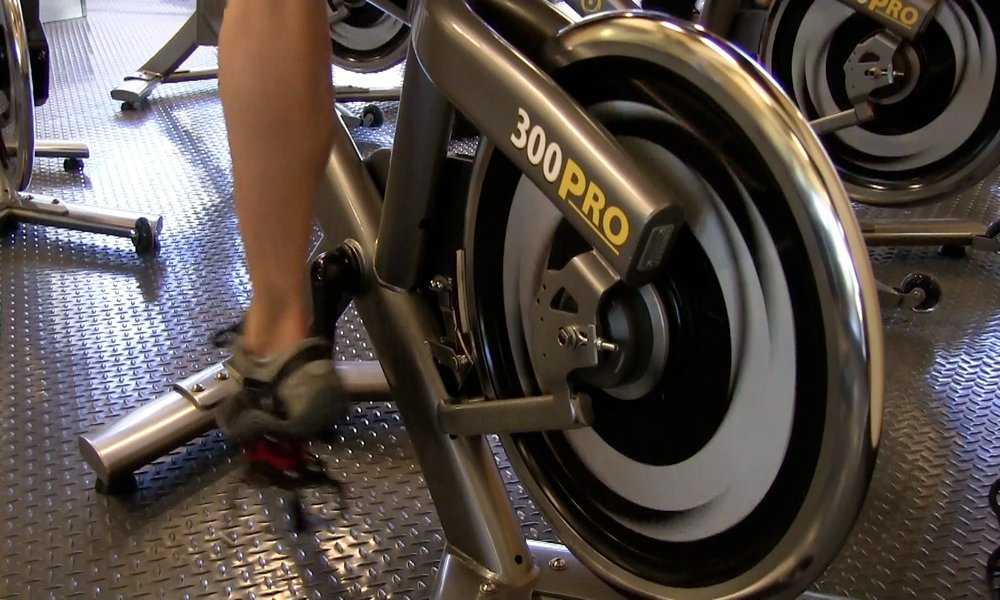 Losing weight and getting in shape is a priority for many of us. However, not all of us have sufficient time or energy to go to the gym and be there for hours. That is when an at home exercise equipment may come in handy. One of the best exercise equipments are exercise bikes.
Exercise bikes are an easy and fast way to lose weight as well as tone up the body because they burn 311 calories in 30 minutes if you are pedaling at a moderate speed. However, if you increase the speed in which you pedal you could burn 466 calories or more in 30 minutes.
You can use it when you have sufficient time and as often as you would like. Although, exercise bikes are an excellent workout equipment they are not all created equally. Here are the best 10 exercise bikes on the market right now.
best exercise bikes to lose weight
 

| Name | Picture | Where to Buy |
| --- | --- | --- |
| Sunny SF-B0418 Magnetic Mini | | |
| Best Choice Products Bike | | |
| Ivation Upright Magnetic Cycling Bike | | |
| Schwinn 230 Recumbent Bike | | |
| DeskCycle Desk Exercise Bike | | |
| Velocity Exercise Magnetic Upright | | |
| Marcy ME 709 Recumbent Exercise Bike | | |
| Exerpeutic 900XL Extended Capacity Recumbent Bike | | |
| Sunny Health & Fitness Pro | | |
| Exerpeutic Folding Magnetic Upright Bike | | |
10.

Sunny Health & Fitness SF-B0418 Magnetic Mini Exercise Bike, Gray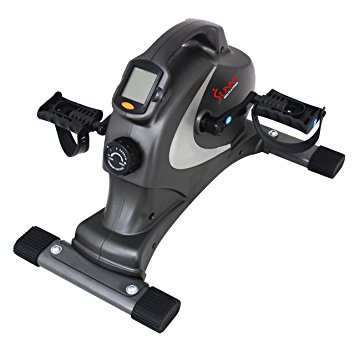 If you want a simple yet effective exercise bike that is portable this may be the one for you. It is effective while being compact and travel friendly. It comes with an LCD that displays the time, distance and how many calories were burned while you were exercising.
This mini exercise bike allows you to get an intense workout anywhere you go. It has 8 different intensity level so that anyone at any fitness level can use it. If you are beginning your fitness journey this may be an excellent way to workout on a daily basis without the need of heavy machinery.
9.

Best Choice Products Folding Adjustable Magnetic Upright Exercise Bike Fitness Upgraded Machine – sunny health & fitness pro indoor cycling bike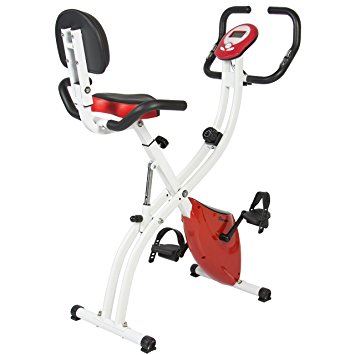 One of the main reasons why you may be looking into purchasing an exercise bike is to increase your cardiovascular activity. This exercise bike will give you a comfortable workout as it comes with a sturdy steel frame, padded seats and handlebar. It has been proven that the more comfortable you feel during your workout the longer you will want to workout. Because of the aesthetics of this exercise bike you will be able to work out for a longer period of time.
You will also be able to track your progress with its display screen that shows the time, distance, speed and calories burned during your workout. It also comes with an 8 level magnetic resistance that can easily be changed while you workout.
Although this is an exercise bike, you will be able to change the position you workout in to give you a full body workout. You are able to change the position in 3 different ways to achieve the perfect body workout.
8.

Exercise Upright Magnetic Cycling Bike Fitness Machine Foldable With Pulse Sensors and LCD Display – best upright exercise bike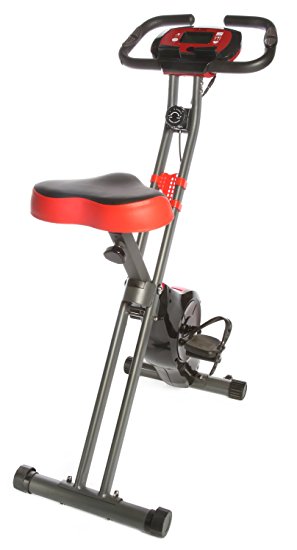 Knowing how well you are improving in your fitness goals is a must. It keeps you motivated and wanting to achieve more every time. This cycling fitness bike does just that. It comes with a pulse monitor built into the handlebars that provides deeper insights into your workouts.
Your progress is displayed on the LCD screen as well as your current time, speed, distance, calories burned and your heart rate. Knowing all this information enables you to be able to keep track of your progress.
This fitness bike even comes with brackets that will hold your Ipad or Android devices in place while you workout. This is ideal if you want to finish answering emails or use your electronic device while you workout. It is also foldable so it can be opened and stored any place you need to store it in.
7.

Schwinn 230 Recumbent Bike – best recumbent exercise bike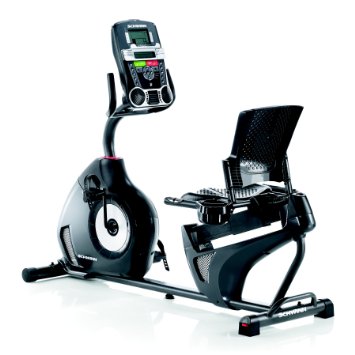 If you are looking forward to purchase an exercise bike that keeps track of your progress while being your own personal trainer right at home this is the fitness bike for you. Not only is it a fitness bike but it is your personal trainer with 22 programs already installed on the LCD of your fitness bike. You can even share these programs with another user as it comes with a 2 user settings. These programs track your goals and challenge you along the way to keep you motivated every step of the way.
The dual track LCD system tracks up to 13 different programs on the screen at the same time. This allows your fitness bike to be able to multitask and show you your progress as well as the fitness programs it contains. It has 20 levels of resistance with a high speed inertia perimeter which allows all your workouts to be quiet and smooth.
6.

DeskCycle Desk Exercise Bike Pedal Exerciser, White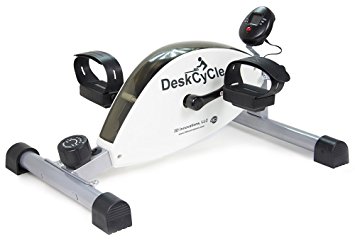 For many of us working out becomes a hassle, because we do not have the time or energy to workout on a consist basis. This is a really good option for people who work multiple hours sitting down at a desk. When you spend hours sitting down you are compromising your circulatory system. In order to get it back to what it needs to be it is advised you get up and get moving as often as you can.
With this desk exercise bike you get to get moving without the need of getting up. It is small enough to go under your desk and not disrupt any furniture you may have at your office or work space. It has a 5 function display which shows speed time, distance, calories and a scan that can help you keep track of your progress through an accurate online calorie calculator.
5.

Velocity Exercise Magnetic Upright Exercise Bike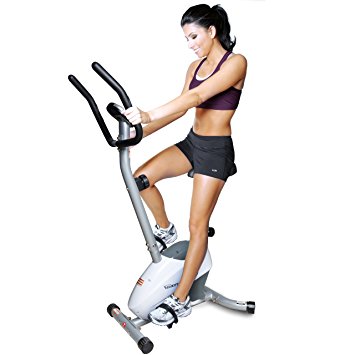 The hardest part about working out is actually starting once you begin you will notice a difference in your endurance almost immediately. This is a simple exercise bike for someone who wants a simple machine with all the bells and whistles while still being easy to use. It is functional without having extra attachments.
This fitness bike comes with 8 levels of tension control so you can choose which level is best suited for you and which levels you are working towards. It also has wheels so you can choose where it would be more effective in your home or workspace. The LCD computer keeps track of your time, speed, distance and burned calories. Everything about this exercise bike is simple and very user friendly.
4.

Marcy ME 709 Recumbent Exercise Bike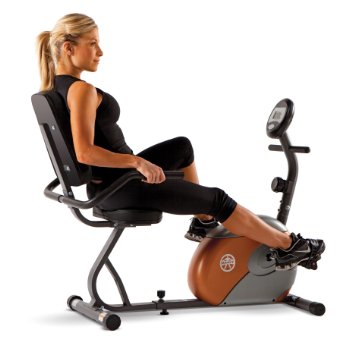 When you have a small space, you may want to consider the sizing of your exercise bike. That is when this exercise bike comes in handy. It is compact so it can be positioned anywhere in your home. However, it contains all the bells and whistles that a larger exercise bike would have. This enables you to get the most benefits out of your exercise bike without compromising your space.
This exercise bike is easy to adjust with tension tightening knobs for different fitness levels. What this does is it allows you to change the tension of your exercise bike accordingly to your endurance level. It has a large console display to show you your speed, distance, time and calories burned while you worked out.
3.

Exerpeutic 900XL Extended Capacity Recumbent Bike with Pulse –  – best exercise bike for weight loss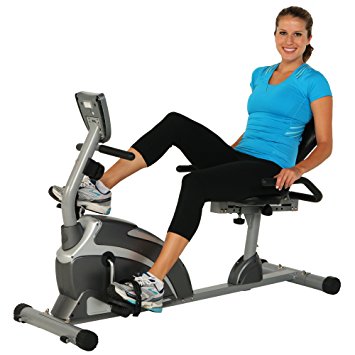 Running outdoors can cause pain in your joints and lower back because of the intensity that you may be running in. It causes stress in those areas this stationary fitness bike gives you an intense workout while minimizing stress on your joints. This makes it perfect for people who want to get a great cardiovascular workout without putting stress on their joints such as their knees and lower back.
It's 8 level tension control system allows you to customize your ride and truly challenge yourself. The large LCD display showcases your heart rate, distance, calories burned and the speed in which you are working out in. You are able to get a great workout without having to put much strain in any part of your body.
2.

Pro Indoor Cycling Bike by Sunny Health & Fitness – SF-B901 – best spinning bike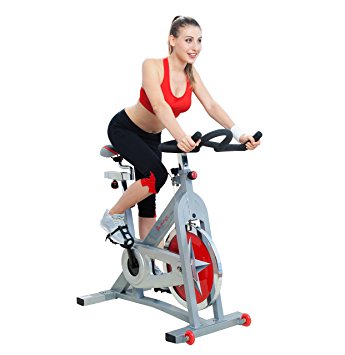 Cycling has become a huge part of the fitness world. Because  of how quickly you can burn all those undesirable calories and how quickly you can tone up your body. Having a cycling fitness bike is an excellent option for those that want to get the full benefits of going to a cycling class but do not have the time to do so. This cycling bike is the ultimate at home exercise bike. It comes with everything a cycling bike at a fitness center would have but for your home.
With 40 pounds flywheel it ensures you achieve the intensity that you need while working out without leaving the comfort of your home. It is likewise adjustable so you can change how fast or slow you would like your bike to go.
1.

Exerpeutic Folding Magnetic Upright Bike with Pulse – best folding exercise bike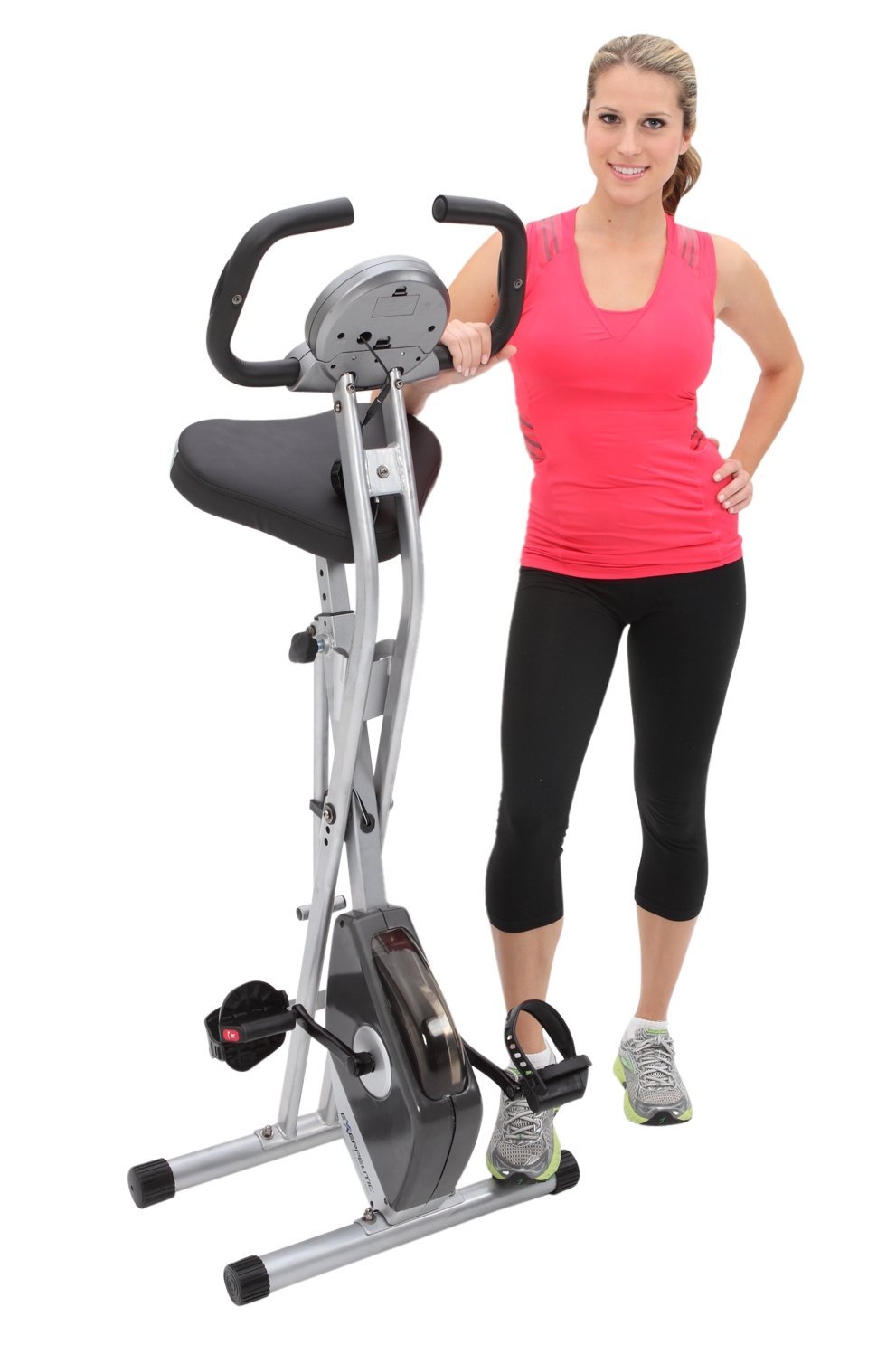 Easy, portable, compact and effective are a couple of words that describe this exercise bike perfectly. It is the perfect exercise bike for all fitness levels regardless of how much of a beginner or advanced you are. The best aspect about this exercise bike is the fact that it is foldable which means it can be kept in any place at anytime regardless of how small or big your home is.
Having an exercise bike that is foldable takes away from the excuse that working out takes too much time and machinery. You get an amazing full body workout with this exercise bike in the comfort of your home and at your own pace. It monitors your heart rate with its hand heart monitor to ensure you are going at the right pace at all times. If you need the best sport bras, check out this post: Top 10 Best Sports Bras – Most Comfortable Sports Bras You Shouldn't Miss
Working out has now become something you can do from the comfort of your home and on your schedule. You no longer have to leave your home in order to get a full body workout. These exercise bikes are the best on the market because of how easy and effective they are to use. Please tell us your thoughts below.