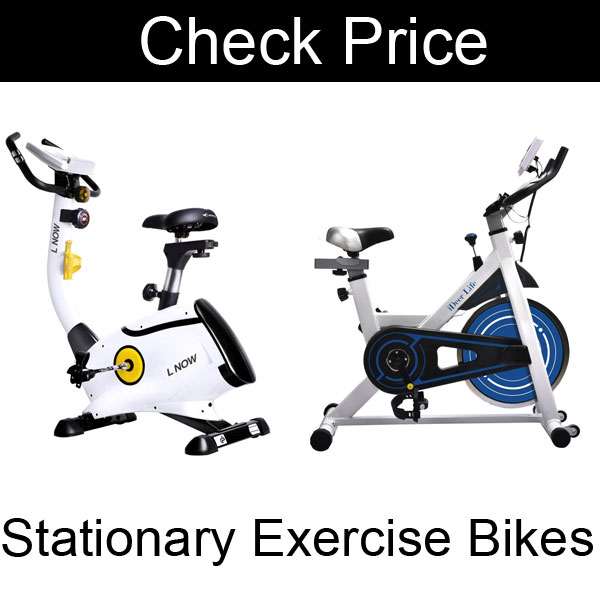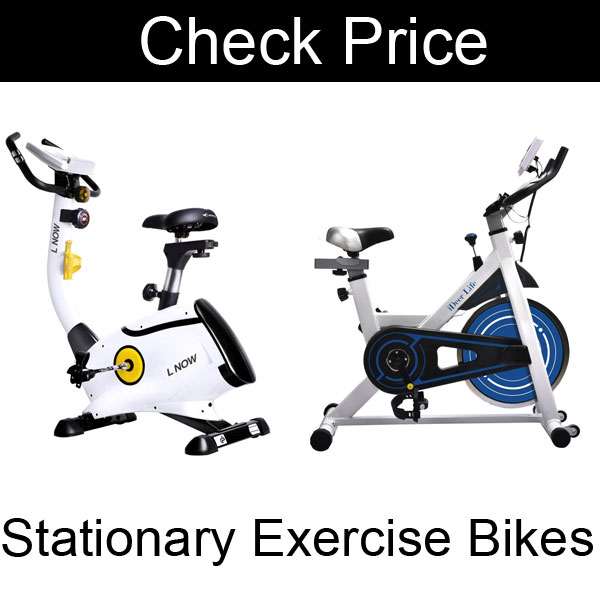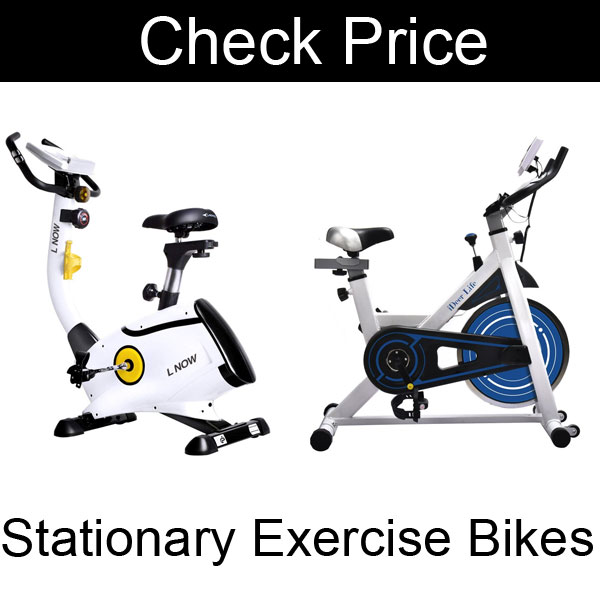 Riding a stationary bike is one of the most convenient, safe, and effective forms of cardio exercise. Stationary bikes provide a great indoor cardio workout option for runners who need to rest their legs or outdoor bikers who are training for a long ride. They are also ideal for seniors–or others with limited mobility, joint pain, or arthritis–because riding a stationary bike does not put significant strain on your muscles or joints. Plus, stationary bikes help you burn tons of calories quickly. Most people are able to burn significantly more calories per hour by riding a stationary exercise bike than by jogging on a treadmill. Riding a stationary bike doesn't just benefit your cardio fitness, though. It is a full body workout that increases strength in your legs, glutes, arms, and core.
One of the best things about stationary exercise bikes is that you can easily buy one to use in your own home. Unlike treadmills and many other types of cardio equipment, these bikes are fairly inexpensive and fit in most dens, offices, or home gyms without creating an eyesore or space problem.
What is the best stationary bike for seniors? If you want to add stationary bike riding into your cardio and strength routine, consider these five safe, comfortable, high-performance stationary exercise bikes for your home.
1. L NOW Magnetic Resistance Stationary Exercise Bike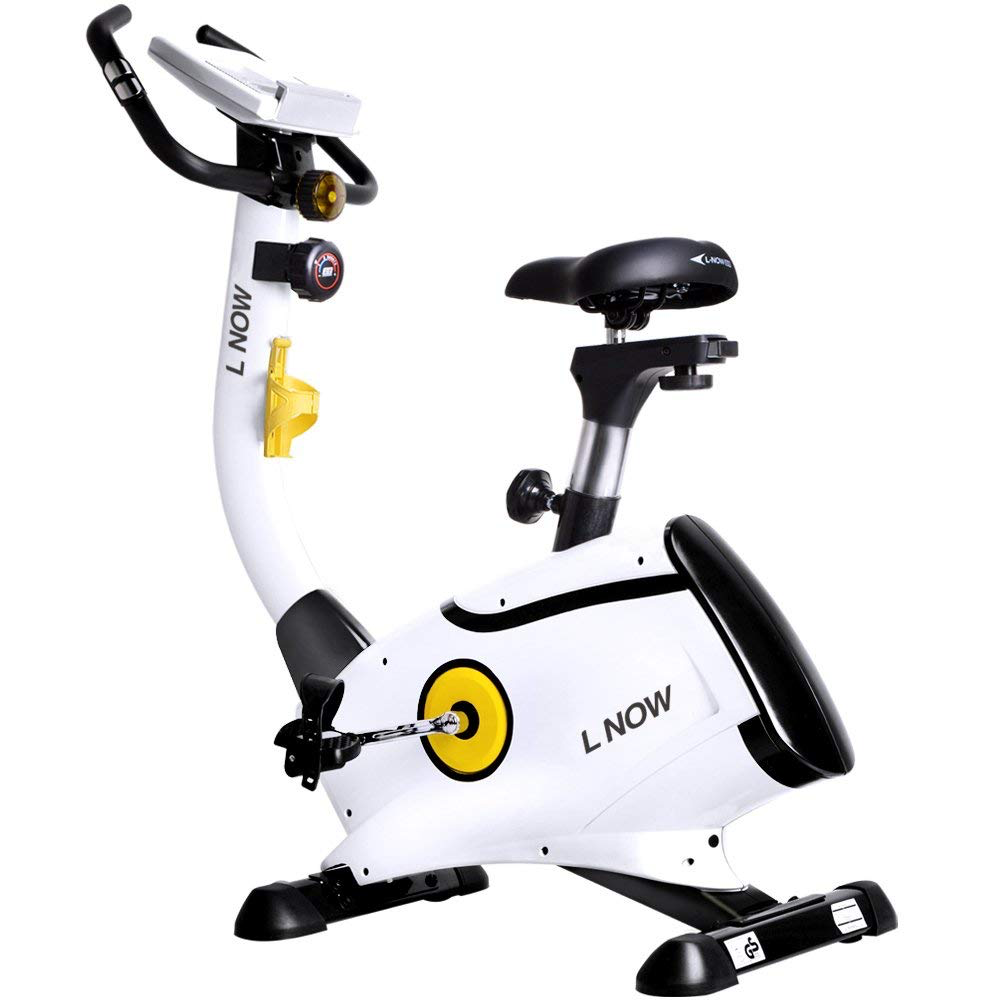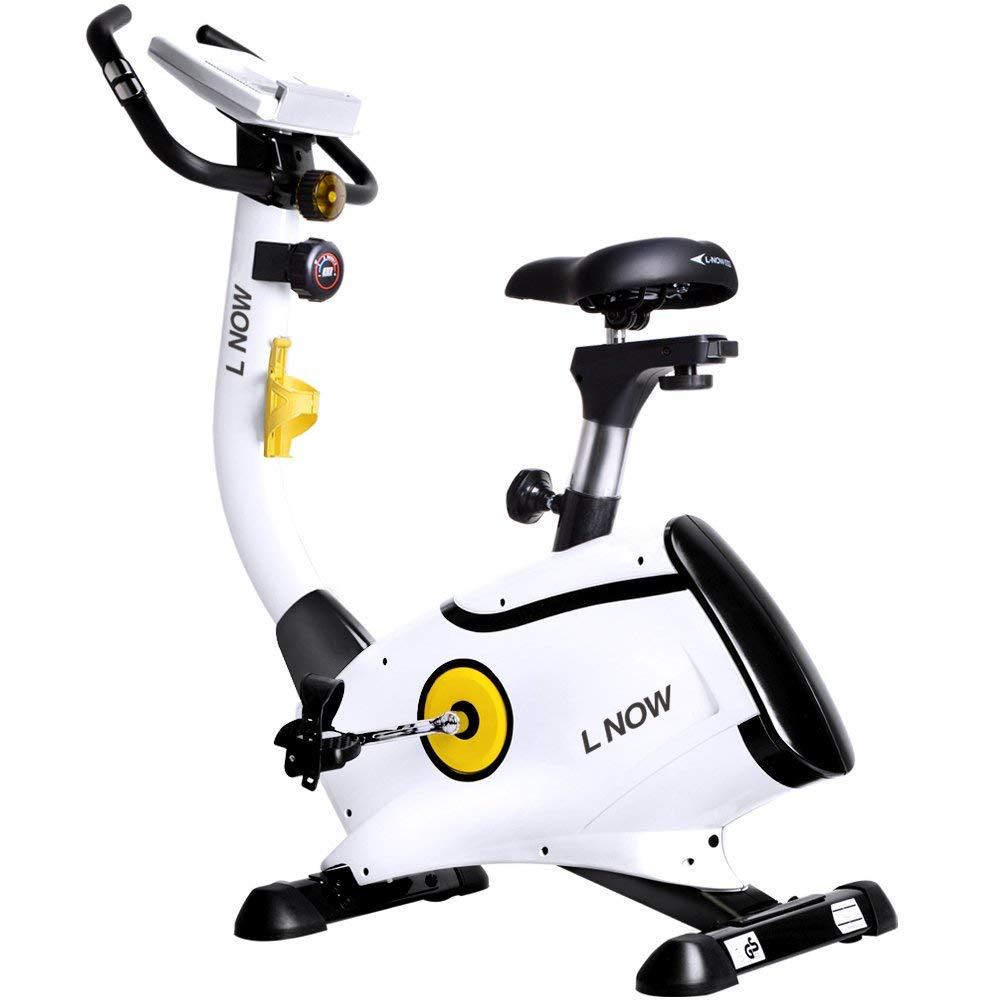 The simple, modern design of this stationary exercise bike helps it blend into your home without drawing undue attention to itself. Its eight levels of resistance give you plenty of options to help you achieve the exact level of intensity you want from your workout. You can easily adjust the resistance to switch to a higher or lower intensity. Just twist its magnetic tension control knob to your desired level of resistance. You can even adjust the resistance level multiple times during your ride without disrupting your speed. This bike is designed to smoothly switch between resistance levels while you're pedaling it. Don't worry about this bike overheating. Its unique hollow design helps keep its flywheel cool as it spins to ensure the durability of the bike.
Monitor your workout by paying attention to this bike's built-in screen as you ride. The screen displays your speed, distance, body fat, RPM, and the calories you've burned. It also measures your heart rate through the bike's hand pulse sensors and displays that in real time as well. Even though this stationary exercise bike has a high maximum weight capacity of 300 pounds, it is still lightweight and easy to move. Plus, its built-in transportation wheels increase its portability and make it even easier for you to store this bike out of sight when you're not riding it.
Pros:
Features eight levels of adjustable magnetic resistance
Displays essential workout details on a built-in screen
Built with attached transportation wheels for portability
Safely supports up to 300 pounds
Cons:
Does not provide high enough levels of resistance to challenge some serious, advanced riders
2. YING R JIAN Stationary Exercise Bike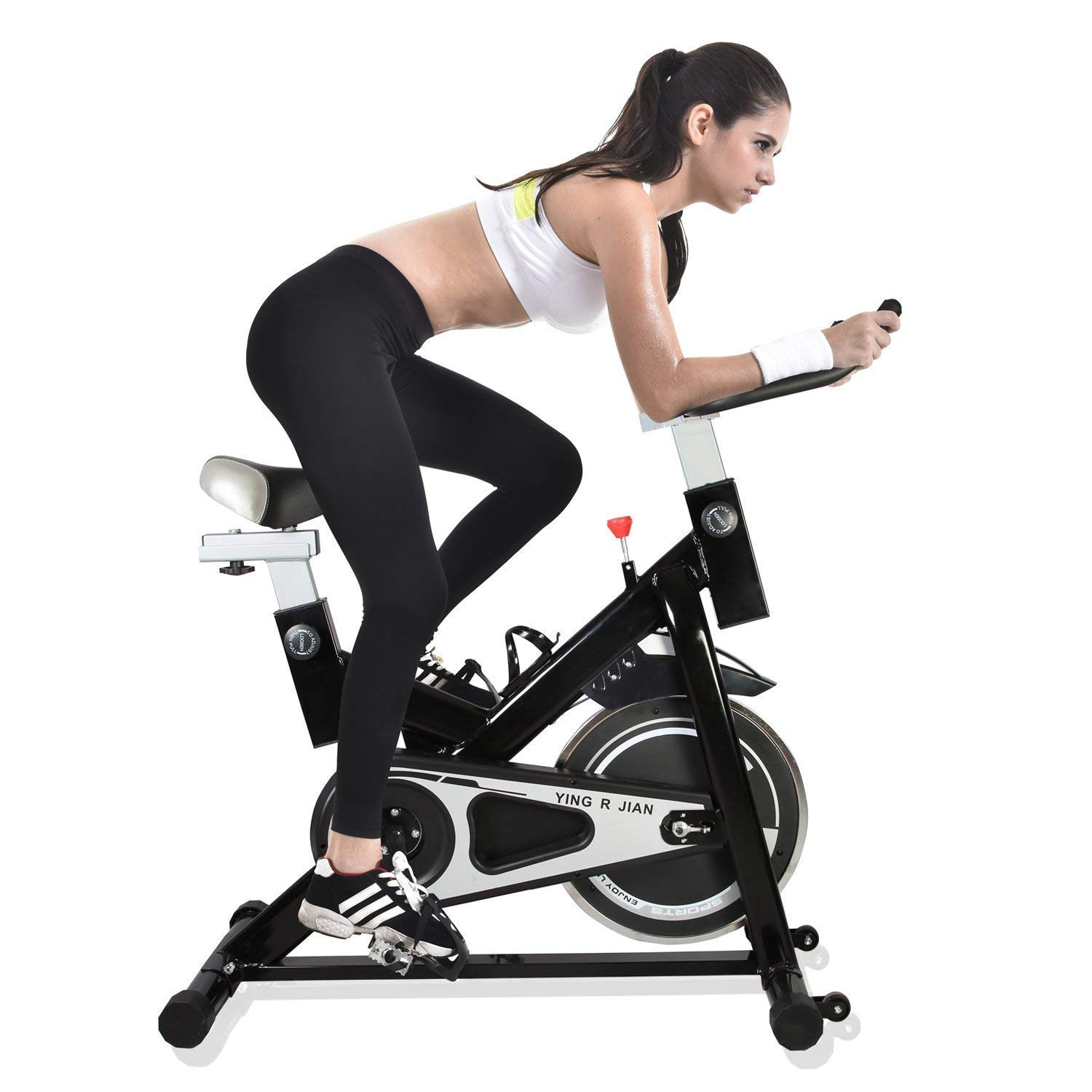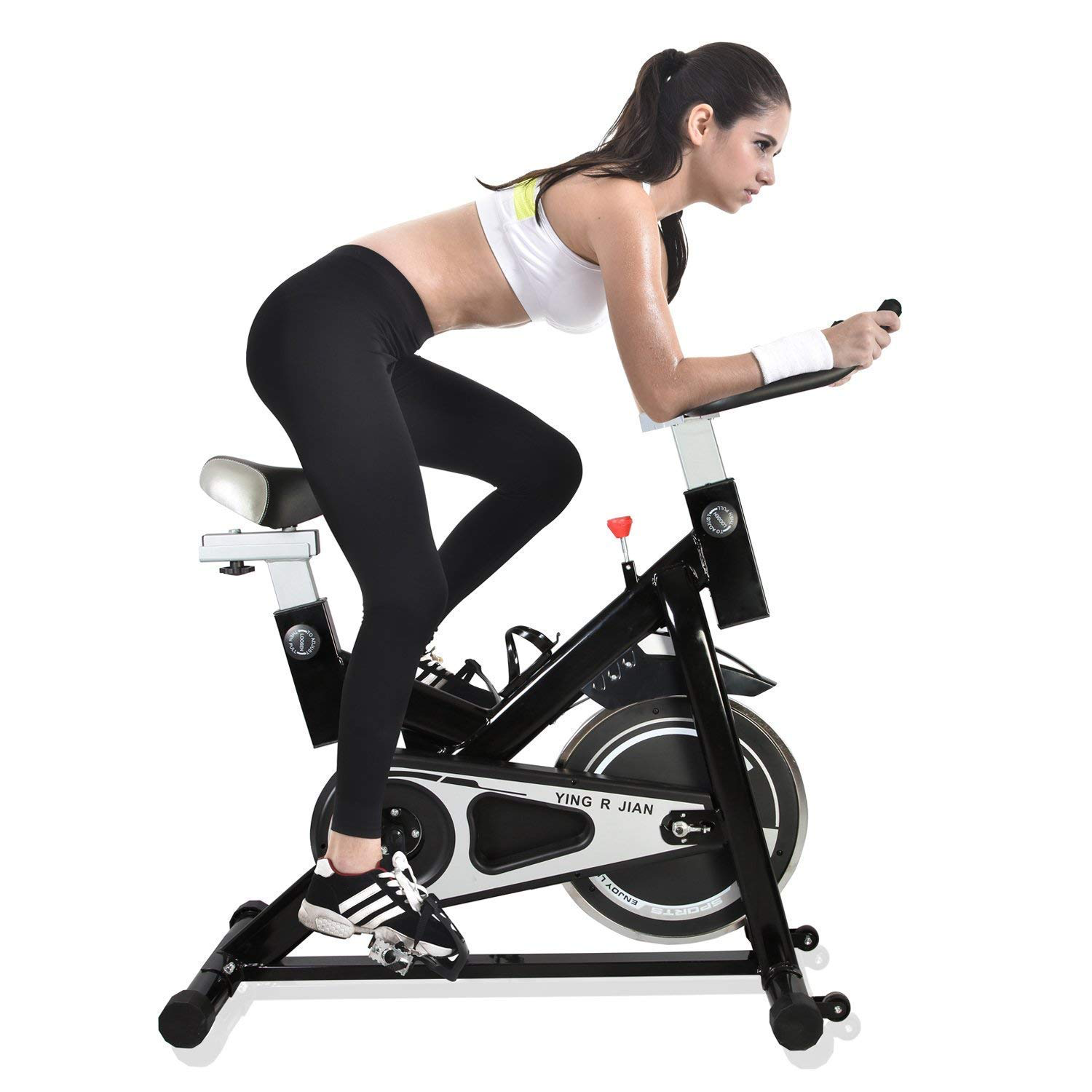 Crafted from high-quality steel, this exercise bike's compact frame is sturdy, sweat-resistant, and ultra-durable. Its combined flywheel and belt drive mechanism ensure a smooth and quiet workout every time. Its pedals are made from strong, slip-resistant aluminum alloy material with adjustable straps that hold your feet securely against the pedals to prevent accidents and injury while you ride. Another notable safety feature of this exercise bike is its built-in emergency brake that stops the bike immediately with just one push.
This stationary bike is designed with comfort for all riders in mind. Its leather seat is extra-wide and padded, and its handlebars are made from high-quality rubber that offers a comfortable, ergonomic grip. The seat easily adjusts forward and backward as well as up and down, and the handlebars are adjustable as well. This bike has a maximum weight capacity of 260 pounds and its adjustability ensures a safe and comfortable ride for users within a wide range of heights and weights.
Pros:
Made from strong and durable steel, aluminum alloy, and high-quality rubber
Includes a wide, padded seat and ergonomic handlebars for safety and comfort
Adjusts easily to accommodate a wider range of heights and weights
Safely supports up to 260 pounds
Cons:
Some users think that the leather seat cover feels rough or uncomfortable
3. Xspec Foldable Stationary Exercise Bike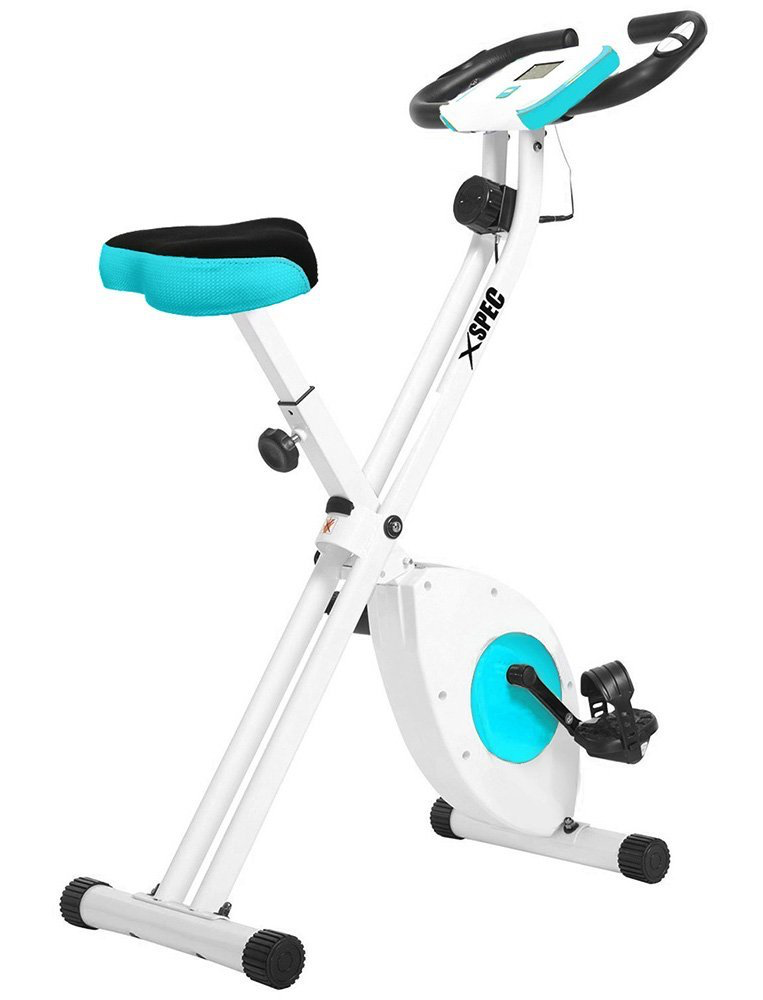 This stationary exercise bike is safe, comfortable, and efficient. Its frame is crafted from heavy-duty steel that is strong, sturdy, and durable. Its ergonomic seat cushion is padded for maximum comfort and support. This seat is also vertically adjustable to ensure a comfortable ride for users of all sizes–this bike supports up to 220 pounds. Its anti skid handlebars and pedals with foot straps prevent your hands and feed from slipping while you ride to ensure your safety. This bike offers eight levels of magnetic tension to give you precision control over the intensity of your workouts.
Despite how stable and durable it is, this stationary bike is also extremely portable. Its high-gauge steel frame is very compact. Plus, it folds up so you can recover some of your floor space or store this bike in a closet or other small storage area when you're not using it. As an added bonus that is unique among other exercise bikes is available in multiple bright colors, including blue, orange, gray, pink, and green.
Pros:
Made from high-gauge, durable steel
Offers maximum comfort and safety with its adjustable, padded seat and anti-slip pedals and handlebars
Folds up for easy storage and portability
Safely supports up to 220 pounds
Cons:
Some users discover that this bike's seat wobbles slightly during workouts
4. PLENY Foldable Stationary Exercise Bike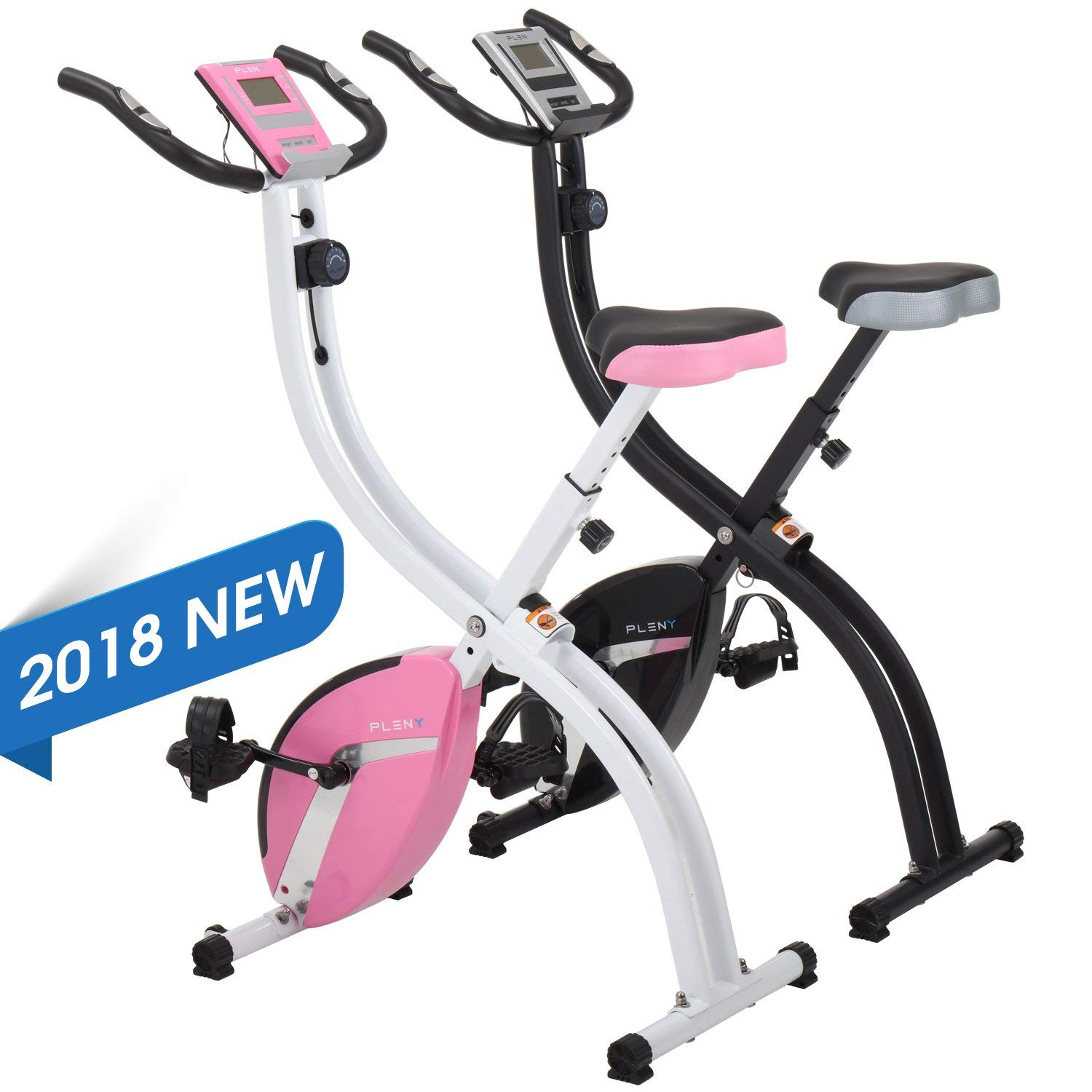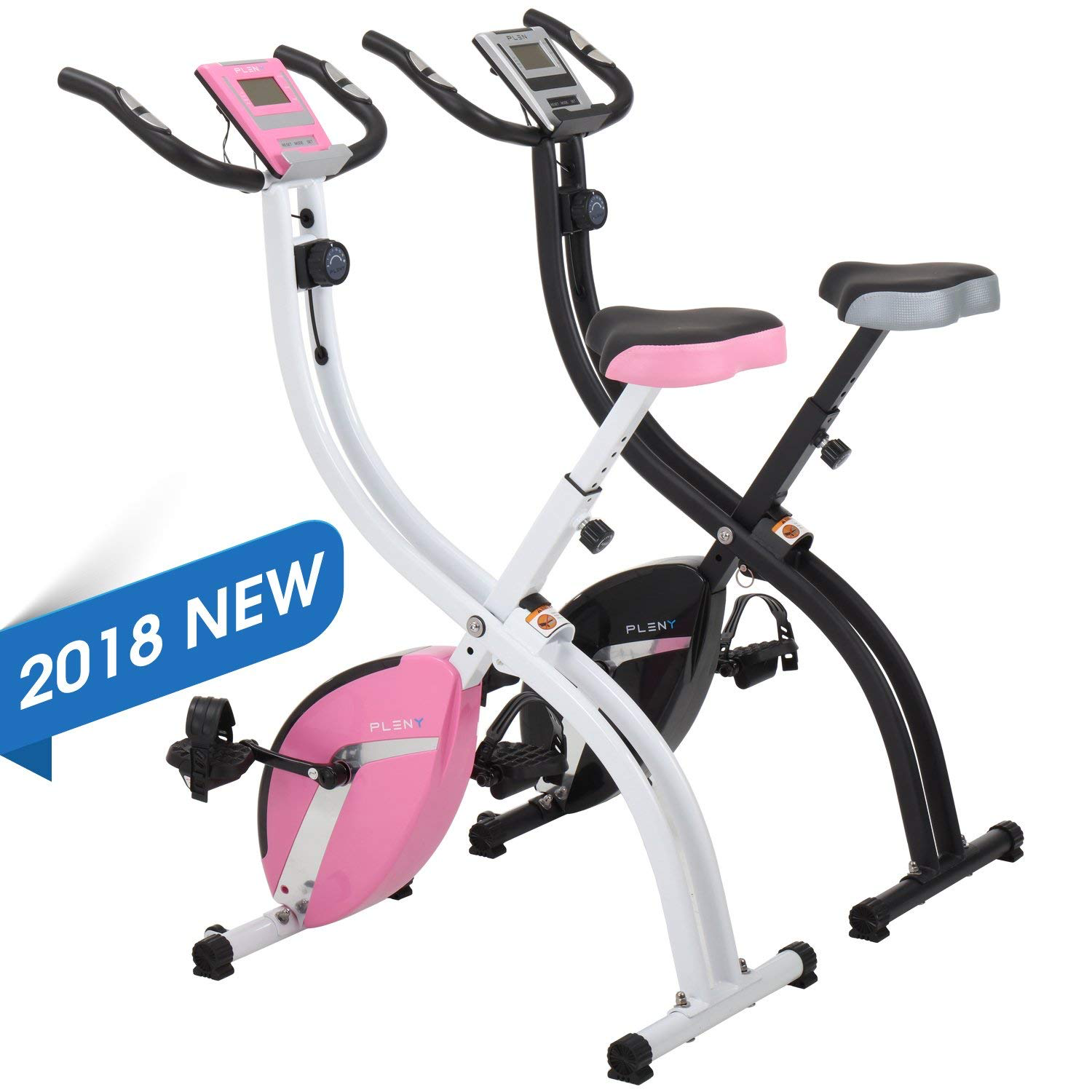 This exercise bike is a great choice for anyone, but it is especially ideal for seniors. Its unique S arc design makes it easier and safer for seniors with limited mobility, arthritis, or joint pain to get on and off the bike without discomfort or danger. Plus, it offers multiple comfort features, including foam-covered handlebars and an extra-large padded seat. This bike's sixteen resistance levels give you plenty of options for adjusting the intensity of your workouts.
Keep track of your workout progress just by watching this bike's LCD monitor screen. The screen displays your time, speed, heart rate, distance, and the number of calories you've burned. The bike's sturdy steel frame ensures a smooth and quiet ride every time. However, its sturdiness does not limit its portability. The frame of this bike is compact and lightweight, and includes built-in wheels for easy transportation.
Pros:
Built with a sturdy, compact steel frame for durability and easier transportation
Features an LCD monitor that displays essential workout information
Prioritizes comfort with a large, padded seat and foam-covered handlebars
Includes built-in transportation wheels for storage and portability
Cons:
Sometimes makes noise when you pedal
5. iDeer Life Stationary Exercise Bike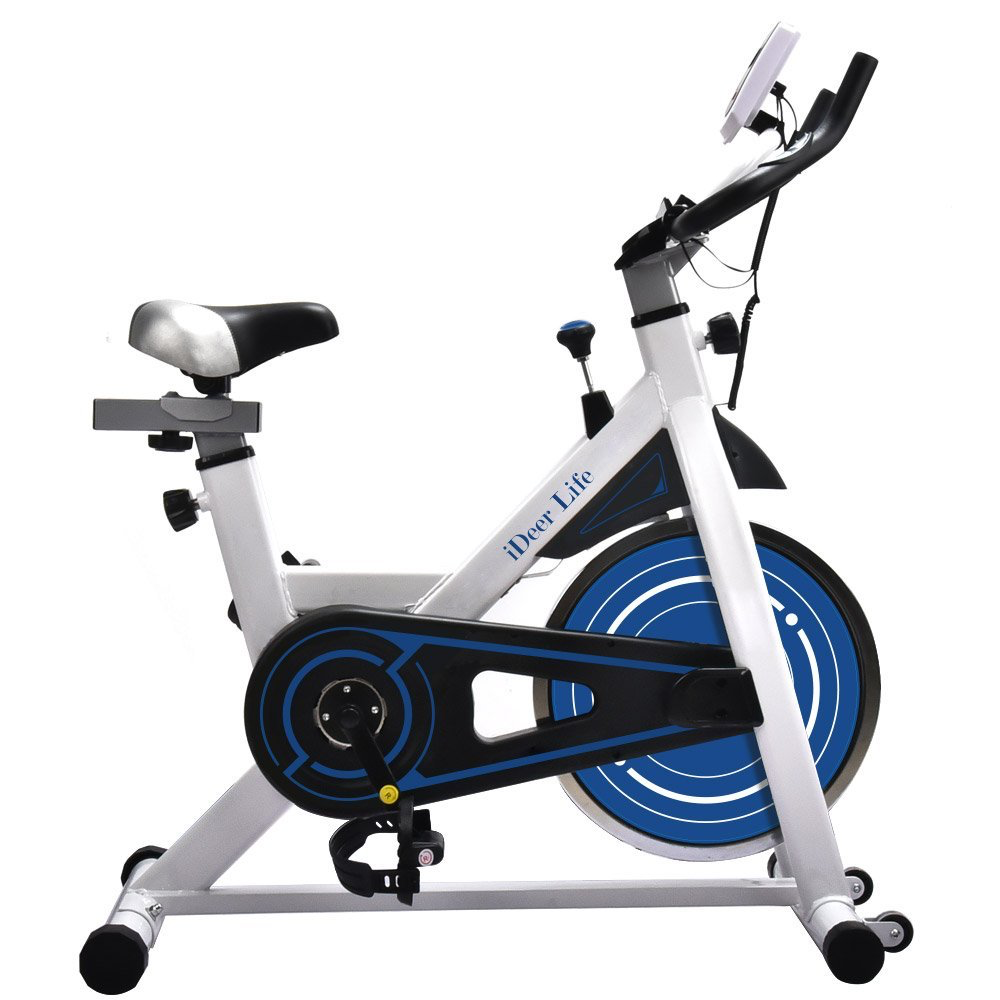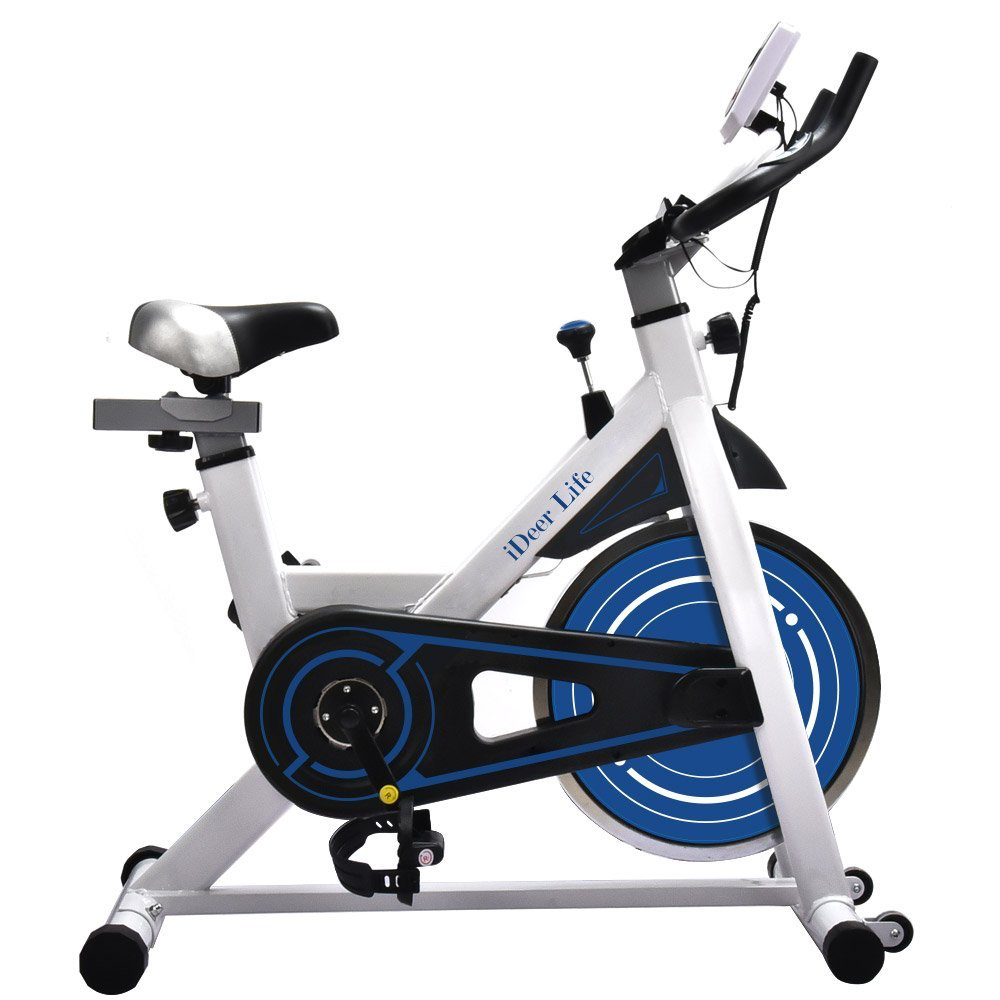 The belt drive mechanism of this stationary exercise bike offers a smooth, quiet ride that allows you to multi-task in peace while you ride. Its solid 24-pound flywheel provides a high amount of resistance and stability. This stationary bike is the best of all worlds–it is efficient, comfortable, and safe. Its rubber handlebars are covered in foam to provide a comfortable ergonomic, anti-slip grip. Its seat and handlebars are vertically adjustable to offer a safer, more comfortable fit for riders of all sizes. To maximize your safety, this bike also includes an emergency break that brings the bike to a stop instantaneously with just one touch.
A high-tech LCD monitor screen is built into this bike. The screen displays your speed, time, RPM, distance, the number of calories you've burned, and your pulse in real time as you ride. If you want to store this bike out of sight when you're not using it, just use its built-in transport wheels to move it easily around your house.
Pros:
Built with a belt drive mechanism that ensures a smooth and quiet ride
Includes comfort and safety features like an emergency brake and foam-covered handlebars
Features an LCD monitor screen that displays important details of your workout
Safely supports up to 280 pounds
Cons:
The handlebars of this bike are not able to tilt back toward you, which can be a problem for taller users