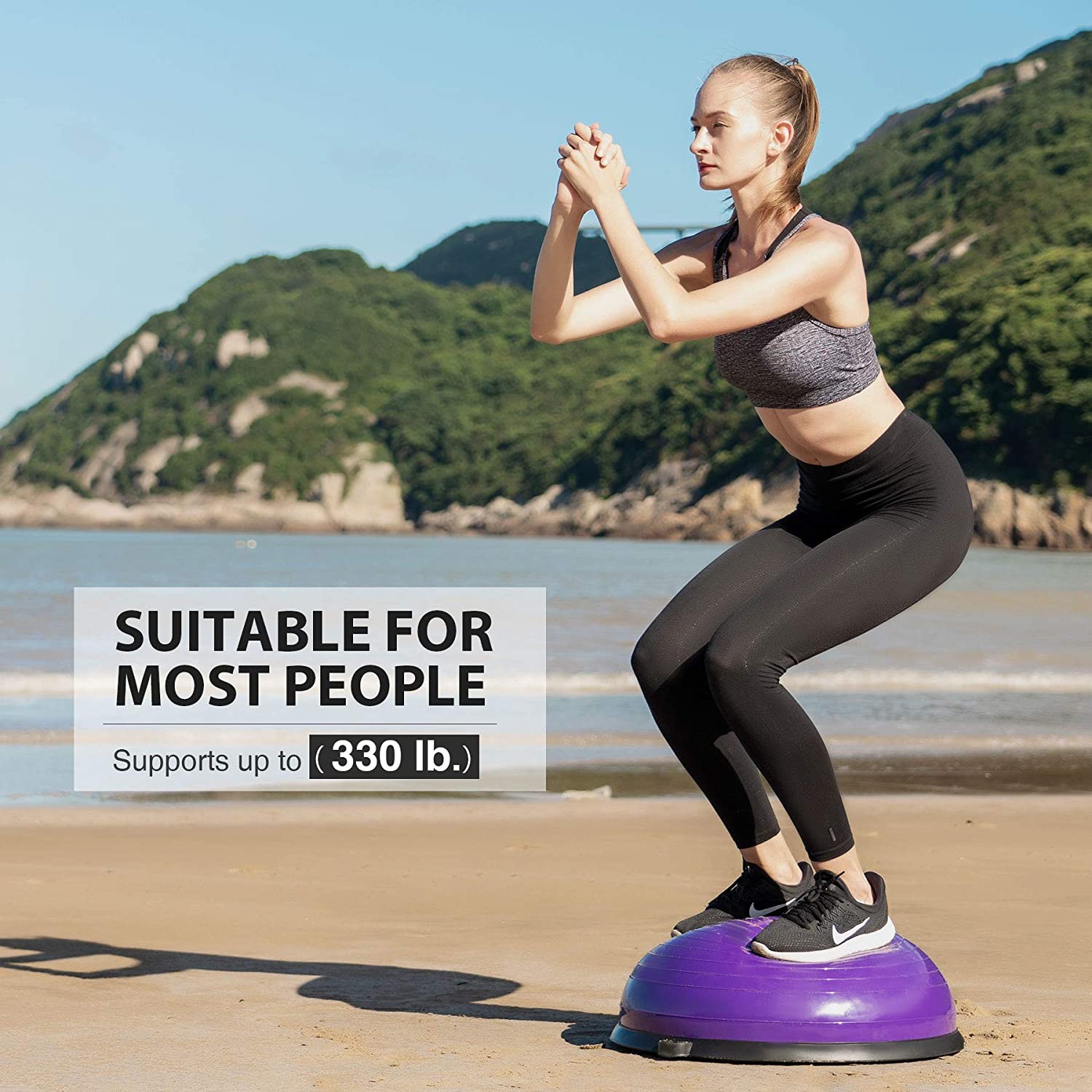 If you're ready to increase your healthy activity level and lose weight, you should definitely be looking at using a Bosu Ball trainer. It's a great piece of gym equipment you can use at home, so you can exercise when it suits you. And training with a Bosu ball is perfect for improving your core strength and muscle toning, leading to a slimmer figure. You can use the Bosu ball for many different exercises, such as sit-ups, lunges, push-ups, planks and squats and lots more.
And if you choose from one of these top 10 Best Bosu Balls, you will get your money's worth whether you use your training ball in a gym class or at home!
1. Zelus Balance Ball Trainer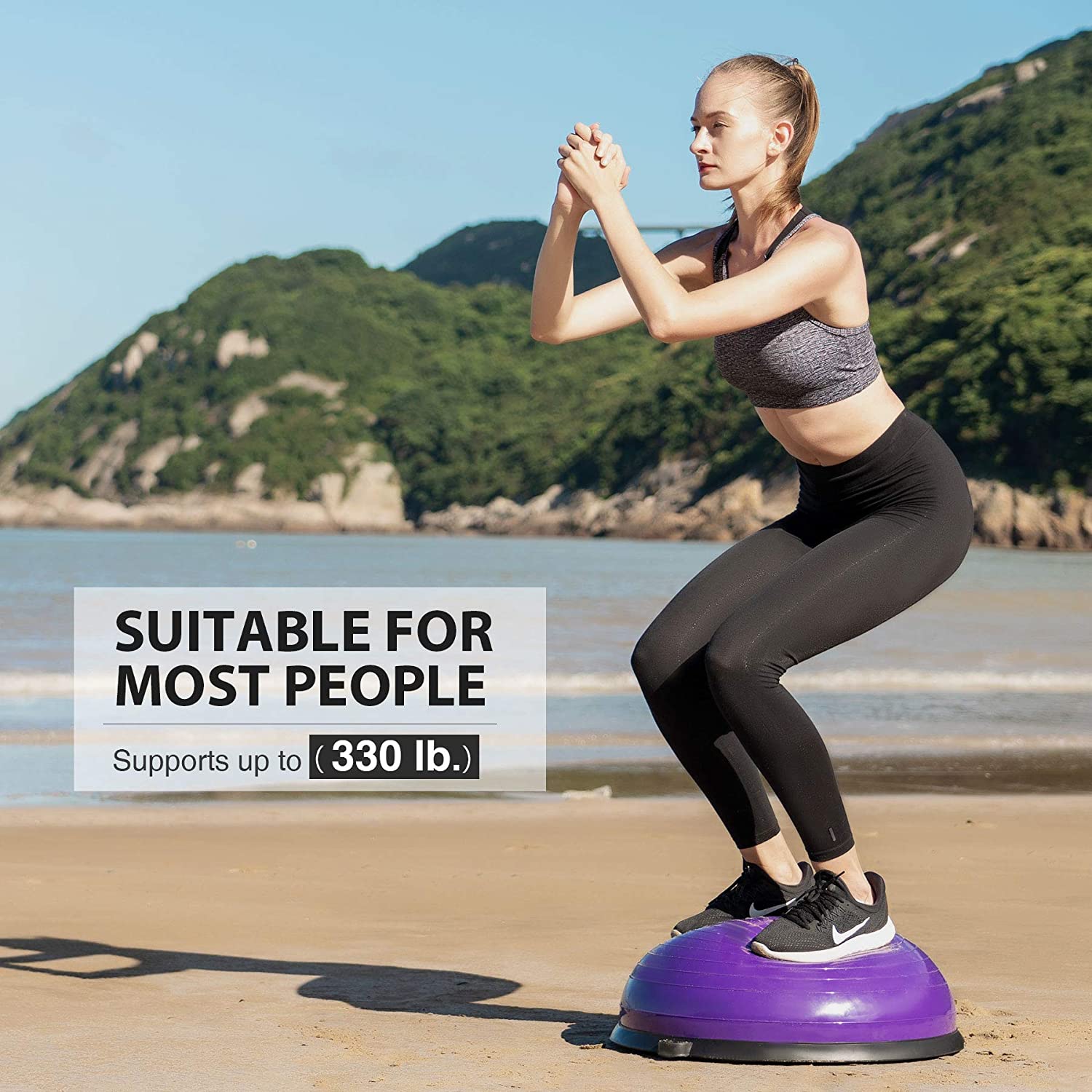 The Zelus is one of the cheapest ball trainers on the market, allowing anyone to have a decent piece of gym equipment for use at home. It's a good piece to start your training exercises with, but it doesn't have any instructions included in the package.
Pros
Cheap
Resistance arm-bands included
Foot pump
Cons
2. URBNFit Balance Trainer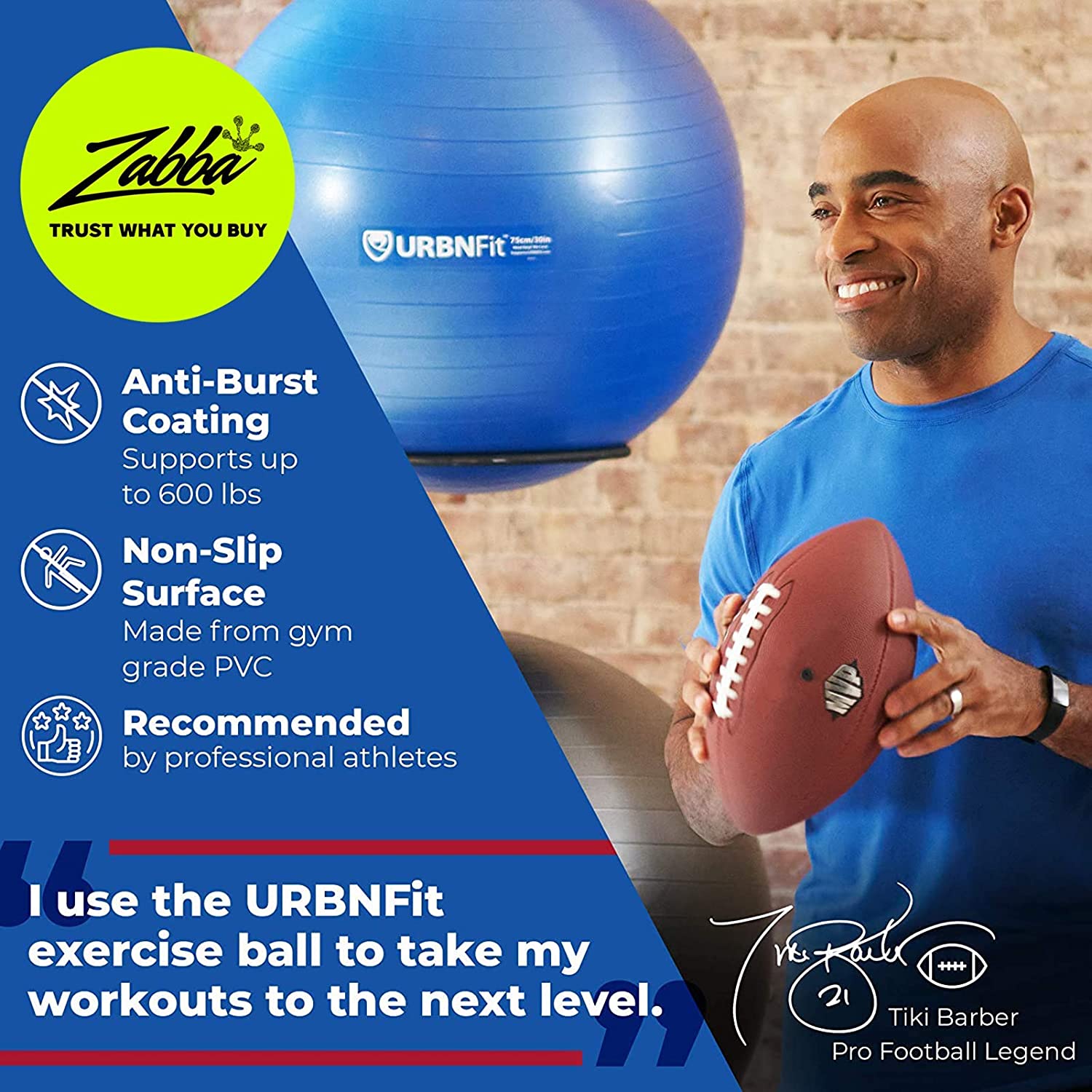 This is excellent value for money as it's well-designed and constructed, like the most expensive Bosu balls, but costs roughly 50% less! It also comes with arm-resistance bands, which aren't essential, but are still useful. It's sturdy and includes a good Instruction Manual that means you will soon learn how to get the best use out of your balance trainer.
Pros
Economical price
Good quality with sturdy construction
Comes with an inflation pump
Includes arm-resistance exercise bands
Cons
The arm-bands aren't as strong as they could be
3. Beleboom Balance Trainer Ball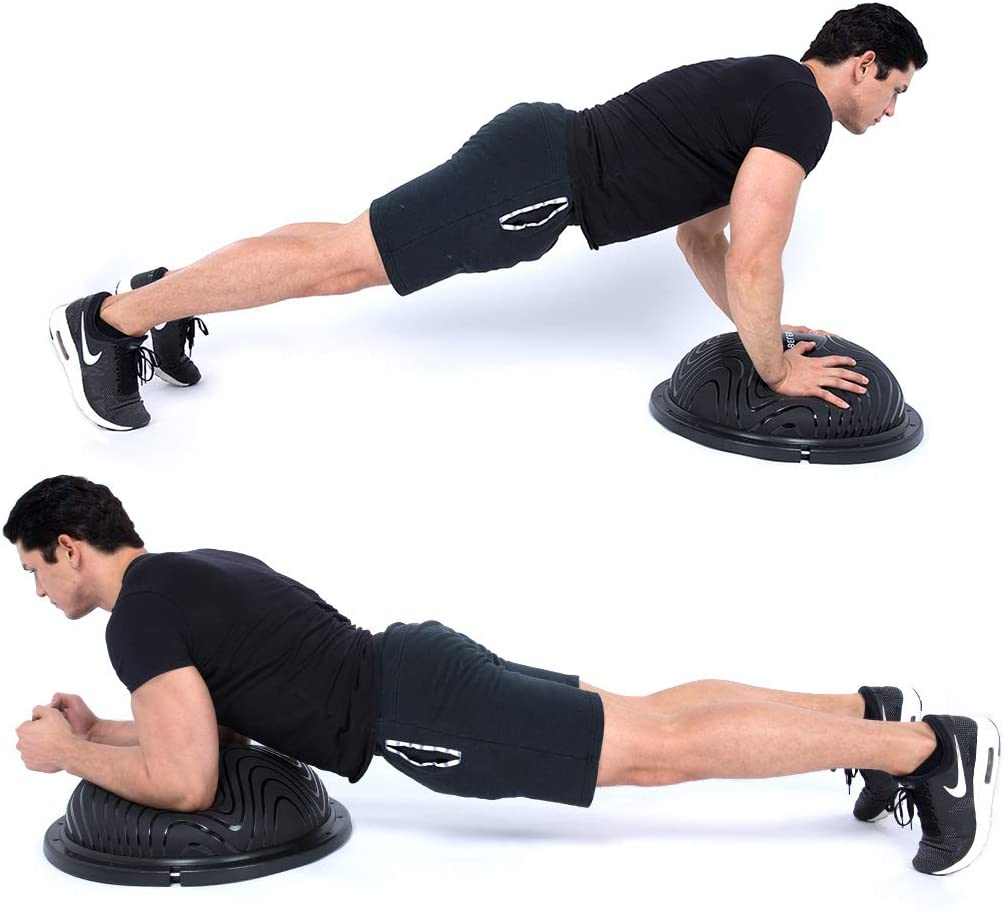 The good quality, Beleboom Balance Trainer Ball is light and easy to move around, so if you want to take it with you when away from home, it's a good choice. And although it's lighter, it's recommended for being extra-sturdy, with a high weight limit of up to 800 lbs. This ball includes arm-exercise resistance bands, with the superior metal clips you should always choose over flimsy plastic fasteners..
Pros
Sturdy 5mm-thick surface material
High weight capacity up to 800 lbs.
Arm-exercise bands with strong metal fasteners
Good exercise wall chart and pump included
Cons
Not the best resistance bands on offer
4. BosuPro NexGen Balance Trainer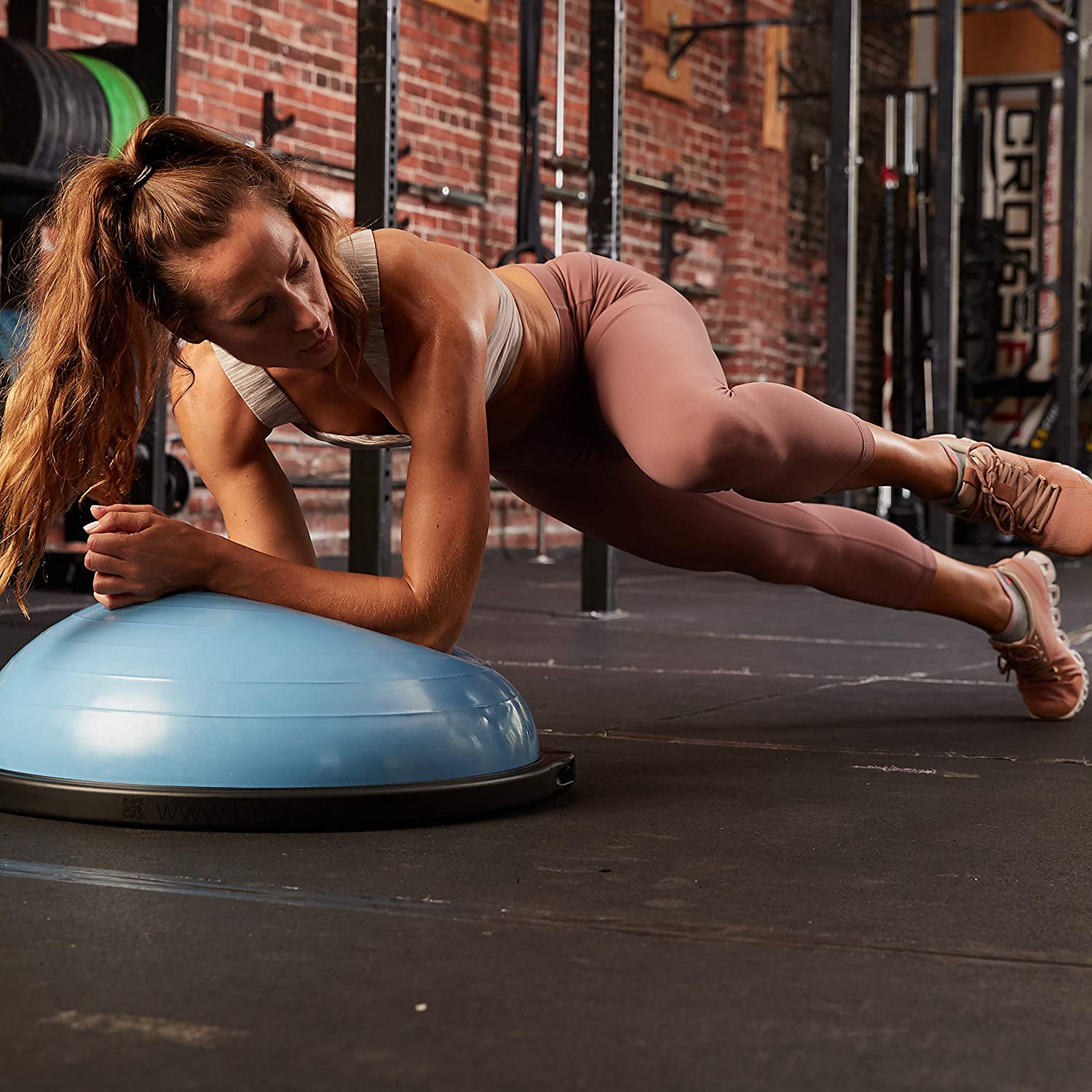 Another iteration of the original Bosu ball, the NexGen helps you get your balance and exercise position just right, with a textured surface divided into 4-sections. In addition, the User Manual includes new exercises on a DVD and a helpful Wall Chart to guide your weight-loss and muscle toning exercise regime.
Pros
Textured surface with 4 marked sections
U.S. manufacture
Holds up to 350 lbs. for commercial gym use
Cons
5. Devebor HalfBall Sport Balance Trainer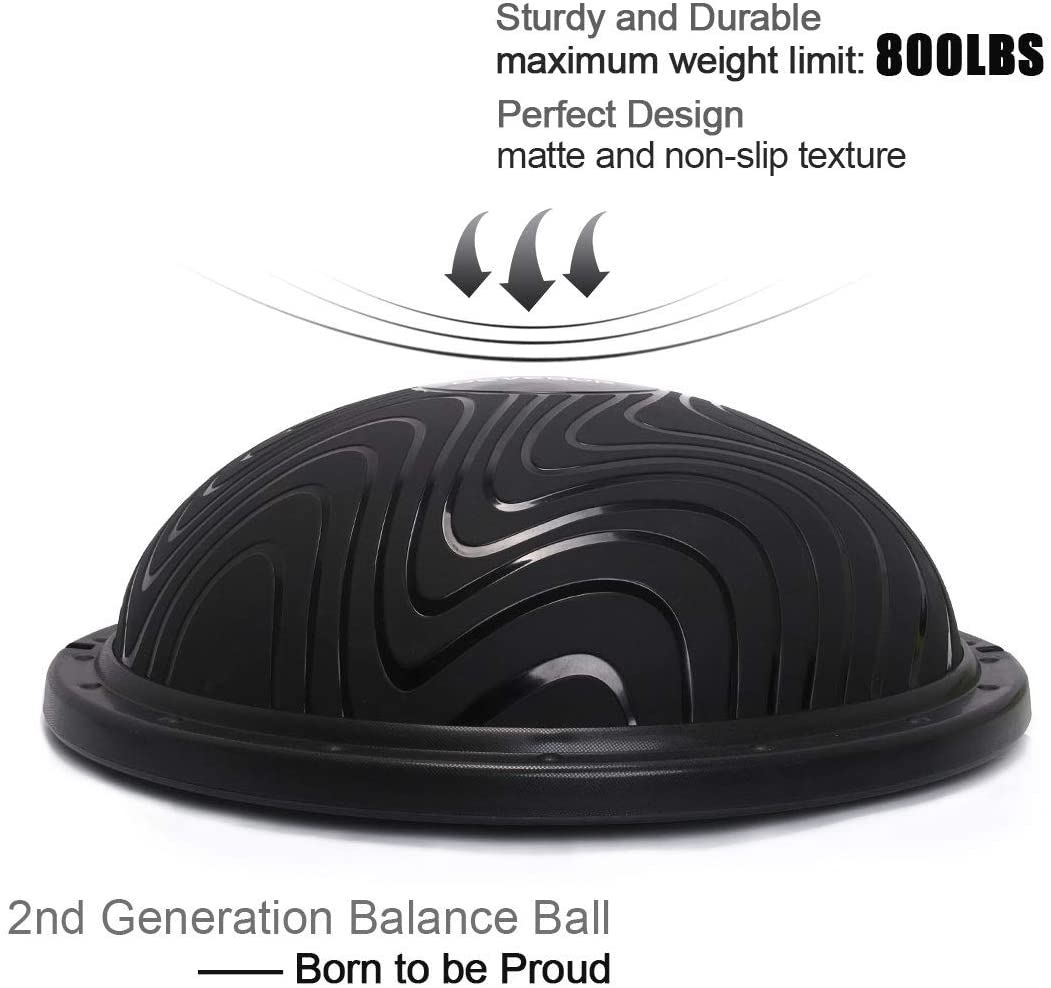 If your budget is limited, the Devebor 'Bosu' ball is a good option for its economical price and its sturdy construction. This balance trainer comes with arm-resistance bands, which are superior because they are connected by strong metal fasteners. (If you want to use arm-bands, avoid training balls with weak plastic fasteners.) The strong, Devebor HalfBall is approx. 50 % cheaper than top branded balls! Highly recommended.
Pros
Arm-resistance bands have superior metal fasteners
50% cheaper than top brands
Extra-strong – with a high weight limit of 800 lbs.
Cons
6. Finer Form Yoga HalfBall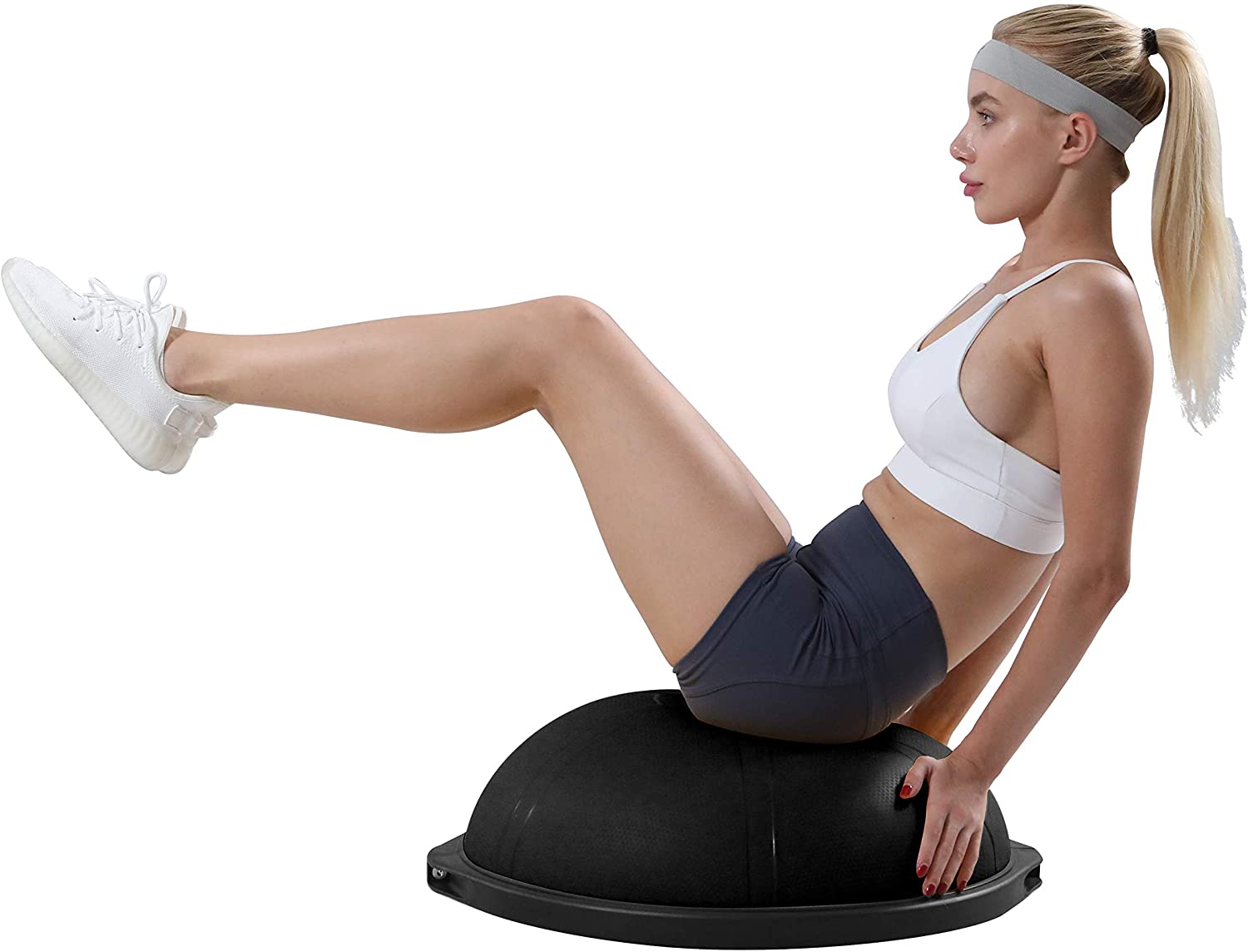 The Finer Form Yoga balance trainer is sold at a very economical price, which is approx. 50% below the price of a Bosu ball. But we are pleased to report that it's the same, good quality gym equipment as an original Bosu ball! In particular, you'll like the strongly textured surface, which promotes excellent foot-grip. And as it's made from thick PVC, this is a durable item, too.
Pros
Heavily textured surface – good grip
Low price compared to Bosu balls
Well-made and durable
Cons
7. Bosu Pro Balance Trainer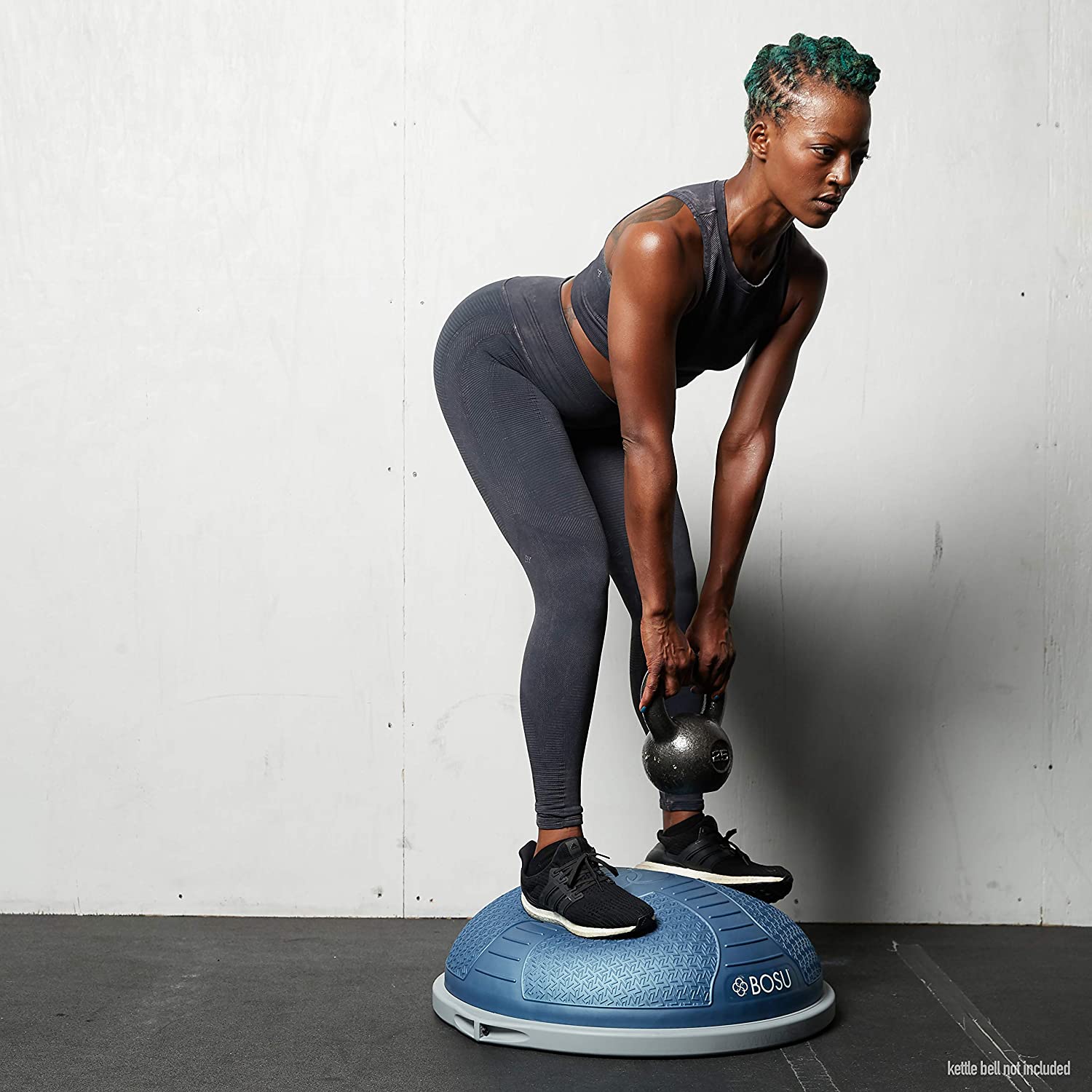 Part of the branded Bosu ball range, this is a professional version meant to be suitable for use in a commercial gym setting. It has a heavier base than the first Bosu balls, and is made from sturdier rubber material. This means it is a stronger and steadier piece of equipment for balance and core workouts, with a high 350 lb. weight limit. Use this Bosu ball for low impact, balance and stretching workouts. As a 22 ½" Pro ball, it has sufficient space for exercisers of all sizes to use for weight-loss activities.
Pros
Heavy, thick rubber base
Comes with foot-pump for inflation
Commercial-grade with a high 350 lb. limit
Cons
8. Sportneer Balance Ball Trainer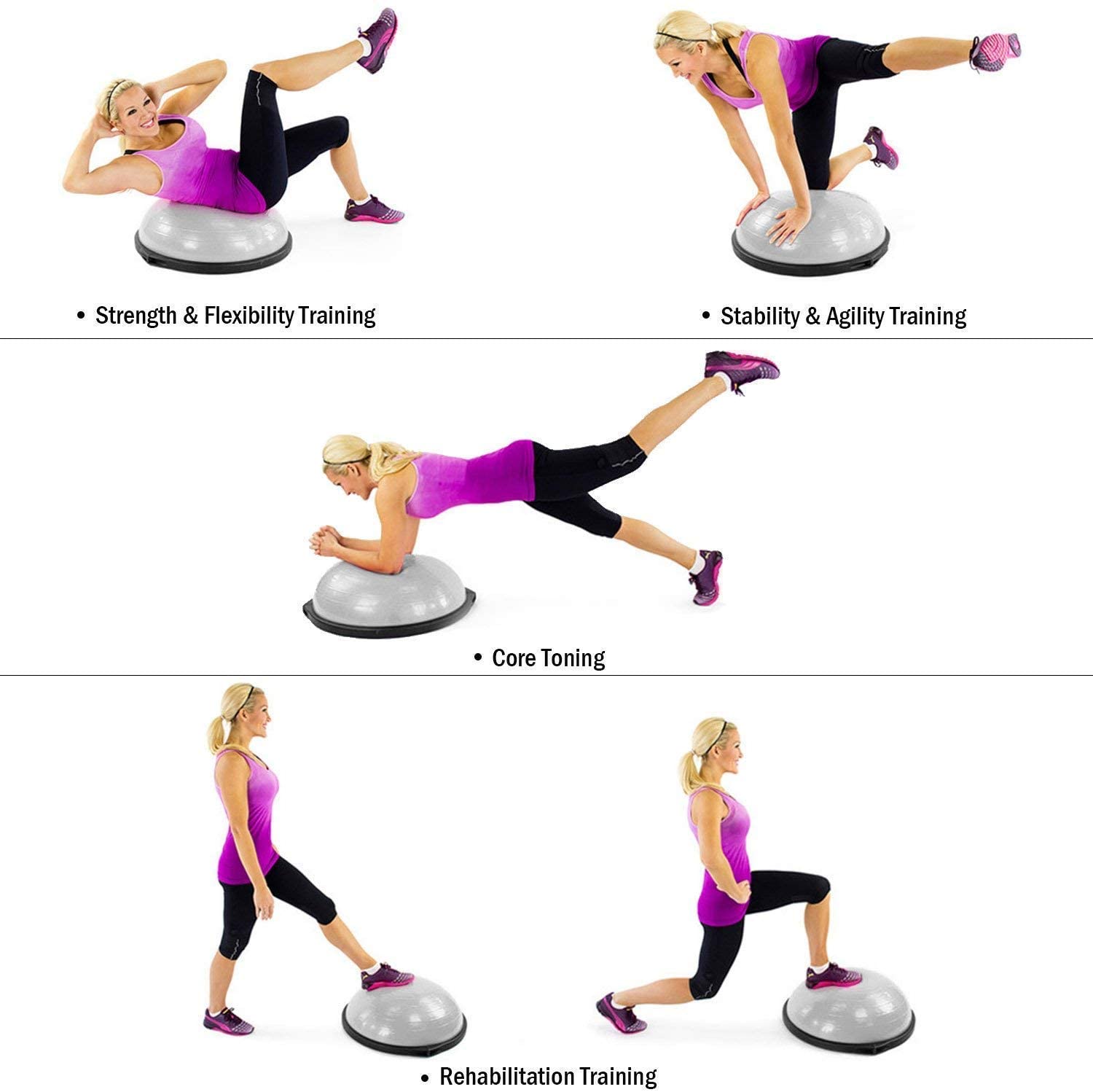 The Sportneer balance trainer is also great value gym equipment. It's slightly smaller than some of the other 'Bosu balls' we've chosen, but it's also lighter and therefore, easier for less fit individuals to shift around. And you can use this smaller trainer in a limited space. The Sportneer is excellent value, being strong and well-designed, with arm-resistance bands connected by superior metal clips.
Pros
Comes with sturdy arm-resistance bands with strong metal fasteners.
Economically priced
Made from strong durable material
Cons
Smaller foot-space than larger balls
9. Bosu Elite by WeckMethod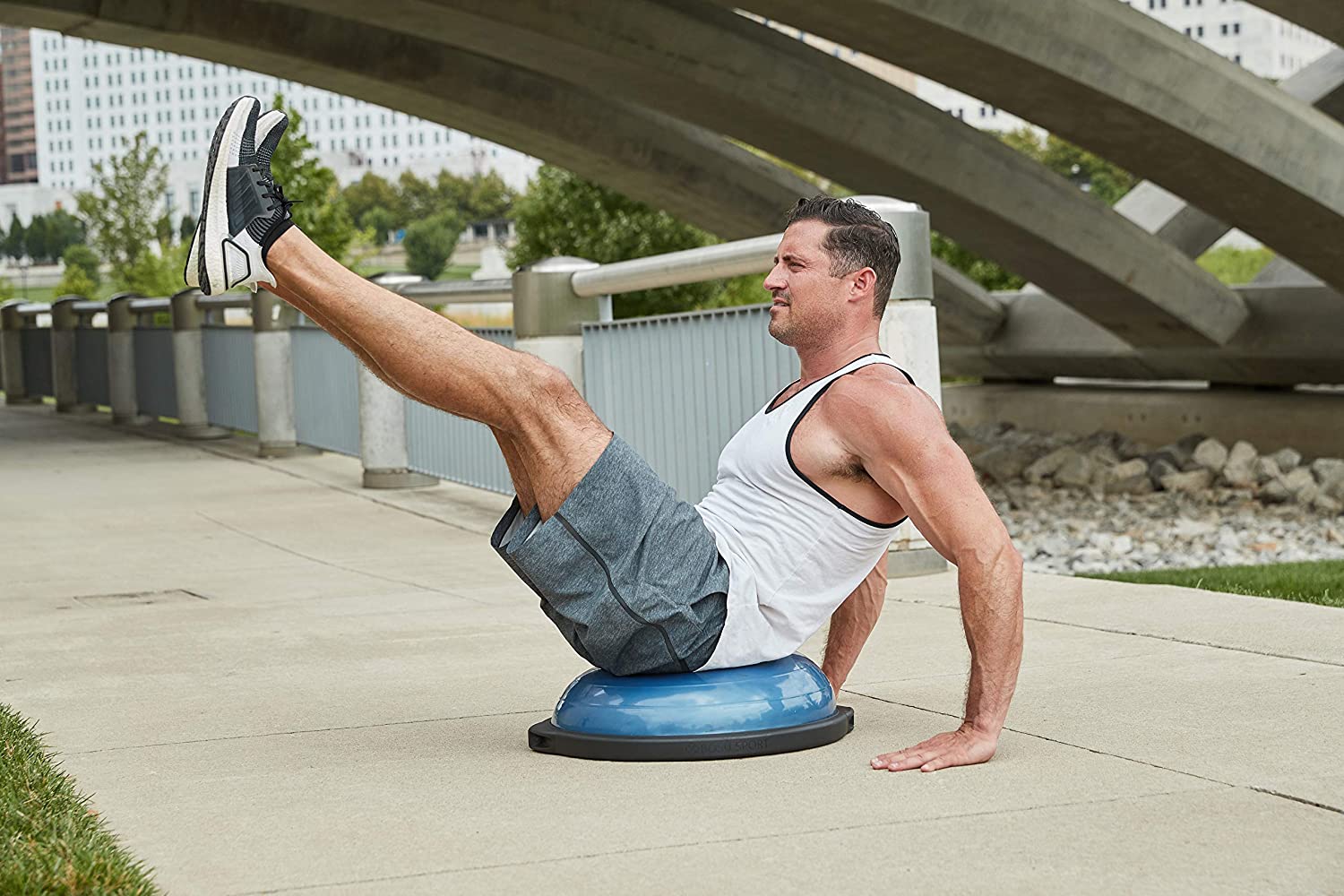 This is a strong, high density ball considered by many to be the steadiest Bosu ball to use. It's able to take weight up to 450 lbs. and is constructed to take a lot of hard wear, especially in kettlebell/barbell activities for training those core muscles that regular lifting work doesn't activate.
Pros
High-density and durable equipment
Textured surface for better grip
Withstands being jumped on
Gym quality
Cons
10. Bosu Balance Trainer Original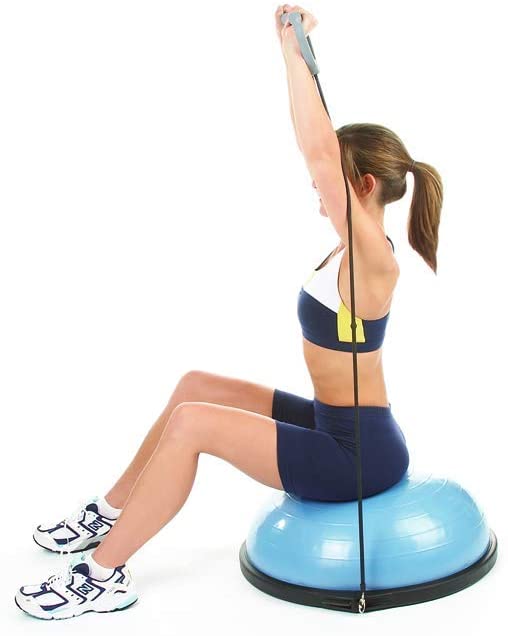 This is the first and original Bosu Ball, which some experts still prefer as a classic piece of gym equipment, made especially for use at home. It can take weights of up to 300 lbs. and you can also use it with a Bosu Powerstax, which increases the range of exercises you can do with the Bosu ball.
Pros
Extra-strong for weights up to 300 lbs.
Made especially for home use
Includes guidance Manual, DVD and pump
Cons
Exercises for use with a 'Bosu' ball, or one of these excellent brands, can be tailored to suit both fit and not-so-fit individuals. And sensible exercise programs, whether at home or in a local gym, can help all of us lose those extra pounds and reach a healthier, happier state of being!