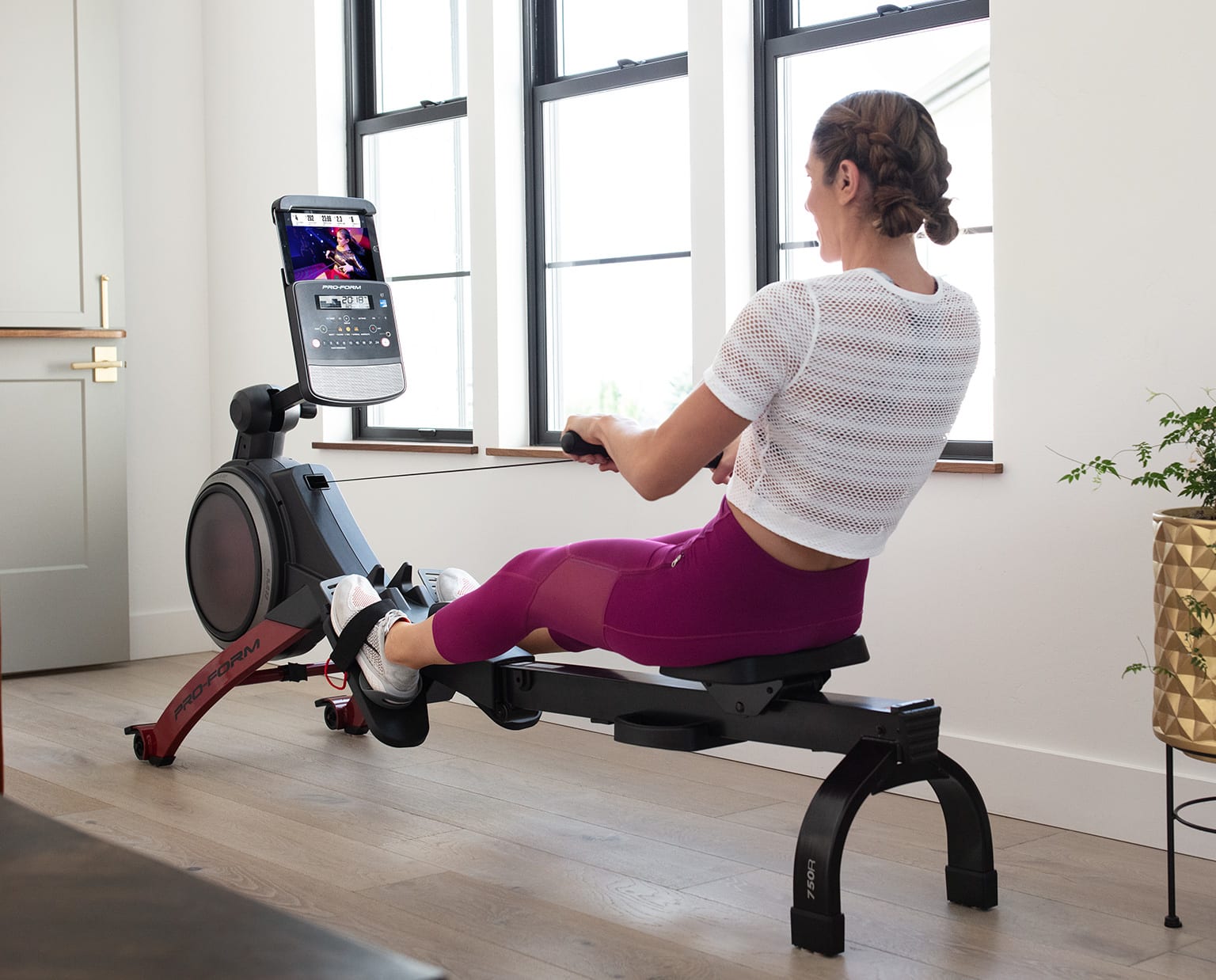 Looking for the best Rowing Machines for home use? Check out this Rowing Machines buying guide! We're all being encouraged to get our weight down to a healthy level, and one of the main ways to lose weight is to do more exercise. But it's so easy to say you haven't got time, or you can't get motivated, and avoid this vital issue. However, there is a quick, and relatively easy, low-impact way to get a full-body workout at home – in just 20 minutes.
Interested? You should be, because rowing machines are currently one of the best-selling home exercise devices, helping users lose weight, build a strong immune system and improve their overall health!
This is a compact, home-use exercise machine that replicates the rowing action you would use in a dinghy row-boat. In a rowing machine, the machine gives you the resistance you would normally get from rowing on real water.
If you want to start healthy exercise, but don't fancy running or HIIT/Cross-training, choose the low-impact exercise of a rowing machine and protect your joints.
Benefits of rowing machine workouts
Rowing exercise engages your core-section, as well as the legs and upper body, so your whole body has to work to drive each rowing stroke. You do this exercise in an upright sitting position, which helps improve your overall posture, too. Here's our choice of best rowing machines to get you started on your weight-loss journey, with low-impact cardio and strength workouts at home!
Best Rowing Machines for Home
1. Best value for money – Sunny Health & Fitness Magnetic Rowing Machine with LCD Monitor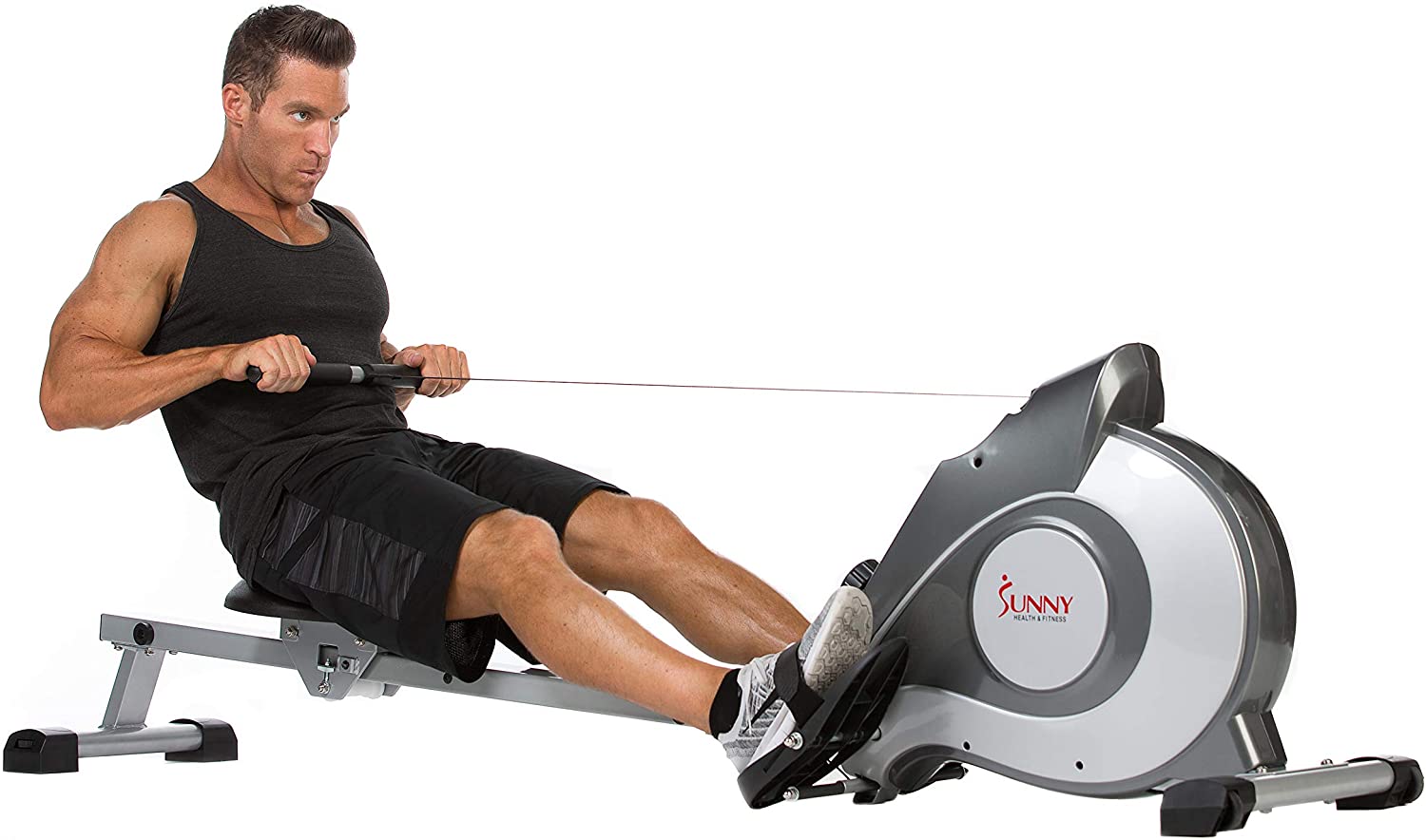 If your budget doesn't allow for extras like personal training, take a good look at the Sunny Health & Fitness Magnetic Rowing Machine. It's a good quality, sturdy home rowing machine that's quiet and features 8 levels of resistance from a magnetic tension system. You can track your progress with the easy-read, LCD screen that shows your calorie usage, number of meters rowed and time taken.
This powerful machine offers plenty of comfort from a fully padded seat and anti-slip pedals and handlebars. So you get all you need for a very affordable price!
2. Best real water resistance – Sunny Health & Fitness Water Rowing Machine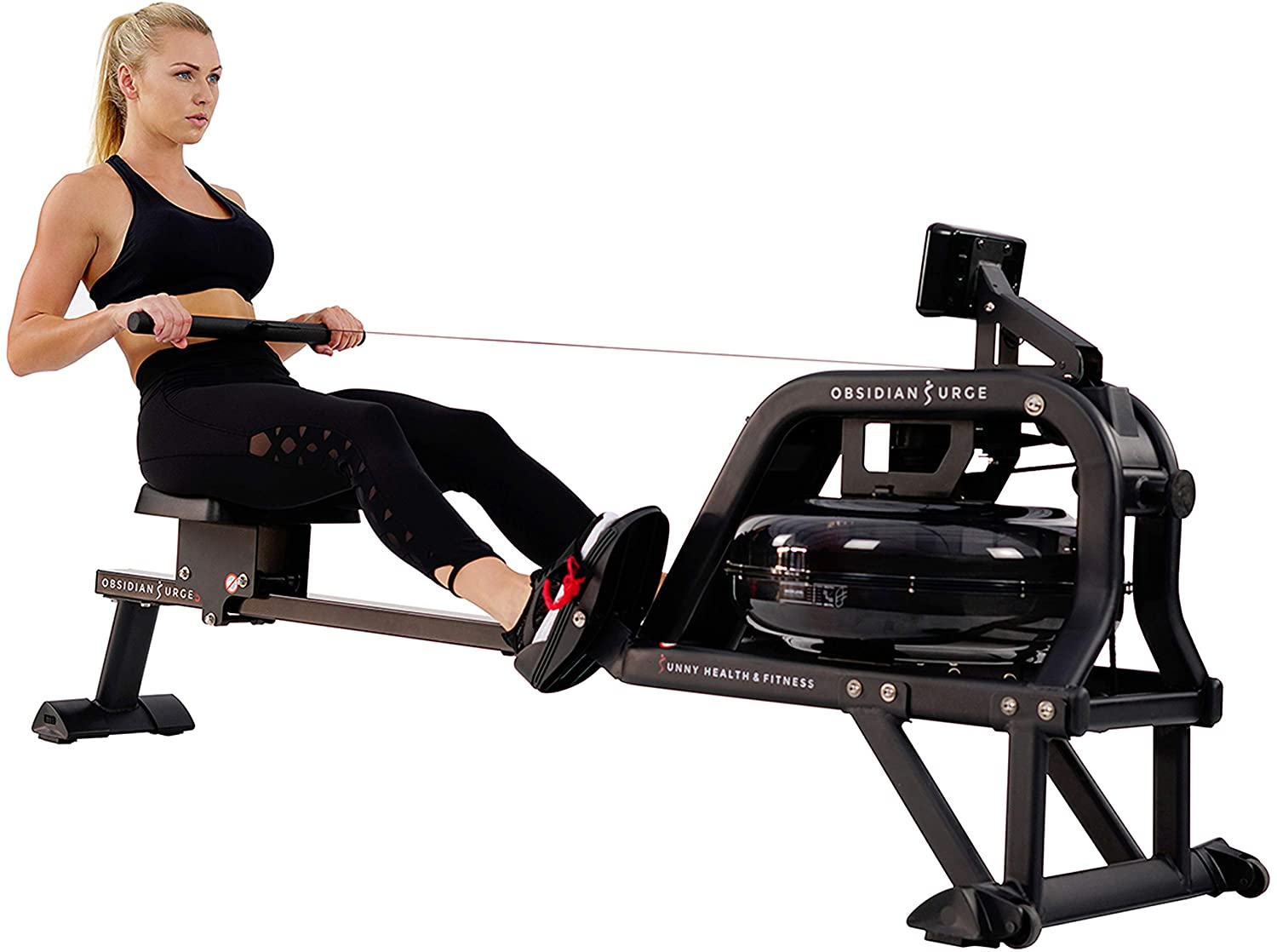 The Sunny Health & Fitness Water Rowing Machine creates the real feel and water resistance you'd have rowing in river/lake water. This special feature is created by sixteen fan-blades enclosed in a sealed water tank. So you get a super-quiet machine from which the only sound you hear is the swish-swash of real water in the machine's case.
It's very relaxing and you can monitor your workout on the user-friendly LCD monitor that displays calories used, stroke count and distance rowed. This helps you create your own perfect exercise plan. This is popular for its economic price, ease of installation and above all, its special water resistance feature!
3. Best for iFit rowing classes – ProForm 750R Rowing Machine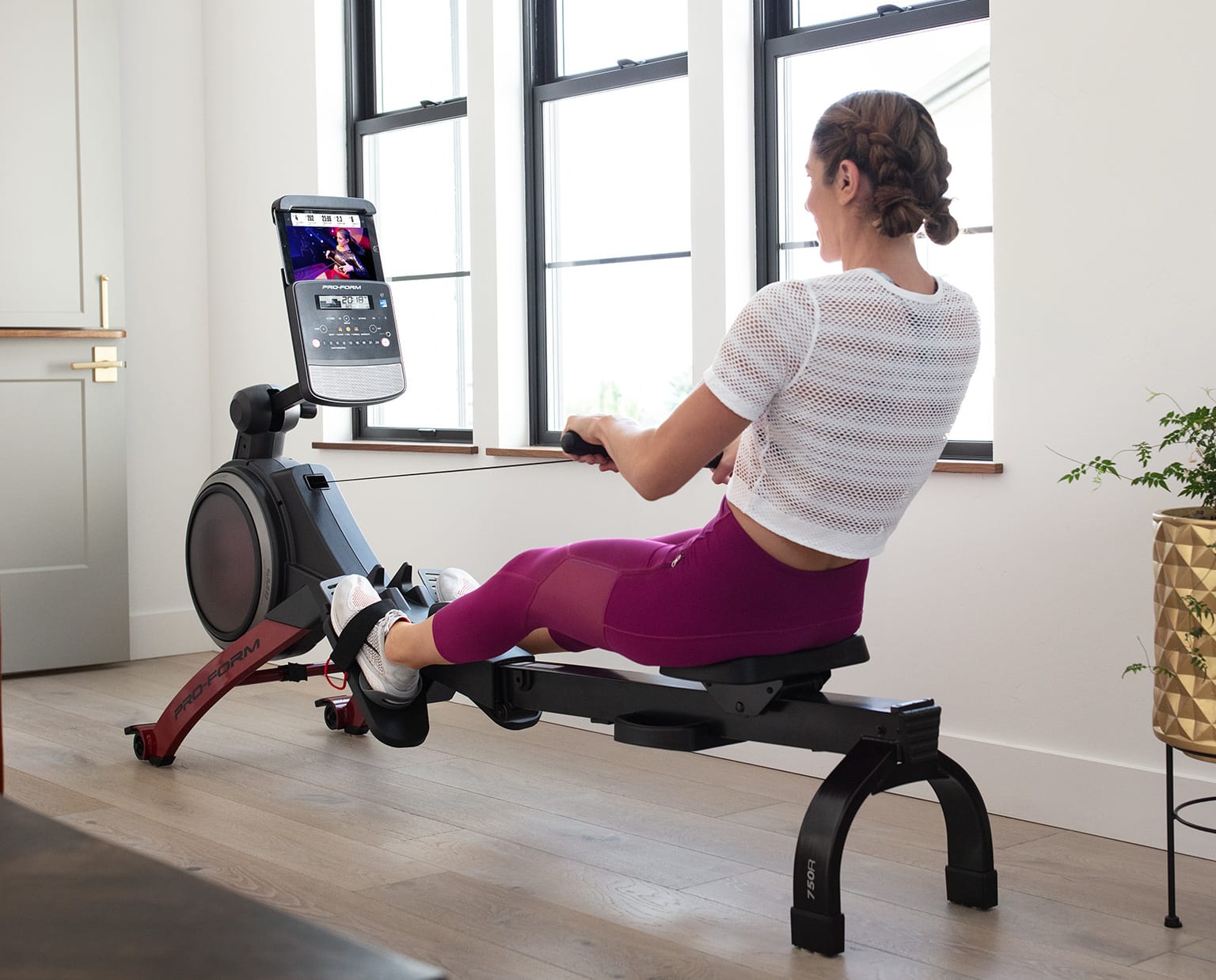 Top-quality, with a full 24 levels of resistance, this is a more expensive rowing machine for serious training. You pay for a three-year iFit membership and get 36 months of virtual rowing classes with certified personal trainers. And ProForm throws-in the rowing machine free with the iFit member's price!
The machine offers an extra-large seat and a steel seat-rail, from where you can follow your rowing instructor on a 5" display panel. The console records calorie use, time taken and distance rowed.
4. Best bluetooth-linked – Women's Health + Men's Health Bluetooth Rowing Machine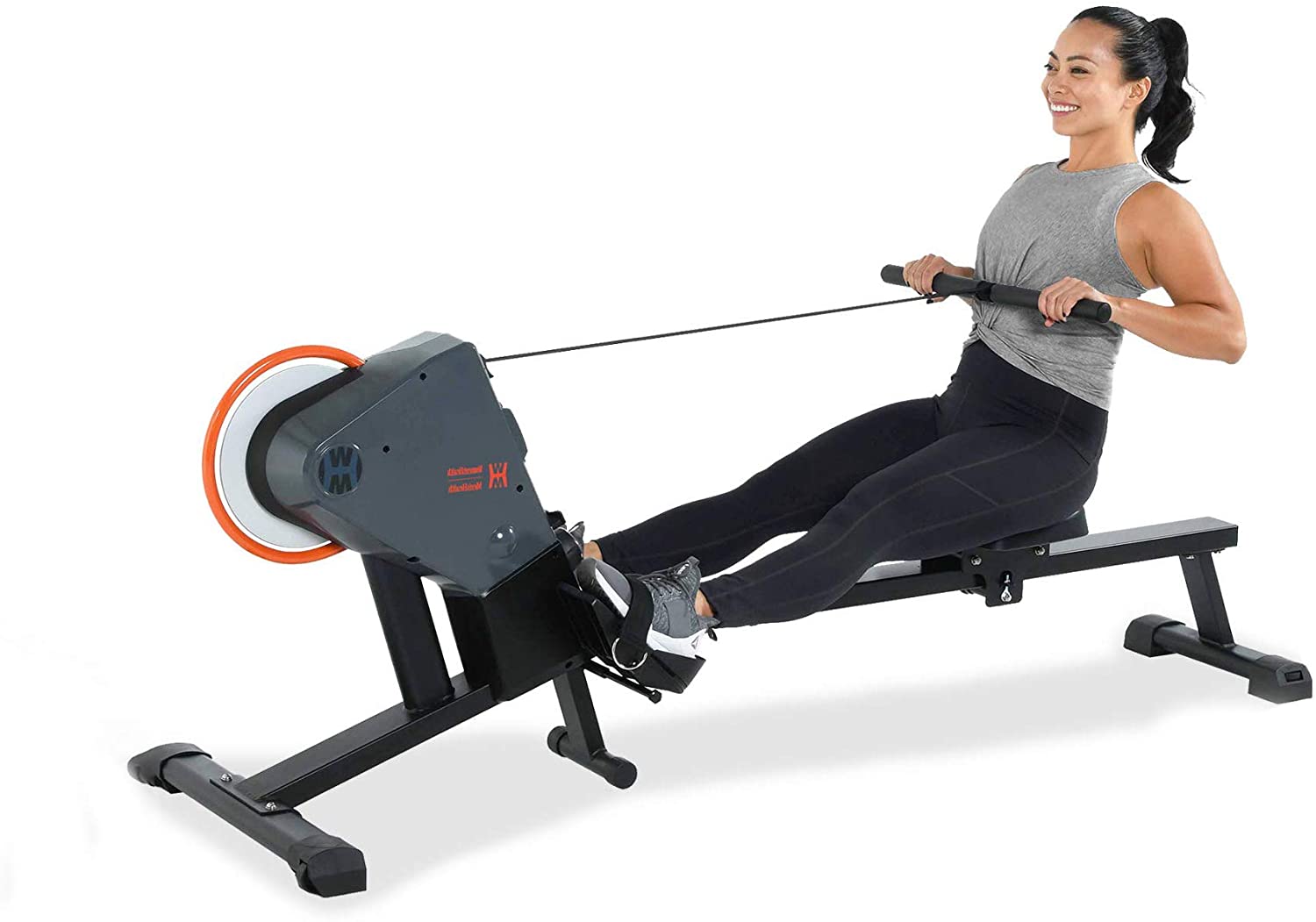 If you're setting up a home gym that all the family can use, this is a great one to choose. It uses a blue-tooth connection to allow you to stream destination row-workouts and coaching videos on your smartphone/smart TV. There's a special smart dial that keeps score of your strokes, speed and calories used and displays them on the easy-read LCD panel.
And you can also enjoy many free workout programs available on the MyCloudFitness app with this reasonably priced rowing machine!
5. Best economy buy – Stamina Rowing Machine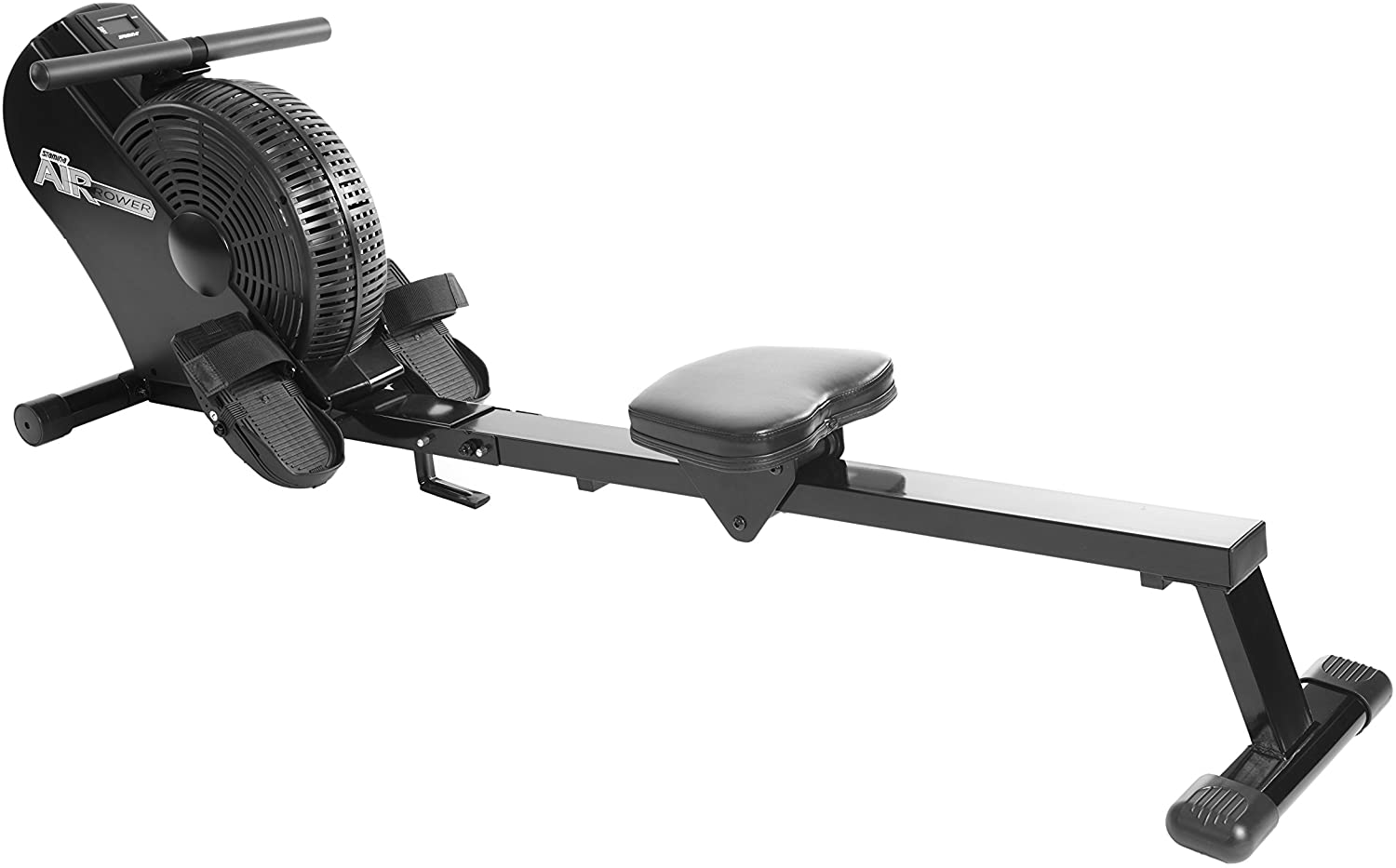 This economy rowing machine is simple and uses air-resistance to provide the rowing challenge. So to get more resistance, you just have to row harder. This machine has a padded seat and adjustable footplates for comfortable use. And there's an LCD panel showing calories used, time spent on machine, speed and distance.
6. Best smooth & quiet action – Concept2 Model D with PM5 Performance Monitor Rowing Machine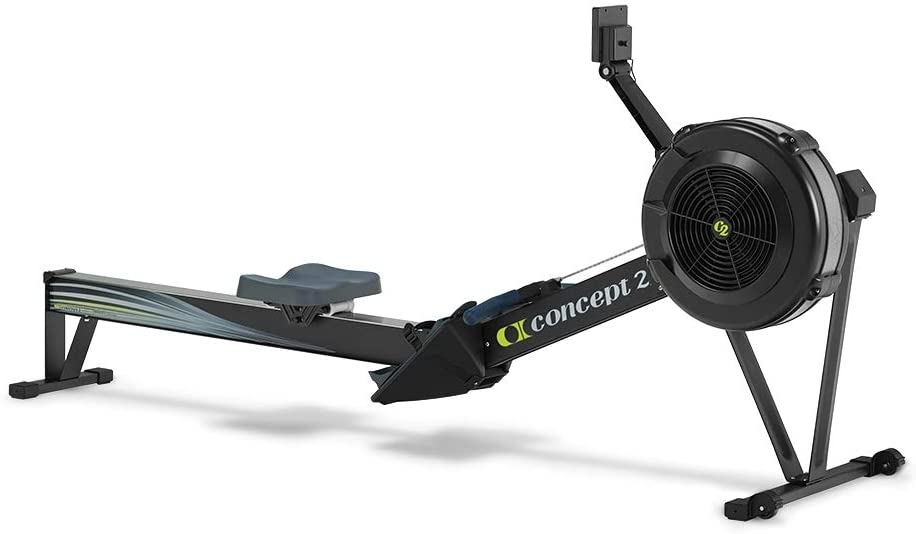 If you like to watch TV whilst you work-out, this popular rowing machine is for you. Users comment that it's a super-smooth machine that's extremely quiet, so you can watch your favorite shows without turning up the volume. And that's no surprise, as Concept2 produce many of the best-selling, rowing machines we use in commercial gyms.
Home-users have now joined gym owners in loving this brand, which also has handy wheels so it's easy to move around in your home. Concept 2 Model D records the distance you row in meters, your stroke-rate and split-time.
7. Best fast-rowing machine – Velocity Exercise Magnetic Rowing Machine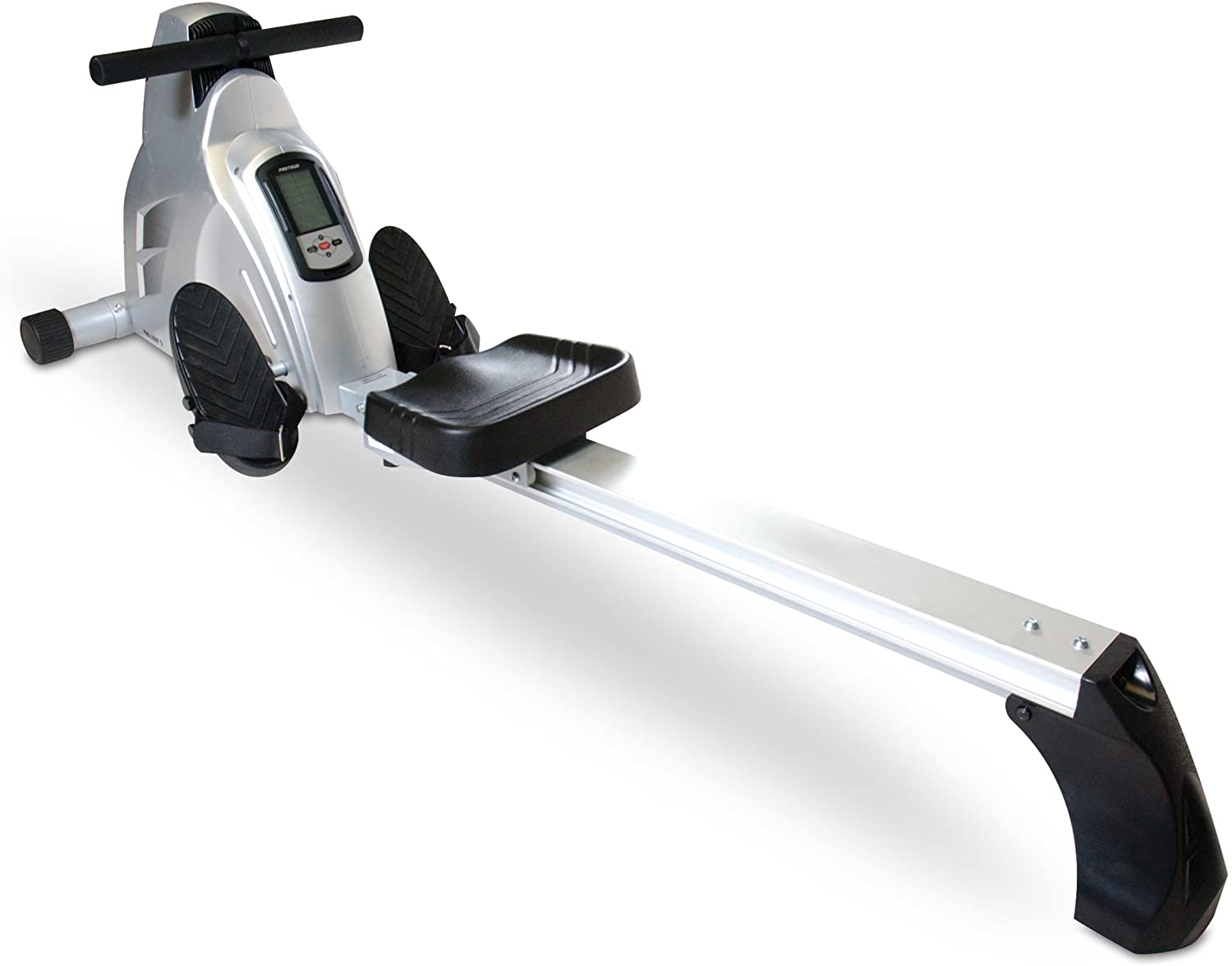 For extra-smooth strokes, you can't beat the Velocity Exercise Magnetic Rowing Machine, which has a winning combo of drum magnetic control and electric tension. And this offers strong resistance for excellent calorie-burning, as you enjoy cardio and strength training.
You'll like the comfortable, ergonomically-designed seat and foot straps you can adjust for best fit. And this machine features a well-built, aluminum frame that gives a sturdy base for fast rowing exercise. With an easy-store foldable shape, this machine fits anywhere in the home.
8. Best easy-rowing experience – Sunny Health & Fitness SF-RW1205 Adjustable Resistance Rowing Machine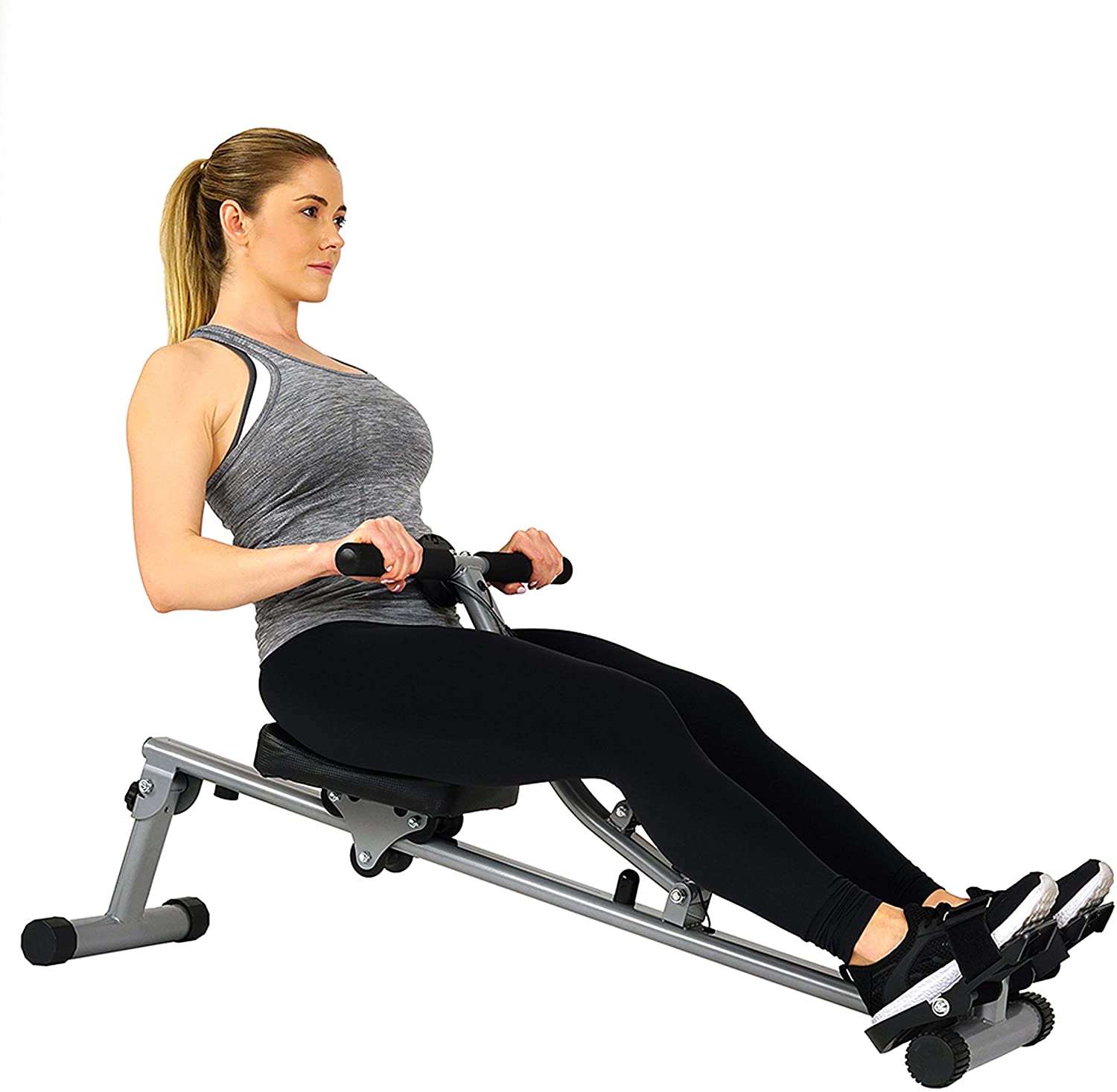 If you don't need expensive rowing-machine personal training by video, you can opt for a lower-priced machine and find guidance online. This Sunny Health & Fitness favorite provides 12 adjustable levels of resistance and a lighter cardio/strength work-out. It's compact and has a small monitor displaying calorie-burning and time spent using the machine. It has a smooth action, but isn't such a hard rowing experience as more expensive machines.
And that makes it a great choice if you just need home exercise equipment that gets your whole body moving around more.
9. Best overall – NordicTrack RW900 Luxury Rowing Machine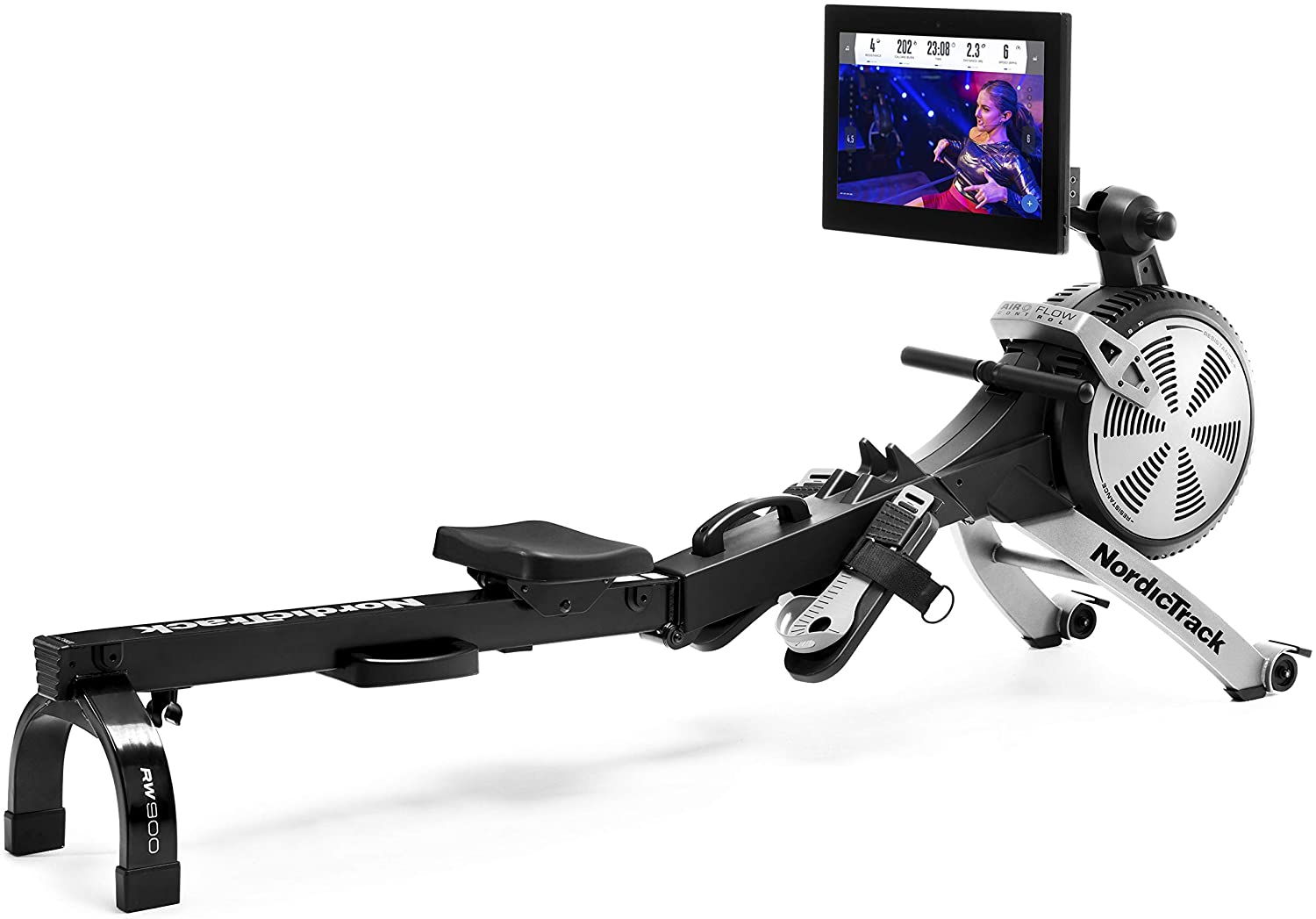 NordicTrack is a highly-respected manufacturer of home-use rowing machines and has been providing the best quality equipment since the 1970's. The RW900 is designed for extra comfort from the specially-molded seat and includes an easy-read 22" touchscreen display. And to make it pleasant to use, the RW900 is a quiet piece of equipment you can use anywhere in your home. It's easy to fold-up and wheel away for compact storage, so it doesn't clutter-up your space.
And this top quality rowing machine also includes a 12 month iFit membership, which gives you individual training in the 26 resistance levels in the machine. And if you take up NordicTrack's special financing offer, over an 18 month payment plan, you don't pay any extra interest on the price.