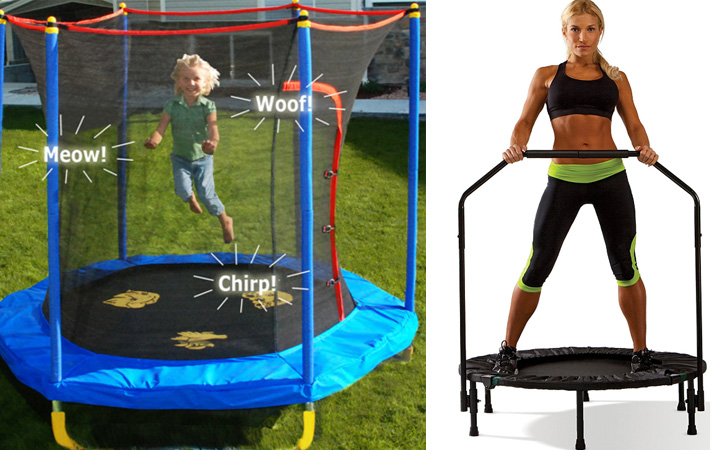 Get Fit & Have Fun With The Best Mini Trampolines for Kids & Adults
Let's be honest working out and getting fit is not the most enjoyable experience it can be dragging and long if you do not have a safe fun routine. Although there are fitness classes you can attend such as zumba, yoga and aerobics many people prefer to work out right in the comfort of their home.
Working out at home can keep you motivated as you will find it easier to find time to workout and it can make your kids want to become your new workout partner as they can use the trampoline as well. Finding a fun routine is not so easy. However, that is when using a mini trampoline can come in handy. Working out with a mini trampoline can help you burn up to 126 calories in just 30 minutes.
It is considered a high cardiovascular intensity workout that helps you burn calories and fat quickly. It is further recommended for the health of your joints. Not all mini trampolines are created equally. Here the best 10 mini trampolines that can assist you when you work out. 
Read the following Trampolines reviews to find your favorite one. Most of these Trampolines are available at amazon and Walmart.
10.

Impex Fitness Trampoline for adults – Trampoline Workout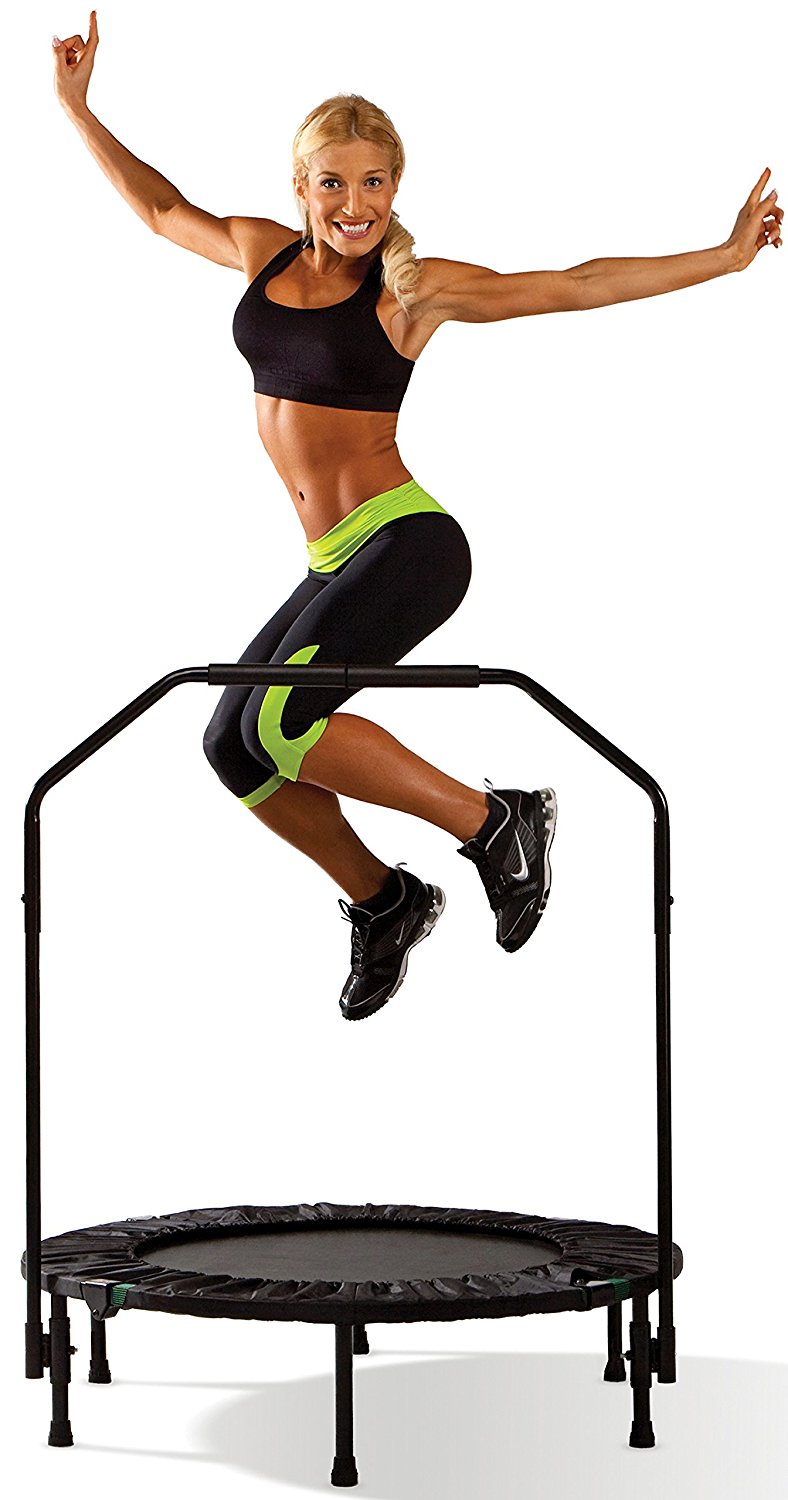 Working out with a trampoline helps you not only lose weight but it helps boost your cardiovascular health as well. It increases your heart rate in order to reduce the risk of cardiac disease. If you have recently begun working out this can be a great fun way to increase your stamina and make you want to work out more often. This trampoline is compact and portable. So you are able to carry and travel with it anywhere you may want to.
By working out with a trampoline, you will be able to burn calories and increase muscle mass all over your body. This trampoline was intended to hold up to 250 pounds. One of the best features this fitness trampoline has is its holding bars. This enables you to be able to customize the intensity of your work out. Workout with the bar for a more controlled workout or workout without the bar for a more freestyle and intense workout. This is one of the best trampoline adults can use!
9. 

Stamina InTone Mini Trampoline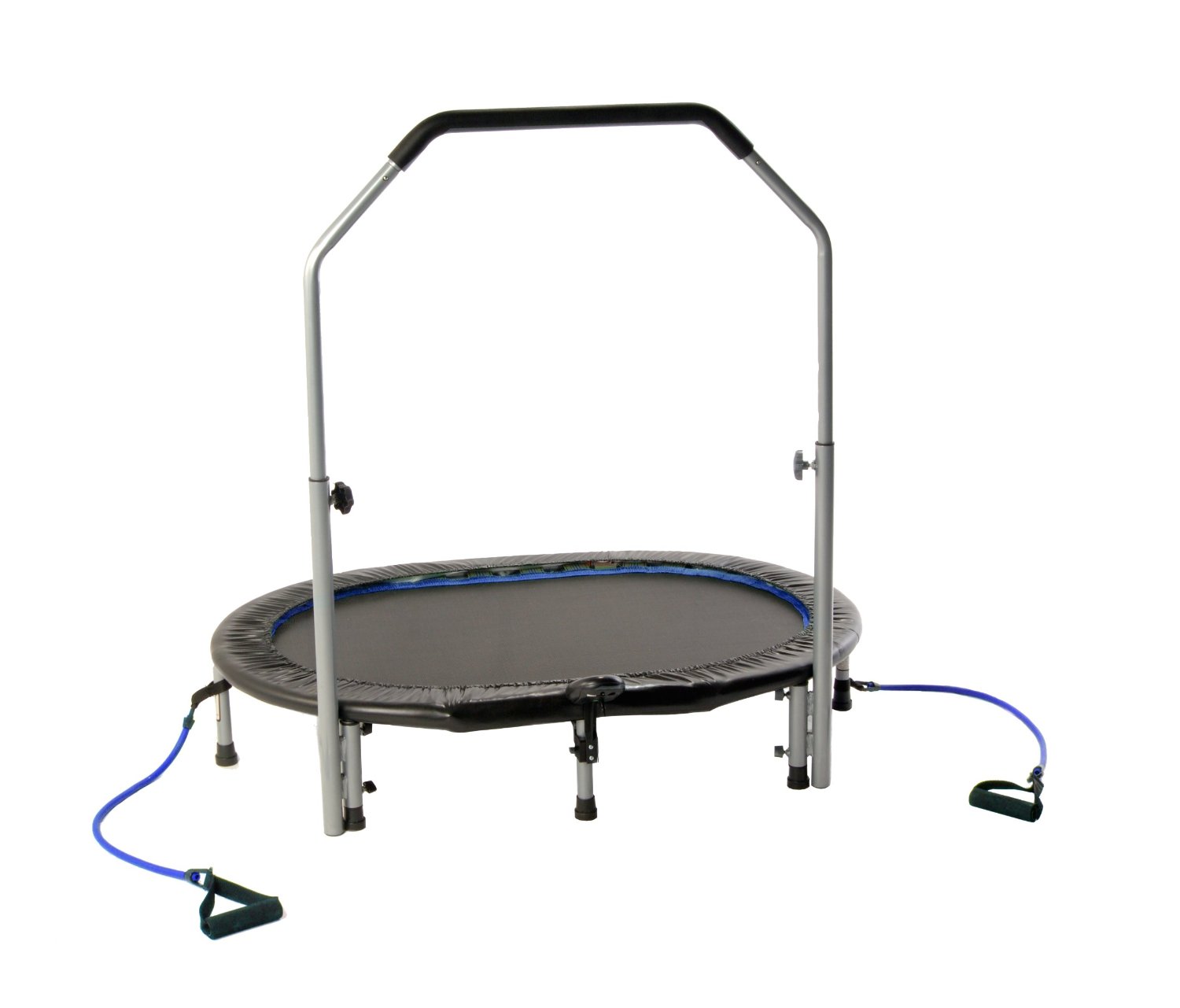 This trampoline was specifically designed for working out. It is made out of steel which makes it extremely sturdy to use. You are in a position to workout as often as you like as it is foldable. Which makes it portable. You can take this trampoline with you even while you travel out-of-town. It is important to know that in order for you to lose weight and get into better shape you need to be consistent.
Consistency is essential when it comes to getting fit. And this trampoline helps you do just that. It comes with motivational multifunctional electronic fitness monitor. The fitness monitor tracks jumps per minute, workout time, total jumps, and calories burned. This will allow you to track your progress not only that but it does come with a fitness dvd so you can follow the workouts long the way. Having a fitness dvd come along with this trampoline takes the guessing game out of working out with a trampoline.
8.

Stamina 38-Inch Plus Rebounder Trampoline – Indoor Trampoline for adults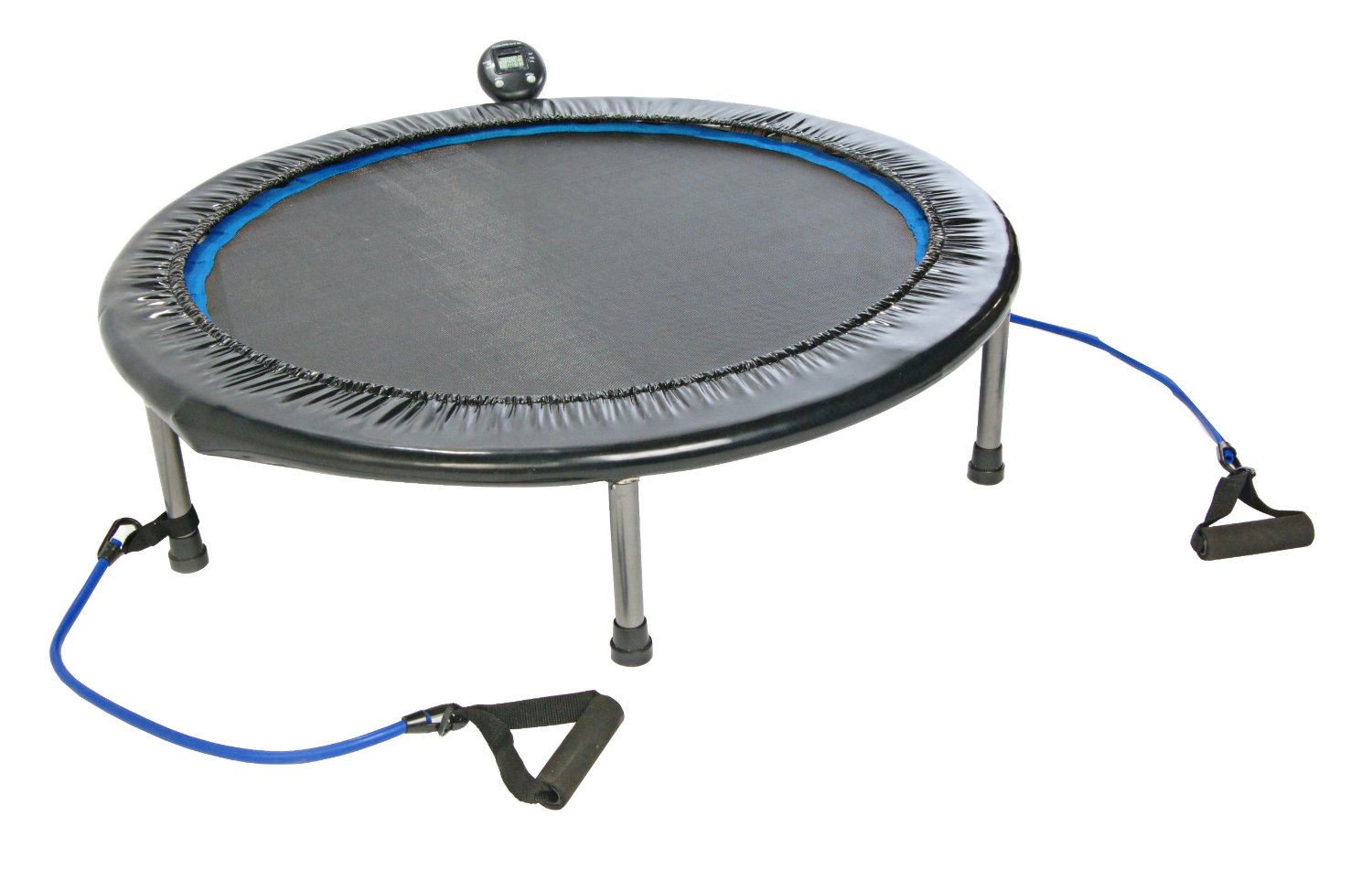 Get the full body workout you have always dreamed of doing with the simple use of this machine. This high weight capacity trampoline comes with two resistance bands one on each side so you can work your upper body while working out your lower body all at the same time. You are able to build muscle mass and achieve a leaner body as well with just one equipment.
Another feature this trampoline has is its multi functional electronic fitness monitor. This fitness monitor will moderate everything you do while being on this trampoline. It will keep track of jumps per minute, workout time, total jumps and even the amount of calories burned. With this feature, you are able to keep track of how well your fitness journey is going.
7.

Pure Fitness Mini Trampoline – Garden trampolines for adults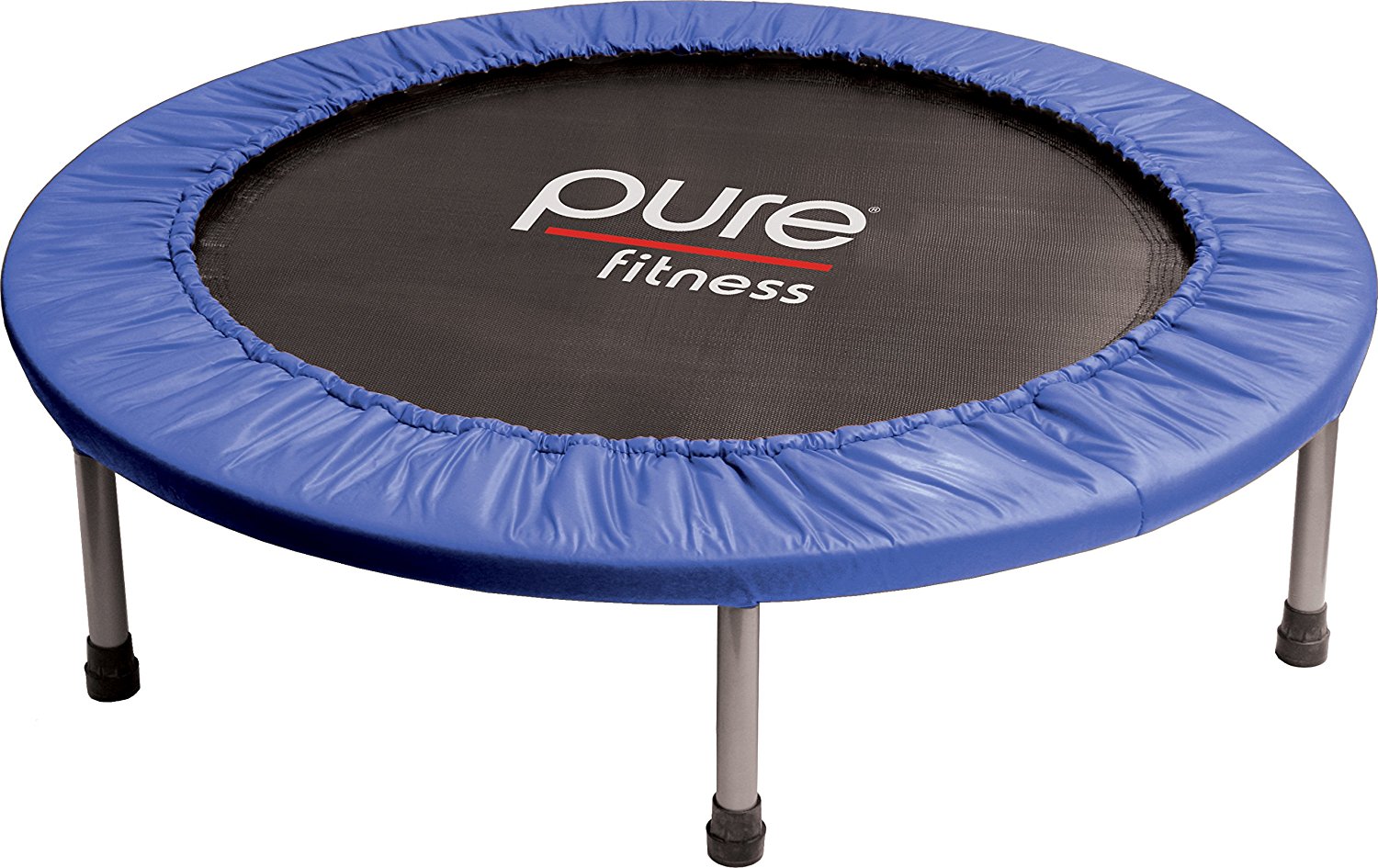 A mini trampoline may be exactly what you require to get your workout in while being in a small space. If you do not have space for any exercise equipment this may be the perfect for you. This mini trampoline will allow you to get a great workout without the need of heavy machinery or larger workout items. Don't let the word "mini" fool you this trampoline has the capacity of withstanding up to 250 pounds.
Working out with the trampoline allows you to work out your lower body and achieve the slim muscle mass you have always wanted. Not only will you lose weight but you will become fit and slim all at the same time. You can travel with this trampoline as it is small and compact.
SHOP NOW
6.

Pure Fun Rebounder Mini Trampoline with Handrails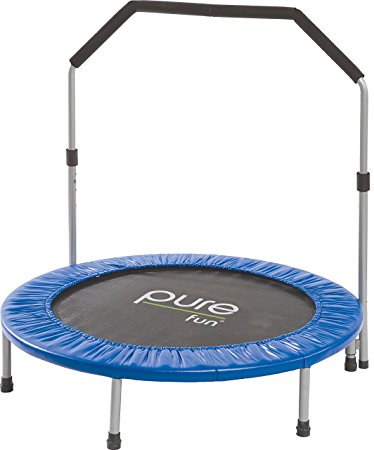 When it comes to trampoline workouts it may be difficult to find your balance. If you are a beginner when it comes to trampoline workouts you may want to try a trampoline with handrails. Handrails help you have a better balance when you are working out. It also enables you to try different forms of working out.
This trampoline can help you workout easily and quickly a total of 20 minutes a day is all you need in order get a great cardio workout. It is portable so you can take it with you on the road whenever you would need too. This is a perfect trampoline for adults and kids.
5.

Skywalker Children Trampoline – Safe Mini Trampolines for Kids – trampoline with enclosure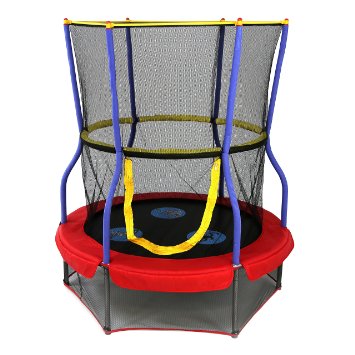 Working out on a trampoline can be a fun way to workout for you and your children. Your children will enjoy jumping to music or even to their very own beat. You can involve your kids in your daily workout routine with a trampoline like this. This trampoline was set up to help help your children have fun in a safe manner as it comes with an exterior enclosure. The padded foam enclosure features a 360 degree design.
The design was created to help your little ones remain safe all while building their balance and having fun while using this trampoline. The design of this trampoline comes with no springs. It offers a soft bounce that is very safe as you do not need to worry about your children's fingers getting caught or jammed into any spring.
4.

Pure Fun Super Youth Trampoline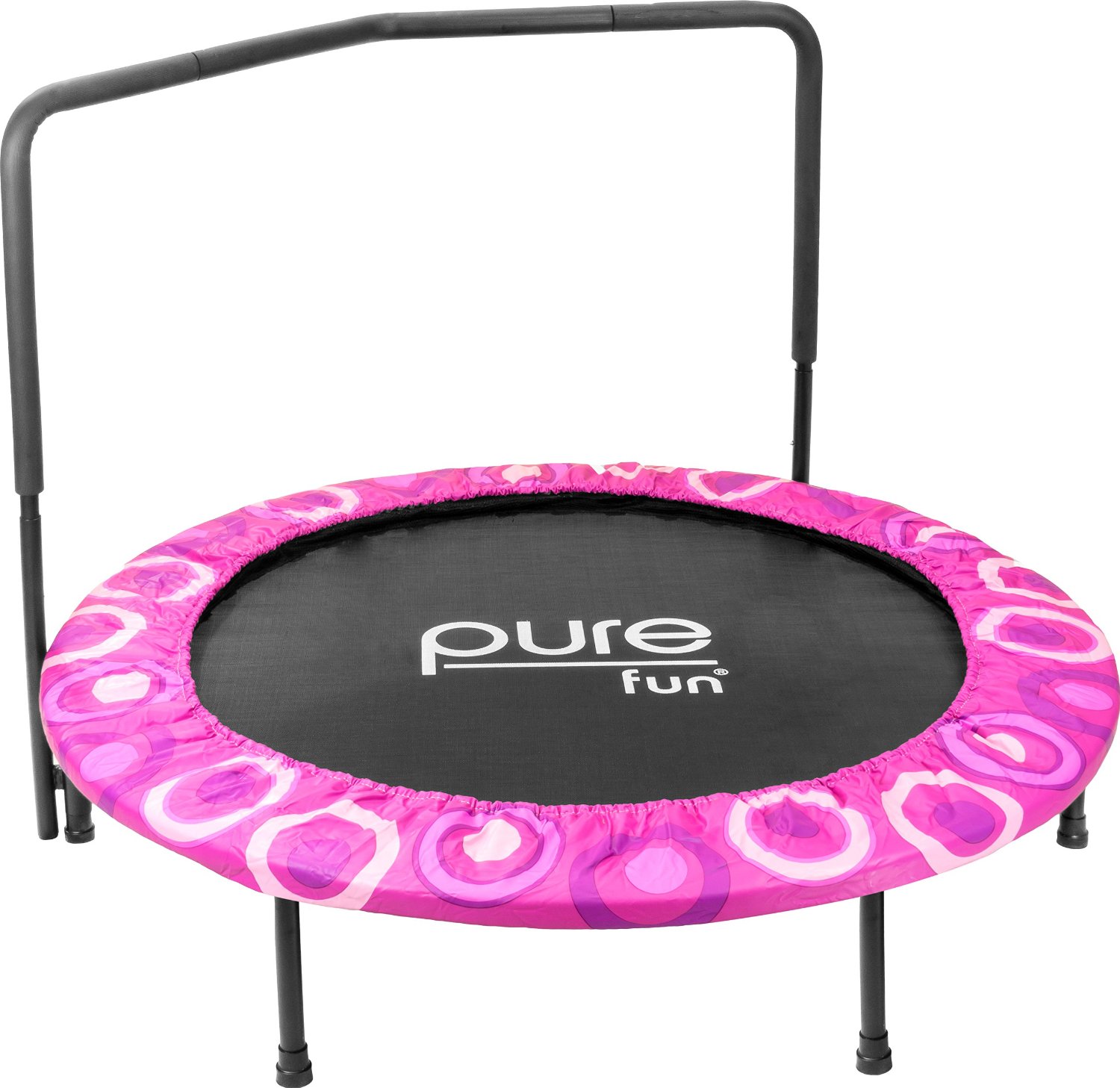 While you workout you can have your children workout along with you with a trampoline of their very own. This trampoline was intended to make a contribution to your children workout along with you while having fun. It is their  individual fitness trampoline. Make your children your workout partner when they have a trampoline like this.
Trampoline exercise will benefit your children just as much as they benefit you. You will be helping them build better stamina and endurance all while they are having fun. The best part is they will get a great workout without realizing they are working out. Thus trampoline was intended for children 3-7 who weigh an average of 100 pounds.
3.

The Original Toy Company Trampoline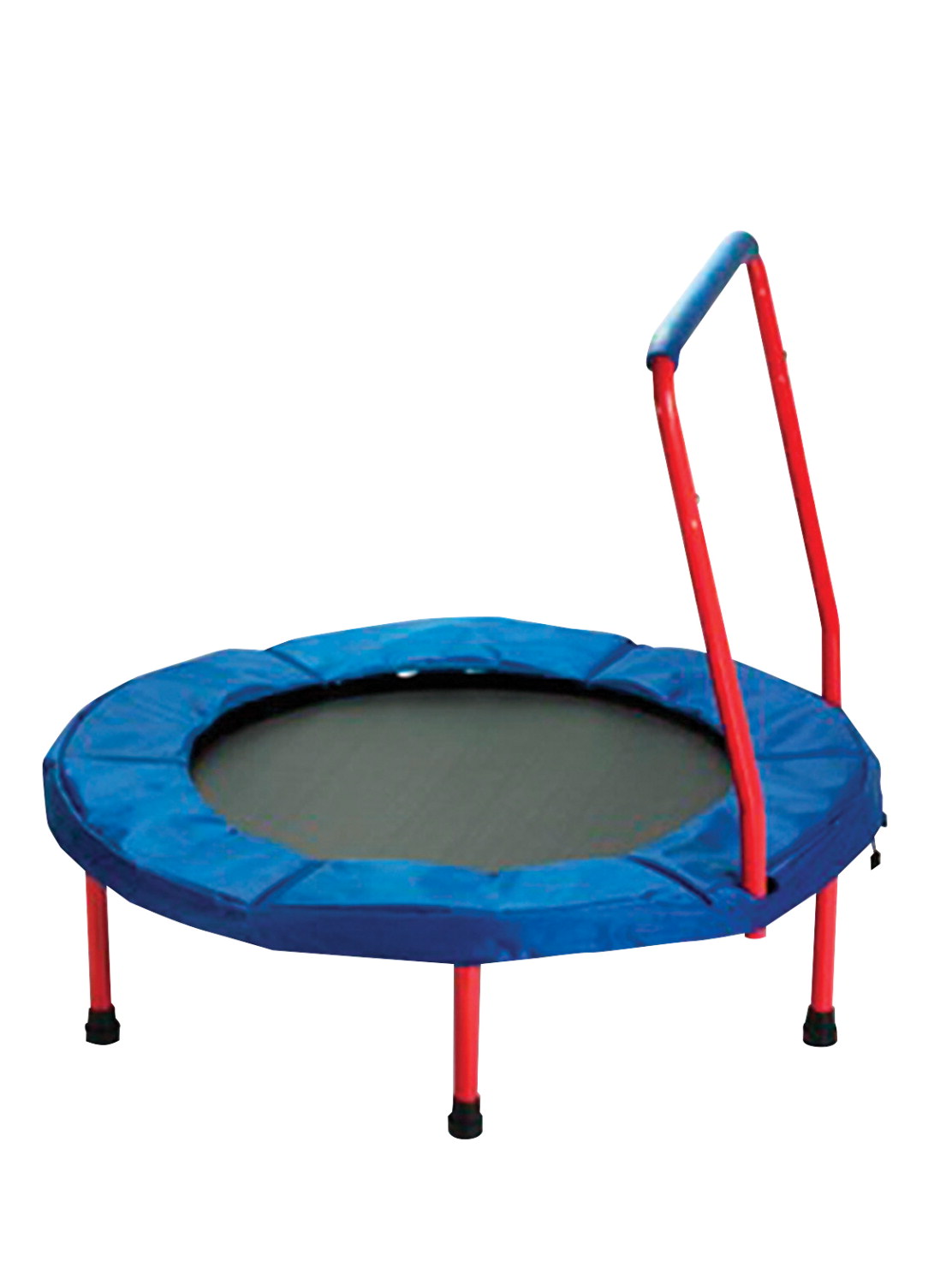 No longer struggle in order to get your kids trampoline set up. This trampoline is a fold and go. You can easily fold it to store it away or unfold it to open it up. It is that simple to set up. This is an excellent toy to have a home if your children enjoy being outdoors but can't due to the weather or other circumstances. If you personally own a fitness trampoline this is also an excellent way to engage your child into your fitness routine.
This trampoline is the perfect travel it is lightweight and convenient to transport around. You can get your child into regular exercise by enabling them to join you in your daily fitness routine. Not only will you be helping them enjoy a healthier lifestyle but they will be enjoying themselves along the way.
2.

Little Tikes Trampoline – Best Mini Trampoline For Toddlers & Kids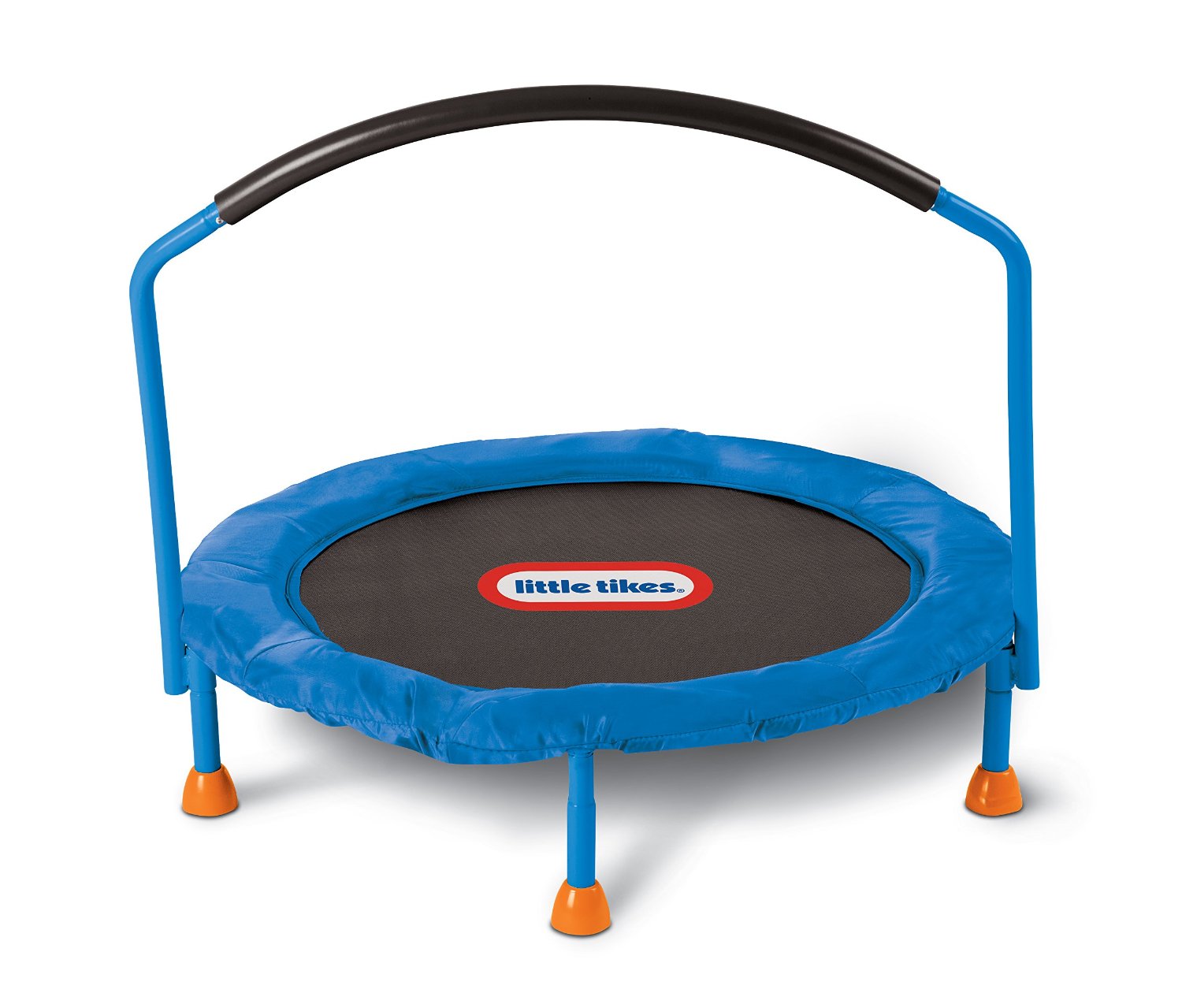 Let's face it toddlers tend to have a lot of energy way more than we would like them to have. However, burning them off is not as easy as we would like. Nonetheless, it is extremely necessary if you would like to have a good night sleep. Helping your toddler burn off energy is a great way to help them achieve a better not sleep.
This toddler trampoline does just the job. It is easy to put together and easy for your toddler to use.Your toddler will be able to bounce on this sturdy trampoline anytime they would like to and in any area of your home as it is portable. This trampoline is adequate for up to a toddler of 55 pounds.
1.

Stamina Foldable Trampoline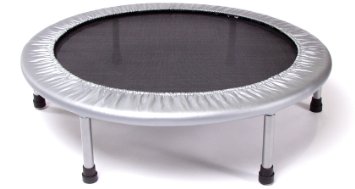 Easy to utilize, foldable, compact and can hold up to 250 pounds is the best description for this trampoline. It is very compact so you fold it and store it in any area you would like to work out in. Working out on a trampoline will burn three times the calories that a regular work out because it allows you to incorporate your core in order to achieve better endurance and stamina.
It also comes with 30 band tension resistance slots so you can use other equipment along with this fitness trampoline. Using other exercise equipment with this fitness trampoline will give you an excellent full body workout that includes cardio and strength training.
Working on your fitness along with your kids is an excellent way to teach your children about a healthier lifestyle while having fun that is what a fitness trampoline can do for you. Let us know below which trampoline is your favorite fitness trampoline.