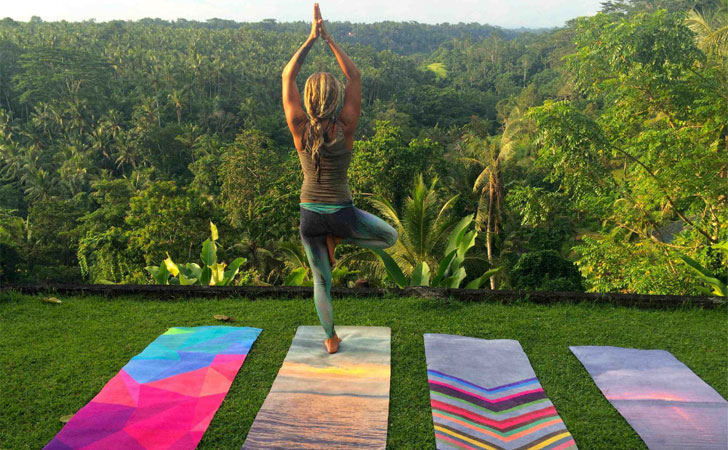 Yoga mats are a vital part of safe, healthy, and comfortable yoga practice. Many yoga poses are performed on the floor. Yoga mats help prevent you from slipping while performing precarious yoga poses upside down or on one foot; keep you from contracting nasty infections or irritations from the less-than-clean floor of your gym or local yoga studio; and help keep you comfortable by providing some much-needed padding and cushioning underneath your hands, knees, or elbows while you practice your yoga. If you're a yoga beginner, it's important to invest in a top-quality yoga mat to help you develop your yoga skills more comfortably and efficiently.
Keep reading the yoga mats reviews to learn about the top ten best yoga mats currently available for purchase.
10. AVIVA YOGA Yoga Mat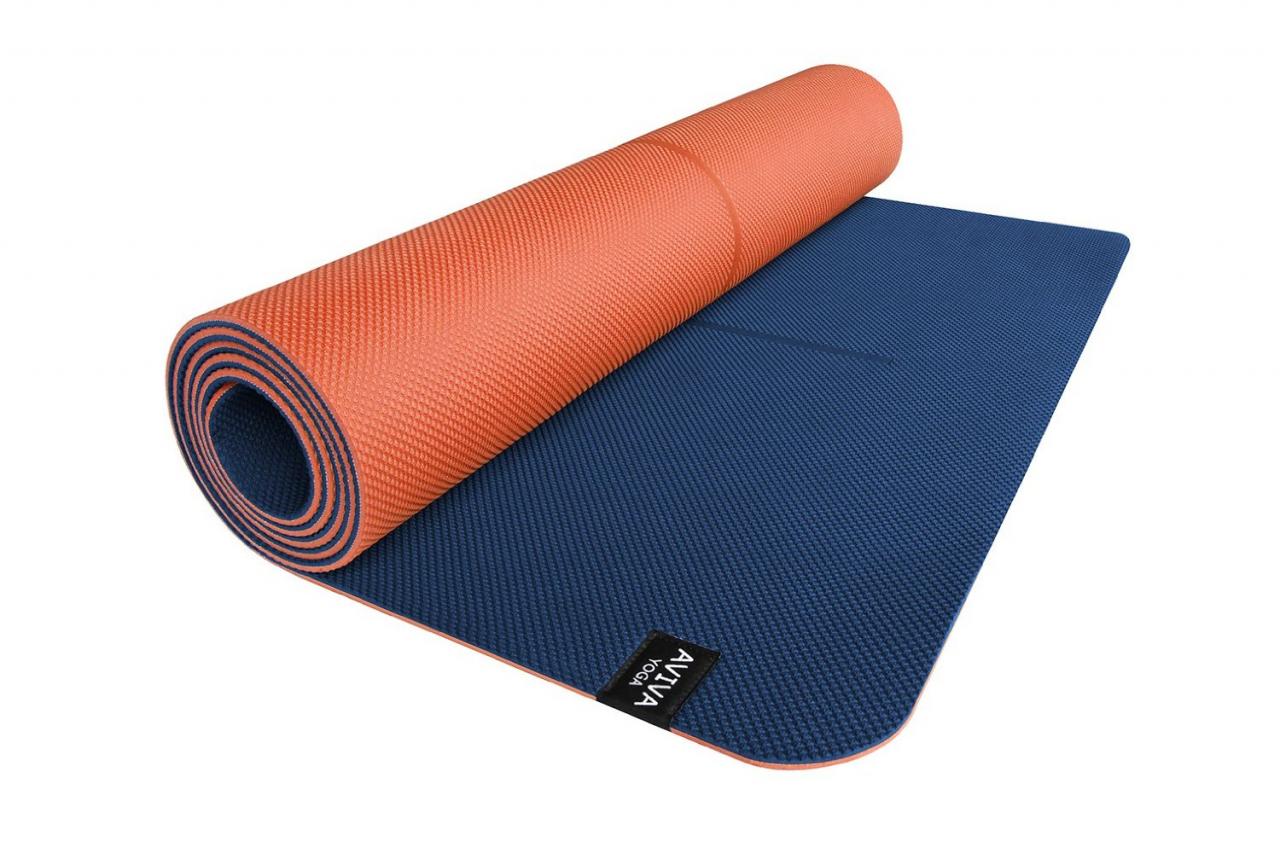 Yoga is all about creating a holistic, harmonic balance between your body, mind, and spirit. It is a meditative, spiritual practice as much as a form of physical exercise. This yoga mat from AVIVA YOGA can help you achieve the perfect balance you're looking to gain through yoga practice.
Lightweight durability is an important element of a high-quality yoga mat so that you can transport it easily to and from your gym or yoga studio effortlessly and use it frequently without worrying about it wearing down. This yoga mat is both lightweight and durable and is fully reversible to further prevent wear and tear on one side of your mat.
9. Clever Yoga Premium Yoga Mat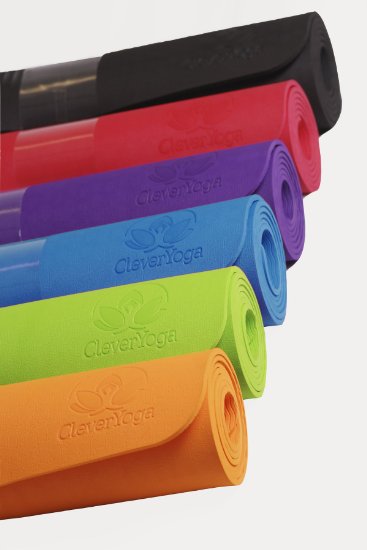 Many yoga mats are either too thin and do not prevent your knees and elbows from painfully digging into the ground during floor poses or are too thick and make it difficult for you to perform your poses without feeling like you're sinking into the ground.
The Clever Yoga mat solves this challenge with its high-density, extra thick padding that is thick enough to cushion your joints but dense enough to provide the support that you need. The foam of the mat is one-quarter inch (six millimeters) thick, but weighs only two pounds for easy portability.
8. Sivan Health and Fitness Comfort Foam Yoga Mat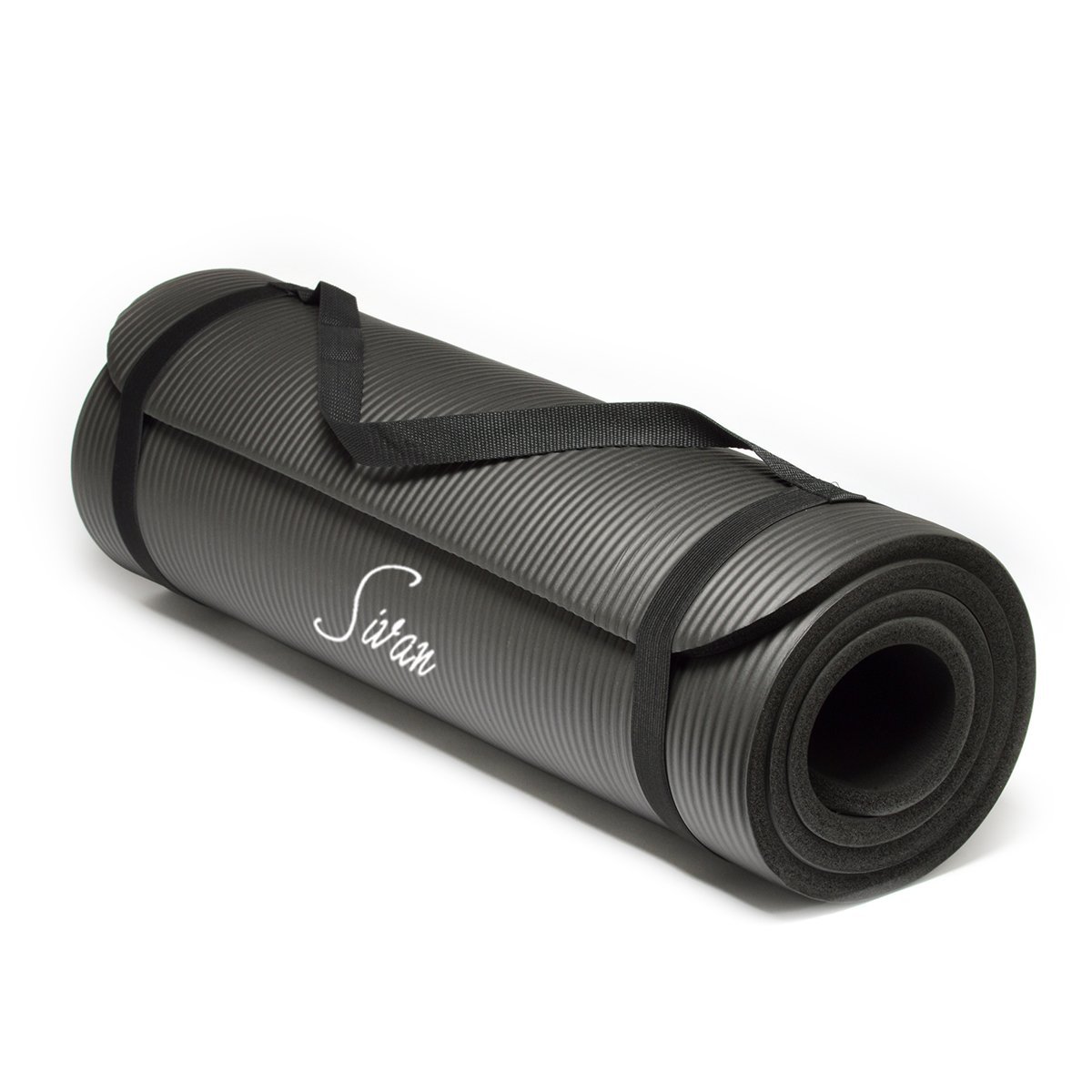 Yoga mats aren't just for yoga. A high-quality mat can also be utilized in other workouts and exercise practices, including pilates, stretching, and toning workouts. Versatile yoga mats need to be durable, dense, and non-slip to ensure safety and comfort for a wide range of workouts.
This yoga mat from Sivan Health and Fitness is a perfect example of a high-quality, multi-use yoga mat. It is crafted from a durable, high-density foam that provides both comfort and support and features one ribbed and one smooth surface to help the non-slip mat grip the floor during any workout.
7. 

Yoga Accessories Extra Thick Deluxe Yoga Mat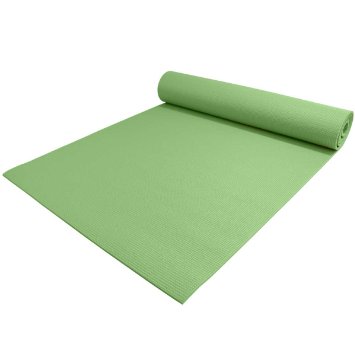 Many women who have sensitive skin that is easily irritated are wary of purchasing yoga mats because the harsh ingredients and formulation of many mats can irritate sensitive skin and cause rashes, dryness, or blotchiness.
If you suffer from this sensitive skin challenge, try this yoga mat from Yoga Accessories. It is formulated in a variety of bright colors, but all inks and dyes used in its construction are one hundred percent phthalate-free. Plus, the entire mat includes zero latex and heavy metals to prevent allergic reactions or skin irritation during use.
SHOP NOW
6. 

Gaiam Print Premium Yoga Mats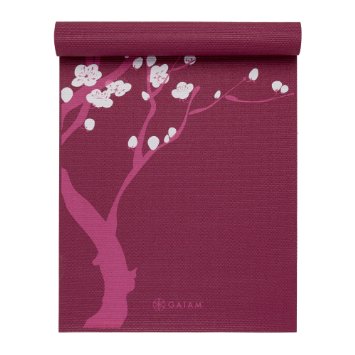 Are you sick of boring, gray, solid color yoga mats? The aesthetics of your yoga mat can have a significant influence on the harmony and balance of your yoga practice. Soothing, fashionable designs can help you get in touch with your spirit and mind more easily during your yoga practice.
If you're interested in finding a yoga mat that is beautiful as well as high-quality, try this mat from Gaiam, which is available in many patterns that depict elements of nature such as water and trees. The Gaiam mats combine fashionable design with quality; they are lightweight, durable, dense, and have a special textured non-slip surface.
SHOP NOW
5. Fit Spirit Exercise Yoga Mat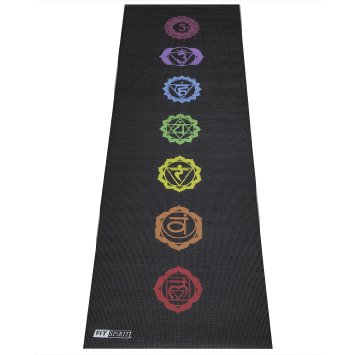 Not everyone thinks of yoga as a spiritual practice. Many people just do it in order to get some gentle exercise into their daily schedule. However, yoga is a deep spiritual practice designed to connect the energies of your spirit, mind, and physical body.
Sometimes, we forget about the spirituality of yoga practice and need something to remind us of the deep significance of the ancient practice. This yoga mat from Fit Spirit is the perfect way to gently remind yourself of yoga's spirituality every time you pull out your mat. The stable, comfortable foam mat features a depiction of the seven chakras, or the spiritual centers of the human body, to help you reconnect with your spirituality during every yoga practice.
4. YogaRat Printed Yoga Mat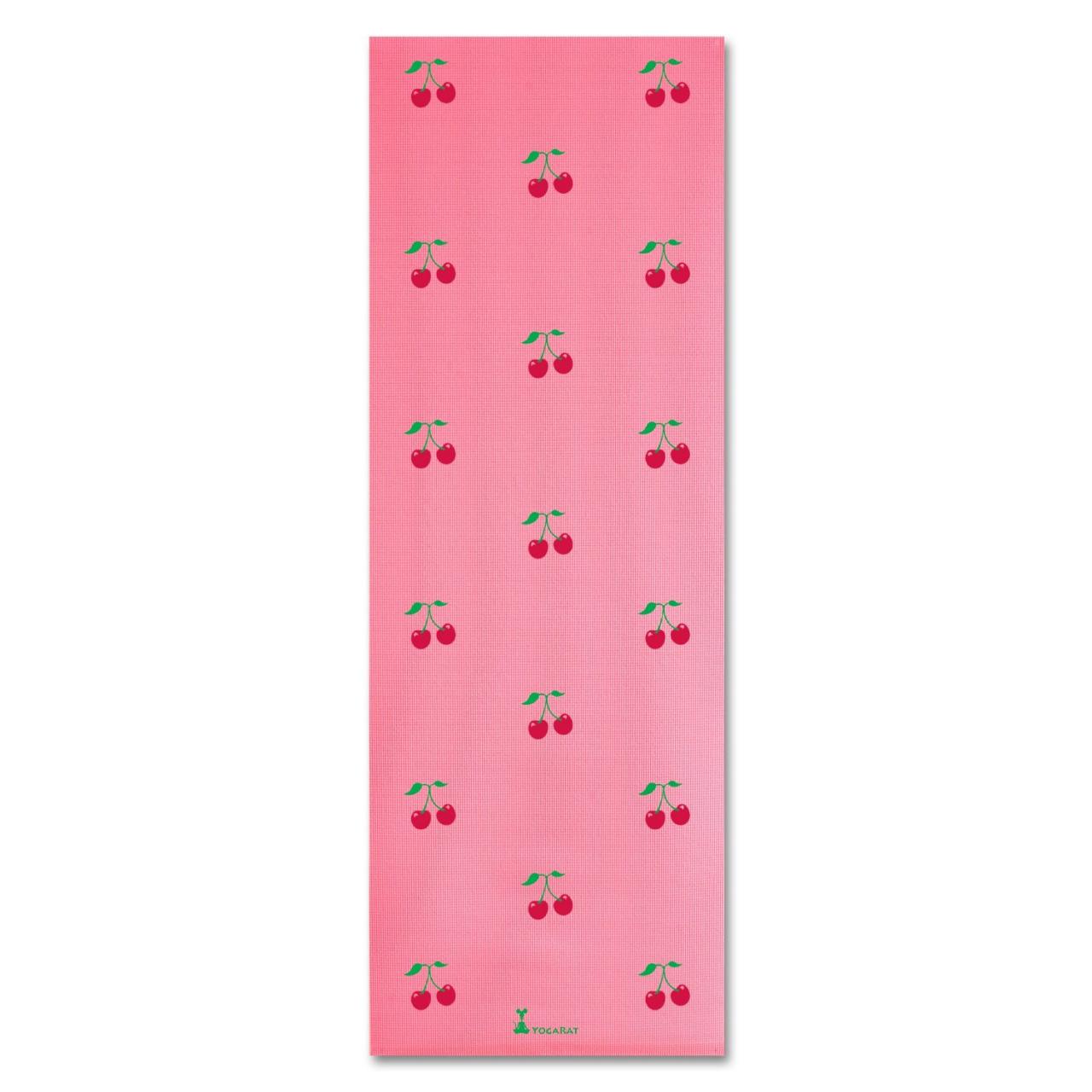 Sometimes, we need a little something to remind ourselves that yoga can and should be fun! We often get so caught up in the nuances of our daily lives and consider any type of physical exercise to be just another unwelcome hassle in our schedule.
Have some healthy yoga fun with this mat from Yoga Rat. It comes in a variety of bright, fun patterns and designs such as the cherry print pictured above. Quality also comes into play here with the spring durability of the toxic chemical-free foam mat.
3. BalanceFrom GoYoga All-Purpose Yoga Mat
Carrying your yoga mat from home to your gym to your local yoga studio and back again can be a pain, especially if you use your mat daily and in several different places. The hassle of storage and transport can be a big reason why you neglect using your yoga mat and performing your yoga practice altogether.
Solve your storage and transport problem with the thick, comfortable, non-slip and moisture-resistant BalanceFrom yoga mat that includes a handy carrying strap. The strap is easy to affix to the mat, which is also incredibly lightweight, to make storage and portability problems a thing of the past.
2. Aurorae Classic Thick Yoga Mat
One of the most difficult parts of yoga is actually focusing on the practice at hand. It can be easy to get caught up in thinking about all the tasks you should be completing or all the problems in your life and forget all about the deeply spiritual and harmonic practice you're supposed to be thinking about.
Those who have trouble focusing while practicing yoga should try out this mat from Aurorae. Every color mat features a calming rising moon icon focal point at the top to give you something to focus on to keep your mind on your poses during practice.
1. Jade Harmony Professional Yoga Mat
Slipping on your mat is one of the most terrifying realities of yoga practice. When you get really into your poses and are trying to nail a challenging routine or follow the trail of a fast-moving instructor, it can be horrifyingly easy to slip on the slick surface of your mat and fall flat.
You can eliminate your slipping fears with this Jade Yoga mat. It is crafted from open-cell, natural rubber that helps keep it cool, dry, and one hundred percent slip-resistant even when it is met with sweat and moisture accumulation from your skin to prevent you from slipping no matter what.
All yoga practicers from inexperienced beginners to advanced yogis need a high-quality yoga mat to help them through their yoga practice. If you're in the market for a new yoga mat (or your first one if you're a beginner) use the list in this post to choose one of the best yoga mats available.
If you're looking for the best yoga mats, you may need these: 10 best sports bras, 10 best yoga pants, 10 best yoga blocks.