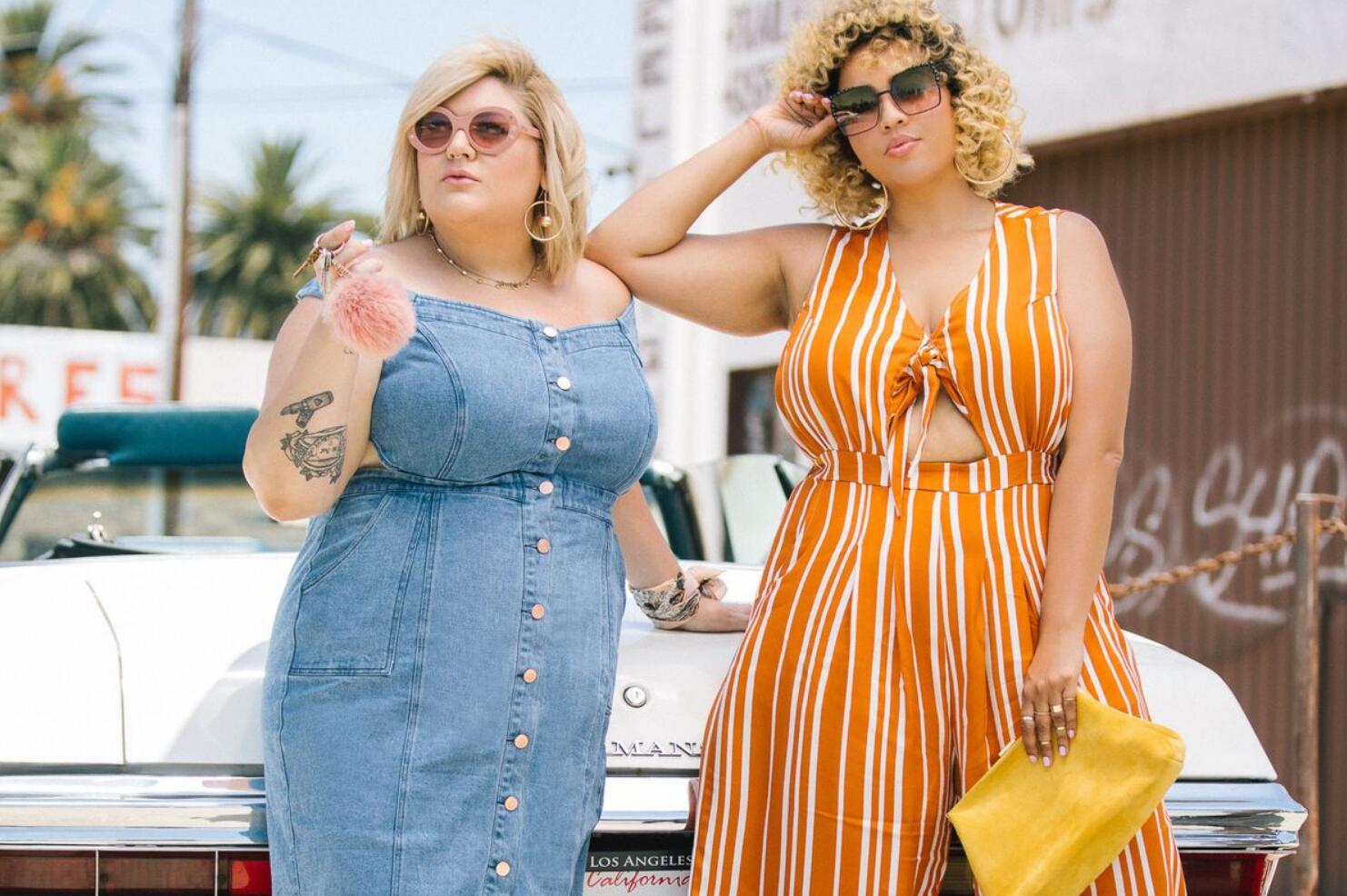 Finally, fashion clothing retailers are catching up to the fact that they've been catering to a minority market! And ignoring the style needs of larger ladies! We curvy women want the same wide choice of styles, prices and quality that's available to the small band of average-sized fashion fans. And to help you tune in to the best affordable plus-size and curve clothing stores online, we've found these excellent brands that deserve your custom. So settle in for a virtual fashion show as you click through and inspect a really wide selection of attractive styles that flatter curvy figures and show off your individual style!
1. Violeta by Mango
If you haven't yet heard of Violeta, it's an offshoot of the popular high street fashion store, Mango. Violeta is aimed at plus-sizes U.S.12 – 30, and has a lot of exciting, trendy garments, like leather skirts and jackets, so you can choose by contemporary fashion style, instead of being limited to a few plus-size pieces. Violeta offers affordable clothes to keep you in the forefront of fashion!
Violeta by Mango
2. Loud Bodies
No-one leaves Loud Bodies disappointed! They have put together wonderful plus-size collections that fit well and flatter, especially their daytime and evening-out dresses. Their name says it all, so if you're fed up with being ignored for your size, they've got your back! Loud Bodies offer sizes up to U.S. 42, and if you need a larger size, they take customized orders, for no extra charge!
Loud Bodies
3. BEATON
Beaton is run by the owner/designer, Katie Beaton and features an eco-friendly collection of linen wardrobe basics. The idea behind Beaton is to offer comfortable clothing, in plain colors that you can mix and match to suit any season. So if you're looking for an easy-wear, versatile fashion edit, plus hand-sewn quality, take a look now! Available in sizes up to U.S. 22.
BEATON
4. Henning
Henning isn't the cheapest or most affordable plus-size clothing line, but that's not their aim. The founder is Lauren Chan, a highly respected former fashion editor and she was always annoyed that there were no high-quality, beautifully designed clothing items for her size 20 body. So the Henning collections are unashamedly luxurious, with classics such as woolen jackets, silk frocks and beautifully-cut coats in U.S. sizes 12–24.
Henning
5. Vince
You may already have seen Vince clothes as you browse the shops, as they are known for exquisite details and luxury material. However, this brand has now officially launched its plus-size collection, featuring cashmere knitted garments and lovely silk dresses, amongst other fabulously individual fashion clothes. Available in sizes up to U.S. 24.
Vince
6. Coyan
Coyan is a great place to shop for elegant occasion-wear, and includes luxury styles in feather-weight silk fabrics. This is a high-end brand, but sometimes investing in one chic evening dress, which can be dressed with different accessories, is more impressive than three cheaper outfits. Coyan offer casual clothes, too, and you can have any style made to order in your size. Available in sizes up to U.S. 24.
Coyan
7. The Hour
If you've yet to discover the beautifully-cut and draped plus-size styles from The Hour, this is the best place to start. They have put the tailoring and careful crafting of garments into focus for their attractive collections. So if you value excellent fit, elegant contemporary styling and luxury fabrics, you'll love what's on offer here. Sizes UK 14 to UK 28 (up to U.S. size 32) and worldwide shipping.
The Hour
8. 11 Honoré
The basis for 11 Honoré style comes from its name, which evokes a backstreet, Parisian boutique full of flattering, individual dresses and separates. But instead of being just for the slender, this chic shop is aimed at sizes up to U.S. 24. They've been selling plus-size from top fashion designers for a while now, but have just released their own super-fresh, contemporary collection. They offer a brilliant alternative to high-street stores in classic and fashionable clothing. Available in sizes up to U.S. 24.
11 Honoré
9. Zelie for She
For something different from the mainstream fashion lines, take a look a Zelie for She. Their concept is to offer independent and original styles that will underline your own individuality. Each collection is packed with bright colors and fabric patterns in trendy, attractive styles that are affordable, comfy and wearable! Available in sizes up to U.S. 24.
Zelie for She
10. ASOS Curve
And you must run an eye over the ASOS Curve Collection, which offers sensibly-priced plus-sized women's clothing for every occasion. They deserve our support as they were one of the first companies to really offer a full-range of fashion styles to curvy women. ASOS Curve is full of everything, from lingerie, coats and wedding gowns to wearable daily wear and wardrobe basics. Available in sizes up to U.S. 34.
ASOS Curve
11. İnan Işik
Elegance and sophistication are the hallmark of Ìnan Isik collections, which aims to provide confident-looking, plus-size clothing. You can expect to pay more here, as there's a heavy focus on the best fabric and first-class workmanship. But what you're buying here is great quality clothing from an ethical brand, with the priority to support women at all stages of the manufacturing process. Available in sizes up to U.S. 20.
İnan Işik
12. Christian Siriano
If you love high fashion, that has its own take on the latest trends, you'll love the dresses and separates on offer from Christian Siriano's talented design team. This is a highly-respected global brand, which offers fabulous collections full of whimsical ideas, stunning eye-catchers and totally fantastic outfits. Available in sizes up to U.S. 28.
Christian Siriano
13. Universal Standard
Universal Standard is breaking down the barriers separating women's clothing collections. And whatever your size, from 00 – 40, you can shop purely by style in this innovative plus-size-women's, favorite store. This is the place to find comfortable, flattering and wearable daily wear and wardrobe staples. Available in sizes up to U.S. 40.
Universal Standard
14. Karen Millen
Karen Millen have just launched their plus-size clothing capsules this year and they've included lots of different styles and purpose clothes, so you're bound to find something that's perfect for you. They offer figure-flattering attire, which relies on perfect fit, excellent quality fabrics, classic tailoring, bold hues and contemporary trends. Why not browse the Curve Collection and see what you think? Available in sizes up to U.S. 20.
Karen Millen