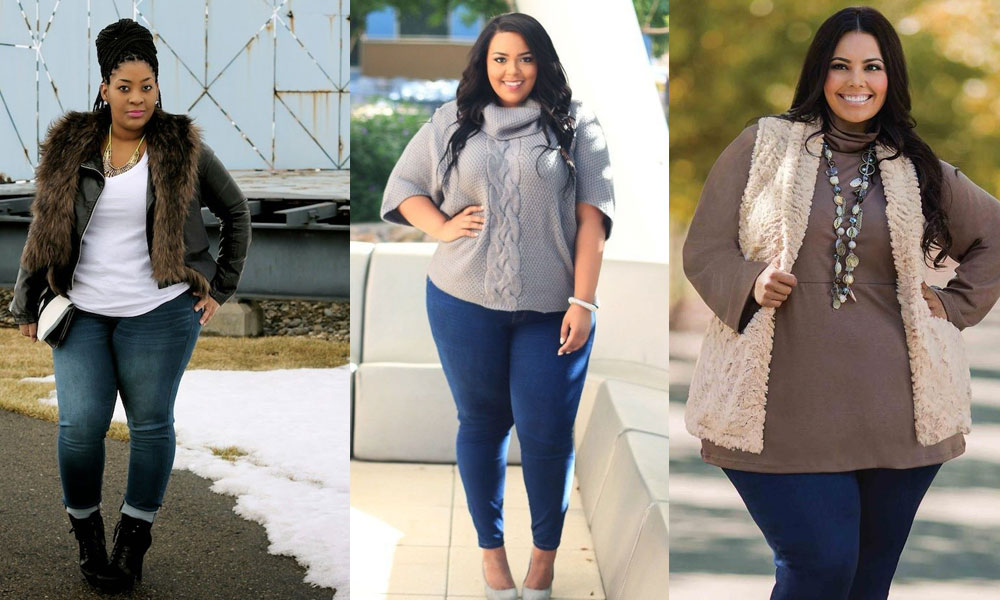 Dressing as a style-conscious plus size woman is always a challenge. The clothing market is dominated by styles that are designed specifically to flatter slim-figured women. Many pieces that are advertised as "plus size" are actually just styles designed for slimmer women made in extended sizes. Finding fashionable clothes that actually fit and flatter the figures of real plus size women sometimes seems like a treasure hunt that often ends without any treasure.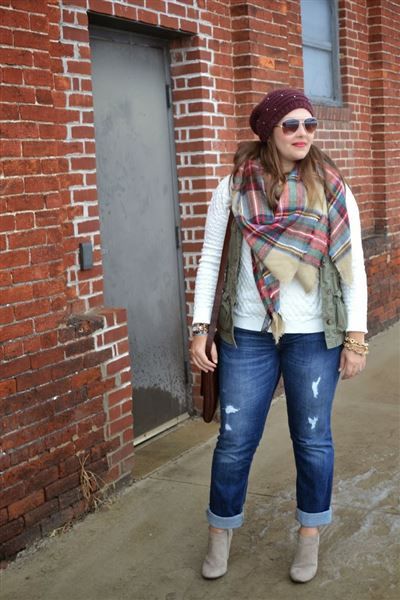 via
The challenge of finding flattering plus size clothing pieces becomes even more difficult as the weather gets colder in fall and winter. Oversized sweaters that make slimmer women look cute and tiny blurs the curves of plus size women and makes them appear shapeless. Wearing multiple thick layers tends to make full-figured women look like they don't have a figure at all. However, it is entirely possible for plus size women to create cold-weather looks that are flattering and protective against the weather at the same time. Warm and well-fitting plus size winter looks are just a few accessories and some creativity away.
1. Wear a Belt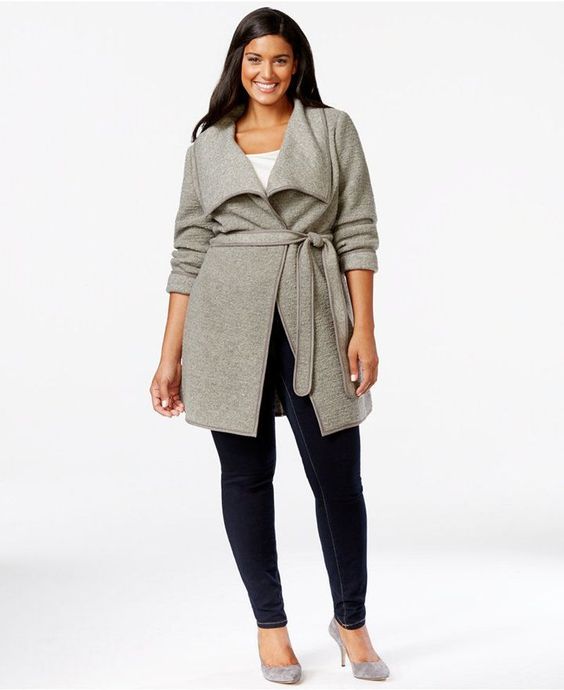 Belts are basically the Holy Grail of plus size winter fashion. One of the biggest problems with winter clothing options for plus size women is that they have a terrible tendency to make you appear shapeless and larger than you really are.
Adding a belt to virtually any cold-weather outfit instantly accentuates your waist and flatters your curves. When cold weather hits, invest in a long belted coat. These coats allow you to cinch their built-in belt around your waist to create a stylish, classy finish that keeps your figure visible no matter how bulky your layers. Try pairing a loose dress with tights and a cardigan. Tighten a belt over your dress to add instant balance to your look. Belts are an extremely versatile accessory that are useful during any season. However, they are especially helpful during fall and winter by solving the problem of shapeless plus size winter clothing options.
2. Rock a Sweater Dress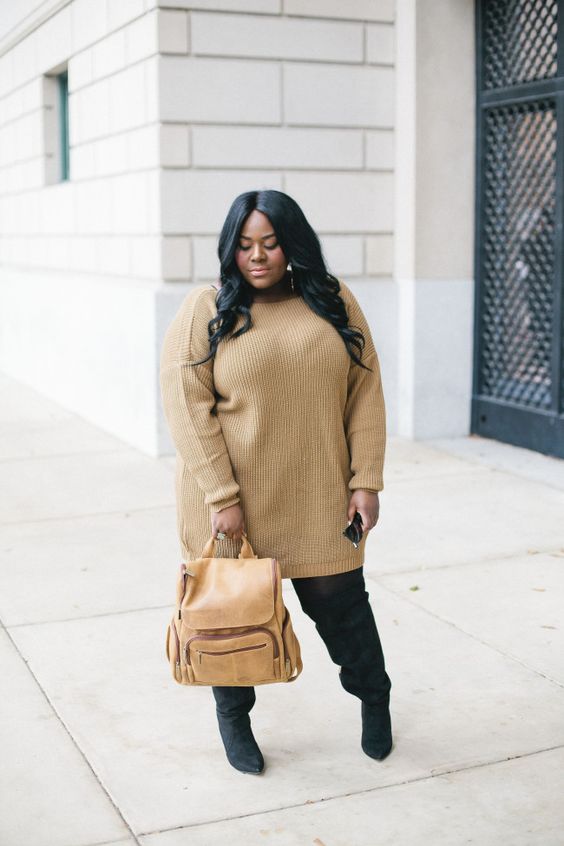 Sweaters are a popular winter fashion choice because they're so comfortable and cute at the same time. Plus, they're versatile and can be easily incorporated into almost any outfit. If your favorite sweaters make you feel confident, enjoy wearing them. However, many plus size women feel like sweaters conceal their figure in an unflattering way. If you avoid wearing sweaters because of the way they fit your figure, sweater dresses are a flattering solution.
Sweater dresses look just like sweaters and are just as comfortable, but they are meant to be worn as a dress so they are longer and more form-fitting. You don't have to wear a sweater dress as a dress. Instead, pair a sweater dress with boots and leggings to create a twist on a classic winter look with a streamlined finish that accentuates and flatters all your curves.
3. Choose Colors Carefully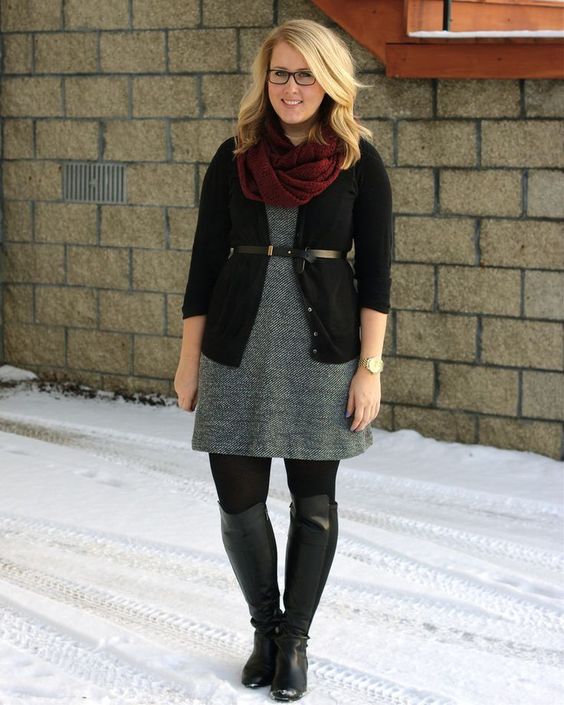 Although plus size women encounter many difficulties when it comes to finding cold-weather pieces, they do benefit from the multitude of dark-colored clothing options that fall and winter bring.
Darker colors are generally more flattering for plus size women because they subtly slim and smooth your figure. When you put together a plus size outfit for cold weather, try to include a blend of two or three dark colors. For example, pair distressed gray jeans and black boots with a black sweater and maroon scarf. Don't try to create a monochromatic look using only one dark color. This will give your outfit an unflattering, unbalanced finish.
4. Collect Coats and Cardigans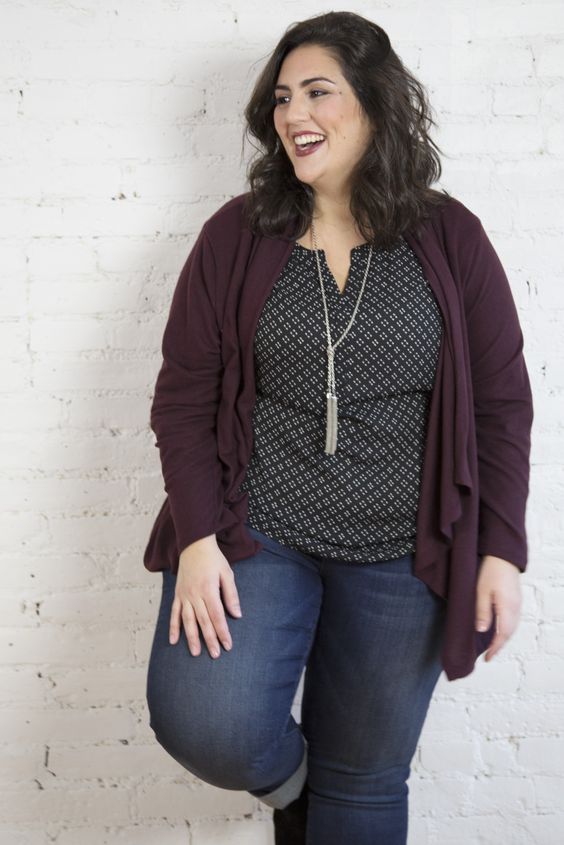 Long coats and cardigans are your best friends when the weather is cold. These pieces allow you to wear a form-fitting outfit to accentuate your figure and stay warm by wearing the coat or cardigan on top.
Try pairing a long trench coat with dark jeans, knee-high boots, and a thin fitted sweater to create a look with a more professional finish. Or, throw a thick knit cardigan on over a lace-trimmed camisole and distressed skinnies with booties to create a casual, everyday look.
5. Emphasize Your Figure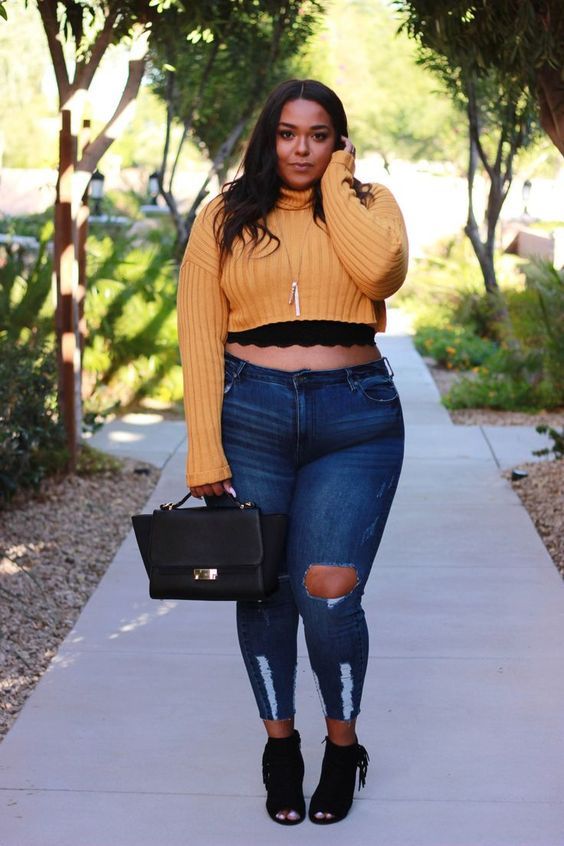 It's always important to emphasize your figure to create a flattering look. However, it's especially essential to make sure your body's shape is clearly visible when you're wearing thick winter clothes that threaten to swallow your figure. There are many ways to accentuate your figure with the clothes you wear. One of the most effective ways is to strategically choose the length of your tops and the rise of your pants to create the most flattering combination.
Pair high-waisted jeans with a cropped sweater to accentuate the curves of your waist and make it appear as small as possible. When you wear bottoms with a lower rise, pair them with a longer, tunic-length top that prevents your midsection from appearing bulky and creates a streamlined finish for your outfit. Try to wear high-waisted leggings no matter what the cut of your top is. The high waistband will likely be too thin to show underneath even fitted tops and it will provide you with comfortable shaping support for your midsection.
6. Pay Attention to Detailing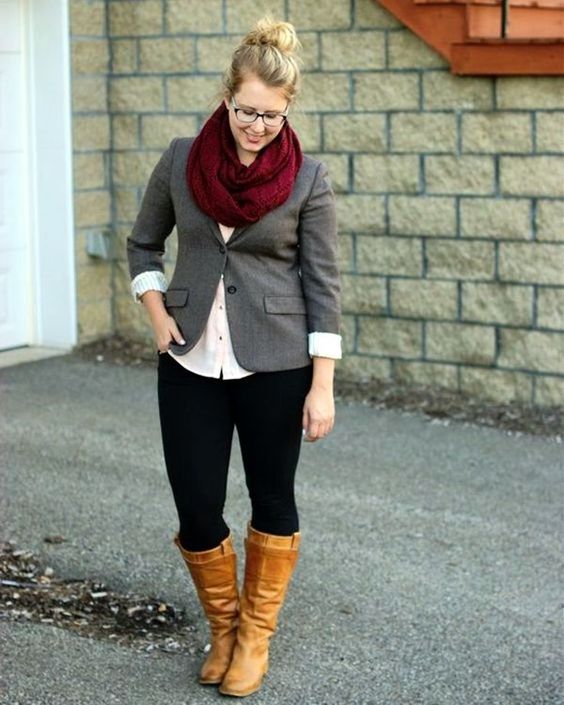 The details of your winter look have a significant impact on the look as a whole. Paying attention to the detailing and accessories in your look helps you manipulate these subtle touches to make your entire look more flattering.
The neckline of the top you wear might seem insignificant, but it can actually make or break the finish of your look. Wearing a cowl-neck sweater, for example, draws attention to the top of your chest and bust. This focal point prevents the shape of your bust from getting lost in a loose sweater. If you're wearing a loose top or multiple thick layers, adding a scarf helps balance your look and counteract its bulky finish.
7. Stay Balanced

Balance is the most important part of plus size cold-weather fashion. If you are careful to maintain balance in your look, you'll likely end up with a look that is both fashionable and flattering for your figure.
Always try to wear a combination of loose and fitted pieces to help your figure look even. Pair a tight turtleneck and leggings with a slouchy cardigan and wide-ankle boots. Also, make sure your outfit accentuates at least one part of your body. Whether you wear a belt to emphasize your waist or high-waisted jeans to show off your curvy hips, your outfit should always enhance your figure in some way.
If you wear plus size clothing, you shouldn't have to dread the colder seasons of the year. Instead, use the tips in this post to help you use your winter wardrobe to effortlessly transform your cold-weather outfits into flattering fashion statements.