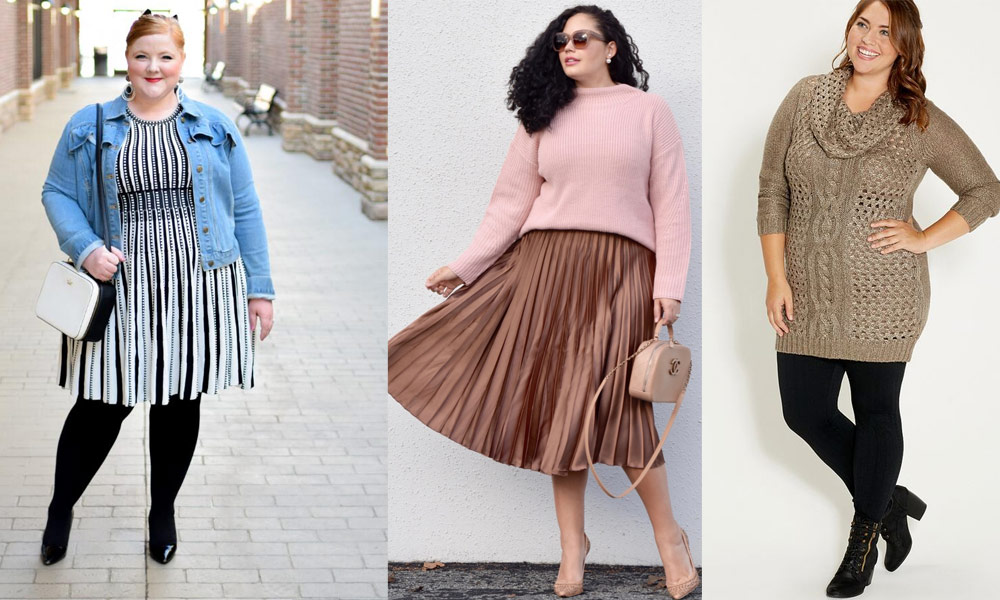 Everyone knows that winter is the best time of year for styling and accessorizing the perfect outfit. Between the holiday gatherings and the fun outdoor activities, the colder months give us a reason to break out the scarves, hats, jackets, and coats as the snow starts to fall.
While the winter season brings us many reasons to up our fashion game, curvy cuties can sometimes face unique challenges when shopping for the occasion. Finding women's plus size clothing that provides coverage and warmth, without flooding your body with too much material, can be difficult. However, once you find the right fit, there are dozens of ways to style a cold-weather ensemble that will make you look and feel amazing.
Explore seven of our favorite curvy winter looks to make this season one of your most stylish ones yet.
A Dress and Jacket Combo Straight Out of the Movies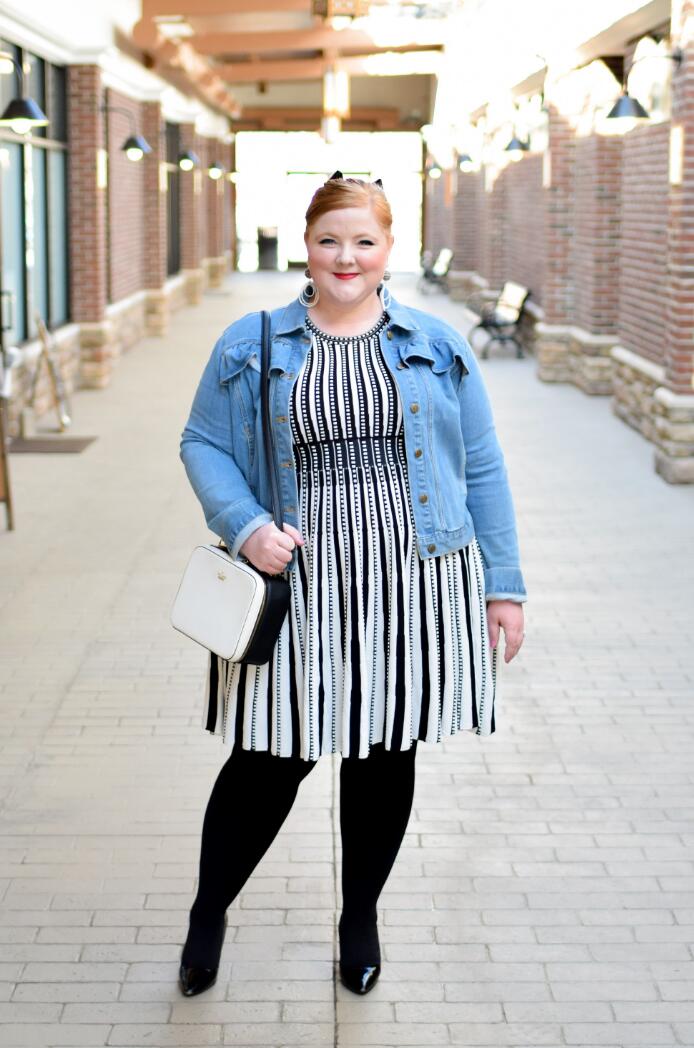 Classic leggings, a flowy dress, and a fitted jacket make for a tried-and-true winter look. Opt for fleece-lined leggings in a darker shade, such as black or brown. Pair them with a trendy leopard or floral-print dress that is made of a thin enough material to allow room for layering.
Find a warm, but eye-catching, jacket at one of your favorite cute clothing boutiques to add an extra layer for warmth and depth. We recommend a sherpa jacket to complement the thinner dress material. Complete this jacket and dress ensemble with your go-to booties or flats, depending on what you have planned for the day. With this outfit, any girl is on their way to looking straight out of a Hallmark Christmas movie.
A Sweater Dress + Leggings = An Instant Classic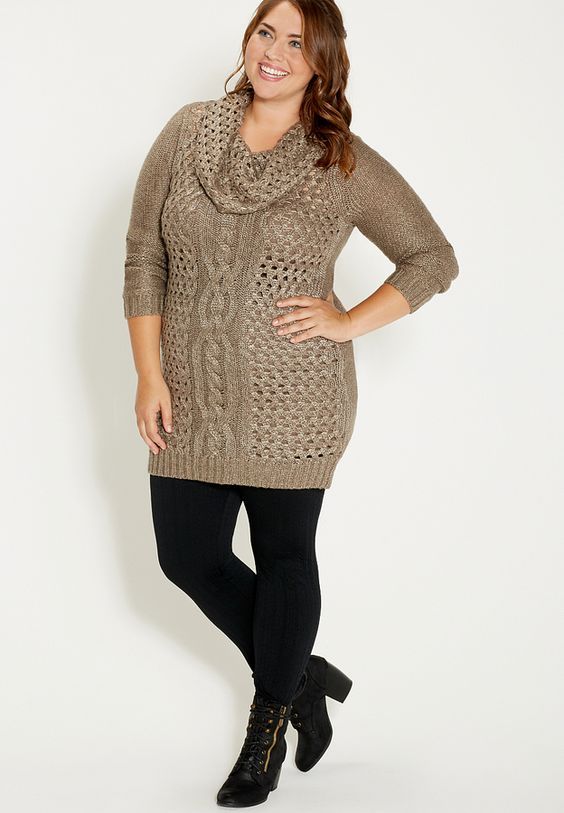 What's better than snuggling up in a roomie sweater to enjoy a warm beverage and a Christmas movie? Capture this feeling every day when you rock a classic sweater dress and printed leggings. While this is a super comfortable winter style for plus size women, it's also a very fashion-forward one. The basic dress will allow the pattern of the leggings to pop.
Sweater dresses come in many shapes and sizes, so they're a great option for curvy ladies wanting to look cute at the ice skating rink or office. If the fabric is too loose, consider adding a belt to snatch the waist and create a more flattering silhouette. Pair the dress with a blanket scarf and any boot in a complimentary color, and you'll be set and ready to go.
Slimming Cardigans and Distressed Jeans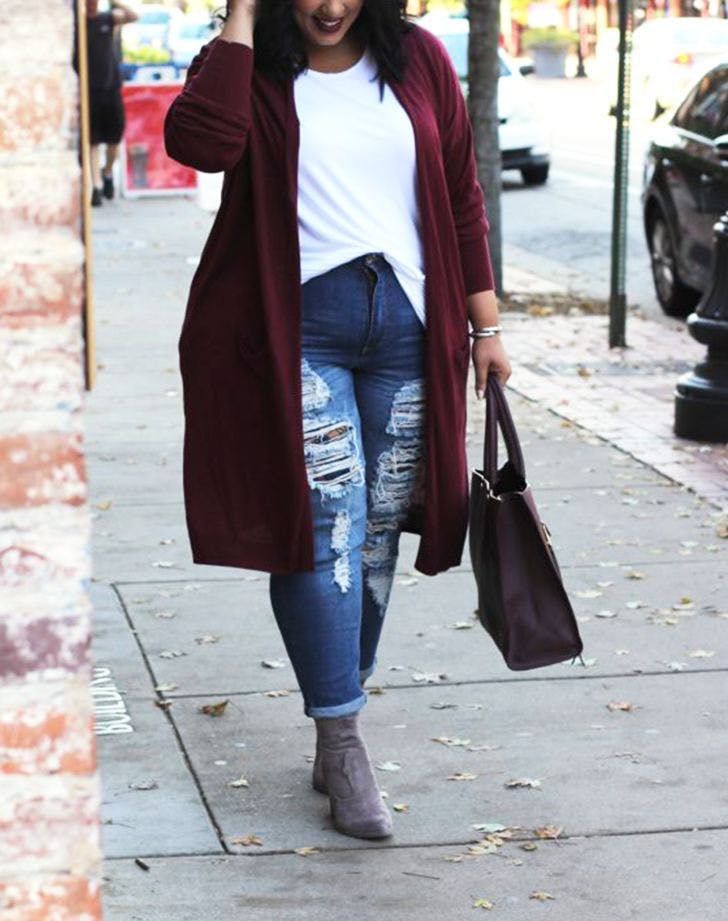 A long, solid-colored cardigan can be super slimming and fashionable, especially when you add distressed skinny jeans and a basic tee. The cardigan offers a flattering fit, while providing additional warmth at the same time, the ultimate goal for all wintertime looks!
The form-fitting jeans will assure that you don't lose your lovely shape in too much fabric, as they will hug every curve. If you're feeling fierce, add sleek elegance to your cardigan with a leather pant instead.
Your New Go-To Knee-High Boots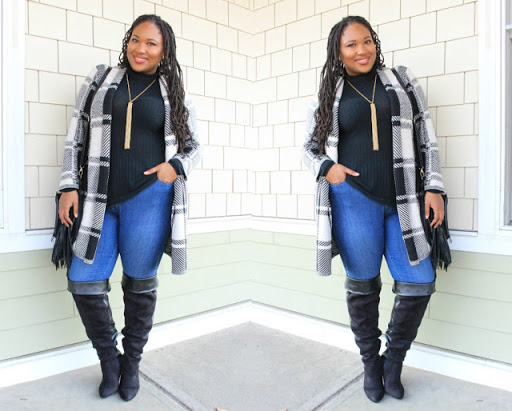 One of the best parts of the chillier months is the footwear. Quality knee-high boots can easily take an outfit to the next level. Plus, they go well with just about any winter look. A classic option is pairing these boots with jeans and a thick, knitted sweater.
This versatile ensemble is perfect for a professionally casual day at the office or a stylish day off. Add some accessories, like a statement necklace or earrings, to make this outfit really dazzle.
A Maxi Skirt and Blouse for Every Season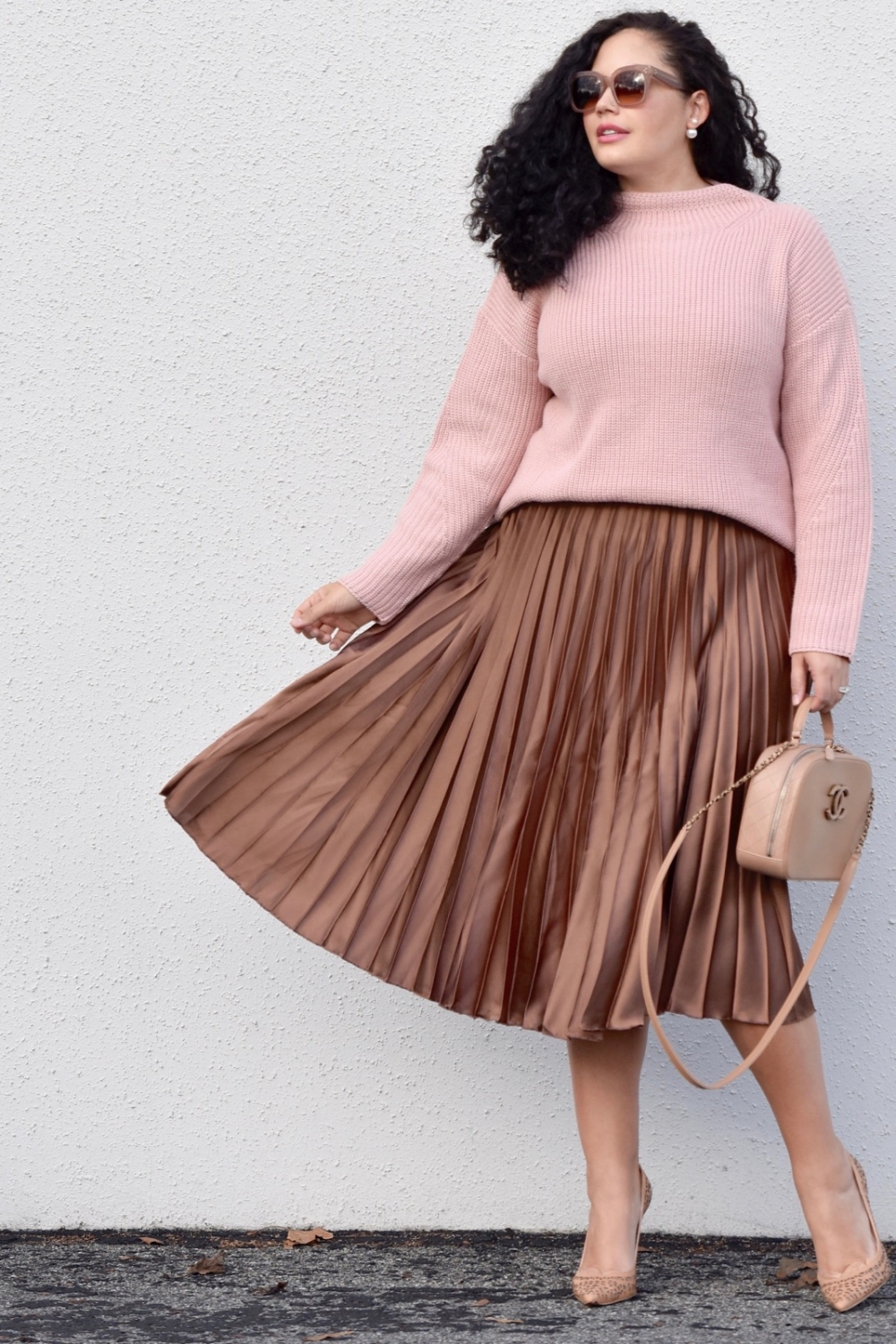 We should go ahead and dispel the myth that maxi skirts are summertime exclusives. When you add tights or leggings to provide additional warmth, a maxi skirt looks amazing topped with a comfy sweater, chic blouse, graphic tee, and more.
The elegance of the skirt allows some flexibility for the top, so check out a local plus size women's boutique to grab a few options for the season. This all pairs very well with a leather jacket, a favorite clothing staple for every fashionista. If the maxi skirt has a slit to show some skin, consider pairing this look with a leather boot to give the outfit that extra WOW-factor.
Show Off Your Personality with a Patterned Coat and Turtleneck
While the goal of a winter coat is generally to keep us warm, that doesn't mean that they don't also open the door to numerous style possibilities. Your statement jacket should be an avenue for self-expression.
Consider a long patterned peacoat with a dark-toned turtleneck for a voguish and classic wintertime look. Not only will this do wonders for keeping any curvy girl toasty, but it will also give extra texture and depth that is bound to catch every eye on the street.
Slip a Sweater Over a Dress
Sometimes, you have to get creative to squeeze the absolute most warmth out of your wardrobe. Just because a piece is typically reserved for summer doesn't mean it can't make its way into a winter fashionscape, if you're willing to mix and match styles.
For example, consider pairing a form-fitting sweater with a slip dress to create a sophisticated and elegant outfit. Add a pair of tights (a much-needed staple for every woman's winter wardrobe) for the days with plummeting temperatures to give the ensemble some extra coverage and fun layering.
Cute and Curvy All Winter Long
Nothing holds curvy women back from looking fresh in the wintertime when they embrace these unique plus size cold weather fashion options. Regardless of what pairing speaks to you, don't be afraid to get creative as you layer pieces without piling on the bulk.
Reuse elements in your wardrobe, such as your favorite summer skirts and dresses, while adding new finds that highlight the latest trends. From chunky knit sweaters to knee-high boots, embrace winter-ready pieces that will emphasize your favorite features. Show off your curves, and your personality, and you'll always feel amazing.