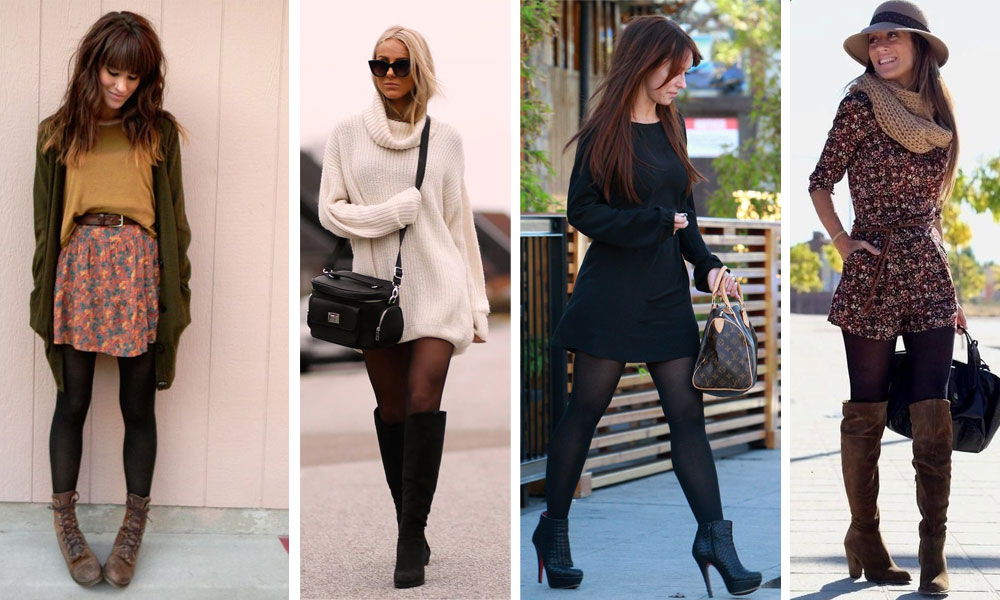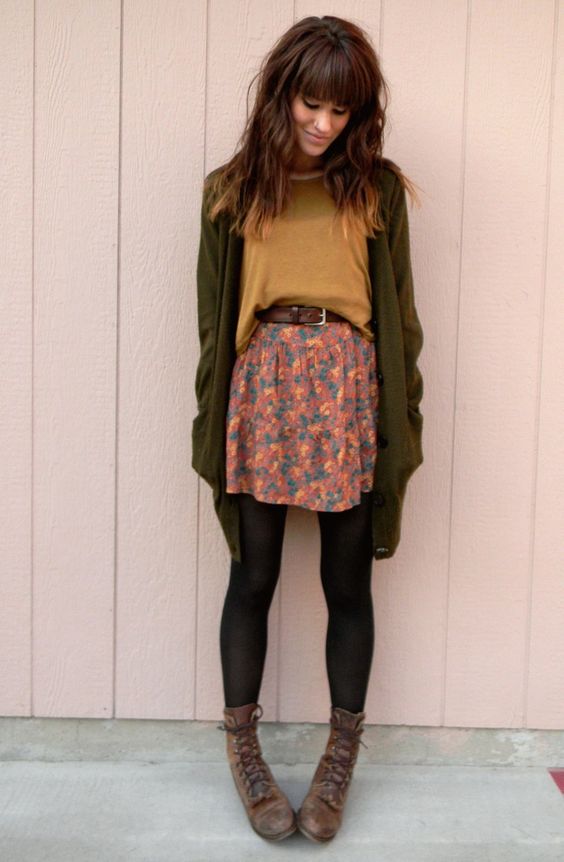 Tights are the perfect outfit completer. They're subtle, versatile, comfortable, and immediately make every outfit look put together. Wearing tights instantly adds a streamlined finish to your outfit. You can effortlessly incorporate them into almost any look no matter if it's formal, casual, professional, or somewhere in the middle. Plus, they're perfect for in-between season weather because they keep your legs warm when it's chilly without feeling suffocating if the weather heats up.
If you don't already at least three pairs of black tights somewhere in the back of your closet or the bottom of your dresser drawer, it's time to go shopping. Tights are both trendy and convenient; they're much too valuable of a wardrobe staple to pass up. Whether you've never considered wearing tights with anything other than a ballet leotard or you're looking for some ways to spice up your options for outfits that include tights, look no further. Incorporating tights into your outfits for almost any occasion requires nothing more than a bit of creativity.
1. Pick a Pattern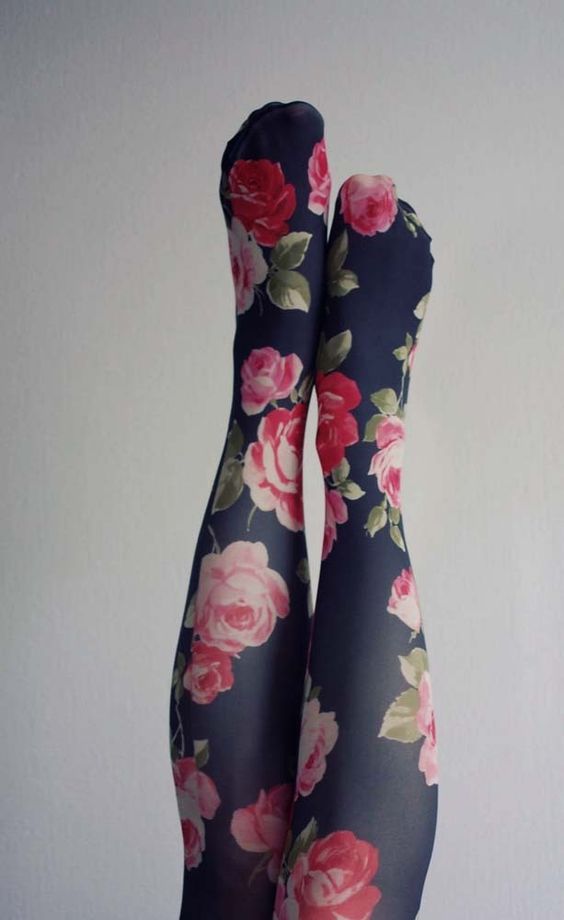 Although black tights are a wardrobe staple, you don't always have to go for plain black when you wear tights. You can find a wide variety of different patterns of tights that can upgrade the neutral essential when you're looking to add a little more interest to your outfit.
When you choose to wear patterned tights, let them be the focal point of your look. Keep the rest of your clothing relatively neutral and don't try to blend other patterns into your outfit. If you choose a bright solid color for your tights, make sure you tie it into the rest of your outfit by matching the color of your tights to a color in the pattern of another piece you wear. Avoid mixing multiple bright solid colors in different pieces of your look to steer clear of a crowded, costume-y finish.
2. Go Oversized

Wearing oversized clothing all by itself can be cute, but it can also end up looking frumpy and give you a shapeless finish. Plus, it can be difficult to gather up the courage to walk out on the streets wearing nothing but a sweater no matter how big that sweater might be.
The perfect solution to your oversized clothing woes is tights. Pair tights with a giant T-shirt and knee-high boots or an oversized chunky-knit sweater and booties. Tights automatically make your oversized outfit appear more put together and eliminate any sloppiness. Plus, they elongate, slim, and emphasize the shape of your legs in order to prevent you from looking shapeless.
3. Get Professional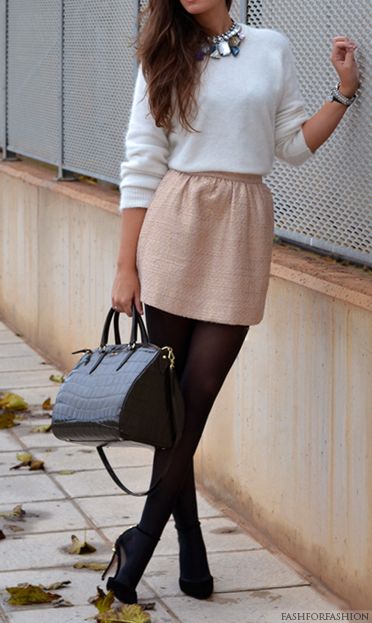 Don't count tights out of your everyday office look. Not only are tights pro at dressing up and adding a professional vibe to your outfit, they also make sitting in cold office chairs in a short skirt much more comfortable. You can virtually add tights to any professional outfit you already wear to work. The one important thing to remember is to keep your look balanced to avoid looking too straight up and down.
Add some balance to your look by pairing tights with a fitted, high-waisted skirt and a loose sleeved blouse. Or, toss a relaxed-fit blazer on over a fitted dress with tights underneath. As for shoes, you can pair tights with anything from simple ballet flats to stilettos. Tights automatically streamline your look and tie most semi-professional shoes into your outfit effortlessly.
4. Try Out Textures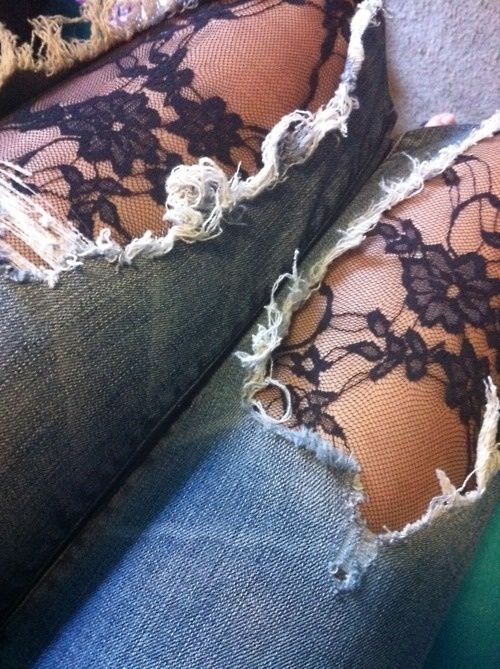 Just as they don't only come in one pattern, tights are available in a wide variety of textures as well. Textured tights often feature cutouts in the nylon material that create patterns that range from floral designs to cat or skull imagery.
The best thing about textured tights is that they are creative and unique, yet subtle. If you don't want to go all out with a pair of patterned tights with a crowded geometric print, try textured tights instead. You can generally pair textured tights with many other patterns or colors without creating an overly busy look. However, if you want your tights to really stand out, try to keep the rest of your outfit fairly neutral. For a more subtle finish, wear textured tights underneath ripped jeans so just a small area of the pattern peeks through.
5. Wear Shorts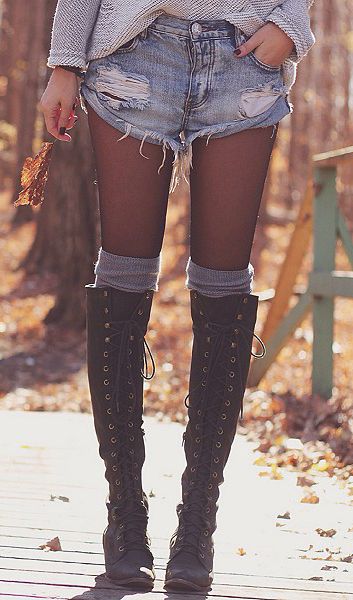 If you want to create a city-chic vibe for your look, pair tights with shorts. It might feel a little weird to wear tights and shorts in the same outfit, but this unusual combo actually adds an extra dimension of trendiness to your look.
Try pairing high-waisted shorts with a rolled hem with black tights, black booties, and a graphic cropped tee. Shorts in a lighter wash generally look better over black tights than darker-colored shorts. The light color of the shorts creates a contrast that adds balance and interest to your look.
6. Rock a Romper

Rompers and tights are both trendy, effortless wardrobe staples every girl needs in her closet. Why not pair them together?
Try a sleeved, patterned romper with a relaxed fit over tights to create a balanced outfit with a flirty, boho-chic vibe. Add boho accessories like dangly beaded earrings or a pendant necklace to play up the style of your casual, trendy look.
7. Make it Monochrome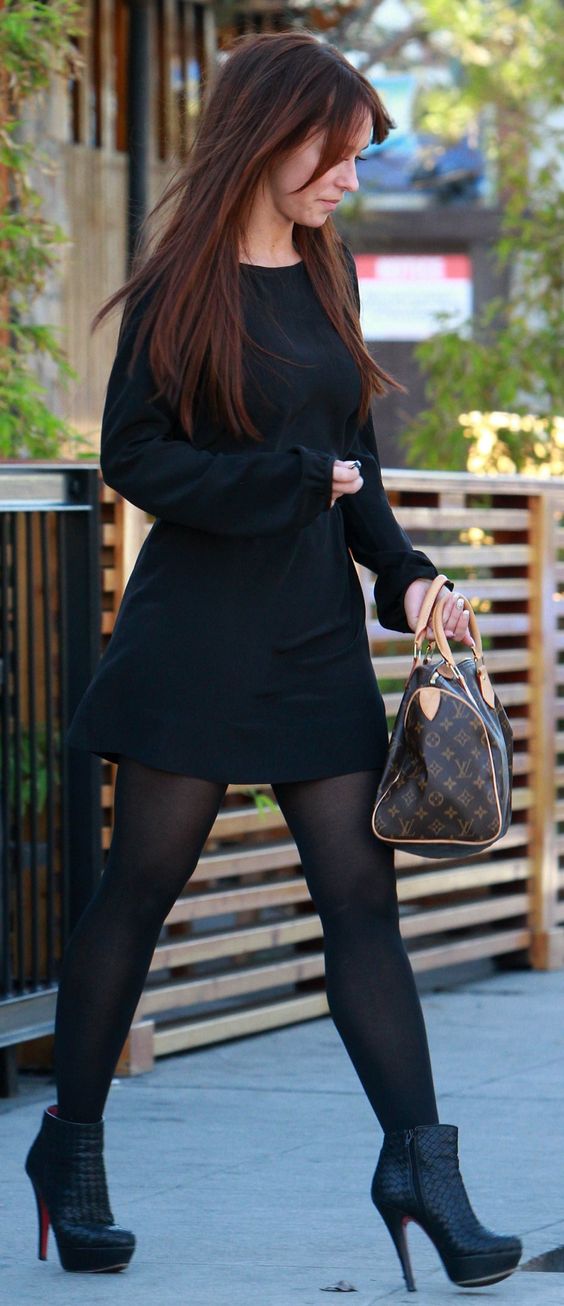 Create a monochromatic finish with tights and the right pair of shoes. Wearing black tights with black shoes (especially shoes with any kind of heel) instantly slims and lengthens your legs to create the illusion that they really do go for miles.
Try pairing black tights with block-heeled black booties and a loose-fitting patterned dress for a cute and feminine finish. Or, wear black tights with lace-up black knee-high boots, shorts, and tee for a flattering look with an edge.
Wear them with skirts, shorts, blazers, or an oversized sweater and nothing else. The possibilities are endless when it comes to making tights work in your everyday wardrobe. Don't be afraid to get creative and trust in the versatility of tights; chances are, they won't let you down.