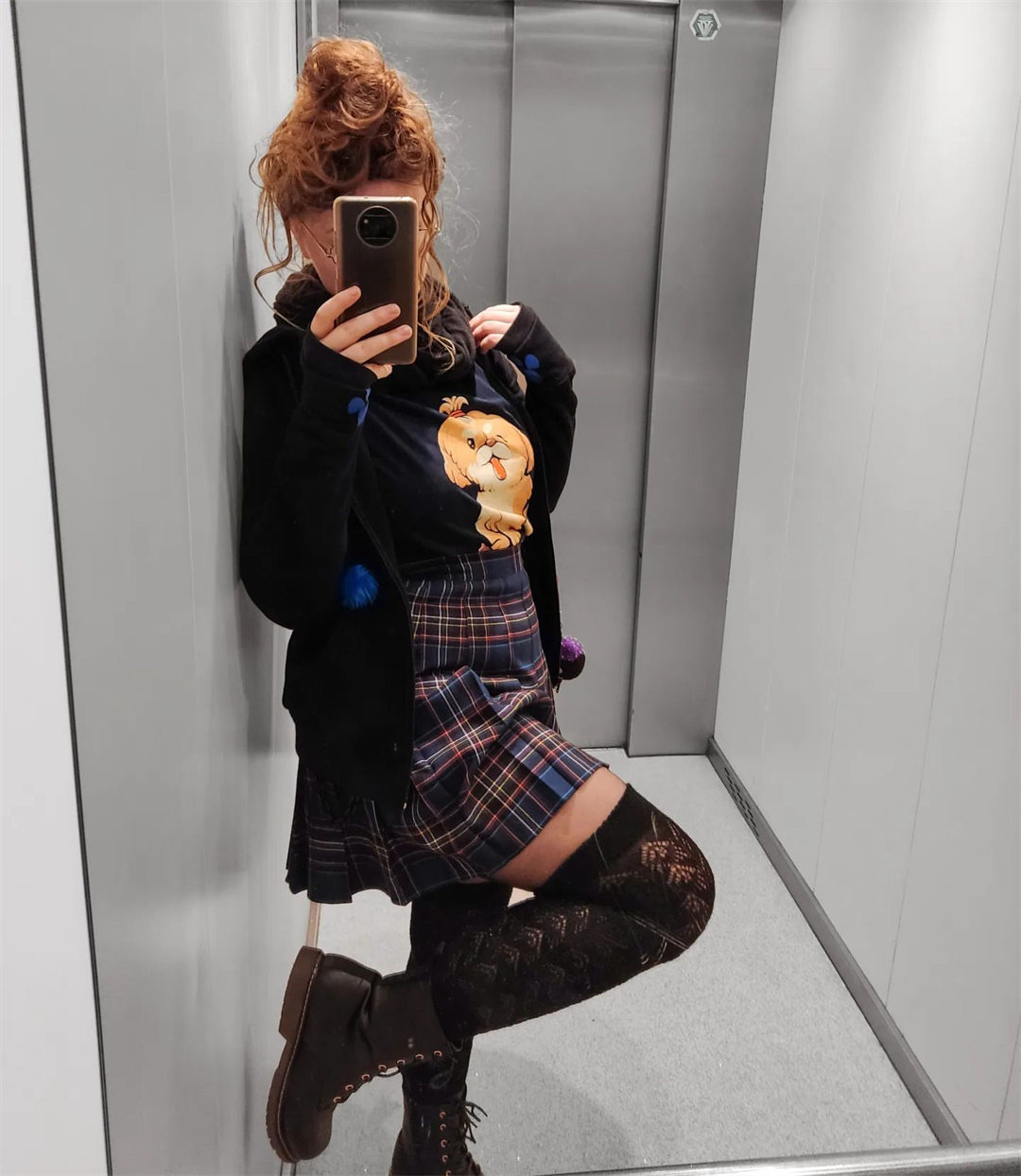 Knee-high socks may be something you thought you'd left behind years ago, but they're now a legitimate fashion trend for women! Why? Because they're chic and warm and give you a feminine look, that's similar to knee-high boots. And they're especially practical if you're tired of wearing jeans and pants when the weather's cold. You can wear knee-high and over-the knee socks for a new look and to get the vibe of thigh-high boots, without having to buy the boots!
And, if you hate wearing tights, you can wear a skirt with high socks, when it's too cold for bare legs. Knee-high socks are an exciting new addition to our wardrobes and you can wear them in winter and summer these days.
So why not get up-to-date on some fabulously attractive new outfits with knee high socks here?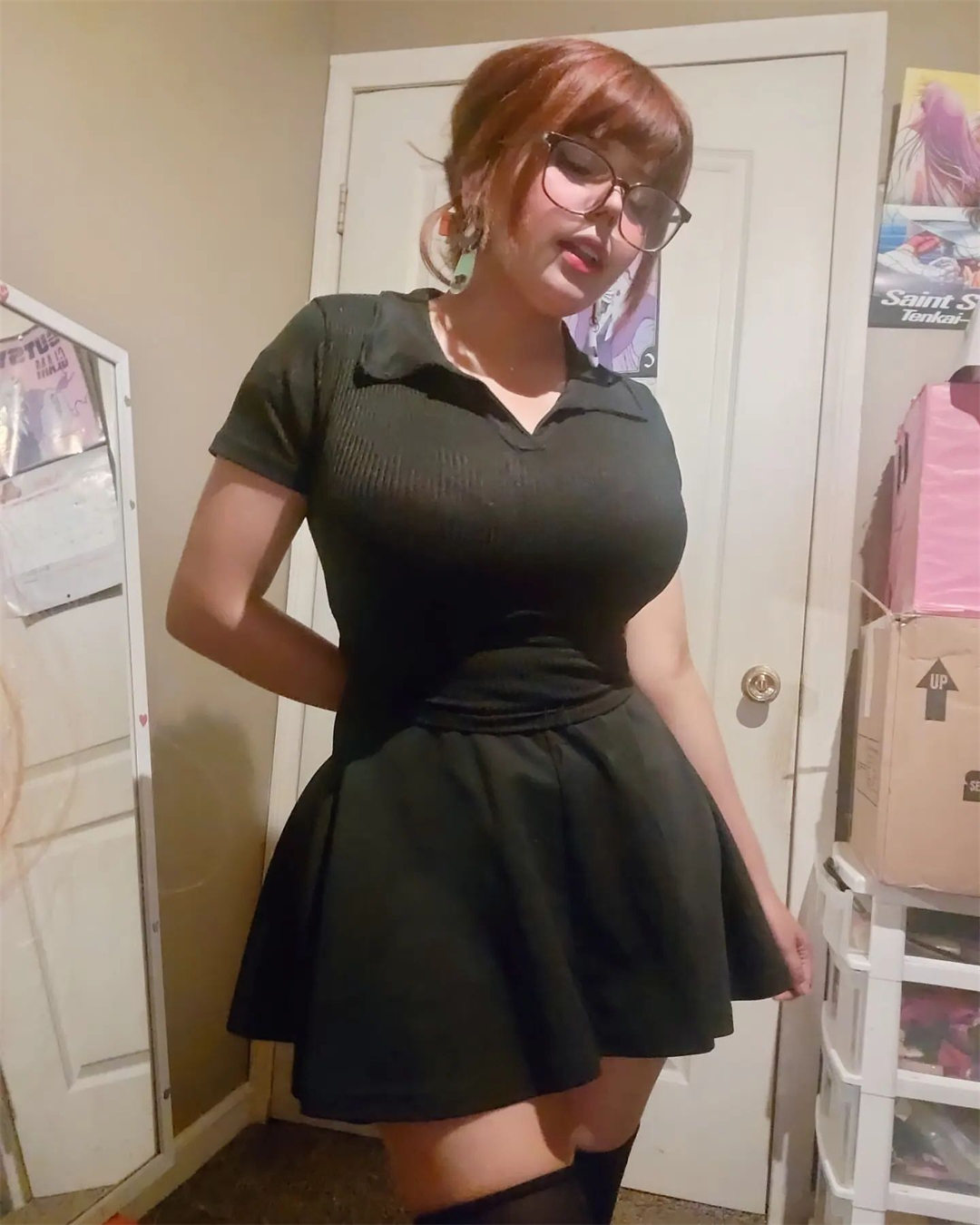 1. Knee-high socks outfits for women – add a new dimension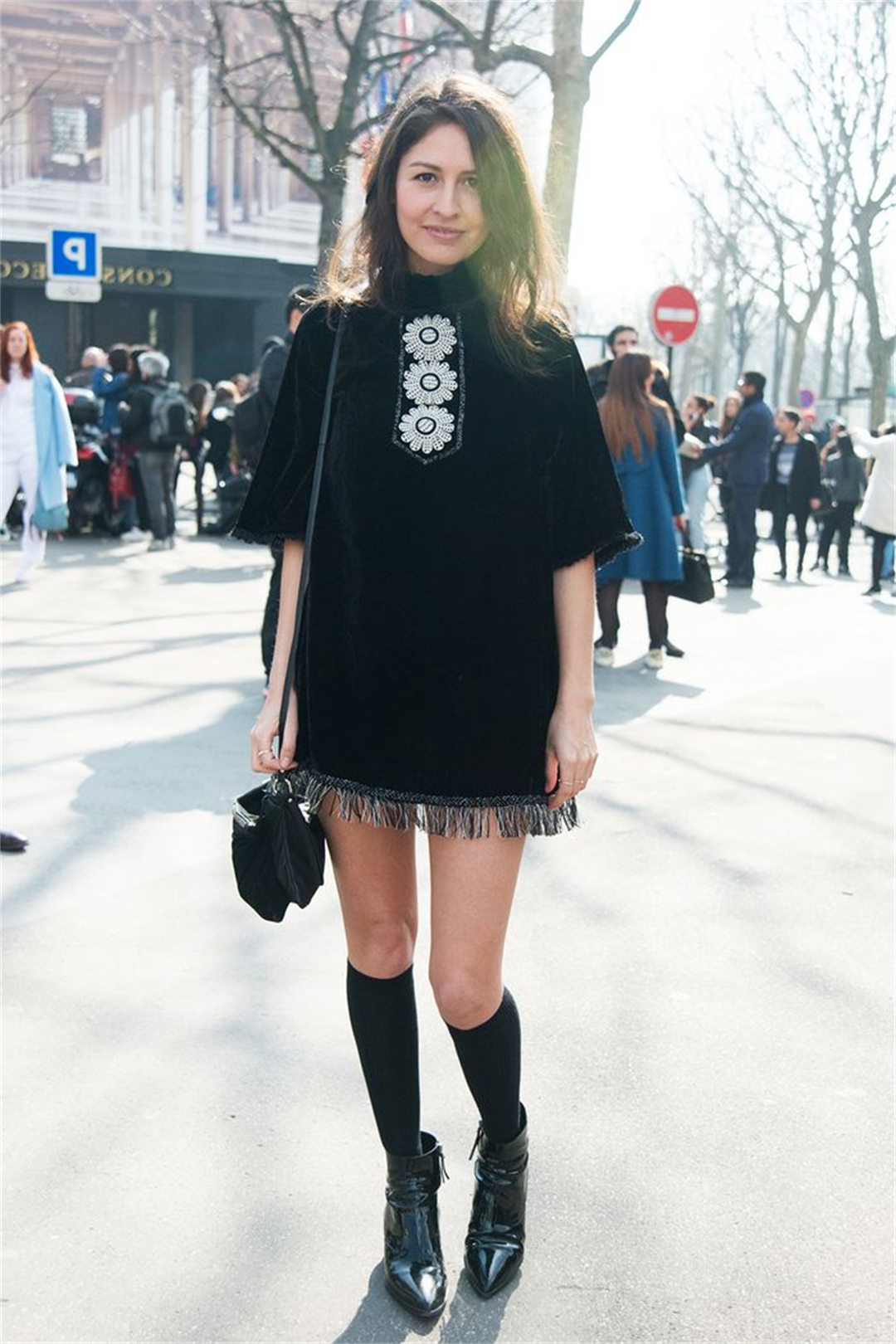 Black knee high socks are a quick and easy way to add a new dimension to many of the items you already have in your wardrobe. And I know there are many women who don't like wearing leggings at all. So knee socks are the all-in-one answer to wearing a skirt/dress when it's cold, covering your legs and looking smart!
Try matching your black, knee high socks with smart, black, shiny pumps, a black, leather mini-skirt and a rib-knitted cream or white jumper. You get the visual effect of high boots, with the lovely comfort of wearing socks. It's a brilliant idea! Get out your LBD and match it with platform ankle-boots and long, black socks. Instant new, edgy look!
2. Knee high socks outfits for women – tee-shirt dress & Fedora hat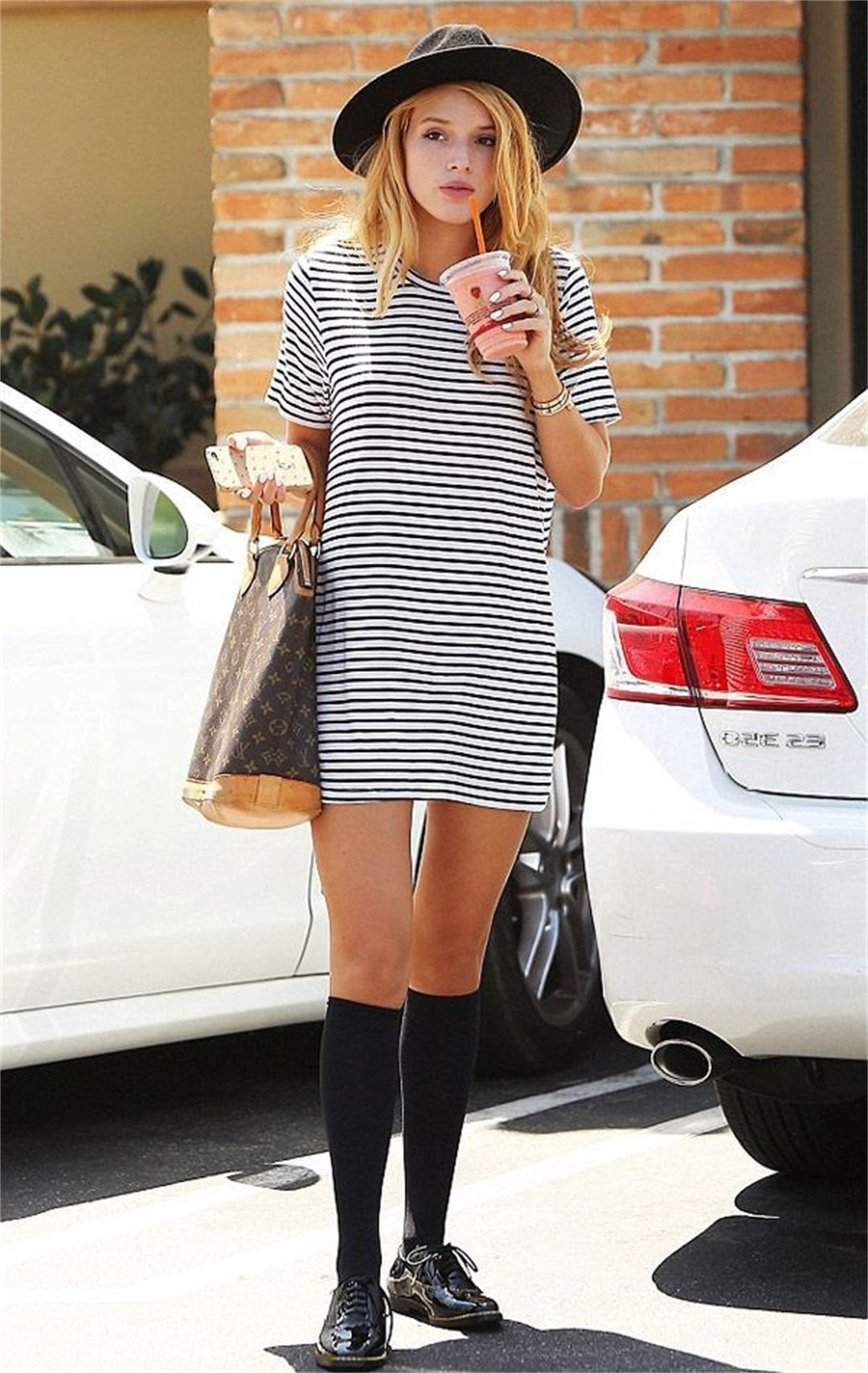 If you love to be comfortable in hot weather, but also attractive and smartly turned-out, try this combination. Wear a tee-shirt, mini-dress with a loose fit, in black and white horizontal stripes, plus black knee-high socks, and black lace-up oxfords with a flat heel. Then top of the look with a black Fedora hat, which will protect you from the sun and add an air of elegance you can't get with a straw hat.
This outfit is attractive, because you're showing a few inches of bare thigh between the top of the socks and the hem of the mini. But it also looks very chic, because you are covered up everywhere else and wearing 'posh' shoes and a formal hat. It's a clever take on the mix and match of casual and formal clothing items that's so ultra-fashionable this year! And it's great for shopping trips in the summer or having a meal with friends.
3. Knee high socks outfits for women – plaid tennis skirts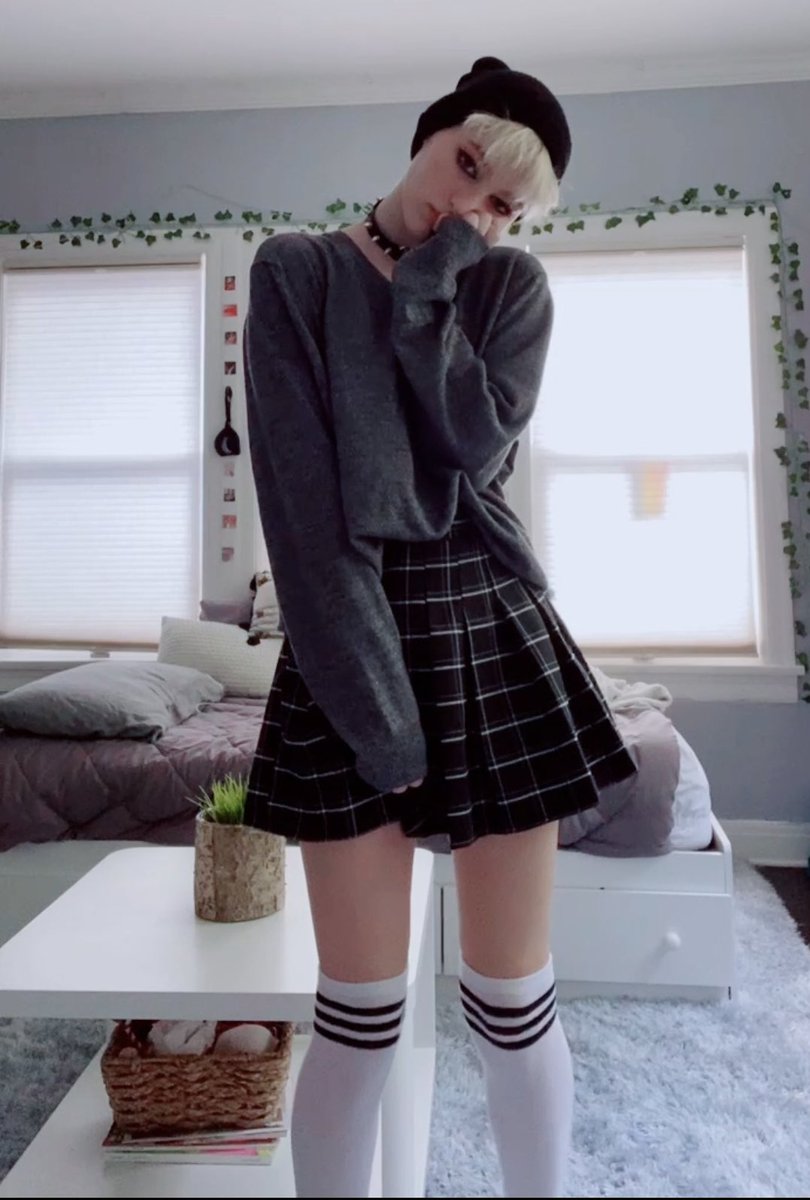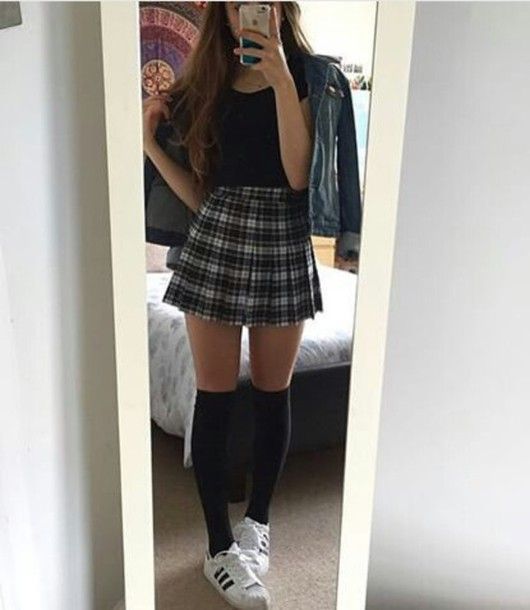 This year's short, pleated, plaid and check tennis skirts are perfect for wearing with black, knee socks. Wear a white, cropped shirt, tee-shirt, or ribbed sweater with your mini-skirt and then pop on a pair of black socks, that will make your very short skirt seem less extreme.
Finish off with black Oxford shoes or flat sneakers for a saucy, fun outfit! Remember, it's important to wear little bike shorts under tennis skirts. And if it's cool day, wear an oversized blazer over your ensemble, in black or a brighter color that matches the skirt.
4. Knee high socks outfits for women – sweater dress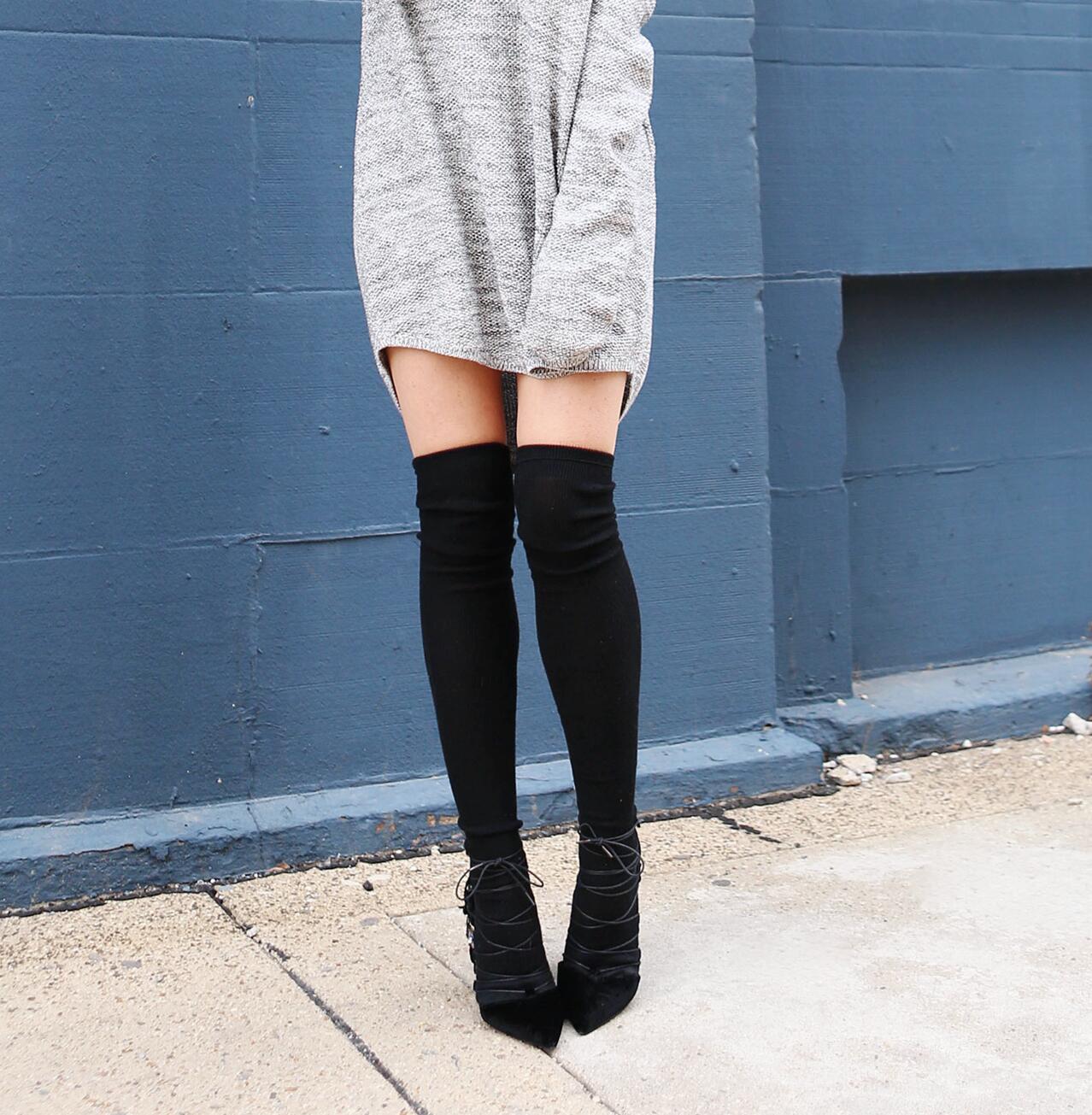 Warm sweater dresses also look fabulous when accessorized with a pair of knee-high socks. The two woollen textures complement each other really well and you can wear knee-highs in a color that matches your dress, to get a longer silhouette that should make you appear slimmer. You can choose a complementary color, for example, purple and gray are two colors that seem very different, but complement each other well.
Or for a fun trendy look wear contrasting colors like an orange dress with purple socks! And with so many light brown colors in fashion this year, like khaki, camel, tan, beige, sand, cream and ivory, you can easily wear two or three shades of brown for a modern look, finished off with a chic, silky, neck-scarf accessory.
5. Knee high socks outfits for women – patterned socks
Patterned knee high socks are just fabulous! You can get them in all sorts of colors and designs, from fine-gauge stocking texture to thicker socks. Wear a glossy, metallic skirt with polka-dot, beige high stocking-socks matched with a cream, long-sleeved jumper. Finish with camel-colored pointed shoes and a tan cardigan coat.
Or choose blue high socks to go with a blue, fitted coat and a wide-striped cream and blue jumper, with a black mini-skirt. Hipster chicks who love wearing tailored, high waist shorts can wear knee high socks with a matching knitted beanie hat, a cardigan coat and brogues or Oxfords.
6. Knee high socks outfits for women – classy leopard print
This super-chic look comprises two main colors, black and leopard print – so the effect is striking. Wear a short-sleeved, black tee with black tailored shorts, a furry, leopard print ¾ coat with wide sleeves and an open front and a pair of knee-length black socks. Finish with smart, flat, black Oxford shoes. It's a really eye-catching look that's trendy and smart; taking a leopard print furry-finish coat back to wear it belongs – in the classy section!
7. Knee high socks outfits for women – flared dresses
If you've got a fit and flare dress in black, or another dark color, you can refresh it for daytime wear with a pair of knee-high socks and black, laced-up ankle boots. The dress should come down to the top of your knees, so that there are just 2 or 3 inches of bare knee on display.
Worn with formal boots and a flash of color from a tan handbag, this is an elegant and fashionable look for daytime office or semi-formal wear! And you can wear it anytime of the year, with or without a coat.
8. Knee high socks outfits for women – denim shorts
For hot weather, you can even wear your black knee socks to protect your legs from the sun and cover up a little, in a fairly sexy way! To achieve this look wear a cropped, gray short-sleeved or sleeveless tee-shirt with medium or high-waisted, ripped jeans.
You should only be showing a tiny band of flesh around your midriff, along with your bare thighs above thigh-high socks. By wearing black or white long socks you're adding a touch of chic to an otherwise casual outfit and that's very intriguing!
9. Knee high socks outfits for women – denim jacket
Here's another young look with a grungy vibe. Wear a black, flared, mini-skirt and fine, black tights with black, thigh-high socks. And add some bright color with a printed shirt, knotted at the waist and a light-wash, faded denim jacket layered on top. Wear with platform lace-up, black shoes and a beanie hat.
10. Knee high socks outfits for women – floral dresses
For a feminine look in warm weather, try a floral mini-dress with a black background, and team with over-the-knee fine-gauge, patterned black socks. These socks will add style, without being too warm in summer. Add a statement silver necklace, and silver bangles, plus a dove-gray long cardigan to give even more texture and layering to the look. Finish with high-heeled pumps for a date night special!
And you can look fabulously Boho in a cream or white background, floral summer mini-dress, with a flouncy detail around the hem and long knee socks. Tie a plain, cream silky scarf around your head, like a broad hairband and match with lace-up, combat boots. Complete the look with a cross-over bag in beige or black.
11. Knee high socks outfits for women – black leather jacket
A dark-green tartan pencil skirt and lace-up boots, with block heels, look super-smart with black knee high socks and a short, black leather jacket. And you can wear fine-gauge, nude tights under your socks, when it's cold weather.
12. Knee high socks outfits for women – multi-color outfits
And why not put together an outfit that comprises several muted shades to wear in summer? There are lots of cream, knee-high, stocking-socks available. Start with a turquoise, round-collared, short-sleeved shirt and cover with a light gray sweater, with the sleeves rolled up to the elbows. Wear a gathered-waist, short blush-pink mini-skirt and wedge-heel, brown and cream, sandals. It's perfect for weekend wear!
13. Knee high socks outfits for women – white socks & pink dress
Try a simple, country-girl style with a loose fitting, pink monochrome dress and white or cream over the knee socks. Cover with brown, suede, lace-up boots for a rural vibe and you should have a lovely, layered look. Gently pull one side of a boat-neck down to expose a shoulder and with elbow-length sleeves, you'll look cute and youthful!
14. Knee high socks outfits for women – trendy travel gear
This layered look is perfect for traveling by air in warm climates. Start with denim shorts and thigh high, dark-gray socks. Then add a graphic tee-shirt, with an unbuttoned white shirt over the top and calf-length, gray boots. Add bangles and a dark-gray, chain-strap, shoulder bag. With a practical and trendy layered outfit, you can always remove a shirt if the temperature rises!
15. Knee high socks outfits for women – grunge styling
If you're into grunge, the fashion for gray shades this year will be perfect for you. Try wearing a cropped gray, tank-top with black, frayed hem, jeans' shorts and over-the-knee socks. Tie a dark gray sweater or sweatshirt around your hips and finish off with black, laced-up combat boots and a black or gray beanie hat.
16. Knee high socks outfits for women – sophisticated styles
For an evening out, look sexy and sophisticated at the same time, in a black, long-sleeved, body-con dress decorated with a Puritan pilgrim, white collar. Accessorize with minimalist gold or silver crawler earrings and a black, chain-strap, small shoulder bag. And just add dainty, high-heeled Mary Jane's or shiny, pumps and you're ready to go!
Black thigh-high socks also look great with dark, rich colors. So try them with a burgundy, forest-green or deep-purple, short-sleeved, flared dress. Add a black choker necklace and a belt for extra drama and a touch of Goth styling.
17. Knee high socks outfits for women – slimming effect
Knee socks and over-the-knee socks definitely have a slimming effect on legs and they look great if you make sure to get the balance right. This is a slightly saucy look, so it's not going to be suitable for wearing to the office or at formal events.
However, they look super as a 'going-out' look for casual evenings and for daytime outfits at the weekend. Keep the look simple and tend towards flat, short boots, Oxford shoes and only wear high heels with a sophisticated dress with sleeves. This lovely new look is intended to be classy and/or fun, but never cheap!
Looking for outfit ideas for knee-high boots? Check them out here.