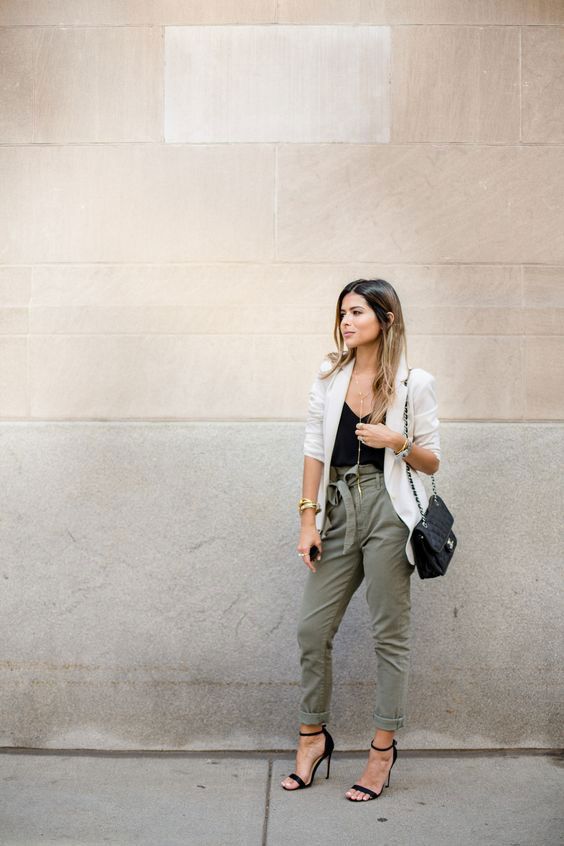 Tips on how to style paperbag pants
Paperbag pants are back and welcome for their 80's vibe, their comfort and the way they accentuate a defined, curvy waist. Paperbag pants have a ruffled waistline and a looser fit on the legs, and they are mostly designed for a specific body shape, rather than being suitable for a wide range of figures. And although they can be a really attractive and chic part of your fashion wardrobe, you need to know exactly how to wear paperbag pants for a flattering look!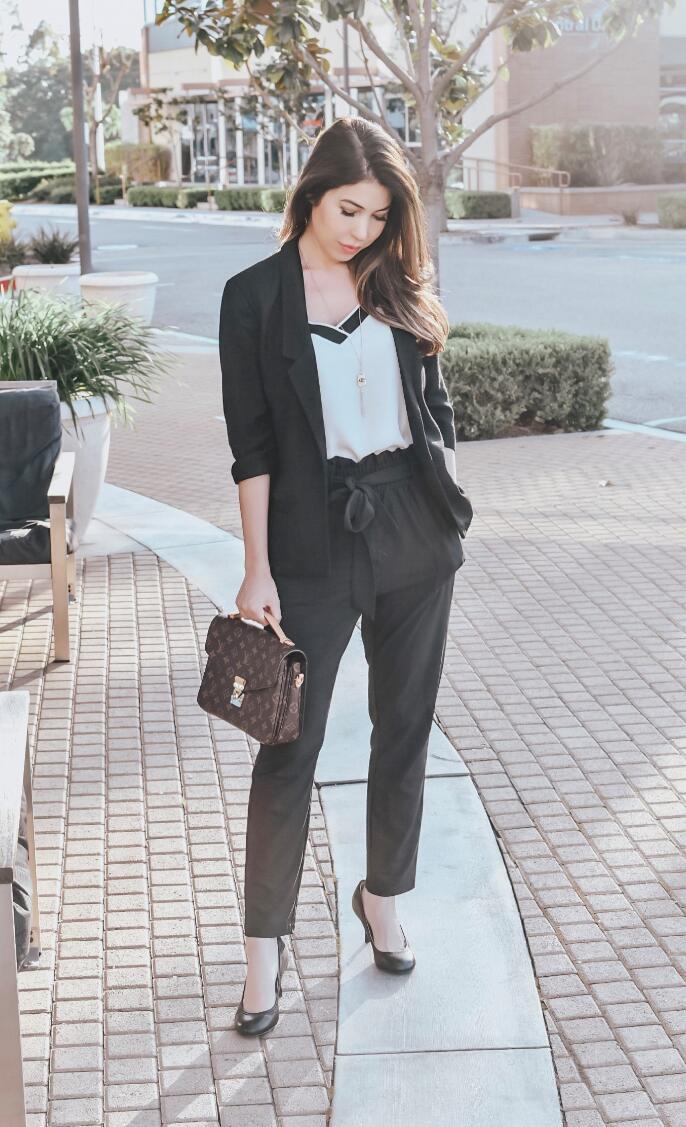 But this year's cropped tops and cropped cardigans plus the return of the spaghetti-strap tee-shirt, means that you'll have a good choice of tighter and shorter tops to balance the extra-width in the legs. And what you're aiming to do when wearing paperbag pants is to balance the proportions so that you get a good focus on the ruffled waist feature! So read on to find how to choose a flattering paperbag pants style:-
How to choose your best paperbag pants style
The best body types to wear paperbag pants successfully are a curvy hourglass or pear-shaped figures. If you are an apple or rectangular shape, without a defined waist, I'm afraid paperbag pants won't really flatter you.
Best paperbag pants for petites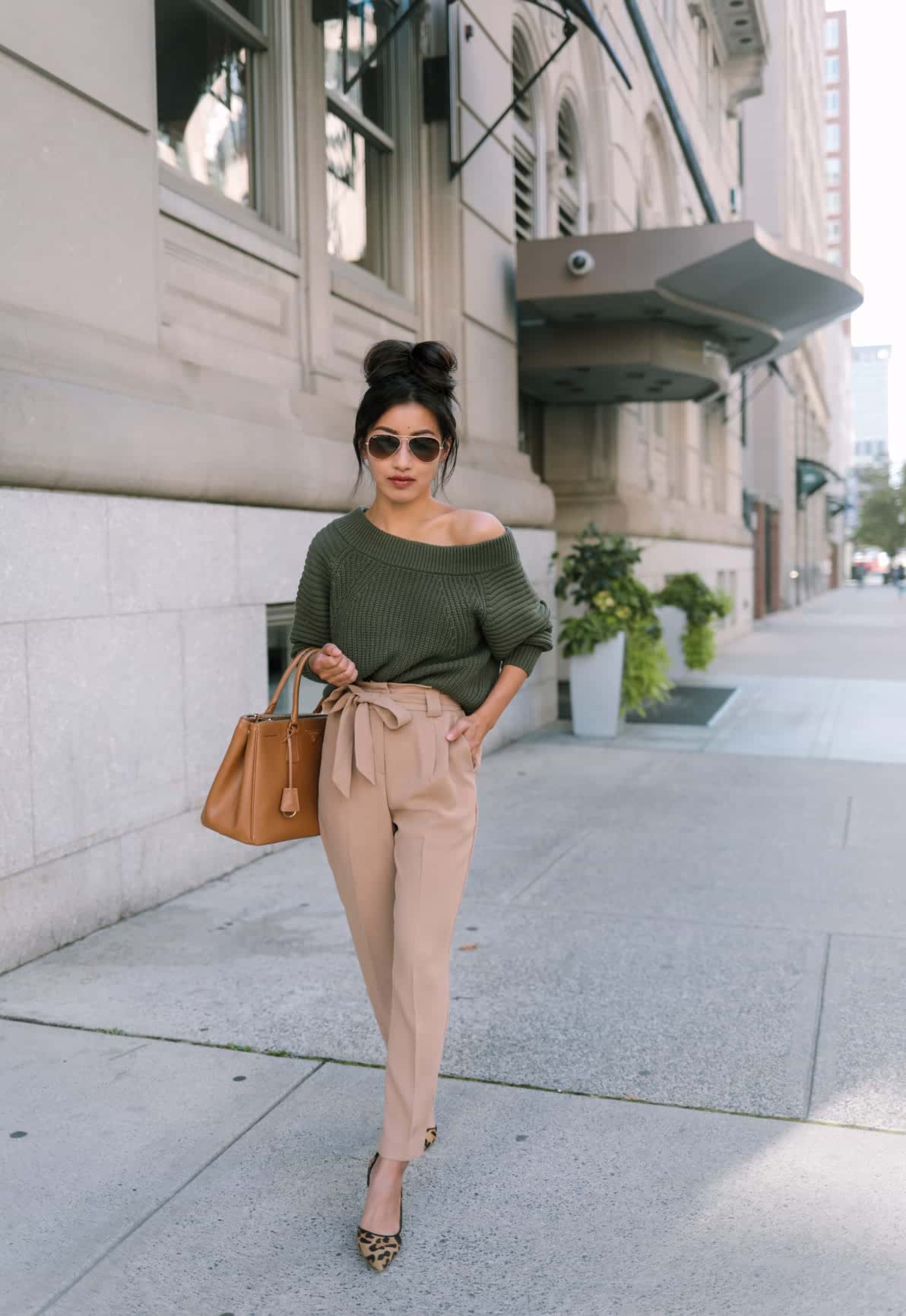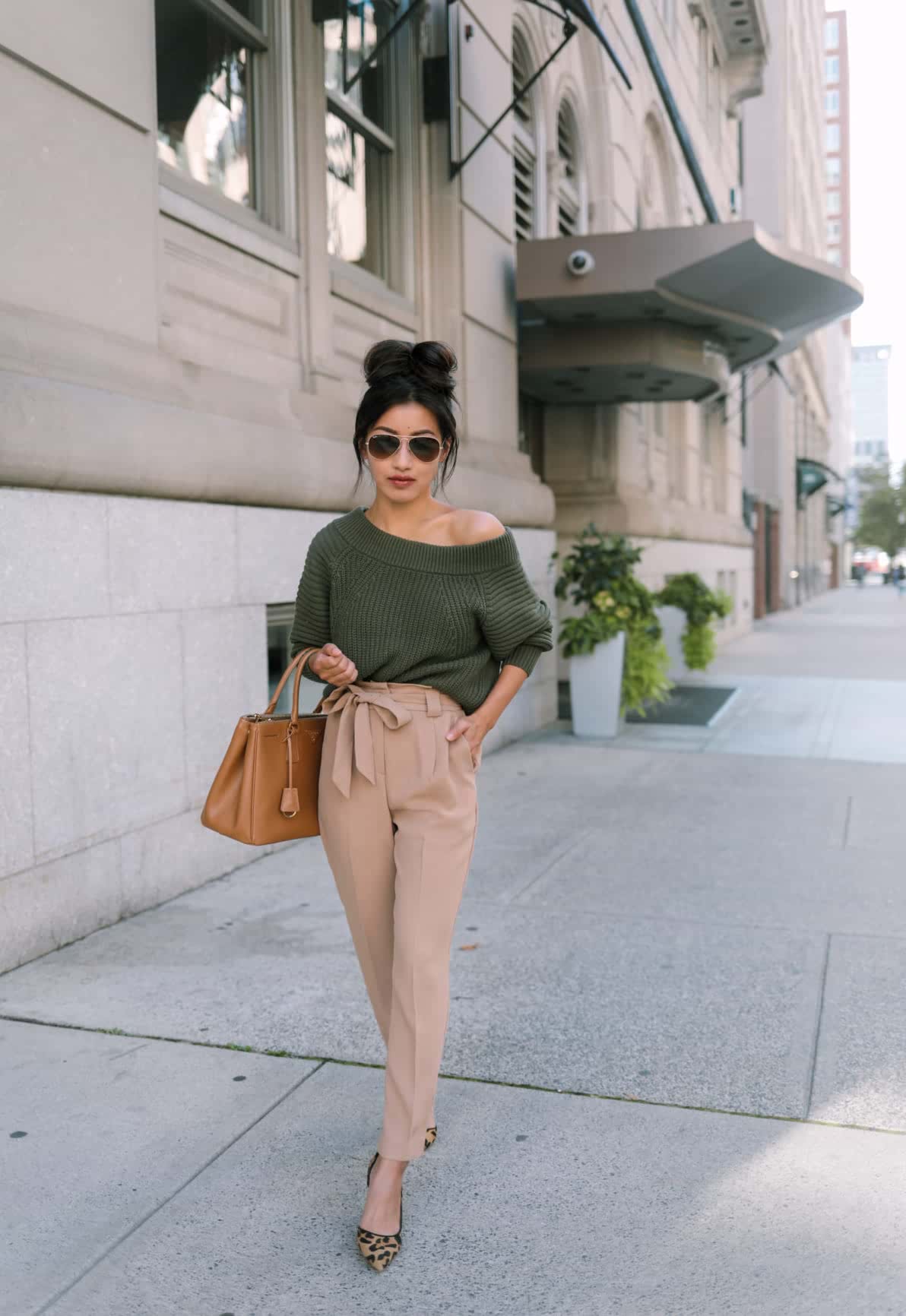 Capri pants with a ruffled waist can be quite flattering for petite figures. However, if you are petite, full-length paperbag pants can be too voluminous and swamp your frame, so try a cropped pair. And don't wear the hem any lower than your ankles. Petite women look best with tapered or straight-leg paperbag pants and should avoid wide-leg styles. And if you aren't very tall, but don't like cropped jeans or pants, try a skirt or shorts with a ruffled waist instead.
Best plus-sizes paper bag pants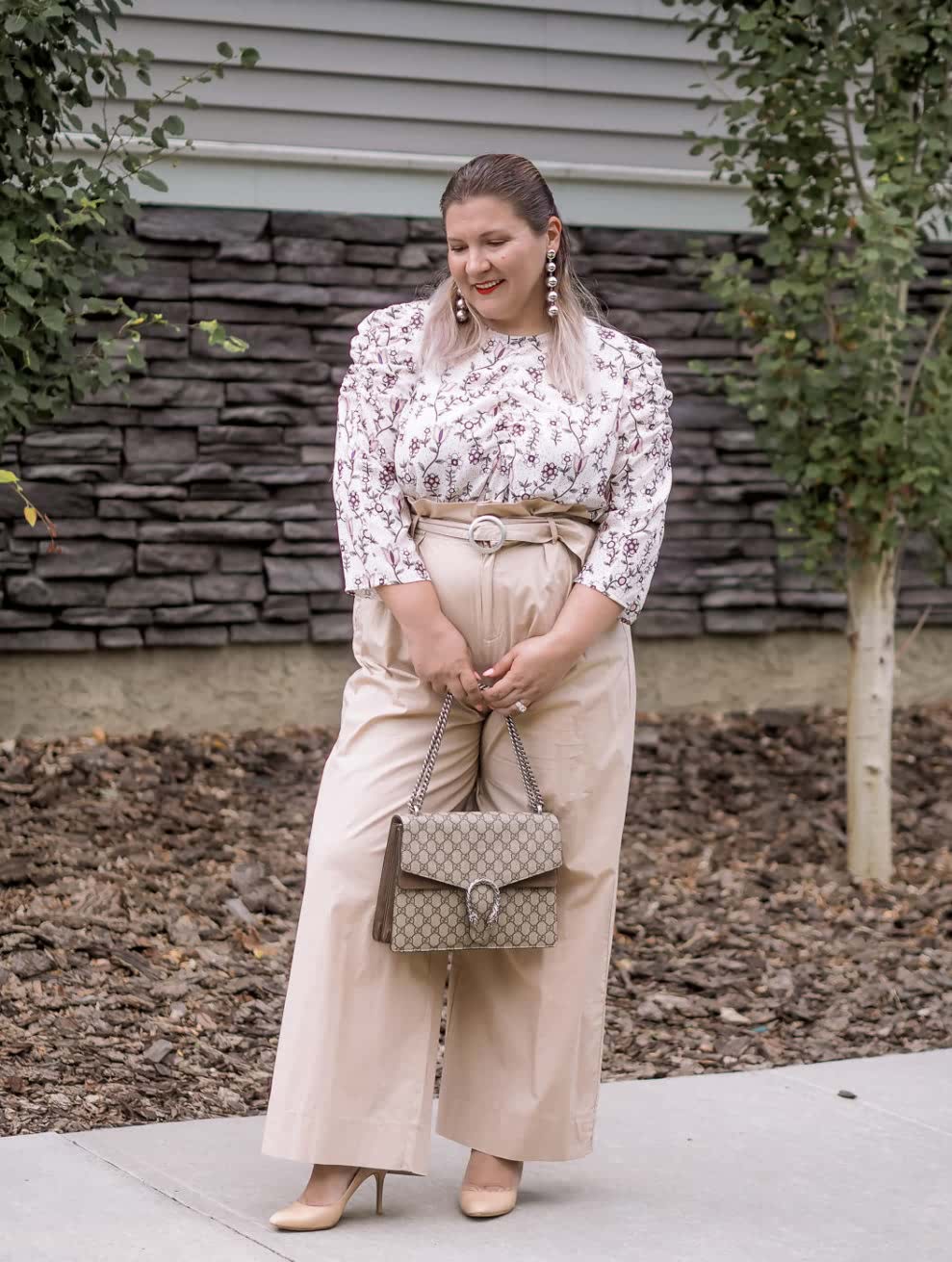 If you're a plus-size, opt for a wide-leg pants style, because the extra volume in the legs will balance out your body shape and minimize the extra fabric at your waistline. Like most of the new wide-legged styles, unless you're tall, you need high-shoes to give your legs more length. But dainty, strappy stiletto sandals will look out of proportion with a wide hem. So wear platform shoes, high-heeled wedge sandals, and thick-soled sneakers with wide-legs.  Follow March and May to get more new outfit ideas or check out the latest hot plus size fashion bloggers here.
Best tops to wear with paperbag pants
As the ruffled waist and general cut of paperbag pants is looser, it does add volume to your figure. So for balance, wear fitted tops to get the best proportions and flattering style. All tops must be tucked-in when worn with a ruffled waist, or you'll look bulky and strange. And if you work in an office paperbag pants are suitably trouser-like to be acceptable and fashionable, too. Worn with a closed-toe heeled shoe and a plain blouse or shirt will give you a smart and contemporary look.
For a casual look, wear a plain-colored or graphic tee-shirt that's form-fitting, including the latest spaghetti-strapped, sleeveless tees. For workwear, a fitted fine-knit sweater or a long-sleeved, plain or subtly-patterned tee-shirt will work well. For more formal/professional wear, you can't do any better than a fitted shirt or blouse in white cotton, carefully tucked-in to display the waist detail. Various styles of streamlined bodysuits are good for wearing with paperbag pants, especially if you don't like tucking in your tops. They are perfect for staying in place and being comfortable with ruffled waist garments.
Cropped tops & jackets with paperbag pants
Cropped tops are also back in fashion this year and are great for teaming with paperbag pants. They stop above the waist and show-off a ruffled waistline without adding any extra volume. It doesn't matter if the cropped top is a loose fit, because it won't be resting on your waistband. And fashionable layering can work well with paperbag pants, if you choose slim-cut styles. For example, cropped cardigans or long, thick cardi-coats with an open front, blazers and cropped denim jackets will suit ruffled waist pants.
The trend for oversized clothes is big this year, but it's not suitable for when you're wearing paperbag pants. Remember, that any top or jacket should stop above the waist, or be tucked-in. Or if you're wearing a normal-length jacket, it should be long enough to come down to your mid-thigh.
Best belts & shoes to wear with paperbag pants
Paperbag pants look best with a thin belt to get even more waist definition and lots of styles have a belt already attached. If your pants don't already have a belt, look for one that's roughly 1 – 1 ½ inches/2 ½ – 4 cms. wide. And if you can find or make a narrow belt from ribbon, rope or chain, you'll be making your pants even more trendy and flattering.
Your shoes should be high, to make your legs appear longer to counteract the loose fit of paperbag pants and jeans. Wear large volume platform/wedge shoes or boots if your pants are full-length and high-heeled shoes, with cropped pants. Usually, only tall women can successfully wear flat shoes or boots with paperbag pants.
Trendy jewelry to wear with paperbag pants
Paperbag pants draw attention to your waist, which is good! But to bring some attention back up to your face, wear some attractive earrings. There are lots of new types of earrings to choose from right now, including fabulous climbing/crawler earrings, ear-jacket earrings and cuffed earrings. So this is a great opportunity to jazz-up your whole look with new pants and jewelry!
Crawler/climber earrings and ear-jacket earrings come with some pretty extravagant gem, bead and metal materials. So for daytime, you could wear the Minimalist crawler style in plain silver or gold. And in your leisure time choose a fantasy or blingy look! And cuff earrings make it look as if you have several ear piercings and earrings, when you only have one or no piercings at all!
16 Complete paperbag pants outfit ideas
You'll find that the paperbag pants' outfits are easy to wear during the day and continue wearing for after-work fun. And here's a selection of fabulous paperbag pants ideas to inspire your own choices!
Khaki colored pants with a lavender camisole-top tucked in and a camel blazer
A shell-pink, romantic blouse, blue paperbag jeans, hot pink shoes with a camel clutch-bag and a sassy hot pink or camel beret
A casual outfit would be a black tee-shirt, a long black thin fabric duster coat, blue paperbag jeans and tan shoes
Another casual look would be blue paperbag jeans, silver shoes, a white shirt and a tan cross-body bag
A chic look would be a black bodysuit, with black and white vertical striped paperbag pants, high-heeled sandals and a tan handbag
And beige paperbag pants look super with a Bardot-style, off-the-shoulder, white cropped top and chunky heel, cut-out shoes
How about red paperbag pants, a white top with black spots and a black bag with white spots
You can try a gray oversized blouse, tucked in at the waist, black paperbag skinny jeans, silver trainers with a platform sole and a black or tan or burgundy bag
A sexy look is easy to create with a deep V-necked top, turquoise shoes, blue paperbag jeans and a small turquoise shoulder bag with a chain strap
Blue chambray paperbag pants with a deep-V white top, over a black bra and finished with ankle-strap, red, high-heeled sandals is a pretty sexy look, too
For spring you can wear a white top, brown jeans, a brown bag and trendy white sneakers
And for autumn or spring try tan paperbag pants, a white or cream or beige cropped top, a cropped soft yellow cardigan, and a tan chain strapped bag
On a cool day wear a ribbed, white polo-neck sweater tucked in to olive-green wide-legged, cropped pants with burgundy strappy high heels and a tan chain strap shoulder bag
Olive green pants also match with gray, black, cream and colorful mustard-yellow
A white long-sleeved fine-knit top, with mustard-yellow paperbag pants, a blue denim jacket and ultra-trendy white sneakers
Brown paperbag pants look fabulous with a white cropped top, plus a camel or tan cardigan, shoes, or jacket
Best colors to wear this year
And when shopping for your paperbag pants remember that the winter colors are brown, tan, purple, burgundy, forest green, deep pink, mustard yellow, sapphire blue, silver, gray, beige, white and plaid fabrics. Spring colors are a mix of winter and summer colors, depending on the climate in which you live. For instance, we'll be wearing feminine pastel colors this year, like lavender, baby-blue, shell-pink, aqua, dove gray, soft moss-green, subtle yellow, soft orange shades, tan and all the shades of light-brown, including khaki, sand, cream, white and beige. So you should find it easy to mix and match your fashion colors this year, as all of the colors either harmonize, complement or match really well!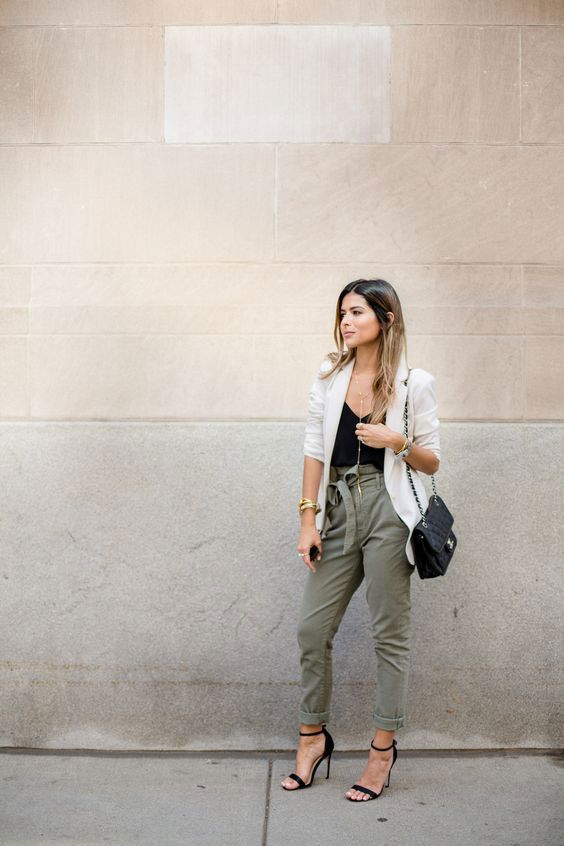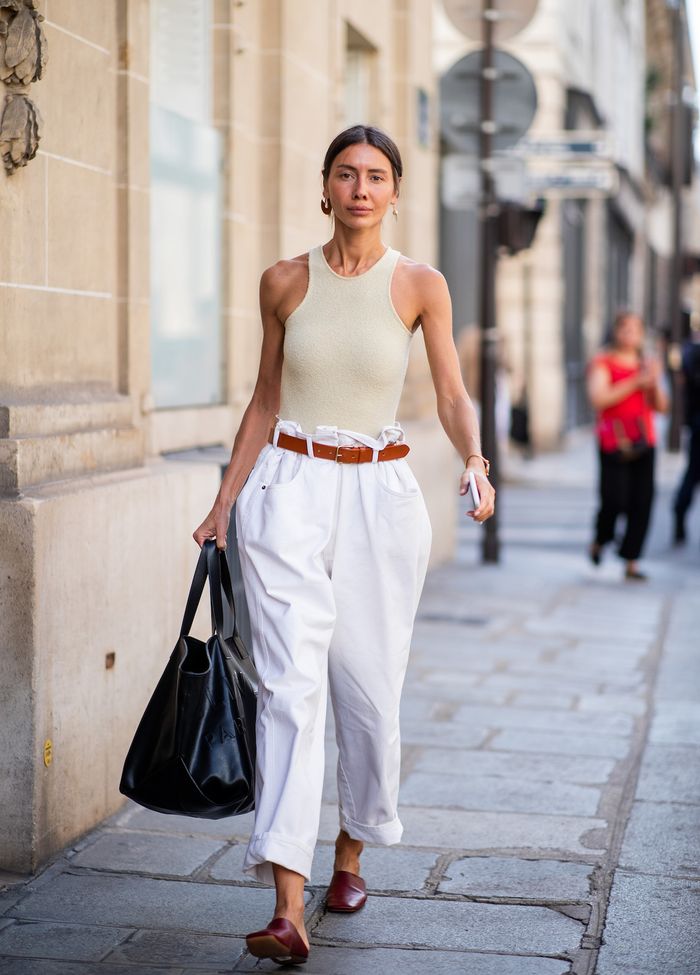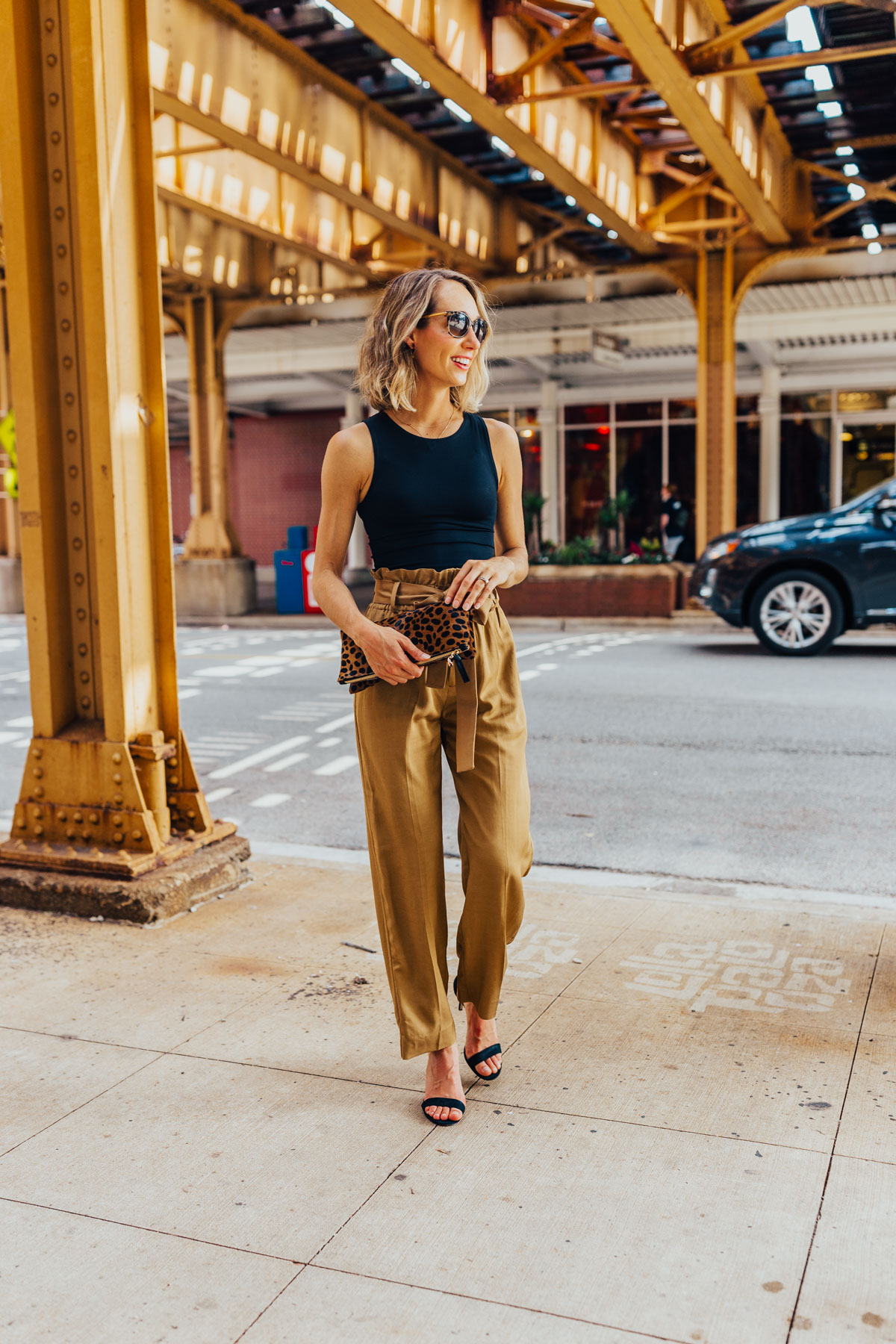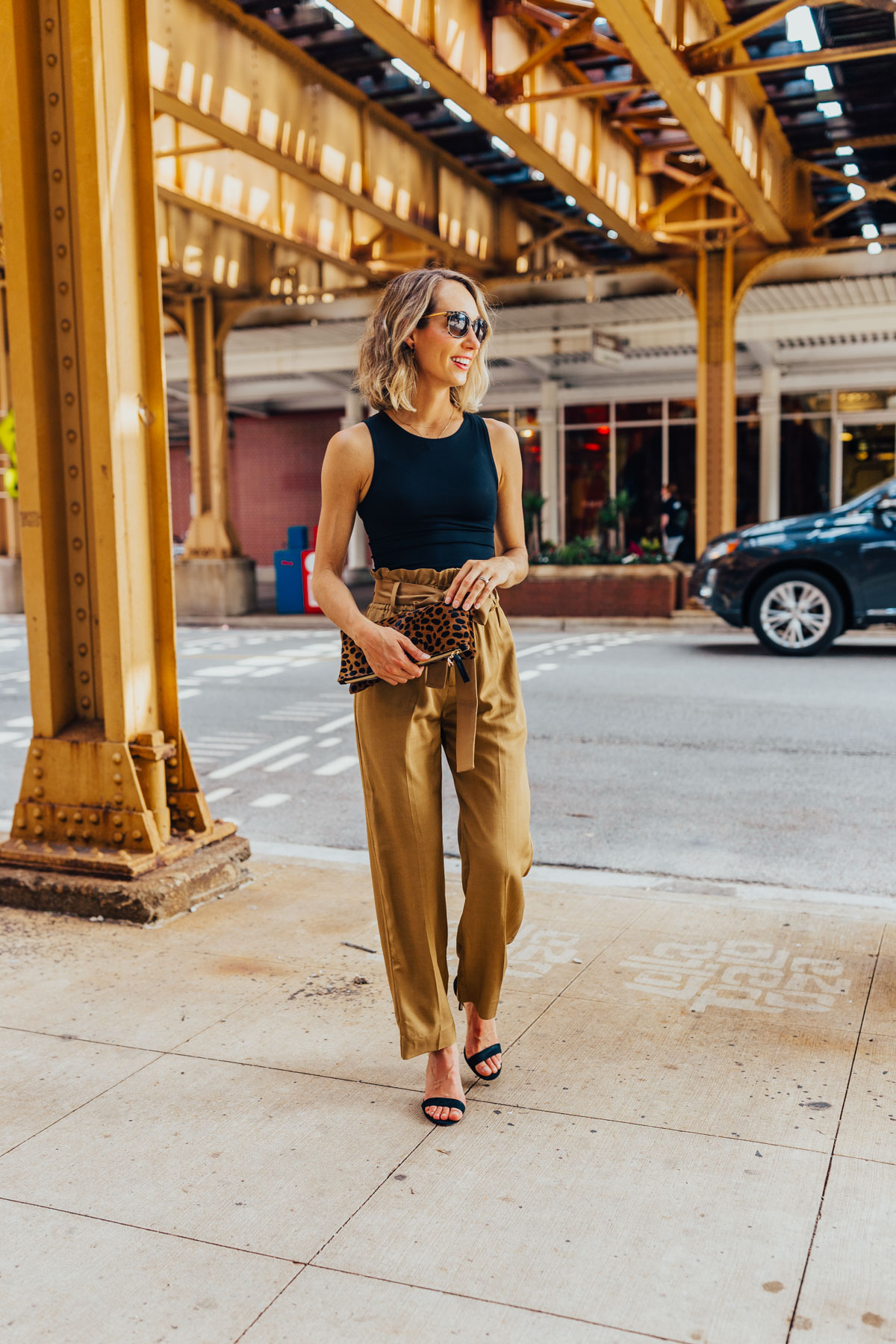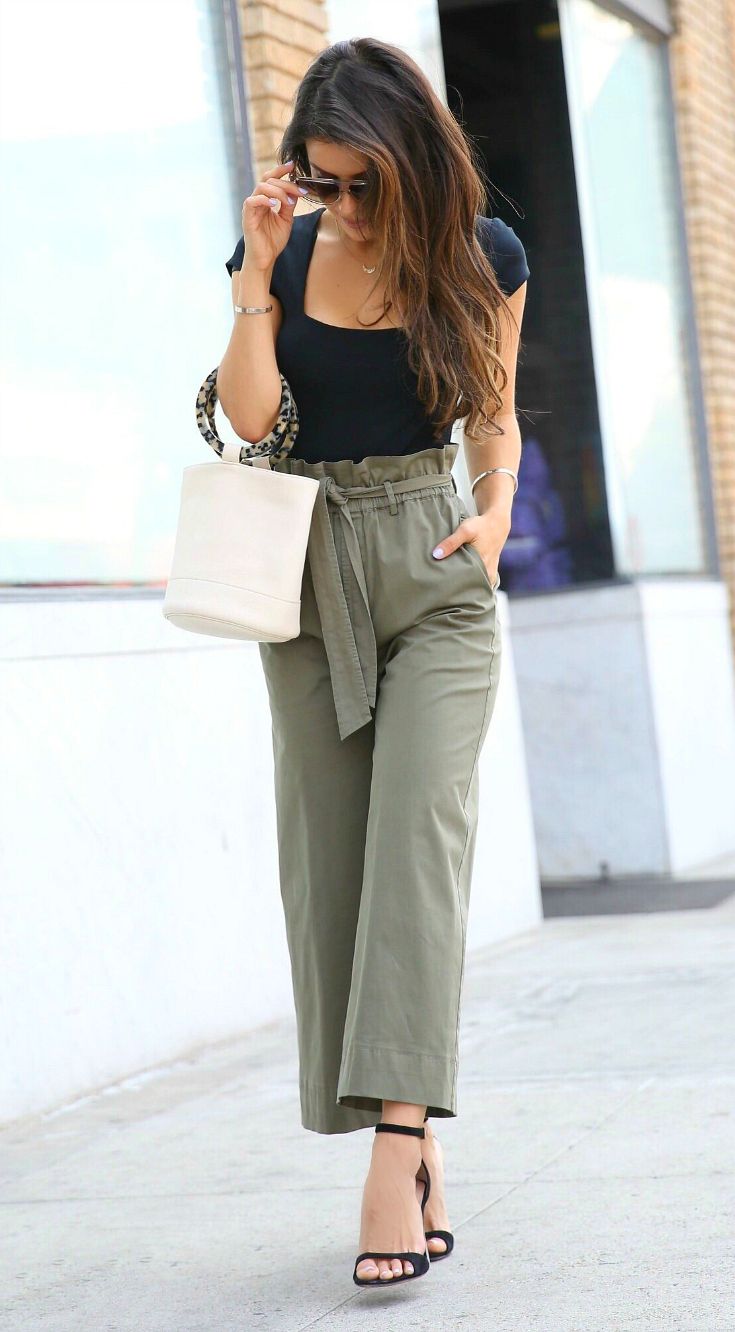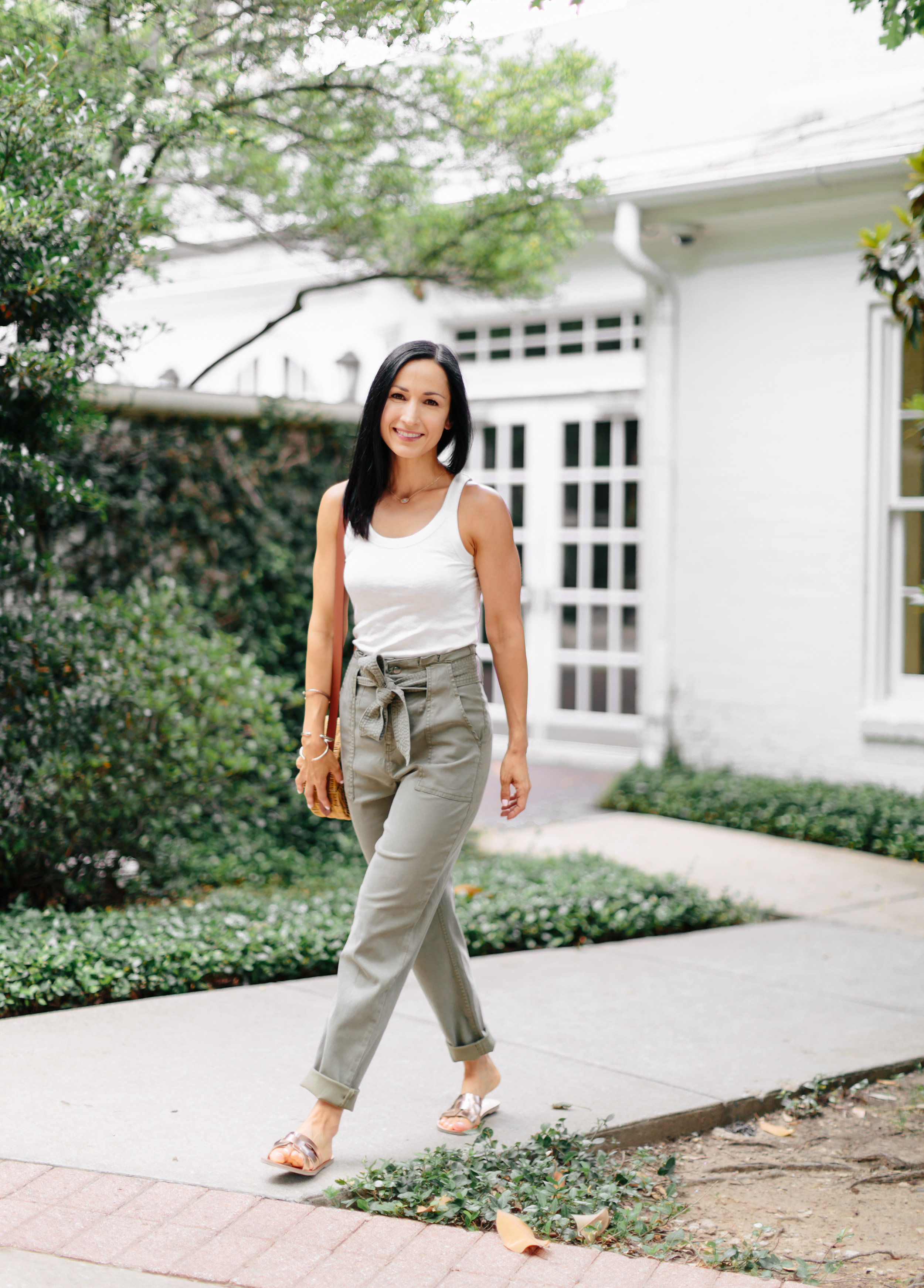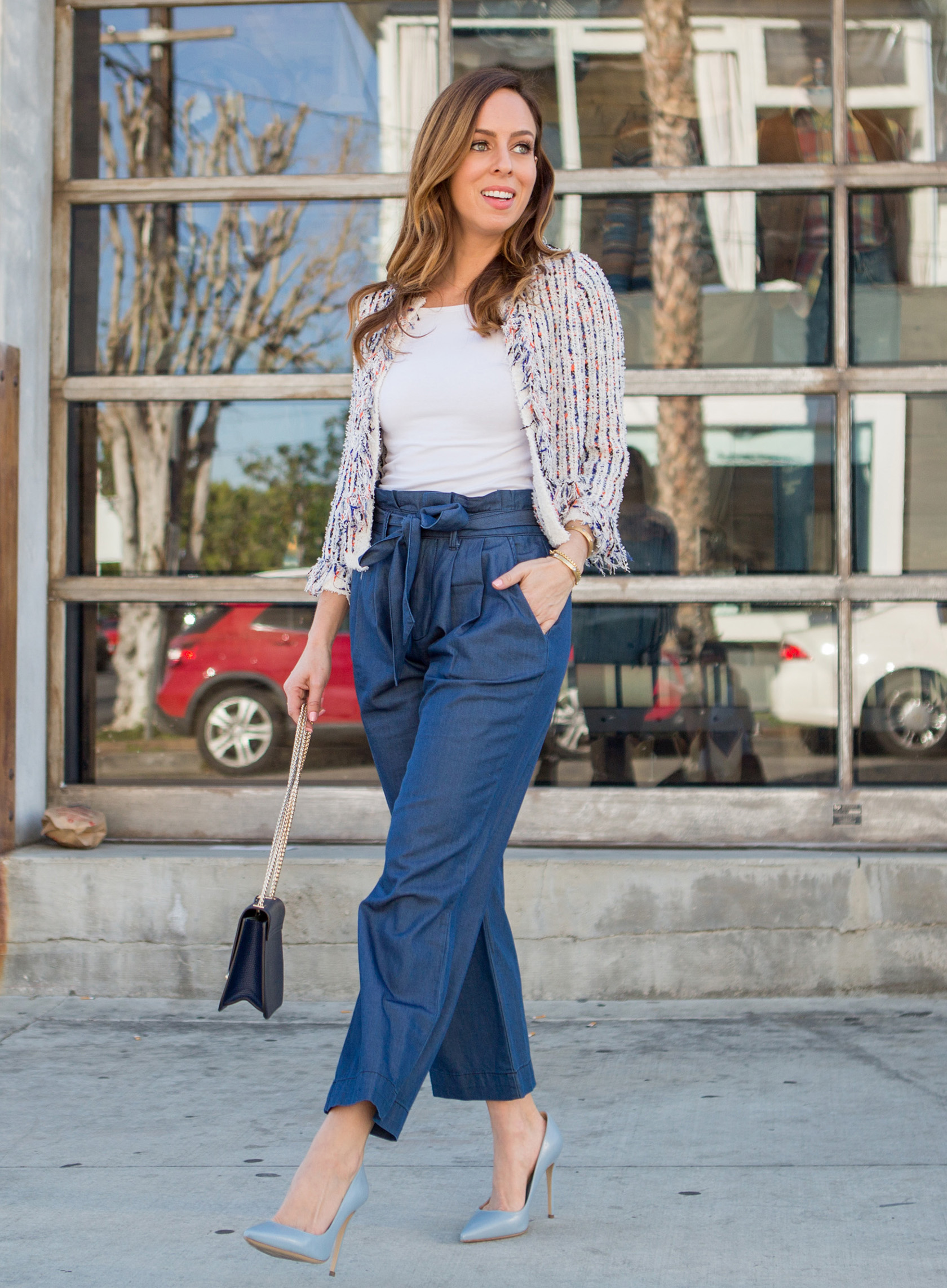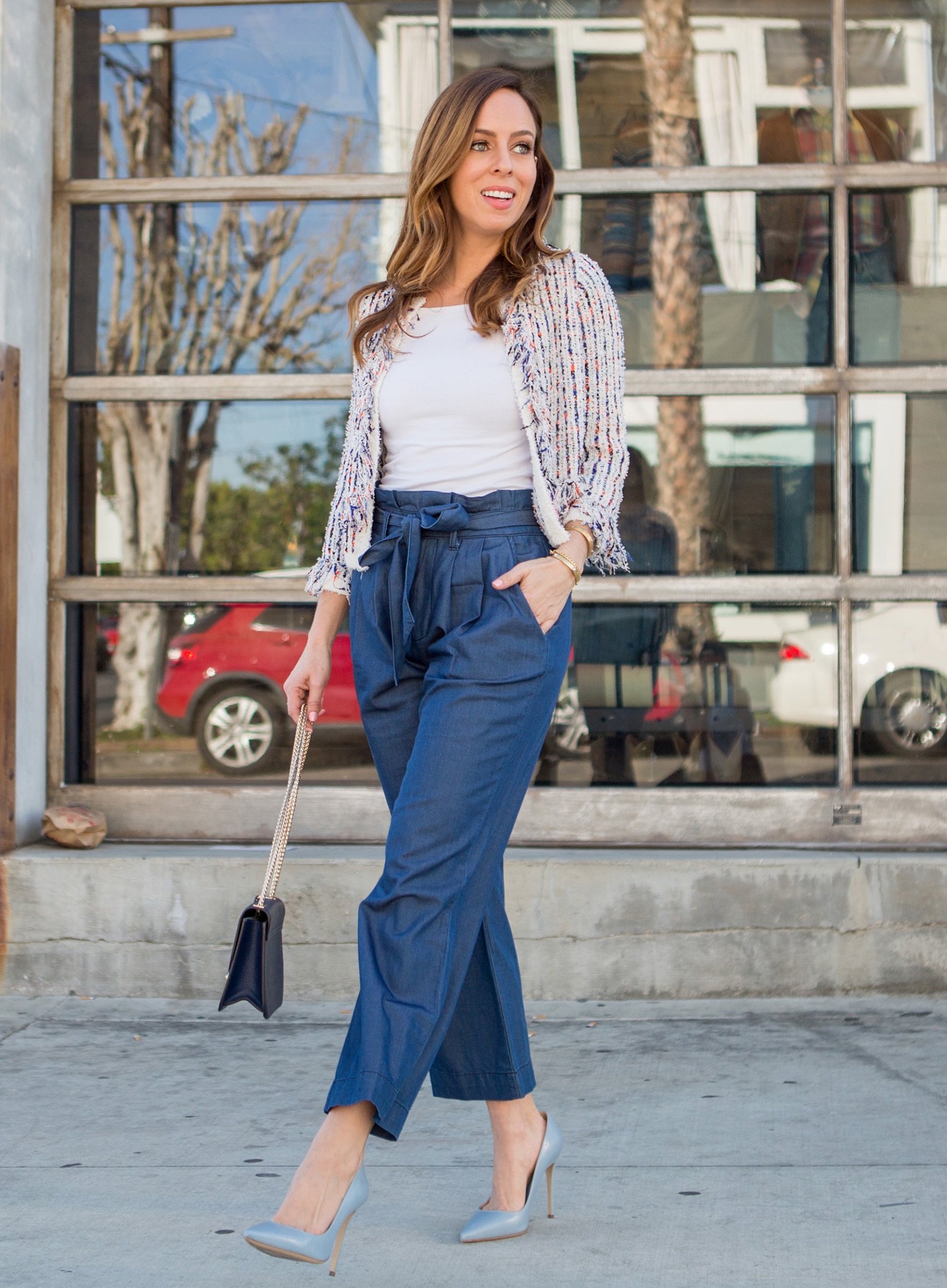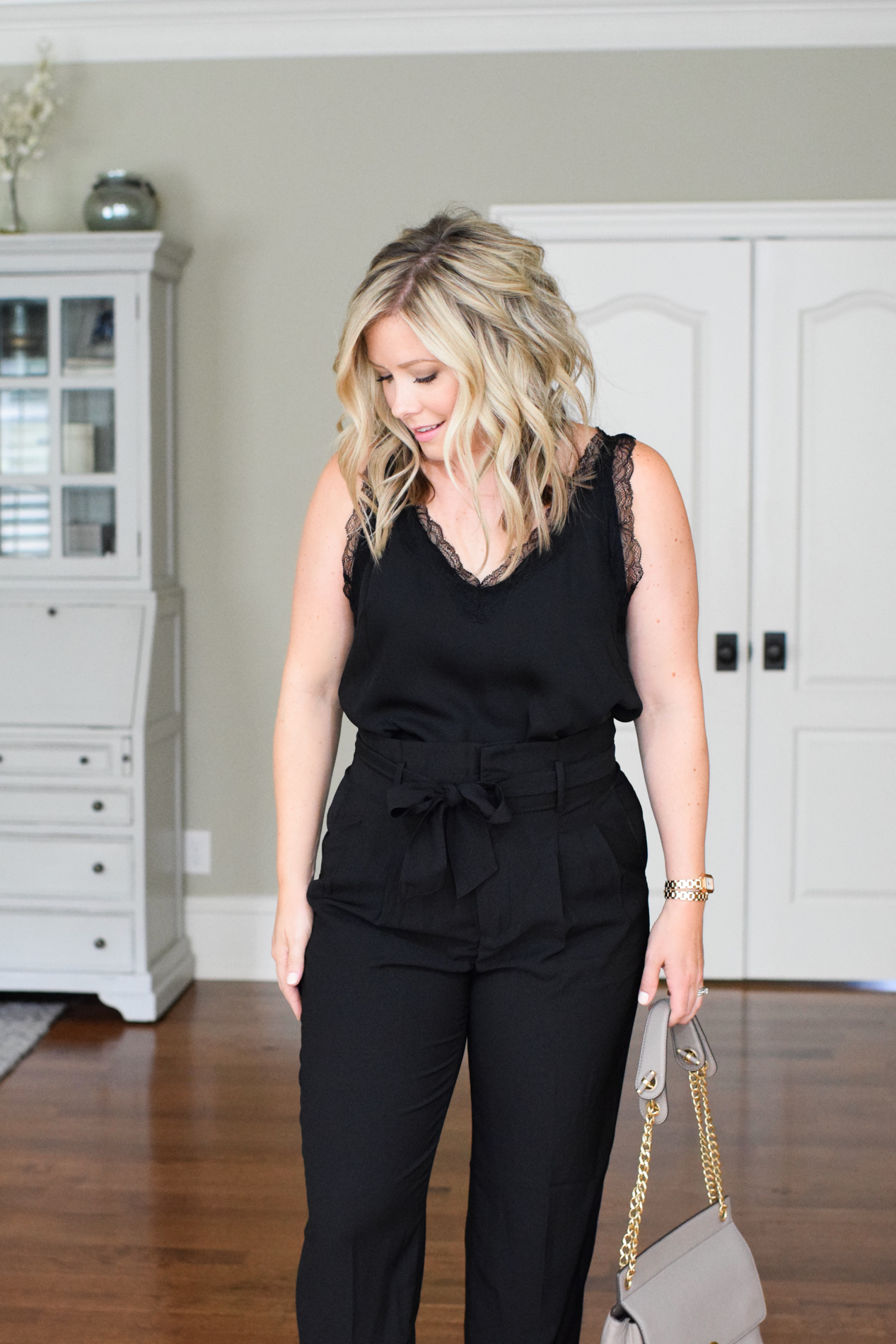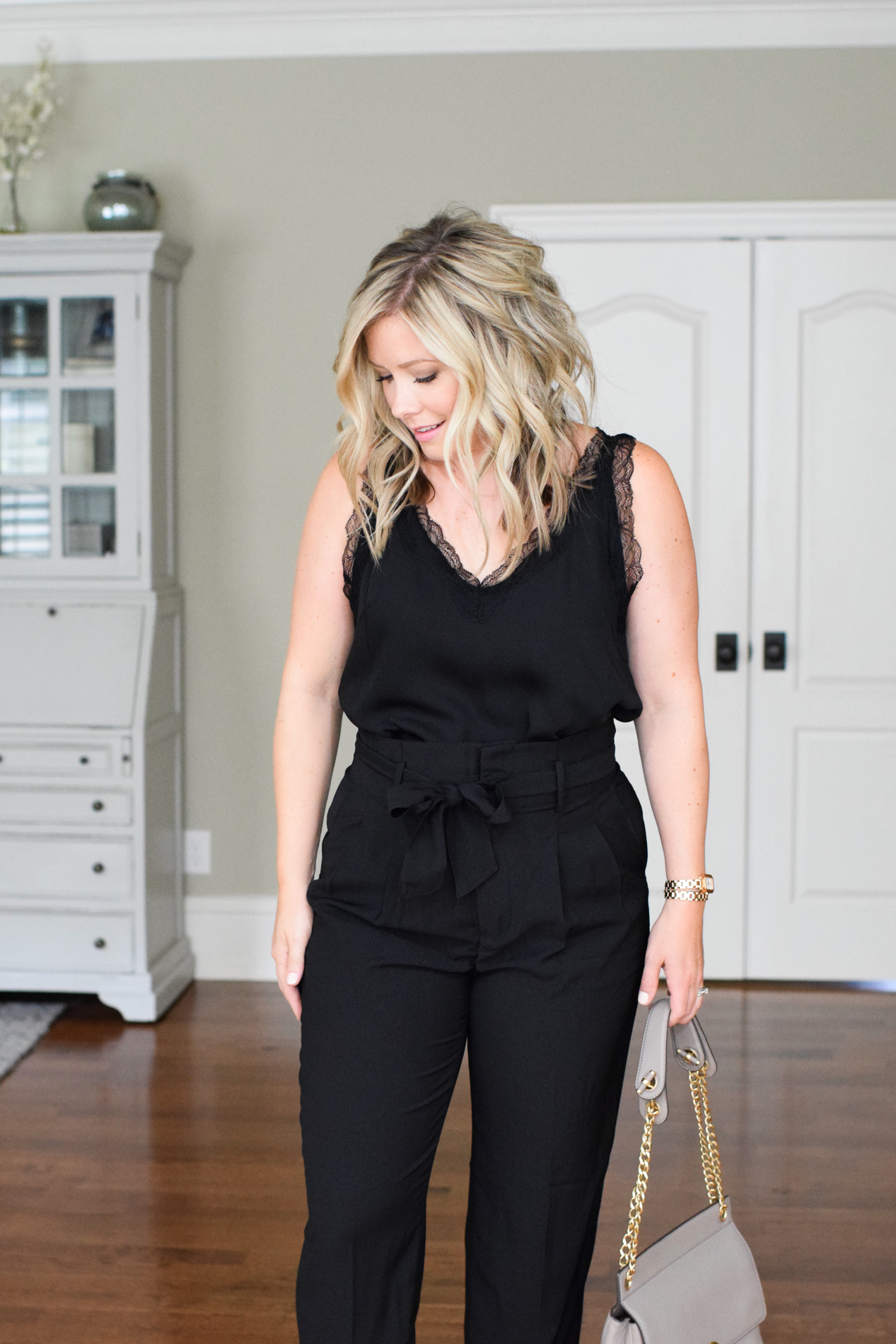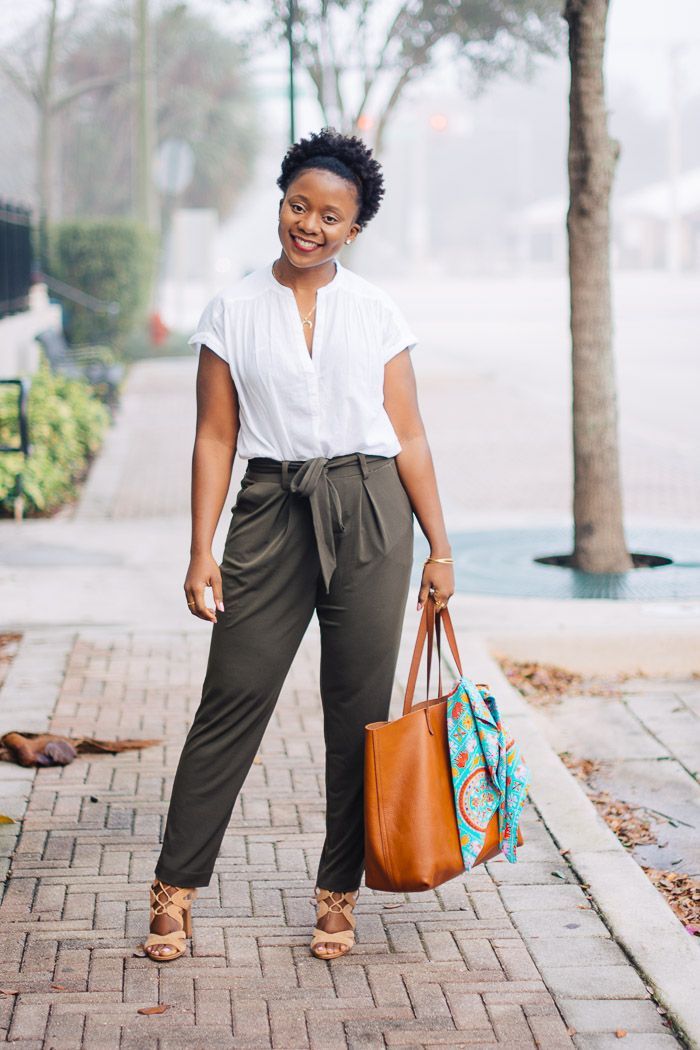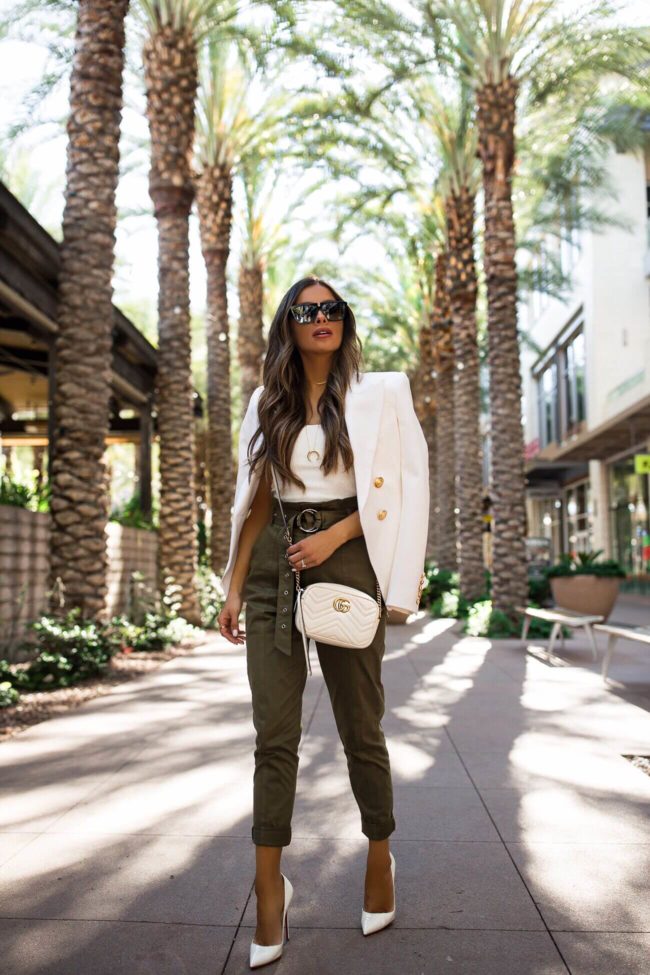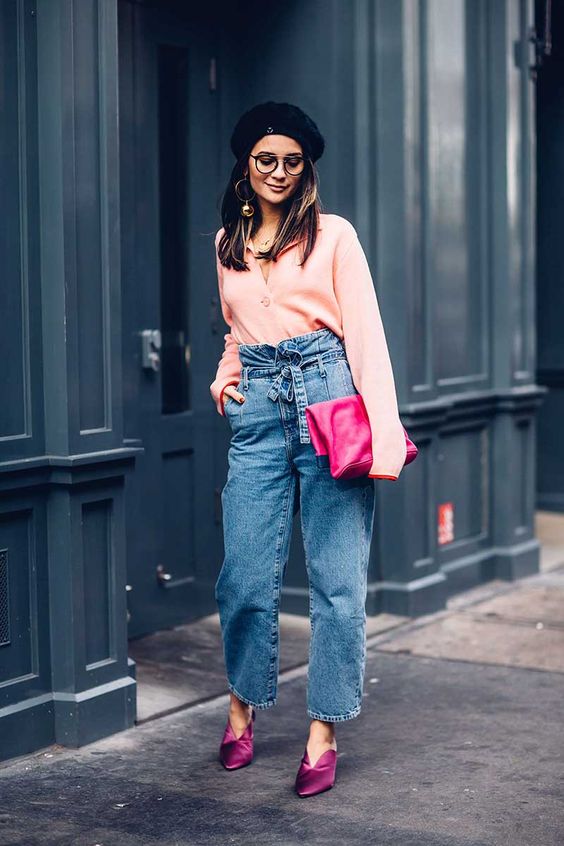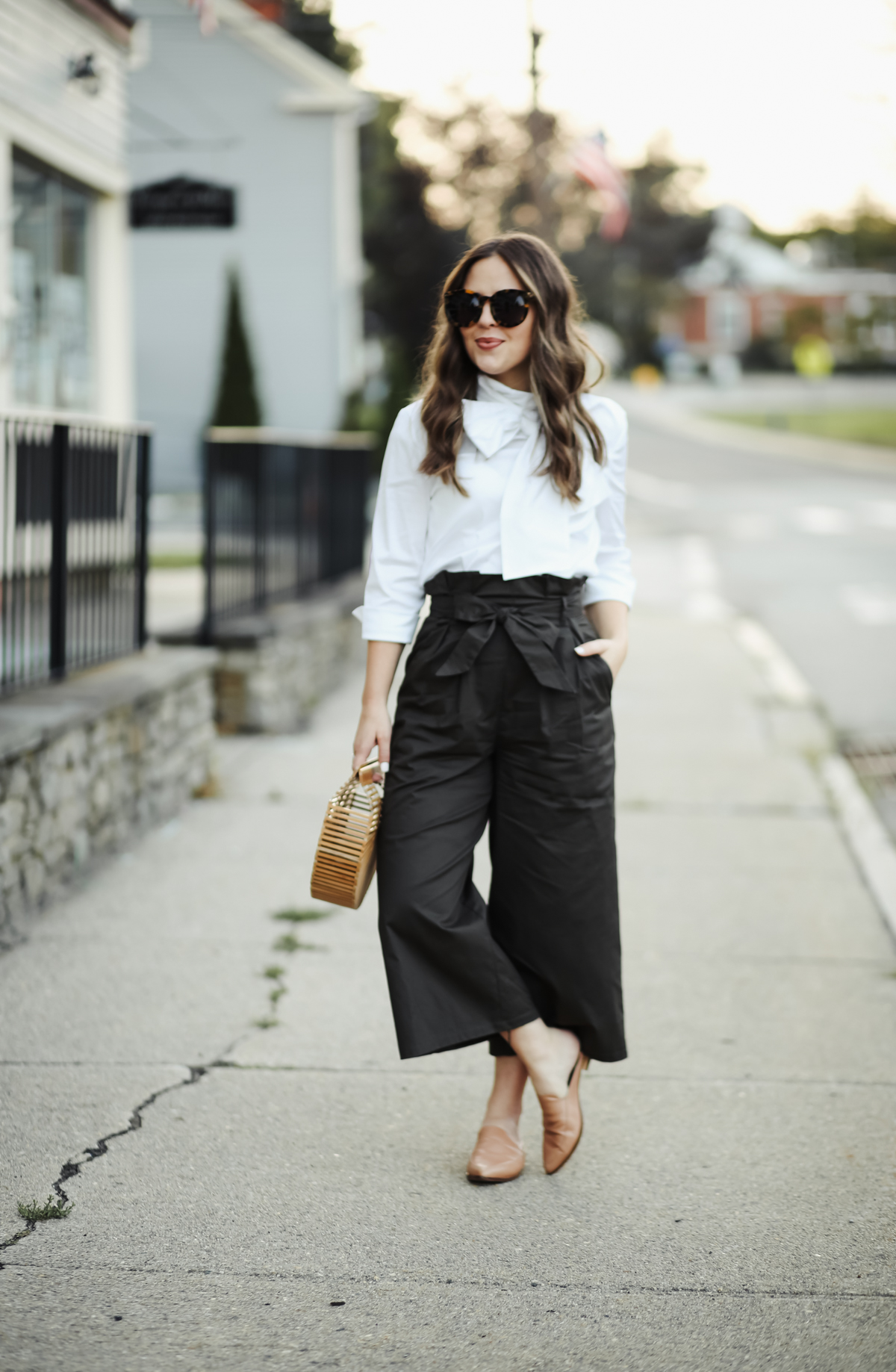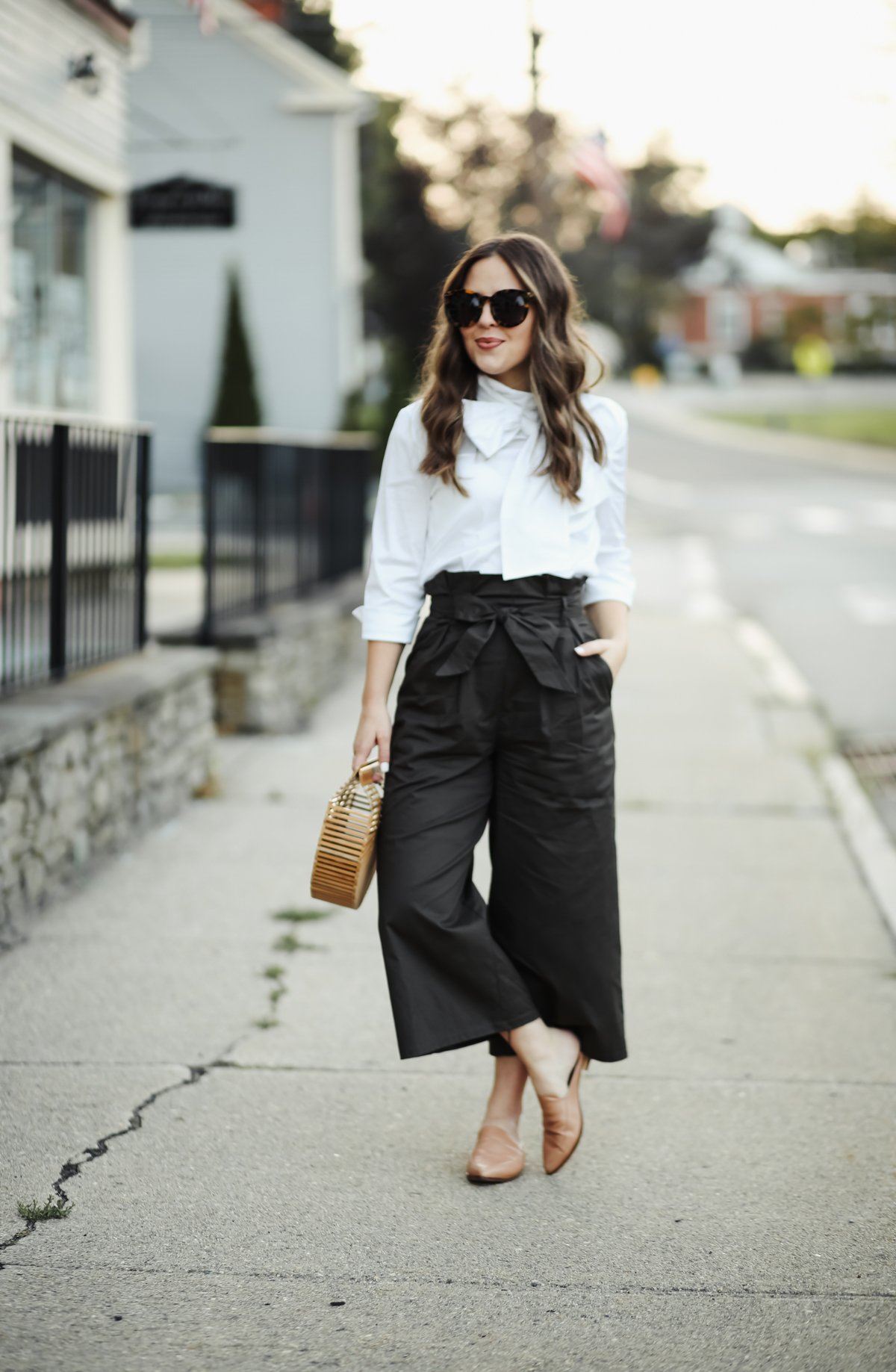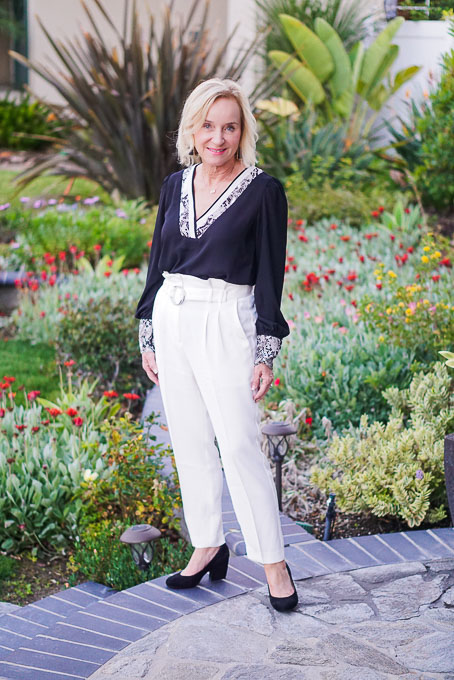 paperbag pants outfit for women over 50 via