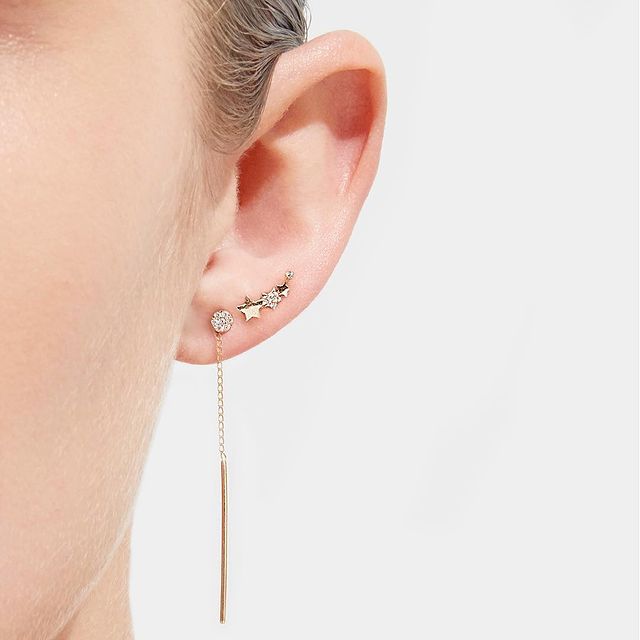 Ear crawlers (or ear climbers), are a fabulous new type of earring that can transform your fashion look! They are incredibly diverse in shape and style, but what they all have in common is that they look like a long earring that climbs up your ear covering the outer section. It's part of an exciting new surge in earring designs that includes ear-cuffs. And the idea is to highlight one ear with a larger, more decorative earring.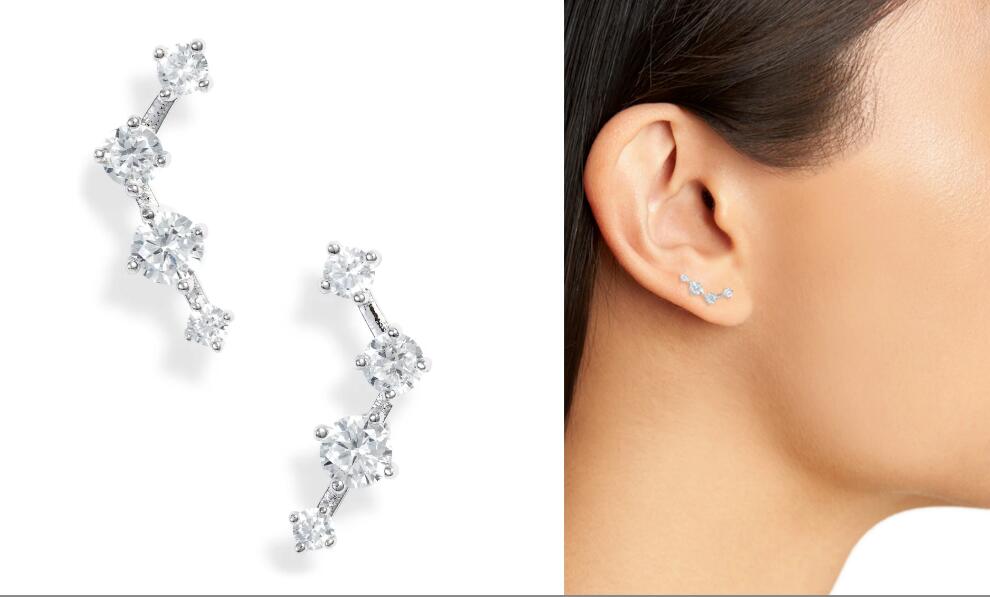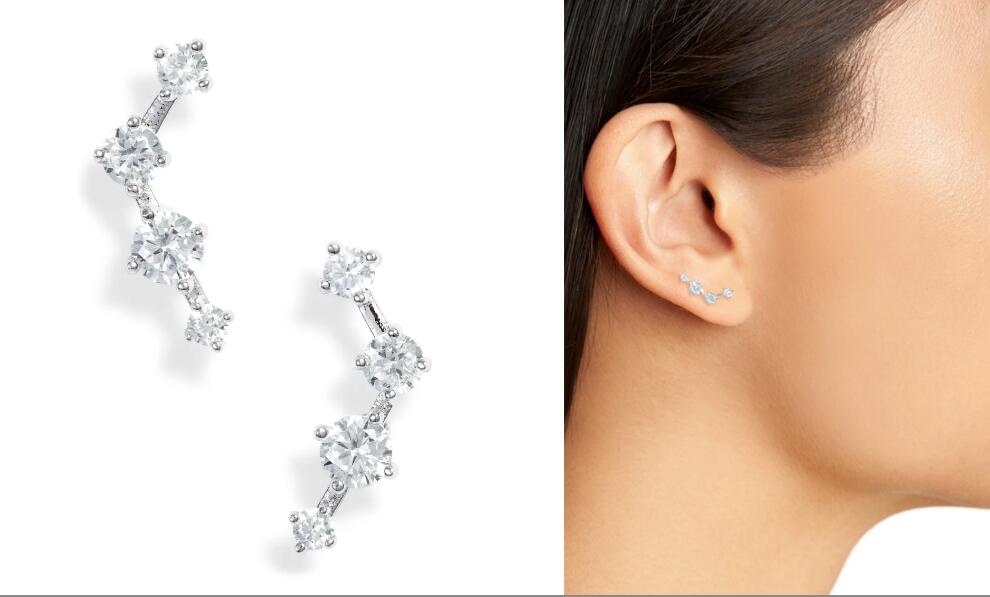 The ear crawler isn't just a fad for one special fashion style, it's aimed at every type of look including punk, Goth, chic, contemporary, minimalist, nature, pop, rock, business-wear, urban street, Boho, emo, anime, sporty and all of the other fascinating fashion trends!
Project your style personality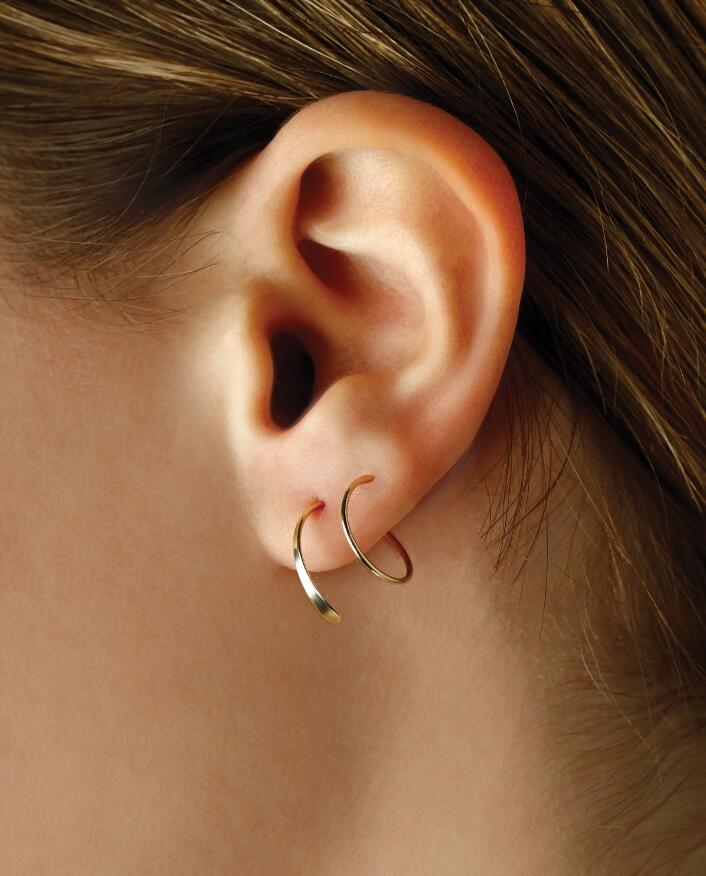 An ear crawler can be a piece of precious gem jewelry or a trendy single line of silver about an inch long that moves up the ear from one pierced hole in the lobe. Or it can be a brightly-colored butterfly that adds a fabulous new dimension to your vibe! You can wear an ear crawler that looks as if you have three birds flying up the edge of your ear, from three piercings, when in actual fact you only have one piercing. It's a super-trendy way to maximize your ear-fashion, without having more than one single lobe piercing!
And you can use a single ear crawler to project your personality or style image, without having to spend a fortune on a complete themed outfit.
Eye-catching ear climbers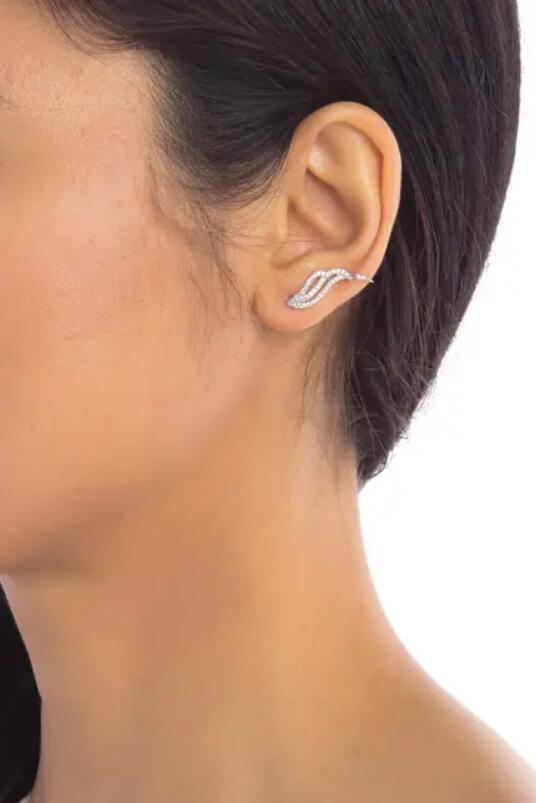 Ear crawlers come in all types of precious and non-precious metal, from silver, white-gold, rose-gold, yellow-gold and can be enameled in beautifully vivid colors for extravagant pieces like a bouquet of flowers or basket of fruit! Or accentuate your geometrical bob haircut with a geometrical ear crawler like a triangle or arrow.
You can buy ear crawlers as a single piece, to just wear one statement piece in an ear (and a small earring in the other ear). Or you can really go to town and wear two identical ear crawlers for a really eye-catching fashion style!
Combine with ear cuffs
Ear crawlers are also worn with ear cuffs, which are another new way to wear earrings that look as if they are for pierced ears, but just fit around the curve of your ear and don't need a hole or a clip to keep them secure. And to complete the hot new trio of ear decorations, there are ear jackets that you slide onto the post of a pierced earring, just before you put on the butterfly clip to fasten it.
Ear jackets hang down and are often curved, so they follow the bottom curve of your ear, for another hot new look.
Styling ear crawlers with studs
If you do have more than one piercing in your ears, there are tons of different ways to style your ear decorations. For example, you can match a simple ear crawler with a stud in the upper cartilage. The trend for mismatched earrings is hot, so you can be edgy and wear one silver and one gold ear crawler/stud, or match them in the same color metal.
If you're rocking a glam rhinestone ear crawler, pair it with a simple rhinestone stud in the other ear. Or create an asymmetrical look by teaming different gemstones or metals in each ear. Try not to overdo it by placing too many earrings, too close together. If you do this, each piece will lose some of its impact. Leave plenty of space between each piece and start with wearing an ear crawler with just one or two other earrings in the upper ear section.
Can you rock ear crawlers at work?
As you can imagine, ear-crawlers can be really creative and stunning or they can be cute and subtle. So tailor your look carefully to fit the activity you're engaged in. If you work in a formal work-place, keep your ear crawler appropriate for a professional look. And the 'minimalist' ear crawler style is perfect for wearing with chic work clothes. And if you work in a less formal environment you can wear something a little more fancy and themed.
Employers aren't used to seeing extravagant ear crawlers yet, so start with something you know won't be controversial, before ramping up your style after a couple of weeks or so!
You can wear an ear crawler with a high necked sweater or turtleneck. The high neck of these clothes will naturally draw attention to your ears and show-off your snazzy, ear crawlers. You could start with a trendy silver or traditional gold ear crawler worn with a dark shade of purple, blue, green or red top, depending on which colors suit you best. You'll soon get to know which of your work-clothes go best with your new ear climber earrings.
Choosing your ear crawlers
The statement crystal or rhinestone ear-cuff for a high-fashion 'glam' look for evenings out. Asymmetrical haircuts or times when you style your hair behind one ear, or over one shoulder are extremely fashionable right now. And that's one of the looks that inspired the single, ear crawler fashion. Try to get a balance between stunning, gem-studded diamanté bling ear crawlers and your outfit.
For instance, an extravagant, detailed ear crawler deserves to be complemented by a plain dark background, like a chic black dress or top. This would also look good with a white shirt and black faux leather leggings, or a silky cream blouse and black trousers. It's a super, new look for a special event or a night out and will instantly give you a trendy, sophisticated image!
Ear crawlers with fantasy hair colors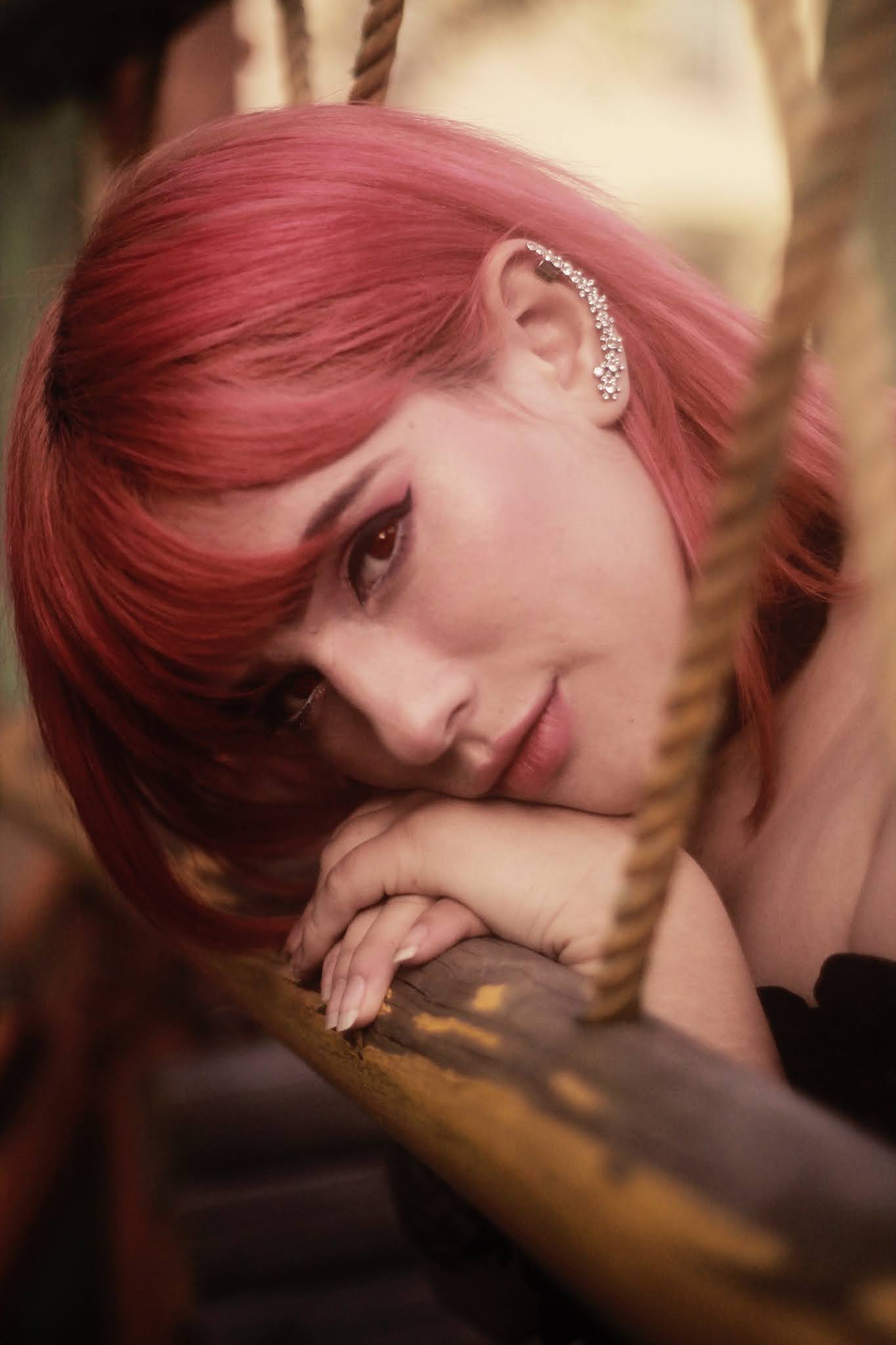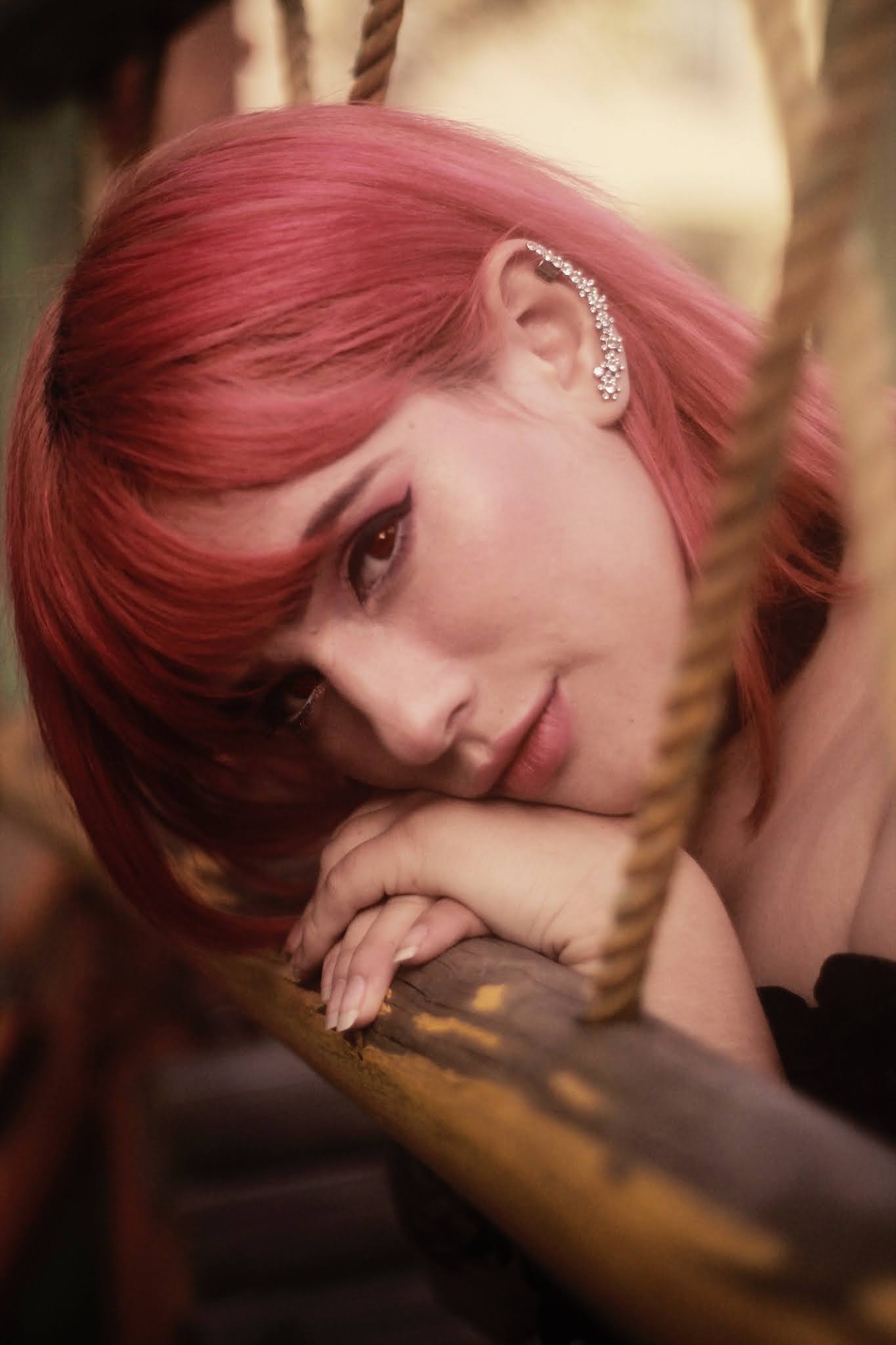 Extravagant crystal ear crawlers look stunning with all hair colors. But they are particularly dramatic when paired with dark brown or black hair. And silver, rhinestones or colored crystals look trendy with the new gray, white and ash-blonde hair colors, as well as the fantasy, rainbow shades.
Remember to keep your ear crawlers simple and monochrome, if you are wearing a mixture of rainbow colors on your hair. A good contemporary look to balance eye-catching hair is geometric shapes, which are simple and won't be fighting for attention with your hair color design.
Ear crawlers & urban street style
And, of course, you won't always be wearing the same style, so you can build up an ear crawler 'wardrobe' and vary your ear decoration as you vary your leisure clothes. And as we are in the middle of a huge fashion style change at present, this is also a great time to completely refresh your style! The shops are now full of flared jeans, as well as the hippie's favorite bell-bottom jeans. And high-waists for jeans, jeggings and pants of all styles are essential for this year.
So take your time to think what sort of street-style you want to project this year and buy ear crawlers to enhance your new fashion identity!
Cute ear crawlers for every day wear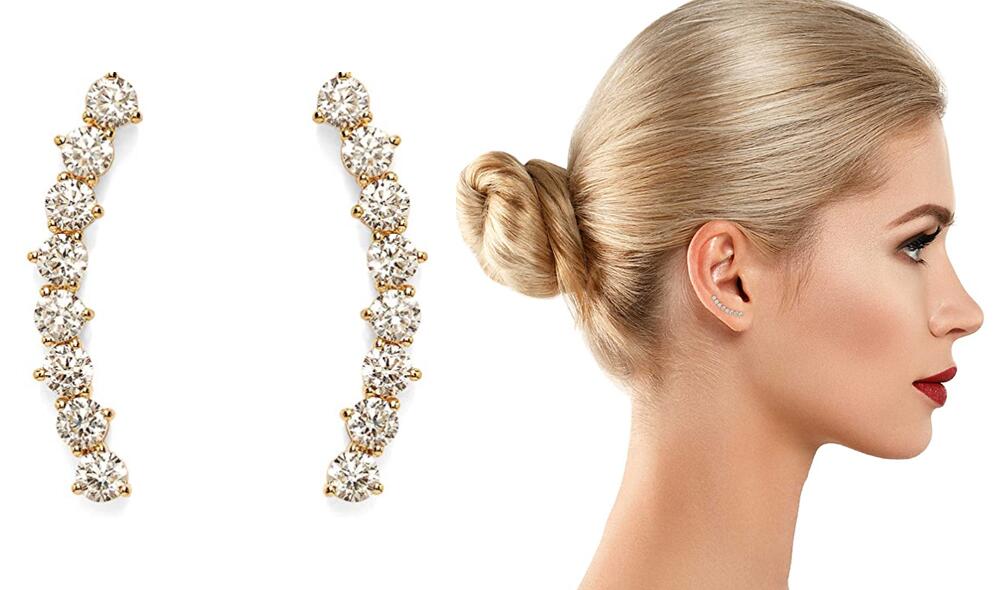 Of course, not everyone wants to make a big statement with their fashion clothes and you'll find there are plenty of smaller, pretty and clean-lined designs to wear as everyday accessories. Pastel pink, slim curved line ear crawlers are subtle and fashionable, without overpowering your simple, natural style. And you'll find there are many other styles that won't draw too much attention to your new ear fashion.
There are also many delicate and interesting ear crawlers based on leaf motifs, which you can wear at work, or school, or whether you're shopping in the city or walking in the countryside. They are contemporary, yet classic, and make an excellent starter ear crawler.
Gothic, Boho & punk ear crawlers
There's often a bit of cross-over between the different fashion tribes, but there are hundreds of different ear crawlers crafted especially for all tastes. The Goth ear crawler range includes lots of different dragons, snakes, crosses and bats.
The Boho sector is full of fabulous ear crawlers that have a Nature theme. For instance, there are beautiful leaves, vines, butterflies, snakes, dragons, single flowers like the daisy, the moon, sun and stars and with dainty chains, plus much more.
And the punk ear crawlers are available in lots of different spiked designs, razor-blade shapes and other familiar punk motifs such as snakes, lightning, silver crosses, skulls and other rebel themes.
How to put on ear crawlers
And if you're still not sure how to put on your new ear crawlers, it's easy! They have one post and are made to fit into one, ear-lobe  piercing. So although they are longer than your regular earrings, you still just push the post through your ear piercing, (with the longer side pointing downwards if you find that easier to handle), and put on the butterfly-clip at the back. Then you just swivel the ear climber around until it's in place along the upper, outer edge of your ear!
It's ages since we've had so many different, new ear decorations to wear and you'll see that the jewelry designers have just gone mad with creativity, and made the new ear crawlers and cuffs the best we've ever seen!