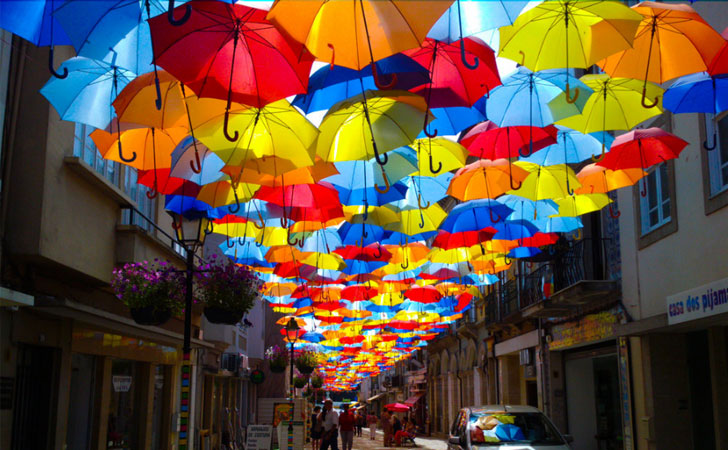 No matter where you live or which kind of climate you're used to, you're going to get caught in the rain at some point. For this reason, an umbrella is a necessity in everyone's life. Even if you don't have to use it very often, you're always grateful to have it available when the time comes that you need it.
If you're in need of a top-quality umbrella to keep you dry on those inevitable rainy days, keep reading the following Umbrella reviews to discover the top rated umbrellas on the current market. Or you can buy the best selling Umbrellas here.
10.

Atree Auto Open Straight Umbrella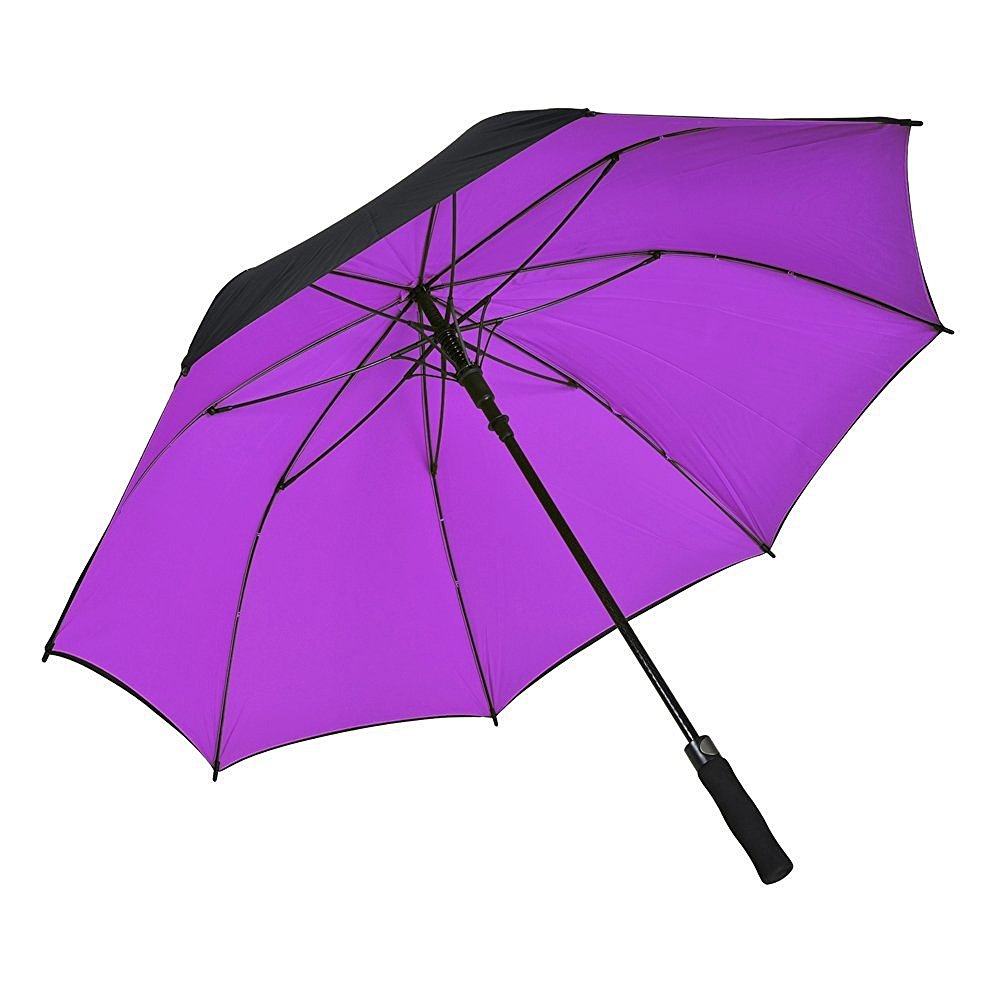 This umbrella combines fashion with functionality for the perfect rainy-day experience. It is available in many different colors ranging from yellow to blue to the bright purple picture above. With a fifty-two inch diameter and a thirty-nine inch length, the umbrella can comfortably fit up to two people at one time.
Crafted with extreme durability in mind, the lightweight umbrella has a central rod and eight ribs constructed from strong fiberglass. Even if you're caught in the middle of a severe windstorm, you can safely use this umbrella to protect you from the wind and the rain without worrying about it breaking or blowing away.
9.

Plemo Folding Umbrella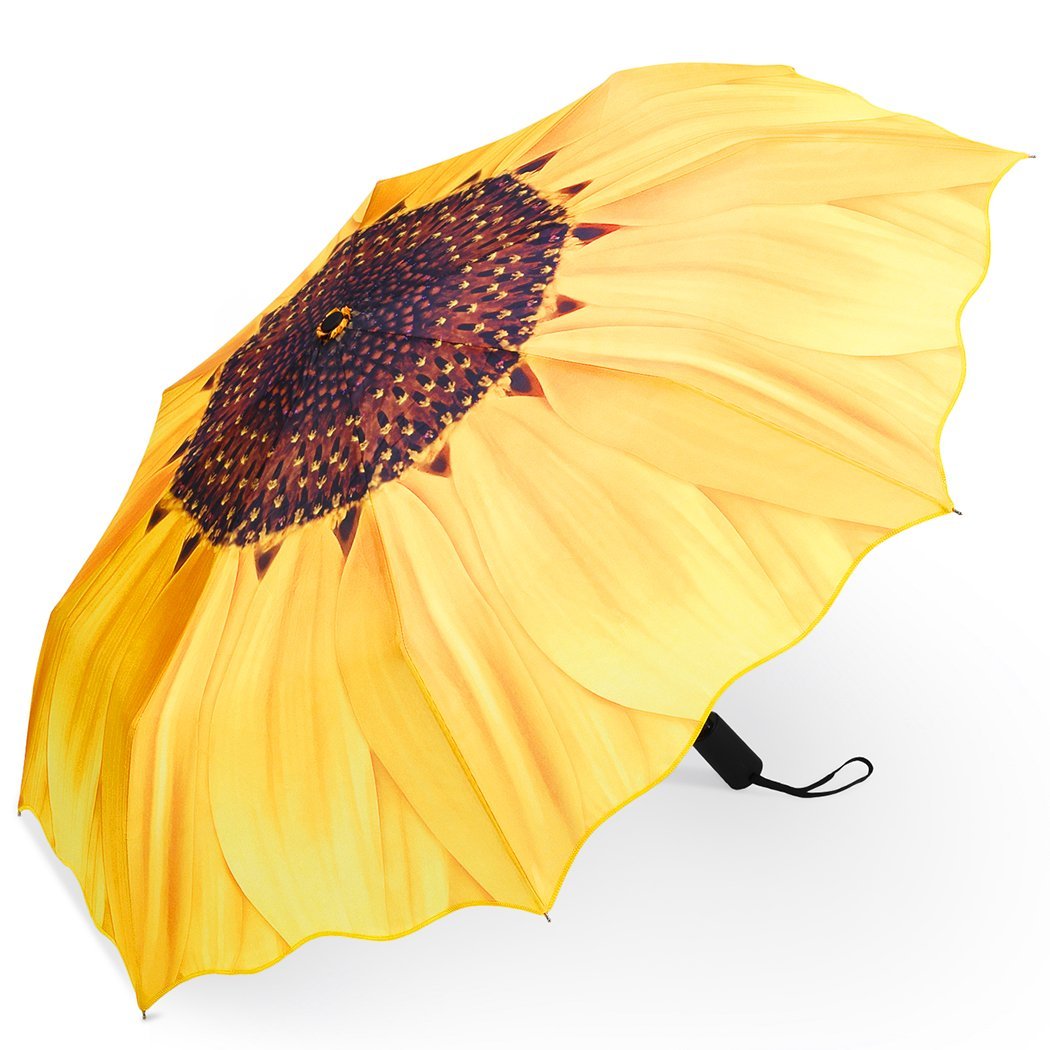 Your life can always be sunny even in the middle of a downpour of rain with this adorable, sunflower-adorned umbrella. When you open up this umbrella, a beautiful, bright sunflower blooms above your head to keep your day bright no matter what the weather is like.
Featuring an aluminum center pole and ribs, this umbrella is extremely strong and durable. It is ready to take on rain, storms, wind, and any other unsightly weather you might experience from time to time. The umbrella measures thirty-seven inches in diameter and comfortably shelters up to two people at one time.
8.

Oak Leaf Automatic Compact Umbrella
This stylish umbrella comes in multiple different bright flower patterns. Even if the rainy weather is getting you down, the gorgeous flower atop your umbrella is sure to put a smile on your face.
This umbrella is perfect for the busy traveller. It is lightweight, compact, and foldable. However, despite its travel-friendly nature, the umbrella is still extremely strong and durable. It features high-density fabric that repels water in order to keep you warm and dry even in the heaviest rainstorm. Plus, the umbrella includes an aluminum center pole and ribs that increase its durability.
7.

RainStoppers Auto Open Windbuster Sport Umbrella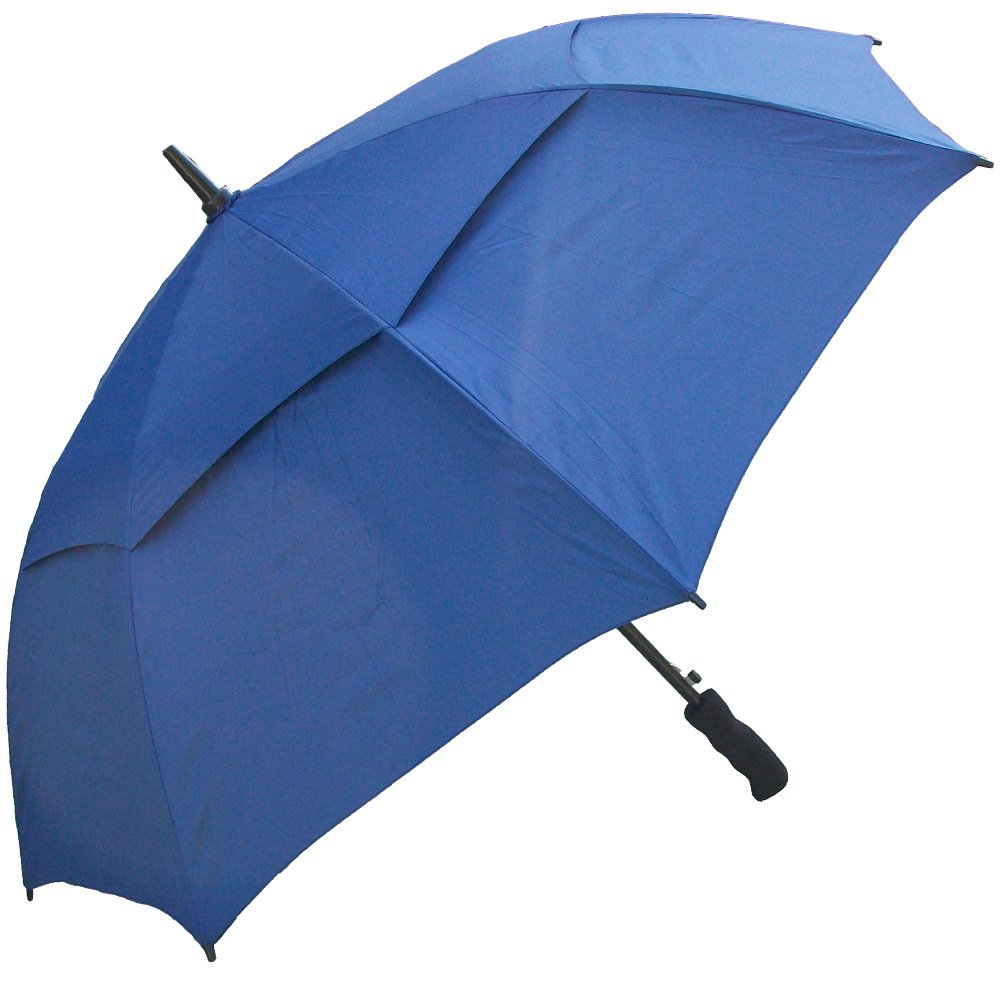 This classic umbrella has a simple and functional design. It comes in four different colors: the blue pictured above, black, blue and white, and red and white.
Featuring a fiberglass shaft and ribs, this sport umbrella is extremely durable and is made to last. Plus, it is incredibly easy and comfortable to use. It is resistant to wind and has a foam rubber handle that prevents your hands and wrists from feeling fatigued after prolonged use.
6.

GustBuster Classic 48-Inch Automatic Golf Umbrella – Umbrellas for Men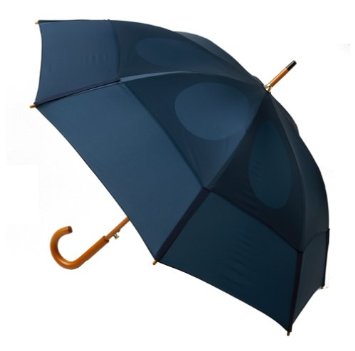 An umbrella has never been easier to use. This umbrella features a one-step open and close release system that allows it to be opened and closed with the push of a button and no risk of pinching your fingers.
Crafted with a fiberglass shaft, this umbrella is safe to use outside in any weather. It resists lightning and wind. Plus, it is double-reinforced to preserve its durability and lifespan. As an added bonus, the umbrella has an attractive, timeless aesthetic. It features a traditional curve hardwood J-handle and a fitted sheath. The umbrella is also available in many different colors and patterns, including navy, silver, and burgundy, depending on your preferences.
5. Benkii Windproof Umbrella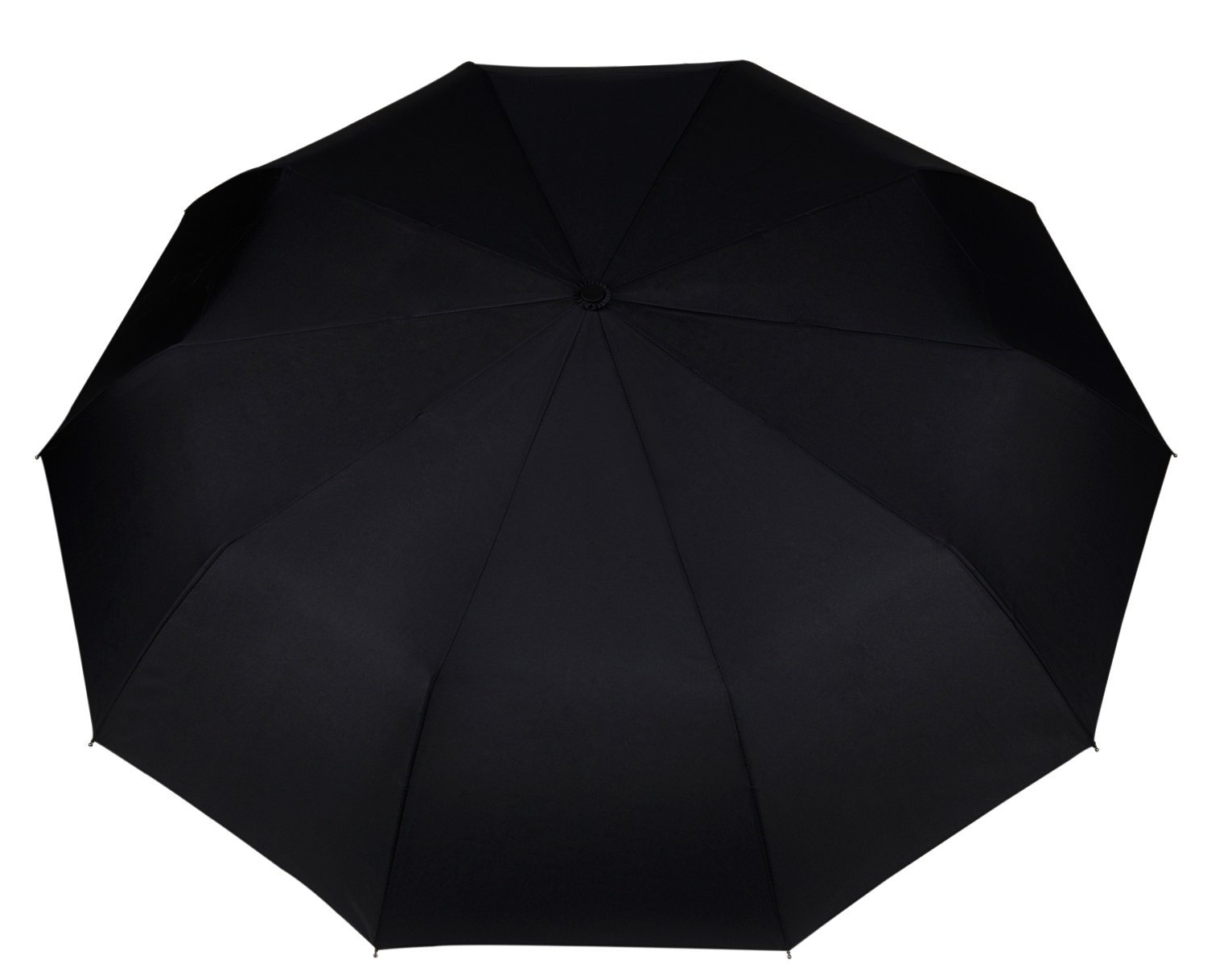 If you live in a climate that is prone to experiencing severe winds, this is the umbrella for you. This windproof umbrella from Benkii has been tested under winds of up to sixty miles per hour. These tests have proven the umbrella to be successful at withstanding severe winds without turning inside out or sustaining damage.
The umbrella features a one-second, one-hand, auto open and close feature to make using it extremely easy. It includes ten strong resin-reinforced fiberglass ribs in order to ensure durability and flexibility. Plus, the umbrella includes a high-density, durable canopy that is unable to be penetrated by water droplets even in a heavy downpour.
4. Totes Clear Bubble Umbrella – Umbrella for Kids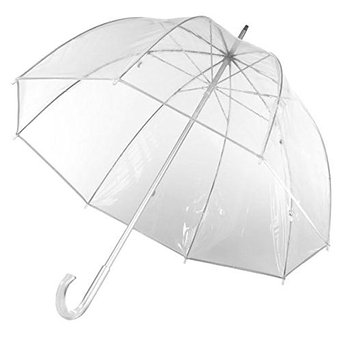 This adorable, clear bubble umbrella allows you to hear and see the beauty of the raindrops around you without actually getting wet. It features an oversized canopy design that protects you on all sides in order to keep you warm and dry even in a heavy downpour.
The totesCoat water repellency application on the fabric of this umbrella helps it repel water to prevent damage and drips. Since this umbrella is clear, it can show dirt or stains over time. Fortunately, it is fully hand-washable.
3.

EEZ-Y Compact Travel Umbrella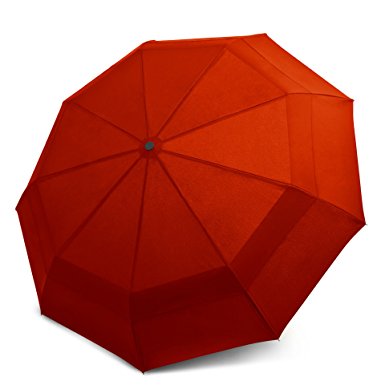 Equipped with a double canopy construction that prevents it from flipping inside out even in the harshest and windiest of weather, this umbrella is ready to keep you warm and dry during any storm. Featuring a metal shaft and nine fiberglass ribs, it is extremely durable and made to last.
Despite its durability and longevity, this umbrella is not heavy or bulky. In fact, it has a very lightweight construction for portability and ease of travel. Plus, the umbrella folds up to a size of less than eleven inches for easy storage in your purse, bag, or just in your hand.
2.

Kolumbo Unbreakable UltraSlim Windproof Umbrella – Umbrellas for Business

This umbrella from Kolumbo withstands wind speeds of up to fifty-five miles per hour. It will not flip inside out or break, even in the toughest and windiest of rainstorms. The umbrella includes water-repellant canopy and features a sturdy, stainless steel frame that prevents it from sustaining damage after prolonged usage in heavy storms.
Combining durability and functionality with style, the umbrella comes in a wide variety of bright colors. These color include the navy pictured above, pink, purple, turquoise, and more.
1. Repel 11.5-Inch Travel Umbrella – Umbrella for Women & Men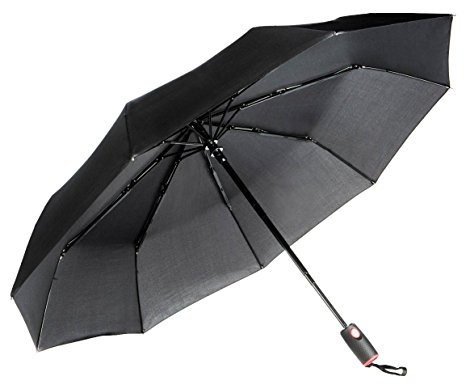 You would never have believed how protective a miniature travel umbrella can be until you learn about this umbrella from Repel. Able to fold up to a size of just over eleven inches, this umbrella is the pinnacle of portable storm protection.
Despite its tiny size, the umbrella is extremely functional. It features a chrome plated metal shaft and frame that ensure the stability and durability of the umbrella. Plus, it includes nine fiberglass, resin-reinforced ribs which increase the lifespan of the umbrella and prevent it from getting damaged or flipped inside out during use. As an added bonus, this travel-sized umbrella comes in multiple fun colors, including bright yellow and navy blue.
Keeping yourself warm and dry at all times shouldn't be something on which you ever have to compromise. Owning a functional and high-quality umbrella to use on rainy days isn't just a perk. It's a necessity and purchasing one should be a no-brainer. Use the list in this post to learn more about the top ten best umbrellas that you can keep handy in your closet or car so that you never find yourself without the proper protection in a downpour. Or you can buy the best selling Umbrellas here.