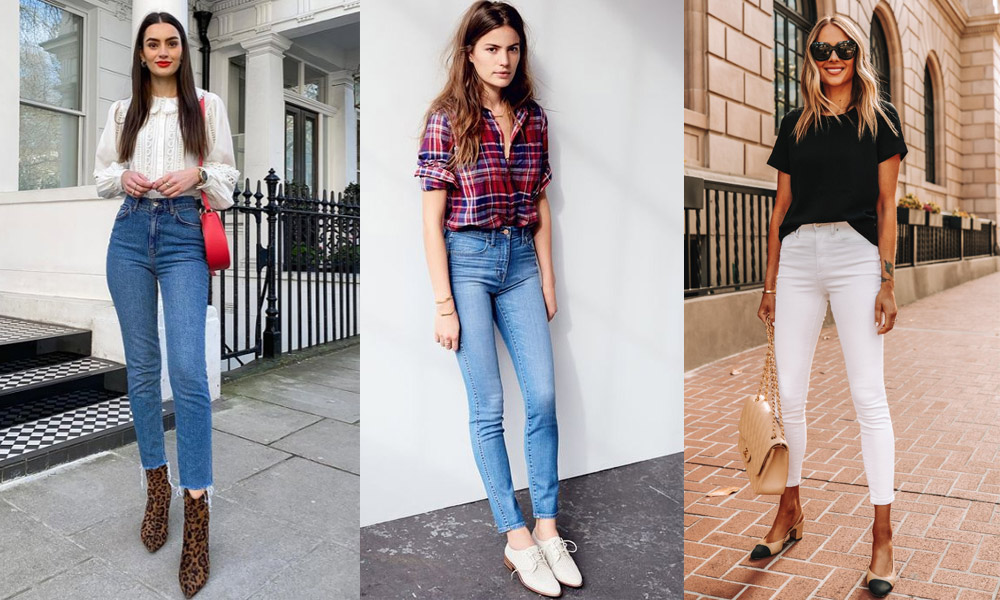 What to wear with High-waisted Jeans like a pro?
Those of us who have worn high-waisted jeans before, are delighted they're back in the shop again! High waists on jeans, pants, trousers and skirts are definitely a very flattering cut that improves the look of every woman's figure. And they are more versatile than low-cut jeans, which only really flatter women with a slim figure, because anyone with a few extra pounds on their stomach has to wear a long top with low-waists. But you'll find that with a very forgiving high-waist, you can wear a variety of cropped, tucked-in and longer tops.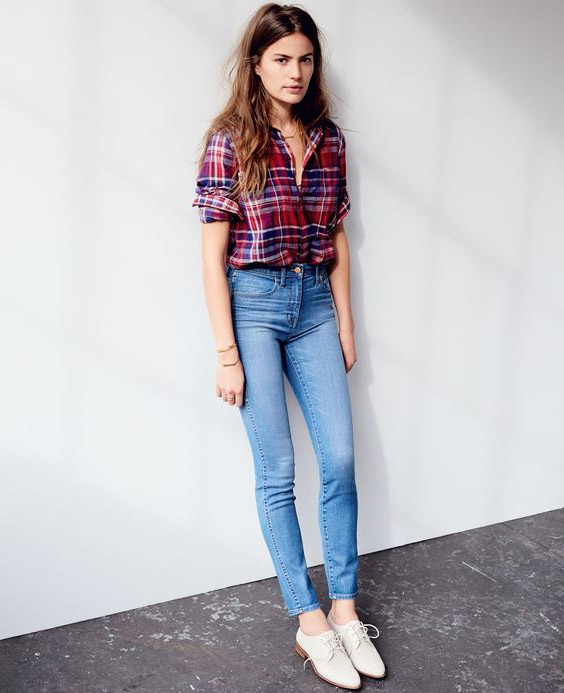 Top tips on wearing high-waisted jeans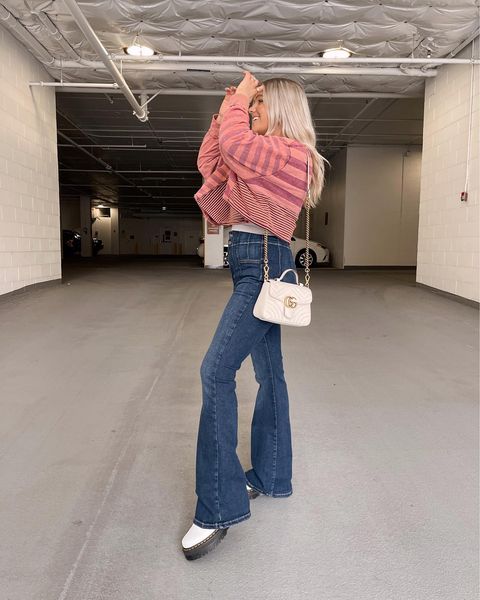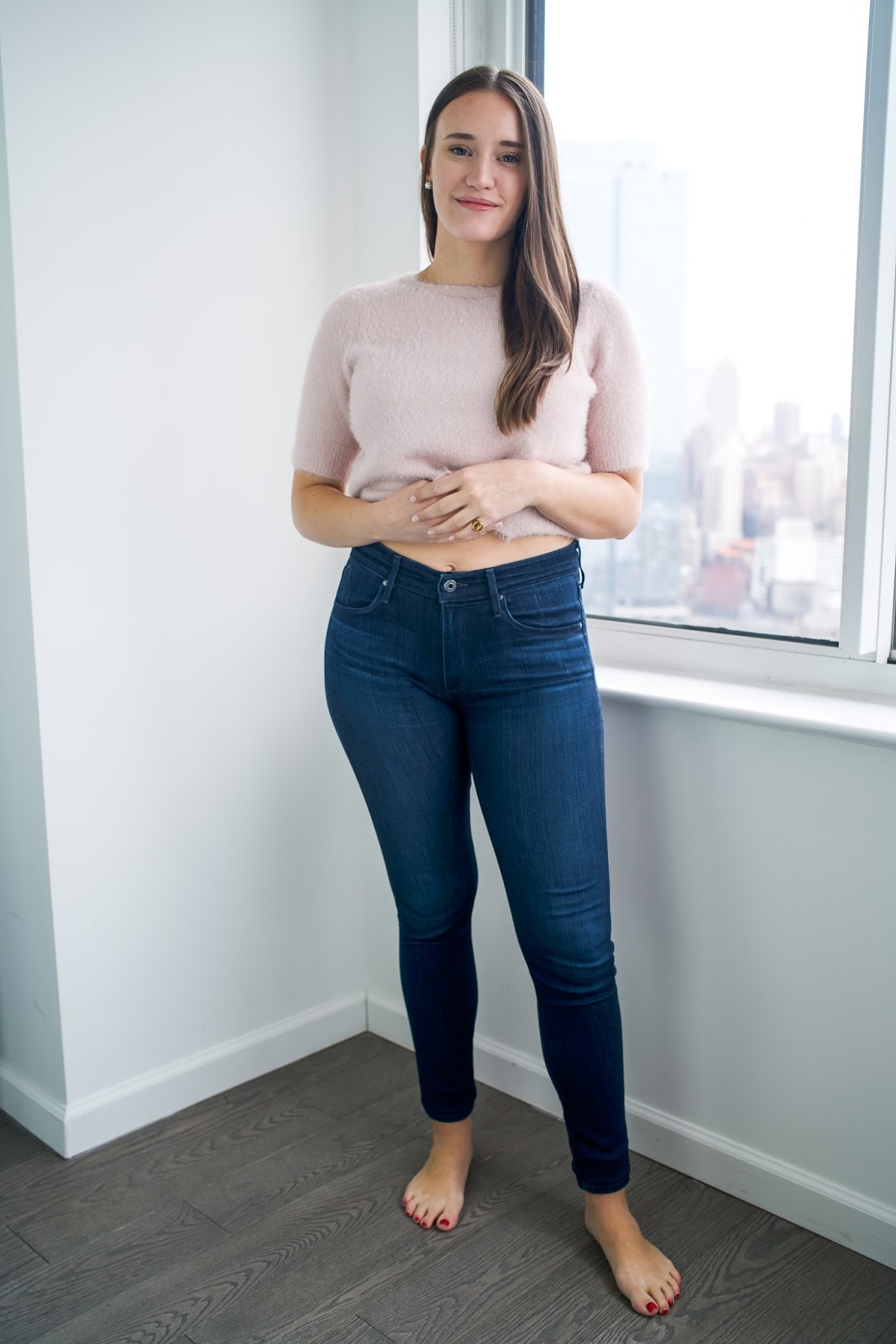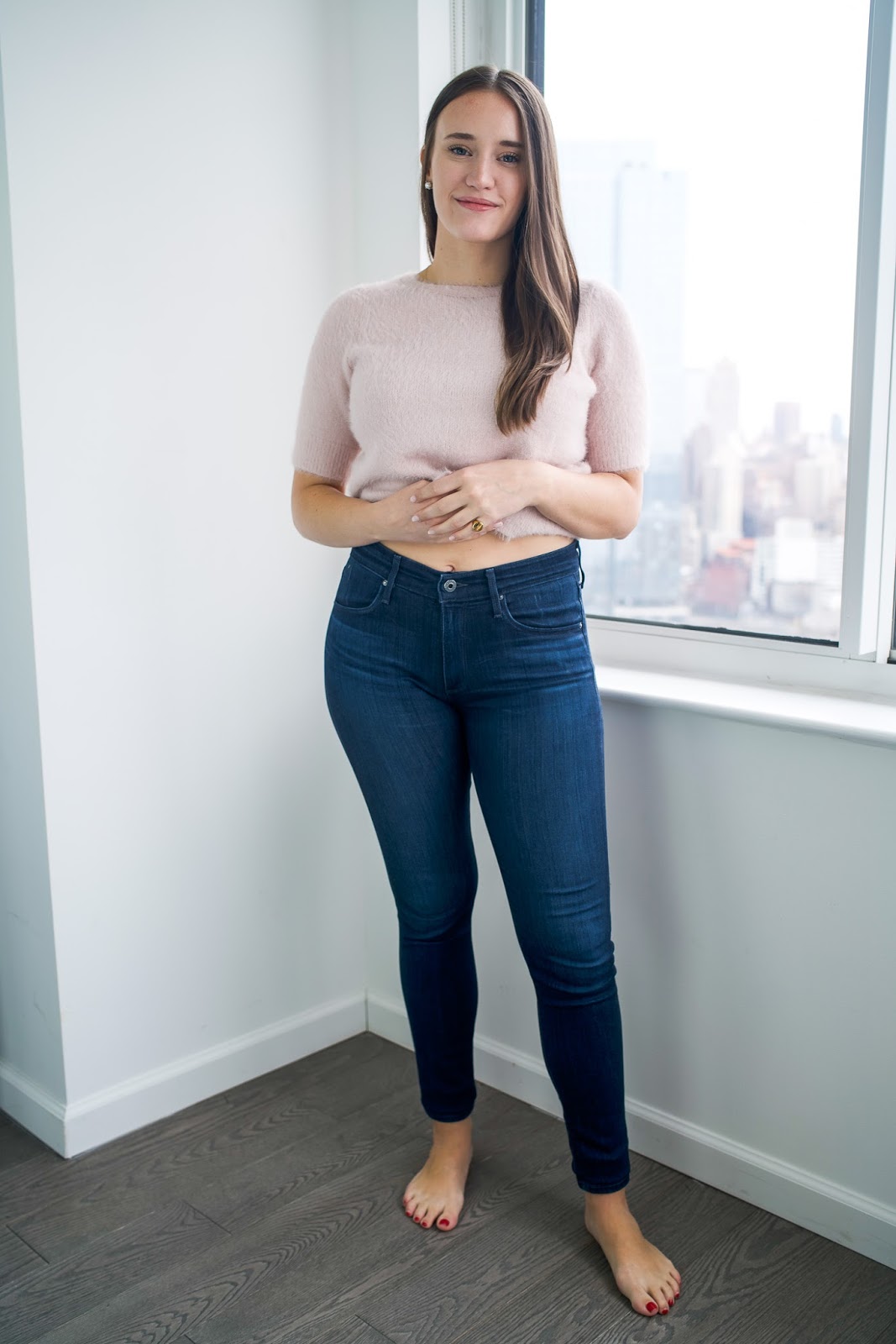 I love the way you can be smart and chic one day with a crisp white or striped blouse tucked into your navy high-waisted jeans. Or you can wear a floaty blouse, tucked in and then pulled out just enough to create the famous 80's, blouson, look. And high-waists look great with the classic Breton striped fisherman's tops and graphic tee-shirts. Plus this year we will be wearing tie-dye tops that are gorgeous, but with different colors and dye-styles from the 60's and 70's, for an attractive contemporary twist. So if you're ready for a universally flattering jeans body-cut, along with the huge range of leg widths this year, here are our tips on how to wear high-waisted jeans:-
Although this year oversized clothes are back in fashion, high-waisted jeans should always be worn in your normal size.
Always tuck in your top when wearing high-waisted jeans to show off the stylish waist.
Add interest by matching high-waisted jeans with a long jacket.
Buy trendy belts to add more polish to your outfits.
Wear ankle-length bootees or trendy sneakers with skinny high-waisted jeans.
Wear wedges, or platform shoes/platform trainers with wide-leg high-waisted jeans.
Avoid stiletto heels with all wide legged jeans, as they tend to get caught in the inside hem and can cause you to fall forward. This is especially likely when you are descending steps.
What body shapes look best wearing high-waisted jeans?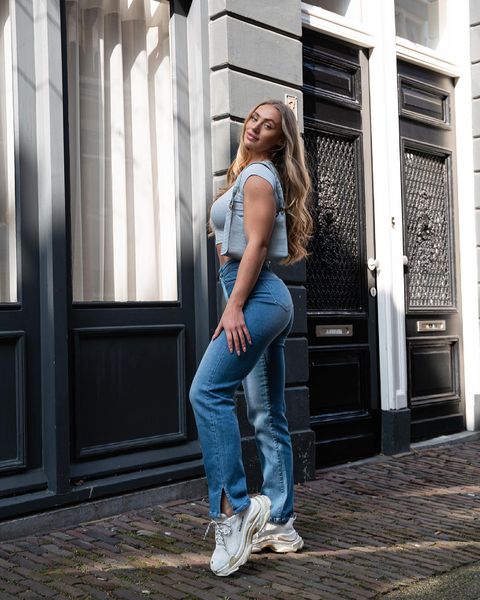 Most of them! High-waisted jeans are always popular because they are comfy and you don't need to keep pulling them up. They minimize your tummy and give a lot better balanced body outline, which accentuates your waist. So if you are tall, short, curvy, athletic, hourglass, pear-shaped or apple-shaped, you can wear high-waisted jeans with confidence.
Do high-waisted jeans give you a slender look?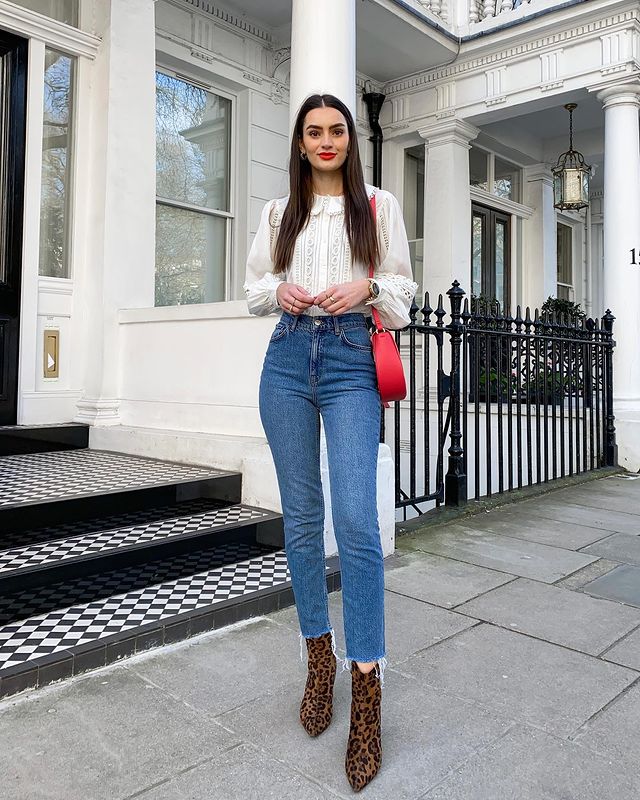 Yes, they often make the wearer look slimmer, because the focus is more on your waist than your hips. So if you have a curvy figure, you'll definitely look slimmer in high-waist jeans. The high-waist cut also makes the lower body and legs appear longer and that's also very flattering.
What fashion colors should I wear with high-waisted jeans?
The winter colors this year are rich purple, burgundy, sapphire-blue, all shades of brown, khaki, sand and light-brown, tan and mustard yellow, gorgeous new forest-green and deep pink along with white and cream. And the summer colors are beautiful pastel shades in lavender, soft moss-green, soft yellow, powder-puff pink, baby-blue and dove-grays, along with all of the lighter shades of brown mentioned above.
High-waisted jeans with tops, shirts & blouses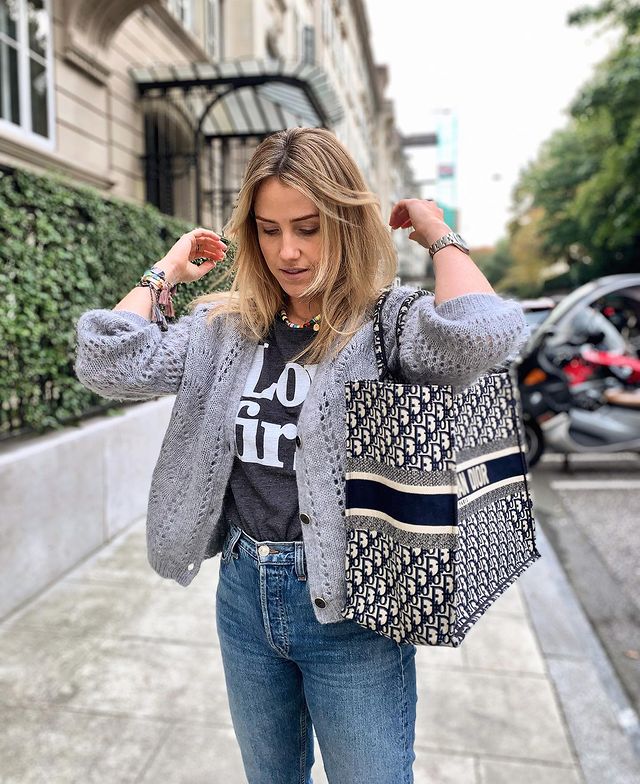 Easy everyday outfits can be put together quickly with say, a striped shirt in white and gray, or beige and dark-blue high-waisted, flared jeans. Wear with a rectangular bag in a neutral color, tan or a really bright color like yellow or red and platform or wedge high shoes. Gray or beige tee-shirts and graphic tee-shirts look good with high-waisted flares, boot-cuts, straight-leg, baggy and wide leg high-waisted jeans.
And you can wear attractive belts with high-waisted jeans to give a smarter finish to your look. Make you outfit look super-attractive and romantic by wearing dark-blue jeans with a white, flimsy or cotton blouse that has bell-shaped sleeves or frilly decoration on it. And high-waist jeans look fabulous with cropped tops, as they don't show your skin all the time and you get a classier look than with low-waist jeans.
Extra-high Levi's Ribcage jeans
If you find that high-waisted jeans are your favorite jeans' style, you'll probably love the fact that the next big trend will be extra-high waists! And the best jeans to buy for this trend are Levi's Ribcage jeans. They have the highest waist of them all, at 12 inches and are based on the popular, 90's Levi's 501's.
So if you like a trend-setting, vintage look these are going to be perfect for you! You can get Ribcage Levi's in all the different wide-leg styles. And the ultra-high waist, with a fabulous buttoned fly underneath, really accentuates the waist in a super-flattering cut.
High-waisted Mom jeans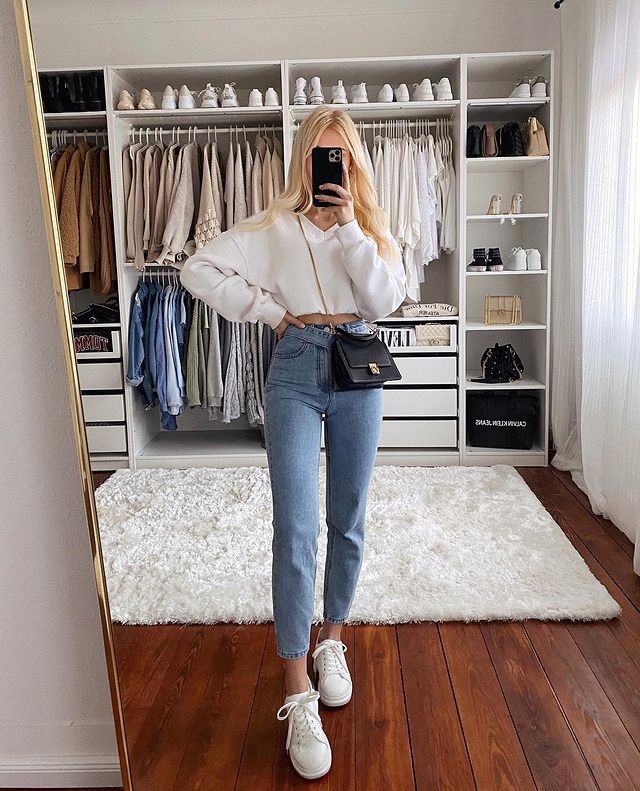 These are another versatile jeans' style you can wear in all seasons. They are slightly cropped, which those of us who are short appreciate because you don't have a lot of extra length to deal with. And for most women, you get a trendy ankle-length jean, which look casual and hip. The high-waist should be worn with a tucked-in top, but it's not compulsory and you can wear casual long flannel shirts in the winter and short cropped tops in the summer.
High-waisted Mom jeans go with lots of different footwear, because they have narrow legs tapering down to the hem. So you can wear ankle-boots or high boots in the cold weather and sneakers or sandals, with or without heels, in the summer. To smarten up your Mom jeans, you can always add one of this year's fabulous gray or khaki checked blazers, or a black and white tweed blazer. Add a fashionable belt and a chain-strap handbag in tan, taupe, beige or black and you've got a chic look.
High-waist slouchy boyfriend jeans
We all need a pair of slouchy boyfriend jeans to relax in from time to time. They are a staple style with a casual fit like men's jeans, but with some additional tailoring for a womanly shape. And there are lots of variations on this jeans' style, so you get a range from baggy to slimmer fit, meaning there's a boyfriend jeans cut for every body type.
This is a weekend lounging, or running errands style, so just wear something loose and comfy with it. Wear with a pastel colored, lightweight zip-up hoodie, a waist-length cardigan or sweatshirt in spring and summer. Or try a trendy graphic tee-shirt or tie-dye top. And in winter, just throw on a long-sleeved tee and layer a plaid, flannel shirt in gray, purple or brown over the top.
High-waist straight leg & boot-cut jeans
Straight leg jeans and boot-cuts are probably going to be one of the most popular fashionable jeans' styles this year, as they are versatile and easy to wear with anything. This means they appeal to a wider range of women of all sizes and ages and can be adapted to most fashion styles. So you can wear straight and boot-cuts with clothes you already own, or buy a few new pieces to give yourself a fashion update. Straight-leg jeans look great with a high-waist and a slim fit on the legs and give an up-to-date, casual look with a coatigan or is it cardi-coat (LOL!) in the winter/spring?
I am referring to the fabulously soft and comfortable, long, thickly textured cardigans that can be bright and patterned, or a plain, neutral color. And with a cropped cardigan in the summer and a trendy new blazer, plus heeled sandals, you'll look chic and feminine. Straight-legs and boot-cut, high-waisted jeans look good with ankle-boots, high-boots, sandals and sneakers, so you can vary your look as much as you want with these fashionable wardrobe staples.
High-waisted bell-bottom jeans
Bell-bottoms are a famous hippy style of jeans from the late 60's and 70's and they look great on taller women, but sadly we shorter gals don't look out best with wide leg styles. They need to be worn with platform shoes or boots, or high wedge sandals to give you the extra leg length you need to balance out the wide hem. Wear with a Bardot off-the-shoulder blouse, a modern graphic tee-shirt, a frilly white blouse or a trendy tie-dye top for a modern twist on a popular retro-style.
High-waisted white jeans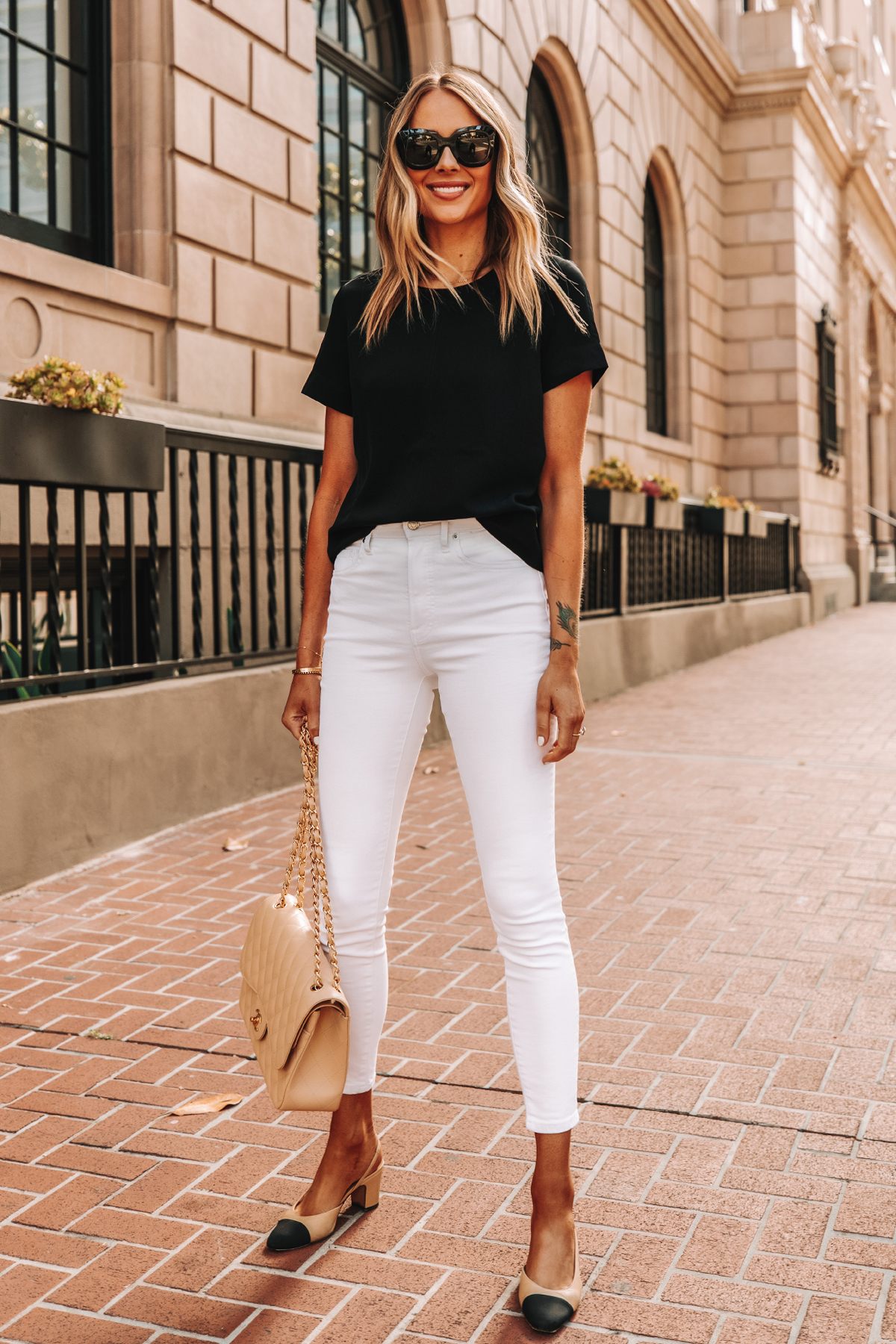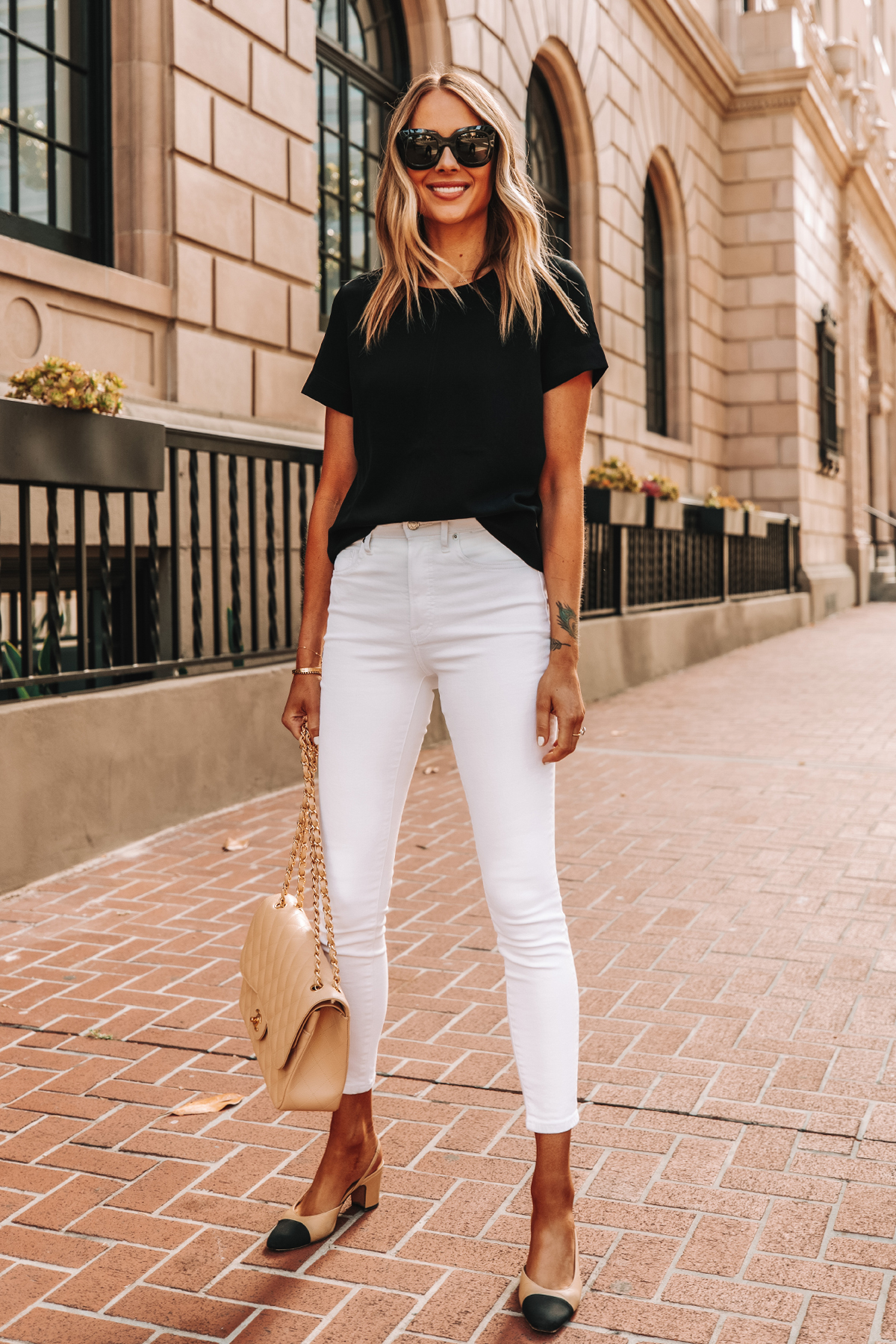 Actually, you can wear white denim in any season these days and you just need to match your accessories to the time of year to get an attractive look. And in the winter, white jeans look great with a deep purple, forest-green or sapphire-blue sweater or a black blazer or leather jacket and black boots. Contemporary white jeans vary from raggedy cut-offs that reach just past the calves, to distressed jeans and smart-looking, sailor-style jeans.
The traditional top to wear with white jeans has often been the smart, striped French sailor top and this is a classic that will always look chic. But you can give it a modern twist by wearing it with ripped or ragged hem high-waisted white jeans. This gives the casual and trendier look of a French sailor who has been left on a desert island for a few months! And your white, high waisted jeans will look great with cropped tops, vivid tie-dye colors and the cute cropped cardigans, with lace collars and pearl buttons, for a night out in summer.
High-waisted jeans plus jackets & coats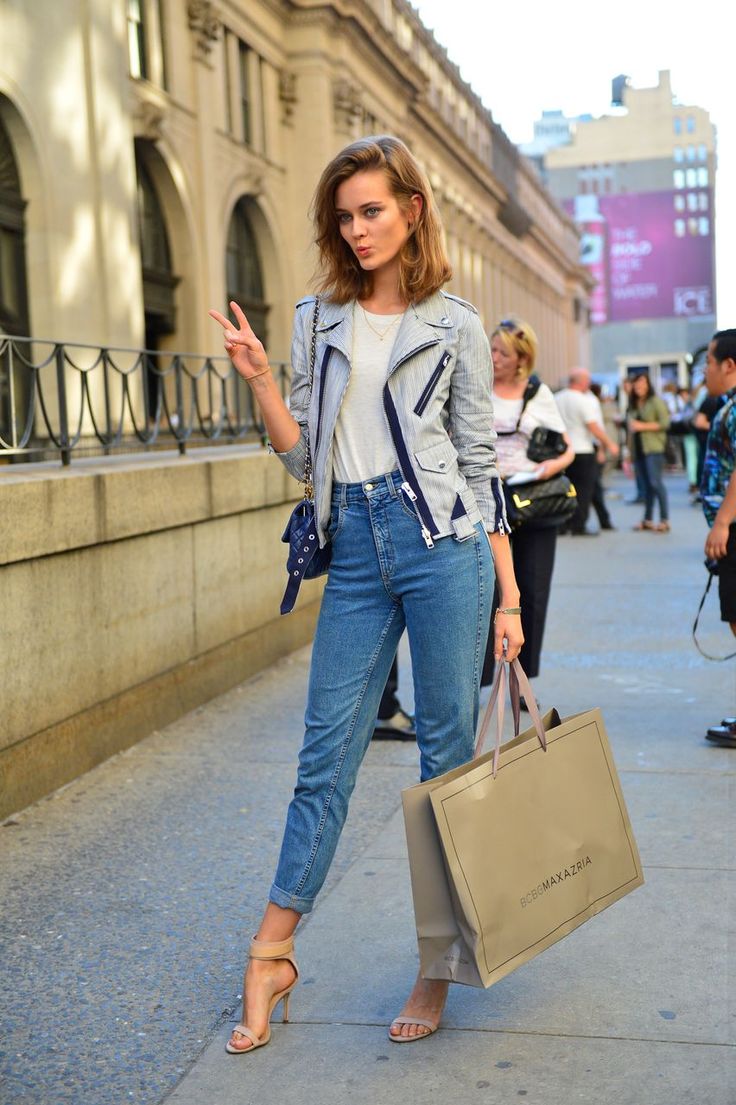 When the weather is cold, wear a brown midi wool coat with your white jeans, along with a rectangular, chain strapped shoulder bag, a pastel-colored, patterned scarf, a pale-blue chambray shirt and matching brown, tan or beige bootees or shoes. Trench coats are very trendy this year and you can wear an olive-green, khaki or brown trench coat with white or black high-waisted jeans. And the coatigan is a long, snug and warm, heavy-knit cardigan that gives your outfits a completely new and fashionable vibe!
In addition, there's a whole new range of jackets to wear in spring weather including pretty, floral printed denim jackets, to cover a cropped top, plus sneakers and a pastel-colored bag. And faux-leather jackets are incredibly low-priced right now. And the ones I've seen in the high street shops really do look just like real leather. They are available in pastel and medium colors, like pink and royal blue etc. this year, as well as the old-faithful black leather jackets. Instead of the biker style, try a new collarless, zip-up faux-leather jacket and wear with a long or short-sleeved blouse, with the collar showing around the neckline. Or with a graphic tee-shirt or tie-dye top and a plain scarf tied around the neck.
Denim jeans are never out of fashion, but we've never had such a wide choice to wear as we have this year! And that reflects the many different fashion styles and body shapes out there – making it easier than ever for us all to look great in flattering, high-waisted jeans! Find more style tips on herstylecode.com