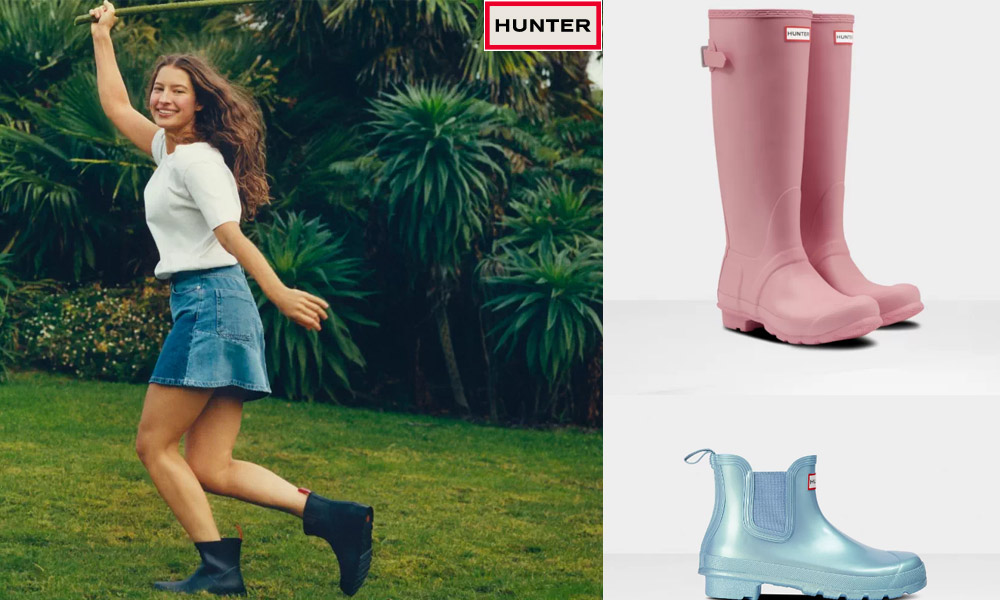 Rubber rain boots from Hunter boots brand are becoming a staple in the fashionable woman's closet. They are the equivalent of a souped-up wellie, which has a ton of trendy style and a great range of bright and dark colors to match your winter and summer outfits.
They are more durable than other rain boots and will last for many years, because you are buying top quality materials and a well-made piece of practical footwear.
Town & country
Hunters are equally useful in town and country life, and will protect your shoes as you travel to work in the rain, and then change into your smart, dry shoes for the rest of the day. No-one needs to have wet feet and soggy shoes as they begin their working day and when you've paid a fair amount for smart shoes, it's silly to ruin them in wet and muddy conditions.
Hunter boots styling ideas for fashion fans
Hunters are a contemporary wellington boot that became popular owing to the need for protective boots during the music festival season, when mud is everywhere. However, they recently crossed over to become a more comfortable and modern-looking wellie, we fashion fans can wear anytime to keep our feet warm and dry.
It's not easy to look chic when you're outside on a rainy day and so here are some useful suggestions about how to make your outfit look great when wearing Hunter boots.
Styling Hunter boots with jeans
As it's usually cold when you need to wear your Hunter boots, you'll probably be wearing jeans to make a classic and easily varied outfit.
The original idea was to wear skinny jeans tucked into the top of your Hunters to display the elegant shape of your footwear in a streamlined silhouette.
You will be able to wear your Hunter boots with all of the wider-leg jeans' styles, but obviously you won't be able to tuck your jeans in to the top of the boots. However, we recommend high-waist, straight-cut or the 'boot-cut' style to get the best look with this brand of practical high boots.
You can make your legs appear longer by wearing dark denim, which you probably will be anyway as it rains more in the winter months. However, you can also match black with any Hunter boot color – from vivid red, olive and black.
Very thick socks will keep your feet comfy and they also work to keep the Hunter boot structure looking sharp.
Finish off your outfit with a trendy plaid scarf, a thick sweater and a warm, fitted overcoat.
Styling Hunter boots with skirts
Not as difficult as you may imagine! Hunter boots and short skirts actually look great together and here's how to look feminine and stylish in your fave skirts and boots.
Wearing a short enough length to create a break between the top of the boot and your skirt's hem is vital. So skirt hemlines should be above the knee and never so long that they cover the top of your Hunters.
Wear fine or thick tights and choose plain darker colors, not patterned tights.
Skater style skirts add a trendy vibe, and an A-line shape is perfect for urban chic. Stretchy tube, pencil skirts are also fine and will give you a slimmer silhouette.
Think about the fabric and its texture when adding interest to any outfit. For instance, corduroy is great for fall and winter, whereas cotton fabrics look good in the summertime.
This year's trendiest skirt for summer will be the tennis skirt. This is a micro-mini skirt you probably need to wear with short, cycle shorts underneath, as it's pleated and will blow upward in windy conditions. The new tennis skirts are not white, but fashionable checked and plaid patterns in gray, beige, black, white or red tartans. So they'll look great with your Hunter boots at a festival!
Need to look well-dressed for an appointment on a rainy day? Wear your Hunter boots with a brown and camel plaid skirt, a camel or cream sweater with a nice gold pendant necklace and a woolly hat with a fur pom-pom.
Wearing shorts with Hunter boots
Hunter boots look great with all types of shorts, and that includes denim, leather, biker shorts, fitted dress shorts and loose cotton-print shorts.
And loose, summery cotton-print shorts can be worn with Hunter boots and a pretty blouse or shirt. There are lots of lace tops that would look great in white and cream, so easy to match with patterned shorts.
The cropped cardigans for summer this year are available in cute, feminine pastel colors that are perfect for wearing as sweaters over shorts or skirts and Hunter boots. The colors are lavender, pale blue, baby pink, soft moss-green and gentle yellow plus all beige and cream shades. And some of the cardigans have lovely pearl or jewel buttons, as well as gorgeous lace collars.
In the summer, you can wear a pastel colored faux-leather jacket with your colored or black patent Hunter boots for a fresh, summer look with a dress or skirt.
You always need to wear knee-high socks with Hunters, as they help the boots fit well, so choose an unexpected color like vivid pink and match with black, biker shorts and a pink sweater.
For a classic and casual fall outfit, pair your rain boots with a fall plaid-flannel, button-down top and a camel coatigan.
For a military look, wear dressy black shorts with one of the collarless, zip-up faux black leather jackets from Kiabi stores. They are high-quality, but incredibly low-priced, like all of the new faux leather garments we're enjoying right now.
Cover up with one of the over-sized denim jackets that are fashionable for spring and summer.
If it's cold, style your Hunter's with one of the latest shearling denim jackets, which have a lovely lambskin collar to keep out the draughts.
Add a dull-green, military jacket for a suitably scruffy festival or evryday neo-grunge look.
Wear a contemporary trench-coat in trendy olive or brown over a short skirt or tucked-in jeans and a cross-body bag with Hunter boots in the city.
In spring, you can look fashionable in a cardigan-coat, which is a long, thick cardigan in gray, brown shades and subtle colors. And as we leave the coldest weather behind, there are lots of cardi-coats with vivid colors and unusual patterns to brighten up those days when you need to wear your Hunter boots.
Green and brown are colors that have often been ignored, but not this year! So style-up your boots with green or brown jeans, and a leopard-print beanie to show your personal style.
And don't forget that white and beige jeans are now an all year round staple, which always looks fresh. Try wearing with this year's soft camel sweaters for a soft, feminine vibe.
Matte finish or glossy Hunter boots?
It's a difficult decision for some of us, as shiny boots do look pretty swish and the variety of shiny colors includes vivid red, hot pink, Kelly green and bright yellow glossy boots, along with black. If you are a frequent Hunter boot wearer, you'll probably decide to have two different pairs.
Shiny black books look ultra-smart especially with shiny vinyl leggings and rainbow colors will fit right in with lots of different skirts, shorts and dresses. Most people wear matte finish for bad weather and glossy boots when they want a smarter look.
Now that we are all starting to wear our summer clothes more, as layers during the winter time, we get better value for money on our fashion investments. And Hunter boots are an incredibly trendy and versatile way to protect your good leather shoes and boots when the weather is wet and muddy. So will you be wearing red Hunter boots with thick tights and a red plaid tennis skirt this spring?