How to Wear Low Rise Jeans in Trendy Wide-leg and Relaxed Styles
Just when the stores are full of high-rise jeans, the trend for low-rise jeans has popped up again! Low-rise jeans are those that expose your stomach down to the hip-bone and sometimes a little lower than that. So some women are feeling totally overwhelmed by the wide selection on offer!
While it's true we are being offered an avalanche of different jeans' styles this year, you don't have to stick to one type of jean, like we probably did in the past. There's nothing to stop you switching between high- and low-rise jeans and wearing skinny, flared, and wide-leg jeans on different occasions. They all create a different look, so worry not – we have lots of tips on how to wear low-rise jeans in summer this year!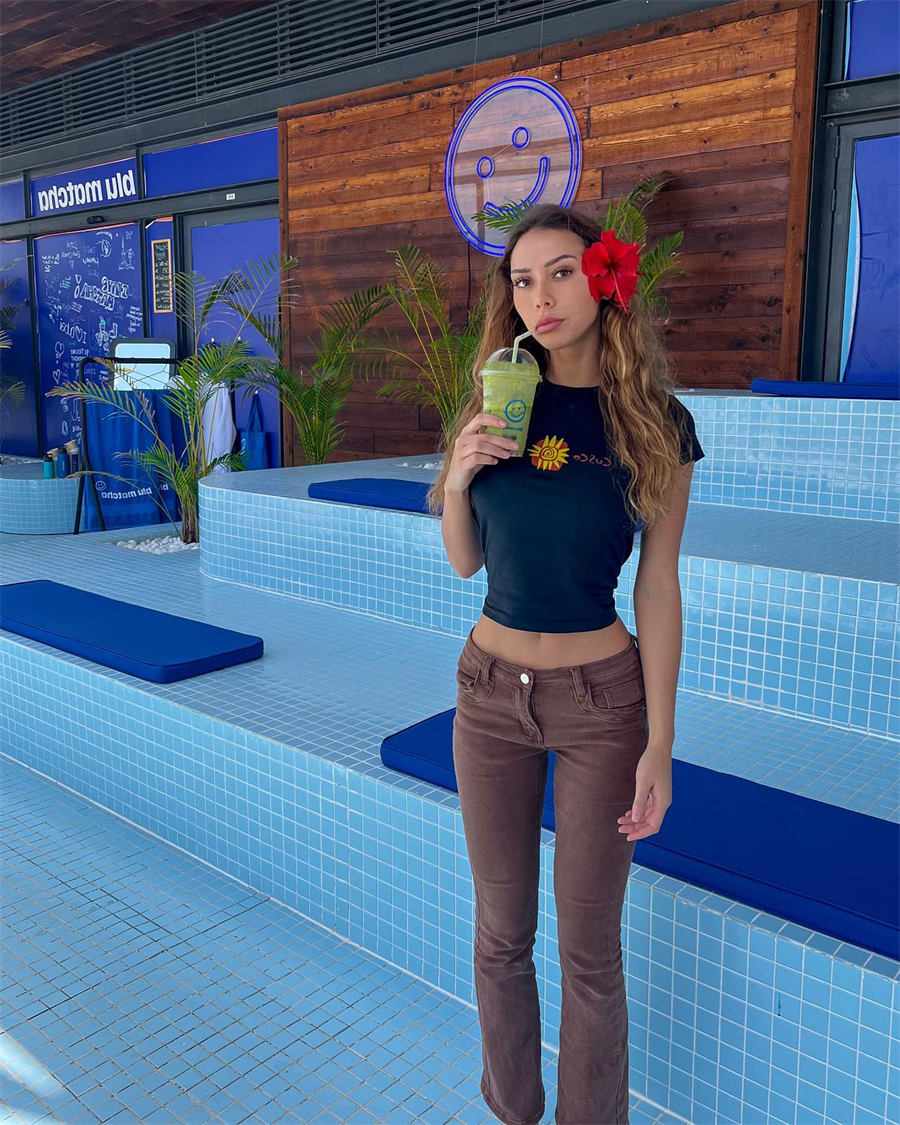 What size to buy
Low-rise jeans aren't for everyone, so don't feel you need to take up every new trend. Fashion is there to help you look your best, but there are lots of different 'fashions' purely to make sure that all shapes, sizes and tastes are catered for.
So to wear low-rise jeans correctly avoid wearing a size that pushes out fat around the abdomen. No matter how slim you may be, if you wear tight trousers low on your hips, some fat will bulge out. The way to wear them is to buy a pair that's one size bigger than your skinny jeans, for a looser look.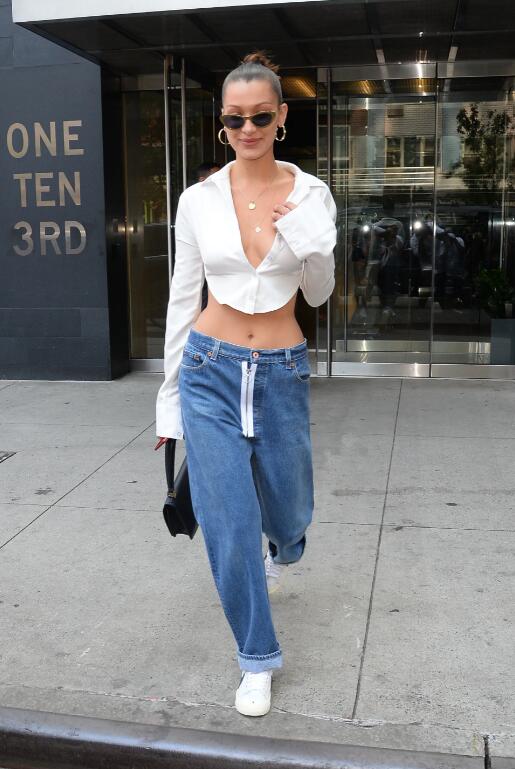 Belts & leg widths
Always wear a thick belt of about 1 ½ inches wide with low-rise jeans, it adds tons of style and you'll need it to keep your slightly larger jeans comfortably in place throughout the day or evening.
The best leg-width for low-rise jeans this year is the straight leg or boot-cut style and you need to ensure you wear them at the right length. To get the right length, remove your shoes and see if your jeans just graze the floor, which is the correct length.
What tops to wear with low-rise jeans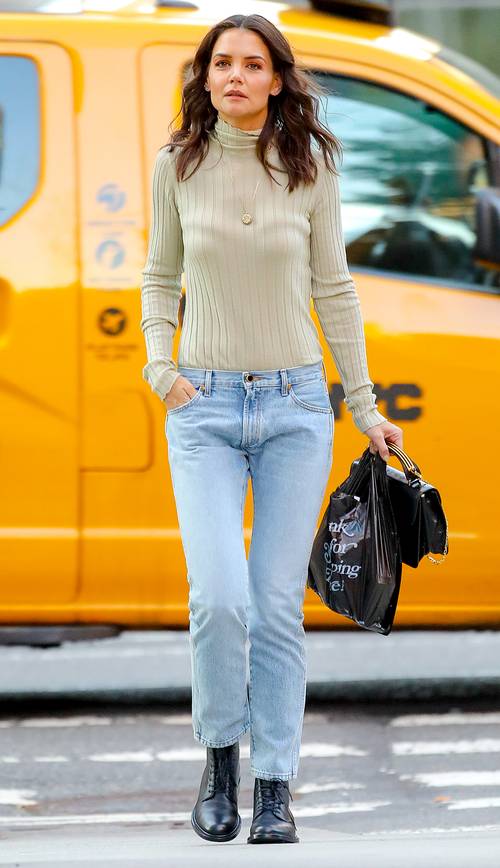 You should be wearing your tops tucked-in or around hip-bone length. So to avoid showing a roll of fat when you sit down, wear a shirt or top that falls roughly one inch past the top of your low-rise jeans. And although there's a huge trend for cropped tops this year, they are intended to be worn with medium or high-waist pants.
It's not cool to wear cropped-tops with low-rise jeans this year. No matter how slim you are, it's natural that a small roll of fat shows when you seat yourself and if you're sitting next to someone in high-rise jeans, you'll not look great.
Low-rise jeans with a relaxed fit
In their last incarnation, '90's low-rise jeans weren't just low-cut on the hips, they were often skin-tight, too. But they're different this time around and currently on offer with a looser fit and wider legs. So they're not quite so openly sexy and that makes them a lot more wearable.
You don't need to have a perfectly proportioned, slender figure to wear the new low-rise jeans and can wear them with a range of different blouses, shirts and fitted tees, finished off with a belt to add a bit more class to the look.
Low-rise jeans & white shirt
Wear your low-rise jeans like an off-duty model by creating the simplest of looks. Just the jeans, a white button-up shirt, with the sleeves rolled up slightly and a pair of strappy, heeled sandals.
It's a crisp, clean look that suitable for office-wear and most daytime activities and evenings out, too. Worn with a modestly tucked in shirt, you can wear your low-rise jeans to an internal morning meeting.
Low-rise jeans dressed up
The easy way to add a touch of class to low-rise jeans is to team your blue or colored denim with a more expensive or daintier fabric. For example, a silky, camisole-top looks cute and a kimono-robe jacket over the top creates a sophisticated, textured look.
There are also a number of sleeveless, lace tops in the high-street stores right now, in white or cream. And these are the perfect complement to low-rise jeans as they finish around the top of low-rise jeans.
Low-rise jeans & wrap tops
V-necked wrap-tops are great for curvy figures, or to create the illusion of more shape on a less-than-curvy body. The wrap-top often comes with a narrow belt that fits around the natural waist, so the loose material below flows down nicely over the abdomen and makes a nice, hour-glass silhouette. V-necked wrap-tops also flatter your bust, whether you're large or small. They are also a good way to dress-up low-rise jeans.
Low-rise jeans & striped tops
French sailor tops have attractive ¾ sleeves and a white background with black, navy or red narrow stripes. They look super-cool with low-rise jeans as they finish just below the hips and so you won't have your whole abdomen on show all of the time.
The thicker fabric of the striped sailor top and its unique style adds a lot of class to any pair of pants. And you can finish off the look with a chic neck-scarf, another big trend for this year, and a pair of wedge-heel sandals.
Low-rise jeans & oversized blazers
The oversized trend has produced some fabulous blazers this year, in the summer colors of shell-pink, baby-blue, moss-green, aqua, lavender, gray and all shades of khaki, cream, camel and beige.
And you can dress-up low-rise jeans, with a tucked-in patterned shirt and a color matched oversized blazer. Plaid and checked oversized blazers are also a big pattern trend for this year, so wear one over a plain colored top, tucked in to your low-rise jeans for a classy look.
Low-rise jeans & graphic tee-shirts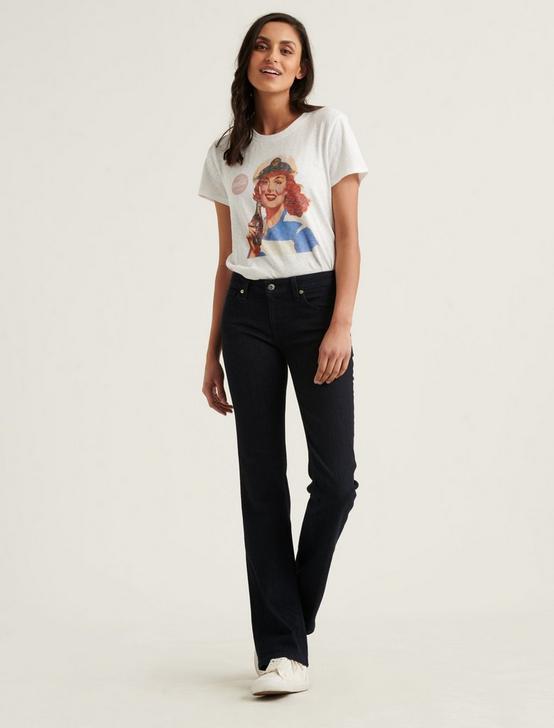 Graphic tees are incredibly fashionable for this year and you can find lots of different image themes to add personality to your look. Wear your low-waist jeans with a graphic tee-shirt tucked-in, or left out if it just covers the waistband.
The hippest graphic tees for summer are the modern-looking, abstract art images in soft-edged colors. And if you love cartoon graphic tees, the retro-images of well-known cartoon characters are trendier than the modern drawings.
Low-rise jeans & loose tops
A white cotton, off-the-shoulder, Bardot top with a loose hem, (not a gathered-in, elasticated hem), is a lovely summer blouse to wear with low-rise jeans. Look for a top that falls just past the top of your jeans for the best silhouette.
An empire-waist top that has a high-waist just below the bust and flares out to the hem will allow you to cover your abdomen and just allow the odd flash of flesh. Flowy fabric, floral empire waist tops are perfect for summer evening outfits with light-wash, low-waist jeans.
Low-rise jeans & peplum tops
A peplum top has a little 'skirt' of fabric added to the main section of the top, which covers the abdomen in a flattering way. So if you want to look slimmer, wear a peplum top with a plunging neck to get the eye moving down vertically. This distracts from the width of a body in a flattering way.
Low-rise jeans & dark-colored shirts
If you want to make your torso appear slimmer, wear dark colored shirts and tee-shirts tucked in to your low-rise jeans. The winter dark colors are purple, blue, deep pink, burgundy, turquoise, forest green, and gray. And if you like patterned blouses and shirts, they are fine if the background color is dark enough to still get the slimming effect.
And you can add extra class with a trendy, bright neck-scarf tied creatively around your neck. Balance your colors carefully so you can wear a rich dark color, with a lighter, matching highlight color from the scarf.
Low-rise jeans & print patterns
Avoid large floral prints or polka dots, with low-rise jeans, as they make your torso look bigger or swamp smaller figures. Look for densely-packed, small patterns in geometric or floral prints are far more flattering and work to make you appear thinner.
On the other hand, large patterns that have a low color contrast can be slimming, too. A trendy moss-green flowery fabric, with a dark, forest-green background would work well.
Low-rise jeans & color-blocked sweatshirts
Avoid color-blocked sweaters, sweatshirts and tops that are color-blocked on the bottom section as such a wide color band will make your hips look wider. And steer clear of large or hard-edged geometric shapes, which also add width where we don't want it.
Low-rise jeans & travel outfits
If you want something a little more chic than leggings, the most comfortable jeans to wear on an air-flight are definitely low-waist styles. If you have the choice between high-waist and low-waist jeans for travel comfort, low-rise styles win every time.
They let your stomach expand a little, as often happens on air-flights, without you feeling the push against your high-waistband with every breath. Wear sneakers and a one-shoulder, neon pink stretchy top that just covers the low waistband for a fun, glam look that suits a holiday mood!
So if you want to wear low-rise jeans as part of your wardrobe of jeans this summer, wear looser fit and wide leg or flared styles, but not low-rise, skinny jeans. The look is relaxed, rather than sexy, and you can dress it up easily with any number of different summer tops and jackets! Subscribe and get more new fashion tips on herstylecode.com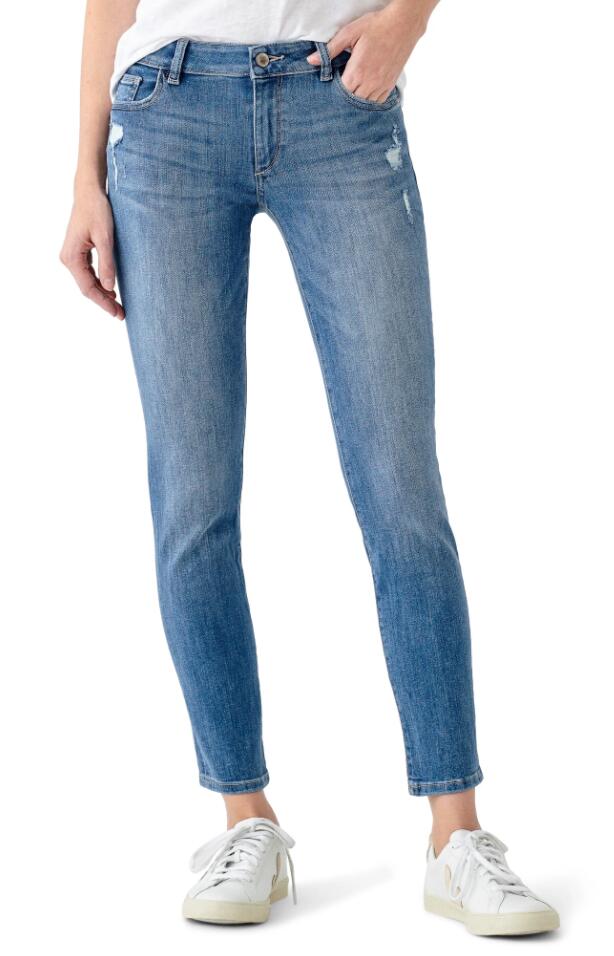 Looking for a lower rise – these are the perfect jean. I just love the higher cotton percentage on this pair it really gives some vintage vibes.