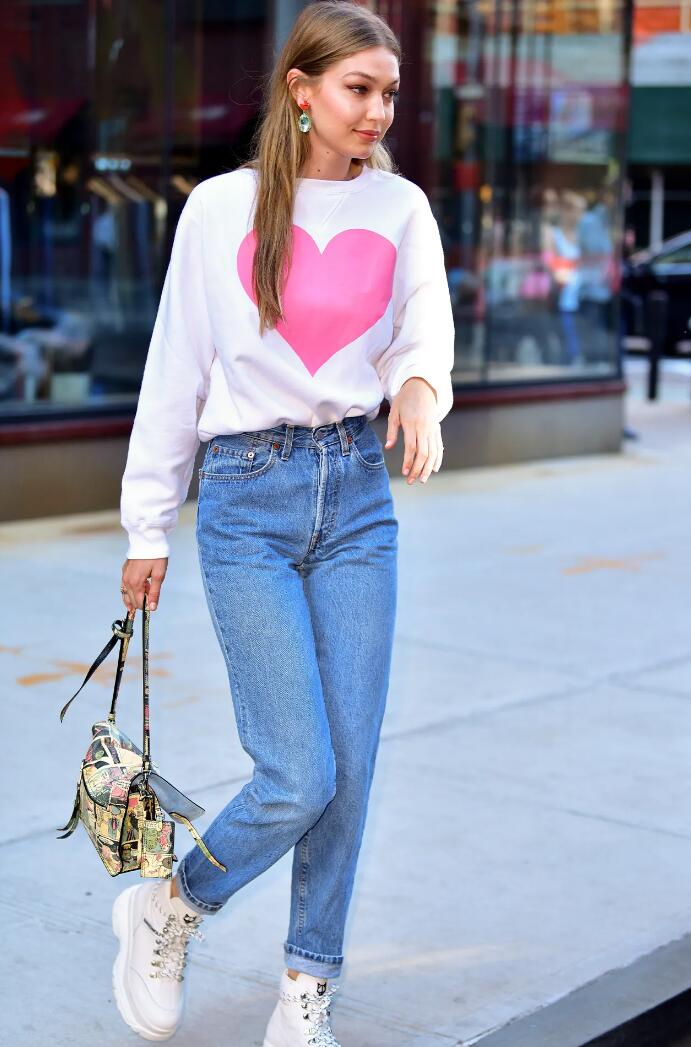 'Mom jeans' are ideal for women of all ages and particularly popular with anyone who has a curvy shape.
The cut was originally designed as post-baby wear and so it's focused on hiding extra belly fat and providing a comfortable fit for all-day wear.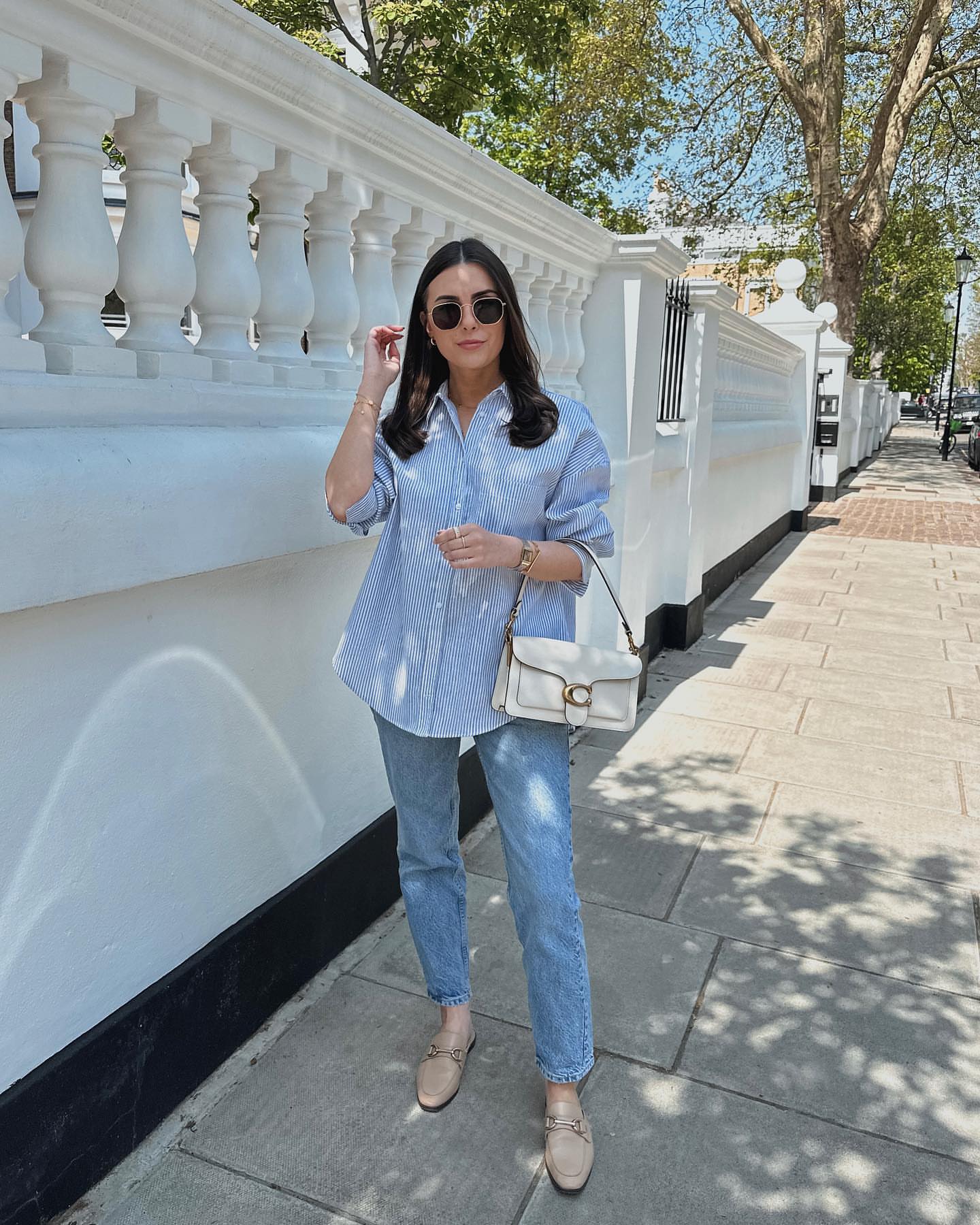 However, mom jeans aren't just for moms and this cut works perfectly for pear shapes, rectangular figures and other body shapes, such as the hourglass figure.
The style has a flattering high-waist, which opens up to accommodate your hips and then moves in again a little at the thighs.
The leg is a slim-line that ends at, or just above the ankle, which is definitely the trend for this year.
Overall, mom jeans offer extra space in the crotch, hip and thigh area and best of all, they're a classic jeans' staple for your capsule wardrobe!
Tips on how to style mom jeans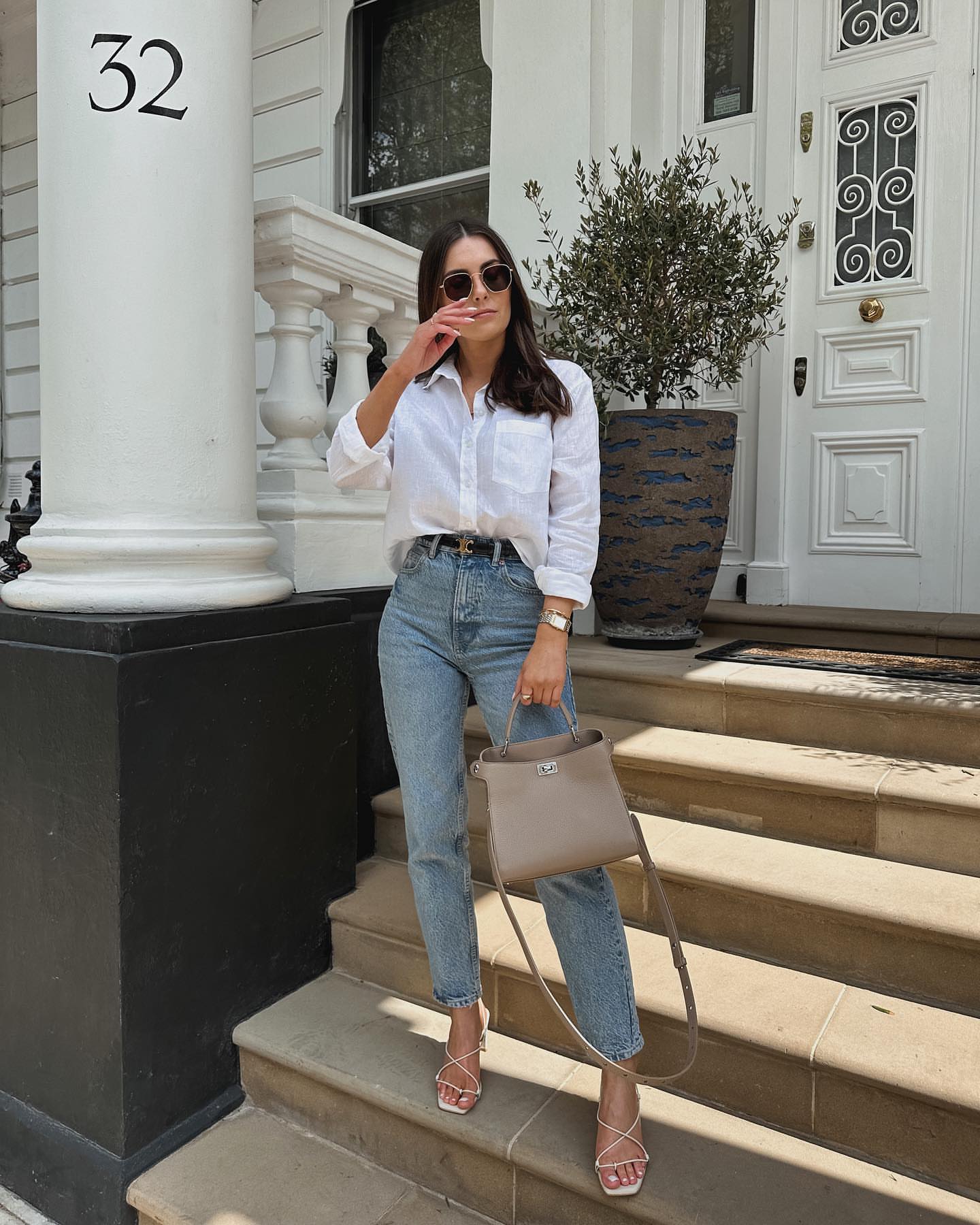 Styling Mom Jeans can be an exciting fashion endeavor, given their versatility and timeless appeal. Whether you're aiming for a casual weekend vibe or looking to make a statement at a social gathering, these iconic jeans can serve as your sartorial canvas. Let's dive into some quintessential tips on how to style Mom Jeans to bring out the best in your personal fashion sense.
Embrace Proportions: The High Waist Advantage
The defining feature of Mom Jeans – the high waist – isn't merely a stylistic decision; it's a golden ticket to play with proportions in your outfit. High-waisted jeans pair wonderfully with crop tops, letting you show off a sliver of skin or a cool belt. For a chic, put-together look, consider tucking in your tops. This styling trick accentuates the high waist and creates a sleek, elongated silhouette that's always on-trend.
A World of Tops: The Perfect Complement
One of the best aspects of Mom Jeans is their compatibility with a wide range of tops. For a breezy, laid-back vibe, pair your jeans with a loose, bohemian blouse. When the temperature dips, a chunky knit sweater tucked into your Mom Jeans can offer both warmth and style. A fitted blazer can add an unexpected edge to the casual nature of the jeans, ideal for a semi-formal brunch or a casual Friday at work.
Footwear Magic: Shoes Make a Difference
When pondering on how to look hot in Mom Jeans, never underestimate the power of the right pair of shoes. The versatility of Mom Jeans extends to footwear as well. For an easy-going, daytime look, pair them with white sneakers or comfortable loafers. To elevate the outfit for an evening out, swap the flats for heels. Ankle boots, strappy heels, or even knee-high boots can add an instant dash of glamour to your Mom Jeans look.
Accessories and Finishing Touches
A great outfit isn't complete without some attention to detail. Belts can enhance the high-waist feature of your Mom Jeans, while also serving as a statement accessory. Jewelry, like long necklaces, can help to further elongate the body. Don't forget about bags – a crossbody bag can add a casual vibe, while a clutch or a structured handbag can make the outfit more polished.
The Color Palette: For All Seasons and Moods
Mom Jeans come in various shades and colors, each offering unique styling opportunities. Classic blue jeans are a wardrobe staple, pairing well with virtually any color. Black Mom Jeans offer a more dressed-up feel and can transition effortlessly from day to night. For a playful summer look, consider pastel or white Mom Jeans.
Body Positivity: Embrace Your Unique Shape
The beauty of Mom Jeans lies in their body-positive nature. Whether you're petite, plus size, or somewhere in between, there's a pair of Mom Jeans that can flatter your unique body type. The key is to find a pair that feels comfortable and makes you feel confident. After all, the most important aspect of any outfit is the person wearing it.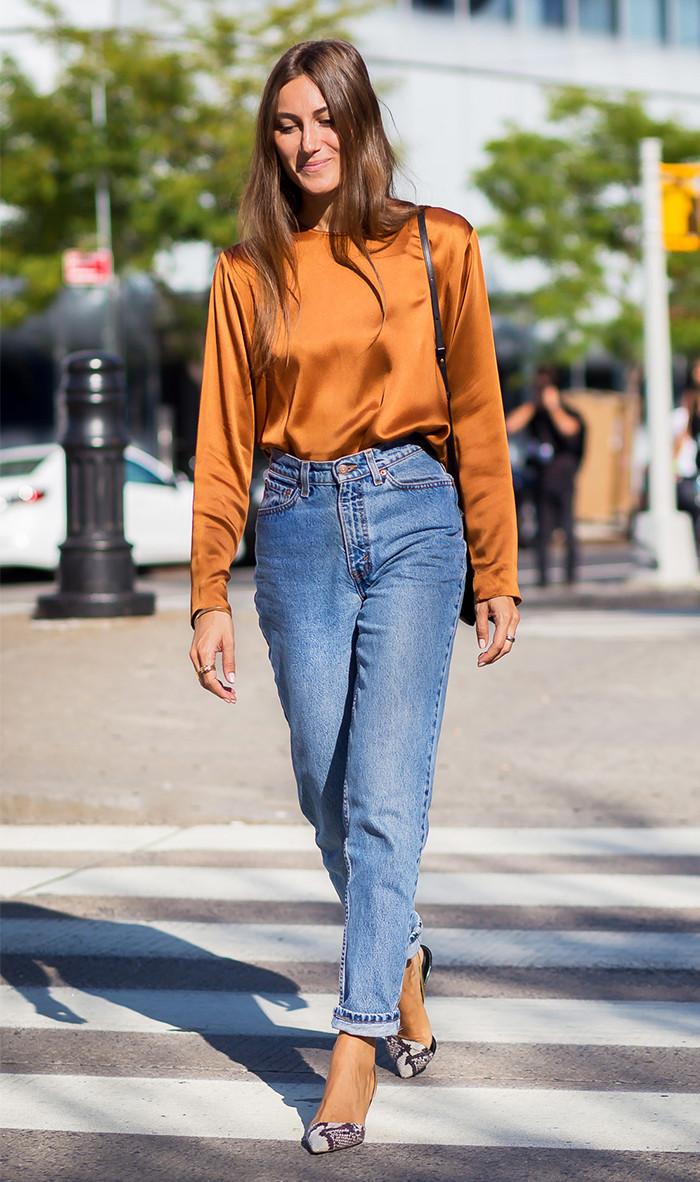 Styling Mom Jeans doesn't have to be a daunting task. By keeping these tips in mind, you can easily elevate your style game and make the most out of these enduring, iconic jeans. To provide further insight into how to style these quintessential pieces, we've gathered a curated selection of Mom Jeans outfit ideas. Scroll down to discover a world where comfort meets effortless style, a testament to the enduring appeal of Mom Jeans.
1. Turned-up Cuff Mom Jeans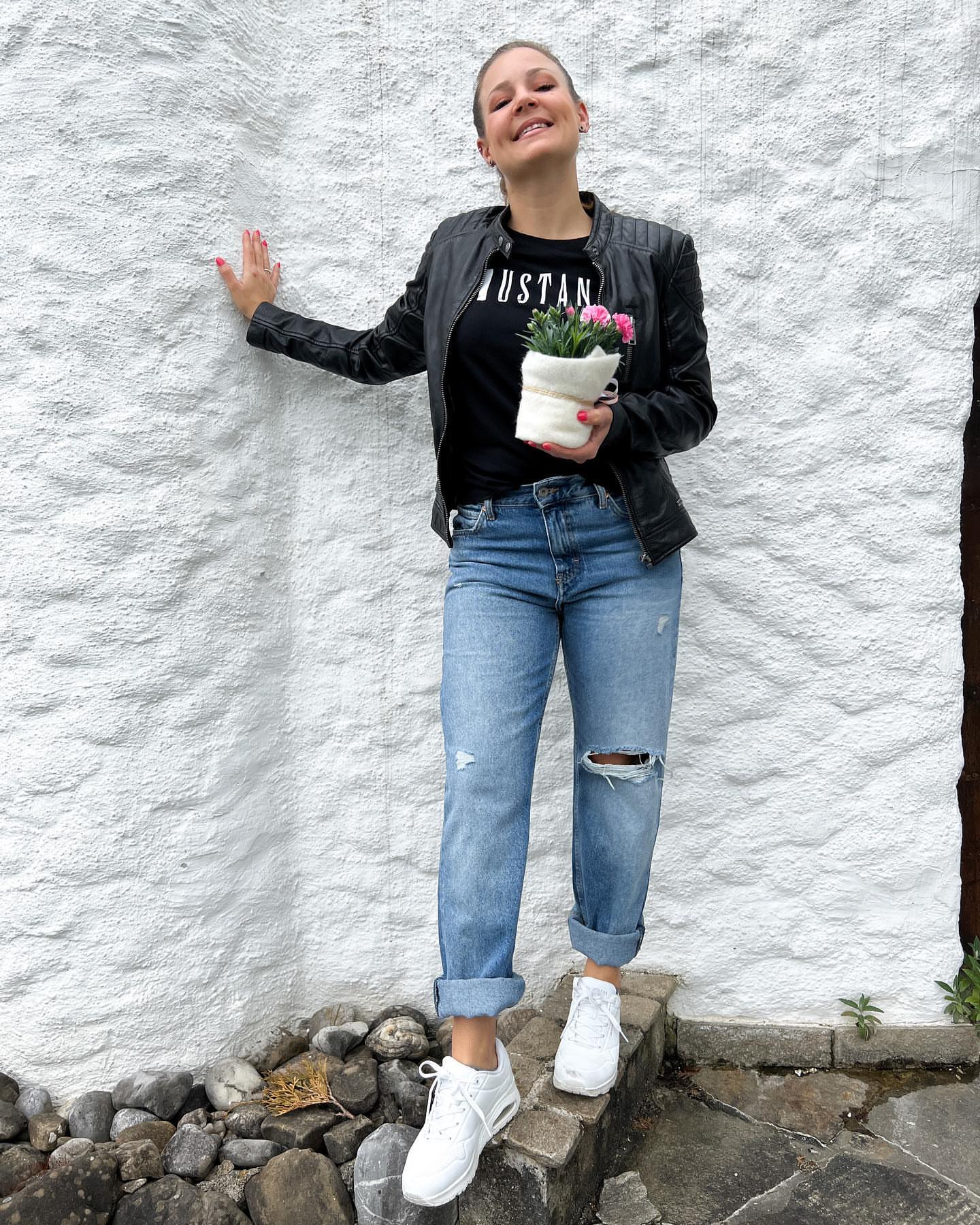 Mom jeans should finish just above your ankles, to show off your shoes/sneakers, but if you're shorter than average they can be longer on your legs.
If that happens to you, just turn-up the hems as shown above and you'll have two trends working for you, ankle-length and cuffed hems!
This outfit is made up of an 80's style, mid-thigh length, leather jacket with typical shoulder details, worn over a black T-shirt with a simple, white graphic.
The jeans have a small ripped section and a couple of degraded details, so finish off with bright, white sneakers to contrast 'worn' and 'new' vibes!
2. Cropped Top & Leather Jacket with Mom Jeans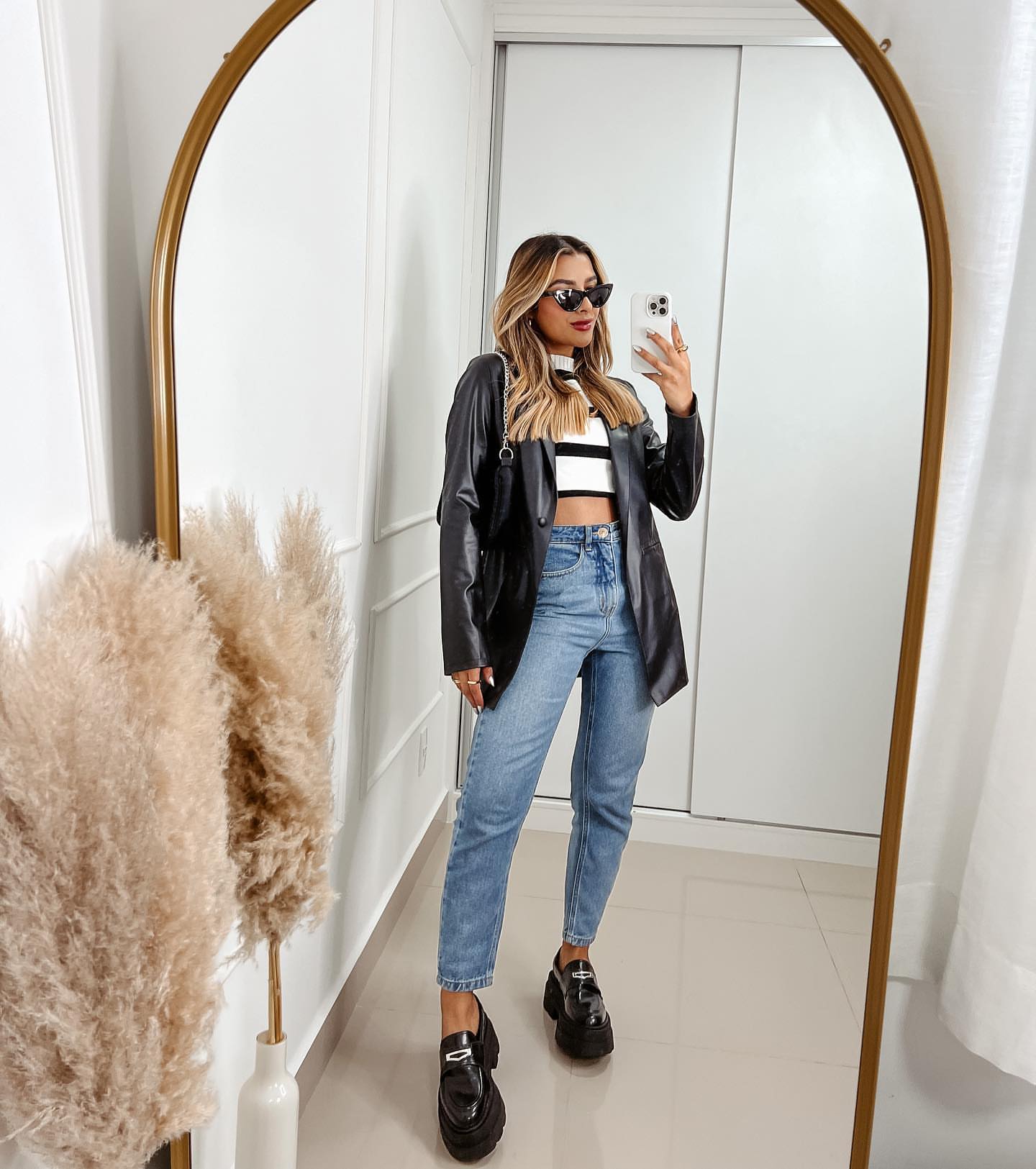 Dress up your mom's with a smart leather blazer over a chic, black and white striped, high-neck, cropped top.
The high waist means you just show a little midriff, in keeping with the elevated look.
And those fantastic, platform loafers with a shiny finish really add lots of 'polish', along with a fashionable shoulder-bag with a trendy chain strap!
3. White T-shirt & Light-Wash Mom Jeans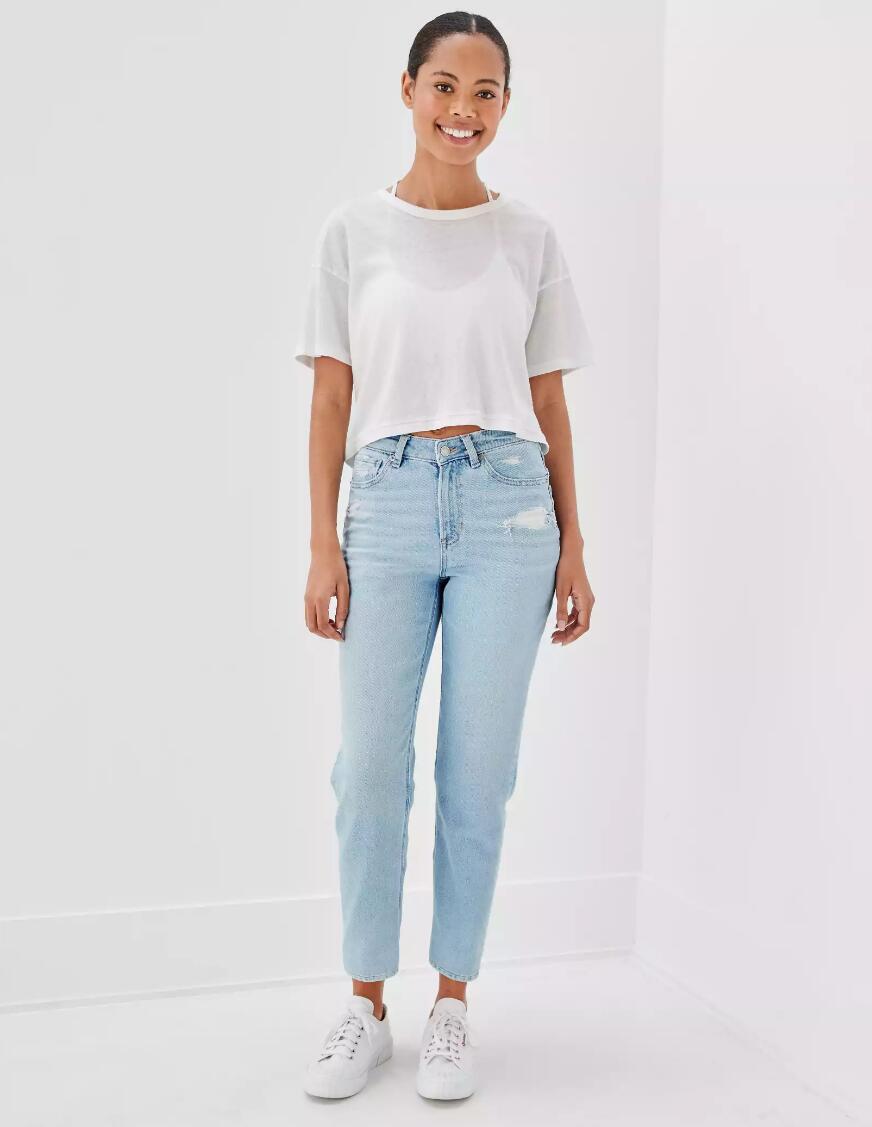 This simple, everyday look is one anyone can copy with items from a capsule wardrobe and the slim-fit, tapered legs look very flattering and youthful!
The loose-fitting, slightly cropped top drapes well around the body and upper arms.
And layering a tiny, tee-shirt underneath adds extra texture and style.
The distressed patches on the jeans give a little more edge and vary the texture.
And the light-blue wash is fresh and clean-looking for summer days, and goes beautifully with bright, white sneakers.
4. Tight V-Neck T-shirt & Distressed Mom Jeans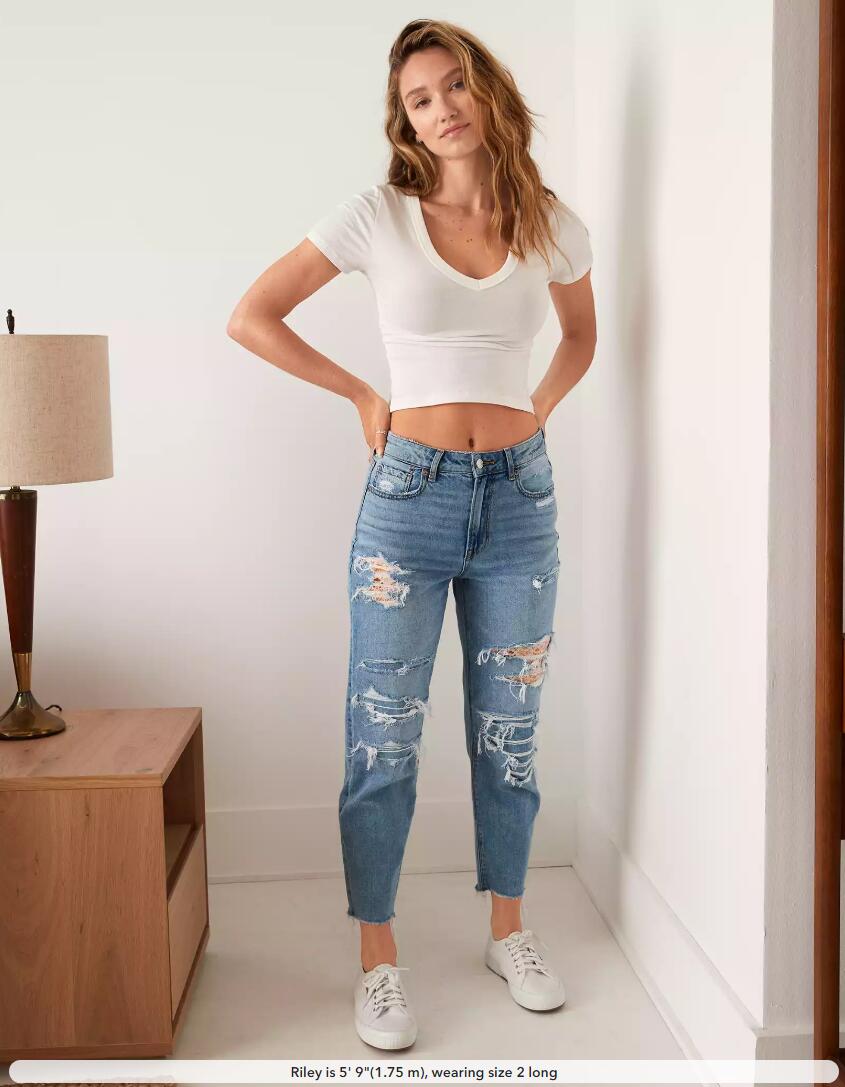 For a rebellious look, select jeans that have been well and truly distressed to give your jeans the retro look of skate-boarding jeans.
Add a tightly-fitting cropped top, with a figure flattering V-neck and head out to spend time with friends.
The white top and blue jeans outfit is almost a uniform for summer wear, because of its clean lines and true casual-chic!
5. Halter Tank Top & Medium-Wash Mom Jeans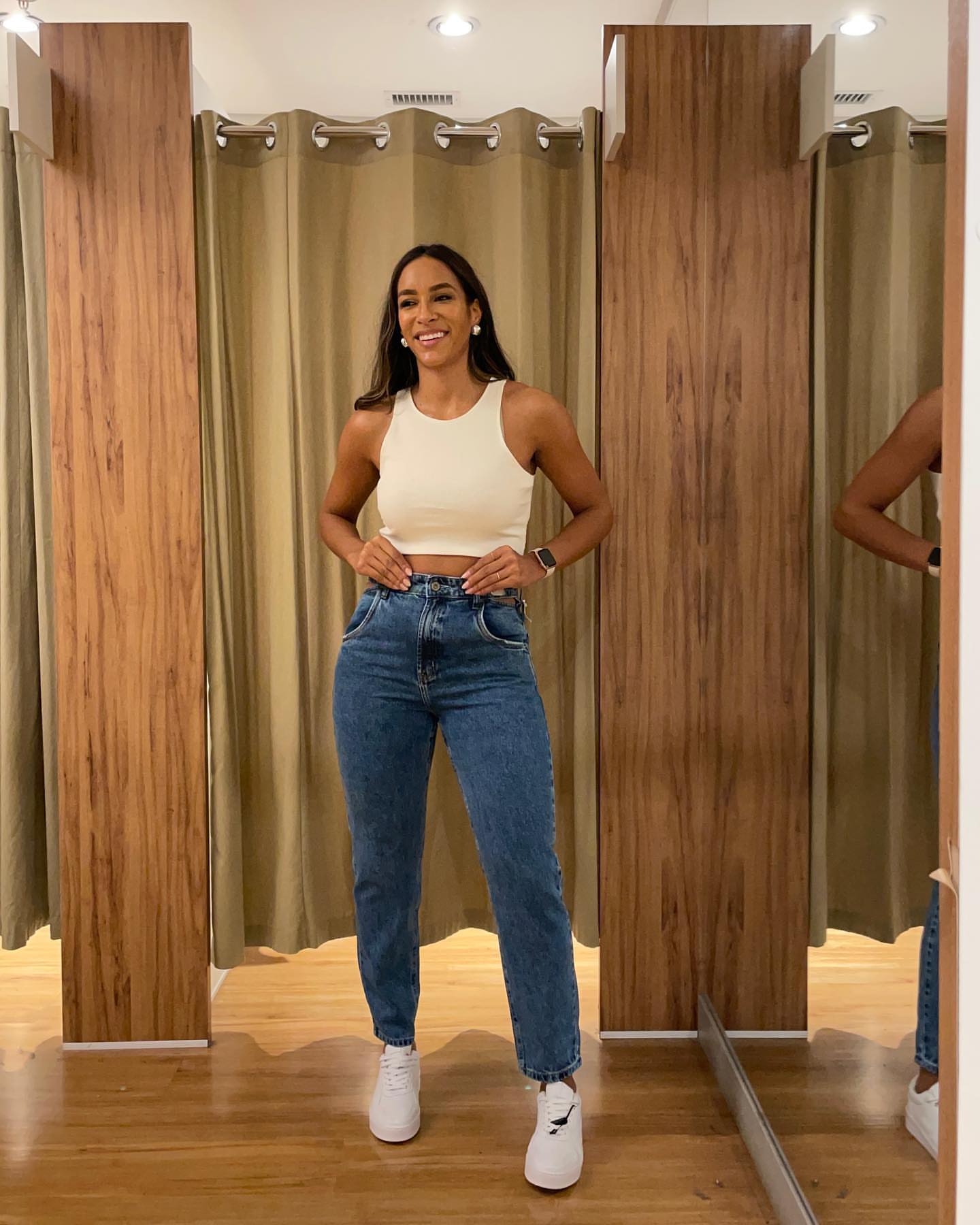 White and cream halter-neck tops are a huge trend this year and you can see how well they blend with the mom jeans cut.
High waists are great for smoothing over any lumps or bumps and giving you a smooth silhouette.
The high-waist is cut to show off your waistline and the short top also highlights a nice bust-to-waist curve for a figure-flattering look.
Finish with fashionable platform sneakers to elongate your leg-length and the medium-wash denim gives a smarter look than the lighter colors!
6. Dressed-Up Mom Jeans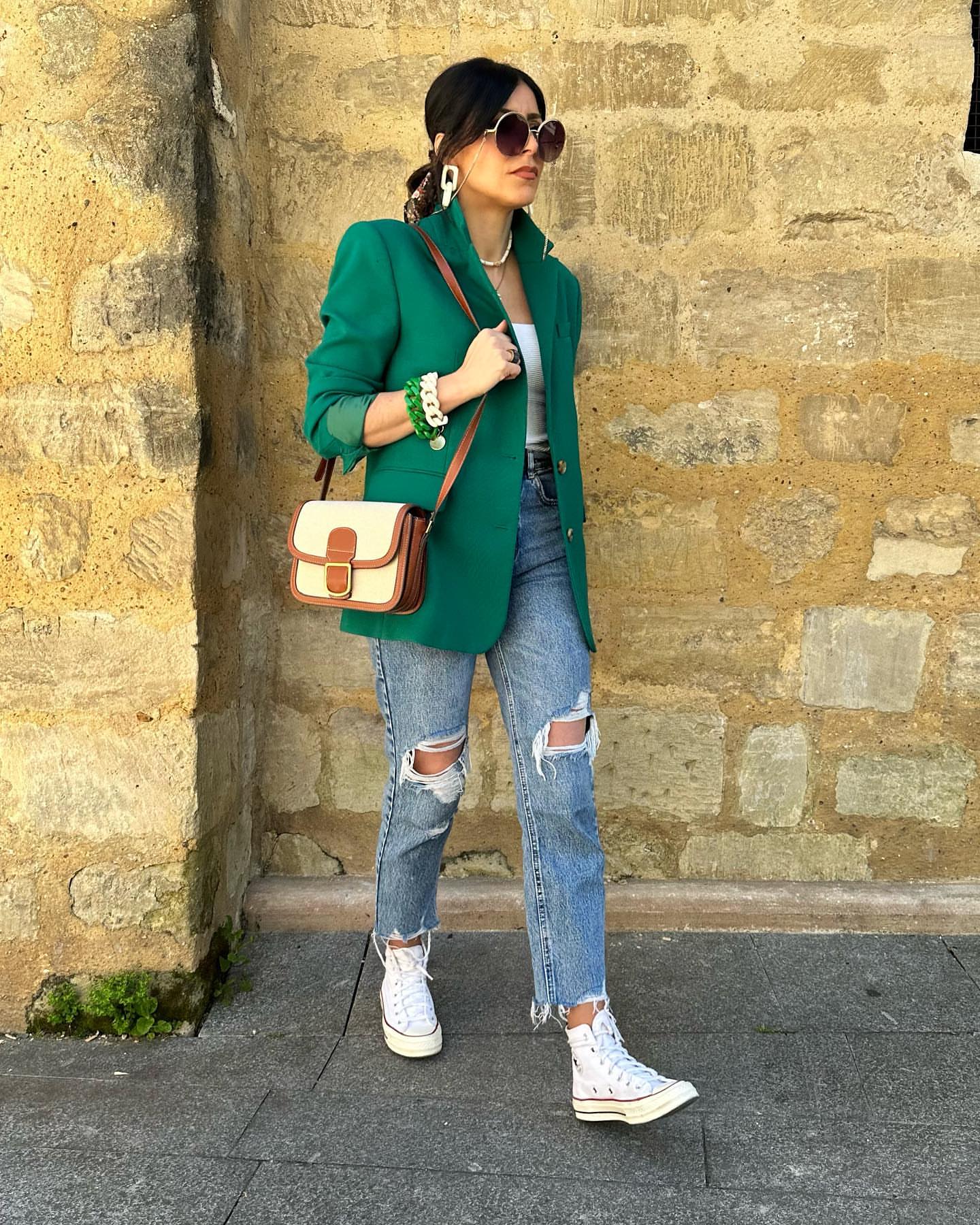 Current fashion is mixing up opposite styles, colors and fabrics, so here's a trendy way to elevate your ripped jeans!
The smart, rich-green blazer looks fabulous against the faded-blue denim and contrasts with the ripped and frayed texture.
But the elegant blazer has the lapels and sleeves turned up, to make the look more rebellious.
Large chain bracelets are worn along with chunky earrings, and oversized sunglasses to create a very eye-catching, modern style.
But the lovely cream and tan shoulder-bag is a classic, timeless style!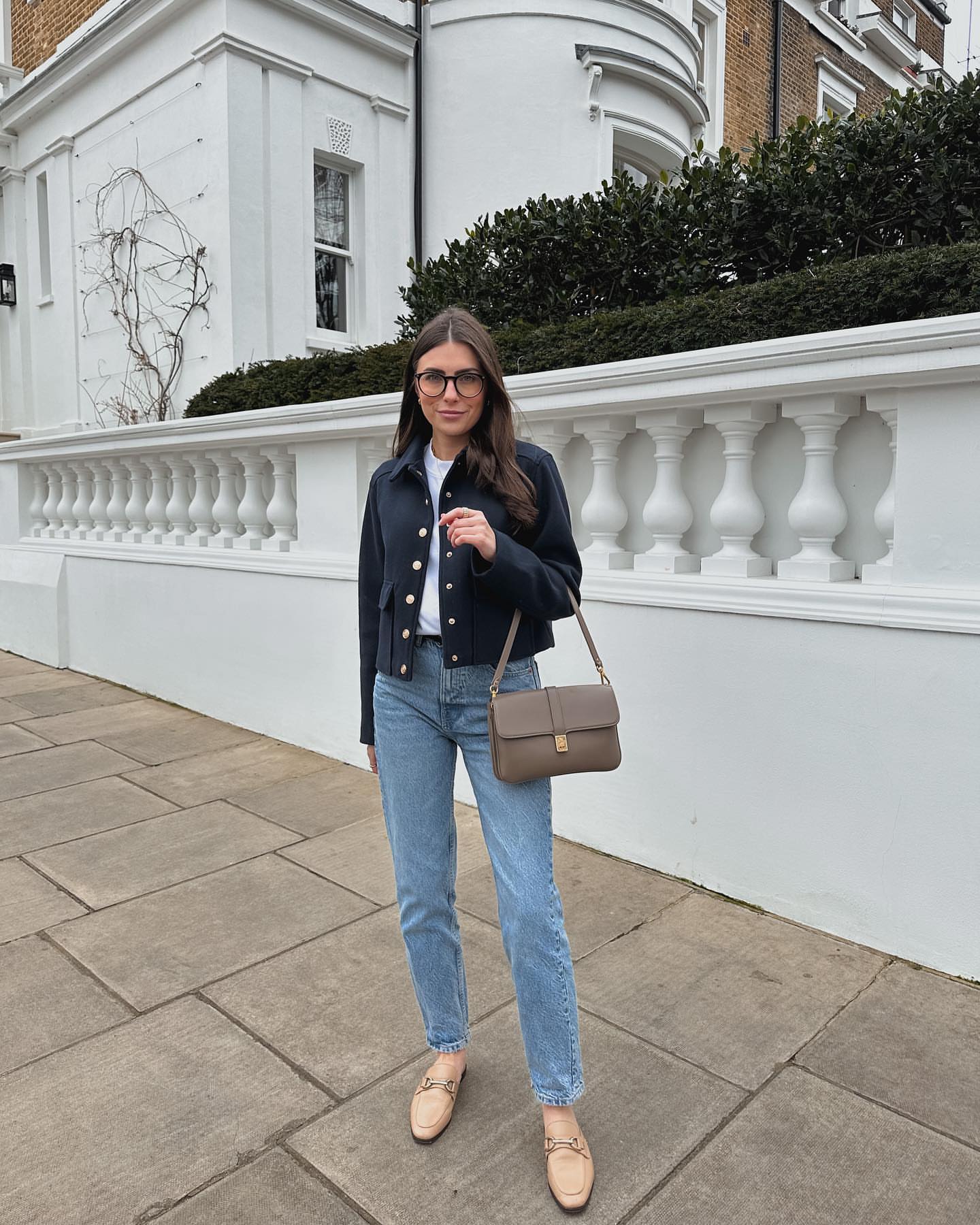 A navy short jacket like this is an excellent way to turn your mom jeans into a smart outfit for work or drinks with friends.
The two shades of blue complement each other well, and the gold buttons on the jacket really ratchet up the chic factor!
And camel-colored loafers look perfect with this color palette, which adds neutral colors to blue jeans for a very appealing look.
8. Beige Blazer & Mom Jeans Outfit
Look how well this stone-color matches with light-wash denim in this trendy outfit!
Who knew that a stone-colored blazer could look so great over your mom jeans?
And with a white tee-shirt underneath, the look is so crisp and clean.
With a sophisticated vibe from the blazer, a decorative belt buckle, classic watch/jewelry and a neat shoulder-bag with a chain strap – humble mom jean look totally elegant!
9. Classic Blue & White Striped Shirt & Mom Jeans

Nothing beats the elegance of a blue and white striped shirt, which is why it's a timeless style you should always have in your capsule closet.
And if you're not into the tucked-in style, you can wear a loose-fit, striped shirt over your mom jeans for a chic, smart-casual outfit.
Push-up the sleeves to add a little 80's edge and accessorize with stone-colored flat loafers and classic handbag!
10. Glam Bra-Top & Oat Jacket with Straight-Cut Mom Jeans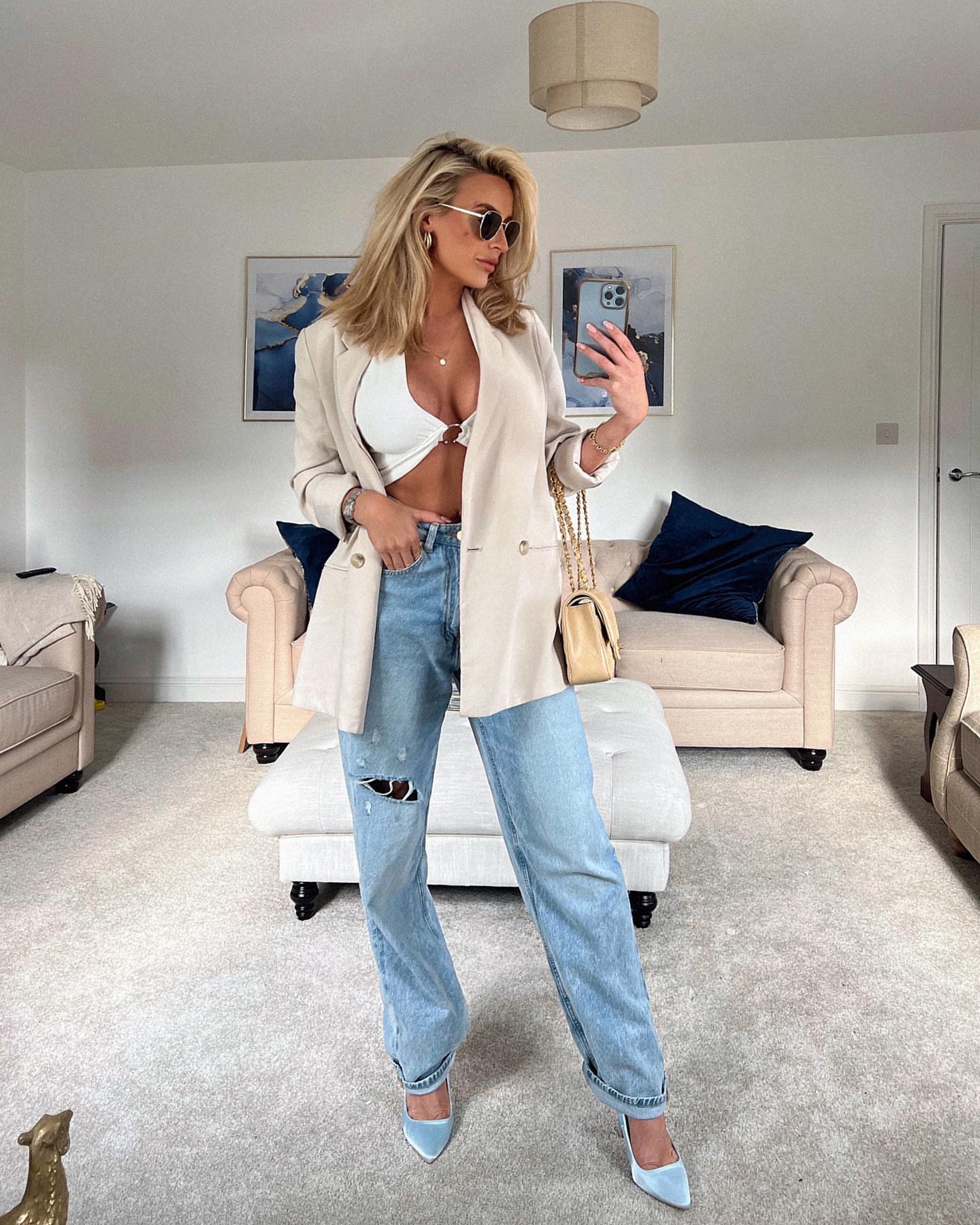 Your mom jeans can also form part of a fabulously glamorous outfit to wear for a date!
Wear a sexy bra-top under an elegant double-breasted, cream blazer, worn open.
And mom jeans with wider-legs will give a high-fashion look, along with the turned-up cuffs above beautiful, pale-blue satin heels!
This mix of masculine jacket and trousers with the feminine bra top and dainty shoes creates an irresistibly alluring look!
11. Casual Ripped-Leg Black Mom Jeans
If your weekends are spent exploring the countryside, here's a great outfit that will help you fit right in!
Heavily ripped mom jeans suggest you've been a farm-worker for years and the wide-brimmed hat shows you know how to protect yourself from the mid-day sun!
Wear with layered tops in contemporary, neutral colors like tobacco and light-gray and finish off with cool, flat sandals.
12. Straight-Cut Mom Jeans with Cute Off-the-Shoulder Pink Top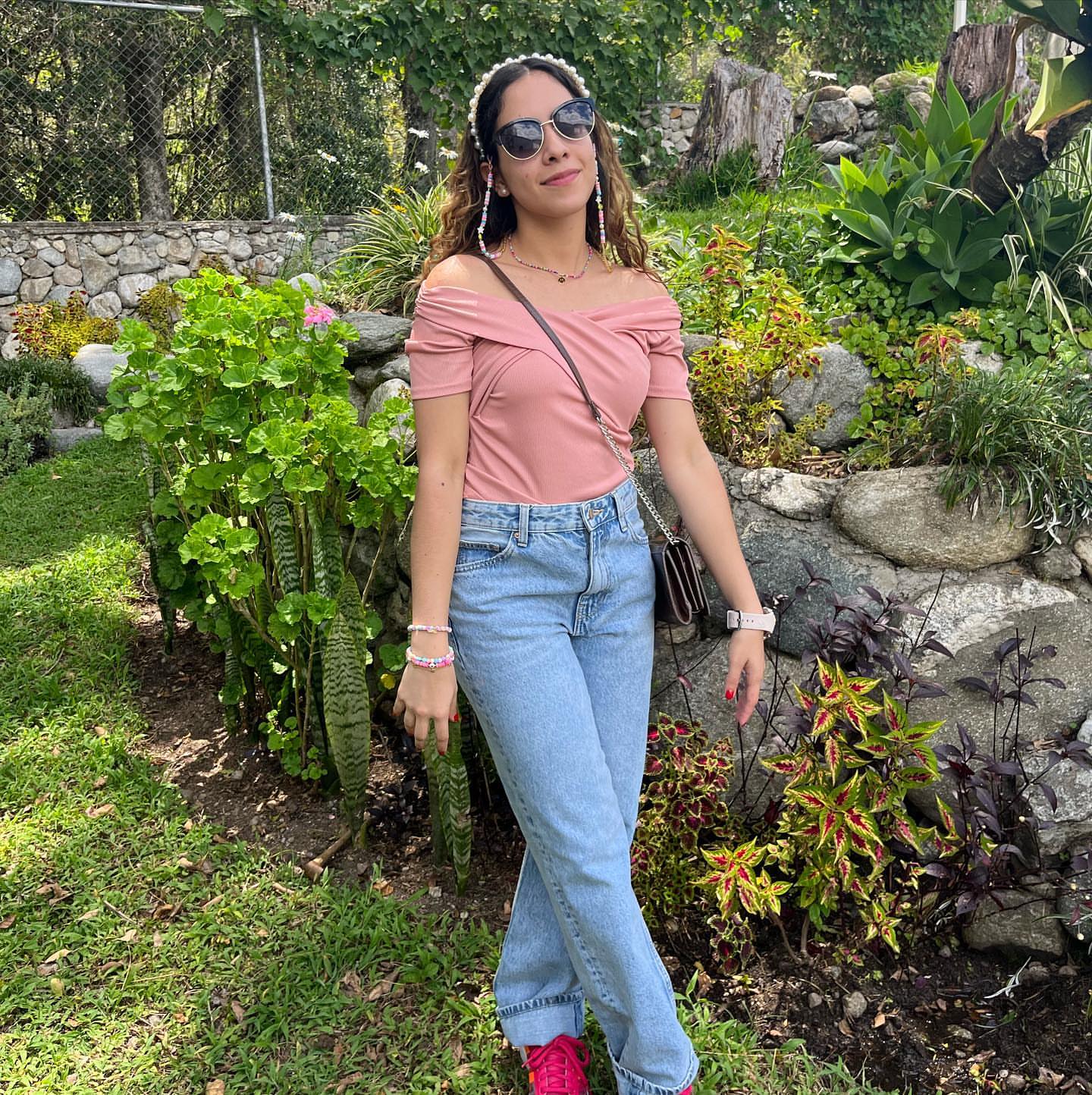 For a feminine look wear a pretty, pink strapless top with an attractive, cross-over style emphasizing the bust.
Keep the look casual with straight-cut legs cuffed at the hems and accessorize with deep-pink sneakers, a cute pearl head-band and a chain-strapped shoulder bag!
Beaded bangles and necklace keep the look youthful and lots of fun!
13. Pretty Plus-Size V-Blouse & Mom Jeans
Dress-up your jeans with a fabulous green, polka-dot blouse that's extremely feminine and attractive!
It's perfectly designed to flatter the fuller figure with a V-neck showing cleavage and a well-shaped waistline to show-off an hourglass figure.
Long sleeves cover upper arms and look classy and the pretty peplum style covers the abdomen and hips.
Wear this lovely outfit with a dainty cream handbag and lightweight matching sandals!
14. De-constructed Mom Jeans & Trench Coat
Here's a great look for the college campus or an evening with friends!
The greige trench-coat is totally up-to-date and looks casual and edgy over a beautifully tailored and feminine cropped white top.
And for those who value a quirky, different look the waistband has a new feature, a deconstructed fastener with the button placed below the band to create a 'wonky' look!
This is just the beginning of deconstructed fashion shapes which we will be seeing a lot more of in the future!
15. Ripped Mom Jeans & Lime Yellow Top
What could be cooler than these heavily-ripped mom jeans on a hot day at the beach?
Frayed, turned up hems draw attention to fabulous, white, ankle boots with contrasting black laces and tons of style.
And the casual, textured bouclé top adds its own personality to a super-trendy, casual look for weekend fun by the coast!
So mom jeans are another versatile fashion option to flatter your figure, update your look and feature in countless casual, or chic, outfits for comfy and confident fashion!