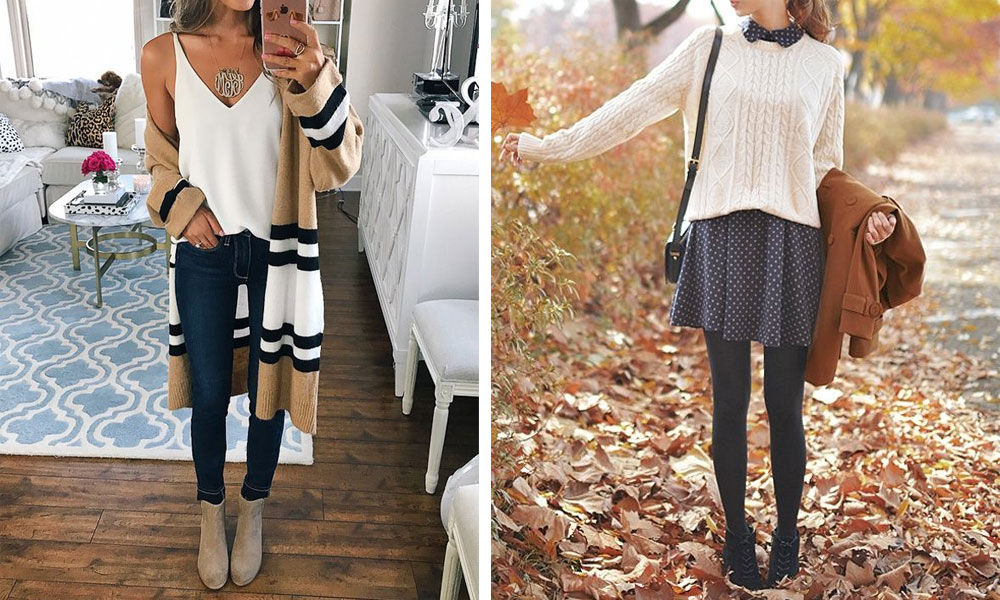 When the weather starts to get colder, it can be hard to say goodbye to your favorite summer outfits. Short sundresses and spaghetti straps serve you well in July and August, but they become practical once September rolls around. Unfortunately, many of us become attached to the summer pieces we've worn all season and aren't quite ready to toss them to the back of our closet just because the calendar says September 22.
Don't let the seasons move on without you. You don't have to immediately abandon all of your summer outfits once summer ends. Many women are surprised to discover that you can transform your favorite warm-weather pieces into outfits that fit right in with the rest of your fall wardrobe. Transitioning your summer clothes seamlessly into fall doesn't have to be difficult and it can definitely still be stylish. Get more use out of that floral sundress and strappy sandals you can't bear to part with by learning how to wear your summer wardrobe well into the months of autumn.
1. Don't Toss Your Summer Accessories
Accessories are some of the easiest parts of your summer wardrobe to include in your fall outfits. Summer accessories are small and can often be seamlessly featured in looks that are styled for cooler weather.
During summer, you probably get used to shoving everything you own into a giant beach tote. It can be hard to transition to a smaller purse once summer is over, but you don't have to change it up at all. As long as they're not covered in sand, beach tote bags can be paired with fall outfits very easily. Just try to coordinate at least one color in the bag with your outfit so the bag looks like it belongs. Summer scarves are also great transitional accessories. Pair a thin fashion scarf with a chunky sweater, leggings, and calf boots to add interest to a simple autumn look.
2. Get Darker
Fall and winter, the colder seasons, are naturally associated with darker colors. That's likely because burgundy, navy, forest green, slate gray, and black naturally become more popular as the weather gets colder and the days get shorter and darker. Most women, especially those who are particularly fashion-forward, automatically start transitioning into incorporating more darker colors into their looks by the end of September. In fact, many women even switch out their light pink manicure for burgundy or skip their monthly highlight treatment at the salon.
Don't underestimate the power of darker shades. You can make almost any piece of clothing or accessory blend into your autumn looks if it dark instead of light or bright. If summer is over and you're trying to choose between wearing a baby pink sundress or a royal purple one over your leggings, go for the purple one.
3. Try Tights
A simple pair of tights can do wonders for successfully transforming summer pieces to fit into your winter wardrobe. Tights are thick enough to keep you warm in the cool weather that autumn and winter brings, but they're not bulky enough to look out of place with an outfit that includes summer pieces. In fact, tights can effectively tie together looks that include both summer and fall pieces to create a more seamless finish.
Try wearing a pair of cutoff high-waisted denim shorts over simple black tights with a form-fitting long-sleeved shirt or a chunky cropped sweater. Or, layer a flowing patterned summer dress over tights and add a pair of block-heeled booties or combat boots to create balance. On very chilly autumn days, put on a loose cardigan over your dress and tights combo. Cinch the waist of your dress with a wide belt to avoid looking shapeless.
4. Wear a Turtleneck
Turtlenecks are surprisingly versatile. You can wear them underneath almost any summer top or dress to create a trendy look with an artsy, hipster vibe that defies the fashion laws of the season.
Try putting a thin turtleneck on underneath a sleeveless midi dress or a sheer summer blouse. Don't try to hide the turtleneck; keep it visible. Avoid wearing a neutral turtleneck. Instead, wear a turtleneck in a shade that matches a prominent color in the pattern of your top or dress. This color coordination does wonders for effectively tying your whole look together.
5. Layer it Up
Your summer clothes might only work for warmer weather when you wear them alone, but wearing layers over these pieces creates much-needed warmth and lets you wear some of your favorite summer items far past the end of September.
Take a look at the cold-weather outerwear in your closet. You can likely wear many of these pieces as outer layers over your summer clothes to keep yourself warm. Try pairing an oversized denim jacket over a short sundress; add booties for a carefree, city chic finish. Or, throw a thick leather jacket over a crop top and mini skirt to add some edginess (and warmth) to an otherwise preppy outfit.
6. Pair Sandals
Sandals are a tricky item to fit appropriately into your outfits once the weather gets cooler. However, it's not impossible to make them blend into your autumn looks. You just have to know the do's and don'ts of cold-weather sandal wear.
Never pair sandals with full-length bottoms that don't fit snugly around your ankles. You can get away with wearing flat sandals in tandem with dark skinny jeans, but flare jeans or wide-leg slacks are a definite no-no. Also, don't try to wear leggings with sandals. Leggings don't have enough texture to balance out the sandals; your outfit will look off-kilter and your feet will end up looking much larger than they actually are.
7. Add Seasonal Accessories
Just as you can blend summer accessories into fall outfits, you can also easily add cold-weather accessories to your favorite summer outfits to make your look more appropriate for the season.
Throw a thick knit cardigan on over a short summer dress. Pair a chunky winter scarf with a sleeveless top, leggings, and boots. Wear thick socks under lace-up booties with a short skirt and top combo. The possibilities are endless.
Clothes and accessories aren't necessarily season-bound. Of course, the changing weather necessitates certain shifts in your daily wardrobe, but there are many ways to bend these rules and significantly extend the annual timespan in which you can comfortably and fashionably wear your favorite seasonal pieces.