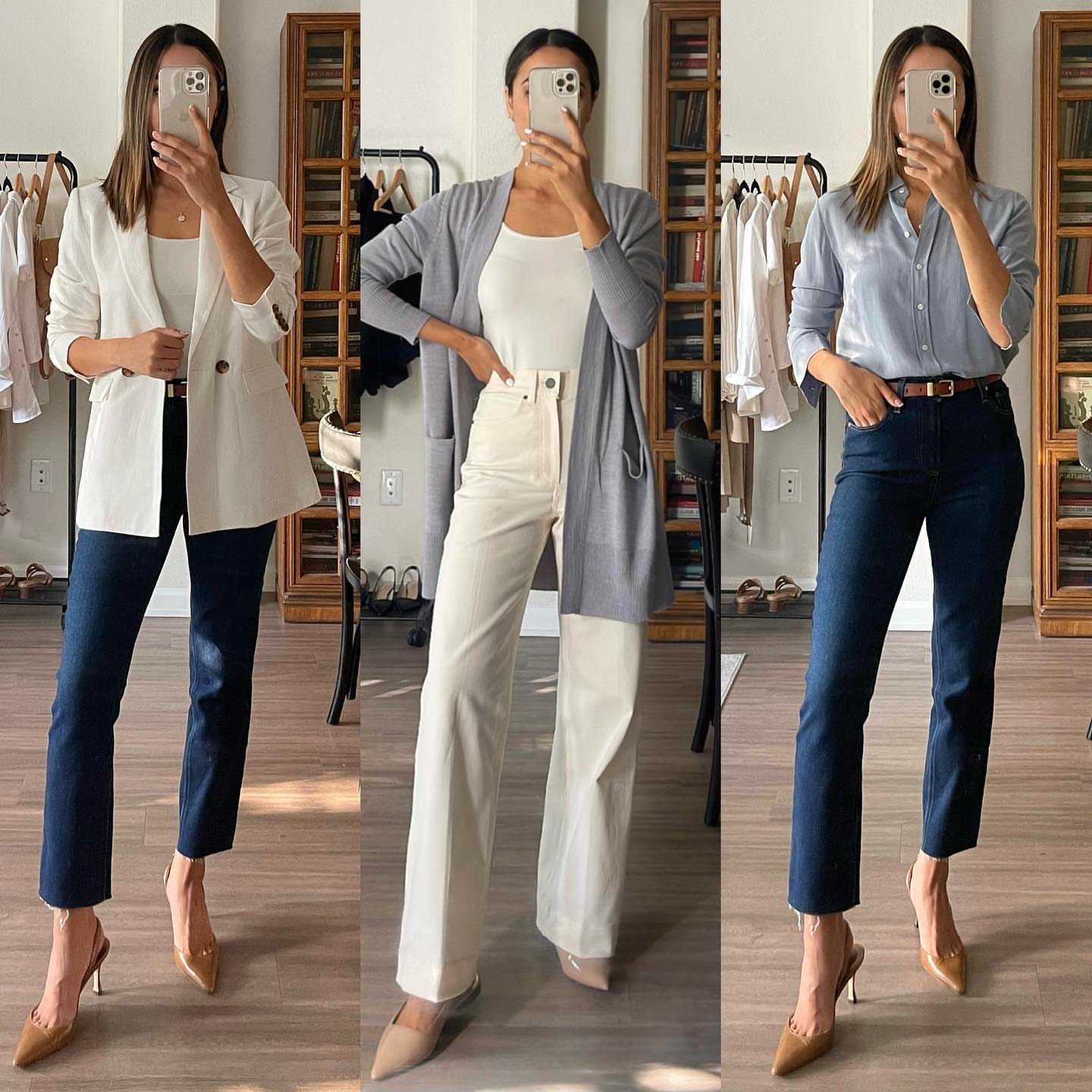 What's up, ladies? So, you've landed that dream internship, huh? Congrats, girl! You're about to kick some serious career goals. But wait, don't stress about what to wear! I gotchu, boo. Here are some ideas and style tips to help you dress like a boss babe and slay that office game. Remember, fashion is all about expressing yourself while still keeping it professional. So, let's jump right in!
This gallery of internship outfit ideas will show you how to present yourself in a way that shows you have style, good judgement and a contemporary outlook.
Being an intern entails close supervision by the professionals around you who evaluate how you're doing. Their role is to assess whether you may be suitable as a full-time employee in the future. And for that reason you'll want to make a good impression in every way.
And one of the most common ways of assessing people is to look at how they present themselves to the world through their fashion choices. Not all internships are the same, of course, and some will require ultra-formal business wear, whereas others will accept more casual office attire. But the one thing they all agree upon is that it's best to err on the formal side, rather than turn up to work with your shoulders, midriff, cleavage or thighs showing.
Keep these tips in mind:
Dress for the job you want, not the one you have. Yup, you heard it right. It's always better to be overdressed than underdressed. If you want to be seen as a future leader, dress the part. This means looking polished and put-together. Think blazers, slacks, and skirts that are on fleek. And don't forget to accessorize! A statement necklace or a classy watch can be the cherry on top.
Keep it classy, not trashy. I know you love your mini skirts and crop tops, but hold up! Save those for the weekends, babe. At work, you want to be seen as a professional, not as someone who's heading to the club. Stick to knee-length skirts and dresses, and avoid anything too low-cut. You want to be turning heads for the right reasons, ya feel?
Confidence is key. If you feel good, you look good. So, make sure you're wearing something that makes you feel like a total boss. Stand tall, hold your head high, and rock that outfit like it's nobody's business. Confidence is contagious, and it'll definitely make a killer impression.
Comfort over everything. While you want to look stylish, don't forget about comfort! There's nothing worse than trying to focus on work while your feet are killing you in those sky-high heels. Opt for comfy flats or low-heels instead. And make sure your outfit isn't too tight or restricting. You want to be able to move freely and focus on your work, not your wardrobe.
Mix and match. You don't have to break the bank to look fab. Invest in a few staple pieces, and then mix and match them to create different outfits. A nice pair of black slacks, a tailored blazer, and a couple of blouses can go a long way. Get creative, and don't be afraid to experiment with colors and patterns.
Don't forget about Casual Fridays. Who doesn't love Casual Fridays? It's the perfect time to show off your fun side. But remember, you're still in a professional environment. Keep it cute with jeans and a blouse, or a casual dress paired with a denim jacket. And maybe leave those ripped jeans at home, alright?
Your mission is to learn all about the world of work, which is very different from college and to launch yourself safely onto your career journey.
So why not start here by browsing attractive and appropriate internship outfits you can put together to reflect the latest fashions and show you're going to fit in perfectly with your new colleagues!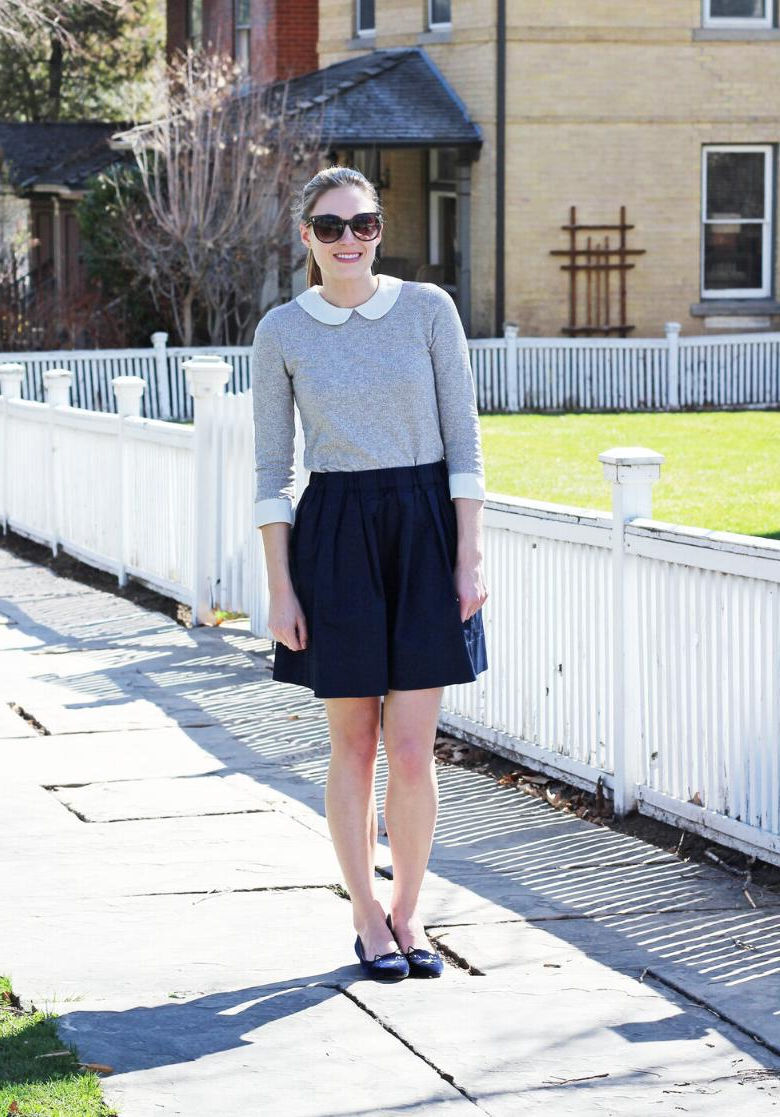 This simple, but modern outfit combines two popular neutrals in light gray and navy.
The sweater is tucked in to show a contemporary style that's just arrived on the runways for this year.
And the culottes have gathers beneath the waistband to give you plenty of comfortable breathing space during an 8 hour day.
The white Peter Pan collar and cuffs adds personality to this color block ensemble.
And low-heeled navy shoes complete a lovely office outfit.
Style tip: In general, office skirts should not be mini. However, you'll find that a pair of above the knee culottes is more modest when you sit, or bend over low filing cabinets. So culottes are a new and practical option.
2. Summery white blouse & lacy skirt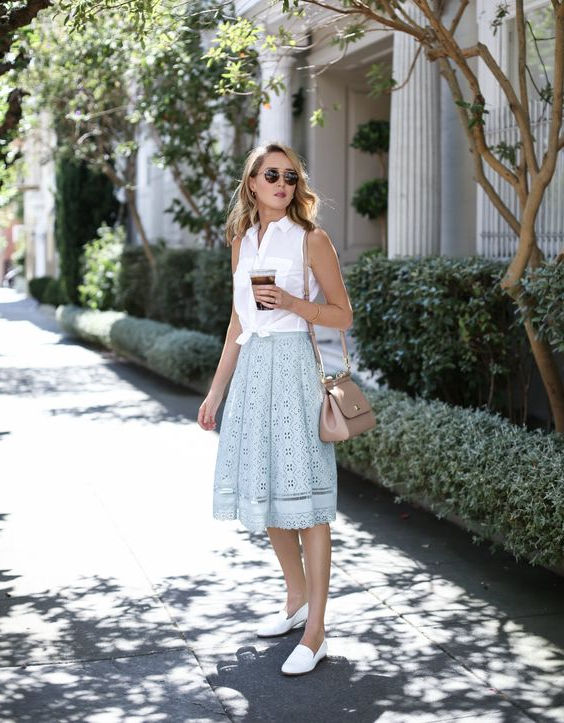 This outfit looks as fresh as a summer's morning and will certainly make a good impression.
The sleeveless blouse in crisp, white fabric is neatly tied at the waist adding attractive definition.
And the lovely, pale-blue lace skirt ends at a practical hem-length just below the knee.
Flat shoes convey the impression that you're there to work and don't mind walking to other departments on errands.
And the beige shoulderbag should come straight out of your year-round capsule wardrobe!
Style tip: 'Dress for the job you want' is a well-known saying and this is a good example of that philosophy.
If you dress like a well-paid, upper echelon employee, you are less likely to be treated like a 'junior' and more likely to be taken seriously as a possible future full-timer.
3. Fitted black blazer over blue spotted summer dress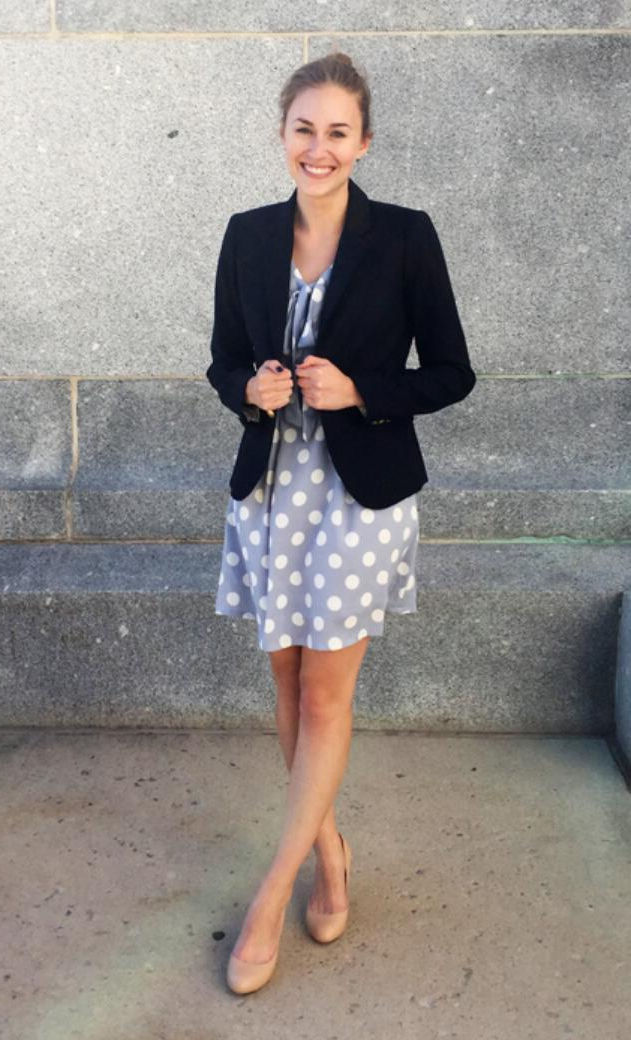 This beautifully tailored, short black blazer adds lots of business 'class' to the pretty summer dress underneath. And knowing how to blend different styles to create the perfect outfit is the heart of the art of dressing well. The dress is modern and summery in a cool, blue shade dotted with white, but the cute V-neck is modest and covers the cleavage area. The tie-neck decoration is not too big and flouncy for a business meeting and the beige, heeled shoes will add length to your legs in a subtle way.
Style tip: This short length, fitted jacket style is an excellent idea for petite women as it highlights your figure, without covering you with too much fabric like a longer jacket would.
4. Simple denim dress with platform sandals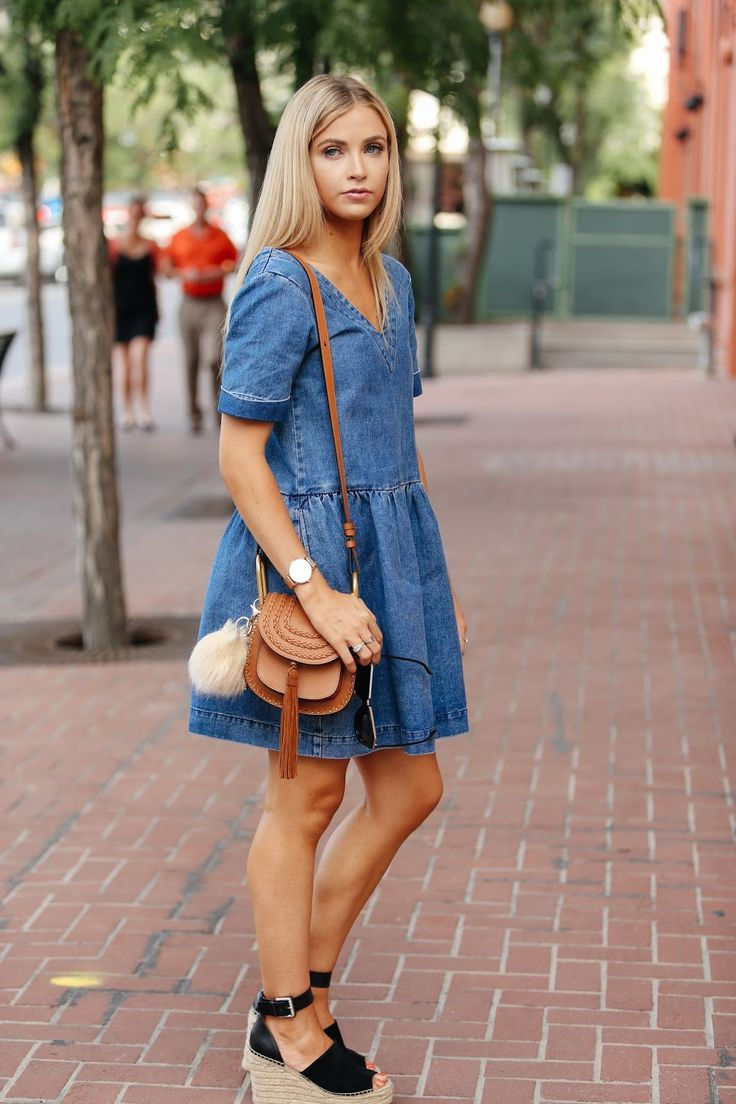 This denim dress is such a great internship idea outfit as it is suitable for wearing in lots of different situations.
Although this dress is made of blue denim, it has a much classier look, owing to the inspired design, which is nothing like the usual denim, shirtwaist styles with pockets and belts.
The V-neck with an attractive placket border is cool for summer, but not low-cut and the cuffed, short sleeves look extra smart.
The dropped-waistline looks cute, and is very practical making the dress comfortable to wear for a long day at work.
Tan shoulder-bags are highly trendy this year and our old favorite, platform rope-sandals are back in fashion this year, too!
Style tip: I wouldn't recommend having any little toys or pieces of real animal fur decorating your work handbag, as this could make you appear immature, or unsupportive of animal rights.

5. Sleeveless blouse & blue skinny jeans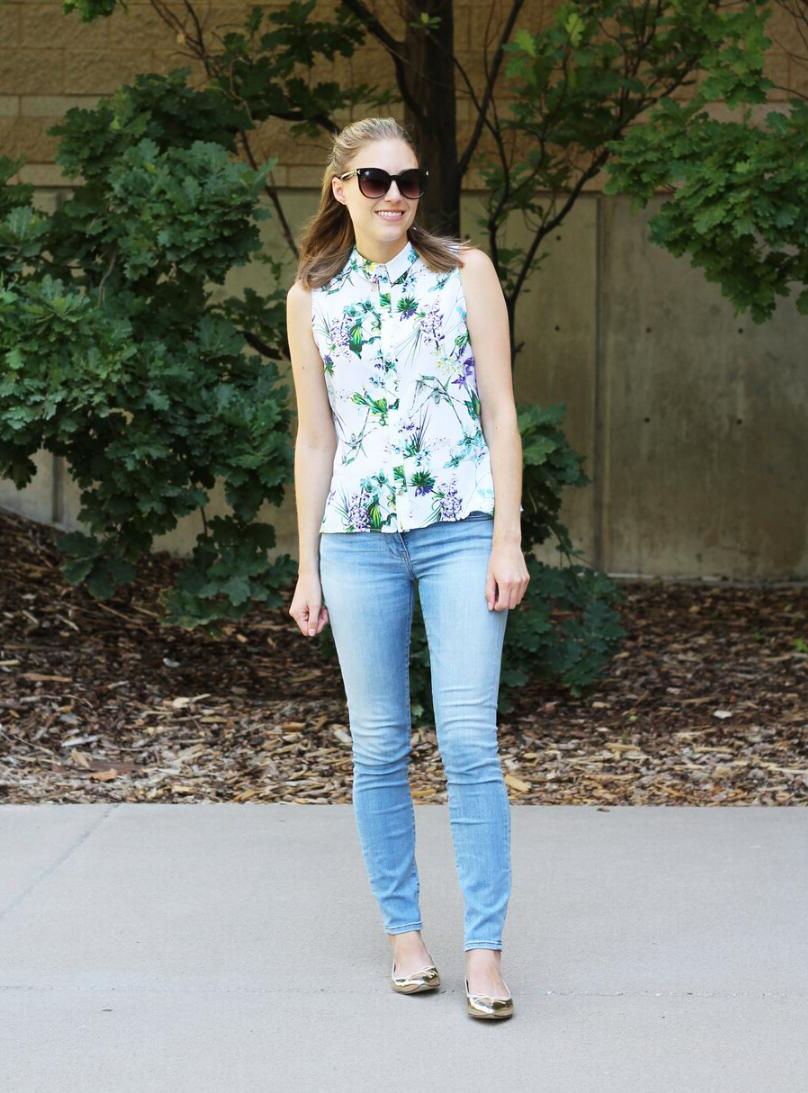 You can do an internship in a thousand different types of business, which means some of those work-places are going to be more casual than others!
And for those of you who are more 'smart-casual' than 'board-room blazer', here's a great summer look you can wear at work, and at the weekends!
The main difference is that at work, it's best to keep your neckline closed and go for a neat and tidy image.
This trendy, sleeveless blouse showcases one this year's favorite color duo's, green and purple, which stand out beautifully from the white background.
Match with a pair of skinny or wide-leg jeans and you have another simple, but fashionable, summer intern outfit.
Style tip: Gold pumps are fine if you're workplace allows them, but make sure they are in good condition. There's nothing worse than worn down, or dirty, gold ballet slippers for spoiling your image.
6. Short leather jacket with camel sweater & black jeans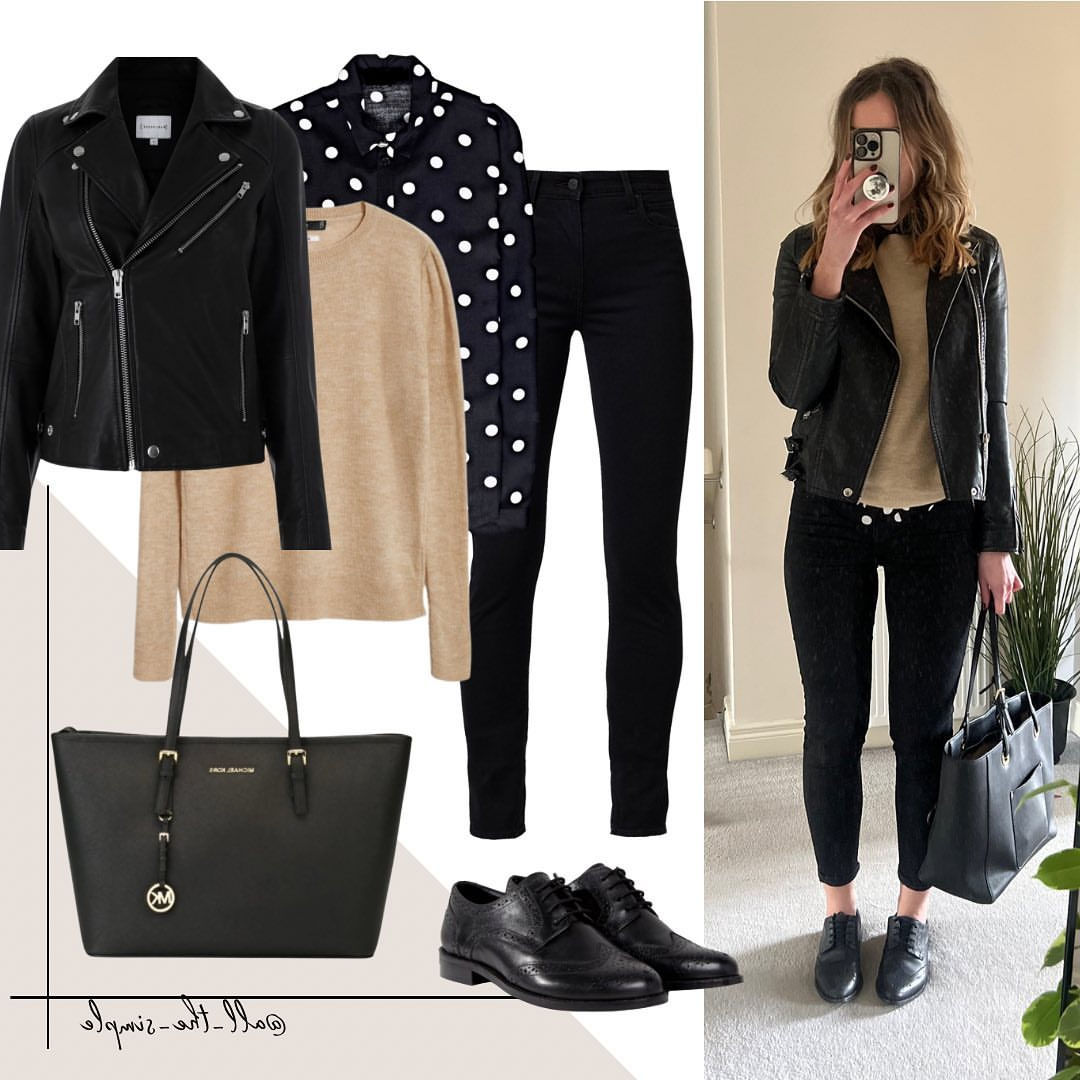 Working as say a journalist or a photographer may mean you aren't based in an office, but you still need to dress for the job.
For example, this practical outfit includes a classic, black 'leather' jacket cut to finish just below the waist, you can shrug on quickly when you need to go chase a story.
Worn with black jeans and flat brogue shoes, means you can walk, and run, to catch up with whatever's happening right now.
The trendy camel or beige sweater will keep you warm and create a smart color palette.
And wearing a black and white spotted blouse underneath means you can always take off your sweater, and look more elegant should circumstances require it.
Style tip: An elegant matching tote bag will hold all of your equipment in a stylish way.
7. High fashion elegance in white blouse & cropped black flares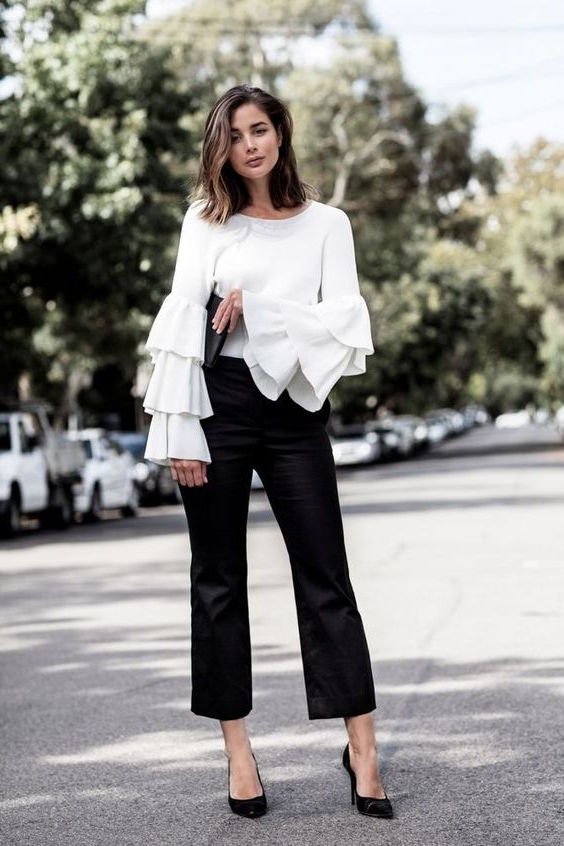 If you're internship happens to be connected with the fashion industry, you'll probably already enjoy wearing trendy clothes.
But you may decide to stick to simple classic outfits, with just a touch of fashion flair, in order to show you are focussed on the job and not on showing off your latest 'looks'.
This simple, but effortlessly elegant black and white outfit, teams the latest cropped flares with a feminine blouse that has gorgeous, tiered sleeves.
Style tip: A simple outfit and natural hairstyle will ensure you're remembered for your ideas and work ethic, rather than your weird pink braids or other college-type hairdo!
8. Blue patterned bomber jacket & pants suit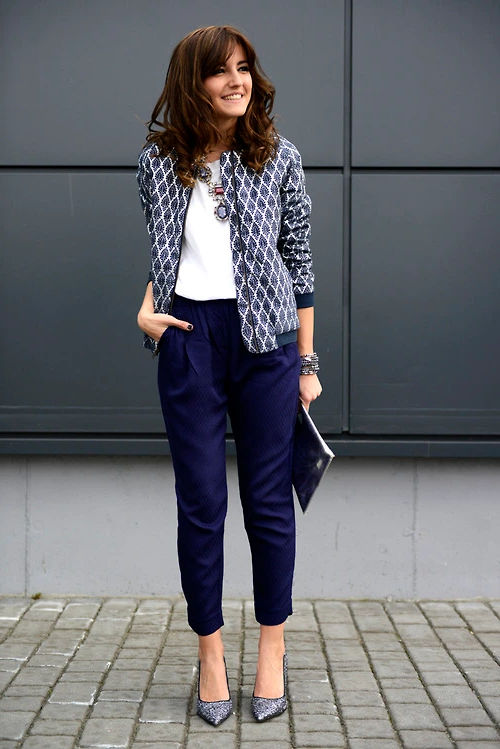 Here's a chic, modern trouser suit that would look great in most workplaces – especially those where you are in contact with the public.
It's smart, but casual in the style of the trendy, bomber jacket and slim-cut trousers.
And the patterned blue jacket could be worn with other clothing, as can the lovely blue pants, to create several different outfits.
Different shoe styles can also vary the look from day to day and a crisp, white T-shirt always looks good.
Style tip: Investing in a suit can seem expensive at the time, but if it matches with the rest of your wardrobe, you'll find it's well worth it.
9. Chic textured cardigan with white trousers & snake-skin shoes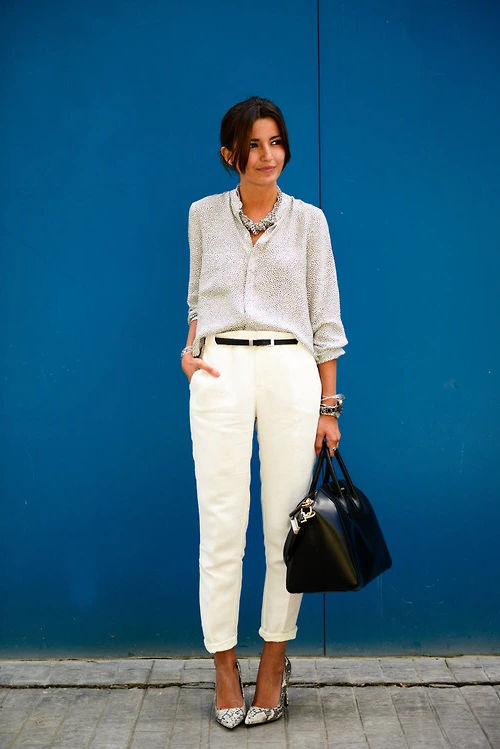 Shades of white mixed with off-white are the latest way to wear light summery outfits.
They give a fresh, clean look and can be matched with your other capsule wardrobe items for a wide variety of different ensembles.
This fine-knit, textured cardigan drapes beautifully around the body and can be lightly french-tucked for added style.
Slim-cut trousers with rolled hems showing the ankles hit the right note for a summer workplace, where low-cut sundresses and mini-skirts aren't suitable.
And matching snake-print shoes really add polish to this simple, but impressive look.
Style tip: Adding a rolled neck-scarf, several different textures, or a pair of patterned shoes can add lots of style to a monochrome outfit.
10.  Black jacket over striped top & camel capri's plus quirky check shoes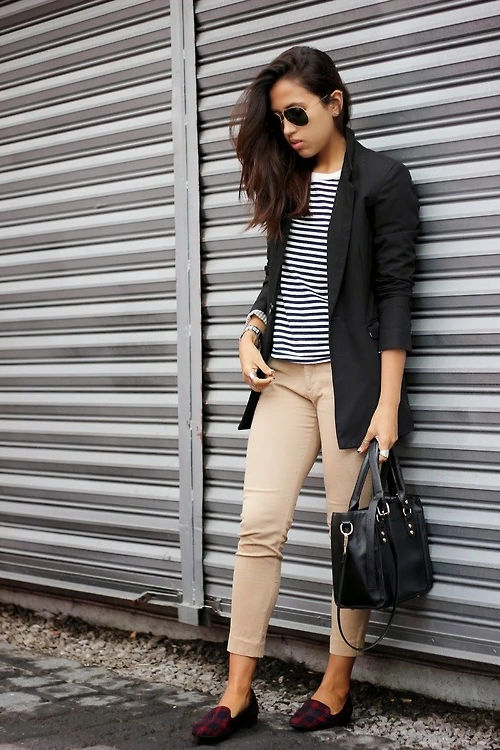 Black and camel are two of our favorite neutrals to combine this year!
The traditional long, black blazer elevates any outfit and always looks chic over a black/white striped top.
And this blazer has a fun, striped lining you can see in the turned back cuff on one side.
If too much color matching isn't your thing and you like to break the mould, why not add another color in a pair of flat, checked shoes?
As long as you pull it all together with a black jacket, you'll look fine!
Style tip: White, black and camel are neutral colors, so adding one bright color accent won't overbalance the color scheme.
11. White cropped flares with pale lilac fancy sleeved top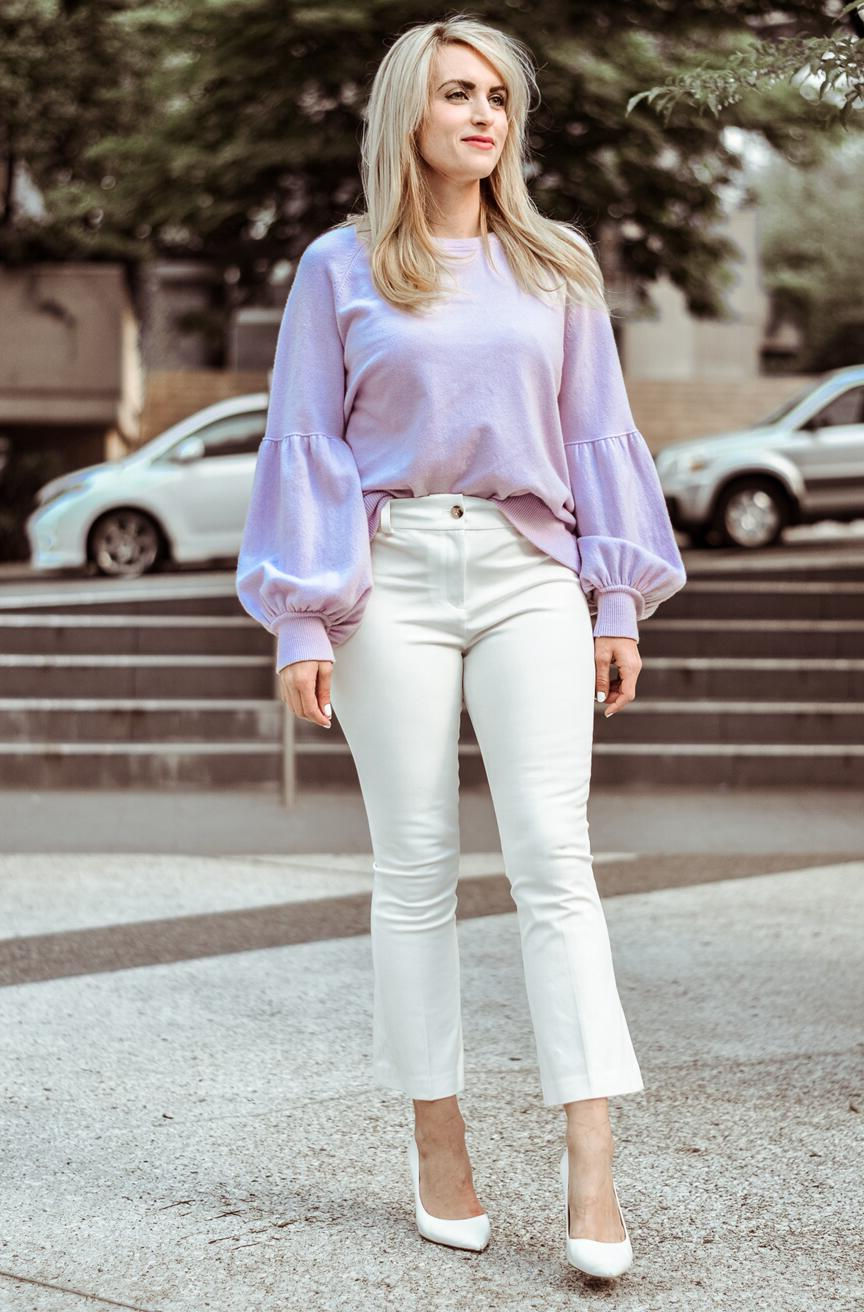 Lilac is a trendy color to wear this summer and it looks super with a pair of white cropped flares.
A neat, round neck keeps the look professional and fine-gauge knitwear can be just what you need if you're working in cool A/C conditions.
This outfit gains extra fashion points from the fancy, puffed-out lower sleeve, which adds shape and texture.
The french-tuck shows a waistband that has loops for a belt, but it's a shame the model isn't wearing one.
Style tip: Whenever you have a looped waistband, always wear a belt to give your outfit the polished look a suitable belt provides.
12. Color-block deep red dress with soft black jacket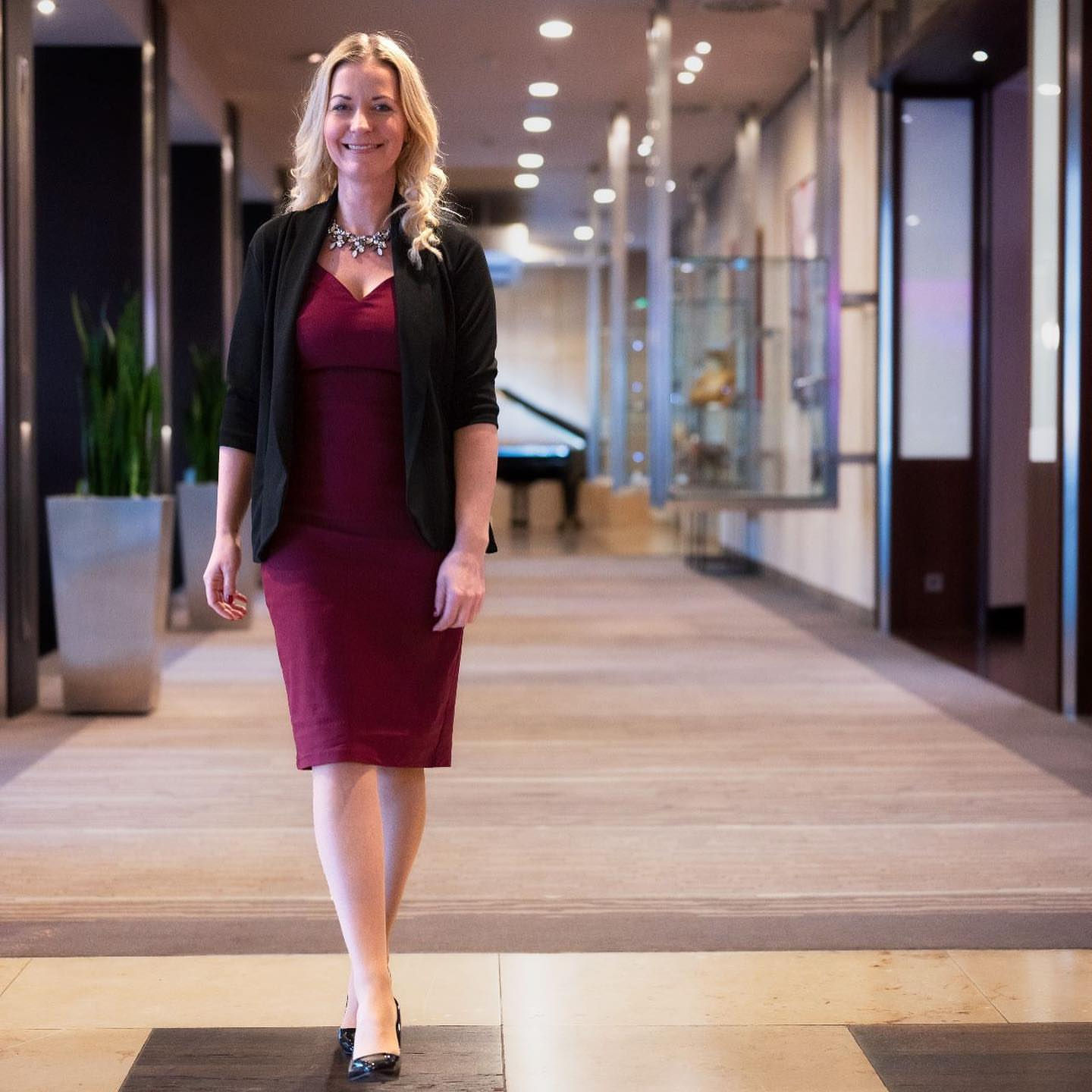 This elegant, color-blocked outfit would look suitable for an intern working in the hospitality management sector or something similar.
This well-fitting dress does have rather a low neckline, but it has a hem that hits just below the knee, which creates good proportions and a professional look.
The soft, black jacket does the job of a cardigan, but with the extra style you always get from a jacket.
Its three-quarter sleeves help give you easy movement and there are no bracelets, which is correct for work wear, especially if you wear a necklace and earrings.
Style tip: Try not to go any lower than this with your neckline, and personally, I wouldn't advise an intern to wear a big necklace.
13. General office staples – white blouse, striped knitted vest & black trousers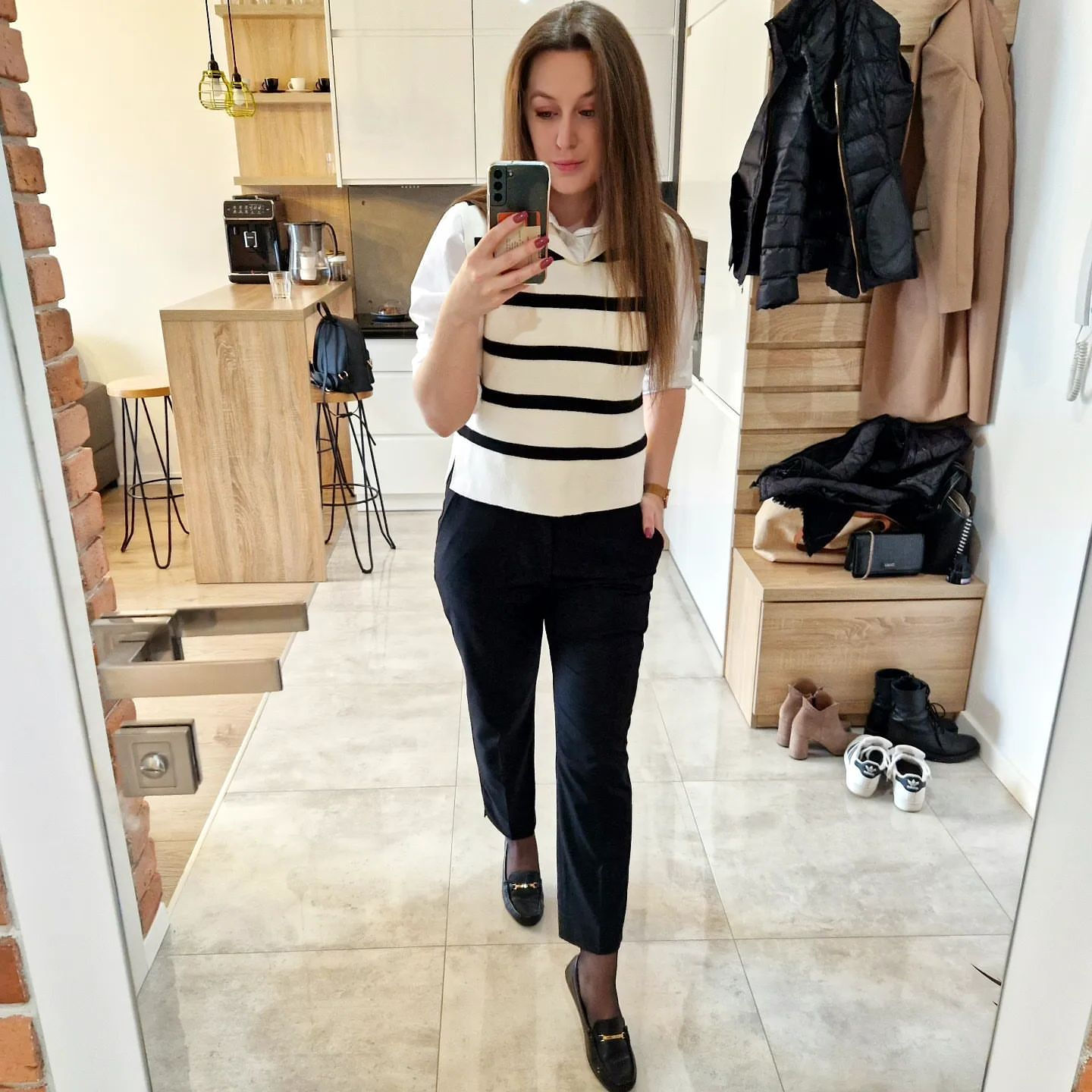 Here we see an excellent intern outfit, along with the jackets, coats and accessories that match.
I'm delighted that knitted vest tops are back in fashion as they are so useful for mix and matching and create a lot of additional style!
You can elevate your everyday white blouse and black trousers work outfit with elegant cream and black stripes.
Flat loafers are trendy and practical for work, where you should avoid wearing sport's shoes.
And you can make lots of outfits with a mix of cream, black and an elegant camel coat, which is something every woman should have!
Style tip: Notice how the vest hem hits at a point above the widest part of the hips. This is essential if you want to create a nice curve that shows your shape in a flattering way.
14. Black jeans with white shirt & grey sweater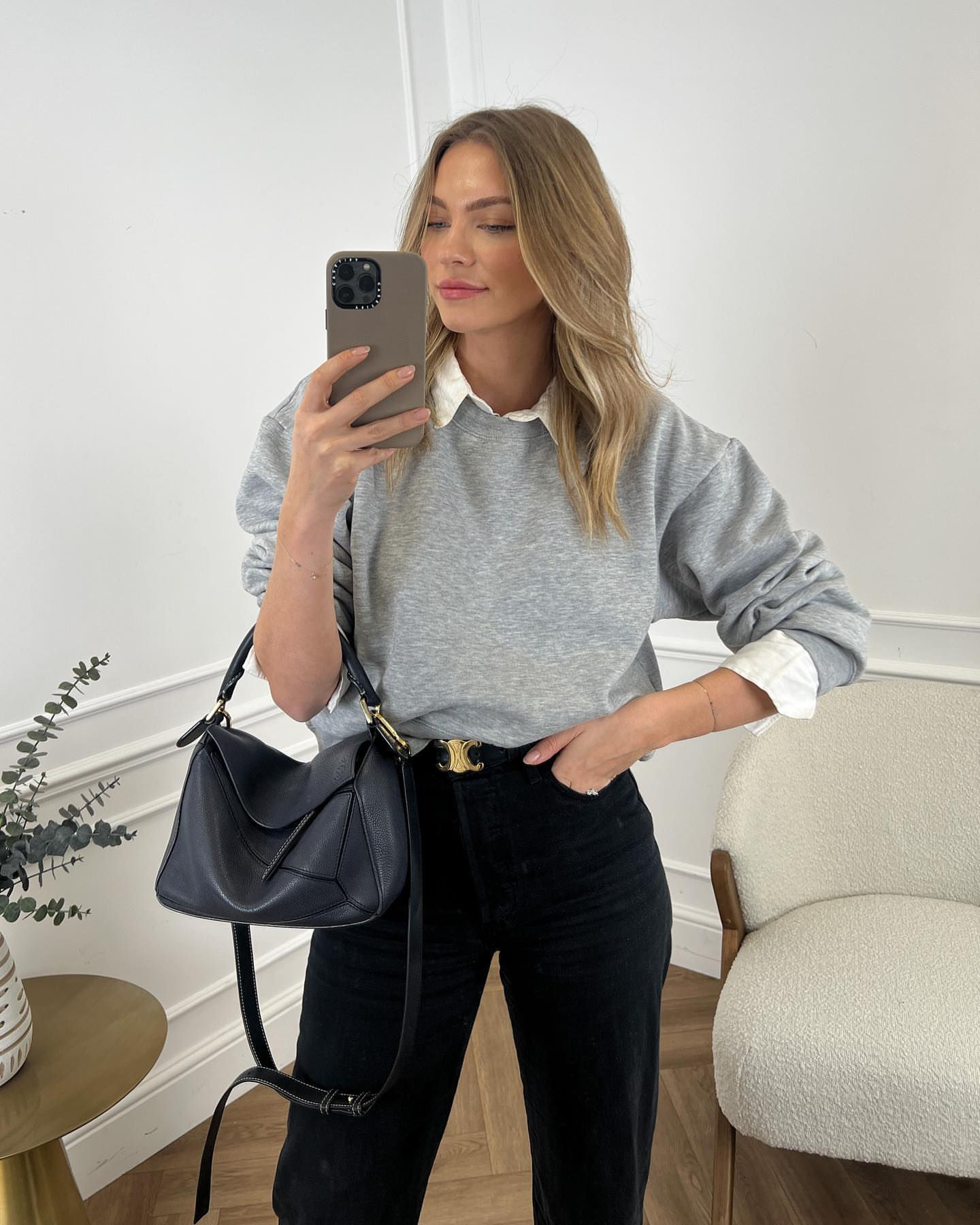 A stylish belt with a golden buckle always looks good with black and grey neutrals and is particularly clever at highlighting any golden-blonde tones in your hair!
This is a fine-gauge sweatshirt in an oversized style, tucked in to black jeans and arranged for a slightly, 'blouson' effect.
Pushed up sleeves bring to mind the retro look of the '80's and suggest you're ready to work hard.
Two fine bracelet chains and the asymmetrical texture of the handbag helps add pattern to a color blocked outfit.
Style tip: The blouson style is a great way to emphasize or define your waist and give your body a nice, feminine curve. And it will be a super-hot look in the near future as it looks great with high-waisted bottoms.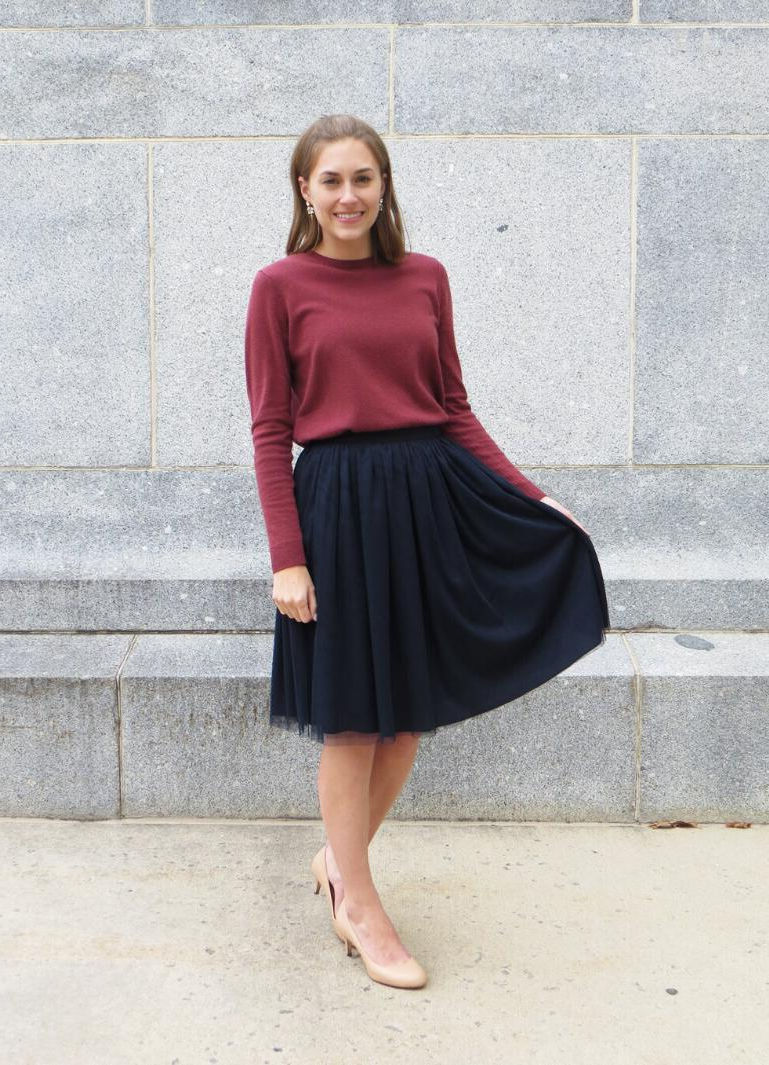 What a lovely look that's perfect for showing you are a person with good judgement.
The matching of subtle red with dark navy is a new and contemporary choice, but as red contains blue tones, they complement each other very well.
The tucked in-pulled out styling of the sweater creates a blouson effect, which especially with a gathered skirt below, defines the waistline in a flattering way.
After wearing trousers for so long now, I think a nice retro gathered skirt looks cute and feminine.
Style tip: A skirt that just covers your knee will help extend your vertical line and create a well-proportioned body shape.
16. Cool-camel sweater & blue jeans with strappy shoes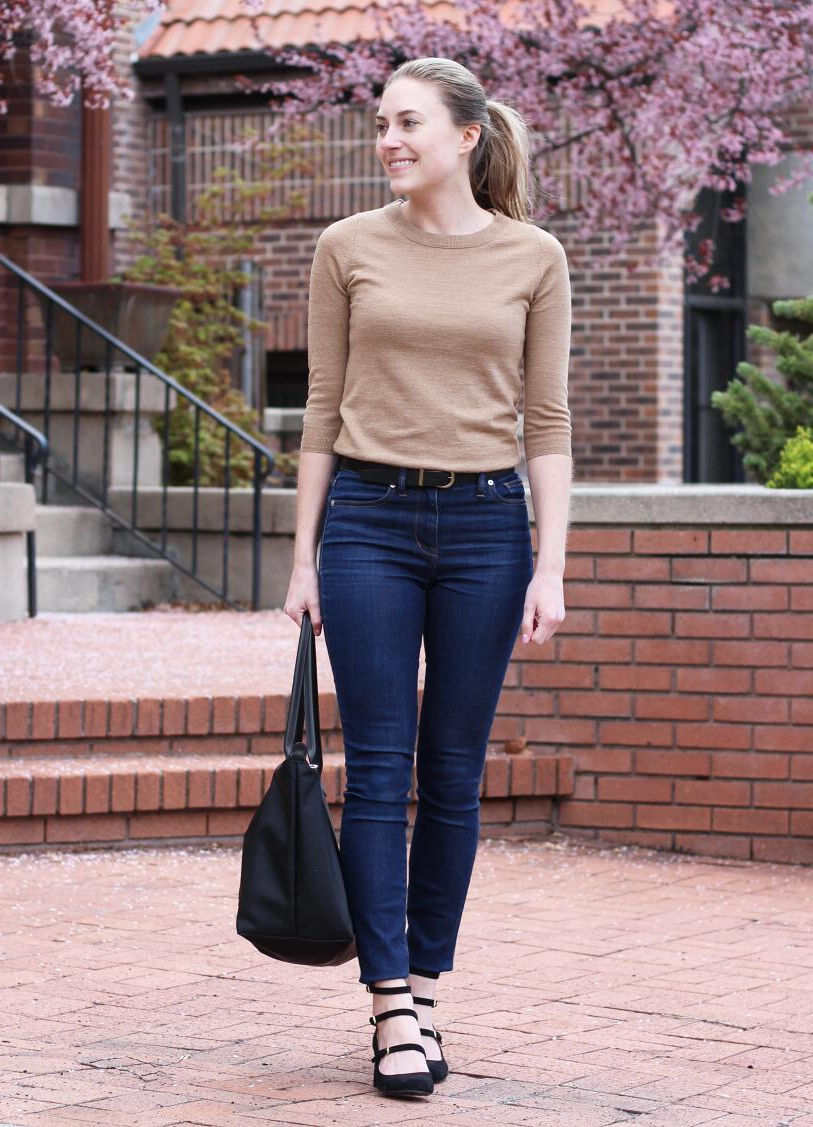 This round necked sweater is excellent for workwear as an intern.
It doesn't dip at the front to reveal too much skin, and the fine-gauge knit plus three-quarter length sleeves will keep you cool.
The model isn't wearing any jewelry, which is a personal choice, but a sensible idea when dressing for an intern job.
Wearing skinny jeans is a casual look, but these are a) dark blue, which always look smarter and b) have a bit of added polish from the neatly fastened belt.
This outfit focusses attention on the strappy shoes, which are eye-catching in a subtle way and give the impression of someone who is imaginative and likes new ideas!
Style tip: When choosing colors to wear with your blue jeans, try to select cool versions of the colors you like. For example, this version of camel has cool tones in it, making it complement the cool navy blue better – and it matches the model's hair color really well, too!
17. Off-white high neck sweater, jeans, black blazer & gold hoop earrings
Lots of workplaces allow interns to wear smart-casual workwear and this outfit is a great example of that.
The high-necked, white ribbed sweater is a trendy piece we all need in our capsule wardrobe this year, along with a pair of cropped flared jeans.
Brogue shoes, with a reasonable platform, will match well with the smart black blazer and black handbag.
And to add a little extra polish, wear hooped gold earrings that match with the shoe's gold band and the cute gold decoration on the bag!
Style tip: Gold hoop earrings are one of this year's most popular and trendy jewelry options.
18. Chic white blouse, black trousers with camel tabard-vest & sling-back shoes
This outfit follows the simple pattern of white blouse and black trousers we all love, but the vest, bag and shoes are all ultra-chic.
So if you want to fit in with the intern outfit directions from the employer, but still 'stand out', let this ensemble inspire you!
The black trousers are slim-cut and actually have a crease ironed down the front – something I haven't seen for many years!
This says immediately that you love order and pay attention to details – a good trait in any intern.
The warm brown knitted vest is open at the sides in a tabard style with cute side ties for extra style.
And the very French sling-back, flat shoes are adorable and really elevate the look.
Style tip: Finish off your intern outfit with an elegant, rectangular handbag like the one above with a gold clasp for a totally well-organised and impressive look.
19. Low boots, black tights, slim grey skirt & top
Neutral colors like black, white and grey are trendy this year and have always been the mainstay of office wear in winter.
However, for those of you who live in locations with cool summer weather, this outfit is just right for making a good impression as an intern and looking up-to-date.
In informal workplaces, mini-skirts are acceptable but wearing them with thick, black tights keeps you warm and adds a touch of class.
And this new style of boots, which completely cover the foot, but end just beneath the ankle projects a modern image.
A pale gray T-shirt with a shadow image as decoration adds interest, and the black and white tweed skirt also adds appeal to a simple outfit.
Style tip: T-shirt with bright cartoon characters, rock-band logos and other fun graphics should be avoided in intern outfits, and kept for your leisure time.
20. Softly structured grey jacket over T-shirt & black skinny jeans
This is not a good outfit for an intern to turn up in on her first day at work.
Unfortunately, the model's bra is clearly visible and that isn't the right image for a workplace.
And although the necklace is lovely and adds a fabulous splash of color, it highlights the model's bust, which isn't really the idea for workwear.
The lovely soft blazer in pale grey does look fabulous with ankle length black jeans.
But skinny jeans are a bit too tight for workwear and you would do better with slim-cut, straight-cut, cropped flares or medium-wide bottoms.
In general, it's best to avoid tight clothing for intern outfits and combining a low T-shirt, attention-grabbing jewelry and high sandals that don't support your feet properly for walking will get you noticed for all the wrong reasons!
Style tip: White T-shirts are a part of many outfit ideas this year, and there are lots of cheap tees on offer.
However, a lot of them are too transparent for workwear, so pay a little extra and buy quality tees which are thicker.
21. Gorgeous patterned midi-skirt with light-blue denim shirt & tan tote
This colorful, but never bright ensemble is attractive and very suitable as an intern outfit!
Notice how the colors complement each other, with pale-blue and deep, rich blue matching well.
And then a tan handbag and cream shoes both coming from the same neutral brown color palette.
So that's a great, new way to match your items and accessories this season, instead of wearing blue or black bag and shoes.
What I particularly like about this outfit is the cheery color accents in the skirt, which also harmonize with blue and neutral light brown.
Style tip: Take the time to find out your own best color palette from my HerstyleCode article on Seasonal Color Analysis and you'll also learn how to co-ordinate your accessories' colors!
22. French striped top under blue shirt with black wide-leg trousers & sneakers
Some of you may not need to buy new clothes to put together a core intern outfit wardrobe, because you may already have these items to hand!
The black and white striped T-shirt is a classic the world has borrowed from French fishermen and made into a much-loved classic.
And a slightly oversized pale blue shirt is another popular garment, but putting them together gives a totally new style!
Matched with trendy wide trousers, with a smart front crease, adds elegance.
And worn with black and white retro sports shoes gives that quirky vibe of a contemporary ensemble!
Style tip: Unless you need a large bag to carry work equipment, stick to a medium-size, rectangular bag as it gives the impression of a well-organised person.
Anyone who comes to work with a huge, soft bag overflowing with personal items that are not needed at work just seems sloppy.
23. All-black sleeveless knitwear top & chic black cropped wide trousers
What impression do you get from seeing this outfit?
Most people would get the ideas that this is a well-organised person, because her outfit is unfussy but suits her size and shape perfectly.
I would also expect her to be more focussed on her work tasks, than whether her clothes are attracting attention.
And this is what employers are looking for in their interns.
You can see that she has good judgement in the way the clothing suits her without looking overly 'fussy', 'quirky' or 'sexy' – and how well it fits!
All of these points go together to create the crucial first impression that people form of us from our clothing!
Style tip: This is a great example of how your wide-leg trousers should fit around the waist and hips. They should fit closely, but not be tight, and then gently widen to form the wider leg fashion.
So I hope these examples of suitable outfits for interns have given you a clear idea of what is suitable and fashionable for this year.
Being classic or contemporary, and sometimes a nice mixture of both styles is the way to dress for work.
And going to work in any extreme fashion trend is to be discouraged, as you want people to remember you for your work ethic, good attitude and clever ideas – not for your whacky fashion sense!
And that means:
No extreme fashion trends
No sexy outfits that are skin-tight, low-cut, bare-shouldered, too short or have cutouts
No bright, color clashing outfits
Do wear clean, comfortable shoes – heeled or flat
When you begin an internship, you don't need to spend a fortune on new clothes, if you already have a capsule wardrobe of clothing you can bring up to scratch with two or three new items each season.
And the hottest trend this year of neutrals and brown shades is also subtle and classy, which makes it even easier to have work-clothes and going-out clothes you can easily mix and match.
We all want great value for money when we buy clothes and this year's fashion offering is making it much simpler to create a carefully color-planned wardrobe!
So when you start your internship, I guarantee you'll feel quietly confident and worthy of respect, because you now know how to present yourself well at work!
Good luck – you'll be great!
Your Comments
Tell us what you think in the space below – your feedback is important to us:
1. Has this article helped reduce your clothes shopping stress?
2. Have you started putting together stylish intern outfits you enjoy wearing?
3. Have you stopped buying poorly-made fast fashion garments that don't last?
4. Has it made your intern outfit shopping trips more targeted and helped control impulse buying?
5. Have you gained self-confidence?
6. Have I missed anything important you'd like more info about?
Thanks for sharing your thoughts with the international HerStyleCode community!