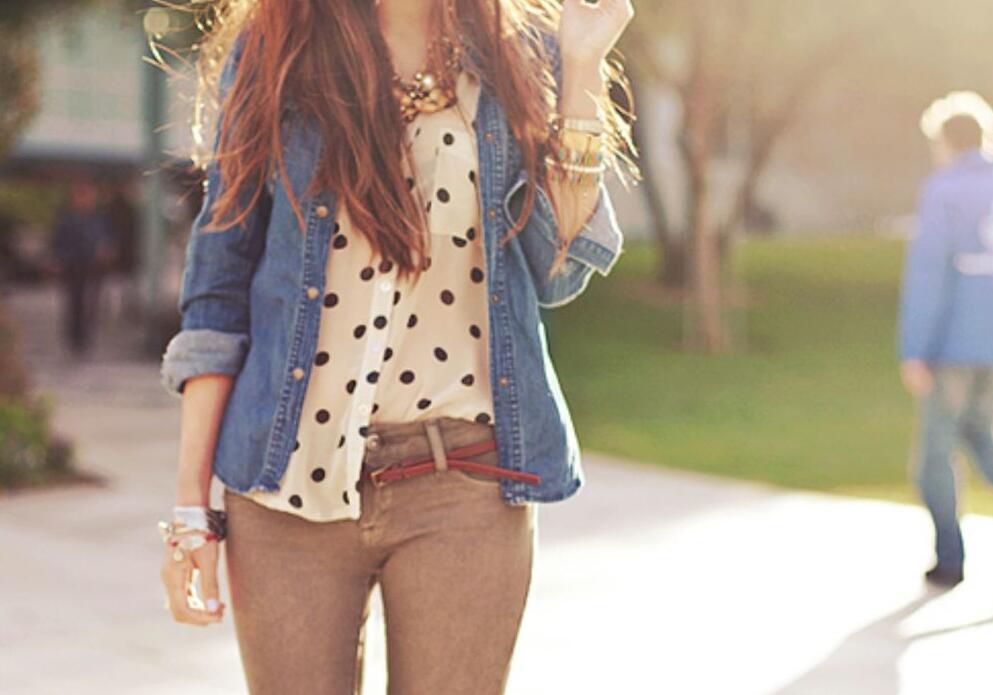 Khaki pants outfits have always looked classy and chic and they are a color that can be worn all year round. And if you're not completely sure what color khaki is, it is a light shade of brown with a touch of yellow warming it up. There are several other similar shades including sand, beige, nude, camel, ivory, cream and buff. And they are all neutral shades that harmonize with lots of other colors in a very tasteful way.
Khaki Pants outfit ideas for women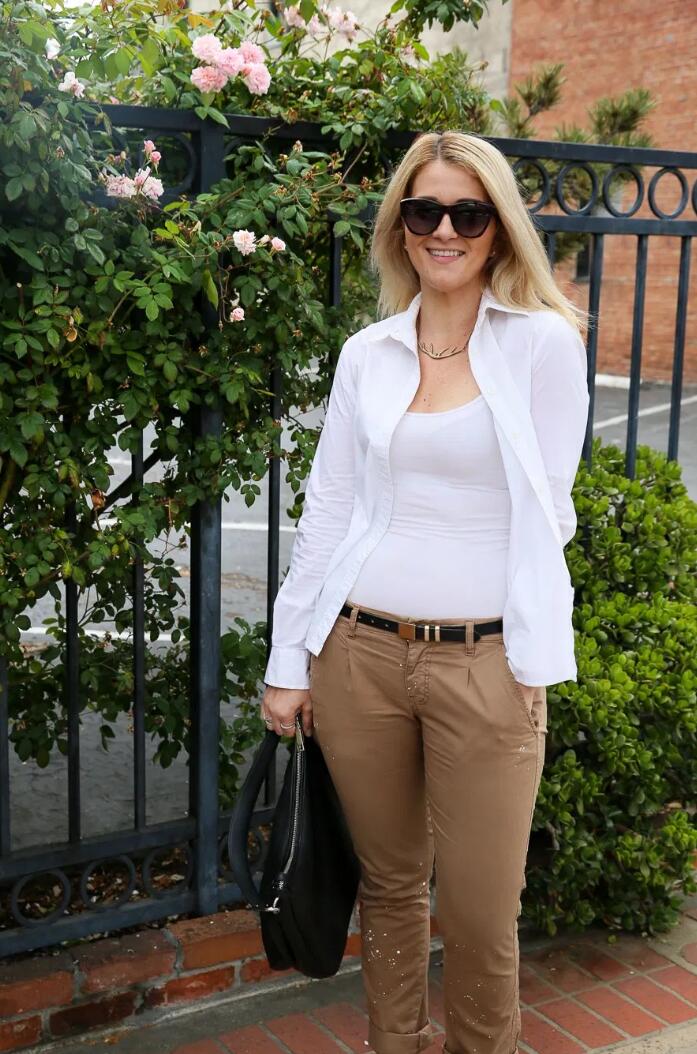 Khaki jeans can be worn for work, and you get all the comfort and style of blue jeans, but with the more elegant style that you get from the light khaki color. Khaki pants have never actually been out of fashion, but this year they are being offered in many different styles of jeans, chinos and trousers of all types. And on top of all this, you'll find that neutral khaki tones match just about any other color in your wardrobe, so they are extremely versatile!
How to Wear Khaki Pants with Chic Contemporary Fashion Flair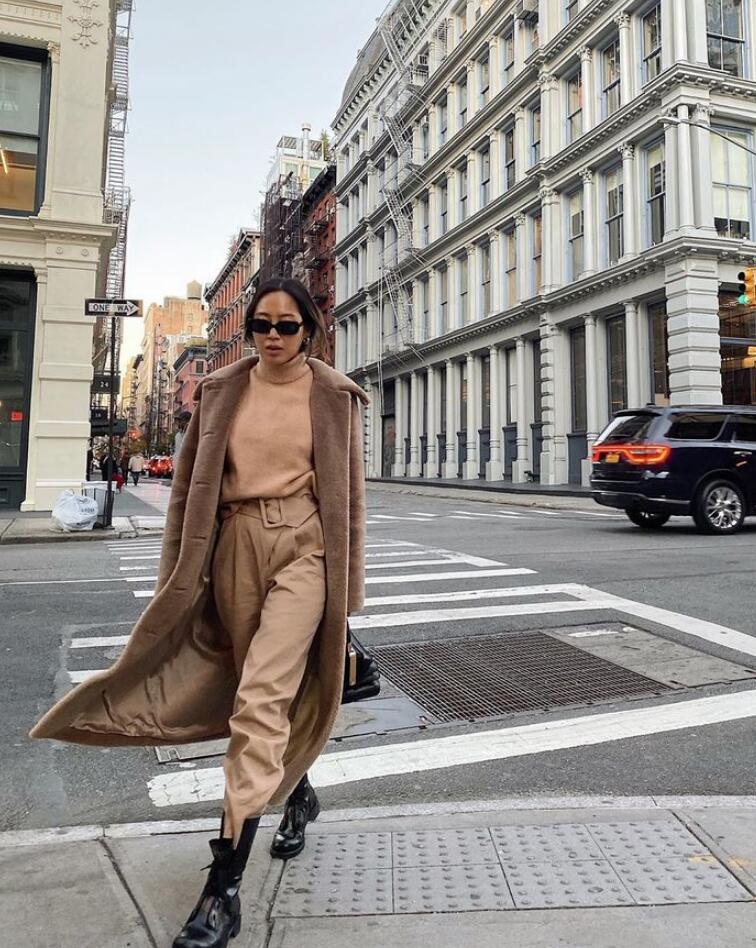 How to wear khaki pants?
Be sure you get a good fit from your khaki pants, otherwise you may look frumpy
Spaghetti tee-shirts and sporty vests look good with khaki chinos
Sweater vests are back in fashion and go well with a shirt and khaki pants
Make sure your belt matches the color of your socks
You can wear patterns, like a printed shirt or graphic tee-shirt with khakis
Black and white checked blouses and shirts look ultra-smart with khakis
You can elevate your khaki outfit with upmarket accessories like a leather satchel, a statement watch and trendy glasses.
Experiment with new colors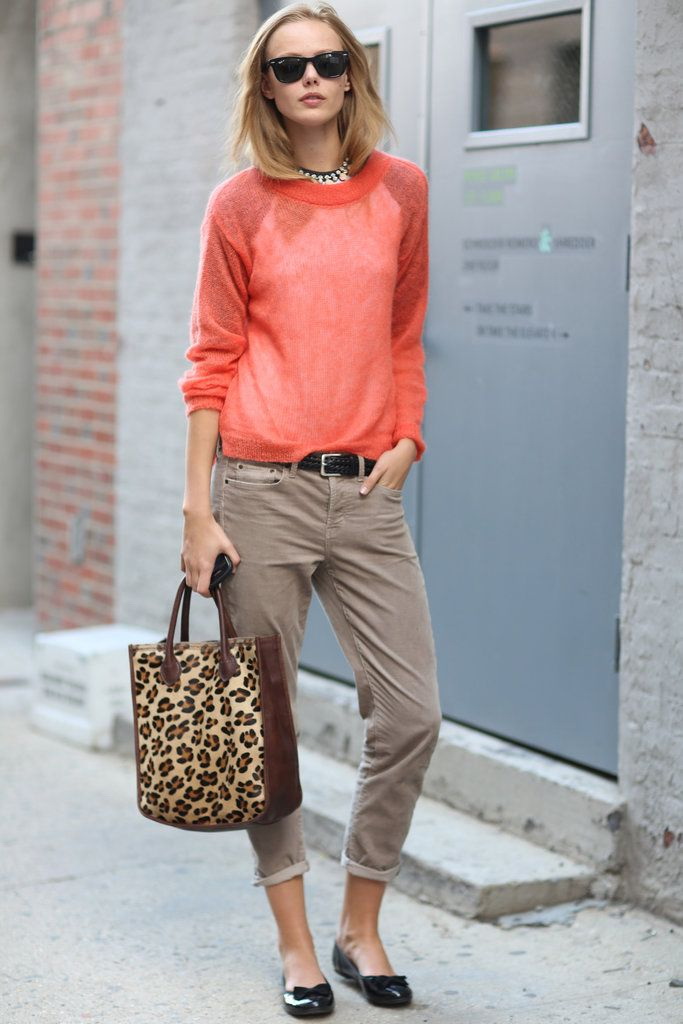 Khaki is a color that's popular with everyone, really. Minimalists love it as they can wear several neutral colors together, without there being much contrast between the colors, for a quiet vibe. And on the other hand, a soft khaki or camel color look fabulous against this year's winter gem colors. I love to wear khaki jeans with a fine-knit purple, long sleeved top. And I wear a light moss-green summer sweatshirt with them, to get another modern and trendy look.
Forest green is another sweatshirt color I like to wear with my khakis. In fact, all of the winter and summer colors including turquoise, burgundy, deep pink, mustard-yellow and gray look super with camel, beige and khaki pants! And if you like animal print fashion clothes, and scarves, you'll find that one of the very best ways to wear leopard print is next to khaki! It makes a very classy look. So let's get started on how to wear khaki pants outfits for contemporary chic!
Khaki pants in palazzo style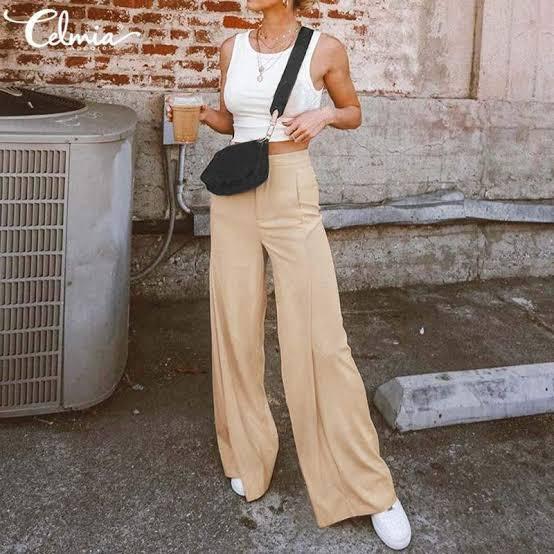 For summer wear maintain your style and comfort with a plain shirt and baggy pants in the Palazzo pant style. Palazzo pants are fitted at the waist, but flare out from the hips into straight leg, wide leg flowing trousers. They help keep you cool by creating lots of little draughts as you walk along. Wear with a smart leather belt and a summer blouse or shirt.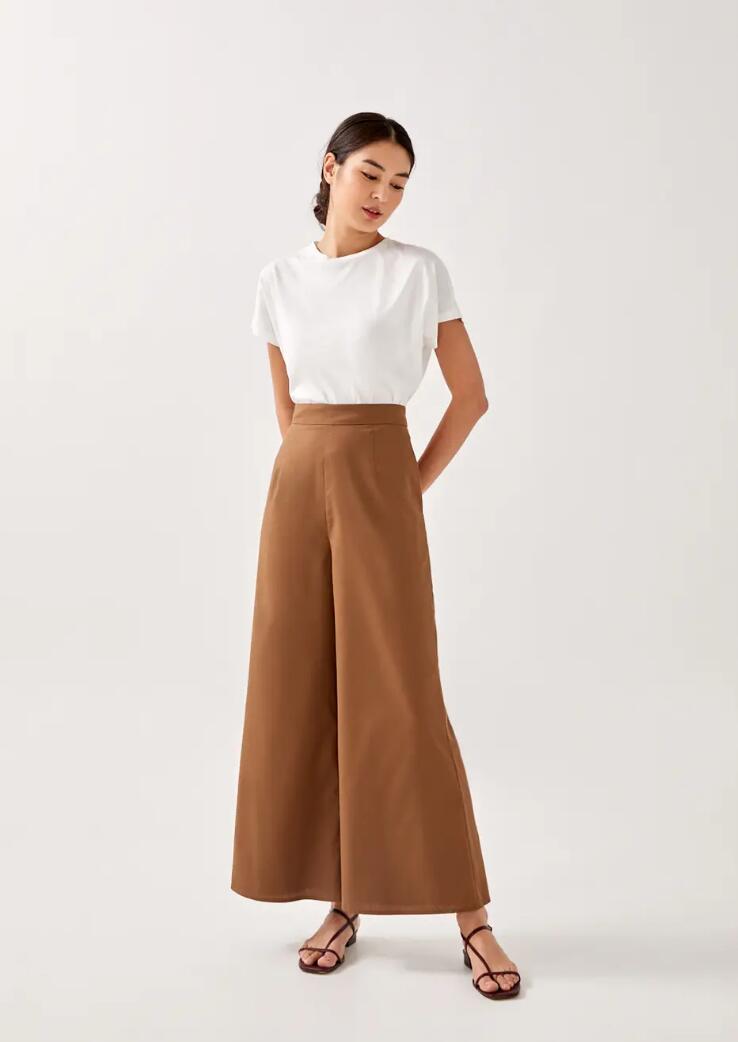 Palazzo pants end just above the ankles and look elegant with strappy, heeled sandals with a block heel to balance out the wide hems.
Khaki pants & casual look
Staying in at home doesn't mean you have to look a dowdy mess. What if there are unexpected visitors on their way to see you? Stay comfortable in khaki bell-bottomed pants and a V-necked, buttoned-up cardigan. A fine-knit, dull-green cardigan will match beautifully with khaki-tan pants.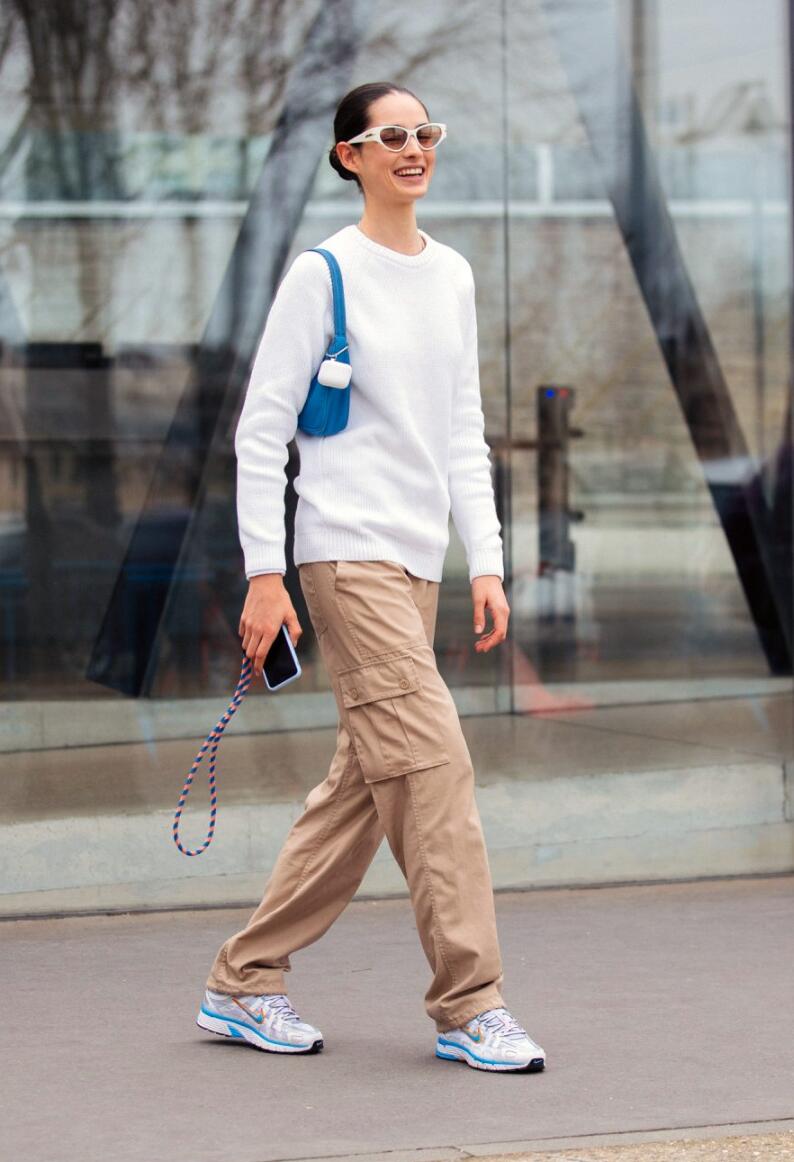 And if you just wrap a trendy long, printed scarf a couple of times around your neck, you'll be ready to see anyone. This casual-smart look is perfect for going to school or college, because it's not too dressed up or dressed down – it's a Goldilocks outfit!
Khaki pants & casual spaghetti tee-shirts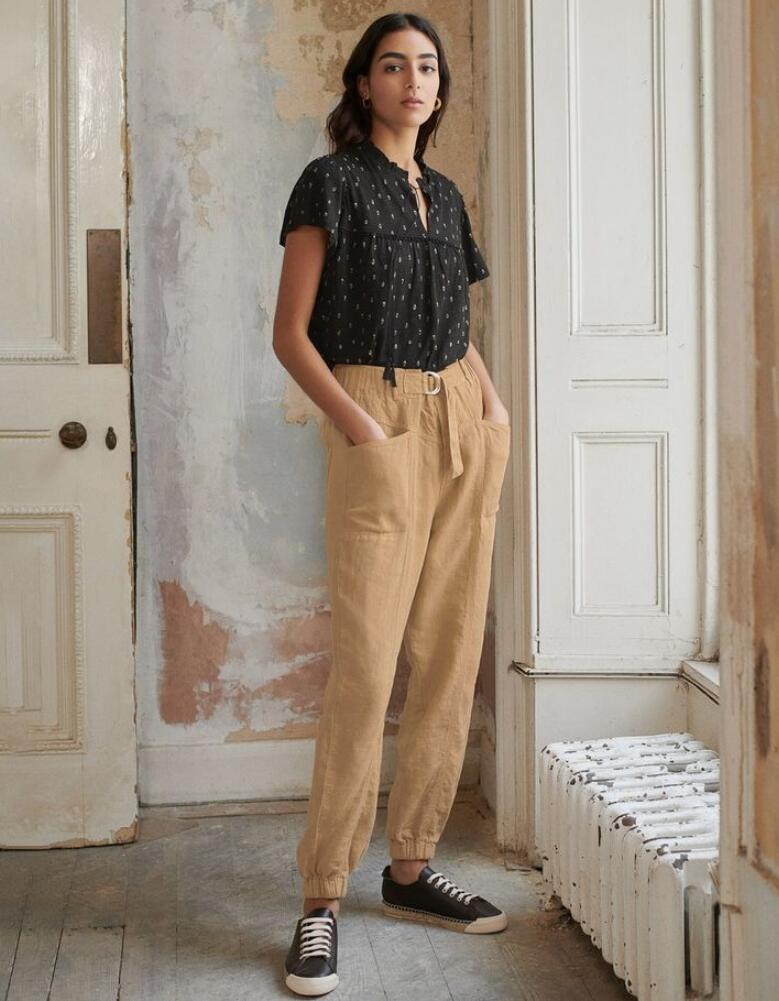 If you find you waste time every day looking for items that match, and then set off late for work, khaki pants can solve that problem for you! You can wear any of your colored or printed blouses, tops or shirts with khaki, so you'll save loads of time getting ready. And this year's fashion deciders have brought back the 90's spaghetti strapped tee-shirt.
So as long as you've got a few of them in your closet, you'll always be able to get ready for a date with friends in a couple of minutes! Wear a white tank-top, with a statement brown leather necklace, a brown leather belt, a khaki army cap, cargo pants and peep-toe, high heels. Plus one leather and one broad, silver bracelet.
Khaki pants & blazer jacket for office wear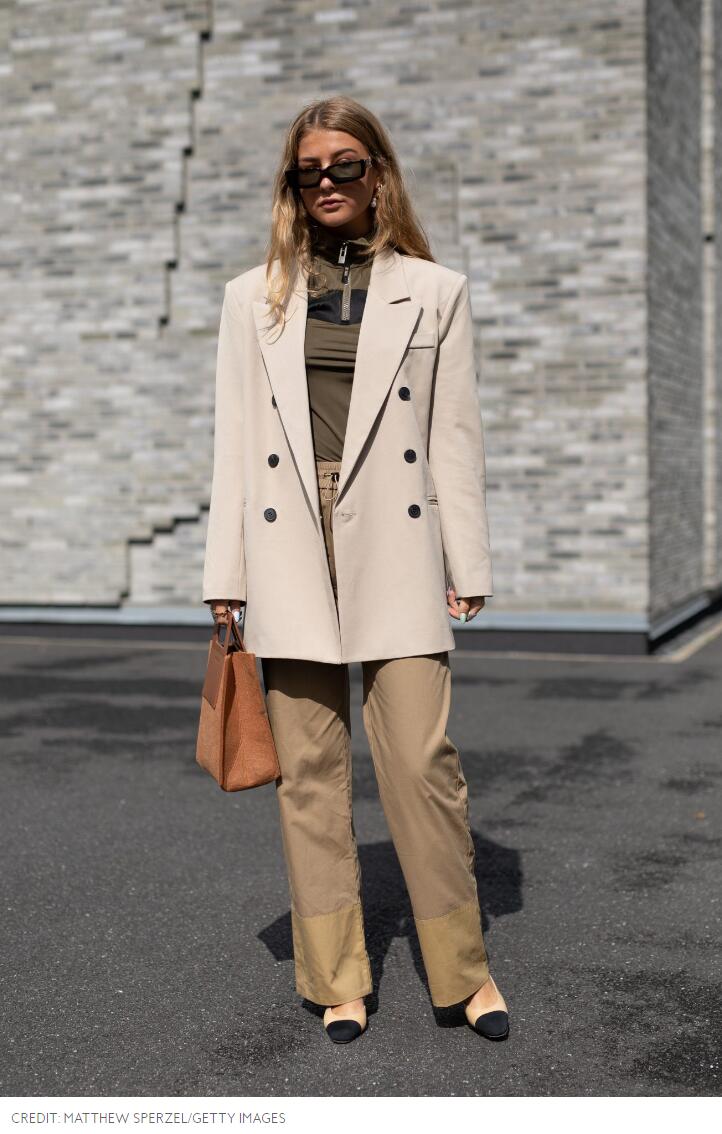 A pair of slim-fitting khaki trousers, with a hint of a crease at the front, is an excellent choice to wear at the office. For a chic look add a fine-fabric, white summer blouse with long sleeves and top it off with a fabulous mustard-yellow blazer. Turn back your blouse cuffs if possible, to make a trendy white cuff at the end of your jacket sleeves and wear a mustard-yellow belt to pull the look together. Wear low-heeled black pumps and enjoy your elegant, workplace outfit.
Khaki pants & kitty parties
Here's a super classy, retro-look you can wear on any semi-formal occasion. For instance, a party would be the perfect occasion to wear boot-cut khaki pants, with a crease ironed at the front and matching beige pumps with heels to make your legs appear longer.
Then the top should be a white spaghetti strap, tank top covered by a fancy scarlet cardigan, with epaulettes details on the shoulders and gold metal buttons. Tie a brown and coral, silky, neck scarf around your neck and carry a soft brown, snakeskin print, patent leather handbag. It's a color and style blend that you'll go back to time and again!
Khaki pants & girl-next-door look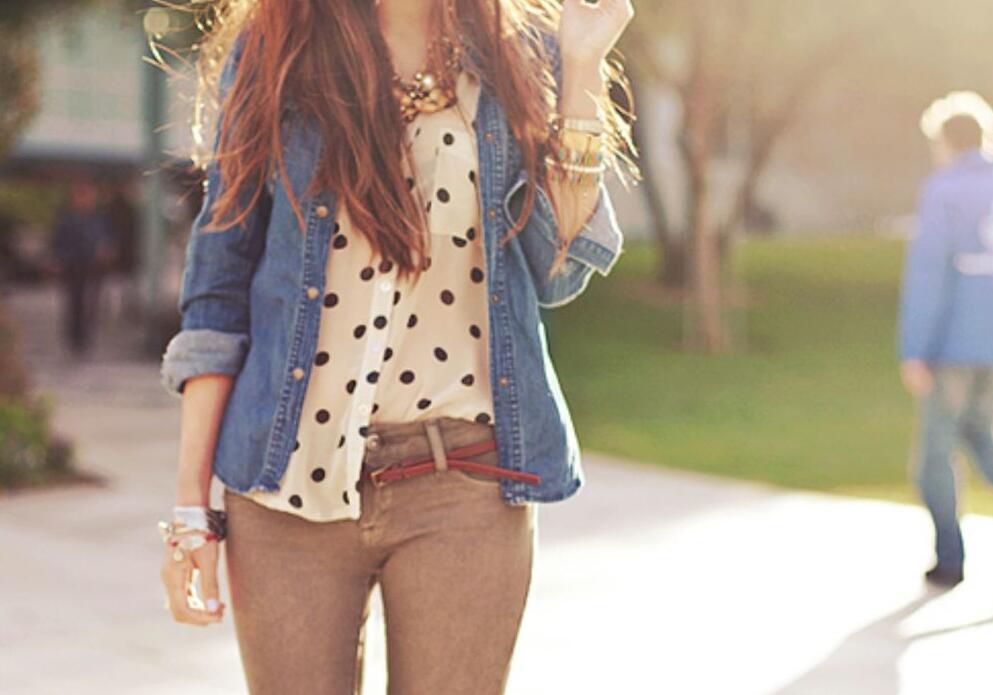 Most people love the unfussy, preppy style and if that includes you, why not try this cute look. Wear your khaki jeans with a navy shirt with white polka-dots and a plain, dull green sweater. Add a brown belt and extra style with chunky ankle boots with block heels and charm the boy next door.
Khaki pants & denim jackets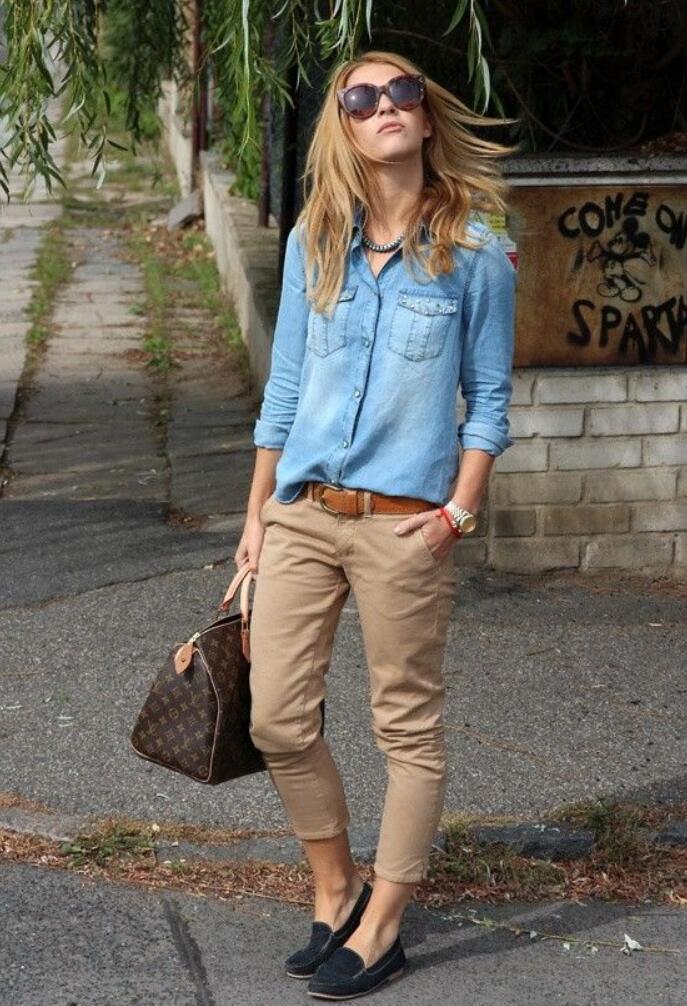 Blue jean jackets look great with khaki pants, but you need to choose a black or white top to balance out this style. So start looking around for the fantastic range of colored jean jackets on offer to us this year. One of my favorite outfits is the leopard print jean jacket, which only looks good with khaki, brown or camel colored pants in my opinion.The two fabrics really complement each other in a very attractive and classy way.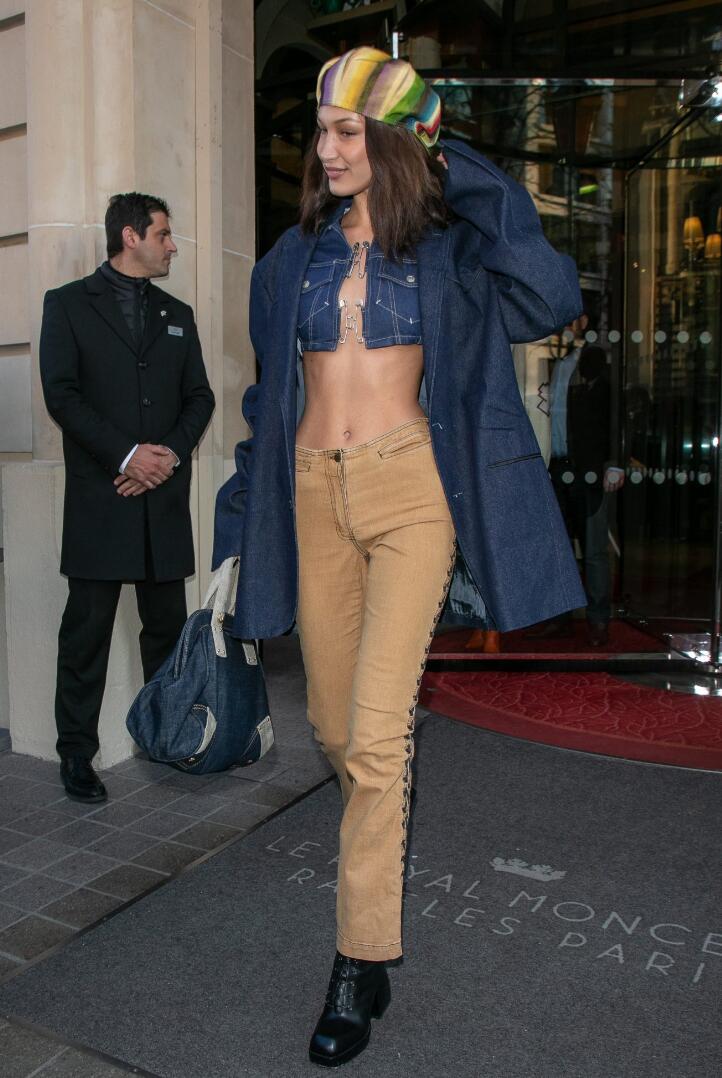 Or think about a burgundy jeans jacket, worn with khaki's and a shell-pink top. In fact, you can match any jeans jackets to your khaki pants and create a totally new look, that keeps the fashionable style of the jeans jacket cuts, but really refreshes the look with the two new top and bottom colors! Wear with beige wedge heeled pumps and you'll definitely have a trendy, eye-catching outfit.
Khaki pants & vacation outfits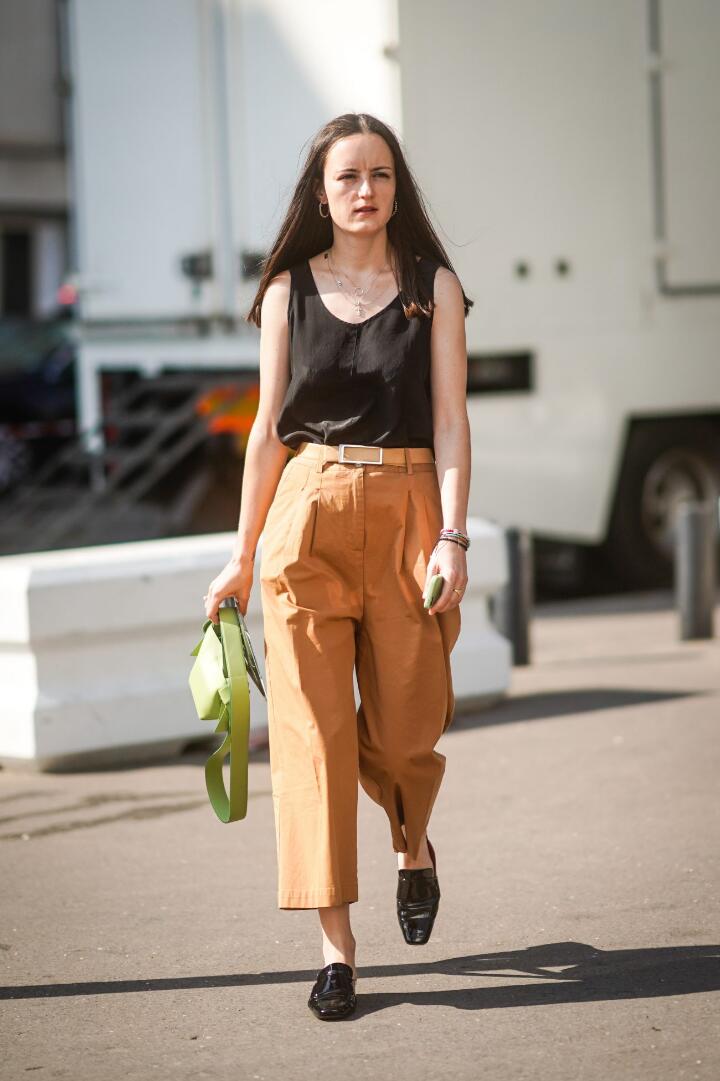 A white, off-the-shoulder Bardot blouse matched with wide or narrow fit khaki pants gives a casually glam style. White and khaki always project a simple, but chic look and this outfit is great for walking along the promenade and admiring the sea view as you approach an appetizing fish restaurant. And all frilly white shirts and blouses look super with khaki pants and shorts, so you're always ready to join in a beach party later on. Wear with wedge heels, canvas and leather sandals.
Khaki pants & date outfits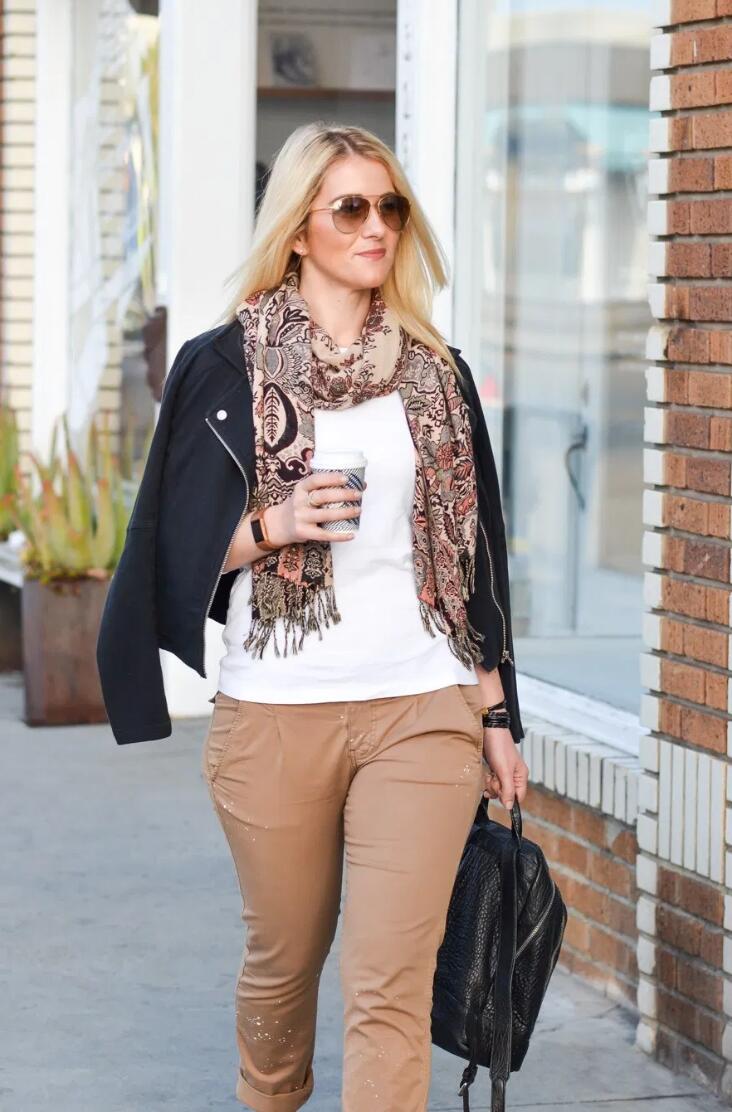 Here's a fully planned date outfit that's attractive, contemporary and alluring. Start with boot cut or flared khaki pants and add a coral-red, scalloped-lace, sleeveless top. Make sure it's a fitted shape to show off your figure. Add matching red pumps with a flower adornment on the toe and a medium block heel. Then pump-up the glamour with red, dangly earrings, a long gold chain, about 6 or 7 bangles in red, gold, and patterned finishes and a large red, dress ring. Carry a khaki, beige or cream clutch bag and see how impressed your lucky date will be!
Khaki pants & shopping outfits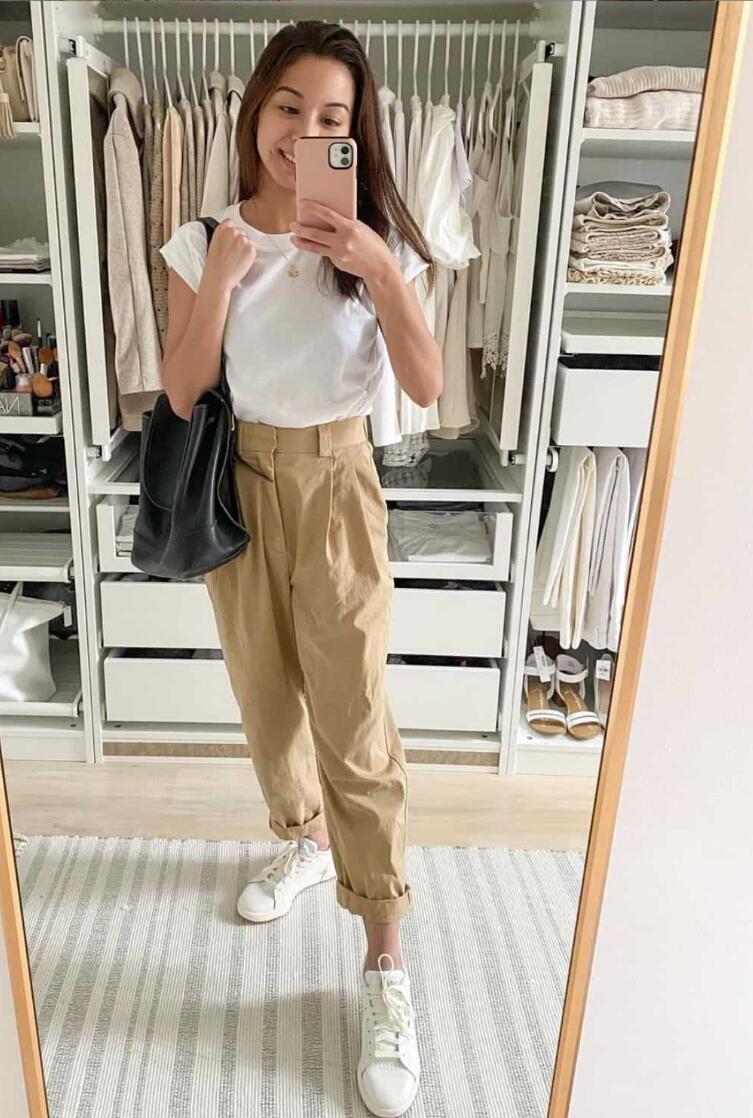 If you're planning an evening of shopping after work, start by wearing comfortable clothes, which are also formal. There's no doubt that the better dressed you are when shopping, the better service you usually receive. So wear khaki pants, a white top and drape a neck scarf fashionably around your neck, place a tie-ring around it and let it drape down to your waist. Try to get a scarf that has both navy and orange colors in the pattern. Wear a navy, fitted, single-breast blazer and orange wedge canvas sandals that tie at the ankle. And carry an orange shoulder bag.
Khaki bell-bottoms & formal meetings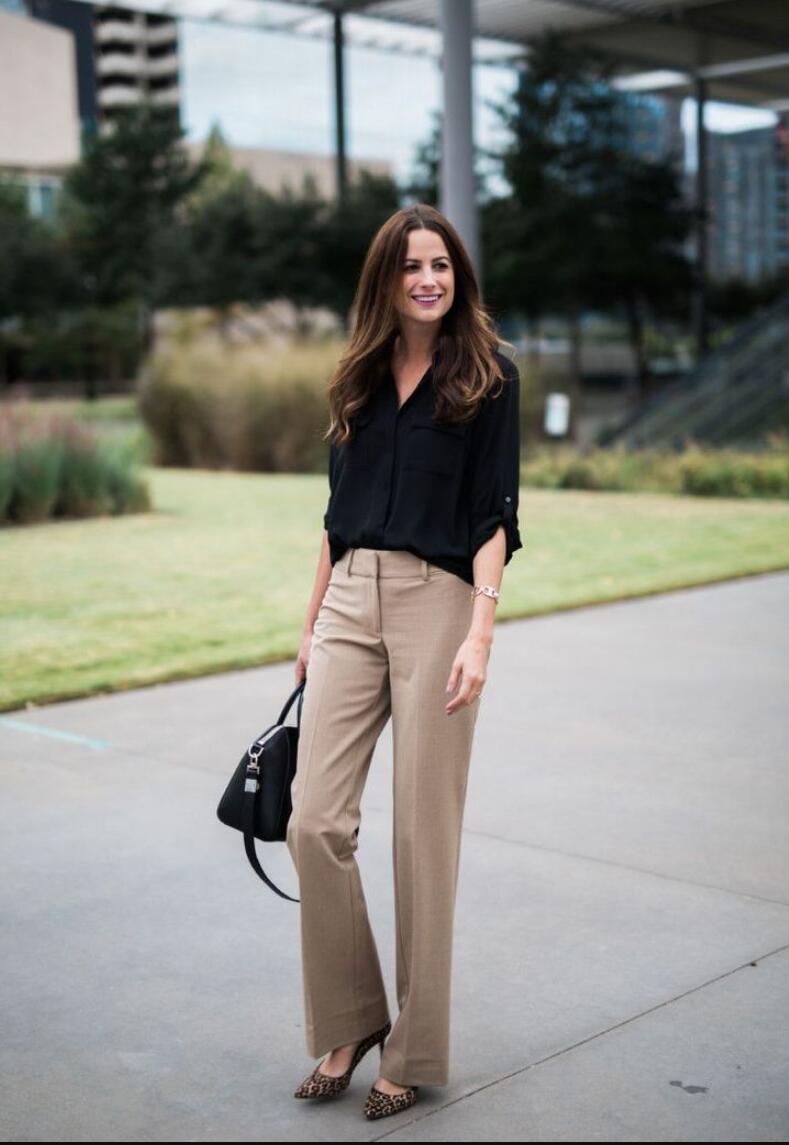 If you usually wear black for a formal meeting, but don't want to wear it in the height of summer, switch to khaki. They are perfect summer formal clothes and with a buttoned white shirt, bell-bottoms or ultra-simple khaki pants you will look contemporary and classy. Wear with a small heel or flat shoes and accessorize with a good brown belt and an attractive watch.
Khaki pants & footwear
Beige, nude and camel are good colors to wear with khaki to add a little extra length to your legs. And if your pants are wide-legged, you need to wear block heels and chunky shoes or boots to balance out the wide hem. If it's warm weather, you can create a casual summery look with canvas espadrilles in red, deck shoes, loafers and colored sneakers to match your top.
Khaki pants & cropped cardigans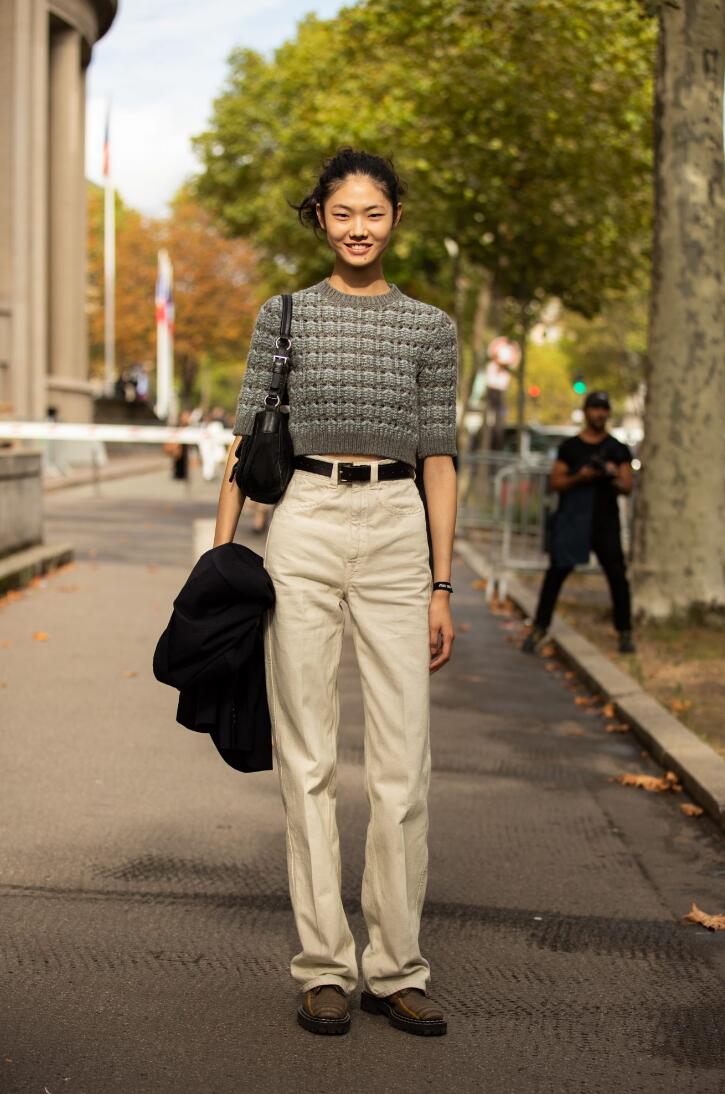 And for a super-feminine and cute summer look, you must wear the cropped cardigans that are in store right now. With pretty details, like pearl and gem buttons, and lovely lace collars, you can wear them buttoned up like a sweater or half-buttoned over a spaghetti strap tank top. The cropped cardigan colors are all so soft and lovely this year – romantic lavender, light moss-green, shell-pink, forget-me-not blue, baby-chick yellow and aqua.
So no matter which style of jeans, pants, bell-bottoms and other wide-legs trousers you choose for your wardrobe update, make sure you've got plenty of trendy and versatile khaki pants to wear!