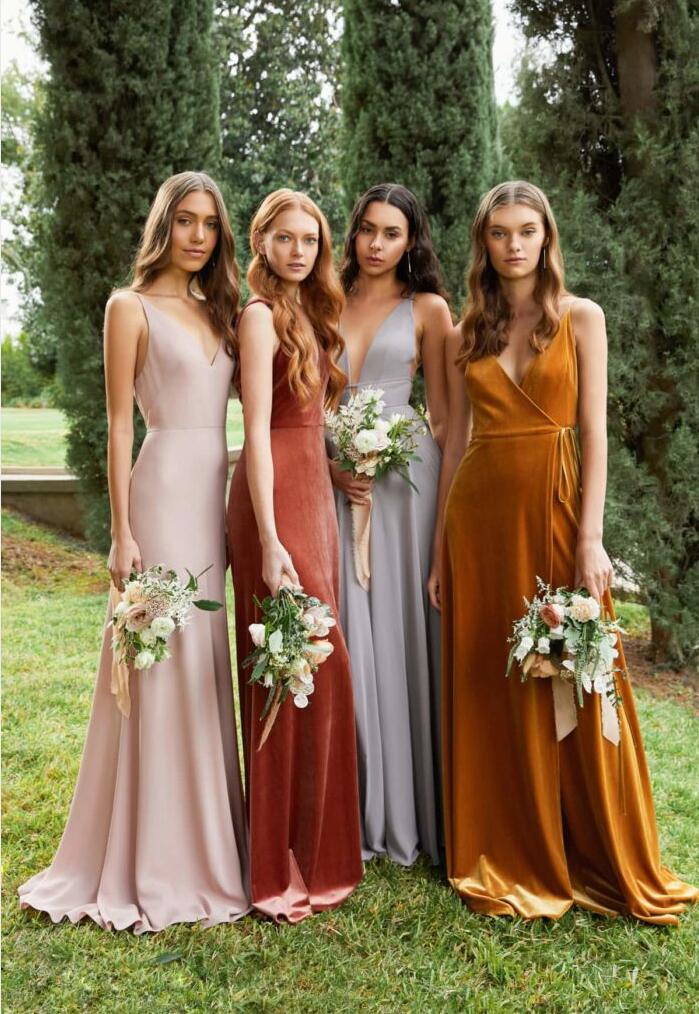 This year's trendiest maid of honor gowns are long, terracotta, satin bridesmaid dresses and long, burnt-orange, satin bridesmaid dresses!
Understanding the latest fashions is crucial to the success of your wedding! You want to be proud of your wedding photos for the rest of your life, and it takes careful planning to get the best gowns for your bridesmaids!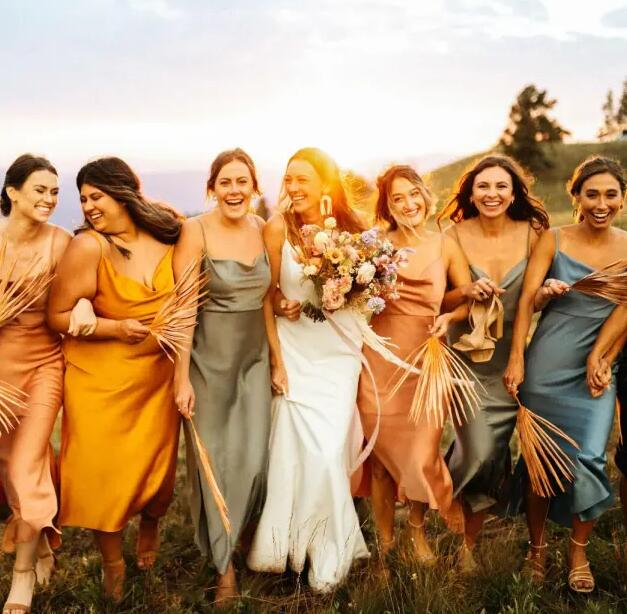 How to solve your bridesmaid dress dilemmas
Planning your wedding is one of the best times of your life, but it does come with a few little niggles, like what color and style will suit all your bridesmaids?
And will your wedding photos look trendy and attractive in future years?
Don't worry – we have the answers to all of your bridesmaid dress concerns right here and you'll be able to breathe a sigh of relief when you've read them!
What's this year's trendiest bridesmaid dress color?
There are a number of new colors available this year, like olive green, misty green, dusty blue, dove-gray, champagne, rose-gold and even all-white or all-black bridesmaid dresses!
But if you follow the trend of having several bridesmaids, trying to get agreement over these colors can be a real nightmare!
However, this year's standout color and style for bridesmaid dresses is long, terracotta satin bridesmaid dresses or long, burnt-orange, satin bridesmaid dresses.
Why? Because it's a rich, attractive color that everyone can wear in shades of burnt-orange, spice, cinnamon, nutmeg, cognac, light or dark terracotta – whatever their natural skin tone and hair color!
All-year-round bridesmaid dress colors
You don't have to insist that all the dresses are exactly the same shade, so as satin burnt-orange bridesmaid dresses are so fashionable, you'll find plenty of variety in the shades to suit all skin tones.
And as long, terracotta and burnt-orange satin bridesmaid dresses are totally on trend this year; they'll be easy to match with the guys attending your wedding. Because these warm and natural colors are also the current top-trend for male attire!
Terracotta and burnt-orange dresses will definitely be fashionable outfits your bridesmaids can wear afterwards to dinner dates, nightclubs and all types of trendy get-togethers. It's a color that you can wear in summer and autumn/winter.
And that will please everyone, which isn't always easy to do!
Why is everyone choosing satin bridesmaid dresses this year?
Satin is smooth and glossy fabric created from synthetic fibers, so although it is usually compared with sensuous silk fabric, it's actually a lot more economical.
Satin is sophisticated, sleek and glamorous and brings the perfect finish to an elegant, classic wedding or a relaxed beachside ceremony.
This fabric not only looks great, but it also feels very soft and comfortable to wear, which is so important on this special day.
So it looks elegant for the ceremony and the photo session, whilst being soft and flexible for the evening dancing, too!
And unlike expensive silk, satin washes beautifully and can be worn for years without losing its original finish.
Best underwear for satin bridesmaid dresses
It's important to wear simple underwear underneath satin, as it is a fine-grained fabric and you don't want any visible panty lines spoiling the style.
If you choose slim-silhouette styles, your maids will need to wear laser-cut underwear, that won't show through the softly draped fabric.
So whether you choose long, burnt-orange, satin, bridesmaid dresses or long, terracotta, satin, bridesmaid dresses, for your attendants, they will look best wearing white, beige, nude, brown or camel-colored undies.
And that's another plus, because it's quite easy to find these colors in smooth underwear with no bulky seams spoiling the lines of your gown!
What jewelry and shoe colors match best with terracotta and burnt-orange dresses?
Warm, natural colors such as a trendy, burnt-orange bridesmaid dress or terracotta bridesmaid dresses look perfect with understated accessories such as gold or rose-gold earrings and necklaces/bracelets.
And shoes in warm-beige, light and dark nude, rose-gold, champagne, cinnamon, light-brown, terracotta or camel will highlight the particular shade of the dress.
What styles are popular for bridesmaid's dresses this year?
That's a very interesting question because there are several new and gorgeous styles, which I will discuss below.
However, a new and brilliant idea is taking over this year and that's having different styles for each of your bridesmaids!
It's something we should have thought of years ago! When bridesmaids are different heights, shapes and sizes, there can be so many disagreements over which style is suitable.
So take a look at these popular styles and you're sure to find the right design for each of your bridesmaids!
Top 10 satin bridesmaid dresses this year
1.  Chic satin 'cocktail' bridesmaid dresses with back bow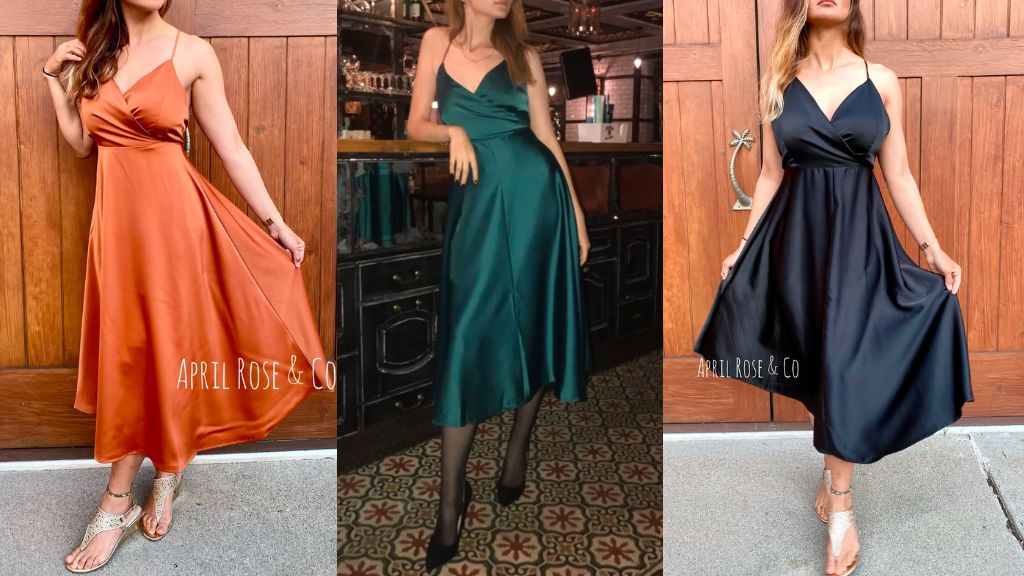 Satin is a shiny, glamorous fabric so it doesn't need a lot of fussy detail to make it stand-out. But the cocktail dress style bow at the back is so attractive drawing attention to the derrière!
The sexy, V-neck and criss-crossed spaghetti straps above a lovely flared skirt make this a bridesmaid dress that will be a favorite 'going-out' dress for years! The
2. V-necked long-sleeved satin bridesmaid dresses
If your bridesmaids would prefer a gathered skirt for comfort and a swishy, romantic effect, show them this style!
The plunging neckline is feminine and attractive and the A-line skirt is gathered to minimize a curvy tummy.
And the lovely, blouson sleeves are totally on-target for this year's fashionable featured sleeves.
3. A-line satin bridesmaid dresses with a cowl neckline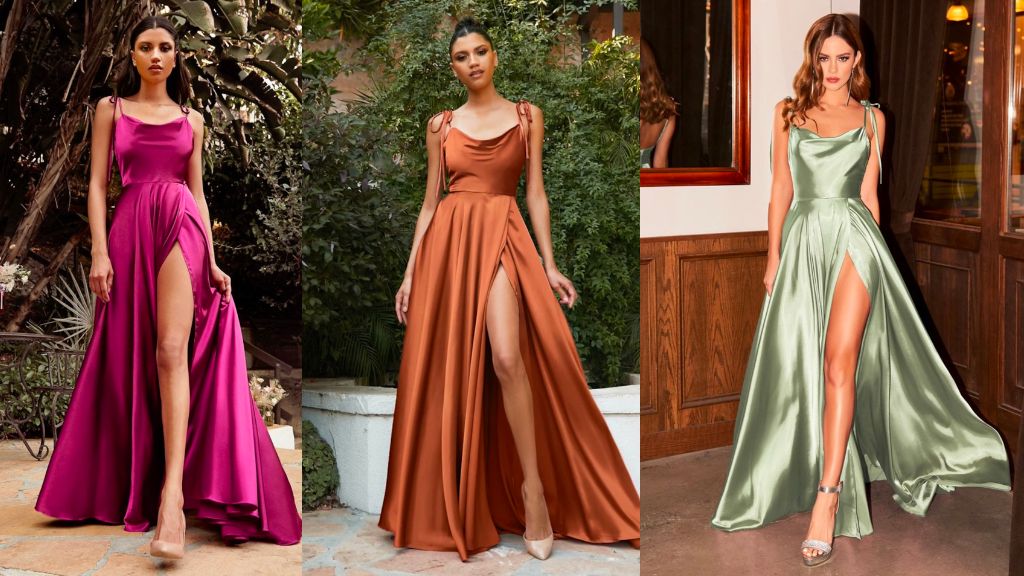 A flowing A-line skirt is flattering to all body shapes and cowl necklines suit everyone.
With spaghetti straps at the shoulder, you can adjust them to fit smaller or larger busts in a comfortable and flattering way.
4. Satin bridesmaid dresses with sweetheart necklines and trendy sleeves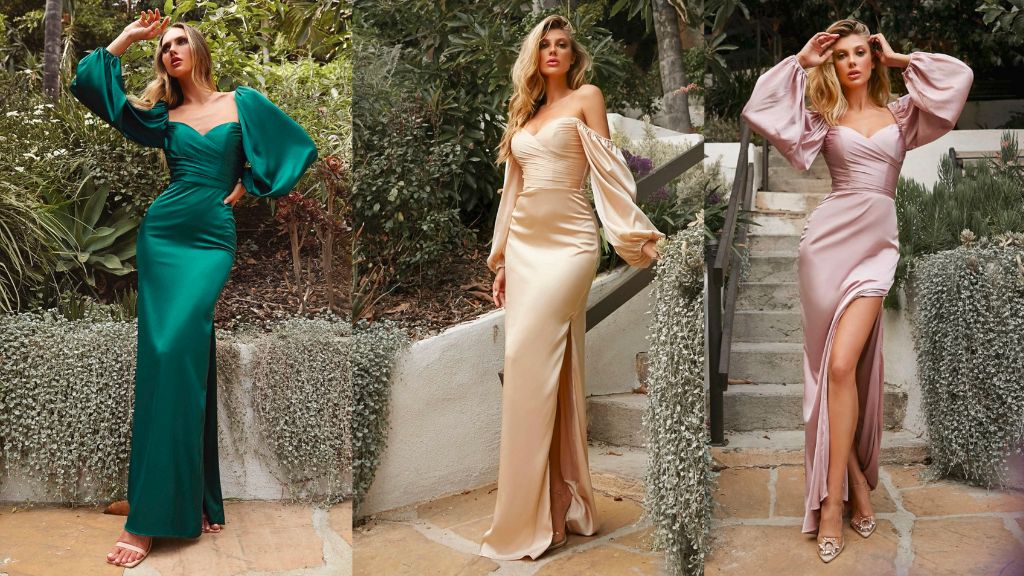 Bridesmaids have moved on from the rather demure look that was traditionally favored and a dress with a fitted, sweetheart top is a stunning choice.
But to ensure your maids are warm enough you can choose gowns with trendy, voluminous sleeves that can be worn on or off the shoulder.
5. Sexy satin bridesmaid dresses with slim shape and 'drop-down' sleevelets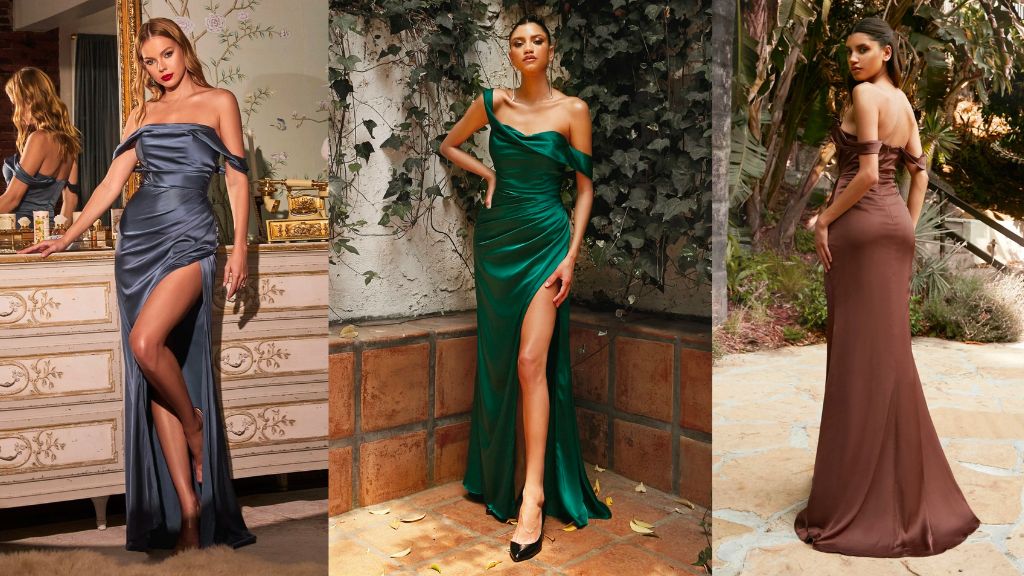 The Marisol dress style looks equally stunning as a burnt-orange, satin bridesmaid dresses and terracotta, satin bridesmaid dresses.
It's unashamedly based on Old Hollywood glamor and has a flattering, gathered draped section across the stomach, plus a thigh-high slit. The minimal sleeves look sexy falling off the shoulders. I love the last one, especially the color! You can find more long terracotta satin bridesmaid dresses here.
6. Loose maxi-dress satin bridesmaid dresses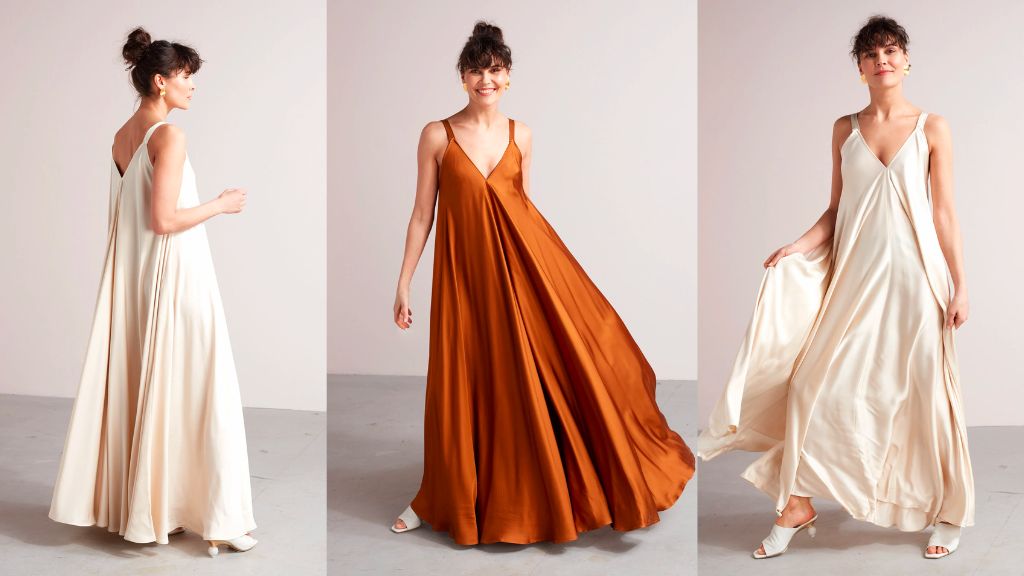 Unstructured maxi-dresses make fabulous satin bridesmaid dresses in bronze, burnt-orange and terracotta tones.
With a deep V-neck you can flatter a large bust, and a flared shape that doesn't cling to the body in any way, your bridesmaids will feel glamorous and extremely comfortable! The long burnt orange satin bridesmaid dresses are really hot in this year, why not have a try?
7. Beautifully structured satin bridesmaid dresses with modest halter neck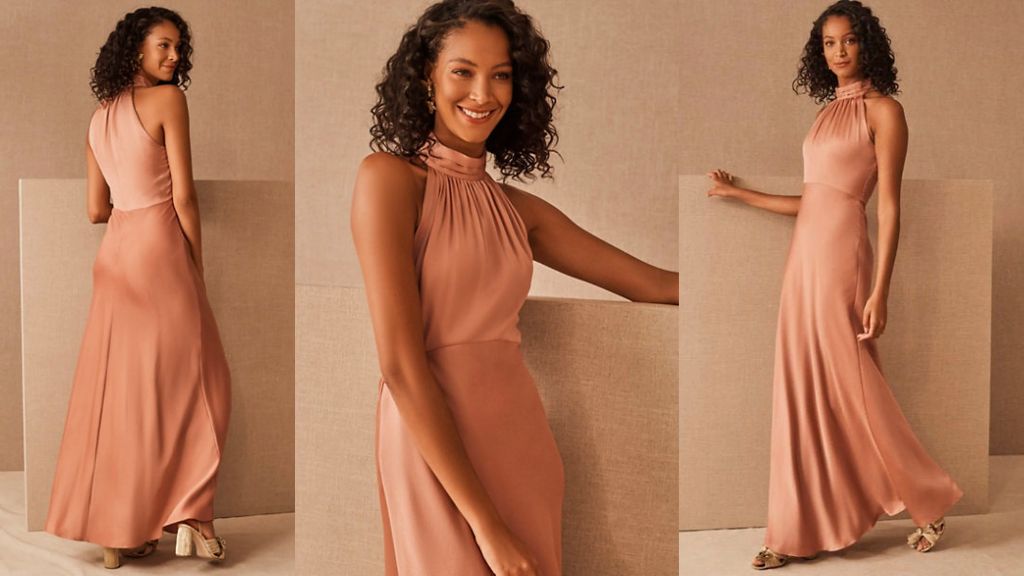 Not all bridesmaids feel comfortable exposing too much skin, so this ultra-classy, high-necked light terracotta bridesmaid dress in satin is a highly popular style this year.
The flared skirt swishes elegantly with every step and the high waist is a flattering way to highlight the waist.
With lovely ruched bodice and a pretty halter neck, this is a classic bridesmaid gown that will never be out of style.
8. Slip-dress midi-length satin bridesmaid dresses camisole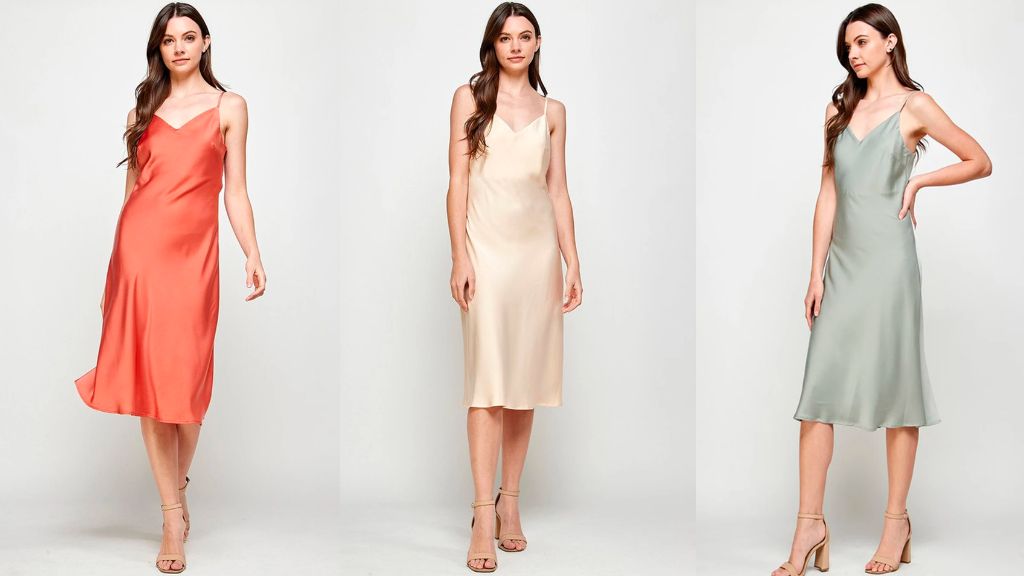 Here's beautiful, simple satin polyester dress that's youthful and appealing for a relaxed garden or beach ceremony.
The spaghetti straps are adjustable to suit different body shapes.
Worn in eye-catching burnt-orange or terracotta, this minimalist style has great style impact!
9. Subtle floral patterned satin bridesmaid dresses – mermaid midi-dress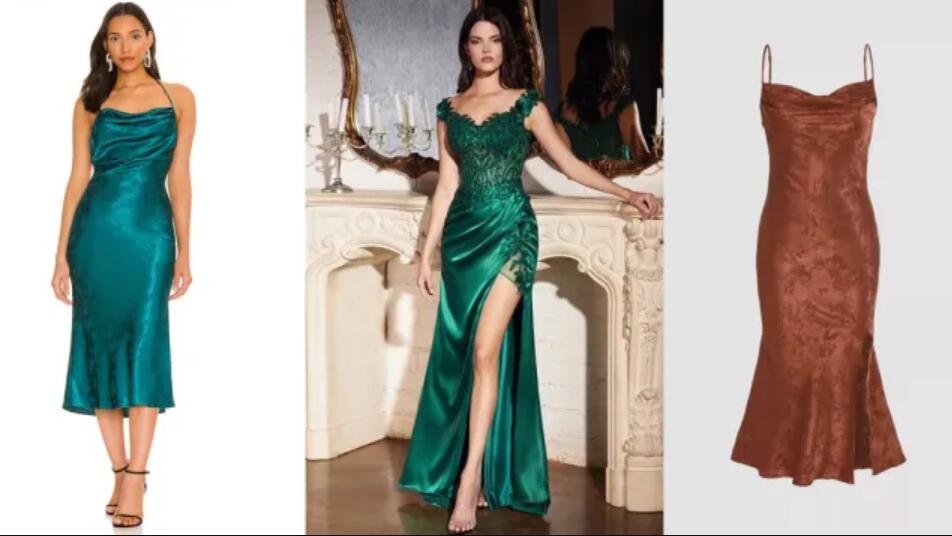 And for a different take on the satin terracotta bridesmaid dresses' option, why not choose a fabric with a discreet pattern woven in the material?
This satin, floral, slit, mermaid, midi dress isn't offered solely as a bridesmaid dress, but it is extremely economical in price and totally at the forefront of fashion for this year!
It's a gorgeous and versatile dress that will appeal to any group of trendy bridesmaids and ensure your attendants wear a different twist on the latest trends!
10. Fantastic ball-gown satin bridesmaid gown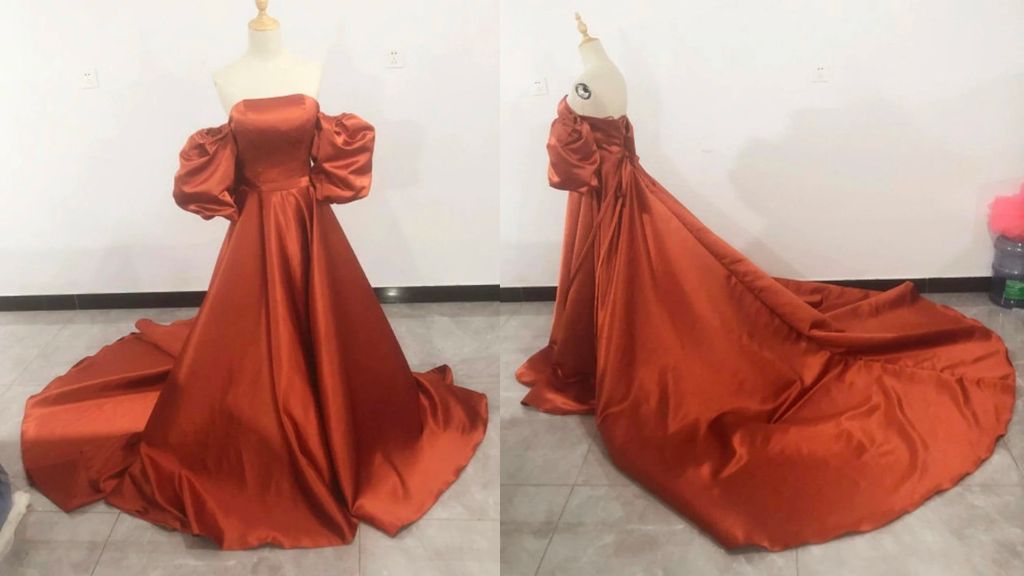 This richly-colored bronze-terracotta satin bridesmaid dress is a really impressive gown to wear for a formal wedding.
The richness of color is perfect for such a dramatic, bridesmaid gown appropriate for a high-class occasion.
The straight neckline and fitted bodice lead smoothly down to a flattering waist-band emphasizing the waist, before it flares out to the widely draped skirt and majestic train!
Your comments
So what do you think? Are you planning an intimate wedding with close family and friends or a formal occasion with a wide range of friends and acquaintances?
1. Which is your favorite design from the above styles?
2. Should the bride ensure her bridesmaids buy a dress that they like and will enjoy wearing again?
3. Do you think it's a good idea to choose different styles to suit each bridesmaid's style and shape?
4. Have you ever worn a satin dress to a wedding? How did it go?
Although terracotta and burnt-orange are the color of autumn leaves, they have emerged as this year's summer/autumn/winter top trend. So wherever you live, from Australia, Canada, USA, UK and other fabulous countries – these rich colors will make your wedding a gorgeous display of trend-setting fashion and life-long love!
make your wedding a gorgeous display of trend-setting fashion and life-long love!