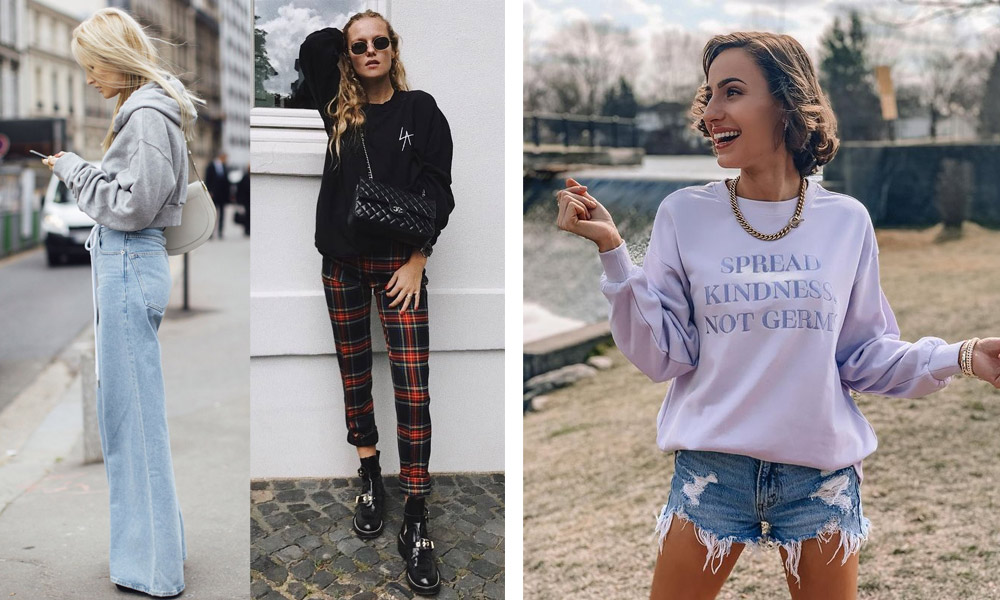 What to wear with Oversized Sweatshirt
When you want to rock street-style wear an oversized sweatshirt and when you want to be warm and comfortable at home wear an oversized sweatshirt! And we say a hearty, 'Welcome back!' to this fabulous fashion garment, for keeping you warm, at home or out-of-doors, while also being one of this year's top trendsetting looks.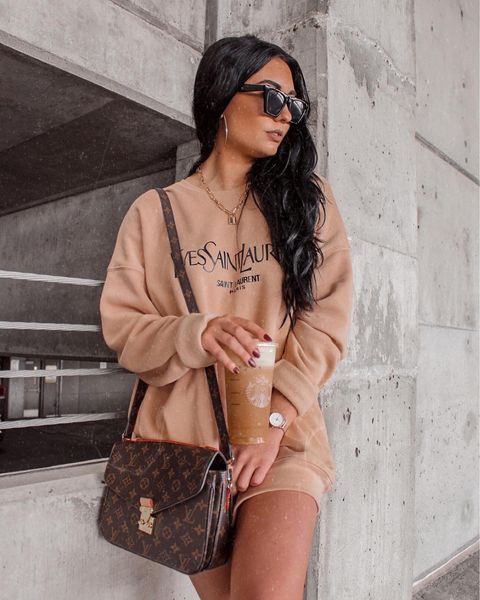 The extra-large sweatshirt should be one or two sizes bigger than your usual size, to get the correct laid-back look – if you can't find specially-made 'oversized sweatshirts' in your local area.
Hats, accessories & art image oversized sweatshirts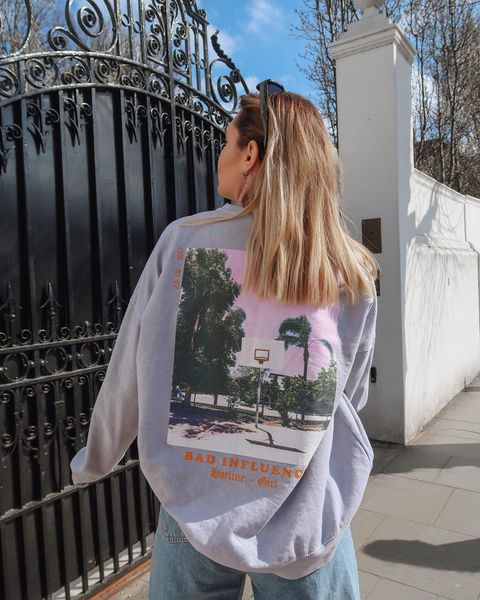 Oversized sweatshirts are trendy, but only if you style them with the right fashion clothes, footwear and accessories. For example, wearing a black Trilby or broad-brimmed hat, with a textured, white, oversized sweatshirt, black, skinny jeans and a clutch-bag in black creates a fabulous, new look which dresses up the sweatshirt style in a whole different way.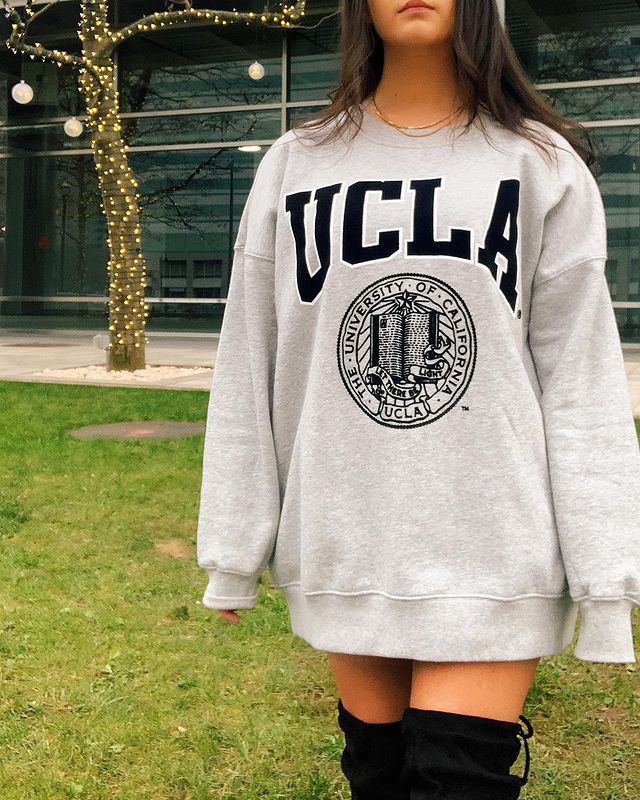 And adding a bright pendant necklace, statement crawler or ear-jacket earrings and a vivid lipstick also dress up your oversized sweatshirt outfits to move them away from mere 'lazy-day' wear.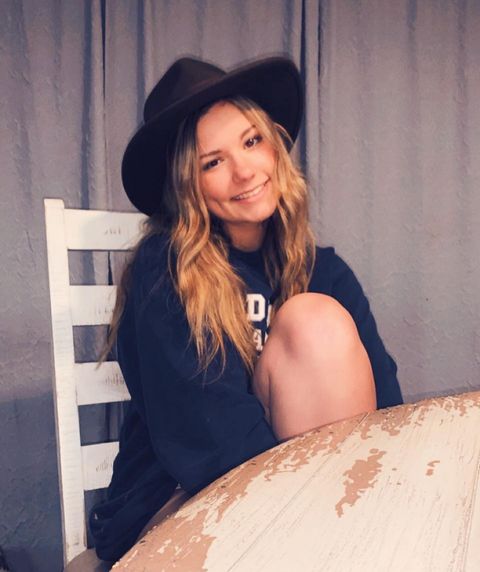 Hats plus chic, high-heeled sandals and a clutch bag, look great with the oversized sweatshirts that have art graphics on the front. So instead of re-visiting the teenage, cartoon graphics, you'll look a lot more sophisticated and interesting in an outfit with an art image.
Ali-express and Etsy are packed with unusual, oversized sweatshirts that are designed for punks, anime fans and art-lovers to show their individual and chic fashion style.
Oversized sweatshirts & year-round wear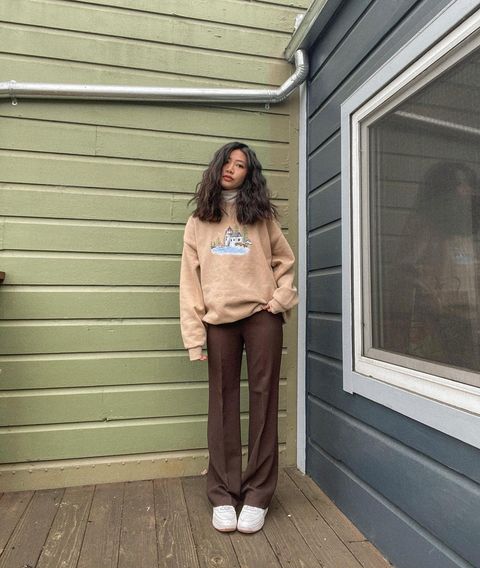 And like a lot of fashion items on offer this year, you can wear an oversized sweatshirt in any season, including summer. Not everyone lives in the same type of climate, and for some of us the summer includes plenty of cool or rainy days! Whatever your personal style is, there's an oversized sweatshirt just waiting to enhance your look.
So if you're ready to plan some fabulously fashionable sweatshirt outfits, let's get going!
Winter & summer fashion colors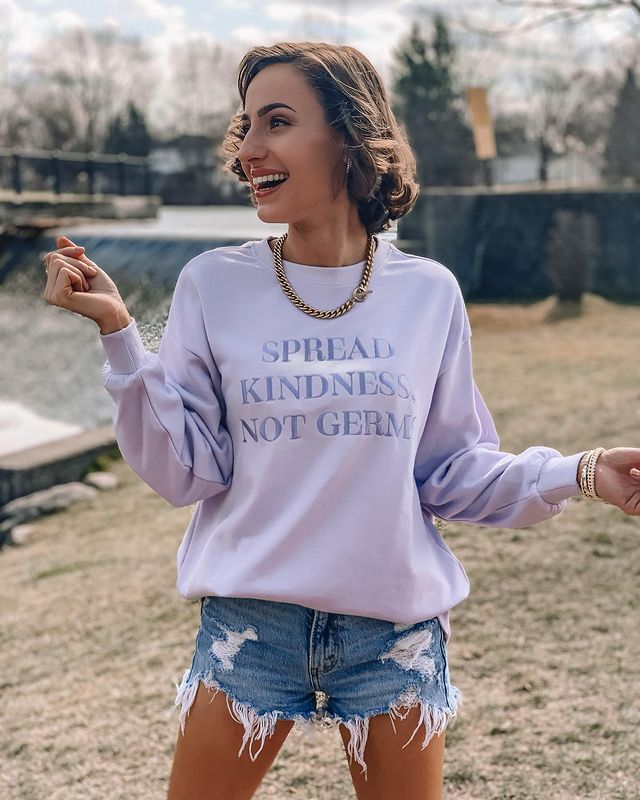 This year's fashion colors are super-attractive and have plenty of variety between cool and warm colors, so whatever your natural coloring is you will easily find flattering colors. So for winter the gem colors range between deep-purple, sapphire-blue, burgundy, deep pink, tan, burnt-orange, forest-green, dove-gray, mustard-yellow, camel and all shades of brown, including khaki and beige. In addition, plaid and check patterns are very trendy.
And for summer, the colors are all gentle versions of the pastel colors which match the dark, winter colors perfectly. For instance, lavender, forget-me-not blue, red (plain and as plaid), shell-pink, peach and soft orange shades, gorgeous pale moss-green, dove-gray, soft yellow, camel and khaki, beige and cream shades.
And there are lots of plaid and check summer skirts and pants that can be worn as bottoms with oversized, lightweight sweatshirts.
Trendy ways to pair oversized sweatshirts with bottoms:
To get a balanced look, wear your sweatshirts with skinny jeans or pants and show off well-shaped legs.
Sweatshirts and denim always go together, so go your own way and match your baggy sweatshirt with trendy ripped or acid-wash retro-denims for extra texture and fashion flair.
Ring the changes by creating a sporty look with yoga pants or leggings. Closely fitting bottoms, worn with an oversized top, always make a pleasing silhouette.
Be experimental and add lots of personality to your outfits by teaming printed leggings or pants with a plain sweatshirt or vice-versa. Or make an impact with bold, bright colors from the winter and summer color palette.
Lounge about or exercise wearing sweatpants that are slim-fitting and taper down to the ankles. This look is one of the most comfortable and stylish you can get.
Wear an extra-large sweatshirt as a dress, with opaque tights that match, complement or contrast with it. The loose, sack-dress look is totally attractive for a streetwear, Boho or chic look.
Oversized sweatshirts look perfect when layered, so combine with oversize denim jackets and big, sporty, bomber jackets in the same large-fit.
Oversized sweatshirts, high boots & sneakers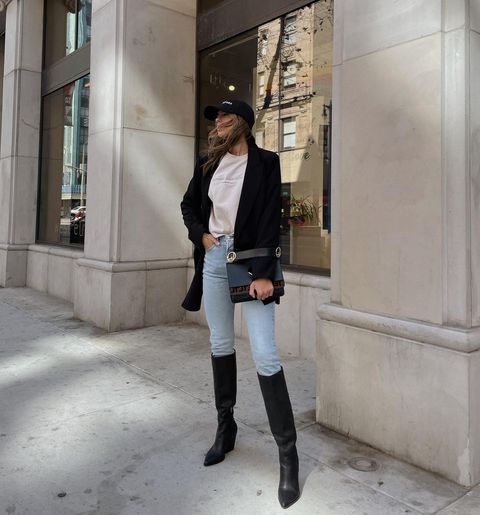 And an oversized sweatshirt dress looks fantastic with high boots, especially over-the-knee or thigh-boots. This look is sexy, but modest at the same time, as you won't be showing more than an inch or two of leg at most! Add style by wearing colored or patterned shoes to match or complement a plain extra-large sweatshirt. Sneakers and trainers accentuate a relaxed, leisure-time look.
White, high-topped trainers are another big trend for this year, and they are always a great look with casual oversized sweatshirts.
How to wear oversized sweatshirts with wide-leg jeans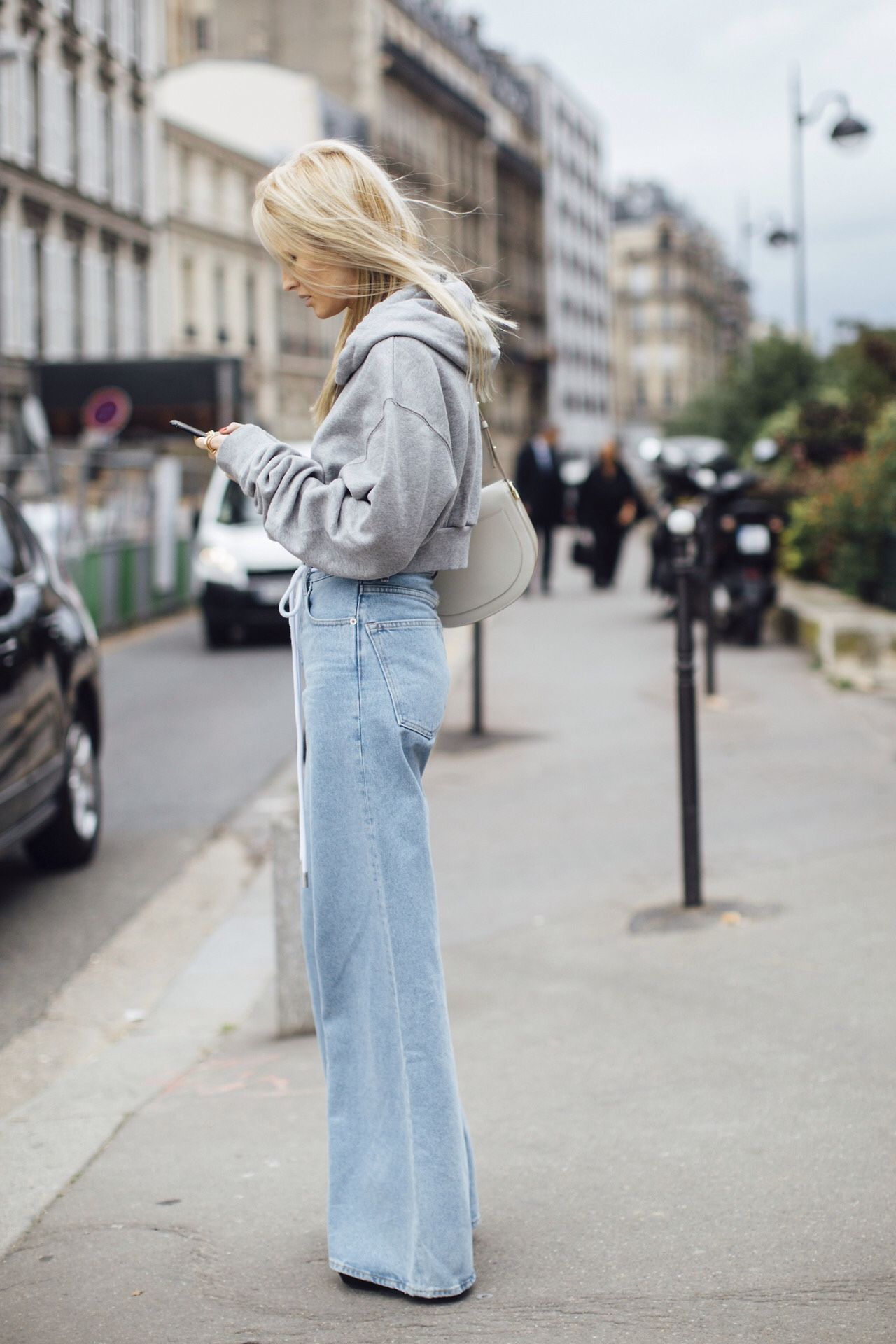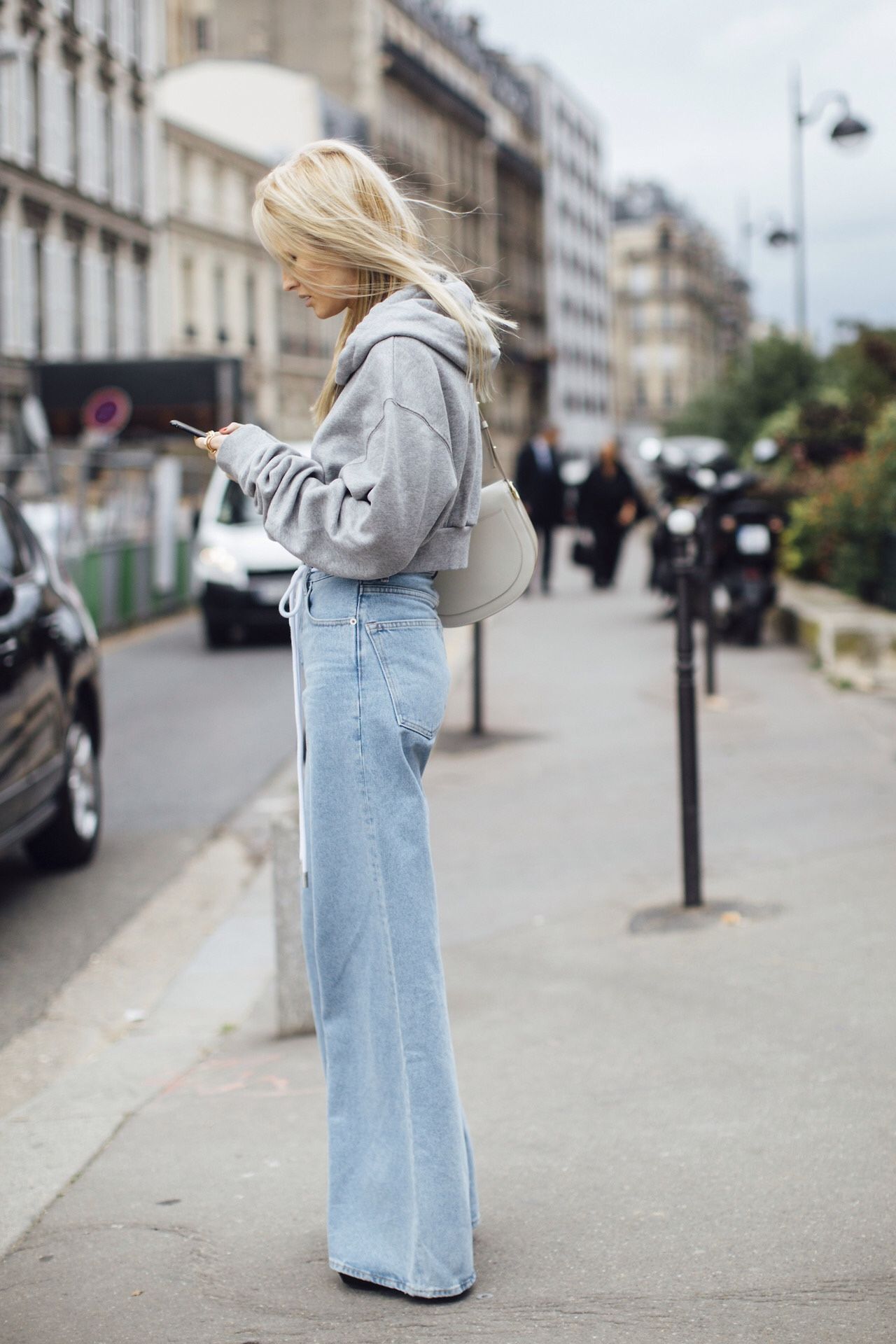 Although we like the silhouette you get with an oversized sweatshirt and leggings/skinny jeans, you can also wear this style with the latest wide-leg styles. The key to getting a good balance with wide-legged jeans is to wear oversized sweatshirts made in soft, cotton fabric that's not stiff like the usual cotton sweatshirt, so it drapes well around the body.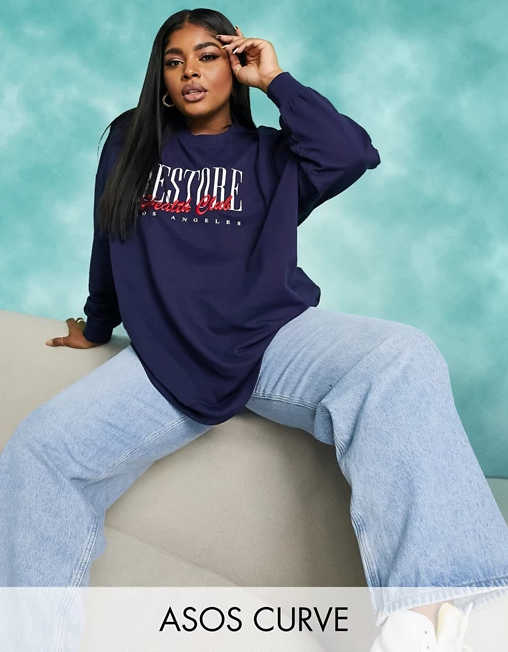 ASOS DESIGN Curve Oversized sweatshirts with Varsity Restore Health Club logo, offers an excellent range of soft cotton, plus-size, oversized sweatshirts. And these sweatshirts don't add extra, puffy volume – but still give you the trendy look! It's a brilliant design to include plus-size women in the latest trends, but without increasing the overall silhouette!
How to wear an oversized sweatshirt in summer
Pop a sweatshirt around your shoulders to add color, texture and warmth on a cooler day.
Summer weather entices us out for more socializing in the evenings and you can get with the layering trend by wearing a cute, pastel oversized sweatshirt casually over a summer floral frock.
Take advantage of the many pastel-colored sweatshirts on offer this year and match them with white jogger pants and sneakers for a casual, fashionable outfit.
Oversized sweatshirts and plaid pants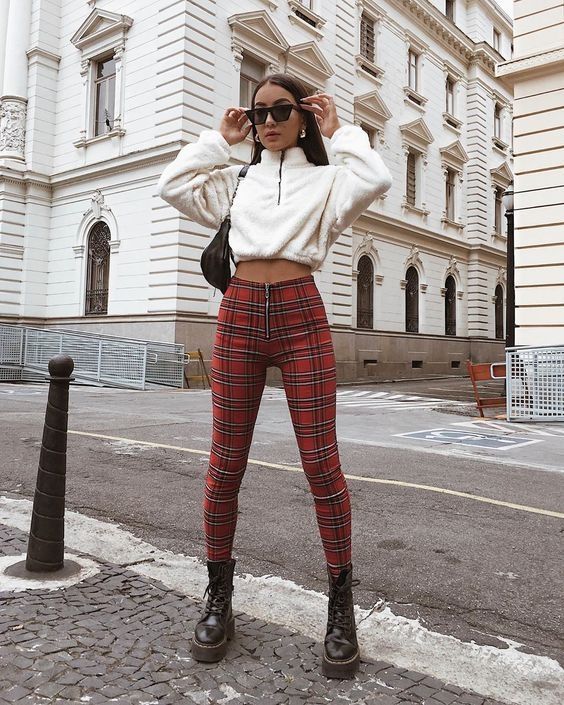 Half Zip Front Pocket Fluffy Teddy Sweatshirt – Zaful
This is a totally new look that can be bright and cheerful or chic and sophisticated, depending on which colors you choose to match. For example, red plaid pants with a red oversized sweatshirt, or green plaid pants with a green sweatshirt make a colorful look to brighten up dark winter days.
If you prefer subtle colors, try the soft camel and gray plaids. You can wear an oversized beige/gray plaid blazer over an oversized sweatshirt, and light khaki or brown jeans, with a statement necklace and minimalist, silver or gold earrings.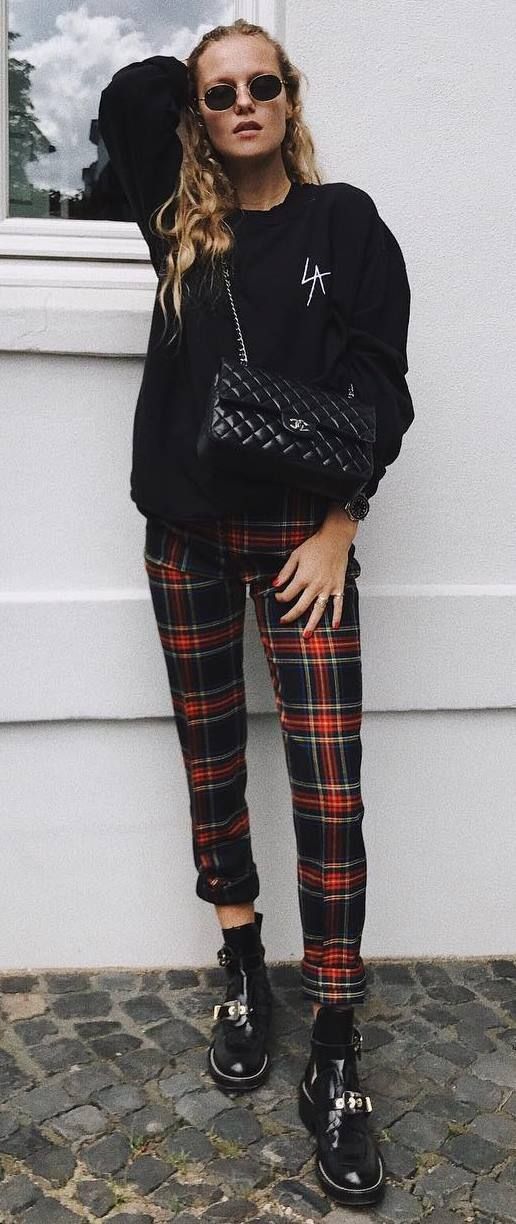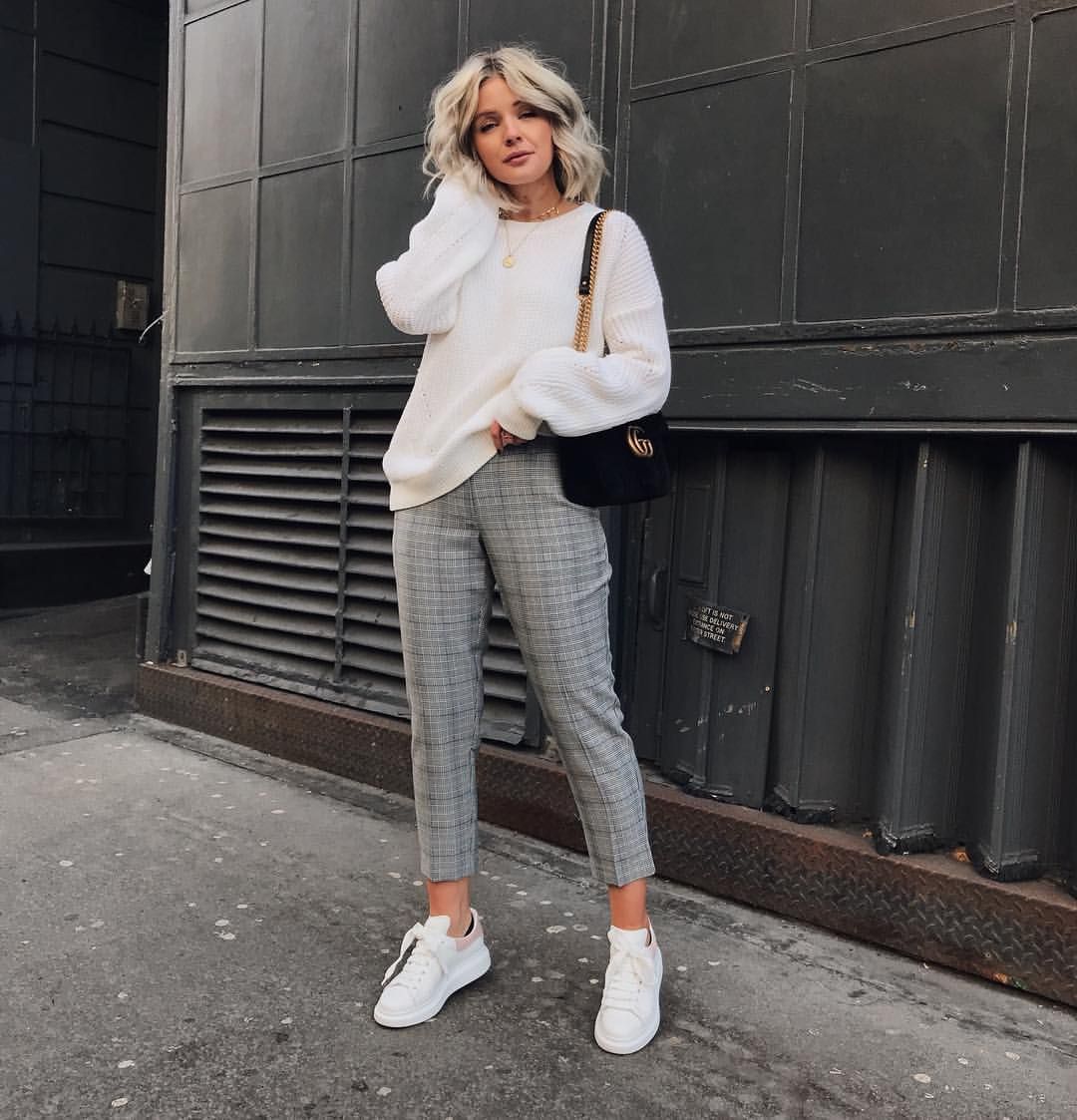 Add a rectangular, chain strap, shoulder bag in a neutral shade and you've got a smart, cool weather outfit. Or why not match deep purple bottoms with a warm-beige or dove-gray sweatshirt. Or wear leopard-print leggings with a camel sweatshirt for a lovely color harmony, that's back on trend this year. Spend an afternoon trying on your clothes in different color combos, because experimental color combinations are a big thing for this year!
Oversized sweatshirts & skirts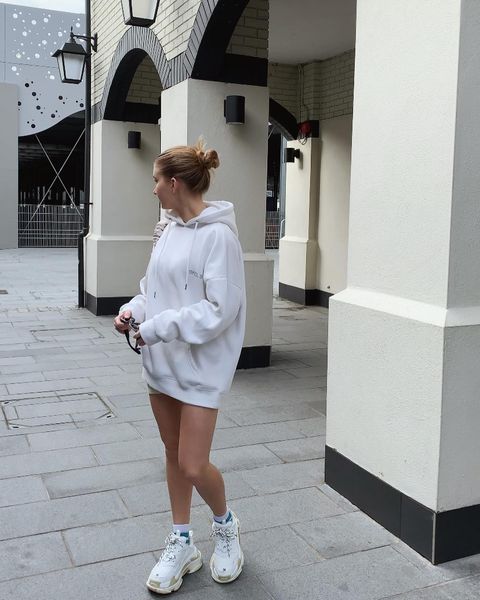 Pair your oversized sweatshirts with a pencil skirt, of a short or midi-length. The close-fitting shape of the skirt, with a voluminous top really emphasizes the curves of a feminine figure. And a body-con, maxi-skirt or maxi-dress will also look cool with a matching oversized sweatshirt and high heels.
Oversized sweatshirts & shorts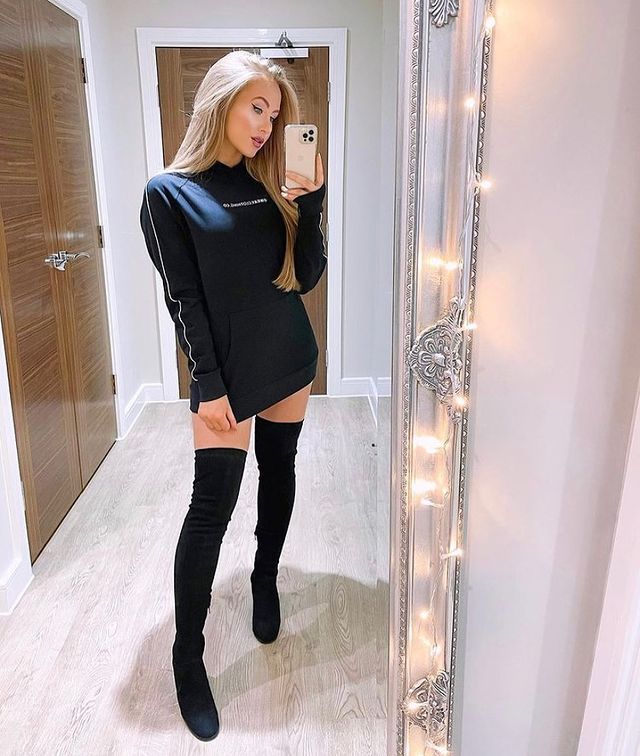 Biker shorts are also a great match for a lightweight oversized sweatshirt in warm weather. Wear with sneakers, trainers, or wedge-heel sandals if you need extra height. And in the summer take a sweatshirt with you to the beach, so you can wear it with your denim shorts later in the evening when you have a beach-party.
For a chic look in the evening, wear a lightweight, oversized sweatshirt with casual floral culottes, khaki shorts or tailored black, Bermuda shorts to go to dinner in a local or summer-resort restaurant.
Wearing an oversized sweatshirt can be comfy, casual and chic, and you'll love finding out how versatile this practical fashion garment can be!