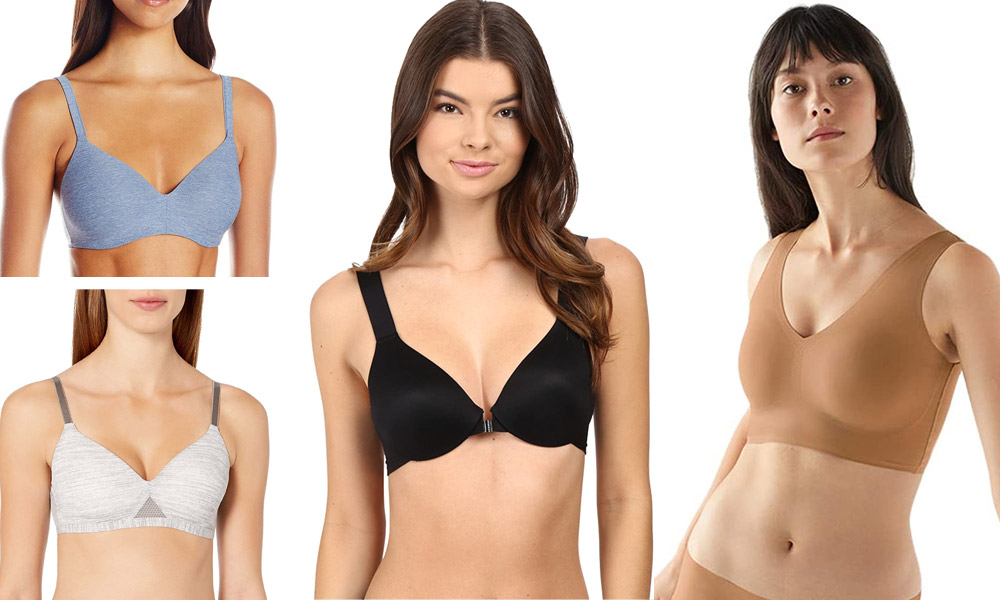 Finding the most comfortable fitting bras is getting more complicated every day. There are now so many different types of bra on the market, which is a good thing as it offers choices for all the different shapes and sizes of breast. But it's a nightmare for identifying the right one for your bust. And the high prices charged by the better brands is just as off-putting, when we know they are making a lot of profit for a cheap-to-make health garment. So we've put together a guide to the 10 most comfortable bra brands for comfort, lift and support. And we hope this will save your sanity and point you towards overall bra-wearing satisfaction!
HerStyleCode recruits teams of testers for all types of bra, from every-day to strapless bras for special clothes and specialized styles like convertible, sport and T-shirt bras. Our Consumer Testers are chosen from the public and represent a broad section of bra wearers who give their honest feedback on comfort, fit, support, ability to stay in place, ease of putting on and removing and appearance. Different women are looking for different features in their bras, some just want comfort, others want to minimize large breasts, many women like to maximize their breast volume and shape. So you can rest assured that the 10 best bras which emerged from our rigorous testing process represent the best of their type.
But before we start, here's some useful guidance on preparing to shop for a new bra:
How do I find my correct bra size?
Always begin by measuring your bust at home, and afterwards you can also let a bra consultant from a store measure you. It's always a good idea to have some notion of your correct size before you see a consultant, just to check they know what they are doing.
Consultants vary from experienced, well-trained sales-women to barely trained shop assistants. And when you are satisfied with the suggested bra size, try a few on to see if they fit you well before you narrow it down to the best purchase. If you're not completely satisfied, try a few other band and cup sizes to check which brands offer the best fit for your body. As like all bra brands, bra manufacturers' sizing is not the same over the whole industry. (How to Determine Bra Size at Home in The Right Way)
How do I know if a bra fits properly?
Cups: Your breasts should fill out the cups without any overflow or any gaping.
Straps: The straps should feel comfortable on your shoulders and you should adjust them until you get the right fit, if possible. Tightening the straps gives more lift and support on a good quality bra with wide enough straps. However, if you feel the straps cutting in to your shoulders, they are probably too narrow for the weight of your bust and will cause shoulder and back pain during wear.
Body-band: The band should fit closely to your body and be below your shoulder-blades at the back. It's essential that the body-band stays straight across your back and does not ride-up to be between your shoulder-blades. A body-band that curves up, will definitely cause back problems and should be avoided. A horizontal to the floor band is essential for comfort and good health. The center section which joins the cups together should lie flat against your breast bone.
When should I replace my bra?
This can't be measured in fixed time, because it depends on the quality of the bra and how long it continues to do its job efficiently. But as soon as a bra loses its stretchiness and feels slack without supporting your bust well, that's the time to buy a replacement. Always check your measurements before bra-shopping, as our breasts tend to change shape and volume over time.
And now let's take look at the best bra sizes and brands for your bust and body type in T-shirt, Full Coverage, Wireless and Unlined bras.
1. Playtex – 'Love My Curves' T-Shirt Bra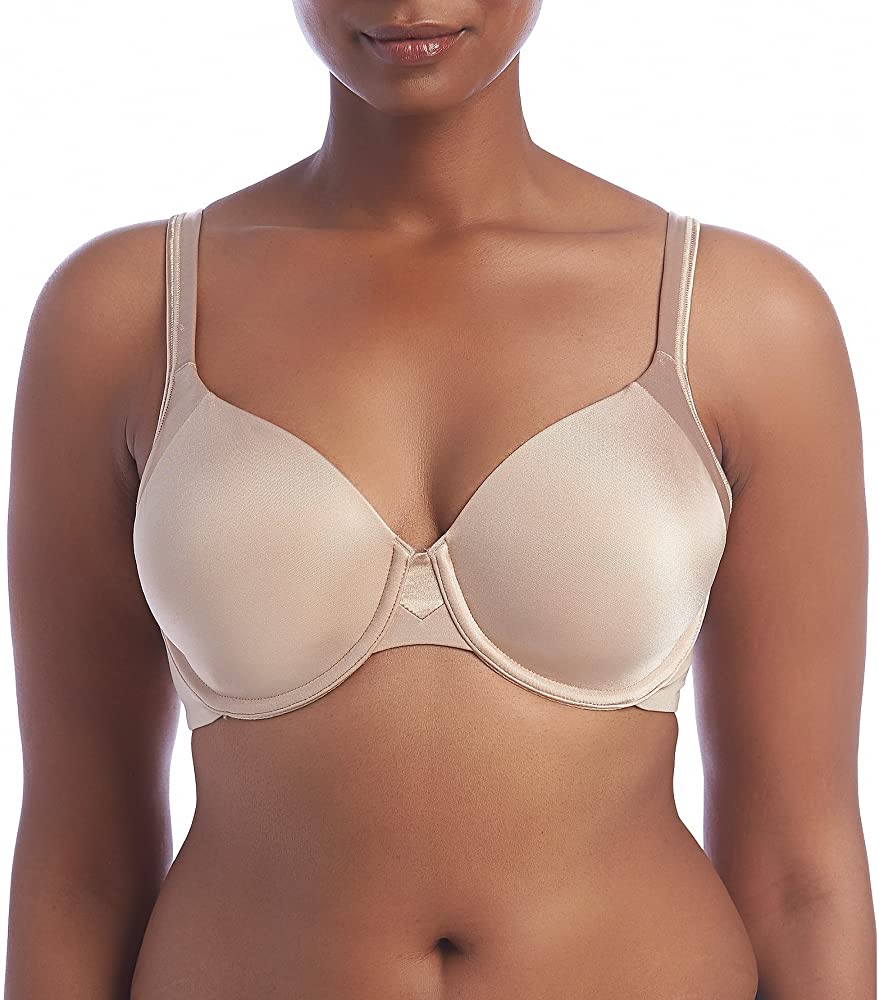 Playtex is a very well-established lingerie brand, and it has kept up with the market to provide modern, well-designed bras. As you can guess from the name of this bra, it is aimed at women with larger breasts and doesn't offer any small sizes. It has smooth, tailored cups and side-smoothing to avoid bulges and our testers all said it provided a super, smooth contour under clothing. It is made from a blend of 80% Nylon and 20 % Spandex, so that's a good percentage of Spandex, which will fit well, without constricting. This T-shirt bra has internal nipple-pads, for a modest silhouette at all times.
This bra scored full marks for staying in place and the underwire made it supportive and comfortable. The cushioned straps are essential for back and shoulder comfort in larger cup sizes, and that was also very much appreciated. And you get two bras in one, with the convertible straps that can be changed to make a racerback/criss-cross back. It was praised for having good coverage, but also a modern neckline that's suitable for wearing under V-necks and other low-cut tops. And it has lovely, pretty look in the cups which have a lace print on them. This is a great idea because you get the feminine, lacy look on modern, smooth cups! Available in 7 colors including nudes, lace prints and fashion colors.
Available in band sizes 32 – 44 and cup sizes C – G
Pros
Smooths out side and back bulges
Supportive and comfortable
Full coverage but modern neckline for low tops
Cons
2. Wacoal -'Red Carpet' Strapless Full-Busted Underwired Bra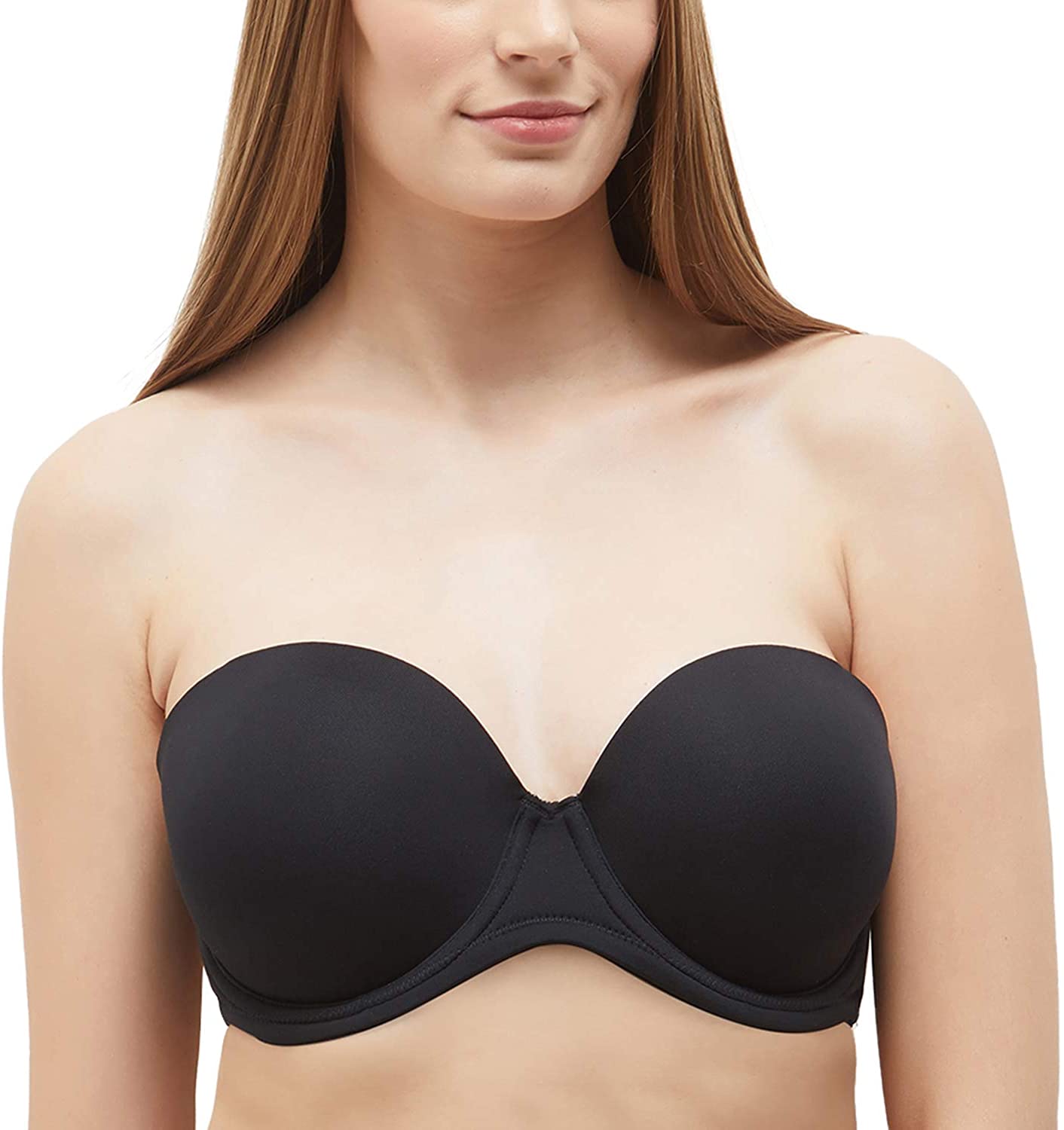 Wacoal say you don't have to sacrifice support and comfort to wear a strapless dress of a shoulder-baring top. And after trying this bra, out testers said that this strapless bra is so good at support that it beat several everyday bras with straps! So that's great news for those of us who have a large bust, and would like to show our shoulders. The silicone strip along the top and bottom edges is just one way that Wacoal ensure great support. There are hidden 'stays' in the sides and back of the bra that absolutely keep it from moving or slipping down. And the whole bra is designed to smooth and minimize bulges.
Our testers loved this bra, which fits well, looks good and stayed in place for every tester all day. It's also a convertible bra, which saves you buying a strapless bra that you'll only wear now and again. And you can wear this super-comfortable, high quality bra as a traditional bra or a halter-neck, criss-cross back and a one-shoulder style. It has a broad band with three hook-and-eye fasteners, which avoids back bulge. It did very well in our stretching and washing tests, as you would expect for this well-respected bra brand. It comes in several nude shades including black, tan, sand and ivory.
Available in band sizes 30-44 and cup sizes B-H
Pros
Highly rated bra for strapless support
Comfortable and body-smoothing
Convertible
Cons
3. Hanes – Ultimate T-Shirt Bra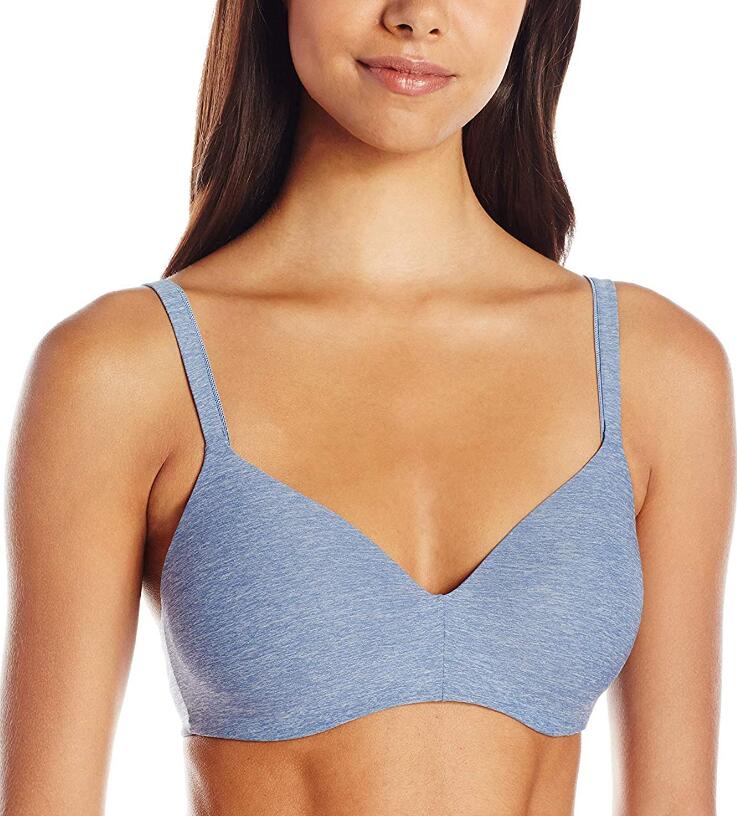 Made with four-way stretch fabric, means the body-band can be worn all day, every day with no binding or pinching. There's a moisture-wicking lining that's great to minimize sweat-rash problems and the fabric blend is 51% Nylon, 39 % Polyester and 10% Spandex. Our testers for the Hanes Ultimate T-shirt Bra ranged between 36D – 34B and they all commented on how comfortable they found this bra. Some testers felt that the bra cups ran larger than their size in other brands and that the amount of support wasn't high enough for a D/DD-cup. However, for smaller sizes this bra does provide adequate support. It stays in place and gives a smooth outline with good shaping under clothing.
The cups are approx. ½ cm at their thickest point and are invisible when worn under a T-shirt. The four-way stretch band benefits from having plenty of Spandex in the blend and provides all-day comfort. We found it easy to adjust the straps on a good-value, convertible to racer-back bra, which offers two styles for the price of one. It did stretch-out slightly in our rigorous tests, but it washed well 'By hand only', with no deterioration in the look of the fabric. Overall, this affordable bra was a high performer which gained more favorable reviews than other bras which cost considerably more. And it has no irritating labels. Comes in 3 colors, white, gray and oatmeal.
Available in band sizes 34 – 38 and cup sizes B-DD
Pros
Comfortable for everyday wear
Moisture-wicking
Smooth and supportive for smaller breasts
Cons
4. ThirdLove – 24/7 Classic T-Shirt Bra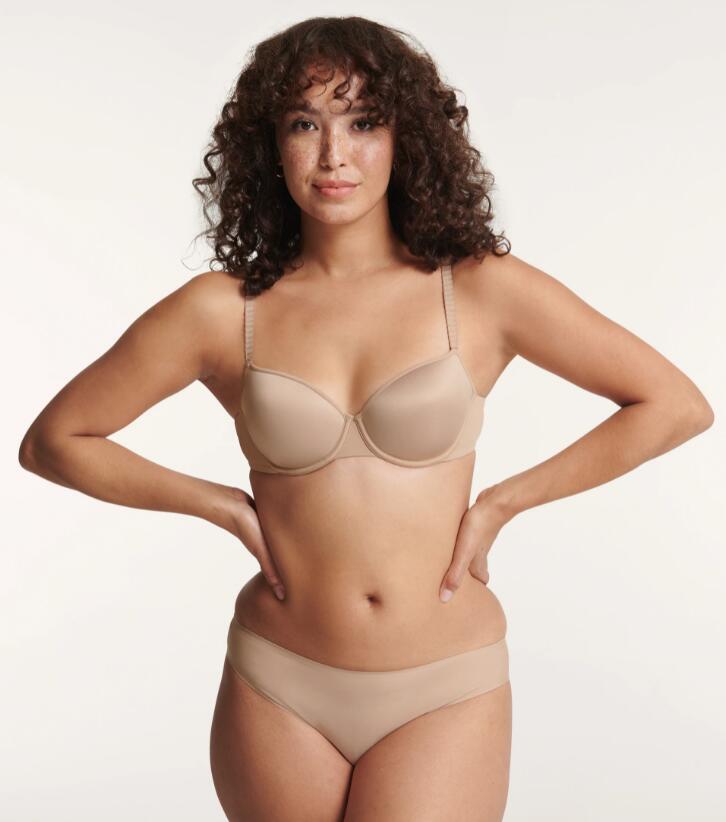 ThirdLove have a handy 'Fit Finder' quiz on their website, which is a great idea. This is a new brand, which was founded roughly seven years ago, so they are more modern in their approach to providing perfectly fitting bras. We were impressed by their attention to breast shape, and the fact that they showed a total of nine different shapes to choose from. Of course, the introduction of half-sizes by ThirdLove is a revolutionary step forward in bra sizing, which provide the missing sizes for many women who have never found their correct bra size before! And with free shipping and a long, 60 day return period, you can try your ordered bras at home.
There are 80 cup sizes to choose from AA to I, and body-band sizes from 30 – 48, so this brand is totally committed to helping every woman have a perfectly fitting bra. Our testers took the quiz and were surprised to find Thirdbrand recommended different sizes from the size they usually wear. However, when the 24/7 T-shirt bras arrived, they actually fitted perfectly and were rated as 'extremely comfortable'. Some wore half-sizes for the first time and realized it solved long-standing problems with fit and comfort! This bra is soft, comfy and smooth, too. And smaller cup wearers loved the good shaping, without lots of padding. This excellent bra comes in 10 colors including various nude shades, black and fashion colors.
Available in band sizes 30-48 and cup sizes A-I
Pros
Half-sizes for better fit
Comfortable and supportive
Free shipping
Cons
5. Spanx Bra-llelujah! – Full Coverage Bra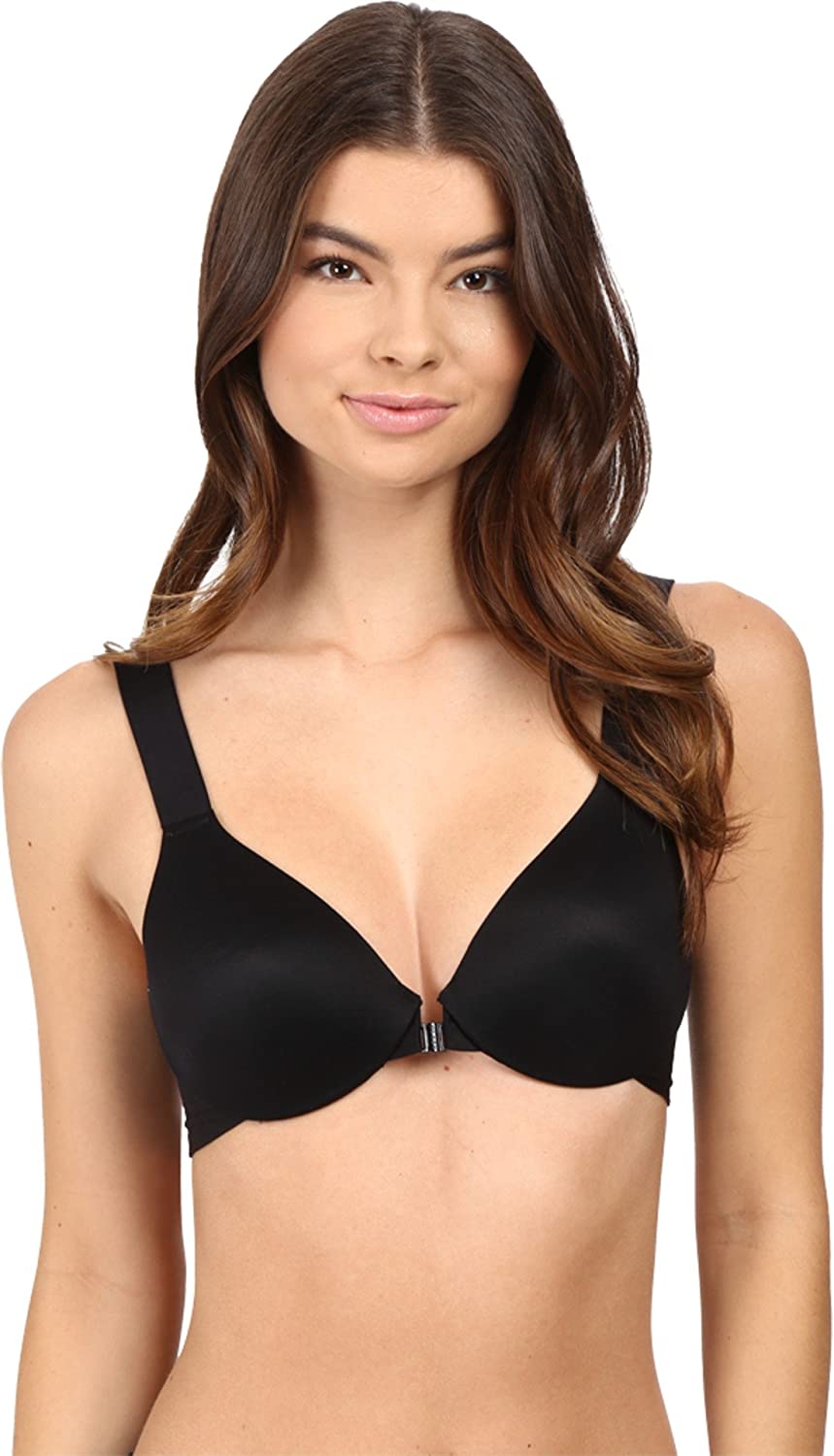 What you notice first about this superb bra is the broad straps, which are essential for women with larger breasts. And it has a totally smooth back, to eliminate those awful lumps and bumps we hate. The fastener is set in the front and that makes it easy to put on and remove. So as you would expect from the popular Spanx lingerie brand the designers have really tried to solve several problems that women complain about in their bras. Our testers loved the level of comfort and with full coverage and broad straps the level of support was excellent. But there wasn't a lot of shaping.
The material is a blend of 72% Polyamide and 28% Elastin, which did stretch out more than some other bras in our test. However, testers said it felt like a second skin and was incredibly comfortable, so I believe that the higher percentage of Elastin makes this bra soft, smoothing and very popular with a wide range of women. Most of our testers said it runs true to size. And as a soft-cup, supportive bra it's suitable for small to large cup sizes. There are 10 colors and patterns in this style, which are both nude and modern shades and it's a hand-wash only bra.
Available in brand sizes 32-40 and cup sizes A-DDD
Pros
Front fastener
Back smoothing style
Comfortable and supportive
Cons
Soft cups don't give a lot of shaping
6. Natori – Pure Luxe – Full Fit Bra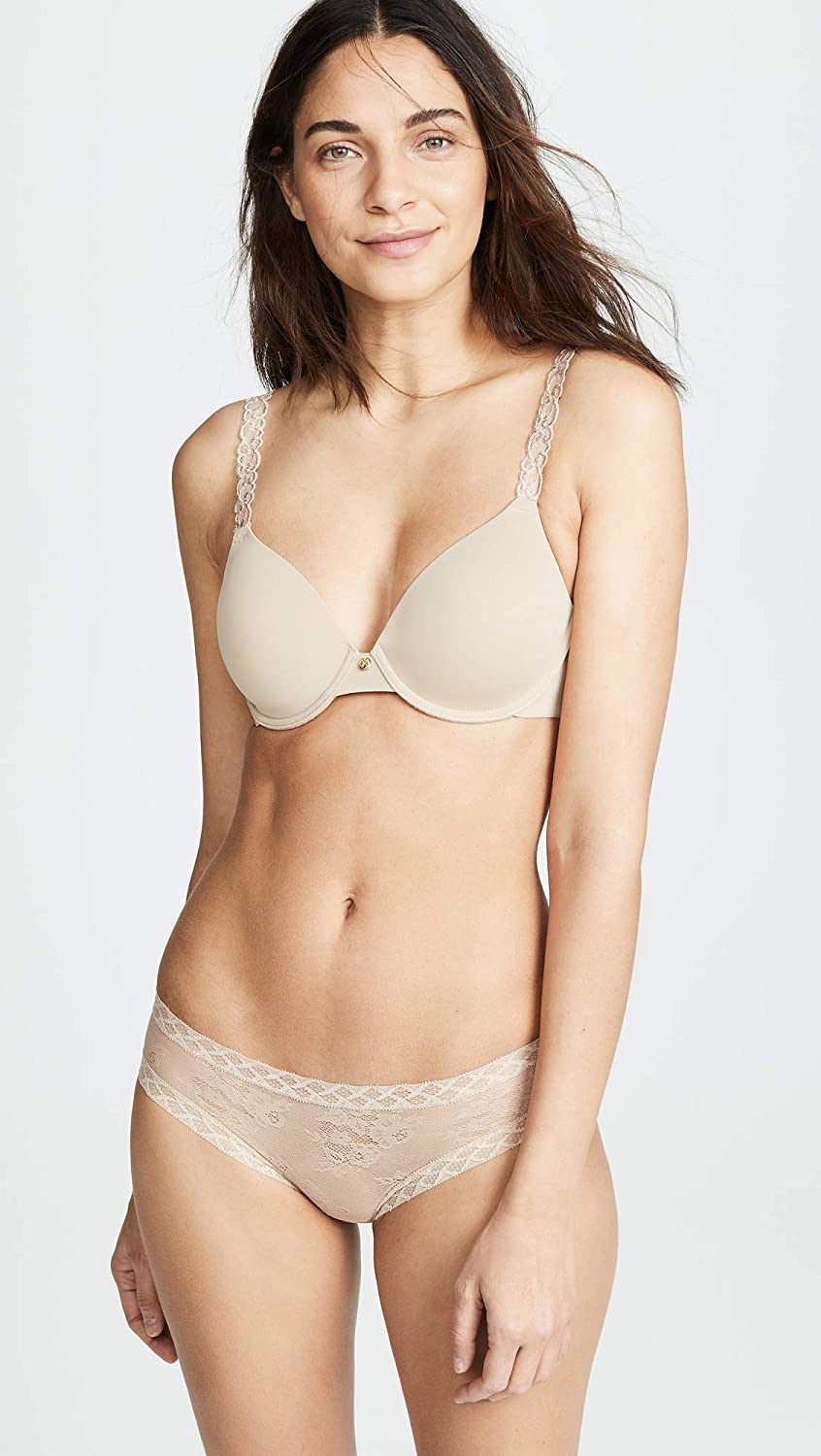 With sizes ranging from 32 – 38 body-band and cup sizes B – G, this bra is offered to a wide range of sizes. It creates a smooth silhouette beneath clothing from ultra-soft, smooth fabric. The lace-covered shoulder straps are strong and give good support. And the seamless sides and back are comfortable in wear, keeping the bra in place during various activities. This bra was reviewed by a tester whose size is 34 F and she was very pleased with the comfort and fit of this full coverage bra. Larger busts always get better support from full-coverage bras. An over-65 tester said this was the best bra fit and comfort she has every experienced. We all liked the fact that there are photos of differently sized and differently aged women wearing this bra on the sales page!
And our 34B tester, who has a small frame, said this bra was perfect for her. All testers said it gave them sufficient support and a smooth contour under clothing, plus great shaping. The shoulder straps were rated as very comfortable, even with testers who often have problems with straps that dig in and hurt. It has a very smooth cup interior and can be worn under even a thin T-shirt, with no show-through. And a DD-cup tester said it felt invisible and was a perfect bra. Overall, this bra earned the most points in our tests who also said it didn't move out of place and was easy to put on and remove. The Natori Pure Luxe Full Fit Bra is a durable and minimalist bra with attractive lace decoration on the shoulder straps. Available in black and beige.
Available in band sizes 32-38 and cup sizes B-G
Pros
Fits a wide range of sizes
Comfortable
Great shaping
Cons
7. True & Co. – True Body V-Neck Bra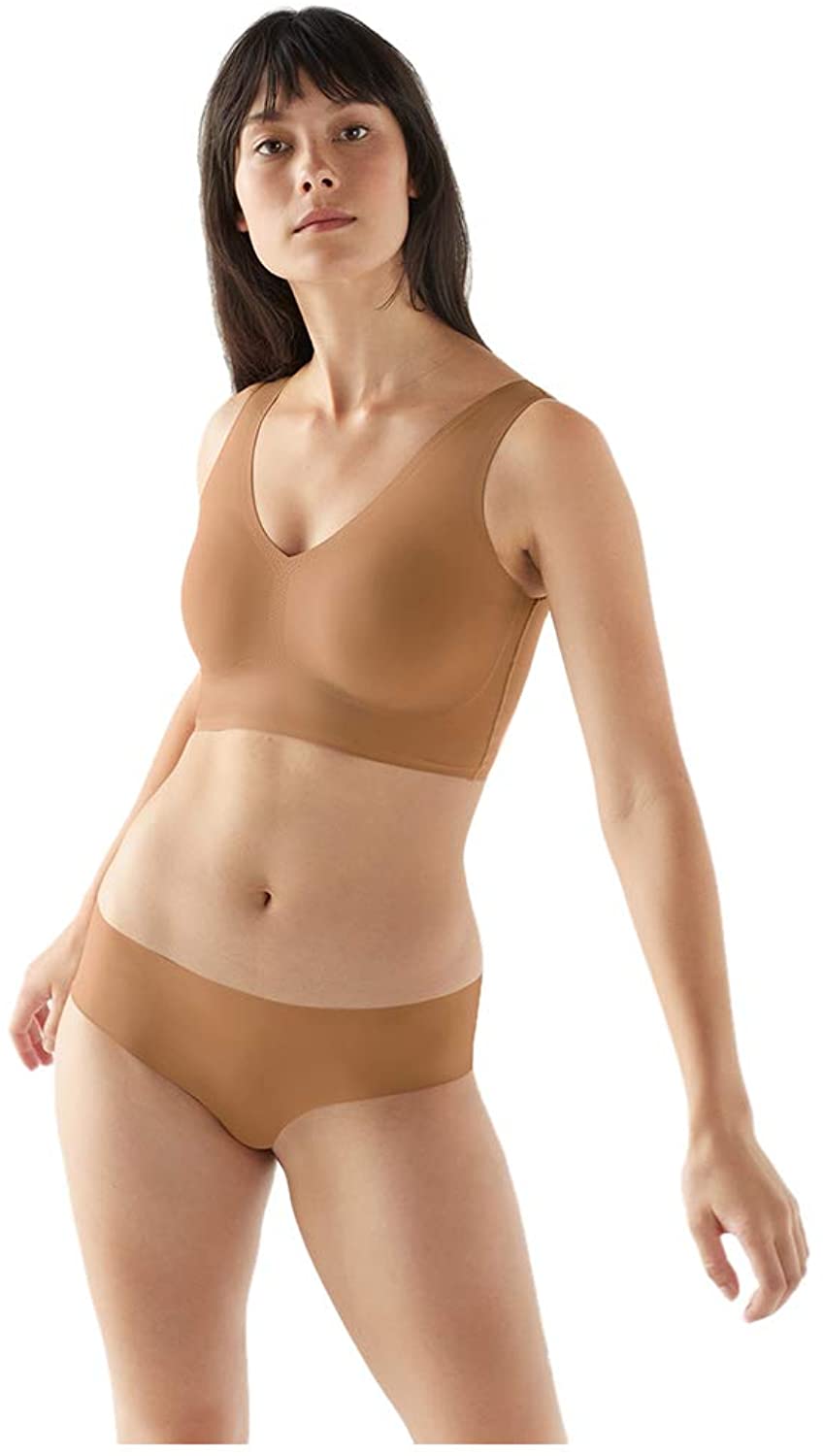 Made from smooth, fine fabric which is 77% Polyamide and 23% Elastane, this is an incredibly soft bra without wires. It is a pull-on or step-in style without any fasteners to irritate your skin in the style of a minimalist bralette. With removable pads included, you can choose whether you want to use them or not. And the True-Body V-neck is virtually invisible under clothing as it is completely seamless. The V-neckline at the front and back, allows you to layer it or wear it as a cute, cropped top/bralette on its own. However, you won't get a lot of shaping with a pull-on bralette.
As it is a pull-on style, you get the benefit of a lovely, smooth back, but without a tighter body-band and underwires, large cup wearers won't get the firm support they need. It gives support for small breasts and testers for small sizes were very pleased with the comfort and support. However, this bra did well for comfort with testers who wear small and large bra sizes. So it works as an every-day bra for small sizes and a lounge bra for larger sizes. This is a machine-wash bra which did well in our stretching and washing tests. This lounge bralette comes in 5 colors black, pink, bronze and cream.
Available in sizes XS – XL, for plus-size and larger cups
Pros
Attractive minimalist style
Comfortable
V-neckline front and back
Cons
Not supportive enough for large sizes
8. Hanes – 'Oh So Light' Comfort Wire-Free Bra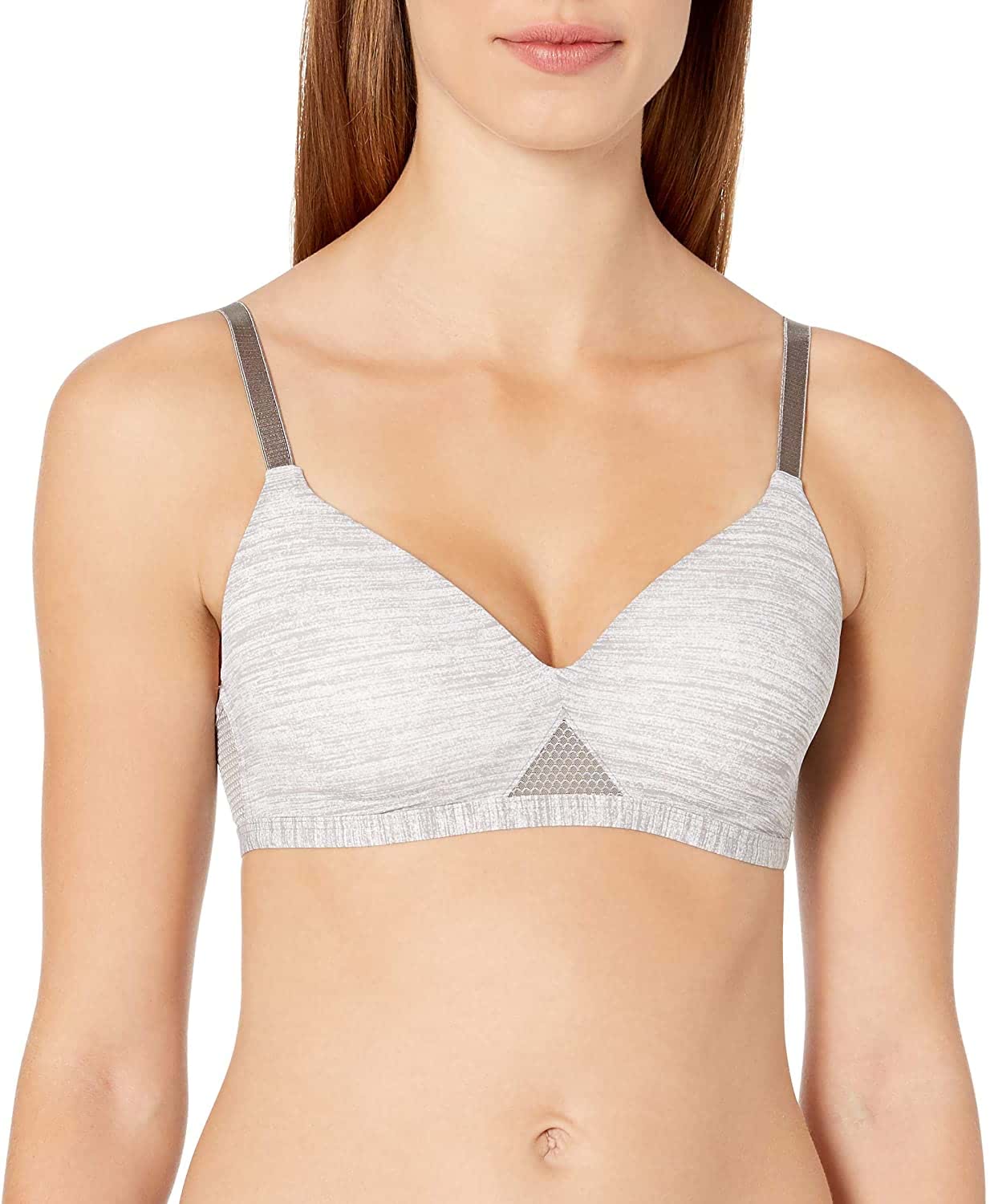 Hanes is a reliable brand that our testers always like. They reported that this style was comfy and even without any under-wiring, they said it gave good support. It's a great choice for those who like wearing soft, bralettes but want a bra that's more flattering. It's not a bra that offers sufficient support for larger sizes, but as a 'comfort' bra, it's only offered as a 'home-wear' style for big cup sizes. This is one of the least expensive bras in our top ten review. And it's made from a blend of synthetic materials – Cups: 84% Nylon and 16% Spandex and Mesh 79% Nylon and 21% Spandex. The high percentage of Spandex guarantees a close, but not restrictive fit.
The cups are made from thin foam, without bulky padding. And testers who wear smaller cup sizes said the cup is not too thick, and gives a nicely-shaped, natural contour. The bra looks attractive and is comfortable to wear all day. What everyone liked about this bra is the cooling vent at the front, which allows heat from your cleavage to dissipate into the air and keep you cool. This unique feature is especially useful if you work-out or live in a warm climate. The bra recovered its shape after we stretched it, and after being washed 6 times in accordance with the washing instructions. There are 5 colors to choose from, including cute denim-blue.
Available in sizes S-3X
Pros
Comfortable
Smooth under clothing
Cooling vent
Cons
Not suitable for large cup wearers
9. Cosabella – 'Never Say Never' Sweetie Bralette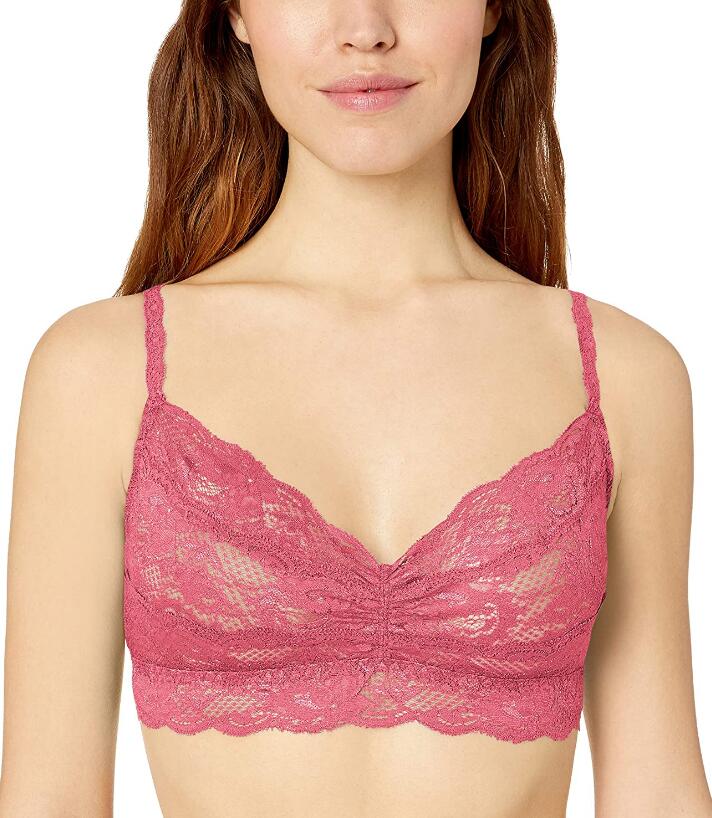 This light support bralette is designed for lounging or sleeping in. It's very pretty with Italian style and made from a special, pearlescent floral lace that shines like a rainbow. As a bralette it is a low-support bra style that you put on over your head, so it's suitable for small breasted women as a bra and sexy, home-wear item. And it's a fun, erotic bra that medium-sized women can wear, too, but it won't give much support to the XL size group. It's made of 91% Polyamide and just 9% Elastane, which is a lower quantity of elastic than most of the other bras in this 'top ten' review.
The testers loved having a pretty, lacy bra to try out and said that the colors are up-to-date. So it doesn't matter if they show as part of your outfit. For example, you could wear this bralette under an oversized blazer for a trendy look. There's no padding or underwire, so you don't have problems with padding that loses its shape or wires digging into your skin. The reviewers said it runs a little small and you may need to order a larger size than normal. It's very easy to put on and off and importantly, stayed in place all day. The fabrics are good quality and the lace did well in our stretch and wash tests. It comes in six gorgeous fashion colors – black, lavender, grape, aqua, plum and blue-gray, so it has a trendy, modern vibe!
Available in sizes S-XL
Pros
Comfortable
Sexy look
Pull on
Cons
10. Vanity Fair – Beauty Back Full-Figure Wire-free Bra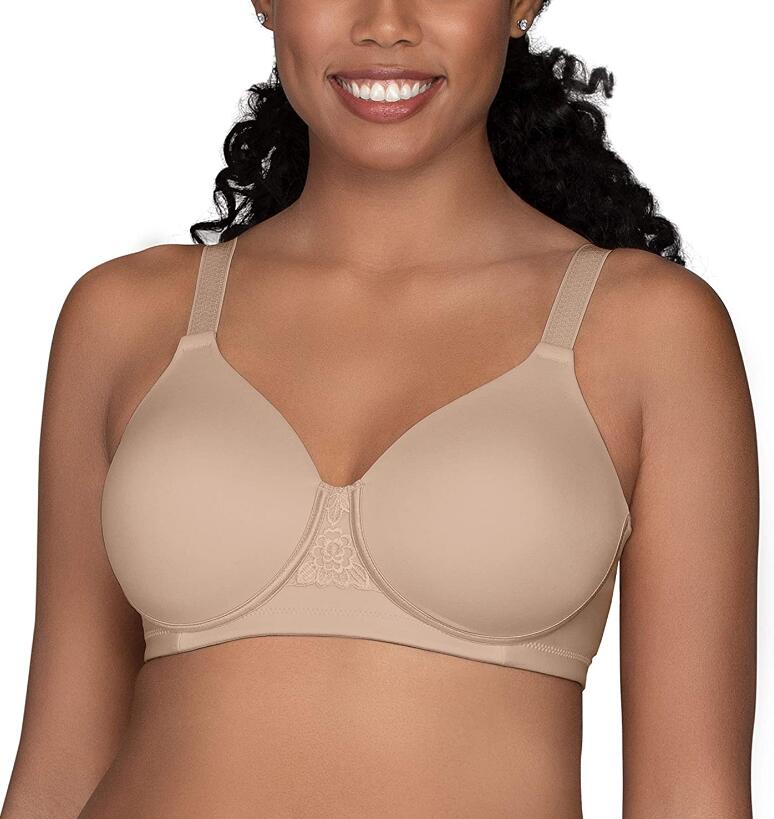 Lots of women have problems with the bumps and bulges that bras cause along the sides and back. So this style was designed specifically to smooth out back bulging. The fabric used is a blend of 78% Polyamide and 22% Elastane. And this amount of Elastane is good for giving a good back-smoothing effect that looks great under clothes. It has a leotard shaped scooped back and is higher at the sides. So as a full-figure, wire-free bra it does its job well and was praised for its comfort and amount of support by our testers.
One reviewer also commented that as well as being extra-comfy, this bra was more supportive than the sports bras she owns! So that's definitely a great recommendation. Other testers said the body-band fits closely and acts to transfer the weight of the breasts onto the ribs, as it should. And this is a necessity for women with large breasts to avoid strain on the shoulders and back. However, one tester found the center-gore too wide, so her breasts were pushed outwards and she didn't get any cleavage – although buying a smaller cup can fix this issue. This bra has the broad straps heavy duty bras need to protect your shoulders and give excellent support.
Available in band sizes 36-44 and cup sizes C-DDD
Pros
Comfortable high coverage bra
Good support
Body-smoothing design
Cons
Not suitable for 'east-west' breasts
Some bras feel comfortable for a few minutes in a shop changing-room, but start to move around or dig in after an hour or so of wear. So be careful to check every aspect of fit you can, if you're shopping in a store. On the other hand, if you've bought online you can spend a lot more time trying out a new bra before you decide to keep it! Subscribe to get more shopping tips on herstylecode.com