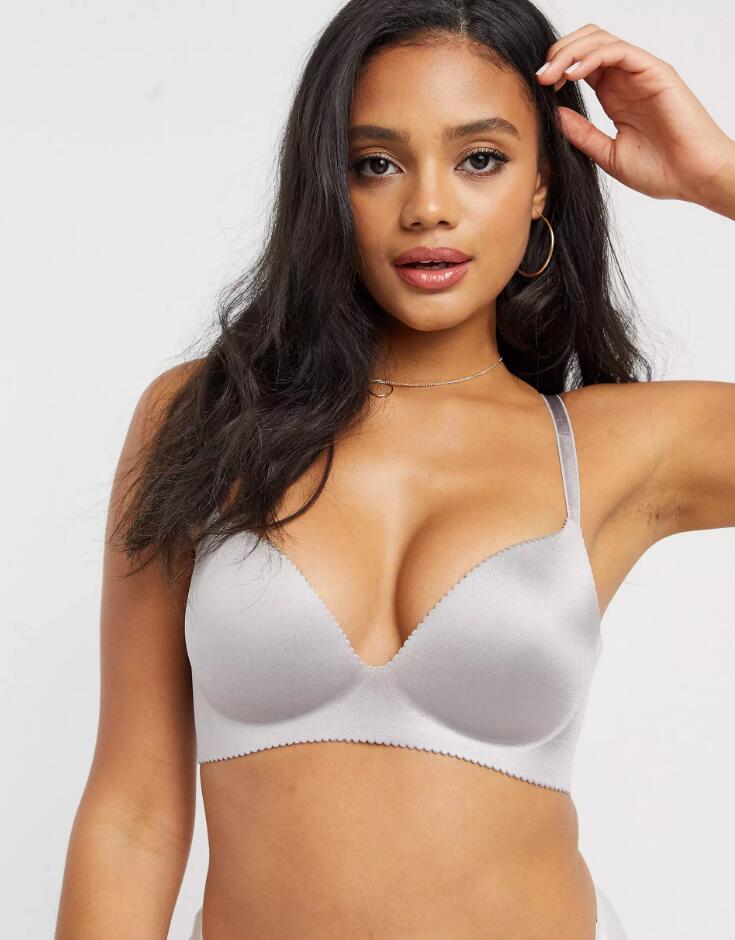 We all like bras that make our bust look good, and these 8 best half-cup and demi bras will give you instant uplift! Full-cover bras are great for support, but you can't beat the boost smaller breasts get with a half-cup, demi bra. And comfort is another essential quality of our favorite bras.
So why choose a demi-bra?
Demi bras combine good support with less coverage, so you can show the top of your bust in low-cut necklines. They mold smaller breasts to create your best cleavage and are definitely one of the sexier bras. Padded underwires, plus adjustable straps, make half-cup/demi bras secure and well-fitting – if you choose from the best styles!
How to find the best half-cup & demi bra
Online stores are flooded with different brands and styles, but there's no doubt that some are better quality than others. And you can't always go by the price to decide which bra will be the best fit for you. So HerStyleCode publishes regular reviews from our own testing teams to keep you up to date with the latest and best bras.
We use ordinary women who wear each bra for a minimum of two days and then give us their genuine feedback. And out of a long list of bras, we soon come up with a short list of bras that have won most points for comfort, performance, support, fit, quality and appearance.
So if you're looking for a great half-cup/demi-bra read on and find the best on offer right now!
1. Best Value for Money Half-Cup & Demi Bra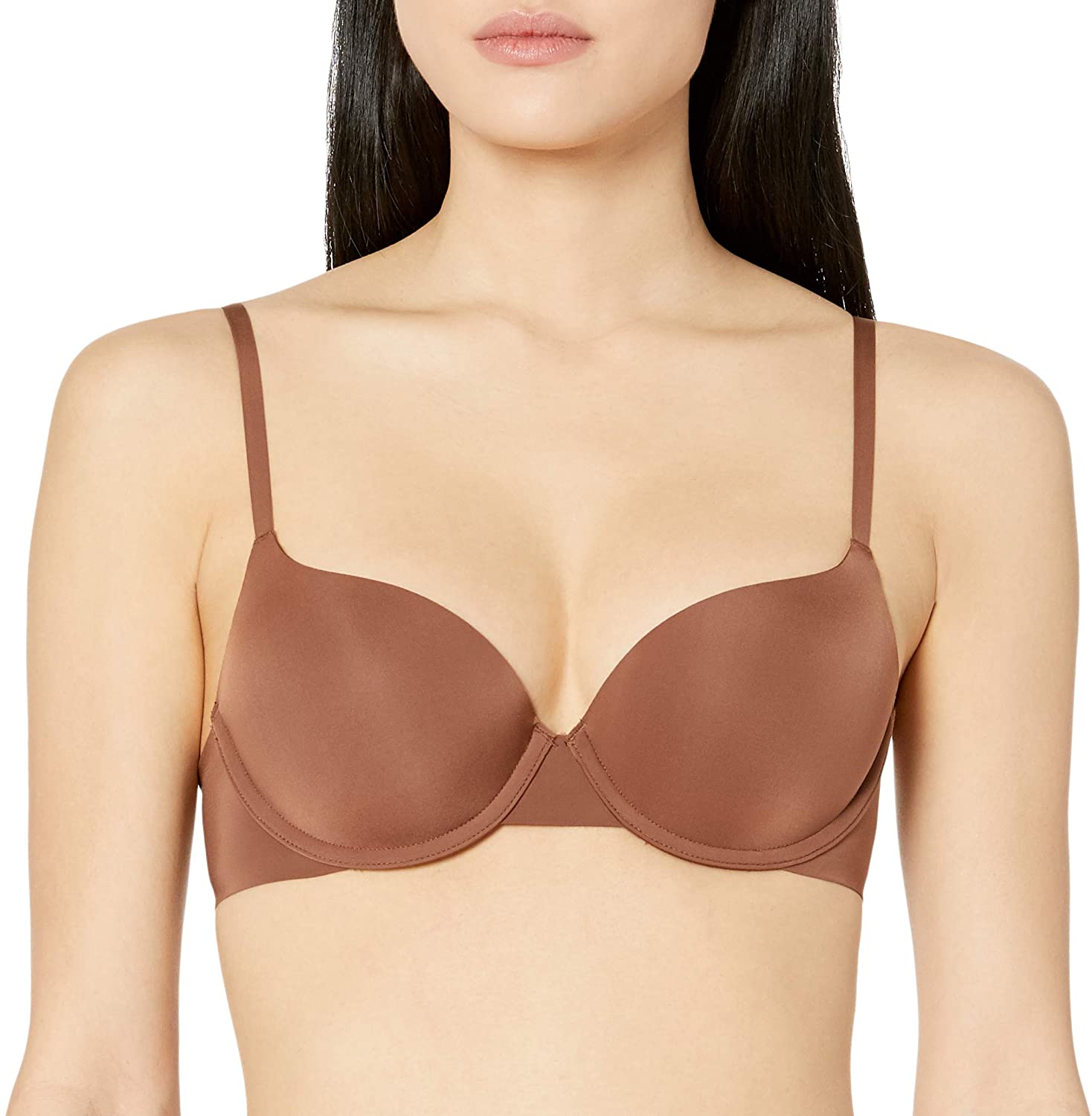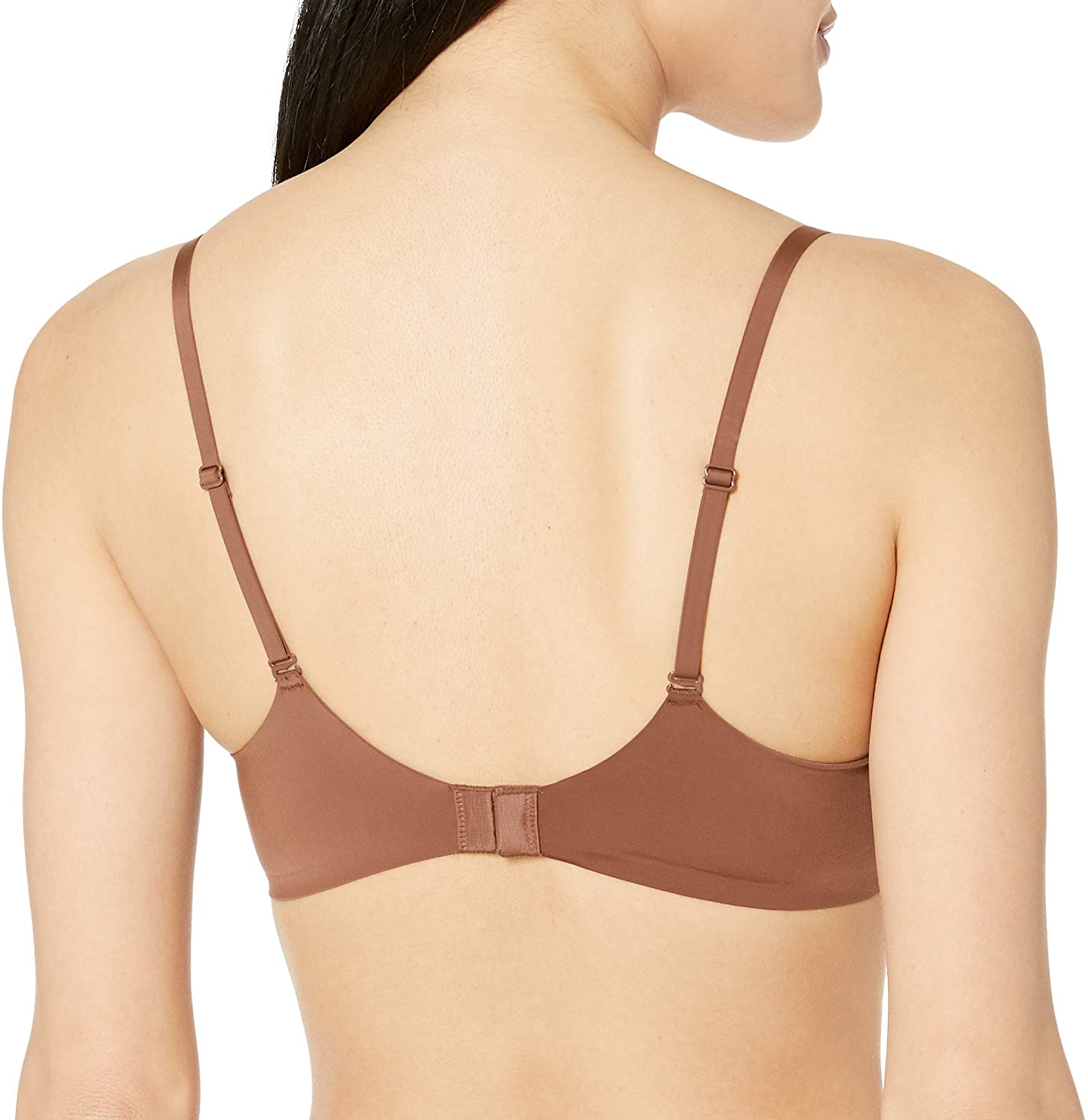 This is a versatile, T-shirt bra which gives your bust a good shape and a smooth look under clothing. It is made with soft fabric and has underwired cups, plus a handy convertible back. With adjustable straps and a hook and eye fastener you get a great fit for an economic price.
Our Testers said this half-cup bra gives a good degree up 'push-up', without showing under t-shirts. They said it was true-to-size and perfectly comfy, with no back bulges. The cups add attractive shaping, without heavy padding, so the effect is natural. The graduated thickness of the hems makes it lie smoothly and stay in place well!
2. Best Supportive Half-Cup & Demi Bra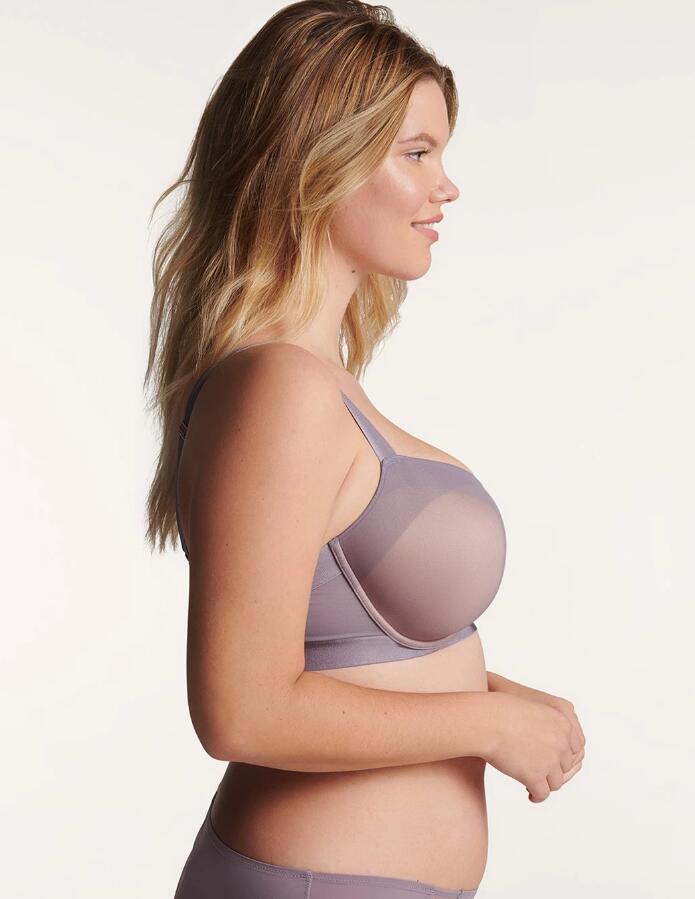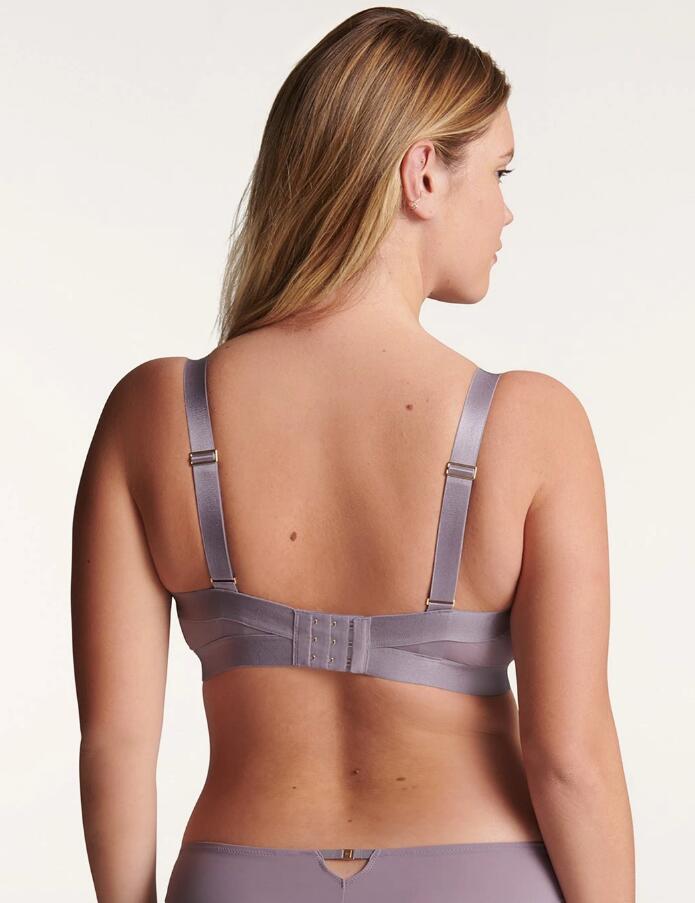 This very stylish demi bra is inspired by vintage glamor lingerie. It has molded, memory-foam half-cups and a broad body-band for a great fit. The golden decoration and metal clips add a touch of luxury. And broad straps add to the supportive design. In addition, this brand never puts tags inside the band, so you won't get skin irritation.
Our Testers said they loved the trendy, modern look of the updated vintage design. And the memory-foam cups give a good fit for different breast shapes. The broader band helps avoid side and back bulges. And it's comfy and creates great cleavage.
3. Best Bridal Half-Cup & Demi Bra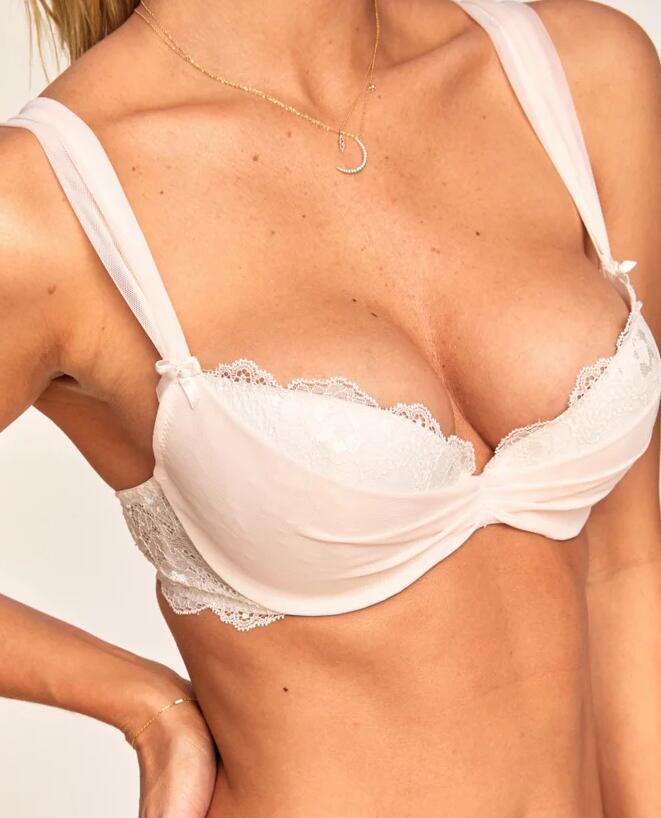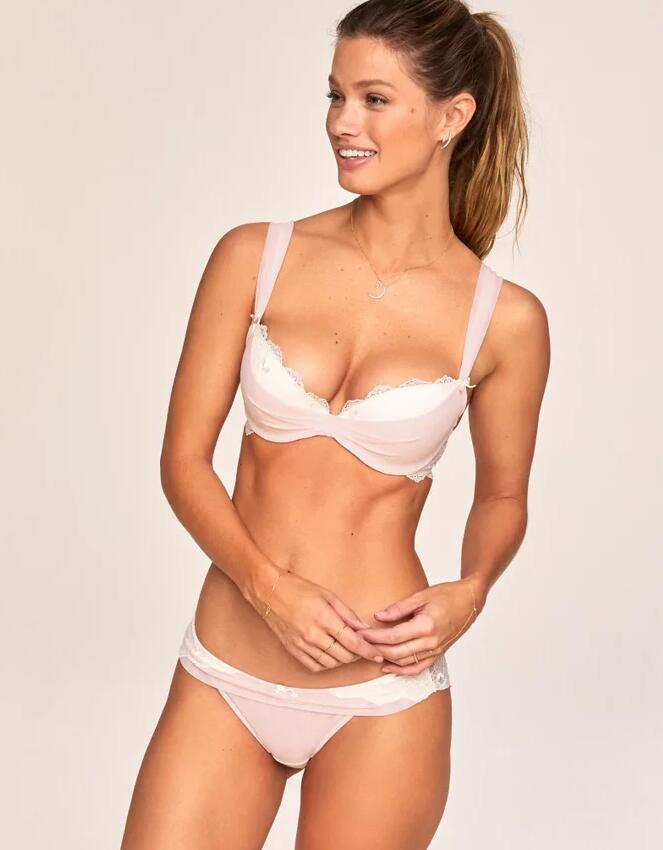 This pretty and very romantic bra has attractive, scalloped lace cups beneath soft, pleated mesh. The straps are broad which means they are very supportive, but they also look dainty in this style. The underwire and broad straps make this a comfortable design. It's popular with brides, too!
Our Testers loved this super-cute, lace-edged half-cup bra and said they always felt sexy when they wore it. The straps never dig into the shoulders and you get a great push-up effect for your best cleavage. The fabric is soft on your skin and the bra is high-quality, with great attention to detail!
4. Best Everyday Half-Cup & Demi Bra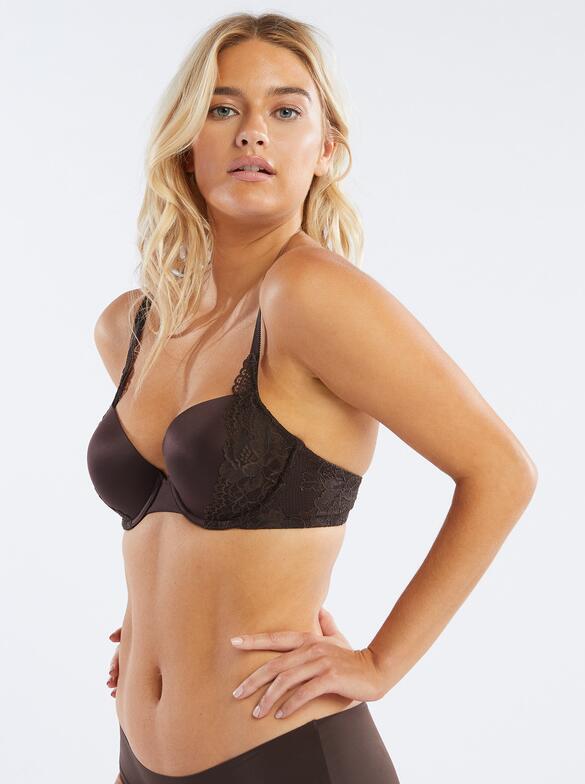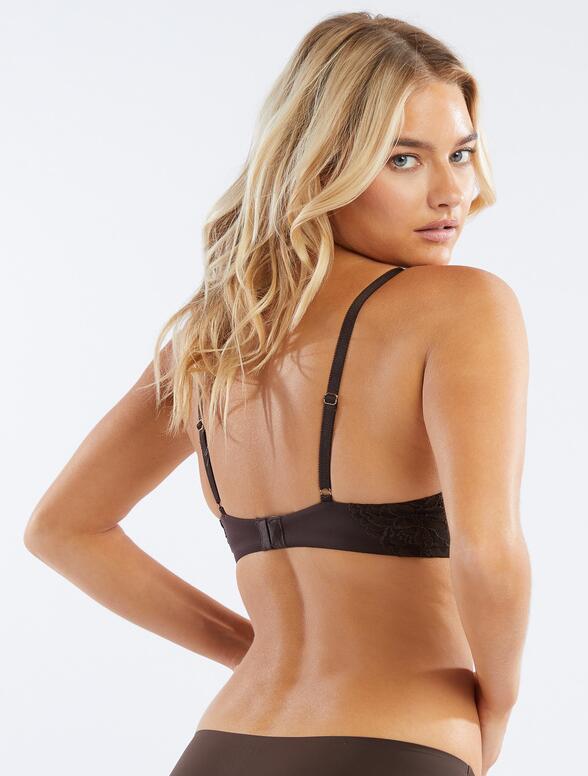 This is a classic half-cup bra, which gives you a shapely bust. It's designed to be your everyday, favorite demi-cup and has a smooth line under clothing. The cups and sides are decorated with low-profile lace for a feminine finish. It's a lightly lined, underwired bra with soft, microfiber, sculpted cups. And it has rose-gold hardware.
Our Testers said this cute, lacy and comfortable bra fits very well. But a couple said the band was a little too small. The two brown colors are perfect for nude skin tones. In addition, the plush lining is extremely soft and the thicker underwire doesn't dig in at all! It's also very flattering to your bust!
5. Best Lace Half-Cup & Demi Bra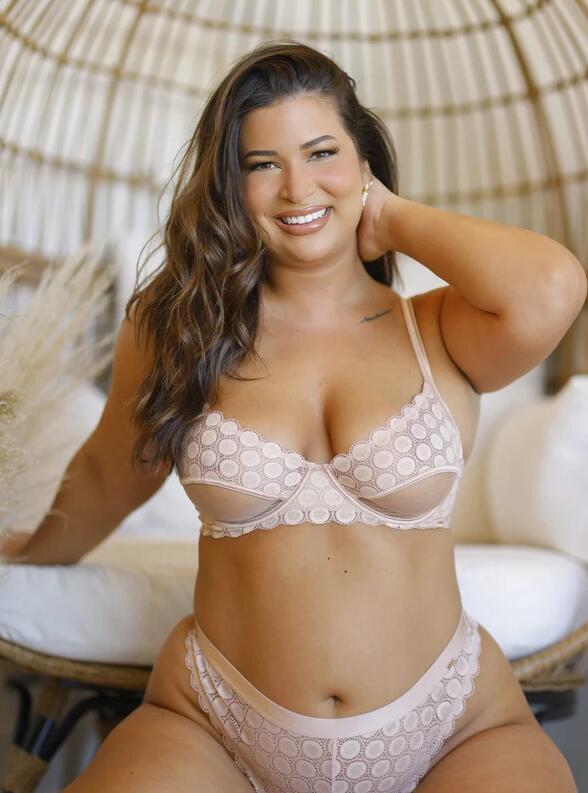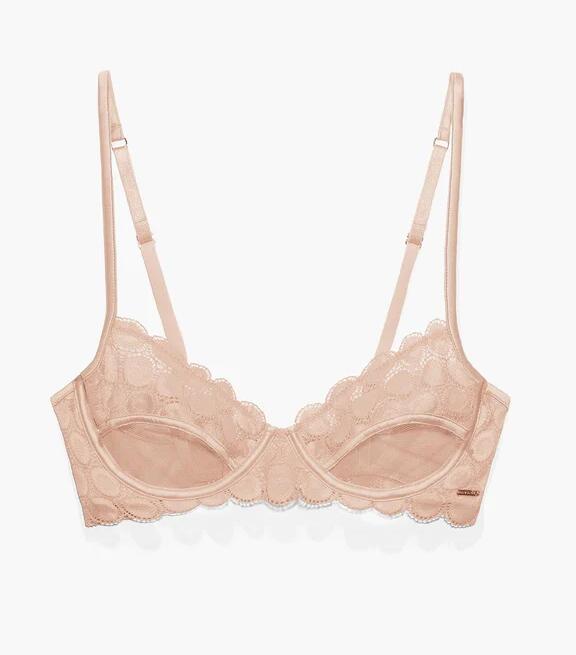 This is an unlined half-cup bra with underwired cups that give instant lift and good support. It's a modern construction with an attractive retro-1970's geometric, lace design and a sheer insert on each cup. The lace is metallic-foiled but soft on your skin. The metal-ware on the straps is luxurious rose-gold colored.
Our Testers said this is a lightweight, luxury bra that looks fabulous on. You get a sexy 'under-boob on show' effect from the see-through tulle in the bottom half of the bra. It's a super bra for comfort and support. And you get good cleavage for low-cut necklines!
6. Best Lightly-Padded Convertible Half-Cup & Demi Bra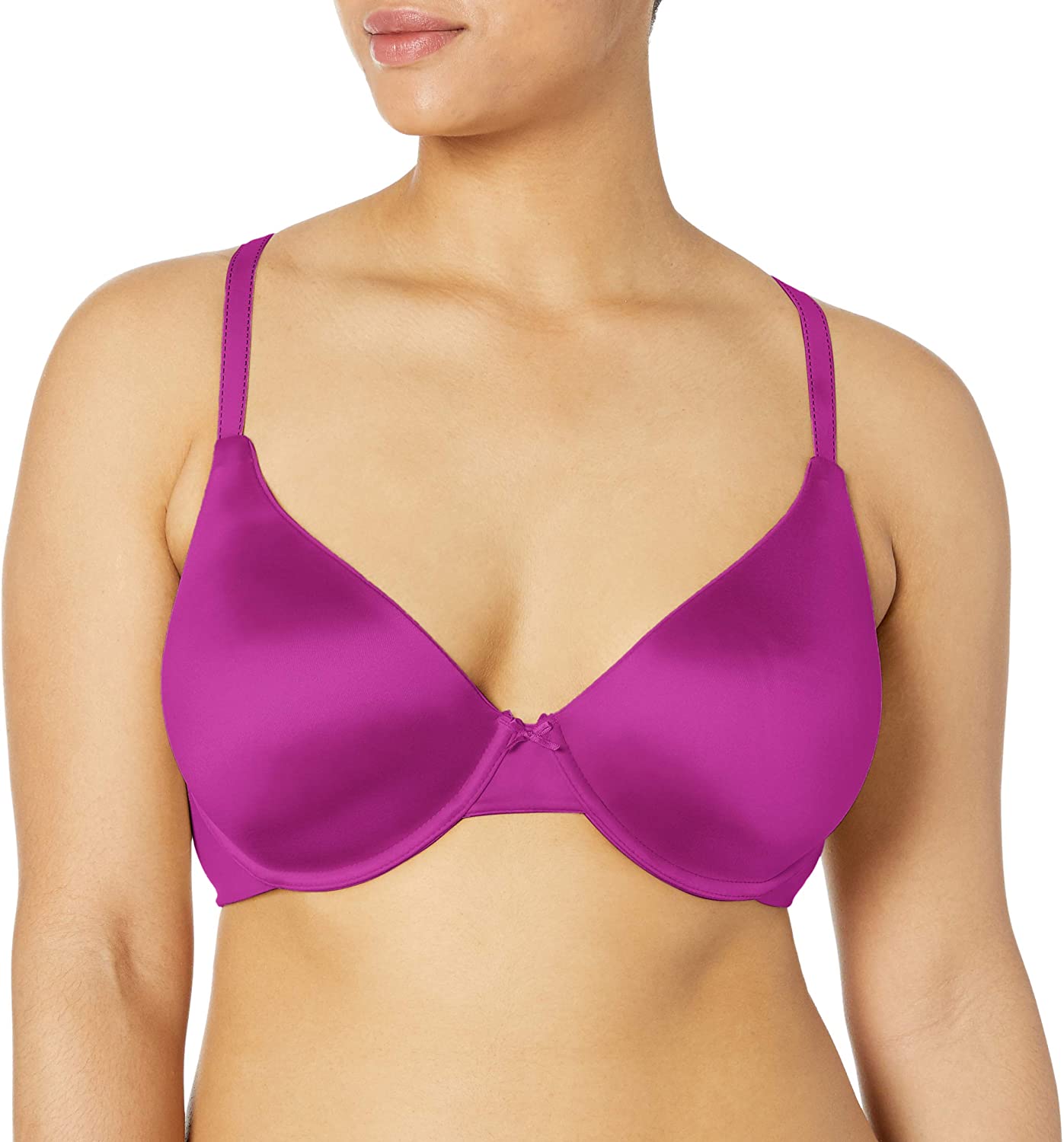 This is an underwired bra with foam cups that give good support and comfort. The fabric is very stretchy, so it gives a good fit. The cups are lined with soft, plush fabric. And the underwire has a softly padded casing to avoid it digging in. The sides help smooth your silhouette.
Our Testers loved the soft fabric and said you get good fit for A – C cup sizes. The bra is very comfortable and has just enough padding for coverage, without adding volume. The cups give a nice shape to your profile. And with convertible straps this is a very affordable bra.
7. Best Seamless Half-Cup & Demi Bra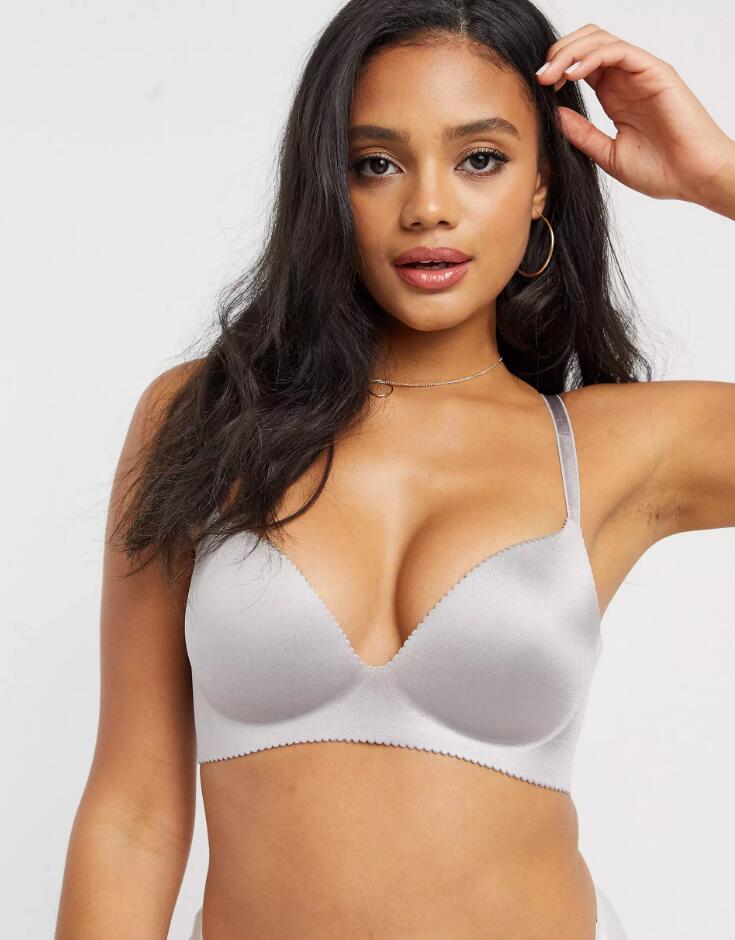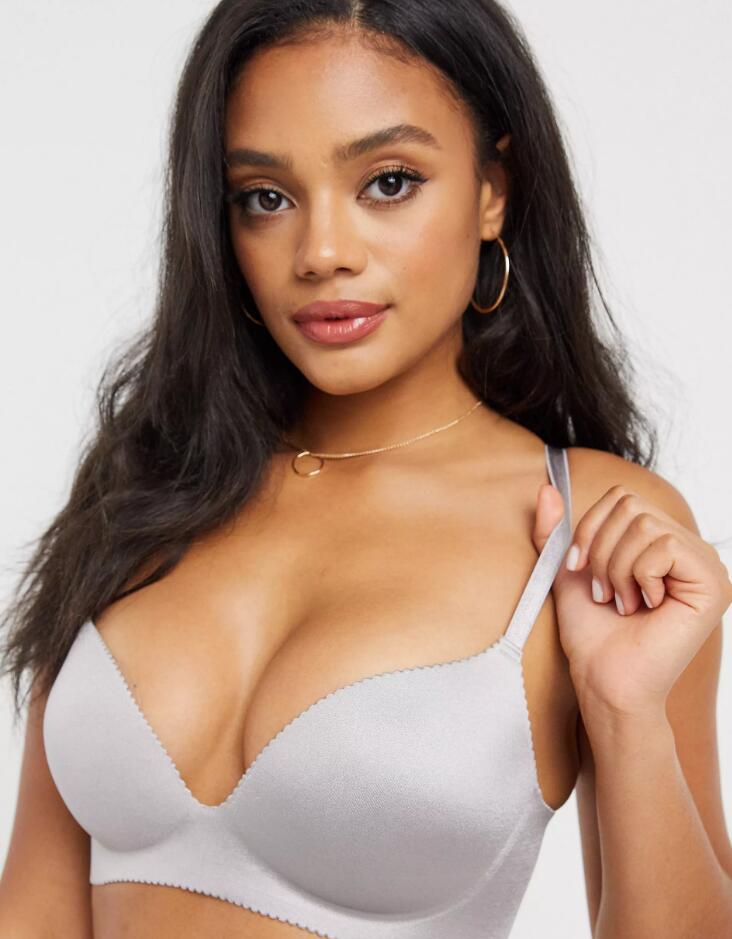 This modern bra is minimalist and has unusual serrated edges that break-up the line, so it won't show under tight clothing. You get good support from underwires, which help you get your best cleavage. And overall it's a very lightweight bra to wear.
Our Testers said its padded cups are also very stretchy, so you get a close fit without it feeling tight. And the 'push-up' design makes it perfect for showing off a low neckline. Testers said it fits well and is extremely comfy, so you don't feel like you're wearing a bra. But it's still supportive!
8. Best Boho Trendy Half-Cup & Demi Bra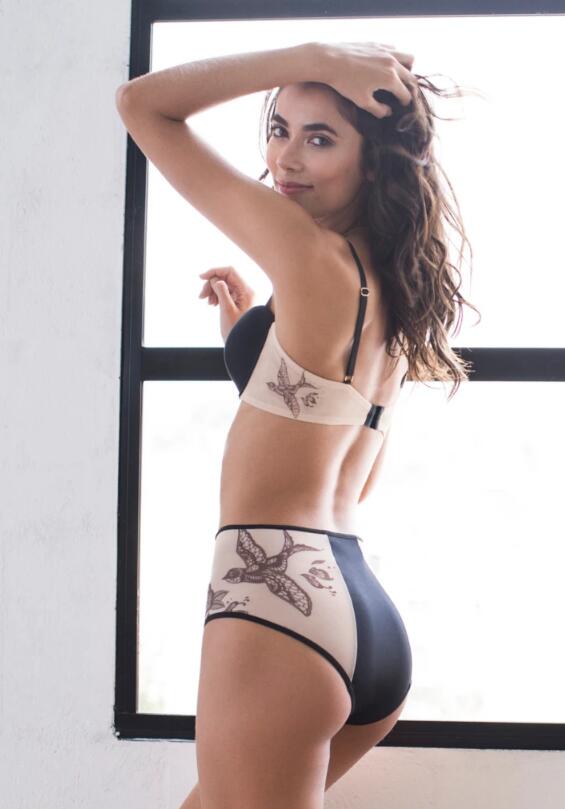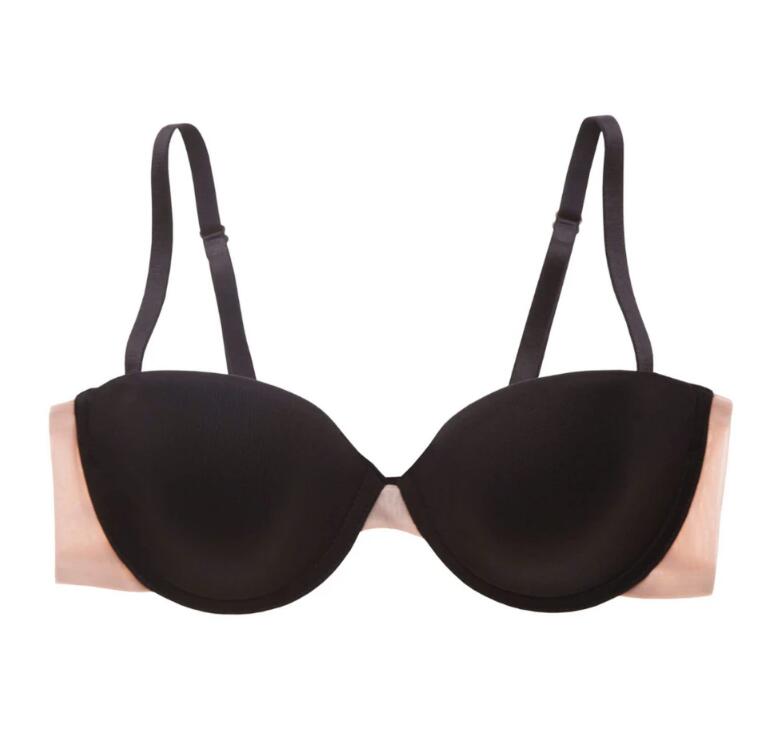 This unusual bra has a distinctly Boho and retro look. The sides of the bra are printed with black sparrows and the whole image is classy and original. Even the insides of the soft, memory-foam cups are printed with sparrows or flowers!
Our Testers loved the classy vibe of this half-cup bra. It gives great support and lift to smaller cup sizes. But DD and DDD+ testers said the cups are too small for large busts. It's true to say the thin straps and band-free cups are definitely more suitable for sizes A – C only. However, the smaller sized testers absolutely loved this trendy, luxury demi-bra!
So whether you need a supportive or a 'push-up' bra, you'll find exactly what you need from this selection of modern demi bras. Have you chosen your favorite yet? There are some really cute and sexy bras to choose from amongst half-cups bras, aren't there! 🙂
How do you usually choose your new bras? Do you go for comfort or uplift? Cuteness or best fit? Let us know your thoughts and opinions on bras. We love to hear from you!