The best push-up bras are designed to give you a little extra cleavage, especially for social events and special dates. So if you're planning a big night out and want to look your best, you may find that a push up bra can help you get the best fit from a new dress and increase your confidence.
And if you've been working from home and missing your social life, you'll know it's easy to lose interest in making yourself look attractive. But as soon as you put on one of these lovely, push-up bras, you'll perk right up – physically and mentally! And so will your love-life!
A good push-up bra can add one or two cup sizes to your shape, and still have a natural contour. But buying online can be a bit of a gamble, as there are so many different styles on offer. And no woman wants to waste any more money on bras that don't fit! But help is at hand from our hard-working research section!
HerStyleCode publishes regularly updated bra guides to showcase the best, modern bras. Our teams of ordinary women test and review bras in all styles and sizes. We test a wide range of bras, which are worn for a minimum of two days, before being reviewed. So if you want to know about fit, comfort, support, performance, durability and quality this is the place to be. And you only need to read on to find out which are the 8 Best Push-up Bras on the market right now!
1. Best Wireless Push-up Bra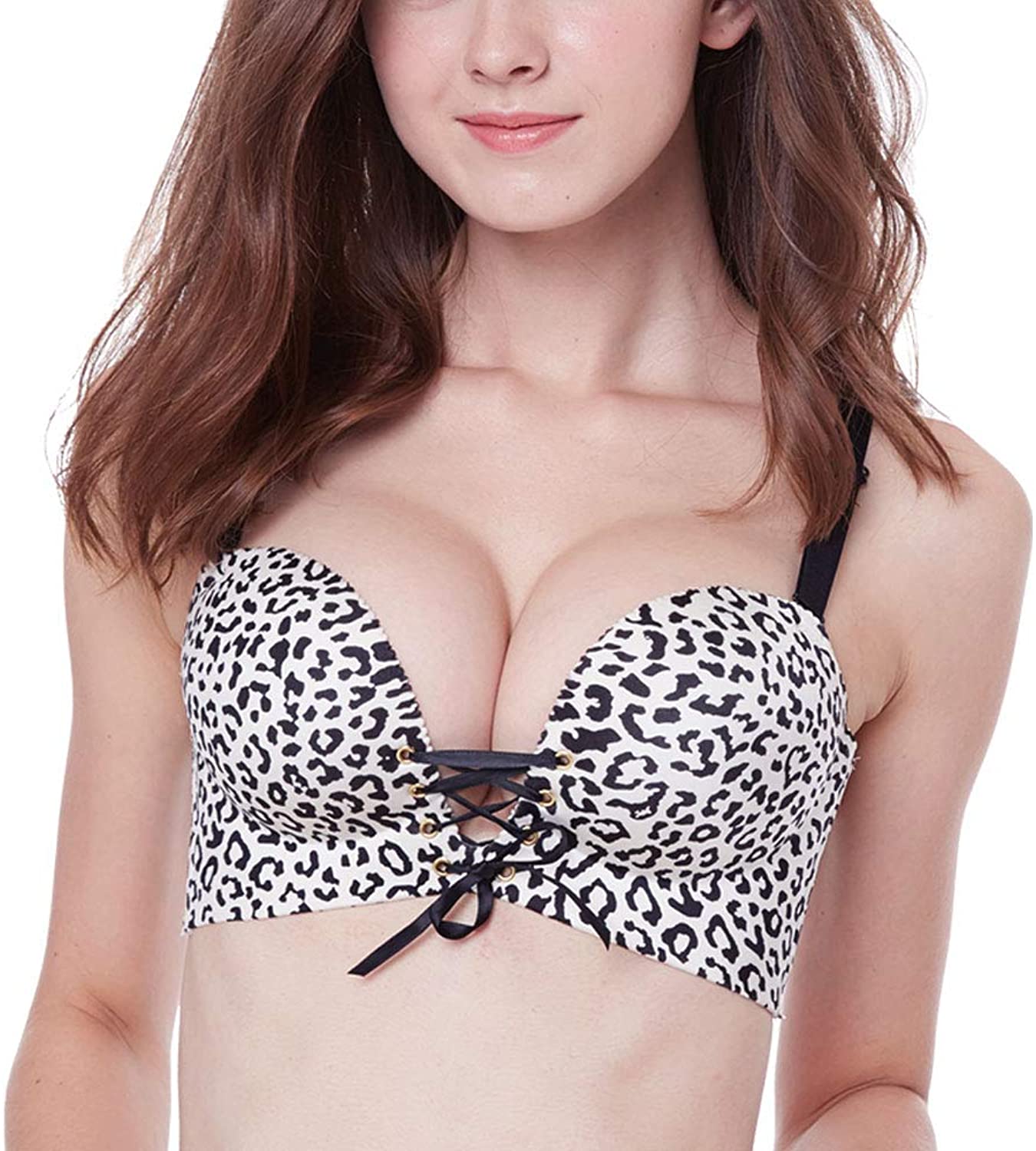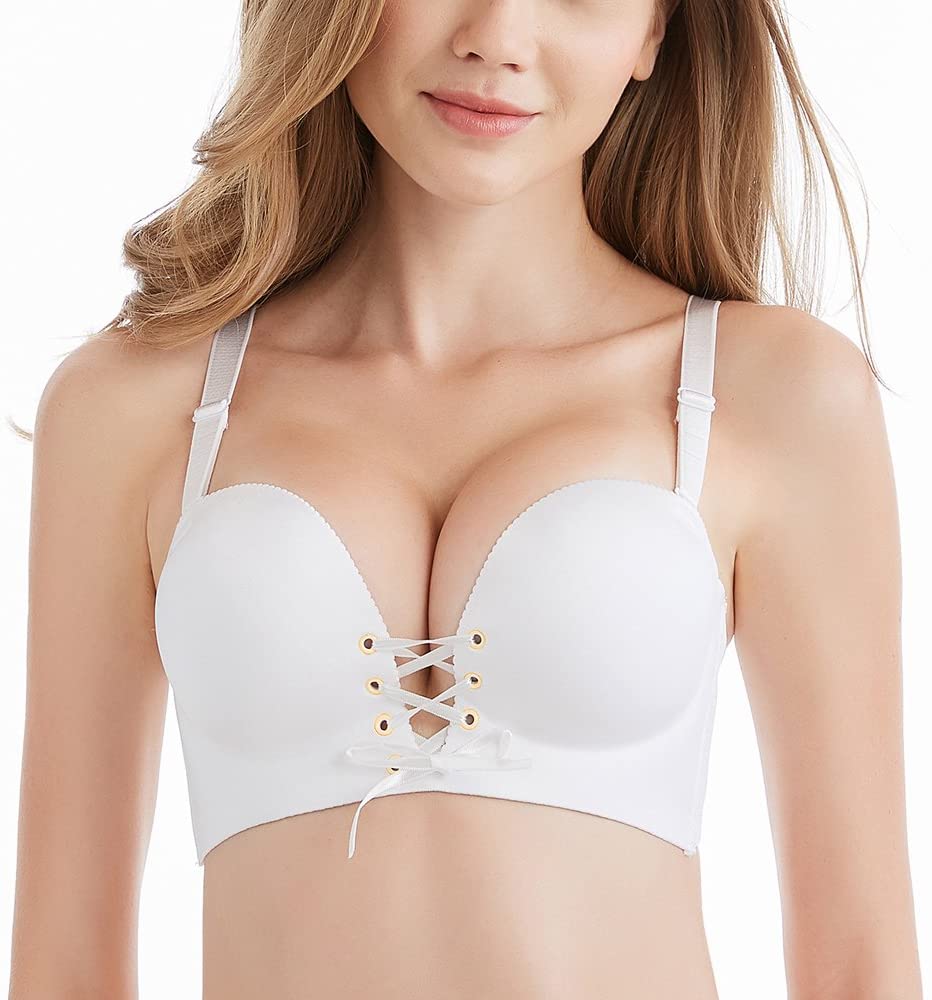 This is a serious push-up bra for adding plenty of volume to post-baby and naturally small breasts. The FallSweet bra doesn't need any underwire to get maximum uplift. And you adjust the cleavage by tightening the lace between the cups. It's well-finished and good quality, too!
Read this post if you don't know how to measure your size correctly.
Our Testers loved how well this lace-up bra pushes-up the breasts for amazing cleavage. They said the broader body-band and 3-hook fastener at the back gave a great fit. And the bra is soft and comfortable to wear. It runs small, so you need to size up the band-size. But you get a very sexy look!
2. Best Lightly-Lined Push-up Bra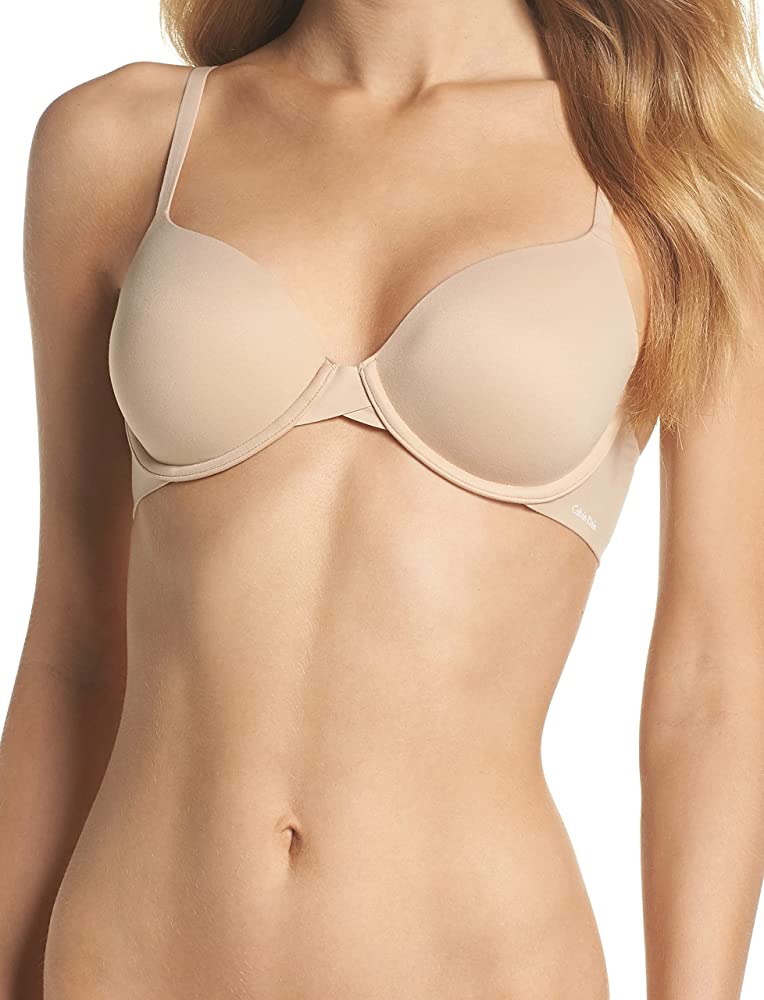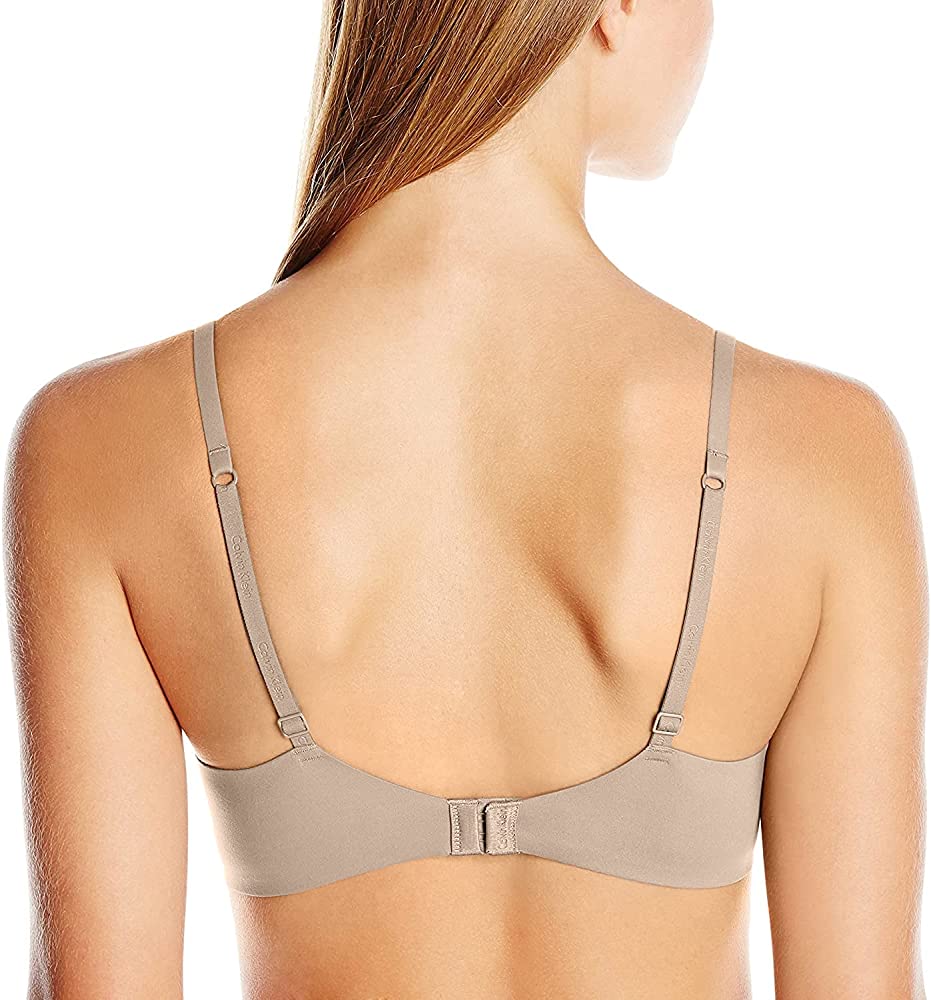 New York Magazine voted this style, the 'Best T-shirt Bra'! So that's a great recommendation. It has hook and eye closure for a good fit. And memory-foam cups take on the shape of your bust for a natural contour. The sides are double-layered to give a smooth finish and soft support.
Our Testers loved the reasonable amount of push-up they got with this bra. And the A-cups said they got enough lift and cleavage to look like a B-cup. Reviewers said it was soft and comfortable to wear. And as it's not highly padded, you get a more discreet uplift that looks totally natural under tight-fitting clothes!
3. Best T-Shirt Push-up Bra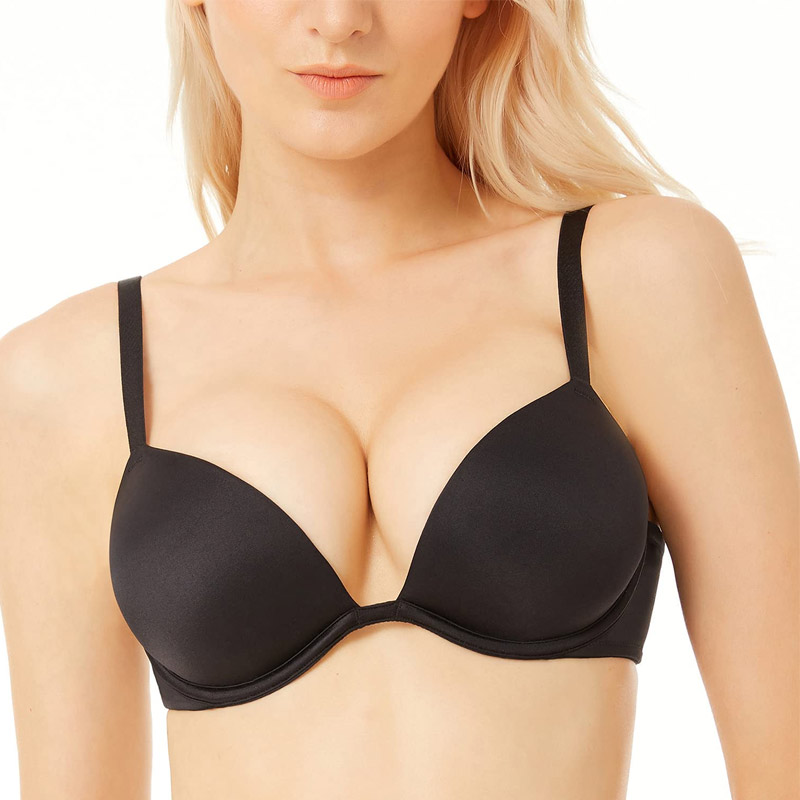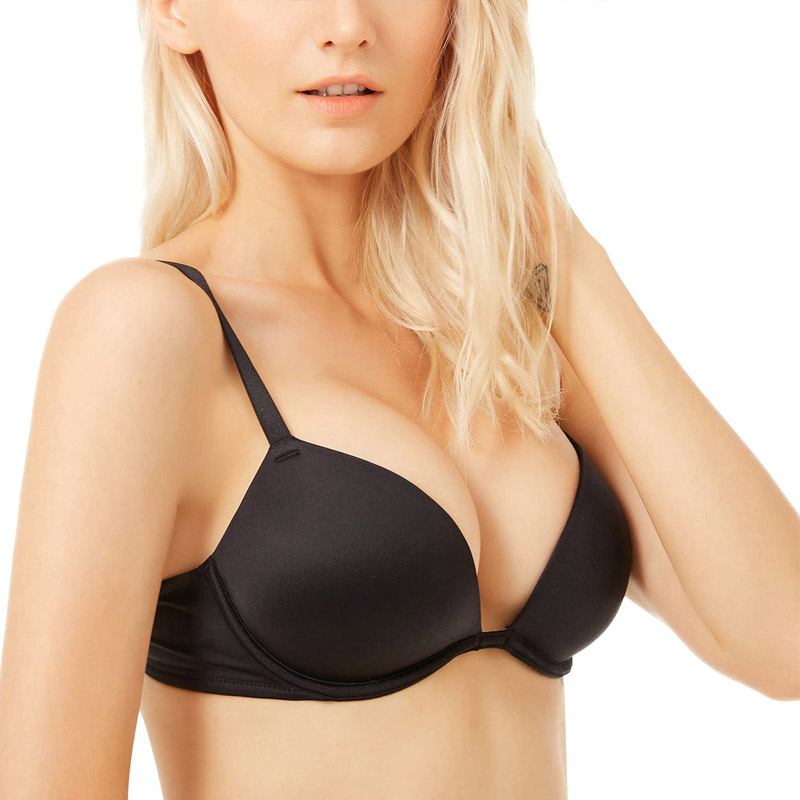 WingsLove – Push-Up 'Add 2 Cups' Sexy Deep V-Plunge U/wire Bra
As it's cut very low, you can wear this bra with a deep, V-neck and have plenty of oomph! The special design of the padding both lifts up your breasts and pushes them to the center. And that gives you excellent cleavage. The fabric is very soft and the sides are breathable mesh for cool wear in hot temperatures.
Our Testers said this bra fit them very well. And no-one complained of gaps in the cups. Even testers who had previously had problems with slipping straps, said they stayed in position well. So it was comfy and gives a lot of extra cleavage. It's excellent value for money as you can wear it as a criss-cross back, too!
Do you know the 40 popular bra brands in the USA? Read this post.
4. Best Strapless Convertible Push-up Balconette Bra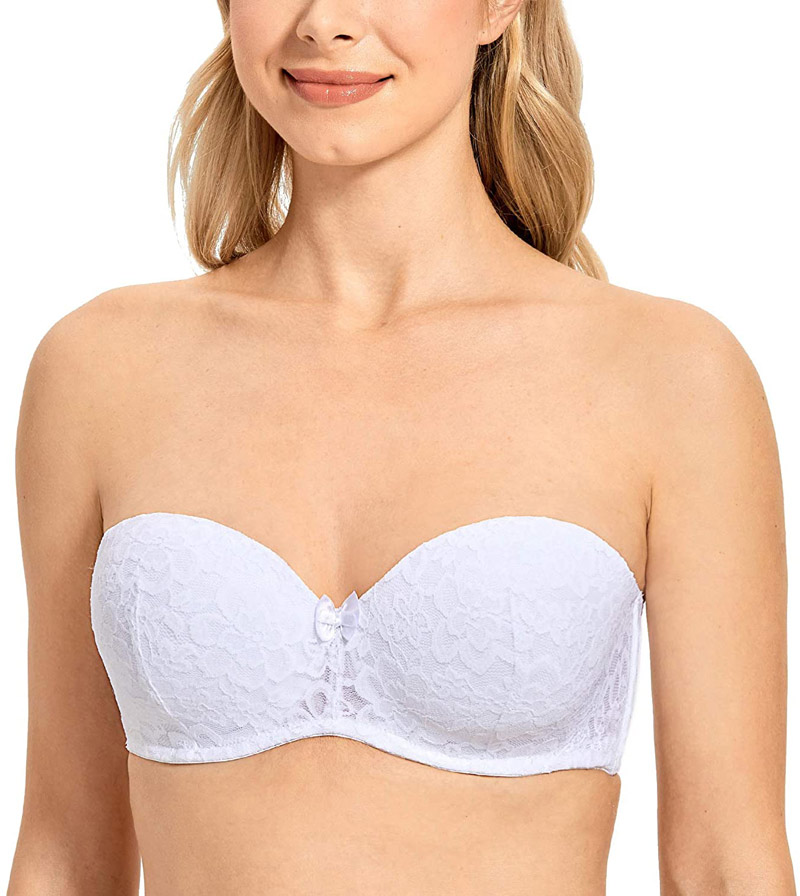 This is the perfect, lacy bridal bra for a strapless gown. And with the detachable straps connected, it becomes an efficient push-up style, too. Silicone bands keep this bra in place and prevent it slipping down. There's also side-boning to prevent side bulge and give extra support when worn without straps.
Our Testers said this pretty, balconette bra gives your breasts a nice, natural shape. And you get plenty of push-up cleavage when you wear it with the straps in regular or criss-cross mode. Without the straps, you can wear this for a night of dancing in a Bardot top and it won't slip down at all.
You can find more strapless bras for big boobs here.
Tips:
All You Need to Know About Strapless Bras & How to Buy Strapless Bras
5. Best Seamless Cups Push-up Bra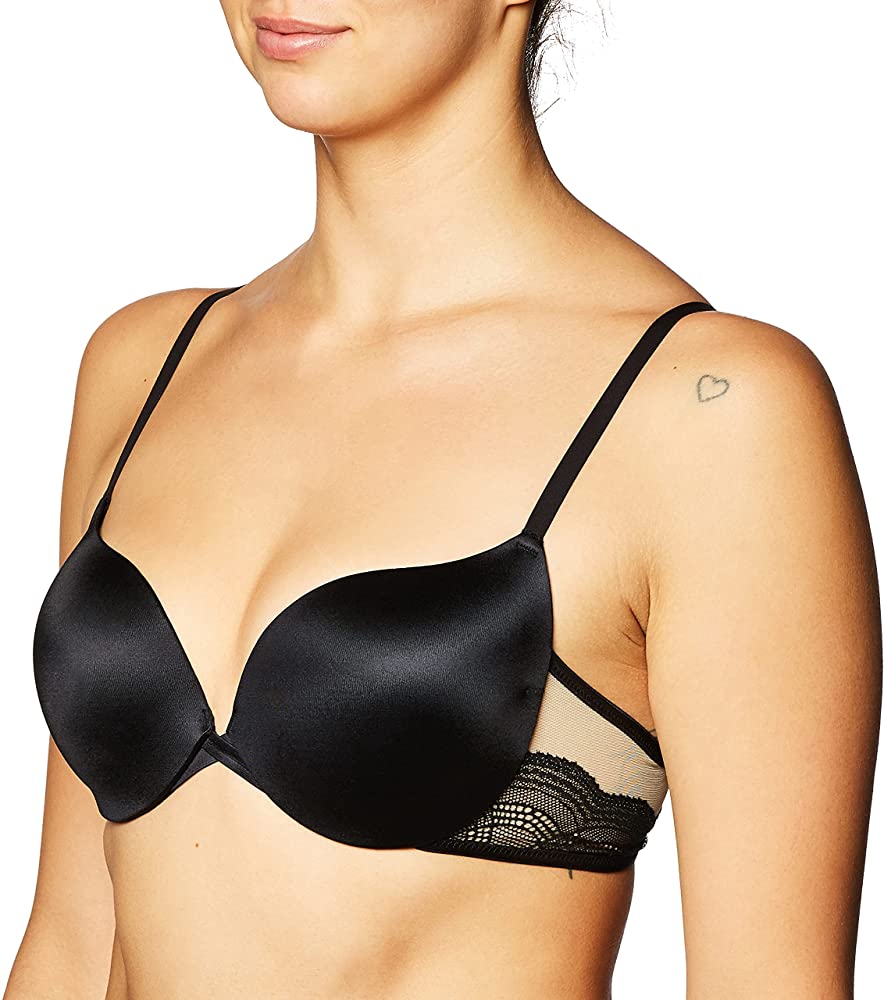 This Maidenform push-up bra is a demi-bra, which means it has low cups and covers a smaller section of your bust. It has padding half-way along the lower section of the cups and this creates lots of sexy cleavage. The double straps at the back help you get good fit and support.
Our Testers said it held their breasts up higher than other push-up bras. And the seamless cups were comfy and created round fullness. The padding is enough to give you a good shape, but not too much. And it's a great bra for lifting up less than perky breasts.
6. Best Lace Push-up Bra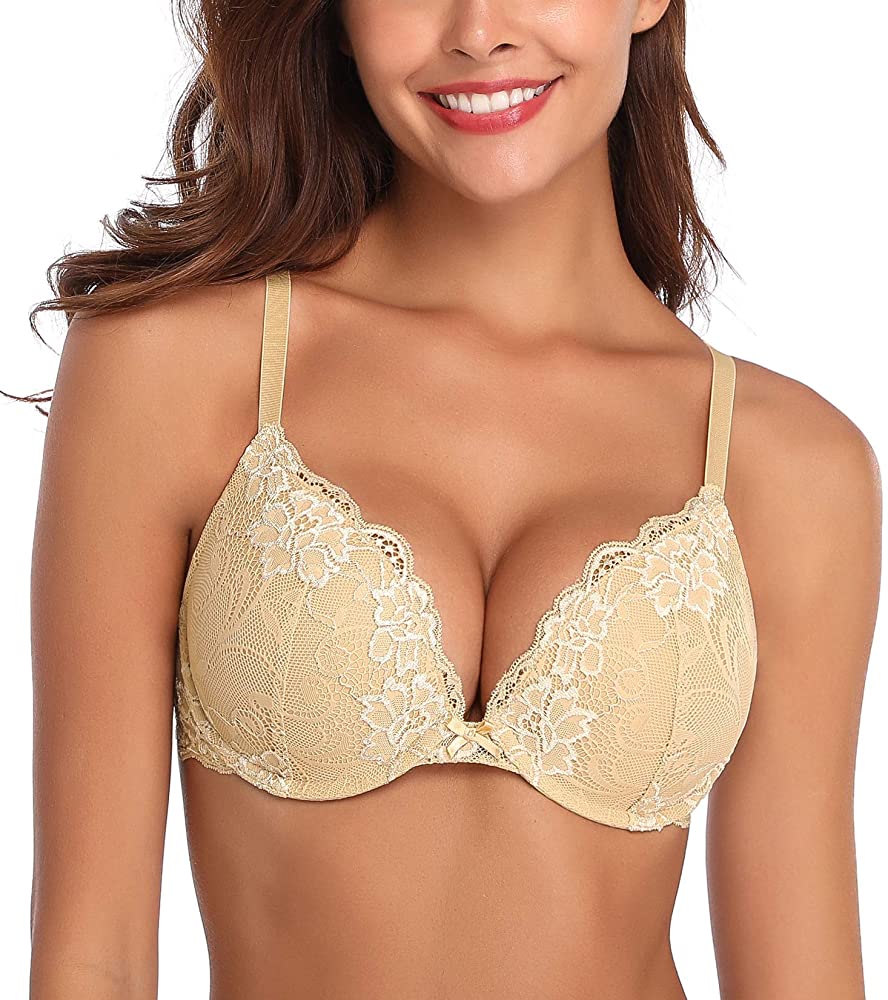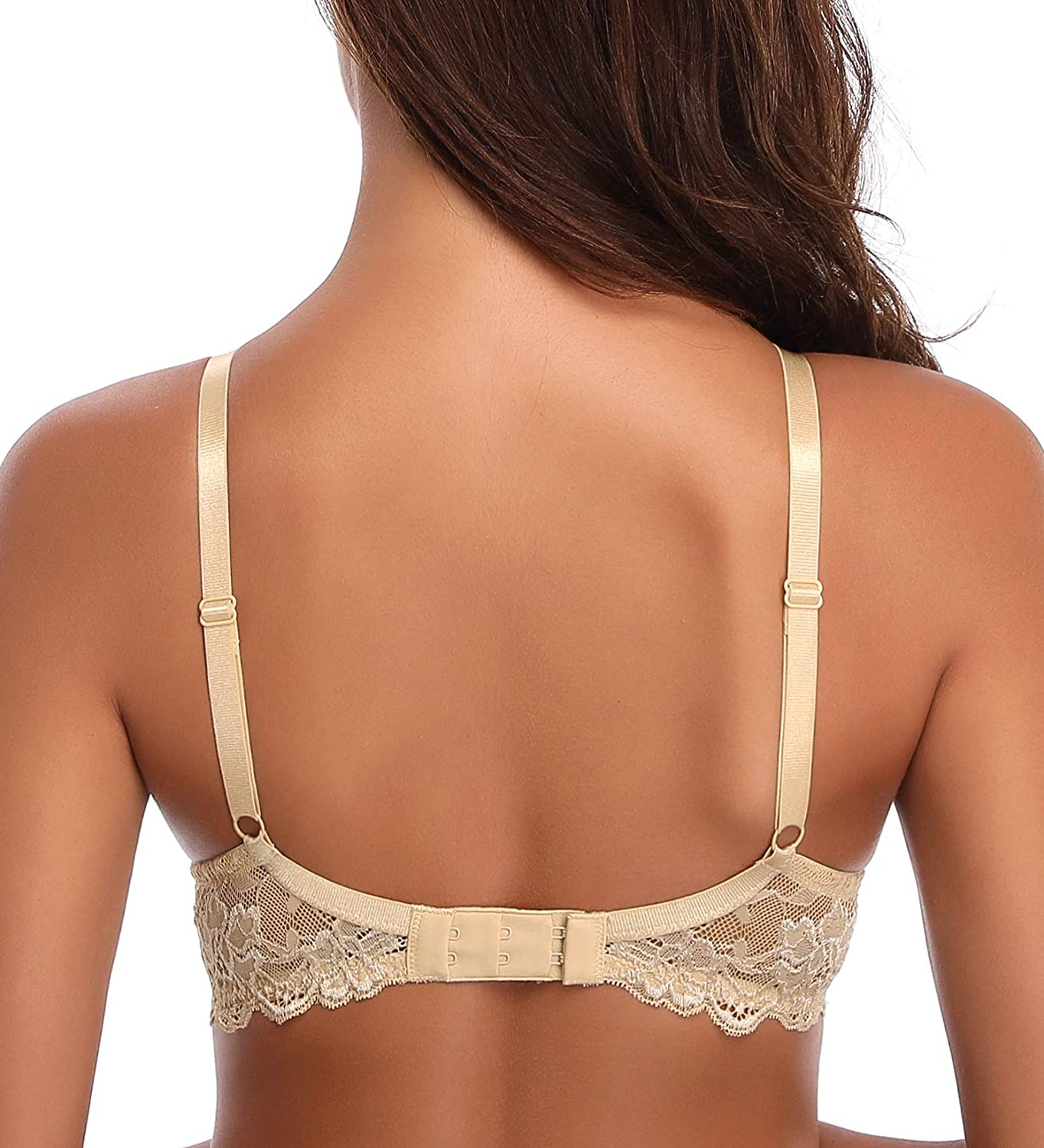 The Deyllo Push-Up Bra is a pretty lace bra with soft lace that doesn't cause skin irritation. The padded cups give high support and should add about one cup size to the look of your cleavage. The stretch, lace band is soft for added comfort.
Our Testers said this was an excellent bra for lift, comfort and fit. They loved the sexy look and the quality of the lace, which continues along the sides. The bra stays in place well and doesn't irritate underarm skin. And testers said the cup shape was great!
If you're looking for a comfortable minimizer bra, check out this article.
7. Best Mesh Push-up Bra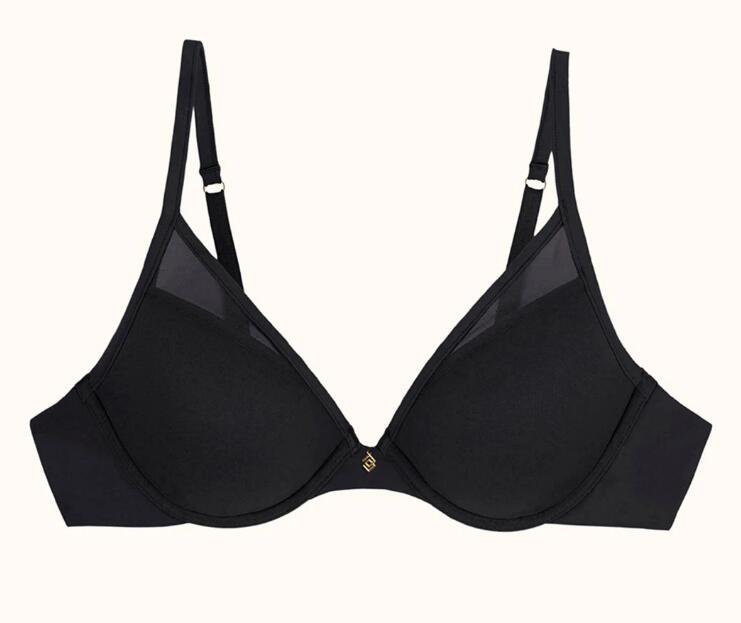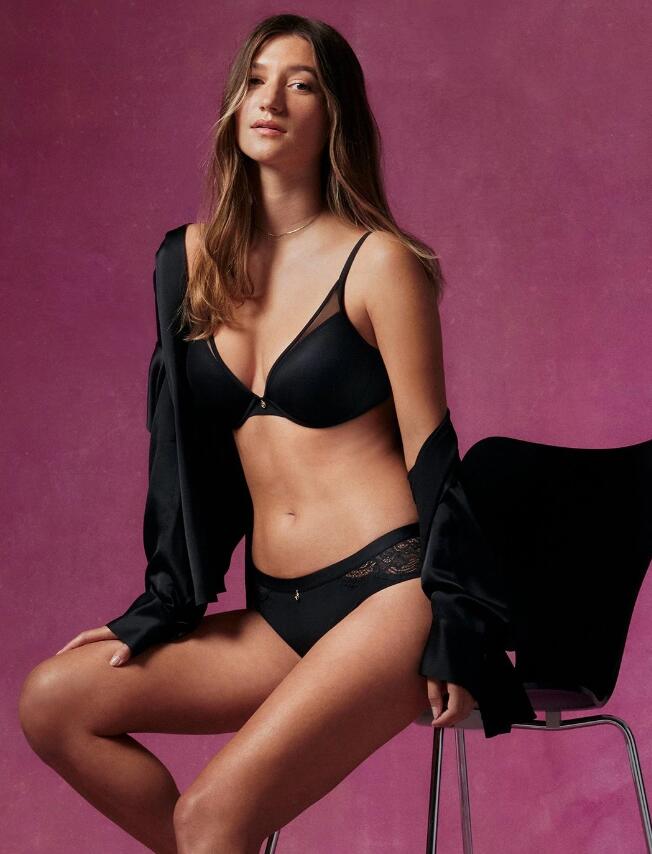 The ThirdLove 24/7 Classic Uplift bra has special, memory-foam cups that will mold to your natural shape. And the mesh makes this bra cooler to wear. The design prevents cup gaping and you get removable inserts for extra 'push-up' when required. The plunge, V-neckline suits wide and low cut tops.
Our Testers said they got great uplift from this plunge neck bra. And the flexible wires were comfy. They loved the gold-colored metal hardware that adds elegance to the look. This bra works for sizes from 30AA – 48I, and comes with ThirdLove's special half-cup sizes. And all got a great fit from the half-size option!
8. Best Plus-size Balconette Push-up Bra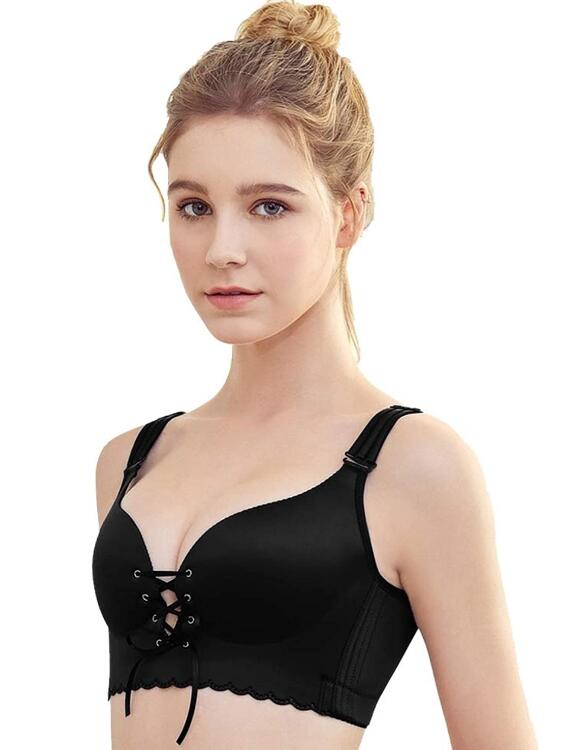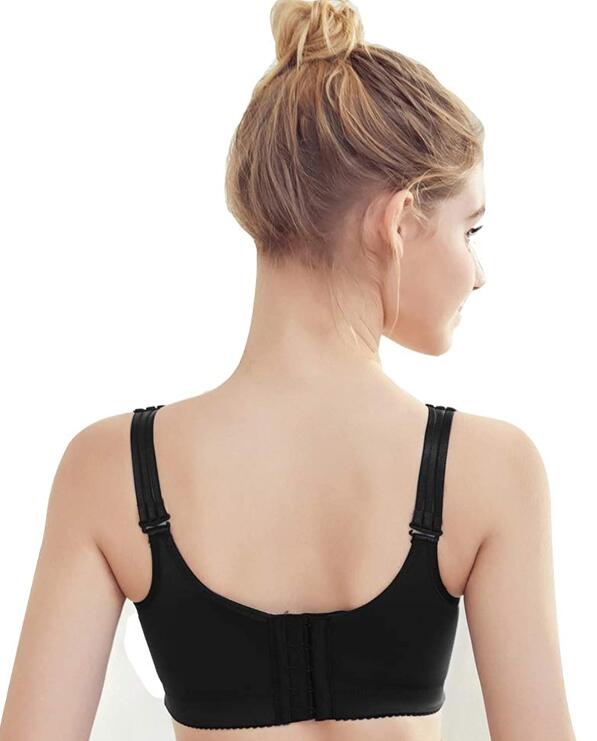 With a broad body-band that fastens with five hook and eyes at the back, you get plenty of support for curvy bodies. The cups have underwires for firm support and lightly-lined cups to avoid extra volume. The wide side-bands cover and smooth the underarm area. And broad, adjustable straps reduce pressure on the shoulders.
Our Testers were delighted to find a useful bra-band extender included with this bra. And the U-shaped back and non-slip straps were also popular. In addition, high-quality fabric that's smooth and breathable, is great for everyday wear. The reviewers said this is a sturdy bra that gives excellent cleavage. And it also hides bulges at the sides and back!
So if your bra size has changed during the last eighteen months, and you're getting ready to go on your holidays or update your wardrobe, you'll find everything you need to enhance your bust amongst these push up bras!
Which is your favorite type of bra for comfort, support and uplift? Let us know which bras you normally wear and we'll ensure you're always kept right up to date on the latest and best styles! Find more bra tips on her style code(herstylecode.com)