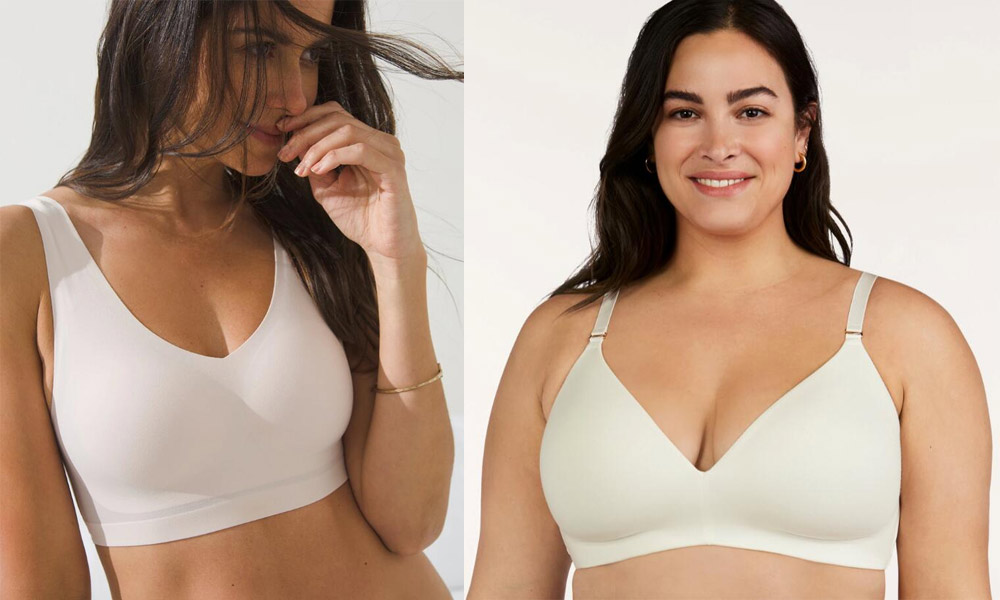 Whatever bra problem you have – we've got a solution! There are many reasons to complain about bra-wearing, and one of the main issues is that large cup sizes need strong support from an underwire. But underwires can poke into your delicate skin, so by the end of the day you're desperate to get home and take it off! And small cup sizes with push-up padding and underwires can be just as irritating and uncomfortable. What we all want is a comfortable bra that lifts and supports! And you'll find one to suit your breast shape and size here!
HerStyleCode recruits teams of testers to wear and review a large range of bras to find the 10 Best Bras in various designs. These Wireless Bras contain a variety of bras which have been assessed for support, fit, comfort, ease of putting on and off and durability. We've also looked at bras that specifically target common problems, like underarm and back bulge. And for women who can never find a cup that fits we have a superb bra that comes in half-sizes!
And if you want to get the best deals on buying online, remember you can get free postage both ways from some companies. So when a bra seems expensive check whether you get free returns and/or free postage if you spend over a certain amount. With free postage, you may find that ordering two or more high-quality bras to try on at home, comes out cheaper than lower-quality bra brands that charge for returns!
Finally, remember that a well-fitting bra should have a body-band that remains horizontal to the floor around the back, and be positioned below your shoulder blades. This will avoid strain on the shoulders and back. We've selected 10 wireless bras which feature the softest fabrics, supportive molded cups, adjustable straps and cute, printed cup details in a variety of nude and fashion colors.
So this is your chance to find a new bra style that could help you enjoy wearing a bra – at last!
1. Best Nude Wireless Bra – Soma Wireless Bralette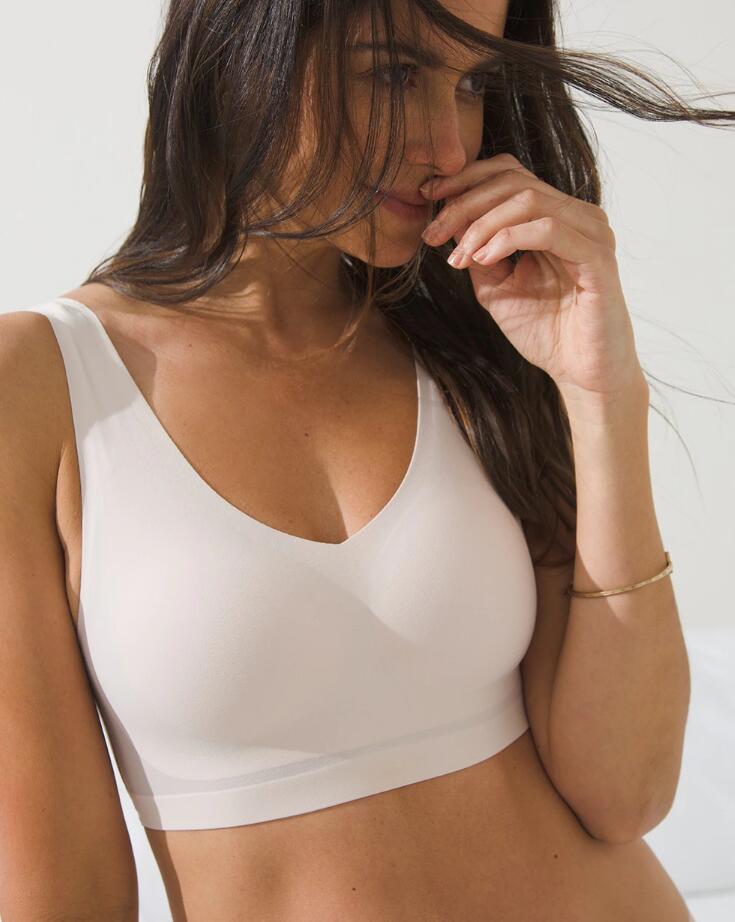 If you like full coverage and medium support, this bra will give you all that and be the comfiest bra you've ever worn. It's a pull-on, or step-into, bralette designed for comfort, so it has no metal wires, hook fasteners or clips. It comes with removable cups, so you have full cover under thin clothes, and a natural shape when you choose. The V-shaped front and back was appreciated by testers who wear trendy V-neck sweaters and open-necked shirts. And they all reported that this was an incredibly comfortable bra that provides soft support you can wear all-day and night! Available in 12 colors.
Available Sizes: S – XXXL (cup sizes A – G)
Pros
• Testers loved the comfort
• Smoothed sides and back
• Several nude & fashion shades
Cons
• Pads may move a little
• You can't adjust the straps
2. Softest Wireless Bra Commando Minimalist Tank Bra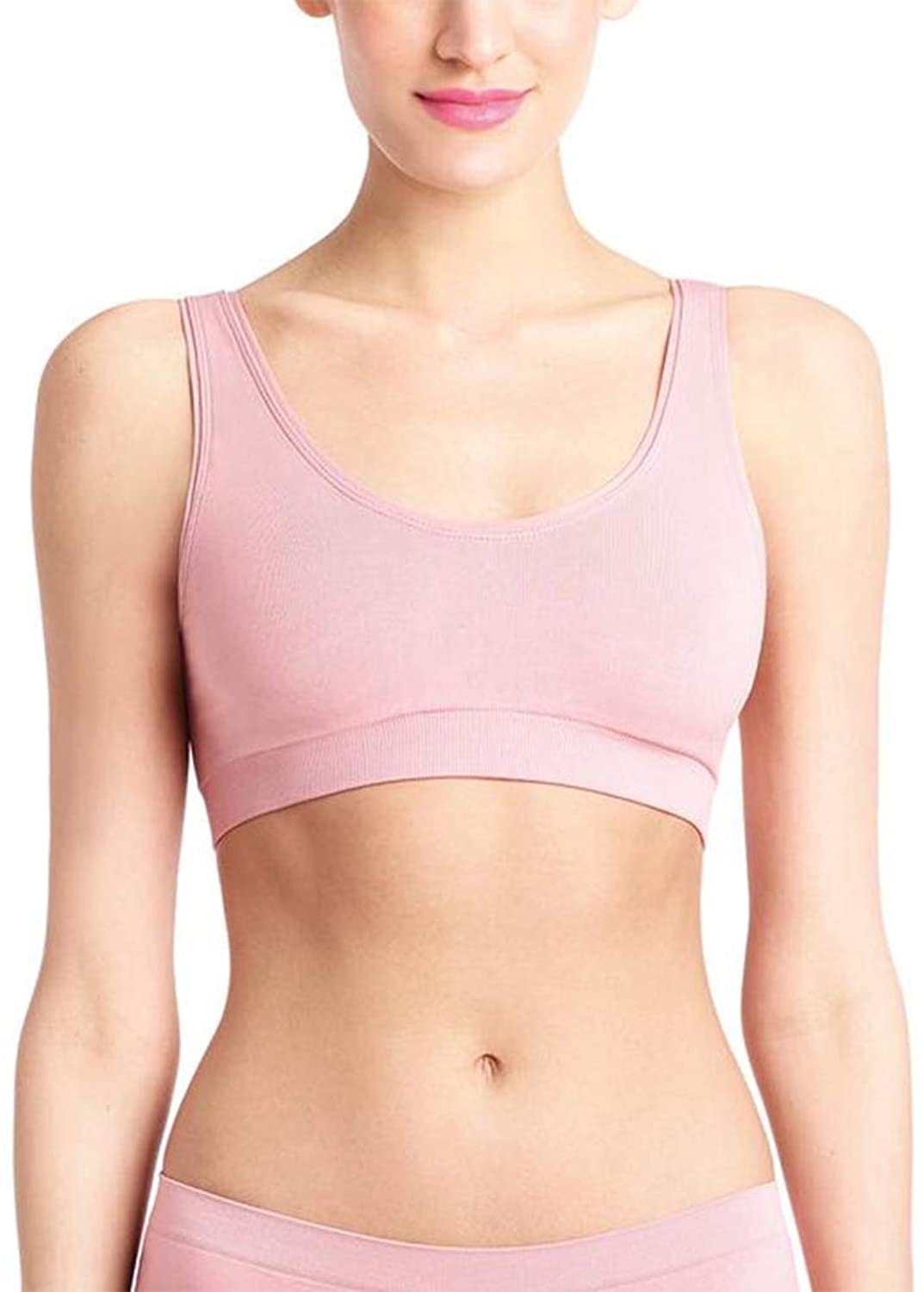 Made of soft, smooth nylon and elastane this is another highly comfortable bralette that offers medium support. It looks cute in all of the 5 colors available and is a fashionable minimalist top you can wear underneath clothing, or alone for yoga and exercise classes. As a loungewear/sleep garment you can relax in at home. And it gained a high 'comfort score' from our testers who also found it easy to put on and off. Some testers said they really needed this bralette to have adjustable straps for a better fit.
Available in sizes: XS – XL (cup sizes A – D)
Pros
• Great loungewear
• Comfortable soft and smoothing fabric
• Easy to put on and off
Cons
• Non-adjustable straps
3. Best Overall Wireless Bra Olga – Women's Easy-Does-It – No Bulge Bra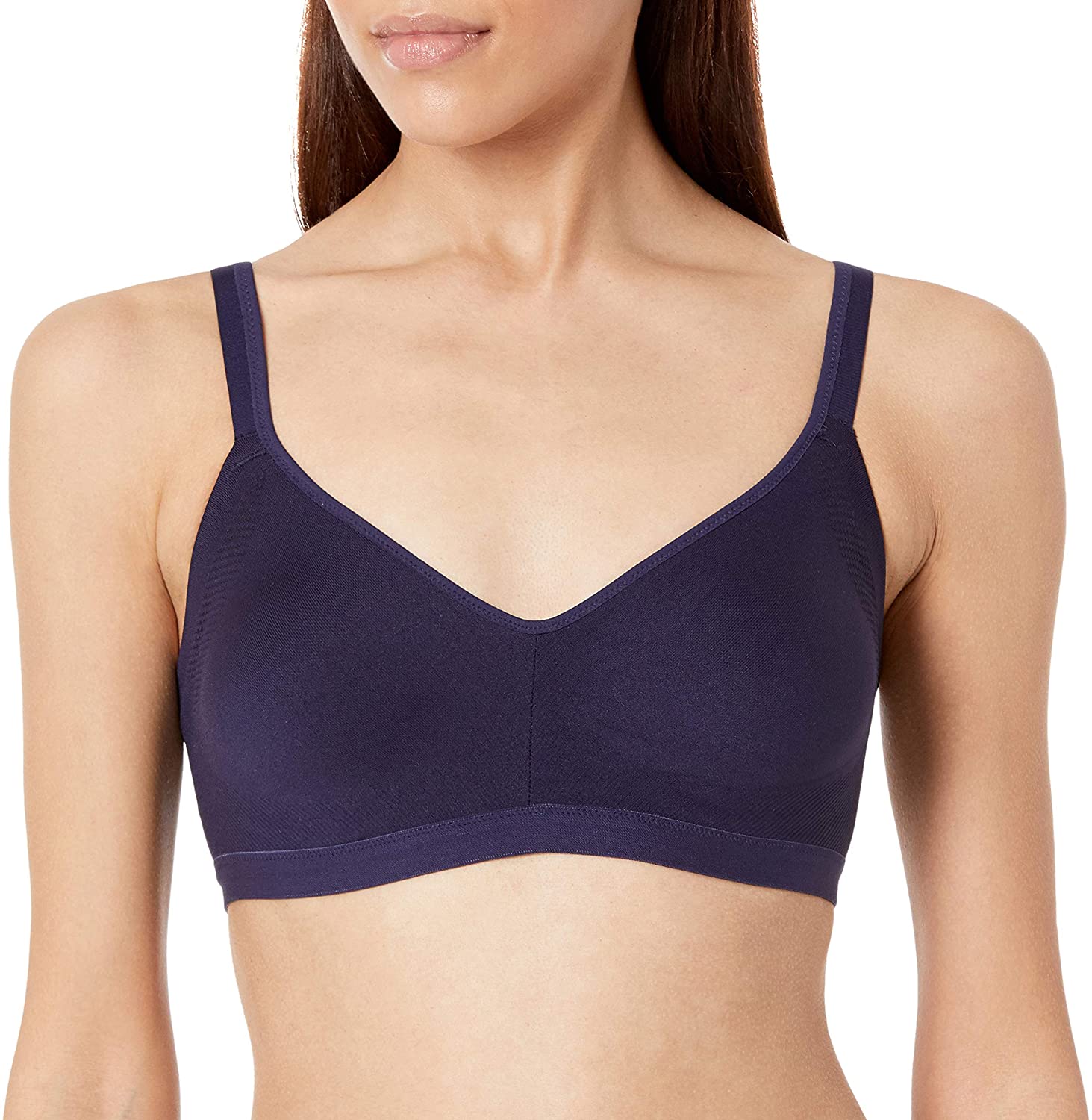 This was popular with all of our testers, including a 36DD size who found it comfy, lifting and 'no bulge'. In general, testers with heavier, DD breasts found it decently supportive for weekend wear and running errands. One tester with narrow shoulders said she loved it as the straps don't slip down on this bra. Other testers said it fits perfectly, is non-irritating and the band is not too wide. All testers loved the all-around stretch fabric and said they would carry on wearing their test-sample Olga bra. With high scores for staying in place, comfort, support and fit it's no surprise it's offered in 10 different colors including nudes and cute fashion colors!
Available in sizes: S – 3XL (cup sizes B – DD)
Pros
• Top marks for comfort, support & fit
• No slip, adjustable straps
• 10 colors available
Cons
• You may need to go up a size
4. Best Value Wireless Bra Hanes Ultimate Perfect Coverage Wire-free Bra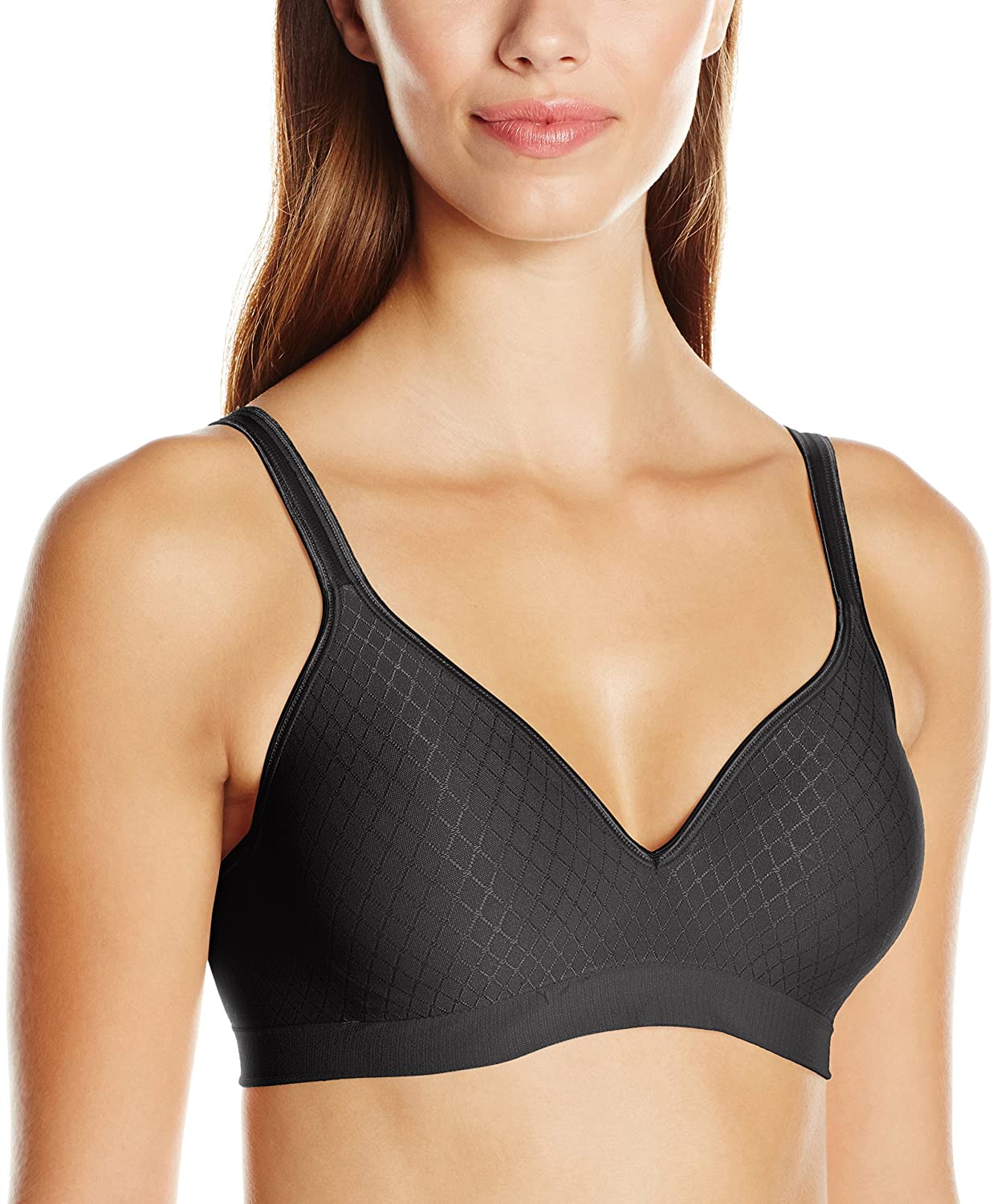 The Hanes Perfect Coverage wire-free bra was praised for its high level of comfort and fit. The full coverage foam cups and hook-and-eye fastener were reported to be good for shape and support. And every tester loved that it was made from a special 4-way stretch fabric that moves with you. This is a lightweight bra that you really hardly feel when you're wearing it. It's a very affordable bra, too, that looks great with smart, subtle patterns of lines, stripes or dots printed on the cups. The patterning doesn't show through clothing and this bra stays in place well throughout the day.
Available in sizes: XS – 2XL (cup sizes A – D)
Pros
• Affordable price
• Stays in place all day
• Lined for great coverage
Cons
• Some said the body-band rises slightly
5. Best Lace Wireless Bra – Hanky-Panky Signature Lace Crossover Bralette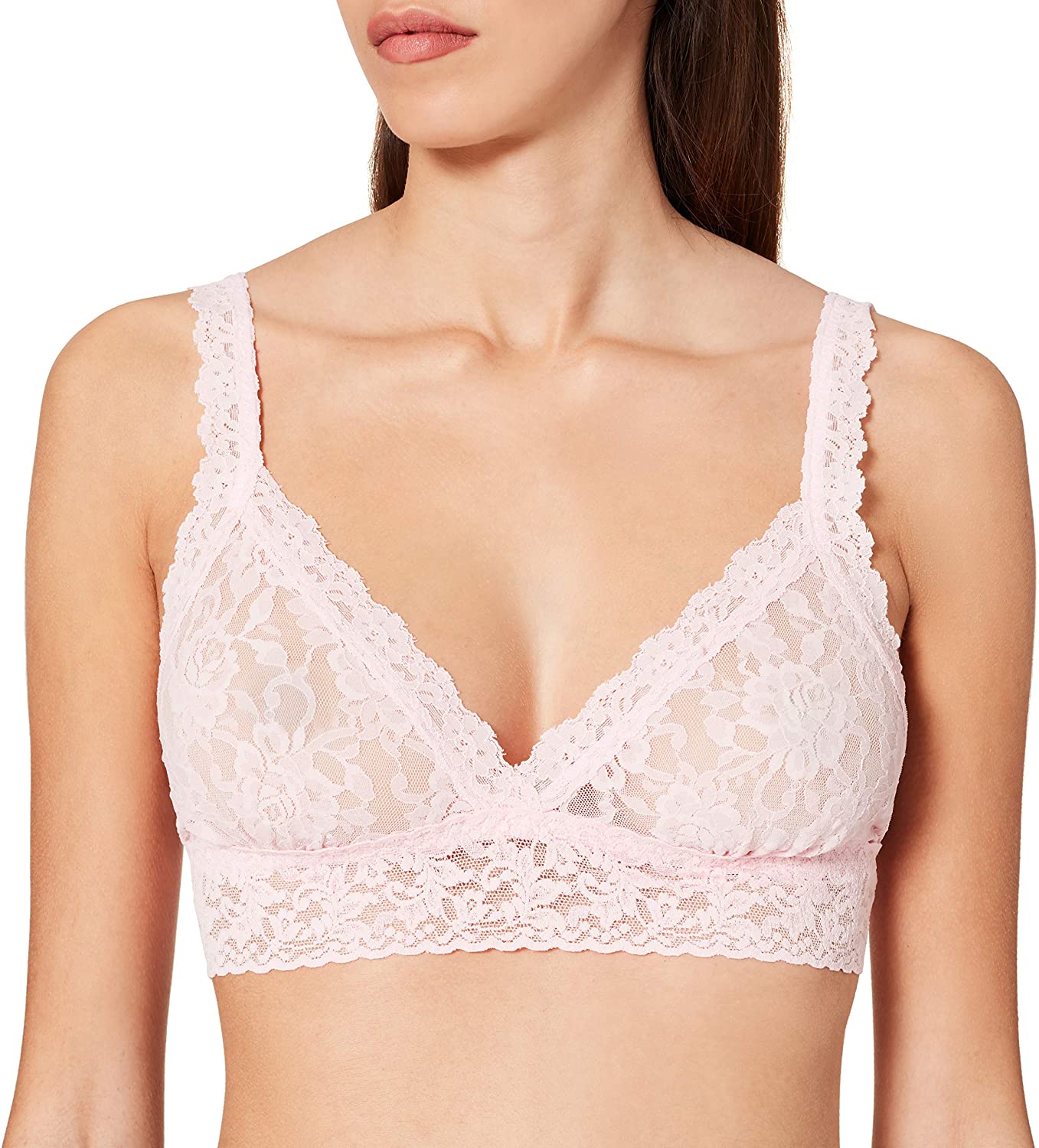 This pretty, lace bralette was popular for being soft, sexy and not at all itchy or irritating to the skin. It's easy to put on and take off and does a good job as sexy lingerie when you don't want to wear an uncomfortable, push-up padded bra. There's also a pretty, high-quality, lace thong to match this bralette to make a cute and comfortable lingerie set. The trade-off is that the transparent front doesn't offer the same nipple cover as lined bra-cups. But it's fine under thicker clothes, like sweaters. Testers loved the quality, but said it's not supportive for larger breasts. It's popular as an at-home or comfy 'travel bra' and available in 30 attractive colors.
Available in sizes: XS – M (cup sizes A – C)
Pros
• High-quality soft, sexy lace
• Comfortable to wear
• 30 colors available
Cons
• See-through cups
6. Best Full Coverage Wireless Bra – Warner's  Cloud 9 Wireless Contour Bra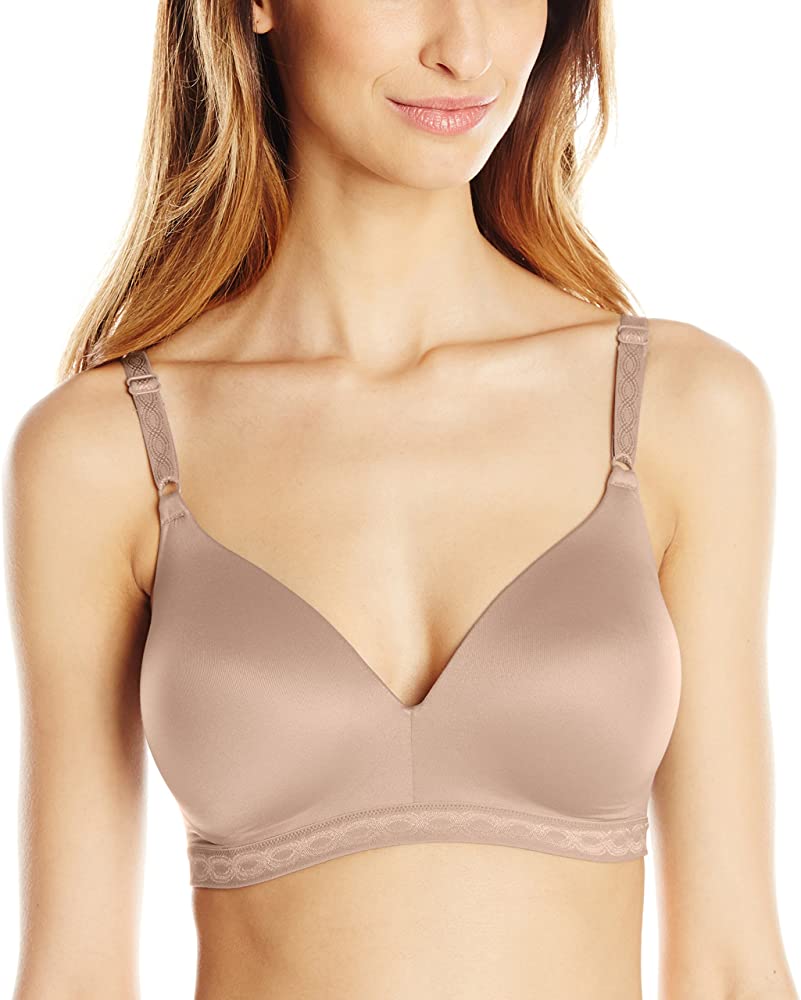 If you haven't yet found a wire-free bra that suits you, try this Warner's bra. It has good coverage, so when you lean forward nothing pops out and a little padding to fill out the cups. And our testers all commented on how comfortable and supportive they found the bra. It's made of extra-soft polyester/elastane and has adjustable, supportive straps, and an attractive neckline you can wear with V- and scooped-necklines. It feels quite snug at first, but after a few wears it fits really comfortably and has just enough padding and support to give a natural shape. It comes in 5 colors including black and white.
Available in sizes: 34 – 40 and cup sizes A – C
Pros
• Molded lightly padded cups
• Super soft & comfortable fabric
• Adjustable straps
Cons
• Only available to cup size C
7. Best Wireless Bra for Small Busts – Pepper Limitless Wire-free Bra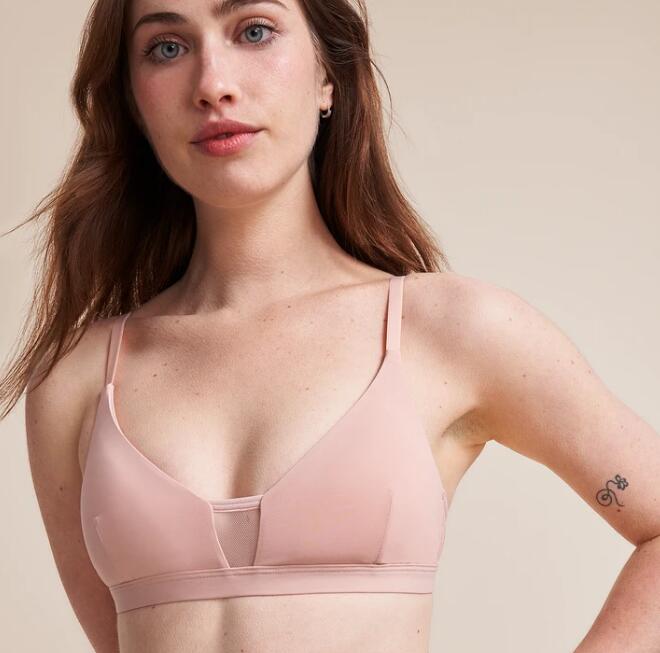 Pepper's latest wire-free bra was popular with testers for its comfort and the fact that the cups fit small breasts without gaping. It's specially designed to suit smaller busts, but some of our team would have liked it to offer more uplift. It's a very soft bra made from polyamide and elastane. And testers found the cups a little on the small side, so you may need to go up one size to get the best fit and sufficient coverage. It looks smooth under thin clothing and has a handy air-vent at the front to keep you cool when doing yoga or working out. There are removable pads and it comes in 6 colors including several nude shades.
Available in sizes: 30 – 38 AA – B cups only
Pros
• Designed for smaller busts
• Soft cups with removable pads
• Front cooling-vent detail
Cons
• Testers advise going up one cup-size
8. Best Cotton Wireless Bra – Thirdlove – Pima Cotton Wireless Bra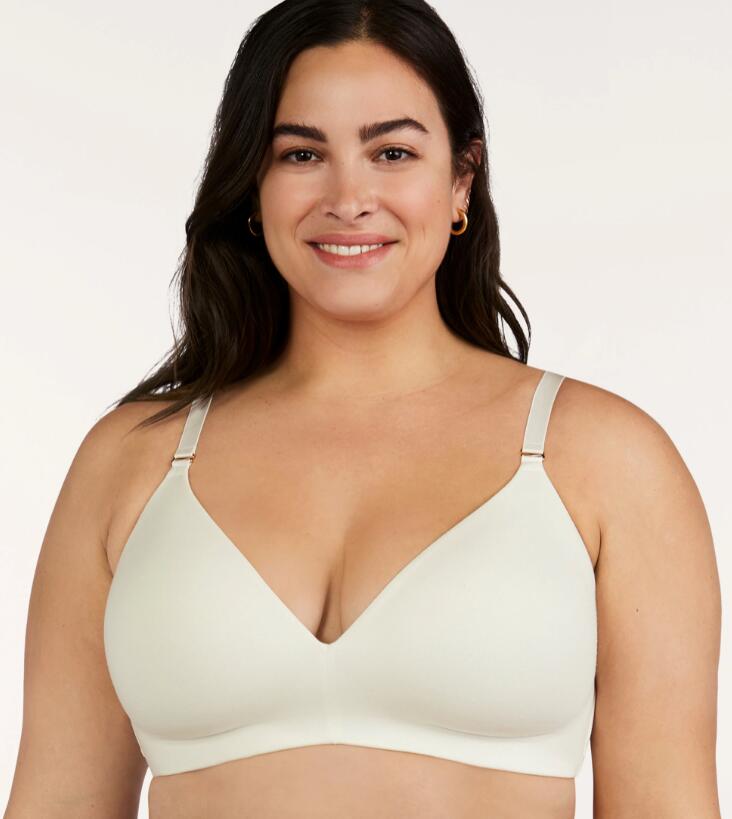 This wire-free Pima cotton bra stands out for its superior quality cotton and its incredibly wide range of sizes! It's made of moisture-wicking, luxury Pima cotton and has thin, molded memory-foam cups that give full support and subtle lift. Our testers said this bra looks like their preferred under-wired bras, but is much comfier to wear all day. There are extra 'stays' in the sides to smooth out bulges and some testers found them uncomfortable. However, those testers who carried on wearing this bra said the discomfort goes away after a few wears. Useful, convertible straps and 3 colors. Looking for a minimizer bra? Check it out here.
Available in sizes: 30 – 48 and cups A – I (including Thirdlove's unique cups in half-sizes)
Pros
• Half-cup sizes for better fit
• Wide size range
• Very comfy memory-foam cups
Cons
• The sides may be uncomfortable at first
• Free returns within 60 days
9. Best Wireless Bra for Large Busts – Evelyn and Bobbie – Defy Bra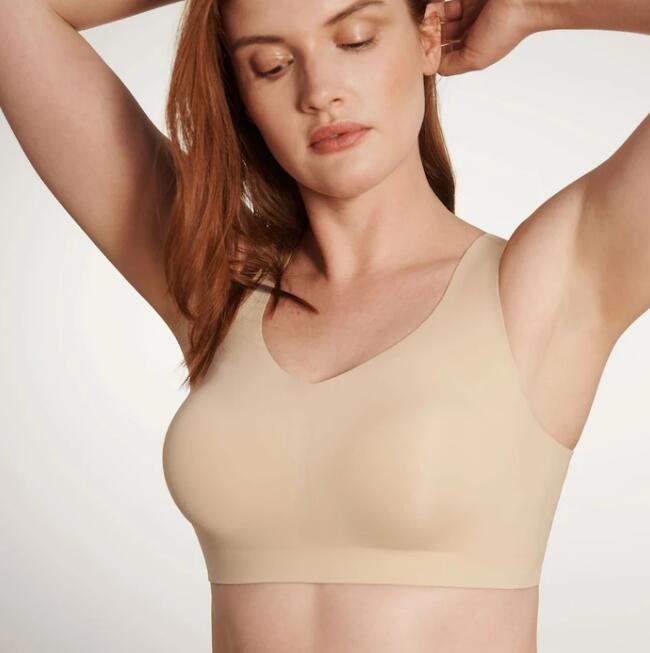 This bralette-style bra is seamless and extremely comfortable to wear, according to our testers. It has the look of a trendy, cropped top – with high sides and back plus wide straps that smooth out any bulges. These features did keep the bra in place very well, but under certain clothing the bra was visible. The Defy Bra has removable pads and is designed to support larger cup sizes. The testers gave it a perfect score for being supportive and easy to get on and off. It comes in 6 colors and is exceptionally comfortable, with a lightweight feel and no clips or metal hooks.
Available in sizes: XS – XXL (C – H)
Pros
• Seamless and comfortable
• Smooths sides and back
• Supportive for larger cups sizes
Cons
• Sides and back may show under some clothing
10. Best Wireless T-Shirt Bra – Aerie Real Sunnie Wire-less Lightly-Lined Bra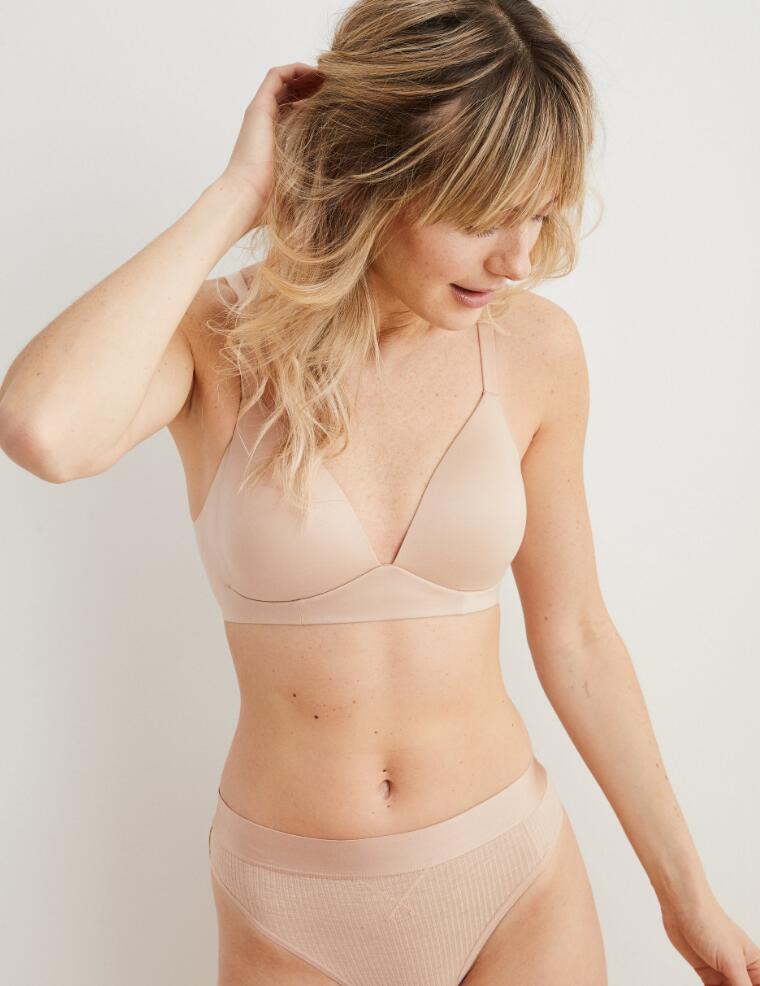 This was also a popular bra with our testers for its molded, foam cups and a smooth back. It gained high marks for support and appearance, with cups that allow you to wear a deep V-neck. Seamless cups and a back that doesn't have a fastener on it, help give a totally smooth contour. So, in particular, this bra is great for wearing under tight clothes, as it doesn't show at all. However, some testers found it a little challenging to put on and take off. Our testers rated this Aerie bra 'excellent' for comfort and bulge-smoothing, 'good' for support and 'true to size'. It comes in 5 colors.
Available in sizes: 30 – 40 and cup sizes AA – DDD
Pros
• Smooth contours front and back
• Molded cups for full coverage
• Good support
Cons
• Can be tricky to put on and off
Take your time to look at each different bra until you find one that's suited to your requirements. And take advantage of brands which offer free returns. Trying bras on at home where you can wear them for more than a couple of minutes in a changing room is one of the best ways to get a bra that fulfils all of your needs! Subscribe to get more bra shopping guides on herstylecode.com!