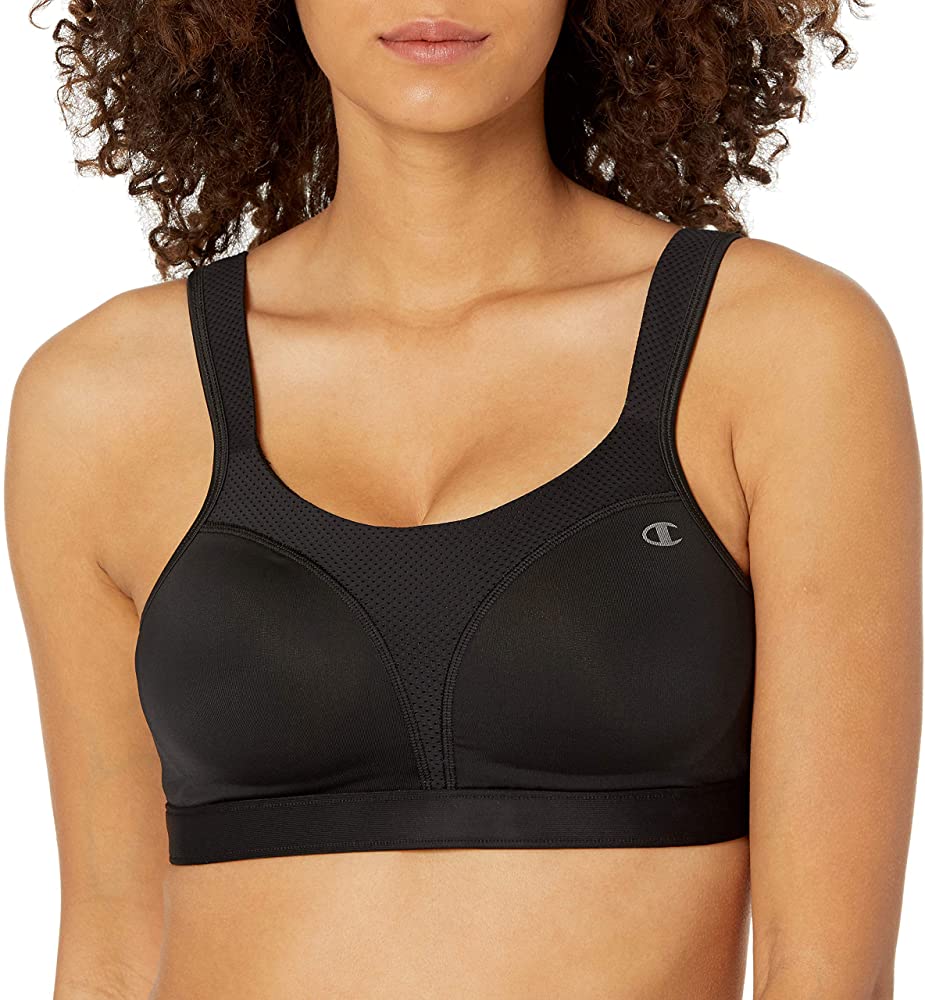 I know a lot of plus-sized women are desperate to find the best plus-size sports bras for large breasts, because you tell us in our HerStyleCode comments section! And we thank you for that, as we are always striving to bring useful and life-enhancing articles to our readers. Finding modern, plus-size lingerie has been a huge problem, until the industry finally realised they were ignoring a large section of potential customers!
But in their haste to jump on the 'curvy' bandwagon, some manufacturers have flooded the market with bras that aren't always as strong, supportive and comfortable as they should be. So finding a good-quality, stylish, plus-size sports bra that fits your individual needs is still quite difficult!
But HerStyleCode is here for you with our regular bra test-and-review projects, that sift out the bras that don't come up to scratch. Our testing teams are chosen from regular women who wear each bra for at least two days and then give their feedback on every aspect of the bra. So if you're tired of wading through scores of plus-size sports bras online and just want to know which are the best, read on!
1. Best 'Support-adjustable' Plus-size Sports Bra
The Glamorise Custom Control Sports Bra has reinforced, wire-free cups to create uplift and a high degree of support. It has wide, padded straps to avoid shoulder and back pain. And it has a 'breathable', adjustable mesh front panel that you can manually adjust to four different levels of 'bounce control'.
Our testers loved the adjustability of this bra to provide light, medium or high support. It was also popular for providing high support, without underwires, and for being very comfortable. Testers said this bra moves well with your body and stays in place during yoga and running. It runs small, so you'll have to size up, but the compression fit totally controls a large bust.
2. Best Plus-Size Sports Bra for DD Cups
The Champion Women's Spot Comfort Full-Support Sport Bra has gel-infused, adjustable shoulder straps. And the back fastener is padded to avoid any digging in. Molded cups offer shape and support and a front, 'breathable' mesh panel helps keep the body cool during exercise.
Testers said the minimal stretch around the back closure, was great for stopping any bounce on large breasts. One tester said she had been 'medically prescribed' this bra for comfort and support after breast augmentation surgery. And another tester, who runs regularly, said it keeps her large bust immobile and fits comfortably. And all testers agreed it was well-made and looked durable.
3. Best Plus-Size Sports Bra for E Cups and Above
This is a medium-impact sports bra which is offered for running, cardio and training in general. The band is snug at first, but it stretches to a comfortable fit with wear. The straps are broad and well-padded. Molded 'spacer' foam cups give lightweight shaping. I've worn Freya Sports Bras in 34F – 36G cups daily for 20 years and highly recommend them.
Our testers appreciated having a firm body-band, which gives strong support for large breasts. And the built-up, padded straps also helped give a comfortable, supportive fit. The mesh panels worked well to keep the body cool and microfiber fabric inside the cups kept the breasts dry. The bra is double-lined, but not padded and reduces perspiration between your breasts.
4. Best Plus-Size Sports Bra for High-Impact Workouts
The Panache Underwire Sports Bra is designed to fit like a regular bra and doesn't rely on breast 'compression' to keep your breasts from bouncing. It is a style that 'encapsulates' the breasts, so you get a more natural shape. The back is adjustable to a racerback style for running. And this bra is for all exercise levels from yoga to basketball and CrossFit.
Non-removable pads were popular with testers who don't like pads falling out when the bra is washed. Most testers said this bra was 'true to size'. Our 36FF tester said it was excellent for keeping her breasts supported and immobile during running and HIIT. Everyone said it was very comfortable, cool and well-fitting.
5. Best Plus-size Sports Bra with 'Outer' Underwire
SYROKAN is a brand that produces heavy-duty sports bras for professional and amateur athletes. This modern-looking, 'encapsulating' bra has extremely broad straps. Stretch, mesh sides and an adjustable body band offer a good fit, and keep you cool. The underwire is set outside of the soft cups in an unusual switch.
All testers liked the separated cups of this bra. They also said the 'outer' underwire was a good idea that was highly supportive and not irritating. Testers who run regularly said the bra is excellent for high impact training. All testers said this design is comfortable and holds your bust in place really well. If you're looking for a comfortable minimizer bra, check out this post.
6. Best Plus-size Sports Bra for Running
This Wacoal padded, underwired sports bra is made with lightweight 'spacer' fabric, which encourages air-flow. It has a sturdy fabric frame along the top and sides of the cups to reduce bounce. It is an 'encapsulating' sports bra that separates the breasts. The straps are padded and the back has adjustable straps that convert to a non-slip, criss-cross design.
Testers over a size 36DD felt the sponge-foam lining exaggerated the size of their breasts. But other testers felt this was an added bonus to a well-performing, running bra. All said they felt fully supported and rated this as a high-impact bra. Several reviewers said it was comfortable enough for them to wear as an everyday bra.
7. Best Plus-size Wire-free Sports Bra
The Goddess sports bra uses compression to hold in the breasts during mid-impact exercise such as cycling. It has double-layered, anti-bacterial cups designed to keep you cool, dry and fresh for a longer time than other bras. The broad body-band anchors the bust to the ribs. And the four-column, four-row hook-and-eye fastener is more comfortable and supportive than the usual two or three-column fastener.
This bra was welcomed by our testers who can't get a good, comfy fit with an underwired style bra. They said all the comfort padding and the broad band really work to support your bust for mid-impact activities. Our 42I sized tester loved the full support she got. And several testers said it was more comfortable than their everyday bras!
Every one of these Best Plus-size Bras for Large Breasts is a winner in its own category. And they all have good moisture-wicking properties from the modern, specialized fabric that really works to keep you cooler and drier as you work-out. The brands that came out top are all well-respected brands that take the trouble to design comfortable and sturdy bras. And that means curvy women can enjoy sports activities in attractive and supportive bras – just like everybody else, at last!
Have your say about plus-size bras for large breasts here or share this list of the best sports bras with your friends on social media. We love to hear your comments! Subscribe to get more bra reviews on herstylecode.com!