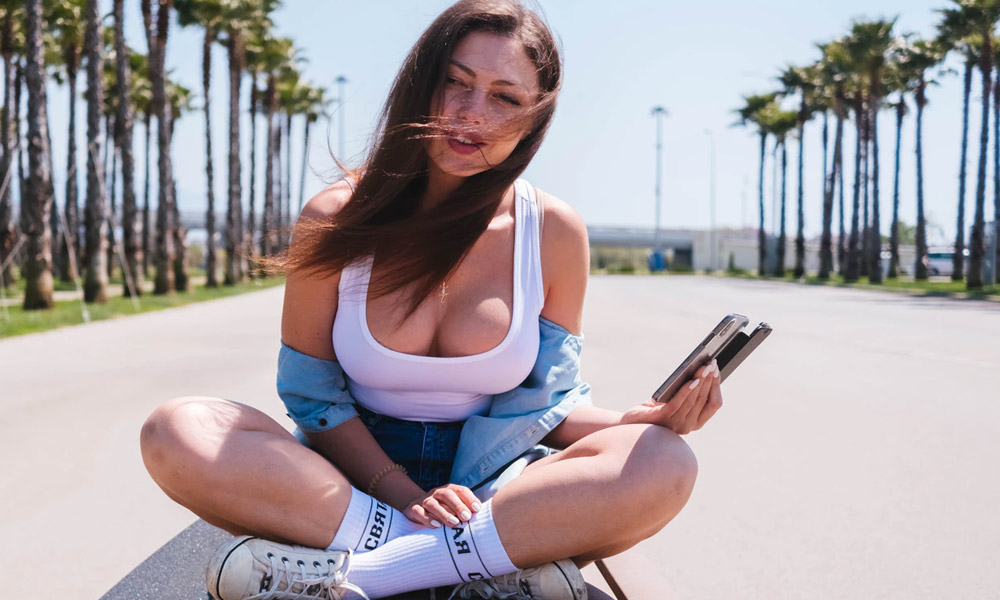 Discover the best bras for large busts and get comfort and support at last! Sometimes bra manufacturers are more focused on bras as fashion garments than bust supporters that are vital for women's health and well-being. And if you don't fit into a narrow range of shapes and sizes stocked in your local chain stores, you may struggle to ever obtain a comfortable bra! So if you need a larger than average cup size, you may feel it's impossible to get a suitable bra without buying online. And that can be tricky when you can't try the bra on before buying. As a petite woman with a large bra cup size, I know from personal experience how difficult it can be to find a bra that fits and supports the bust, whilst looking reasonably attractive!
Anyone who needs larger cups has to be prepared to pay a lot more for bras. And that means you can't afford to make any mistakes that could lead to you losing your hard-earned cash on a bra that doesn't meet your expectations. The major problems I found with cheaper bras for large busts were connected to the straps being too narrow to comfortably support weighty breasts and the body-band not being wide/strong enough to transfer the weight of the bust onto the ribs. Because even when you do find a bra with a large cup size, some manufacturers try to sell it purely on the cup size, without adding the sturdy elastic straps and broad body-band required for full support and comfort.
HerStyleCode has researched a wide range of bras for large busts, up to cup size J, concentrating on everything that matters to the women who need them. And that includes comfort, support, durability, fit and how well the bra stays in place, as well as appearance and ease of fastening/unfastening. So these top ten best bras for large busts have been personally reviewed and highly recommended by women who regularly wear them!
1. Best T-Shirt Bra for Large Busts – Panache Porcelain Elan Molded T-Shirt Bra
This thoughtfully designed T-shirt bra is completely smooth and free from those little details that can show up under your clothes. Our testers said the fabric is soft against your skin and it gives a nice, rounded shape. And that gives a totally natural outline under tee-shirts and thin fabric blouses and shirts. It's great value for money as it can be converted to a racerback style with the swan-clips that come with the bra. In addition, it comes in a good range of colors that are either skin-toned e.g. beige and taupe, or soft pastel fashion colors like dusty pink, slate blue and lavender, plus black and white.
Testers who wear large cup sizes said it gives good support and stays in place, thanks to the underwired construction. And the body-band is stronger than average, which is the key to getting maximum support for sizes over GG. This extremely popular bra is available in a wide range of sizes, starting with a small body-band of 28" and continuing up to UK H-cup (US K-cup). It can also be machine-washed. This design has wide-set straps, to allow you to wear scooped-neck styles and the low front is suitable for V-necked tops, too.
Available in band sizes 28–38 and UK cup sizes D–H
Pros:
• Smooth rounded contour
• Sizes up to UK H-cup/US K-cup
• Good support from strong body band
Cons:
• Only ¾ coverage
2. Best Minimizer Bra for Large Busts – Wacoal Visual Effects Minimizer Bra
Minimizer bras are great for solving the problem of gaping blouses and shirts, especial in non-stretch fabrics. And with full coverage cups you get great support with no overspill. Testers loved the body-band that's wider than most other bras, so you don't get side or back bulge. For best support, we recommend the underwired version, but you can also buy this design without underwires. It reduces the bust-line by up to 1-inch and has straps made from low-stretch fabric for firm support. And elastic around the neckline and under-arm area for extra comfort and a good fit.
Seamless cups give a smooth contour and the cute, lace-look fabric is attractive. There's sheer, mesh lining in the cups and under the body-band to make it even more comfortable and 3 – 4 hook-and-eye fasteners at the back. This bra is great for large busts and plus-size women and it's a hand-wash item you hang-dry to keep it as good as new. This lovely bra is available in a range of modern and traditional colors including sand, deep-taupe, shell-pink, white and black.
Available in band sizes 30 – 44 and cup sizes C-H.
Pros:
• Minimizer design stops shirt gaping
• Full coverage gives complete support
• Cute lace-look fabric
Cons:
• Hand wash only
3. Most Supportive Bra for Large Busts – Soma Stunning Support Full Coverage Bra
Soma bras are great for large busts and for plus-size women, too. They definitely give the extra support some of us need, with full-coverage cups and extra-firm elastic. This bra has an attractive look from seamless, contoured, foam cups which have a new-style, C-underwire that wraps around the sides for a youthful shape. The straps are wider than average and padded to spread the weight for comfortable shoulders. Testers said this bra does give the 'stunning support', the manufacturer claims!
A lot of thought has gone into the design of the Soma bra and it has a patented, seamless style called the 3-Zone Support system. This gives good lift, shaping and leaves a nice, smooth outline under clothing. With a high 38% Spandex in the synthetic fabric blend, you may notice that this is a firmer bra than you've worn before. And the broader body-band fastens with 3 hook-and-eye clips. The Soma Stunning Support bra comes in lovely, modern colors including ivory, porcelain, sand, warm-amber and rose-pink. This brand offers risk-free shipping and returns on all of their full-price bras.
Available in cup sizes 32-44 and band sizes B-G
Pros:
• Higher level of support
• C-shaped underwire for better shaping
Cons:
• Some may find this bra too firm
4. Best Wireless Bra for Large Busts – Evelyn & Bobbie Defy Bra
This high-cover bra for large busts is very popular as a wear-at-home bra that's far lighter to wear than traditional, support bras. It doesn't have any clips or hooks and you just pull it on over your head, like a t-shirt. And testers loved the wide straps that spread the weight and lift pressure off your shoulders. There are absolutely no seams of any kind on this modern, comfort garment and the lightweight fabric washes well and keeps its shape. It certainly looks extremely comfortable, because it's been designed ergonomically to suit our anatomy in a way that minimizes shoulder and under-bust discomfort. And at the same time, it gives you a lovely, smooth back with no bulges.
This garment uses a patented EB Core™ sling which gives a high level of support. And remarkably, the fine microfiber actually molds to your body after you've worn it twice for a few hours. And it has extra-strong, invisible bonded seams that don't show up at all under clothing. It's made from synthetic fabric, like all of the bras in our review, but at 30% Lycra it has a much higher proportion of stretchy spandex in the blend. So it's an inspired blend of strong, stretchy material, with lots of body cover and a patented 'sling' that one of our testers said supports her H size breasts. And you can also step into it to put it on, if you can't manage pulling it over your head! This comfy, lined bra washes well, too.
Available in these sizes: XS = 30 C-DDD, S = 30 G-H, 32 C-DDD, 34C, M = 32 G-H, 34 D-DDD, 36 C-D, L = 34 G-H, 36 DD-DDD, 38 C-DD, XL = 36 G-H, 38 DDD, 40 C-DD, XXL = 38 G-H, 40 DDD-G, 42 D-DDD, 44 D-DD.
• Smooth, lightweight and comfortable fabric
• Gives support without constricting or digging in
• Wide straps may show under some clothes
5. Most Inclusive Bra Sizes for Large Busts – Freya AA1050 Idol Molded Balcony Bra
I am a great fan of Freya bras and have been wearing them for many years now. They rescued me when I became a 34F size and was totally unable to find any bra to fit in my local area and had to switch to online buying. This balcony bra is available in the widest range of cup sizes from B – HH. And, like all Freya bras, it has a great reputation among ladies with large busts for performing extremely well for fit, comfort, support, appearance and staying in place all day. This bra comes in a range of 8 colors, including traditional and bright, fashion colors like purple, red, teal-green and royal-blue for a modern vibe.
As we are increasingly matching bras and knickers for day-to-day wear, as well as under our 'going-out' clothes, Freya is always up-to-date with its designs. And the modern, pin-stripe patterning on the cups creates a contemporary look. Balcony cup bras have good bust coverage and produce a natural, rounded shape that we all aim for. This is an underwired bra that transfers the weight onto your ribs and protects your back from strain. The seam-free molded cups look perfect underneath t-shirts or fine fabric. All larger sizes feature three or four hook-and-eye back fasteners.
Available in band sizes 28–38 and UK cup sizes B–HH
Pros:
• Widest range of cup sizes
• High ratings for comfort and support
Cons:
• A few users noted the bra gaped on them
6. Best Bra for a Full Figure – Playtex Love My Curves Modern Curvy T-Shirt Bra
This is a good-looking bra designed especially for full figures with great curves! There's an added bonus, too, that also makes this bra well-worth buying – it has a convertible, 4-way strap option to wear with different top styles. The Love My Curves Modern bra has molded cups and an underwired structure that offer lots of support. And this design provides a smooth contour under all types of clothing. The underwires combine with broader, cushioned straps to make sure this bra stays in place better than many other bras for large busts that we tested and discarded. So this is a securely fitting, sexy, figure-flattering choice.
And as a modern-looking and attractive bra it comes in a good range of different colors, including bright fashion shades. And you can choose from plain colors or lacey prints for added femininity. The idea of printing lace onto molded cups is a great way to get an attractive, decorative look without having uneven lacy texture show through when you wear t-shirts or thin fabric garments. And this bra performed well in terms of washing and coming up looking as good as new, so you'll get plenty of wear out of it. The sides are also carefully designed to minimize bulges and give you an all-round, smoother body-contour.
Available in band sizes 36–44 and cup sizes C–G
Pros:
• Underwired for good support and stability
• Versatile with cushioned convertible straps
• Side-support for slimmer look
Cons:
• Band sizes start at 36
7. Best Strapless Bra for Large Busts – Wacoal Red Carpet Strapless Bra
Finding a strapless bra to support a large bust can be a nightmare. And if your strapless bra doesn't stay in place, don't wear it at all, as there's nothing less attractive than a bride who constantly reaches inside her dress to haul up a bra that's losing the battle with gravity! But we tested several contenders and agreed that the Wacoal Red Carpet Strapless Bra came out top of the pile. It's strongly made and stays in place throughout a whole day, which is pretty remarkable for a strapless bra for large busts. And if that wasn't enough, this value for money bra also converts to a traditional, racer-back, one-shoulder and halter-neck bra!
Nor do you have to suffer to be beautiful in this design, as our testers all said this is a comfortable and secure-fitting bra. The cups give good coverage from smooth, seamless stretch-foam cups and there's a useful strip of silicone along both the top and bottom edges, which cling to your body and keep the bra from moving about. And there are hidden 'stay' supports at the sides and back that also keep this underwired bra firmly in its place. The broader band and sides help to create a smooth silhouette and reduce bulge. The Soma Strapless Bra comes in a variety of colors including beige, black, ivory and tan.
Available in band sizes 30–40 and cup sizes C–H
Pros:
• Comfortable and stays in place well
• Better support than some bras with full straps
• Convertible straps for 5 different styles
Cons:
• Hand wash only
8. Best Value Bra for Large Busts – Passion for Comfort Minimizer Underwire Bra
Supportive, minimizer bras in large cup sizes aren't cheap, but this is such a best-selling style that the manufacturer can offer it at a very reasonable price-point. And for that price, it still has all of the important features a great bra for large busts needs. For instance, neatly hidden, underwires that keep the cups from shifting in use and give a close fit to your rib-cage. And along with a wide body-band with 3 hook-and-eye fasteners for larger sizes, the underwire transfers the weight to your ribs, and protects your spine from damage. In addition, cushioned straps help to minimize the pressure that heavy busts place on shoulders. And seamless, microfiber lined cups feel soft on your skin.
This design minimizes your bust by up to 1 ½", which gives you a slimmer silhouette and, crucially, stops that annoying gap between tightly strained buttons when you wear a shirt or blouse. There is just a touch of padding in the minimizer bra, and the seamless cups create a smooth contour under all types of clothing. The Passion for Comfort Minimizer Bra comes in a wide range of colors and patterns, so you can choose from plain and decorated cups. This is an everyday bra that looks attractive and does a great job all-round as a bra that helps women with large bust look and feel better.
• 2 Rows of Hooks – 32C-36C
• 3 Rows of Hooks – 38C-42C; 34D-42D; 34DD-42DD; 36DDD-42DDD
Available in cup sizes from 32 – 44 and band sizes C – G
Pros:
• Affordable bestseller
• Good underwired support
• Available in a wide range of band sizes
Cons:
• Doesn't fit shallow breasts
9. Best Front-Close Bra for Large Busts – Glamorise Wonderwire Front Close Bra
Many women struggle to put on and take off their bra, and whether you have limited movement or not, a front-fastening bra is a very convenient alternative. However, in the past front-fasteners just weren't supportive enough for large busts. But the Wonderwire design is a marvelous and supportive bra that's available in sizes up to 48H. It has full breast coverage, and superb, wide cushioned shoulder straps that spread the weight of your breasts. This cancels out a big problem for women with large busts, as it stops the pressure on shoulders and gives a much more comfortable wearing experience.
And the supportive underwire never touches your body, as it's firmly contained within a padded channel. This means it can support your breasts without ever poking into your delicate skin. And the testers also loved the way this bra has special shaping features at the side of the bust, to create a slimmer profile. The front-clip is guaranteed to take the weight of your breasts until the whole bra wears out. And the soft cups don't have any extra padding. This popular bra is available in approx. 15 different traditional and modern colors and cute patterns.
Available in band sizes 34 – 48 and cup sizes B – H
Pros:
• Secure, easy-fasten front clip
• Comfortable wide cushioned straps
• Lots of colors and patterns
Cons:
• May have too much coverage for low-cut tops
10. Best Overall Bra for Large Busts – Natori Women's Pure Luxe Custom-Coverage Contour Bra
This attractive and highly popular bra for large busts was recommended as the most comfortable bra by our testers. And extensive user feedback rates this design as well-fitting, supportive, easy to put on and remove and said it stays put and doesn't keep moving around. Full coverage designs with seamless cups are definitely one of the best options for larger breasts, which benefit from more shape control and the stronger support a full cover cup provides. There is just enough padding in the underwired cups to give you a smooth look under t-shirts and flimsy blouses.
Some reviewers commented that the texture of the decorative straps showed up under certain garments, which was a slight disadvantage. But others liked the look of the lacy straps when worn with fashionable spaghetti strap t-shirts. And another benefit of these modern-looking, decorative straps is that you can wear this bra with a strapless, or strappy, summer top or dress and let the straps show. Larger sizes have a row of three hook-and-eye fasteners, and lower sizes have a row of two. And the high-quality, elastic washes well and pings back into shape after being stretched during wear.
Available in band sizes 32 – 38 and cup sizes B – G
Pros:
• Excellent fit without moving about
• Supportive and comfortable
• Long-lasting
Cons:
• Textured straps
The main features of a comfortable, supportive bra for large busts are definitely broader shoulder straps, a broader body-band with at least 3 hooks-and-eye fasteners and a cushioned underwire. And the best advice we can give is to measure yourself carefully and perhaps be prepared to exchange a bra that may be the right style, but not the perfect size.
Bra-making is a complicated business and there will be a great-fitting, comfy and supportive bra out there for you. So it's well-worth taking the trouble to find your current best style and size, so you can buy more bras quickly and stress-free in the future! Subscribe and get more shopping tips on herstylecode.com!