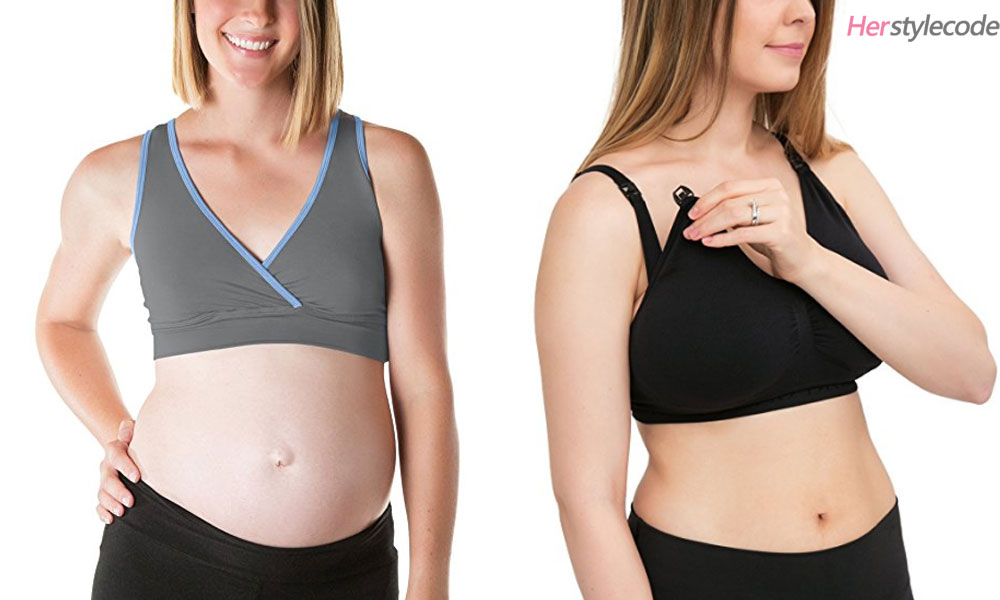 When you are pregnant and after you give birth, your breasts naturally change. Some women experience a very drastic change. Others notice a more subtle shift over the course of their pregnancy. Most women who are pregnant experience increased sensitivity in their breasts. Pregnant women also often report that their breasts are larger and feel heavier. These changes and others are a normal response to the influx of hormones that pregnant women create and the other physical changes occurring within their bodies.
The changes don't stop once a woman gives birth. After their pregnancy is over, many women continue to experience noticeable changes in their breasts. Some women's breasts swell more and become increasingly uncomfortable after they give birth. This is normally a result of the women's natural production of breast milk to feed their newborn baby.
Because of the changes that occur within their breasts during and directly after pregnancy, many women choose to wear special types of bras during this time period. Maternity bras are a common choice for pregnant women. Nursing bras are popular for women who have recently given birth and are still breastfeeding their new baby.
What Is a Maternity Bra?

Kindred Bravely French Terry Racerback Nursing Sleep Bra For Maternity/Breastfeeding (Mom's Choice Award Winner. Made from ultra-soft French Terry. Wire-free. No clasps or hooks to mess with.)
SHOP NOW
A maternity bra is a type of bra that is designed specifically for women to wear throughout their pregnancy. Many women choose to wear this type of bra only during the later months of their pregnancy when they start to wear only maternity clothes. However, some women experience changes in their breasts earlier on in their pregnancy. These women tend to start wearing maternity bras as early as the first trimester of pregnancy.
Maternity bras don't look much different than regular bras. However, they feel significantly different for the woman wearing them. Maternity bras feature much more comfort and support for the wearer than other traditional bras. They usually include wider straps than a normal bra. These straps provide more balanced support that accommodates your sensitive and growing breasts. Maternity bras include soft lining rather than harsh underwire as well as a snug band with extra closures for added security. These bras also usually crafted from a softer material that does not itch or irritate your breast tissue. Everything about maternity bras is designed to make sure that you remain as comfortable as possible throughout the often uncomfortable physical changes of your pregnancy.
Kindred Bravely Simply Sublime Nursing Bra For Breastfeeding and Maternity
A nursing bra is a bra for women who regularly breastfeed their babies. Nursing bras are very similar to maternity bras. They usually provide extra comfort and support just like maternity bras. These bras include many of the same special features of maternity bras, like wider straps and softer material.
However, nursing bras also offer extra convenience for breastfeeding mothers. It is a pain to have to take off your bra every time your newborn is hungry, especially if you're in a public or semi-public place. Nursing bras eliminate this frustration. They include special openings that allow the cups to fold downward. These openings make it easy to breastfeed no matter where you are without having to strip off your bra or expose yourself to the world just because your baby is hungry.
How to Buy a Maternity or Nursing Bra
When you buy a maternity or a nursing bra, it's important to consider size above all else. It is very likely that your breasts will start to grow when your pregnancy begins and continue to increase in size as your pregnancy progresses. You might even find that your breasts do not stop growing or return to their normal size until after you have finished breastfeeding. That could be months or even years after your baby is born.
With that in mind, be prepared to buy multiple different sizes of maternity or nursing bras. Don't automatically buy a maternity bra in your normal bra size. Always take a new measurement of your cup and band size before purchasing a maternity or nursing bra. Keep measuring your bust throughout your pregnancy. Pay attention to the way your bra fits and how your breasts feel after you've been wearing it all day. If you need to go up a size multiple times throughout your pregnancy and breastfeeding process, do so. Don't ever sacrifice comfort or support in a maternity or nursing bra.
Comfort is Key
Some women buy a nursing bra as soon as they get pregnant. They plan to wear the nursing bra as a maternity bra during their pregnancy and while they are breastfeeding after their baby is born. This plan usually doesn't work out the way it's intended. It is unlikely that the size of your breasts will remain static enough to fit comfortably into the same bra size throughout your entire pregnancy and after you give birth. It's a better idea to invest in a maternity bra for your pregnancy rather than just a nursing bra. After you give birth, measure your bust again before you purchase a nursing bra.
Maximum comfort and support are the main purposes of wearing a maternity or nursing bra in the first place. Avoid buying a maternity or nursing bra online at all costs. It is important to try on these types of bras before you buy them in order to ensure that they fit comfortably and support your bust sufficiently. When you wear a maternity or nursing bra, you should feel like your breasts are comfortably and snugly supported. Your breasts should not feel suffocated or tightly packed. A good, well-fitting maternity or nursing bra provides gentle support that prevents discomfort in your breasts throughout the day.
It doesn't matter if you don't feel like you need a maternity or nursing bra. Once you buy one, you'll be glad you did. It's hard to imagine how much better and happier you feel when your breasts are not experiencing discomfort all the time. Treat your body well, take care of yourself during your pregnancy and its aftermath, and choose a maternity and nursing bra that works for you.