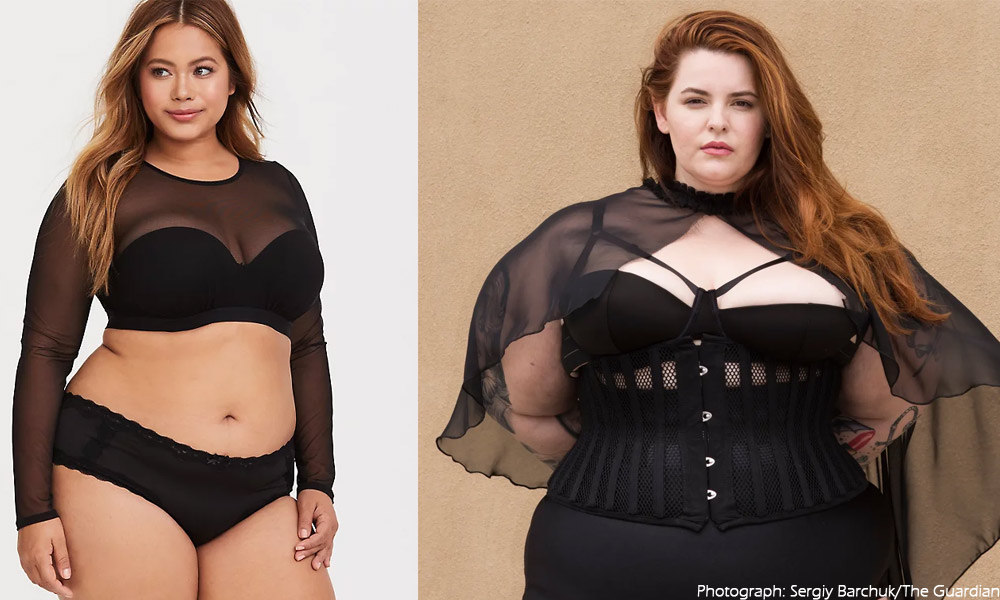 Pretty lingerie always makes you feel better about yourself, so why make do with plain, plus-size lingerie? Well, lots of us have been forced to wear very boring lingerie, because so few brands bother to make larger sizes in sexy, cute styles! But things are changing, and right now there are a number of good lingerie brands making supportive and attractive bras and briefs for plus-size women. You can find youthful, contemporary styles in fancy, fashionable lace fabrics to fit lots of plus-sizes now.
So if you're always on the lookout for supportive underwear that accentuates your femininity, take a look at these 8 best plus-size lingerie brands:-
1. Best Plus-Size Lingerie Lacy Bra: Savage X Fenty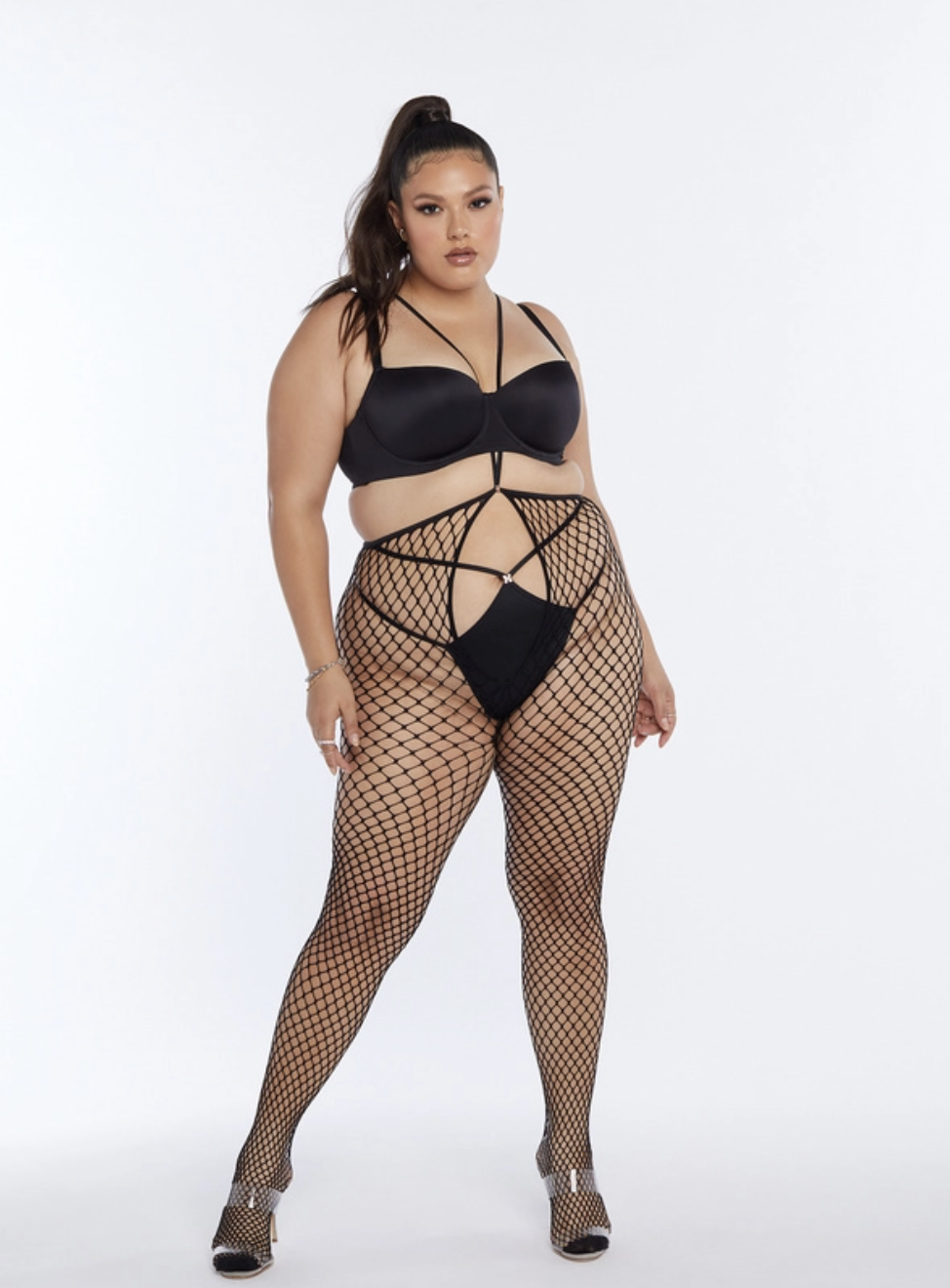 Rihanna's design team has outdone itself with the plus-size bras on offer from the latest collection. They are perfect for women with larger breasts who appreciate a cute style as much as anyone else! So these sturdy, but pretty, lace bras are a real 'breath of fresh air' if you've been forced to wear matronly styles up till now! And you can get bras from the Fenty Collection for economical prices, too!
Savage X – Fenty Women's Floral Lace Unlined Bra
2. Best Plus-Size Lingerie Suspender Belt: Playful Promises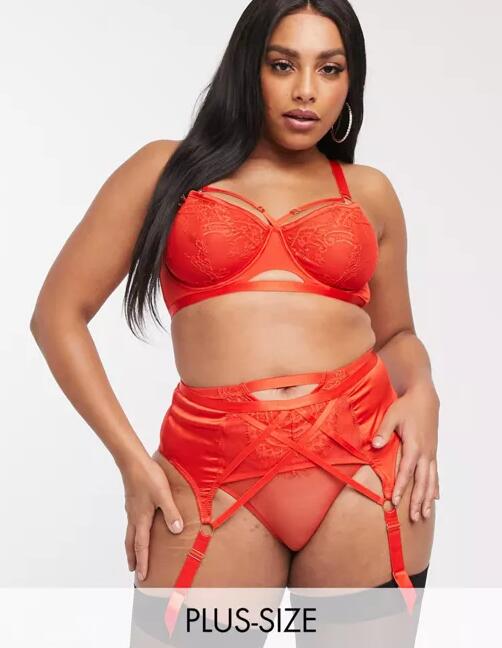 If you're planning on seducing your mate, you really need to get a sexy suspender belt and some black stockings. Red is a fantastic lingerie color that excites and delights, so invest in this criss-cross straps suspender belt that's designed to flatter plus-size figures. Watch your man's face light up when you tell him what you're wearing! And Asos offer low, discount prices, so why not wear something fabulous?
Buy now: Playful Promises – Curve Range – X Gabi Fresh Suspender Belt
3. Best Plus-Size Lingerie Short Robe: Oh La La, Cherie!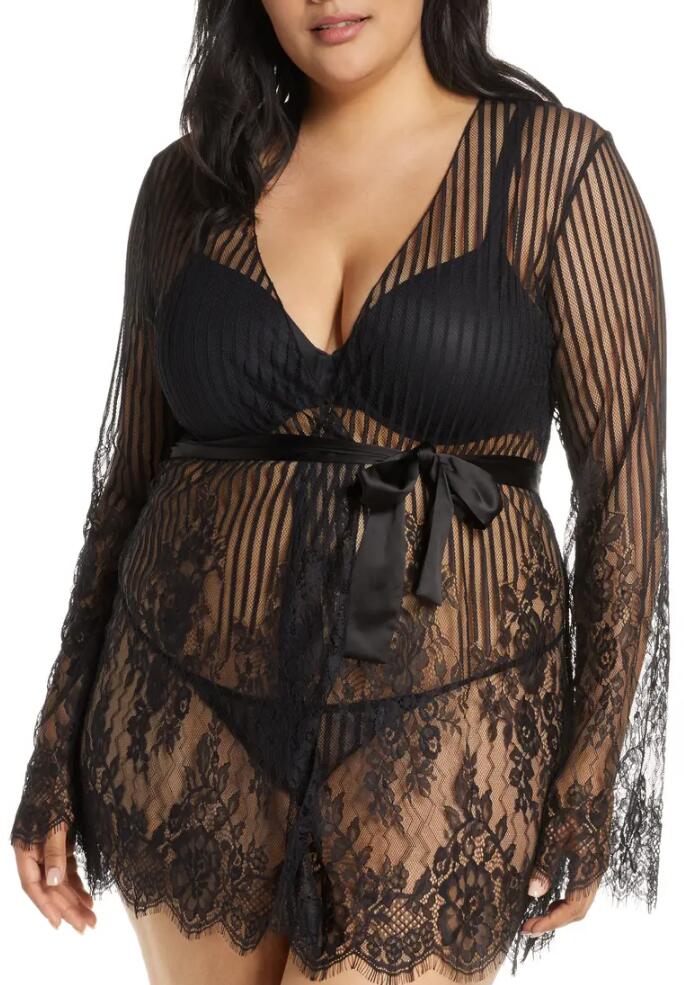 What could be more glamorous or more comfortable to wear around the house, than this striped black eyelash-lace, robe? You can pop it over any of your black lingerie for an instant leisure outfit that's alluring and luxurious. The high-waisted look made with the silky, satin sash belt accentuates a curvy shape and skims over hips and tummy in a very flattering way!
Oh La La, Cheri! Luna Stripe Eyelash Lace Wrap
4. Best Plus-Size Lingerie Boyshorts: Cosabella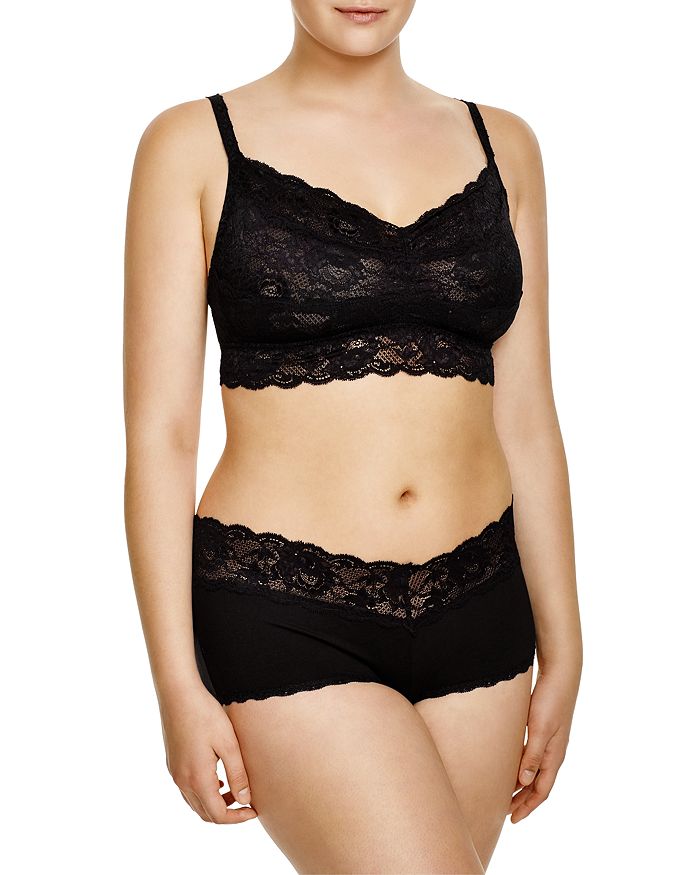 In my past experience, boyshorts/cullotes were sometimes quite uncomfortable. Early versions had irritating seams in the gusset or rode-up at the back. So I wanted to let you all know that Cosabella's boyshorts are very comfy and well-made, to avoid all of those early design mistakes. Cosabella extended its lingerie range in 2019 to be size-inclusive, and plus-size women love being able to look attractive and feel relaxed and supported in their thoughtfully designed undies!
Cosabella-Plus – Never Say Never – Cheekie Hotpant
Amazon: Buy now
5. Best Plus-Size Convertible Bra: Elomi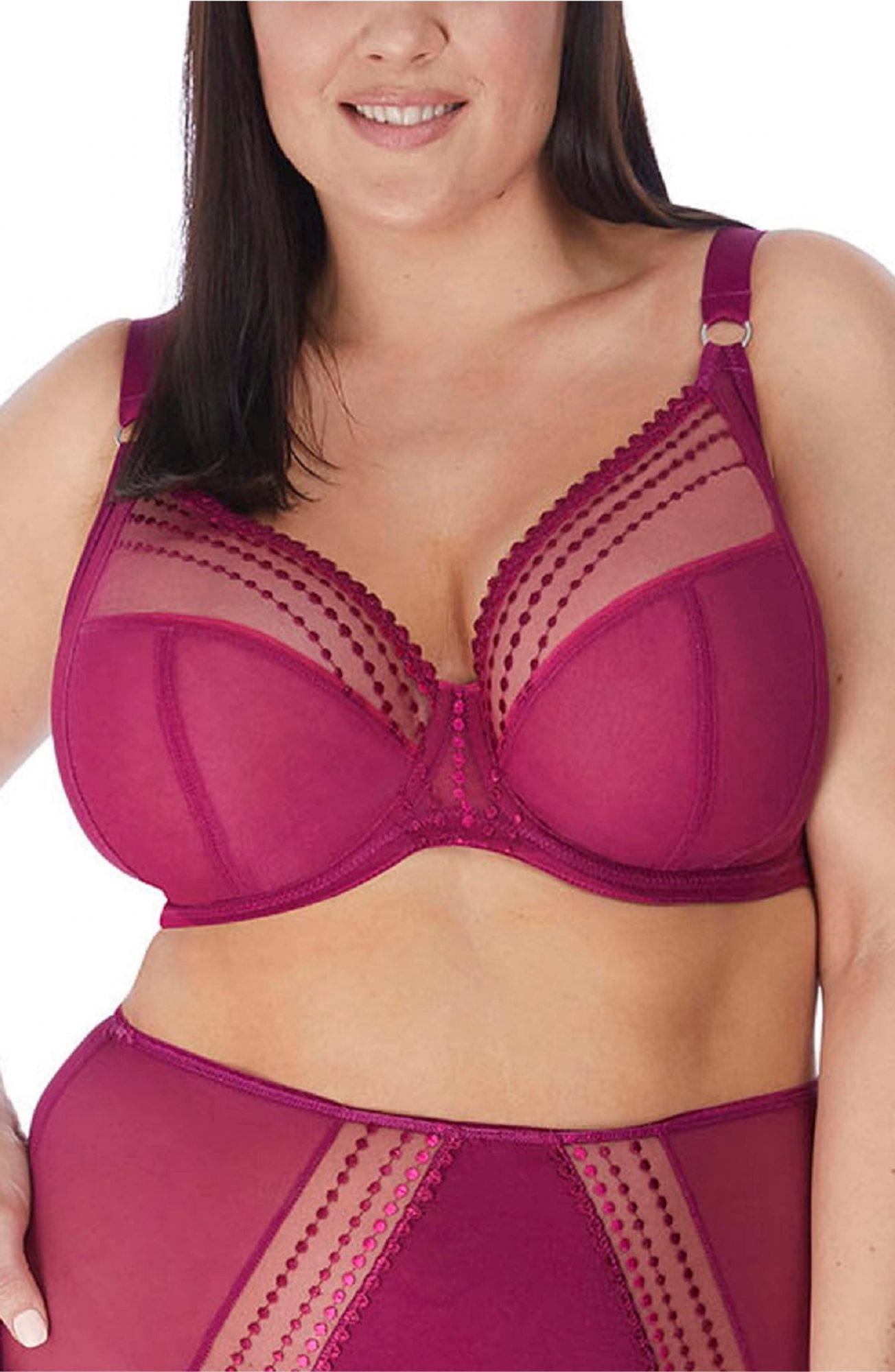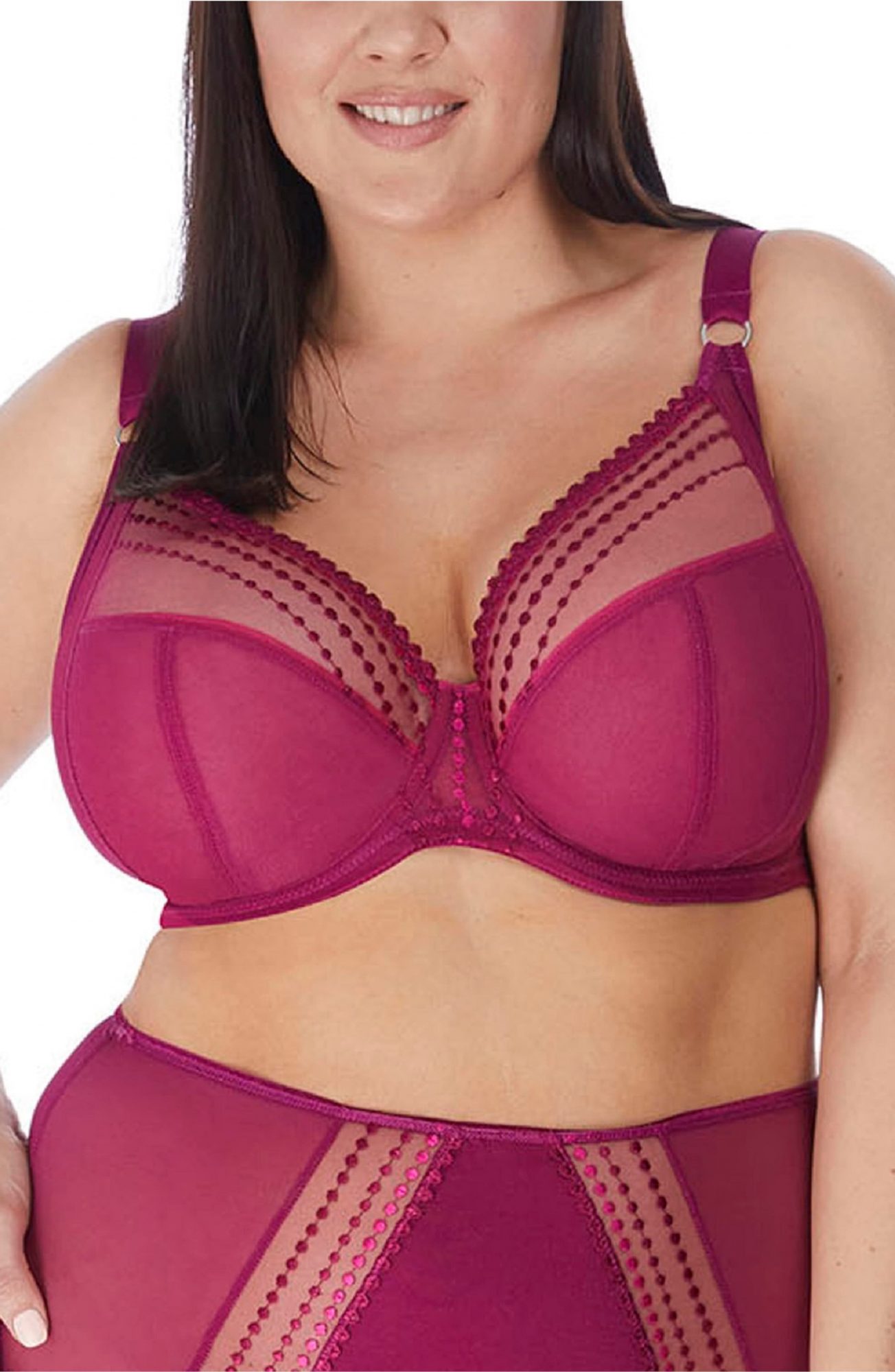 This sturdy, underwired bra has a modern style with a transparent top section and pretty lines for decoration. The rich deep pink color is contemporary and feminine and the plunge style allows you to wear flattering V-necked tops or dresses comfortably. This Elomi bra is supportive and youthful and has a clever clip at the back so you can clip the straps together and wear it with 'racer-back' T-shirts!
Matilda Undersire Plunge Bra from Elomi
6. Best Plus-Size Babydoll: JuicyRose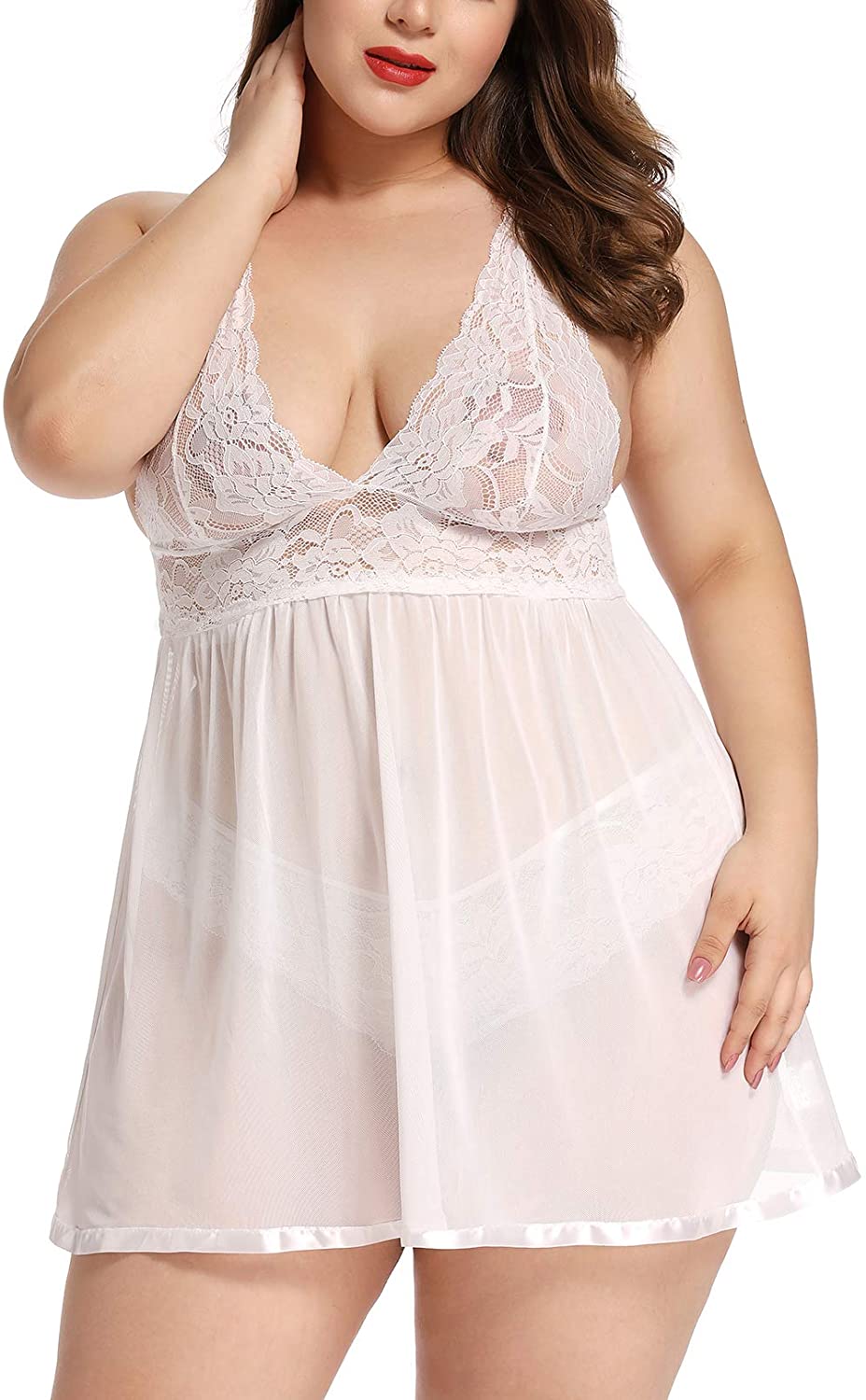 Want to get more out of your man? Increase the heating in your bedroom, get rid of your scruffy, old pyjamas and slip into bed wearing something sexy. This gorgeous, plus-size 'Baby Doll' nightie is guaranteed to get you whatever you want. And for such an economical price, you can afford one for every night of the week! Great value for money.
JuicyRose – Open Back Lingerie – Lace Baby Doll Sleepwear
7. Best Plus-Size Panty: Hanky Panky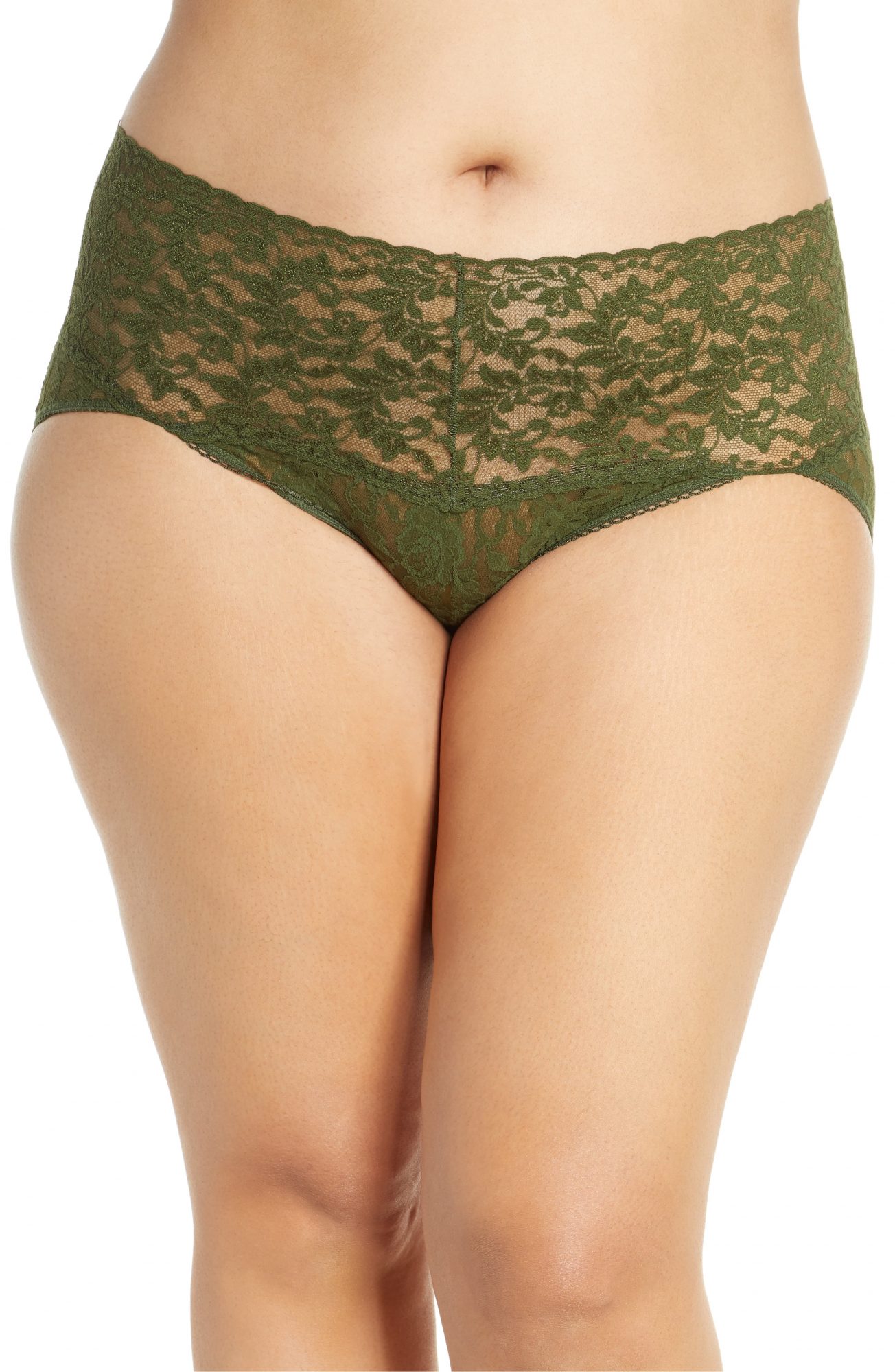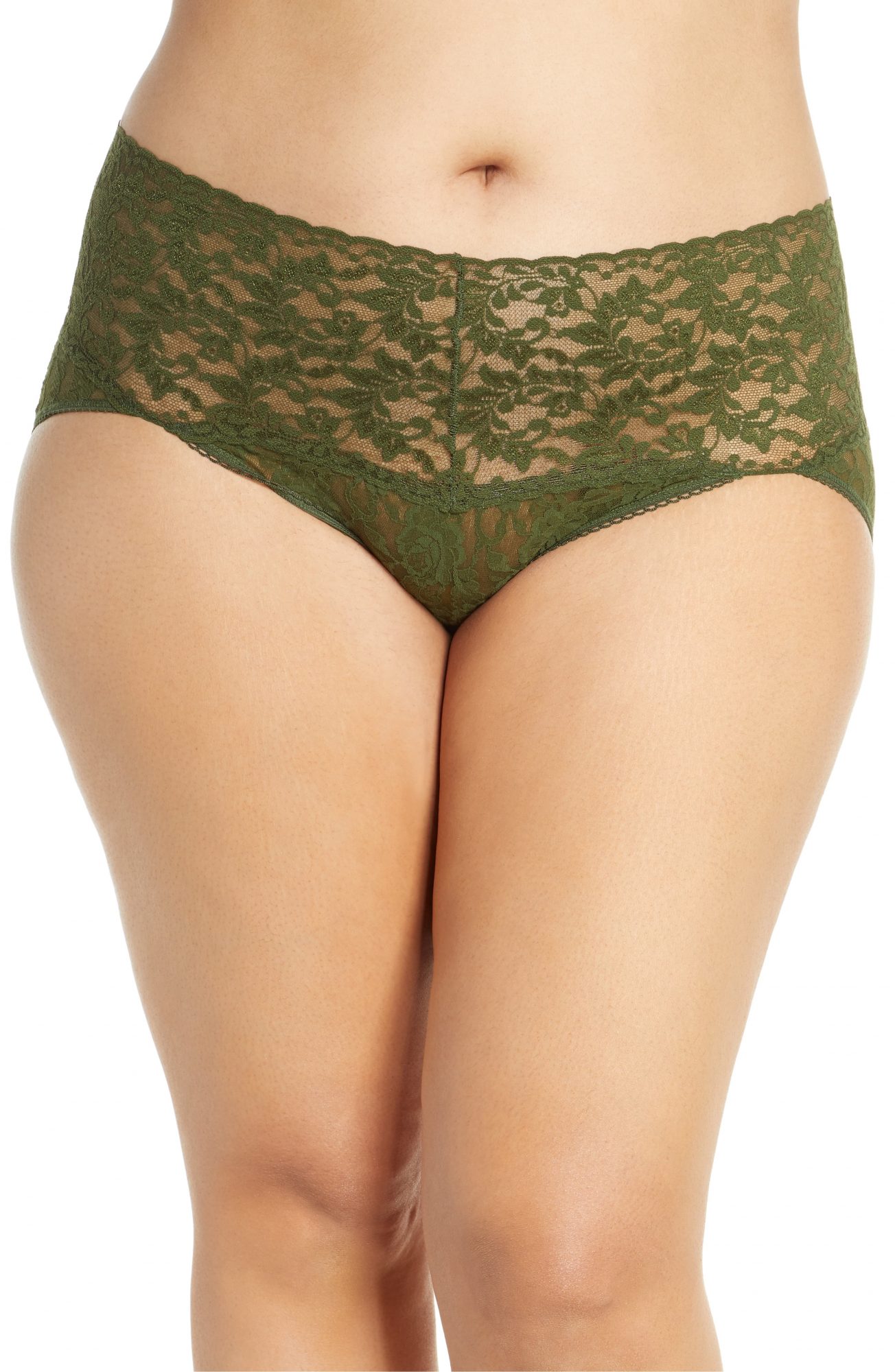 Comfortable panties can also be cute, as you can see in these lovely stretch briefs made of lacey fabric. Made from high-quality stretch fabrics, Hanky Panky briefs come in many different styles and colours, which are very popular with plus-size women who appreciate good support and modern style. Not a cheap brand, but Hanky Panky lingerie is durable and attractive.
Retro Vikini Briefs
8. Best Plus-Size Balconette Bra: Curvy Couture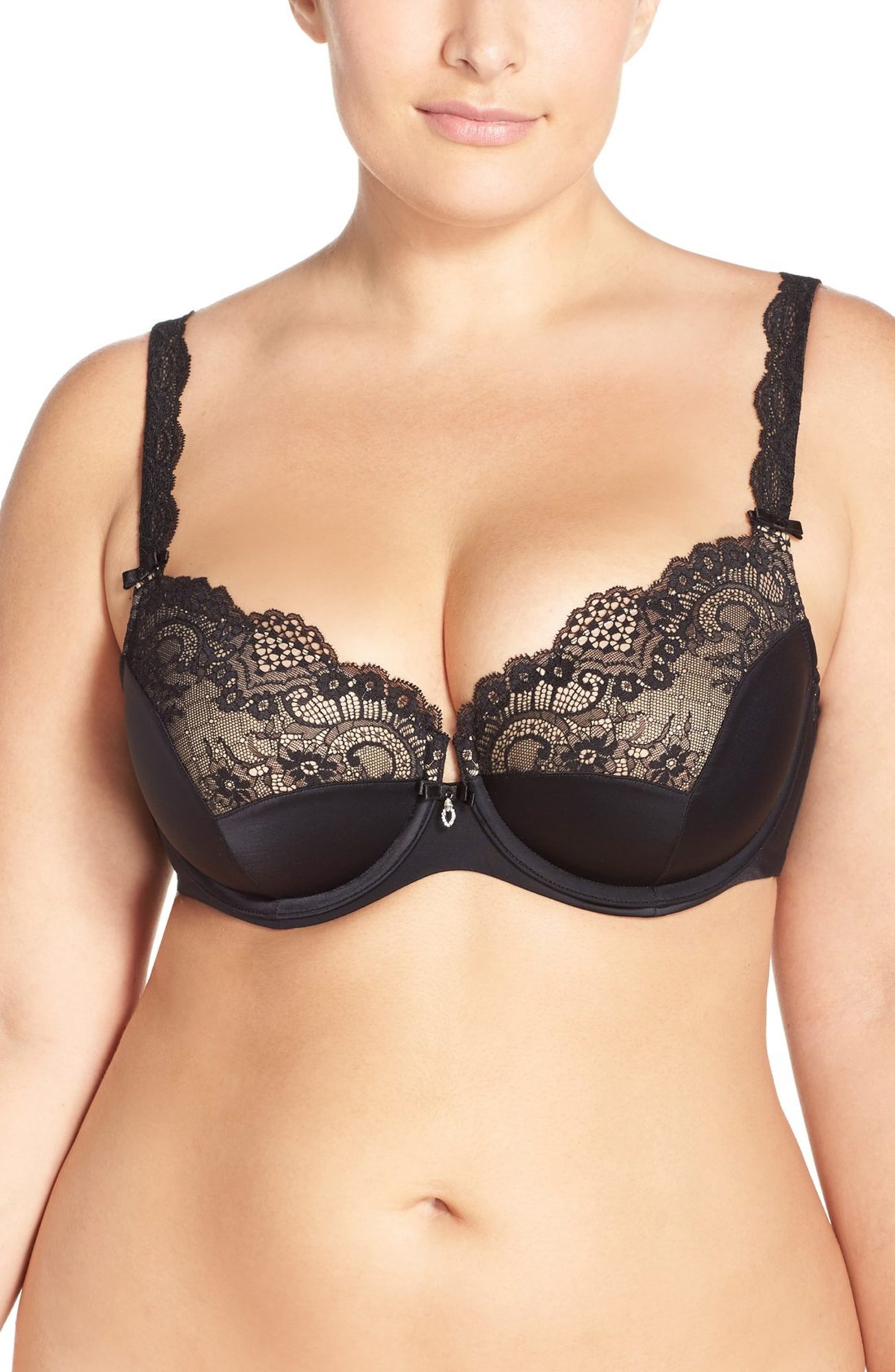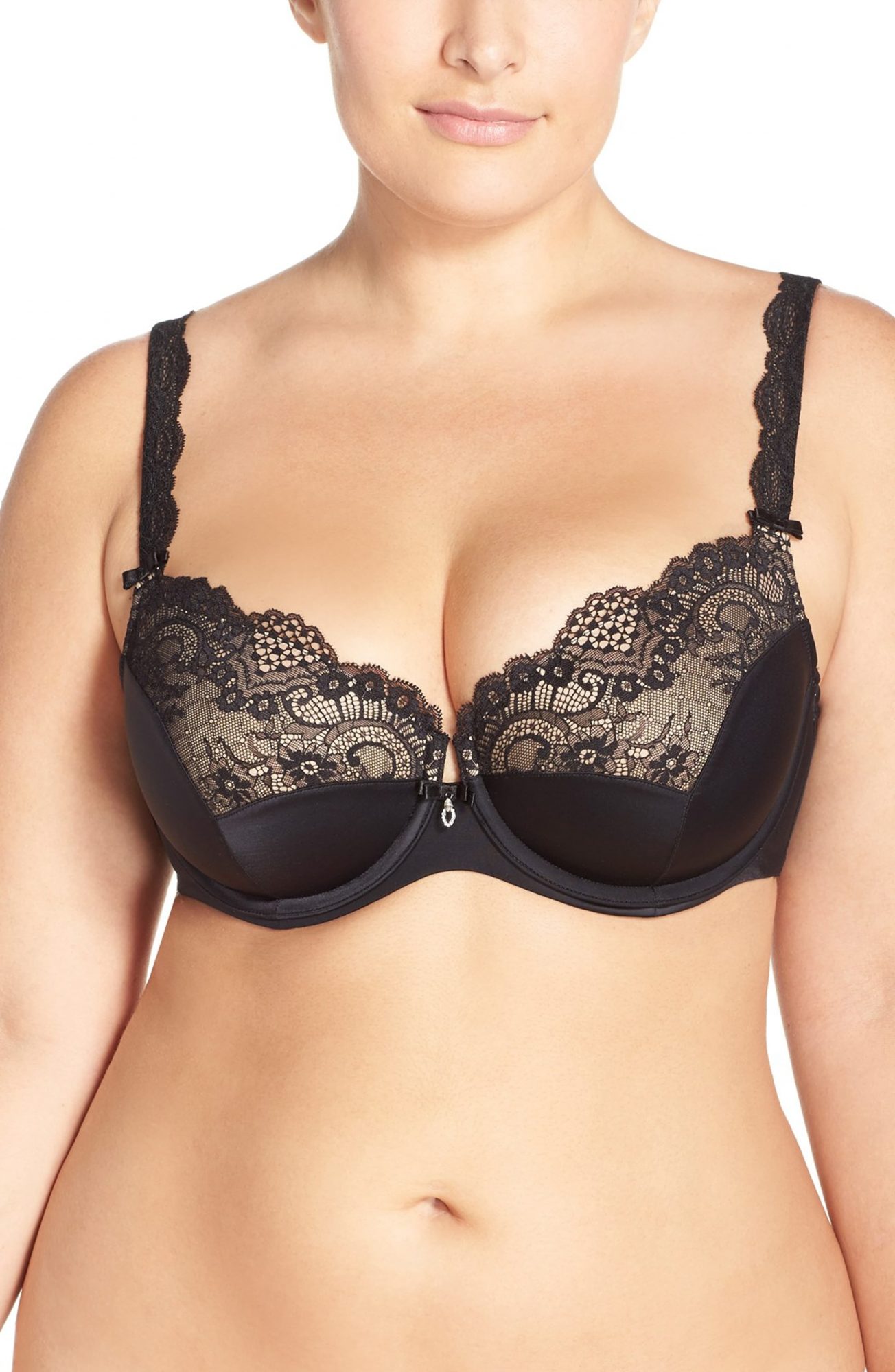 Curvy Couture makes fabulously sexy and supportive bras, which are perfect for plus-size style fans. This scalloped edge, black lace bra is underwired for extra support and yet has a lovely, wispy top. It's great for wearing with flattering V-necklines and the balconette style shows off your best assets beautifully! Perfect for everyday and special occasion wear.
Curvy Couture – Foxy Lace Balconette Bra
Plus-size Lingerie Buying Tips
Don't be afraid to show off your curves, but make sure your lingerie is supportive and comfortable.
You may be accustomed to wearing full-cup bras, but now that there are more plus-sized lingerie brands with modern and youthful styles on offer, try different bra styles.
¾ cups and bras with a broad side-panel will give you good support and bring your bust silhouette in to make you appear slimmer.
You may need to try on a few different styles to find the best fit and suit the clothes you like to wear.
There aren't any universal bra sizes or shapes, because there are so many different sizes and shapes of breast, so if one bra style doesn't look good on you, you just need a different style. It doesn't mean your body shape is at fault!
Large cup sizes need underwired bras to get sufficient support and a clean line under your clothes.