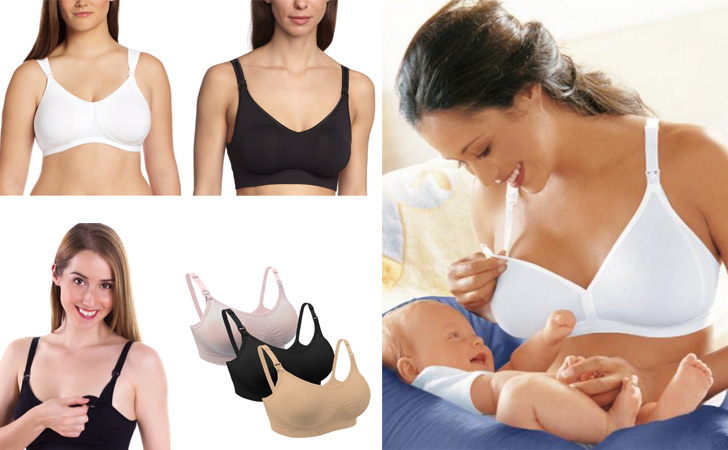 Not all bras are created equal that is something you learn the moment you are on the hunt for a good nursing bra. Nursing bras are a great addition to have when you are planning on nursing your child. Many times when a woman becomes pregnant she assumes she can use a maternity bra or a regular bra to nurse her baby. Truth is a good nursing bra can take a lot of the stress and hassle out of breastfeeding as it makes it a much easier task.
With so many things happening at once the last thing you want to do is go through the hassle of finding an easy way to nurse your baby. That is when a good nursing bra will come in handy, it is comfortable and convenient for the moments you need it most. When you are searching for the right nursing bra for you, you may want to consider one of these as they are the best nursing bras on the market. Keep reading the following Nursing Bras reviews to learn more about the top-rated best Nursing Bras available now.
10.iLoveSIA 3PACK/2PACK Women's Seamless Nursing Bra Bralette
When you are breastfeeding one of the most demanding times besides trying to get your baby to latch on is night time. The reason being if your baby is strictly only consuming breast milk you may be up every 2-3 hours to feed them. That is when a comfortable nursing bra will come in handy. A nursing bra bralette like this one can make your nighttime routine a lot easy.
It is made of 92%Nylon+8%Spandex to give you the softest feeling fabric while containing no underwire. What this means is there will be no underwire to poke or make you uncomfortable. When there is no under wire you are guaranteed a more comfortable feeling bra, especially during those late night feedings.
9.Bravado Body Silk Seamless Nursing Bra
One of the biggest things you should look for while shopping for a nursing bra is support. You want to get a bra that will give you support while molding to your body. When a woman is breastfeeding her breast will fluctuate in size. A bra is this with adjustable straps and seamless soft cups will adjust to your fluctuating breast size and be seamless under your clothing.
It also contains removable clamps that allow you to fully lower the cups to nurse your child with ease. Another wonderful thing about this bra is that it contains removable padding. When you are breastfeeding your breast may leak a little bit into your bra and your shirt if your bra does not contain a bit of padding. With the removable padding your bra will catch the leak and never transfer onto your clothing.
8.Soft French Terry Nursing Sleep Bra for Maternity / Breastfeeding
When you are constantly breastfeeding the last thing you want to do is uncomfortable or wear a bra that does not feel like a second skin. This bra brings comfort to another level. It is the perfect bra for lounging around your home and late-night feedings. It gives you support and molds to your shape to provide you with the comfortable feeling that we all want.
If you want to feel as if you are not wearing anything at all this is the bra for you. It's built with breathable cotton which makes it virtually undetectable underneath your clothing. It is the perfect comfortable sleeping bra that makes late night feedings a breeze.
7.Bravado! Designs Women's Body Silk Seamless Nursing Bra
One of the many worries of nursing moms is not finding a bra that is dense enough in material to cover up any leaks that may happen throughout the day. For that matter you want to purchase a bra that contains a thicker material like this one. This bra was designed with a little bit of a thicker material to give you piece in mind when you are out and about with your family.
The thicker material will catch any leaks you may have throughout the day without having it show up on your clothing. It also gives you support without having an under wire. Its adjustable straps enable you to keep everything in its proper place at all times.
6.CAKYE Women's Underwire Maternity Nursing Bra
Many nursing bras are created without under wire however, sometimes you want a little bit of a lift while you are nursing. If you want to get a little bit of a lift while having a functional nursing bra check this one out. This bra is soft to the touch and on your skin while giving you a lift because it does have an under wire. Although, it does contain an under wire it is not uncomfortable to wear quite the opposite in my opinion.
It comes in multiple different sizes that can be adjusted with its adjustable band along with unique colors and styles. It is also comfortable enough to sleep in at night and nurse your baby when you need to do so.
5.TANZKY® Women's Nursing Maternity Bra
This bra is the perfect bra to leave the hospital with. As it is a more traditional nursing bra. When your doctor says you are prepared to leave the hospital you will want to have a bra that will give you easy access to nurse your baby instantly. With a bra like this one it will make it more convenient for you and your baby to become accustomed to the nursing process.
If you are looking for a traditional nursing bra that gives you support while having removable cups and thicker straps that give you better support. It offers the customary full coverage style while being very supportive on your back.
4.Leading Lady Women's Nursing Wireless Sports Bra
If you are active while being pregnant and want to continue to be active while you are nursing you want to get a nursing bra that will double as a sports bra. Sports bras originally have more support for your back and breast. This sports bra has an added support system to help keep your breast in place while you work out. It also allows you to feel comfortable while you nurse your baby.
Not only does this nursing sports bra make nursing on the run easy but it also supports your back. When you have a baby many times back pain will be a factor especially if you had an epidural. Having an epidural on your back for labor pain can cause more frequent backaches.  A great supportive bra can help with that. If you're looking for plus size nursing bras, this is an ideal one.
3.BAOMOSI Women's Maternity Nursing Bras Seamless Push up Wireless Underwear
Having a bra that gives you comfortable and fits you well is priceless. It grants you the confidence with anything you wear. This nursing bra is the perfect fit while giving you the benefits of an under wire. The underwire is comfortable enough to wear everyday for all activities so you do not have to worry about being uncomfortable.
It also has a  drop down clip to make nursing an easier task. This bra was created to make you feel sexy while being comfortable at the same time. Sometimes new moms want to feel sexy once again without compromising comfort. This nursing bras also available at Walmart.
2.Seamless Maternity Nursing Bra by MommyLovesMe – NOW BUY 3, PAY FOR 2
Gentle support with soft and stretchy material is the best way to describe this nursing bra. It comes in multiples colors which allows you to choose your favorite color from the bunch.
This bra is wireless to give you the ultimate comfort feeling while giving support and adjustability in its straps.
It also features removable padding for those days that you do not want to wear any padding or have an extra layer to your bra. Once the padding is removed you will still have the thick layer of soft, breathable fabric that will provide you with comfort and support.
1.Bravado Designs Womens' Bliss Nursing Bra
When you are nursing it may be a difficult task to find a bra that will not be noticeable under your clothing. Nursing bras are usually heavy or bulky as they have multiple components to them. This bra is the complete opposite of that. It is light with molding cups to mold to the shape of your body and give you the best shape. While proving you with comfortable and support.
The straps on this bra are very delicate to give you the back support that you want while not digging into your shoulders. You want a bra that will hold up your breast while having the proper hinges to enable you to remove them to nurse your baby quickly and effectively.
While you are nursing it is very important to find a bra that is supportive to your needs and will make your life easier. As new moms it can be difficult to find time to achieve so many things at once. For this reason finding a bra that is perfect for nursing shouldn't be among them. When looking for the perfect bra try one of these nursing bras to get the comfort and support you need.