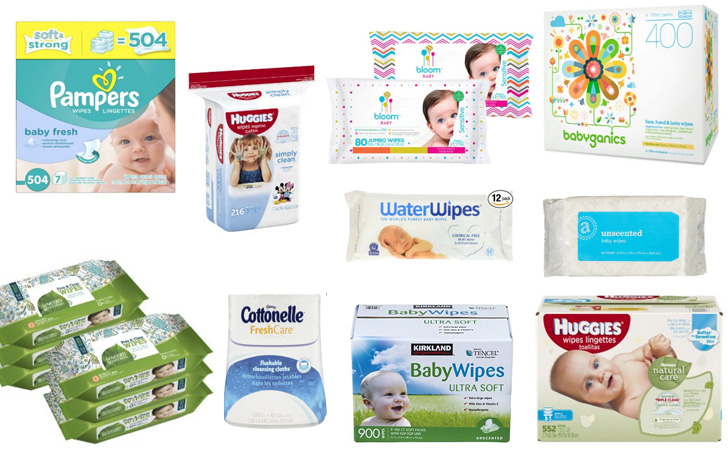 Disposable Wet Wipes For Babies
Babies have three main activities: eating, sleeping, and going to the bathroom. Because even the most precocious infants aren't yet potty trained, that last most common activity equals a lot of wiping on the part of you, the parent. Baby wipes are a necessity for parents of infants. They make bathroom cleanup much less messy and infinitely more convenient. When it comes to baby wipes, your baby deserves only the highest quality wipes that are gentle and comfortable on their sensitive skin while still cleaning efficiently and thoroughly.
Keep reading the following Best Baby Wipes reviews to learn more about the top rated best baby wipes available to keep your baby safe, clean, and comfortable.
10. bloom +KIND Jumbo Unscented Sensitive Baby Wipes

Many baby wipes that are scented include harsh synthetic fragrances that can cause painful irritation on your baby's sensitive skin. These baby wipes from bloom + KIND are completely unscented and hypoallergenic to prevent irritation. They are formulated without any harsh ingredients, including parabens, phthalates, phenols, lanolid, formaldehyde carriers, alcohol, and chlorine.
Infused with plant-based ingredients, these baby wipes gently and thoroughly clean your baby's delicate skin. They include vitamins A, B, and D to nourish and protect as they clean in order to leave your baby's skin looking and feeling soft and smooth.
9. Kirkland Signature Baby Wipes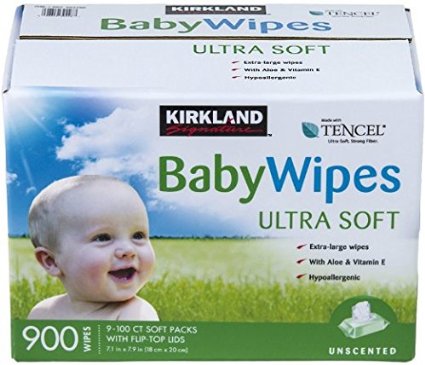 Bathroom cleanup for your baby is hard enough without having to scrub your baby's delicate skin with scratchy wipes to get him clean. These baby wipes from Kirkland Signature are designed with an ultra soft construction so that they feel gentle on your baby's skin and prevent irritation and discomfort.
Hypoallergenic and free from chlorine and synthetic fragrance, these baby wipes do not include any harsh ingredients that can cause irritation or an allergic reaction. They are also infused with vitamin E and aloe, which moisturize, hydrate, and refresh your baby's skin to leave it feeling fresh, clean, and nourished.
8. Cottonelle Fresh Care Flushable Cleansing Cloths Dispenser
This two-pack of flushable baby wipes from Cottonelle are both convenient and effective for cleaning your baby. They can be flushed down almost any toilet without clogging or damaging it to make the aftermath of baby bathroom cleanup much less messy.
The wipes feature an innovative CleanRipple Texture that helps them remove more dirt, stickiness, and waste gently and effortlessly without requiring harsh scrubbing. They are free of any alcohol and stay moist within their portable packaging for easy clean up while on the go. Also this is a great wet wipes for adult.
7. Babyganics Face, Hand & Baby Wipes, Fragrance Free
Infused with an abundant blend of plant-based ingredients, these baby wipes from Babyganics are designed to cleanse your baby as thoroughly and gently as possible. They include many different ingredients derived from natural plants, including chamomile that soothes your baby's skin as the wipes cleans it.
These wipes can be used on your baby's face, hands, and bottom; they are extremely gentle and soft enough for use in the most delicate areas without causing irritation or discomfort. Hypoallergenic and tested by professional pediatricians and dermatologists, these wipes are ones you can trust for gentle use on your baby's skin.
6. WaterWipes Baby Wipes, Chemical-Free, Sensitive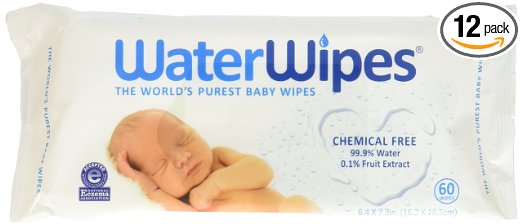 These pure baby wipes are the most gentle and natural wipes you can find on the market. They are completely free of any chemicals or synthetic materials and include only two natural ingredients: water and fruit extract. These super effective baby wipes prove that an abundance of chemical ingredients are not necessary for thorough cleansing.
Crafted from thick, 50 gsm material, these wipes are soft, moist, and dense and can be used gently on your baby without causing irritation. They can even alleviate diaper rash and other painful skin conditions.
5. Huggies Natural Care Unscented Baby Wipes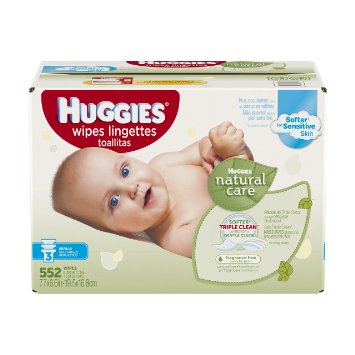 Designed to be especially soft, these baby wipes are gentle enough for use on the most sensitive skin. They are formulated with an extremely simple blend of ingredients and consist of ninety-nine percent water. The other one percent of the formula includes aloe vera extract and vitamin E to hydrate, soothe, and refresh your baby's skin.
Despite their simple formula, these wipes are extremely effective and are strong enough to clean up any mess your baby can make. They are unscented, hypoallergenic, and free of parabens and alcohol in order to prevent any irritation and discomfort and relieve your baby from the pains of diaper rash and other uncomfortable forms of skin irritation that can be caused by other, harsher wipes.
4. Pampers Softcare Baby Fresh Wipes
Infused with a gentle blend of lotion and pure water, these baby wipes from Pampers are designed to nourish, moisturize, and hydrate your baby's skin as they clean in order to leave it looking and feeling soft, smooth, and refreshed.
Renowned for their extreme strength that is four times stronger than other types of baby wipes, these baby wipes can be used to clean up any mess your baby makes quickly, efficiently, and thoroughly. They feature a refreshing scent that quickly dissipates any unpleasant odors and are hypoallergenic to ensure a gentle, non-irritating clean.
3. Huggies Simply Clean Unscented Baby Wipes
These versatile baby wipes can be used to clean your baby's skin from birth up to toddlerhood and beyond. They can be used safely and comfortably on your baby's face, hands, feet, bottom, and anywhere else that needs to be cleaned. They are unscented and include no synthetic fragrances in order to ensure a soothing, gentle clean that does not irritate your baby's delicate skin.
These baby wipes comes in a special resealable, compact package. When you're done using the wipes, simply reseal the package to keep the wipes moist, fresh, and ready to use on the next mess. The wipes' package is also lightweight and small for easy portability to clean up messes on the go.
2. Seventh Generation Thick & Strong Free and Clear Baby Wipes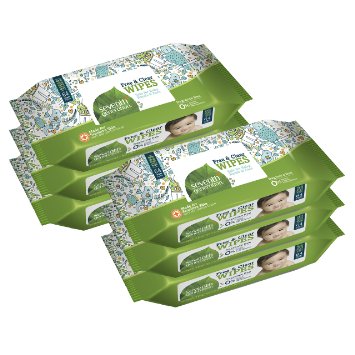 This pack of six baby wipe packages includes three hundred eighty-four individual wipes. Each package includes a resealable closure to help you keep the wipes fresh and moist between each use.
Free of any fragrances, alcohol, and parabens, these baby wipes are extremely soft and gentle. They are strong, thick, and dense, which helps them effortlessly wipe away even the most stubborn messes your baby can make.
1. Amazon Elements Unscented Baby Wipes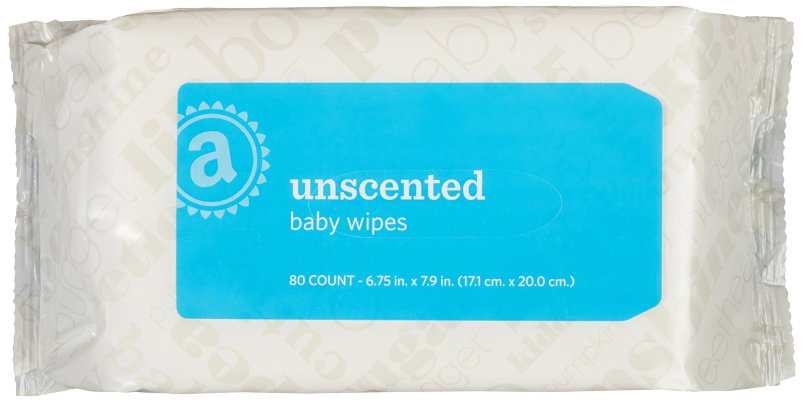 These pharmaceutical-grade baby wipes are formulated specifically for sensitive skin. They include no added fragrances, phthalates, parabens, dyes, alcohol, bronopol, or other harsh chemical ingredients. Instead, they are infused with aloe and vitamin E to hydrate and refresh your baby's skin.
The wipes are soft enough to use on your baby from birth; they are extremely gentle and won't irritate even the fragile skin of a newborn baby. Although they're very soft and gentle, the wipes are also strong and efficient. They're thick and sturdy and clean up your baby's messes quickly and thoroughly to minimize cleanup time and maximize gentle, clean comfort.
Baby wipes are a vital part of getting your baby clean and comfortable as quickly as possible. If you're in the market for gentle, high-quality wipes for your baby, use the list in this post to find some of the best baby wipes that are comfortable for your child and convenient for you.