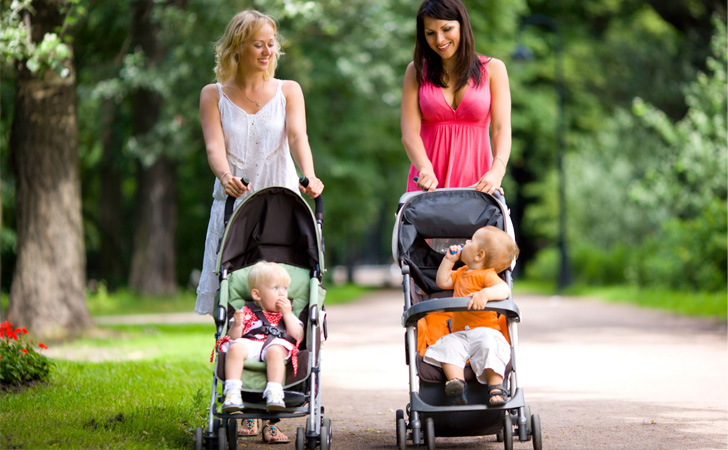 When you're a mom with young children, just going to the grocery store for half an hour can become a full-body workout if you have to carry your baby in your arms the whole time. Investing in a baby stroller can save your arm and back muscles from perpetual soreness as well as provide your child with a comfortable and safe place to rest while the two of you are out of the house running errands or enjoying a day trip somewhere.
There are so many baby stroller brands out there, but if you're looking for a baby stroller that's lightweight, transportable, comfortable, safe, and secure, keep reading the following baby strollers reviews to learn about the top rated best baby strollers available.
10. Summer Infant 3D Lite Convenience Stroller – baby strollers travel system
Equipped with a durable aluminum frame that weighs only twelve pounds, this baby stroller combines a lightweight design with intense durability. It can recline into four different positions and features a five-point safety harness to ensure your baby's comfort and security during every ride.
Featuring anti-shock front wheels and rear wheels that can be easily locked, the stroller provides your baby with a safe and smooth ride. It also includes a canopy and sun visor that can be adjusted to keep the sun out of your baby's eyes and prevent the sun's harsh rays from damaging their delicate skin during a walk on a sunny day.
9. Graco Fastaction Fold Jogger Click Connect Stroller

This baby stroller from Graco is designed to allow you to take your baby with you while you jog or run without having to worry about whether your child is safe and secure. Equipped with a lightweight construction, this stroller won't weigh you down while you jog. It features air-filled rubber tires that offer excellent suspension to roll smoothly with minimal bumps while moving quickly.
Designed with a special locking front swivel wheel, the stroller can quickly and easily alternate between a slower walking and faster jogging pace. It can fold up in one second or less for effortlessly portability, transport, and storage and stands up by itself once folded.
8. Graco Snugrider Elite Stroller and Car Seat Carrier

This car seat carrier stroller from Graco can accommodate most baby car seats, including all car seats engineered by Graco. By using a stroller to which you can attach your baby's regular car seat, you can ensure that your baby always feels safe, comfortable, and familiar in his stroller.
Constructed with an aluminum frame, the stroller is both durable and lightweight. It can be folded up using only one hand within one second to ensure easy storage and portability. As an added bonus, this stroller includes an extra-large storage basket that can hold everything you need to take with you when you and your baby are on the go.
7. Baby Jogger City Select Stroller
This baby stroller from Baby Jogger is an incredibly versatile stroller that can easily fulfill all of your child's stroller needs. It is capable of transforming into sixteen different configurations in order to accommodate the unique needs and preferences of you and your child. The stroller can transform into a double stroller, a bassinet stroller, a car seat holder, and much more.
With this stroller, there's no need to upgrade as your child grows. The stroller can hold a weight of up to forty-five pounds and is able to accommodate children at any stage of growth from infants to toddlers.
6. Graco Fastaction Fold Click Connect Travel System
This complete travel system baby stroller from Graco includes both a baby stroller and car seat for safe and comfortable traveling on foot and by car. The stroller has a strong but lightweight build and can be folded up instantly for effortless storage and transport.
This durable baby stroller can be used for many years without requiring an upgrade or replacement; it can hold children who weigh up to fifty pounds. Plus, the stroller can recline into multiple positions to keep your baby comfortable as he progresses through different stages of growth.
5. Baby Trend Sit N Stand Ultra Tandem Stroller
If you're lucky enough to have two precious babies in your life who are still in need of a baby stroller, this baby stroller from Baby Trend can be a big help when it comes to outing with both your young children.
The stroller can accommodate two children in multiple positions, including: one child sitting and one standing; two children in car seats; and two children in stroller seats. You can use this stroller for your children as they grow; it can effortlessly accommodate up to one hundred pounds and can hold two children who weigh up to fifty pounds each at one time.
4. Graco LiteRider Click Connect Stroller
Weighing less than twenty pounds in total, this baby stroller is the perfect choice for parents who are looking for a portable, compact stroller that is super easy to transport. For added convenience and portability, you can attach any Graco car seat to the stroller in just one easy step.
With a weight capacity of up to forty pounds, you can use this stroller to transport your child when he's an infant up to when he's a toddler. To provide your baby with extra comfort while on the go, the stroller is padded and can easily recline into multiple positions.
3. Baby Jogger City Select with 2nd Seat
This baby stroller from Baby Jogger is designed for active family outings; you can use it to go for a stroll, jog, or run with both your babies or young children in tow. The stroller is easily customizable and can be adjusted to fit one baby or two, depending on the size of your family and your needs for specific outings.
You can use this stroller in sixteen different unique positions and configurations. These configurations can accommodate one child or two in various seated and standing positions to fit your family's changing needs and preferences at all times.
2. Baby Trend Expedition Jogger Stroller
Featuring large bicycle tires, this baby stroller is an all-terrain stroller that can move smoothly and easily over asphalt, sidewalks, gravel, and other surfaces without sustaining damage or bumps. The front tire is a swivel tire that can be convenient for easy maneuvering when strolling and can be effortlessly locked when it's time to jog.
Equipped with a five-point harness, a reclining padded seat, and a large canopy, this stroller will keep your baby safe and secure while you walk, jog, or run. It also includes a large storage basket that allows you to securely store your travel necessities for convenient safekeeping.
1. BOB Revolution SE Single Stroller
Designed for use while jogging or on tough terrains, this baby stroller is durable and secure. It features a lightweight frame for easy portability and convenience as well as a swiveling front wheel that locks for added stability while jogging.
Equipped with an adjustable suspension system and durable tire wheels, the stroller provides a smooth ride that keeps your child comfortable while you jog or run. It also includes a padded reclining seat and a five-point harness to increase your baby's security and comfort while on the go.
A baby stroller can add convenience and comfort to the lives of both you and your baby. Use the list in this post to find some of the best baby strollers on the market that will keep your child safe and comfortable while you're on the go.