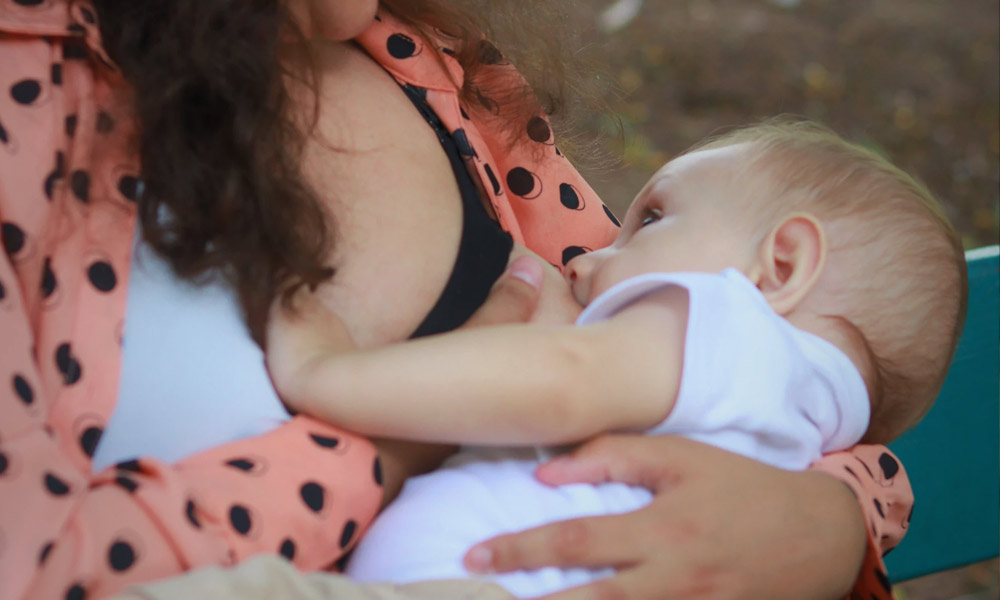 Finding a good nursing bra is essential for new mothers who need a super-comfortable and supportive bra. Breast-feeding is an amazing gift to give to your newborn, but it can be uncomfortable at first. So we've tested a large number of bras to narrow down the choices and make it easier for you to find a bra that's soft and easy-to-use. And to select the 10 Best Nursing Bras on the market right now we've used a team of testers to try a wide range of nursing bras for comfort, fit, support and durability.
Tips on How to buy the best nursing bras
— Things to consider before you buy a new nursing bra
There's no lack of choice in the nursing bra market and that can make it so difficult for new mothers to decide what will be best for them. All brands claim that their bra is perfect, but all women are different and need a bra that fits their shape and preferences. The main features must be comfort, support and convenience and these are the details to look for when you shop:
Ease of access – You need clips that open at the top of the cup where it joins the straps, as this allows you to remove the cup when breastfeeding. Or you can opt for a wrap-over, stretchy nursing bra that you can easily pull to one side to allow feeding. Stretchy styles are also used for extra comfort at night when you sleep. Most moms find a wireless bra without any padding is the most comfortable type of nursing bra to start with.
Adjustable – Breast size changes constantly during breastfeeding phase, so you need a suitably adjustable bra. Look for nursing bras with flexible foam cups and stretch fabric that can accommodate changing breast volume throughout the day and still give adequate support.
Padding – Depending on your individual breast size you may prefer fully padded nursing bras with molded cups, or a lightweight bra just for wearing at home, which doesn't give any shaping under your clothing. Padded nursing bras are invaluable for wearing every day and at work, they give better shaping like an ordinary bra and are thick enough to stop milk leaks showing.
Support – Nursing bras with underwires give stronger support and tend to stay in place better than other types for engorged breasts. But there are also good nursing bras without wires that fit closely around the body to give support and stay in place. Always choose broader, cushioned straps that spread the weight and won't dig into your shoulders in an uncomfortable way. Narrow straps are not suitable for heavy breasts.
Here are the results of our nursing bra tests, with a range of bras for all breast sizes and comfort preferences:-
1. Best Plus-Size Nursing Bra – Playtex – Maternity Wire-free Nursing Bra
This bra is cleverly designed to expand and contract as your breasts change size during the breastfeeding process. And that means you don't have to buy several different sized bras at a time when your budget is tightly stretched. It's designed for full-figures, but doesn't have an underwire and depends on a close-fitting, Spandex body-band to give support. This design has front adjustable straps, which is far more convenient than trying to adjust straps at the back. The built-in cups are made from thin foam that gives shape, support and modest cover. Colors are black, white and beige.
Available in body-band sizes 36 – 44.
Pros
Flexible foam cups expand to changing size
Band size up to 44
Comfortable wireless bra
Cons
Non-standard sizing so use their sizing chart
2. Best Nursing Bra for Large Breasts – Freya – Pure UW Molded Nursing Bra
Freya is a high-quality brand and I know that because I always wear Freya bras. Freya specialize in producing bras for large busts, for women with slim or not-so-slim body sizes and in our nursing bra tests it performed really well. This brand offers a number of different nursing bra styles to suit different sizes and shapes. We chose this one to test as it has some pretty lace details to give you an image boost when you may need it. It also offers a high level of support with under-wiring and padding which shapes and protects against leaking. A clip gives instant access for breastfeeding. Colors are black, nude and ombré-medium taupe.
Available in sizes 30D – 40 DDD US/ 40E UK
Pros
Cup sizes from D – K
Highly supportive
Comfortable and stays in place well
Cons
Check you've ordered correct US or UK size
3. Best Nursing Sleep Bra – Kindred Bravely French Terry Racerback Nursing Sleep Bra for Breastfeeding and Maternity
The Kindred Bravely nursing bra was popular for being flexible and comfortable, and for expanding when your milk comes in. The fabric is soft and doesn't dig in, but fits well because of elastic in the blend. It's easy to get access for baby, by just pulling the cup to one side. So you don't have to bother with fiddly clips. This is a lightweight bra which doesn't offer much support but is extremely comfy to wear. Its low price makes it perfect for a first nursing bra when you may be spending a lot of time at home. It has pockets for breast pads and was praised for being a daytime and nighttime breastfeeding bra. Colors – black, gray, pink and green.
Size guide
M fit for UK 34B 34C 34D
L fit for UK 36B 36C 36D
XL fit for UK 38B 38C 38D
Pros
Popular for comfort
Convenient feeding access
Expands with your breast size
Cons
No daytime support for JJ cups
4. Best Nursing Bra for Small Boobs – Lively Maternity Bralette
Our testers said this nursing bra is perfect for smaller breasts such as AA, A and B cups. It doesn't having much padding or support and the body-band is wire-free, but firm enough to help the bra stay in place all day. It's an attractive and modern-looking bra with extra, decorative details to make it look like an ordinary bra. The inner-sling offers support and extra coverage and bust darts in the cups give nice shaping. The front adjust straps are convenient to use and this brand offers free returns.
Pros
Very comfortable for small breasts
Front adjusting straps
Bust darts/inner sling create some shaping
Cons
Doesn't expand to fit engorged breasts
Size runs small
5. Best Strapless Nursing Bra – PURE SMX – Strapless Padded Bra
This is not specifically a nursing-bra, but all stretchy, bandeau bras can be used when you are breastfeeding. This design doesn't have any molded cups or underwires, so it's extremely comfortable and super-easy to pull-down quickly for fast breastfeeding. It's really a good choice for women with smaller breasts and not suitable for larger breast sizes which need some firm support. But because it's stretchy, it will expand to accommodate breasts engorged with milk and still fit after feeding. It comes with soft, detachable padding that gives a little support and covers your nipples without scratching. Colors are black, white, gray and beige with a choice between cute, lacy or plain fabric.
Under-bust measurement in inches:
Size: S = 27.5 – 31.5
Size: M = 31.5 – 33.5
Size: L = 33.5 – 35.5
Size: XL = 35.5 – 37.5
Pros
Affordable
Pulls down easily
Comfortable for small sizes
Cons
6. Best Nursing Bra for Lounging – Bravado – Original Cotton Modal Maternity & Nursing Bra
This Bravado Nursing Bra is made from a blend of high quantity, natural cotton and modal. So it's better than synthetic fabrics at wicking sweat away from your skin and avoiding sweat rashes. Our testers who were just beginning their breastfeeding process said it was perfect for wearing at home in the early post-partum days when support is needed, but comfort is essential. This is a racer-back, pull-over bra, with no metal clips or fasteners and the cups are soft, wire-free and easy to undo plastic clips for feeding. Available in full-cup design for larger breasts and you can order a hands-free insert to make pumping easier. It comes in a range of colors including black, pink, white, pink leopard print and light gray.
Pros
Extremely comfortable
Natural fibers
Pull-on with no hook fasteners
Cons
7. Best Nursing Tank-Top – Medela – Maternity & Nursing Tank-Top
This is an attractive tummy-skimming top with a built-in, shelf bra that is suitable for wearing under a blouse or sweater, or just as loungewear. Our testers loved the body coverage and the soft, smooth fabric, in a bra-tank top they could wear during pregnancy, post-partum and during the whole nursing process. It's a seamless, wireless style that gives gentle support but no shaping. So you don't have molded cups or wires to deal with when your breasts are constantly changing shape and size. And everyone appreciated the easy to use 'one-handed' clips to undo the top quickly. It comes in white and black colors.
Available in Small – Medium, Large & X-Large to fit bra sizes 32DD (E) – 32DDD (F), 34C – 34DD (E), 36B – 36D
Comfortable built-in shelf bra
Seamless and smooth
Hip-length top
Less supportive than a regular bra
8. Best Cotton Nursing Bra – ThirdLove – 24/7 Classic Nursing Bra
If you're looking for the softest, natural fabrics you can't do better than high-quality, Pima cotton, which is significantly softer and more durable than ordinary cotton. The thin, memory foam cups adapt easily to fit your individual body shape and drop-down cups are easy to unclip. Everything in this bra is designed to give extra support and comfort, with a double-layered, elasticated back to smooth any bulges. Pleated straps have a soft lining and a no-slip design and larger sizes have strong and comfy 4-hook fasteners. Our testers absolutely loved this superior nursing bra you can wear confidently at work or at home. ThirdLove offers free shipping both ways, to allow you to try different sizes at home and you can return goods for any reason within 60 days. Colors beige and taupe.
Available in body-band sizes 32 – 38 and cups A – I
Pros
Extra-soft Pima cotton fabric
4-hook fastener for larger sizes
Supportive design
Cons
More expensive – but you save with free postage
9. Best Sports/Nursing Bra – Brooks Fiona Medium-Impact Adjustable Sports Bra
Although this is a sports bra, it works really well as a nursing bra. The molded, encapsulated cups give strong support and compression for holding your bust in place. The under-band is brushed fabric to avoid any chafing and broad, Velcro-type straps give easy access for nursing. It's a top-rated bra in our sports clothing section and is designed for comfort and support during medium-impact activities. Our testers were very happy with its performance and easily adjustable straps. And they commented on the better fit and comfort they got from the low back design and closer set straps at the back.
Available in body-band sizes 30 – 44 and cup sizes B – E
Pros
Adjustable fit
Firm support
Extremely comfortable
Cons
Not specifically for nursing
10. Best Value Nursing Bra – HOFISH – Lightly Padded Wire-free Maternity Bra 3-Pack
This affordable and extremely popular nursing bra is soft, lightweight and versatile. Our testers found it exceptionally comfortable, at a time when they weren't looking for a cute-looking bra or shaping. The stretch fabric adjusts and fits your individual body changes and it has removable molded, foam cups. The pack of three comes with useful bra extenders to adjust to a larger length and clips you can use to convert the bra into a racer-back style. The shoulder straps can be adjusted at the front and unclipped easily with one hand for convenient feeding access. Three colors in each pack.
Available in S, M, L and XXL
Pros
Affordable pack of 3
Comfortable with soft, smooth texture
Converts to longer band and racer-back style
Cons
Although every woman is different, most women go up one to two cup sizes when pregnant and your band size will increase as your body expands. The main thing to avoid in a nursing bra is anything that feels tight around your rib-cage or compresses your breasts. A tight bra can interfere with good milk-flow, so you need a bra in which you feel relaxed and comfy to get the best flow for your baby. Subscribe to get more shopping tips on herstylecode.com