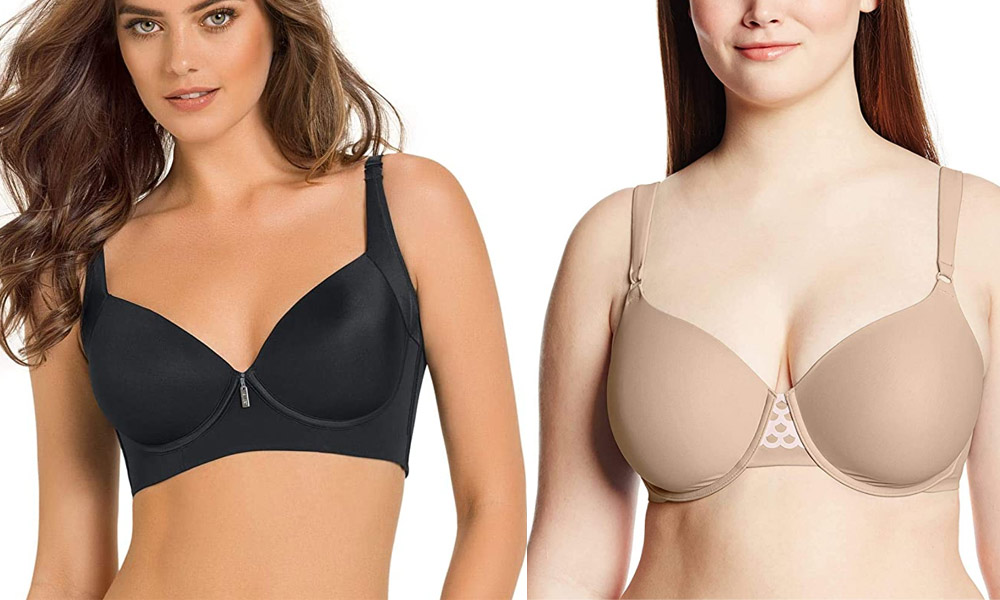 Want to find the best bras for support & lift within 5 minutes? Just take a look below and you'll save yourself a big headache!
What do the best bras for support and lift have in common?
Well, most of them have broader, padded shoulder straps. And the most supportive bras for curvy or mature women, with softer body tissue and bulges, have a deeper hook-and-eye fastener. Some of us just can't wear narrow bands any more. Because narrow bands and 2-hook clasps are the prime cause of the bulges and pain we hate! So look out for higher sides and broad body-bands with fasteners at least three or four hooks deep.
Do I have to wear granny bras?
No! Not at all. The best modern bras for support and lift are made for women of all ages and fashion styles. And there are lots of fabulous patterns and bright colors available. But as women now wear thinner clothes than in the days before central heating, lots of us prefer smooth, minimalist styles that don't show under fine fabrics. However, you also need sports, strapless, criss-cross or one-shoulder styles – and a few super-sexy, lacy bras. So you'll find every style you need for a full bra wardrobe in this list, too!
Guide to the best bras for large breasts
So have you got time to run through thousands of bras online to find these special features? Probably not! LOL! But you don't have to, because HerStyleCode is always sifting through the latest bras and compiling trustworthy guides to save you the bother! We use teams of ordinary women who wear each bra for a minimum of two days and then give us their direct feedback. And they don't hold back! Any bras that don't perform highly are discarded. And we continue until we have a short list of comfortable, supportive, lifting, well-fitting and attractive bras that wash well and last a long time!
So if you're looking for the 7 best bras for support and lift read on, and plan your purchases from our expert guide!
1. Best Overall Bra for Support & Lift
Freya Active – White Underwired Sports Bra AA4002WHE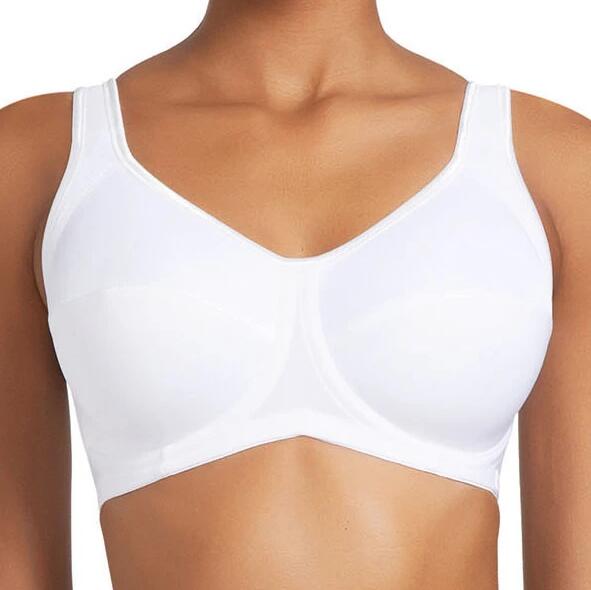 I've been wearing this first-rate Freya bra every day for many years. It has padded, broad straps and a broad back band with a deep, 4 hook-and-eye clasp. So absolutely zero bulge on sides or back. It gives you a great shape and the strongest lift and support I've ever found. My size has varied from 36G down to 34FF and 34F at present.
As an encapsulated design, it separates the breasts and looks like a regular bra. The underwire has a wider curvature than other bras, so I never feel it at all! I find this a 100% comfortable bra and although I have other strapless and lacy bras, I still wear my trusty Freya most days. One bra lasts years!
2. Best Full-Figure Bra for Support & Lift
Vanity Fair – Women's Full Figure Beauty Back Smoothing Bra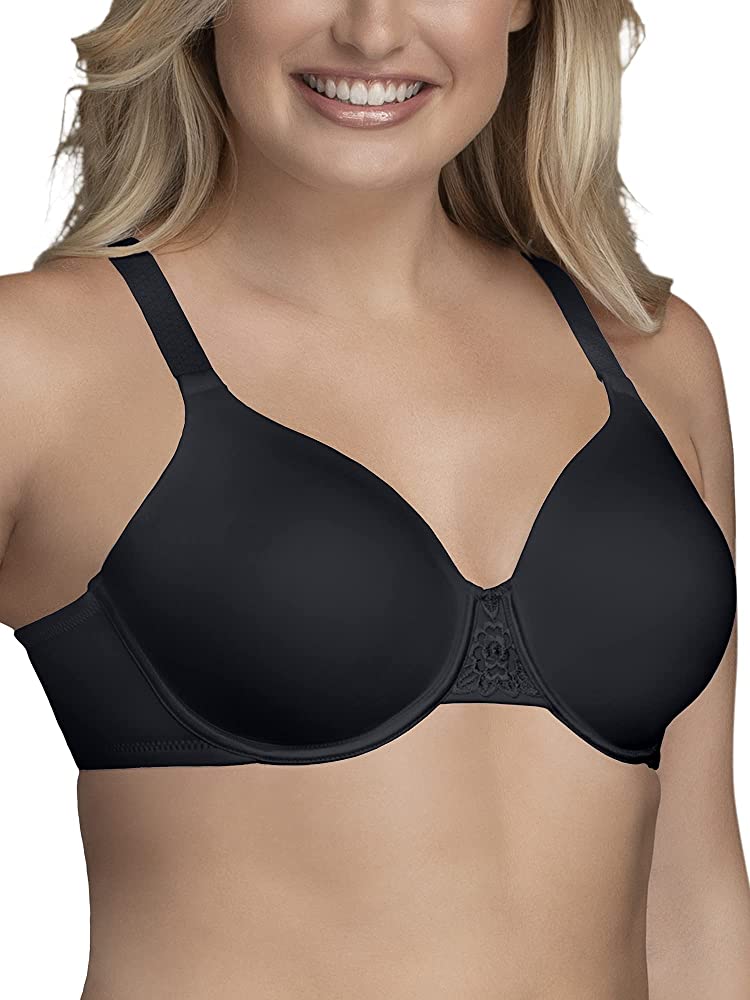 This bra is advertised as the No. 1 Smoothing Underwire Bra in the U.S.. It has soft cups with four-way stretch fabric and doesn't cause any back bulges. The cups are unpadded, but lined lightly for smoothness and modesty. The adjustable back straps are set closer to prevent them ever slipping off.
Our Testers said they loved the comfort of wide, elastic, 3/4" straps and the great fit for breasts. Testers with extra weight and uneven breasts said this was the best fit they had experienced. And women with narrow shoulders said the straps didn't slip off at all! It's great quality and well worth the price!
3. Best Wire-free Smoothing Bra for Support & Lift
Playtex – Women's 18 Hour Seamless Smoothing Full Coverage Bra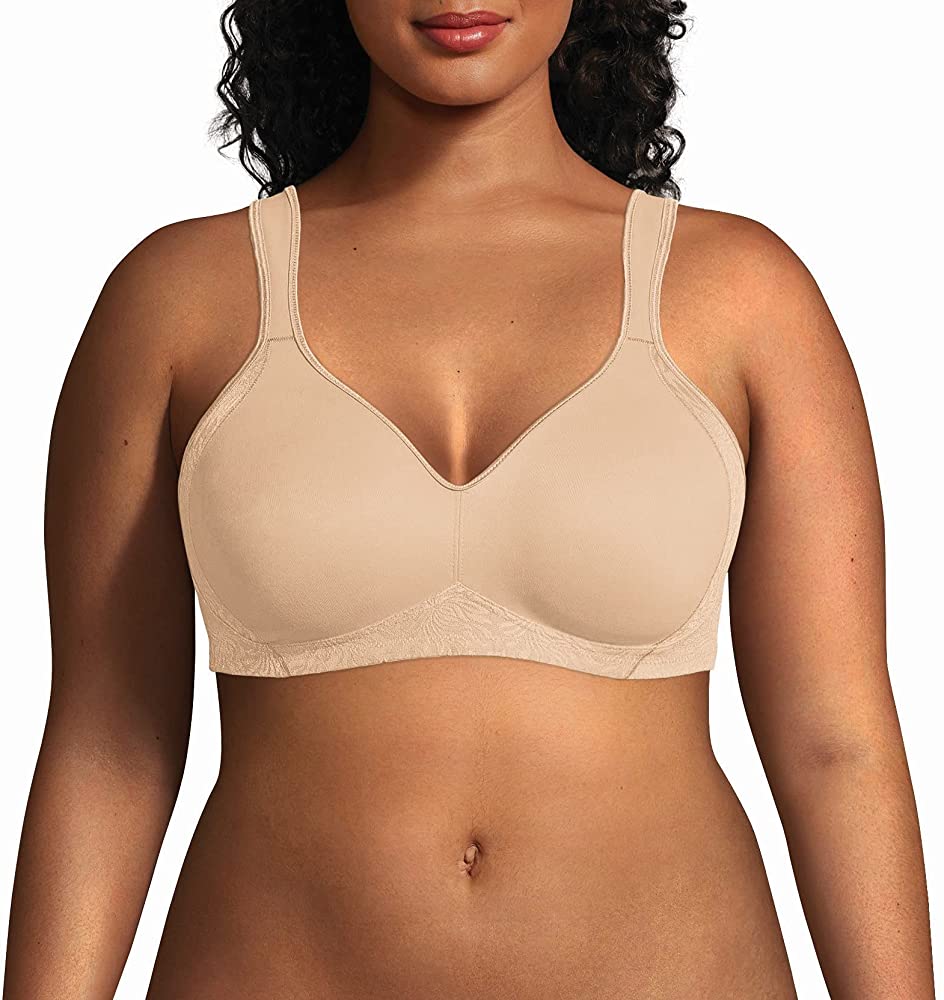 This Playtex Bra has a seamless lining, no tags and adjustable, Non-Slip straps. The sides and back are higher than usual to prevent bulging. And the smooth cups are fuller than other brands. There's pretty floral detail around the band and 4-way stretch fabric gives good fit.
Our Testers said they liked the floral decoration and found the smoothing features worked really well. And the deep 3-hook clasp also gave extra comfort. The higher sides and full cups hold side breast tissue and drooping breasts well. The cups give your breasts a flattering shape. And it's extremely comfy and supportive!
4. Best Underwired High Sides & Back Support & Lift Bra
Leonisa – Support Full Coverage Contouring Underwire Bra for Women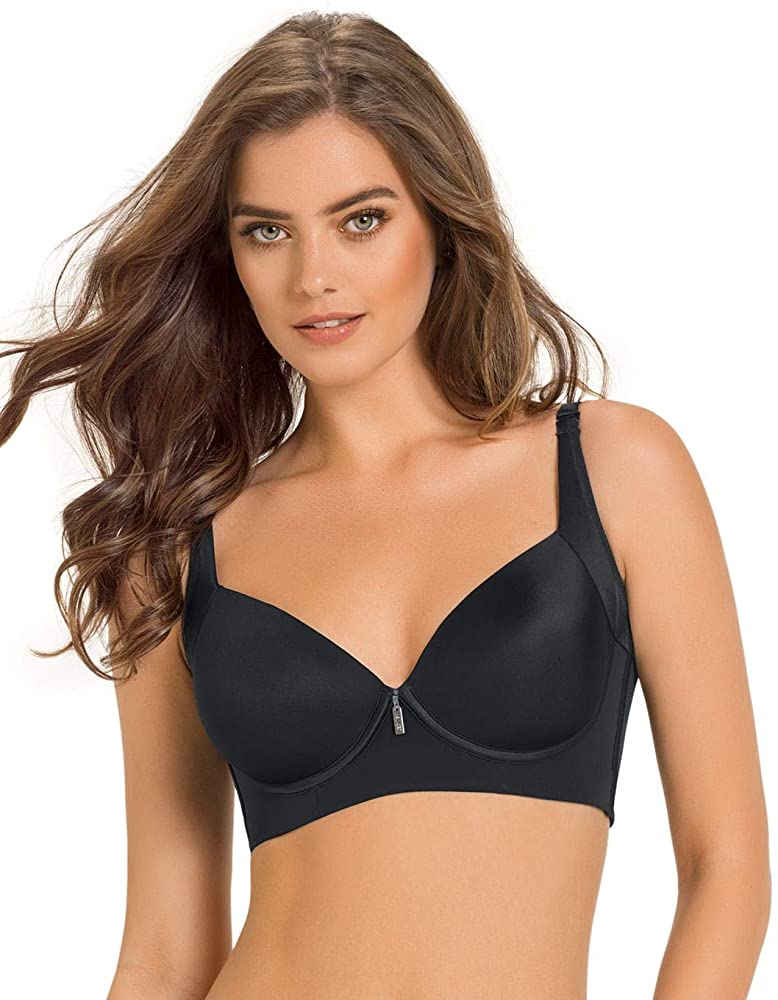 Leonisa is a new brand to me, from Latin America. This triangle bra has high-coverage cups with a well-padded underwire. The high sides and wide body-band have a deep, 3-hook clasp that prevents any bulging. The front adjustable straps convert to a criss-cross back. And the underwire gives support and lift, while gentle side boning helps create a shapely bust.
Our Testers said you get superior support and lift from this bra and the clever side-boning stops any bulges. The cups create a flattering, natural bust shape and suit asymmetrical breasts. Our seniors testers said the lift and bulge-smoothing was also great for elderly women. And all agreed it was well worth the price!
5. Best Plus-Size Front-Close Lace Bra for Support & Lift
Glamorise – Women's Plus Size Wonder-wire Front-Close Bra Underwire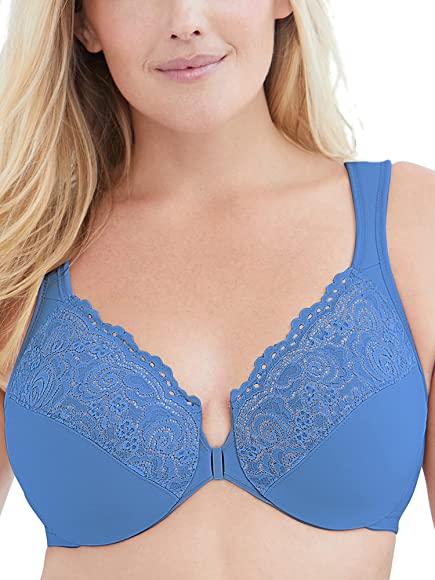 This glamorous, support bra is available in all sizes from 34B to 48H. Its underwire has an extra layer of cushioning to avoid the wire poking through. And the lace-covered cups have side control to support and shape your bust. The front-close clasp makes it easy to put on.
Our Testers loved this bra's excellent support and lift. And how easy it is to put on without any bother. The extra-padded underwire and straps are very comfortable. Everyone loved the feminine lace. And the cups are great for separating and shaping your breasts. It runs a little small, so consider sizing up one.
6. Warner's Olga – Women's 'To A Tee' Underwired Contour Bra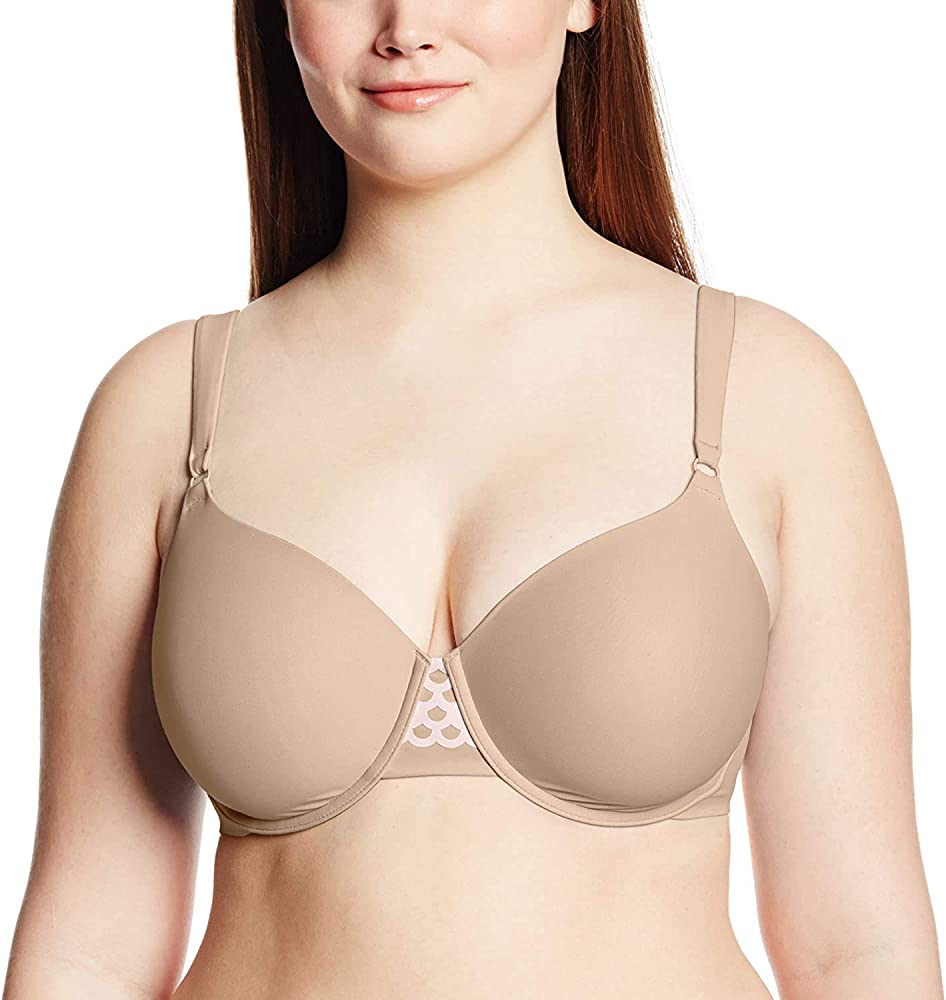 This bra features cups with a unique amount of stretch along the edge of the cups, sides and back. And this helps you get a great fit. The straps are cushioned to avoid pressure on the shoulders. And the manufacturers say it gives you a smooth back and is completely comfy.
Our Testers said this bra is super comfortable and fits very well. And they commented on how comfy the straps are for those who wear a large cup size. It gives great support and lift, so looks and feels really good under any T-shirt or top!
7. Best Red Carpet Strapless Full Busted Underwire Bra
Wacoal Strapless Full Busted Underwire Bra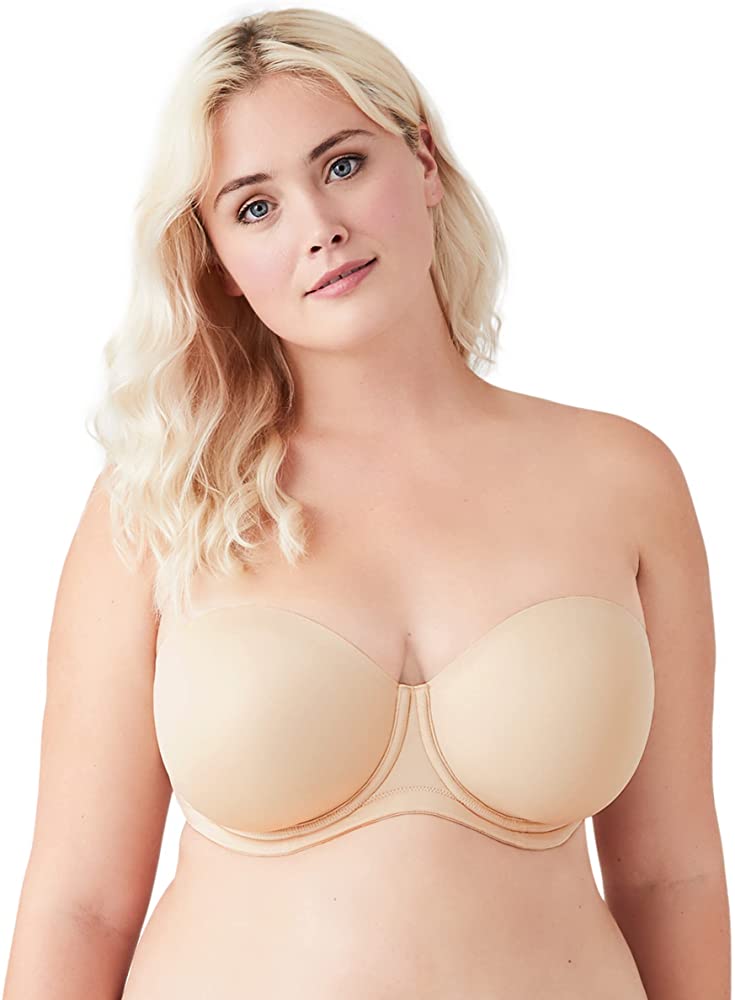 This strapless, underwired bra is great for full-busted women. And to keep it lifted and firmly in place it has silicone strips along the top and bottom edges. In addition, there are hidden supports on the sides and back to prevent it shifting. And the broad band and sides prevent and reduce bulges. Converts to halter, one-shoulder and criss-cross styles.
Our Testers said this bra works extremely well for large busts and stays 'up' and in place well. They also said it's incredibly supportive, without the body-band squeezing you. It's true to size and fits well, too. And our 42 DD tester said she wore it for a whole day, and it was supportive and comfy like her regular bras!
So there should be enough choice here for you to go to the gym, do a day's work and then enjoy your social time with your bust looking and feeling great! Happy shopping! 🙂
What do you look for in a bra – comfort, uplift, color, pattern, trendy logos or cute lace? Let us know – we love to hear from you! Find more fashion tips on herstylecode.com