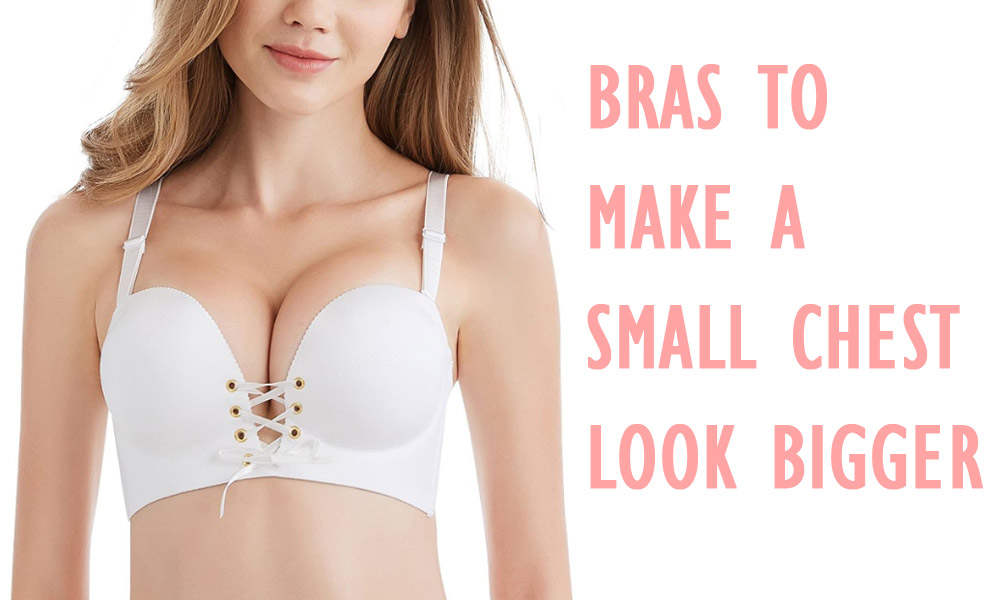 When checking-out the best bras to make a small chest look bigger, we realized that even though a lot depends on getting the correct cup shape and size, there's another feature that governs whether you get the best fit. And that feature is how far apart the cups are set on the bra band.
Small breasts are often set wide apart and so a bra with close-set cups just isn't going to fit well. So look for styles that have about a 1" space between the cups and this will make sure the cups are set in the correct position over each breast. In addition, the triangle cup is probably the shape that flatters a smaller chest most, because it's the smallest type of cup.
HerStyleCode does regular testing of the latest bras to ensure our readers get a helping hand in navigating the huge range of different bras offered online and in your local store. We employ teams of real women who try-out a wide range of bras by wearing them for at least two full days. And we think it's the only way to get real feedback on the best bra styles, so you can avoid all the bras that don't do what they claim!
So here are the results of our latest search for the Best Bras to Make Small Chests Look Bigger for quantity of padding/push-up, comfort, support, appearance, neckline, fabric and overall performance!
1. Push-up Balconette Padded Bra for Small Chests – YANDW – 'Add One Cup' Push-Up Balconette Bra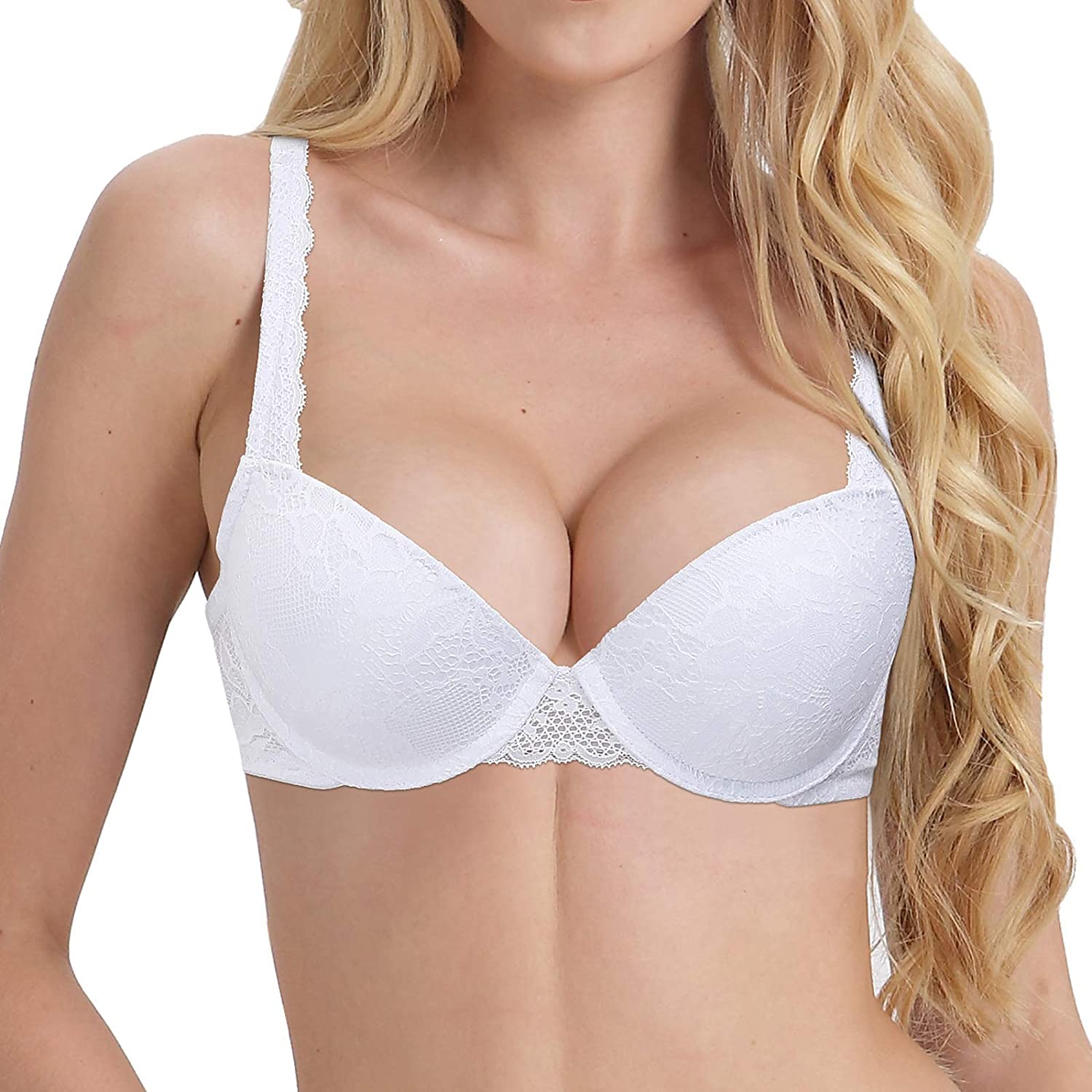 The advertising says this bra pushes up to give you great cleavage and a natural round shape. It's an attractive floral lace bra with lace over the cup, wings and shoulder straps. The underwire gives extra support to correct sagging. And the straps are adjustable and anti-slip. The fabric is very stretchy and soft for comfort over long wearing periods.
The testers were full of praise for this bra which they loved for excellent fit, including 'A' cup wearers. One tester said it was good quality, and yet cheaper than similar bras from other brands and in local stores. The lace was soft and did not irritate anyone's skin and the satiny-smooth fabric makes the bra undetectable under your clothes. The padding was said to be soft and round for a natural shape. Most of all testers loved the generous amount of push-up this bra gave their small busts
2. Sexy Padded Push-up Bra for Small Chests – Victoria's Secret – Bombshell 'Add-2-cups' Push-up Bra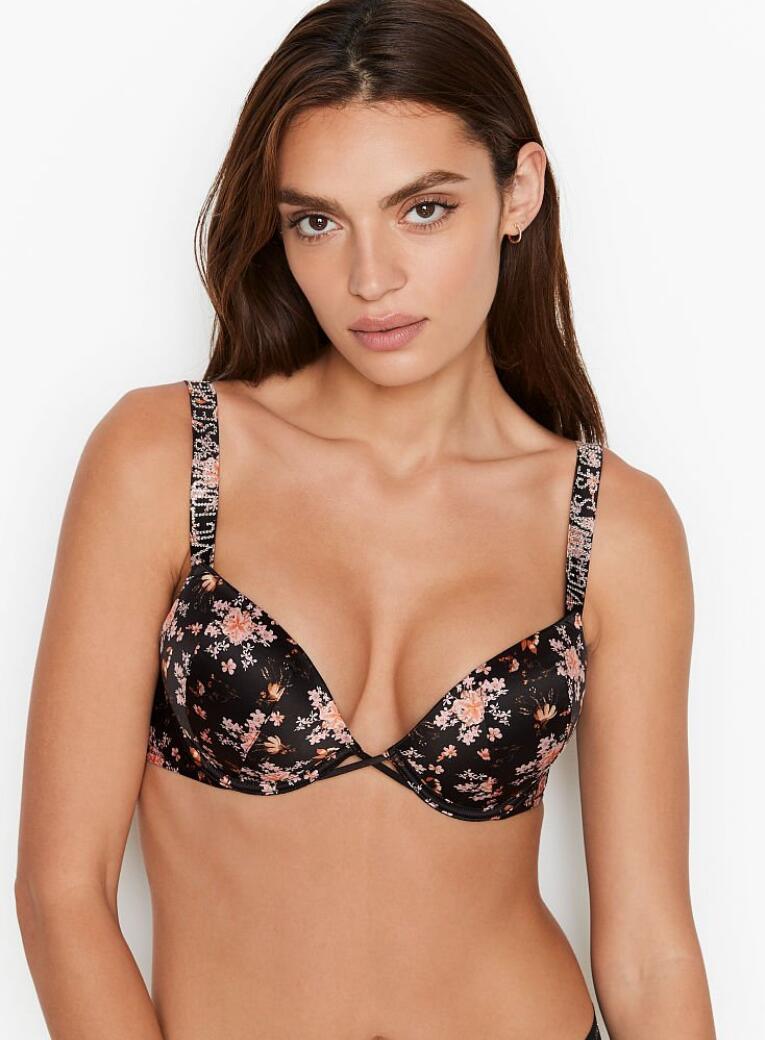 This is a high-quality bra which gives you the maximum lift and claims to add two cup sizes. It is underwired and has a handy front fastener for ease of putting on and taking off. The fabric is soft and comfortable and the appearance of this bra is luxurious, glamorous and sexy. It comes in many different decorated styles including ones with gold-colored chains at the back, pretty floral print cups and other special decorative features.
Our testers went crazy over this bra and their feedback forms gave us enthusiastic comments on how their breasts had finally become an object of 'attention'! They also said it was comfortable and gave amazing fit for small cup sizes. One tester said that the padding is so thick that even smaller breasts look really big! There's just the right quantity of shape and support, with no falling out of the bottom and no squashing at the top. All agreed this bra works to create a very flattering look and is definitely worth the money!
3. Thickly-Padded Push-up Bra for Small Chests -FallSweet Lace Bra with Underwire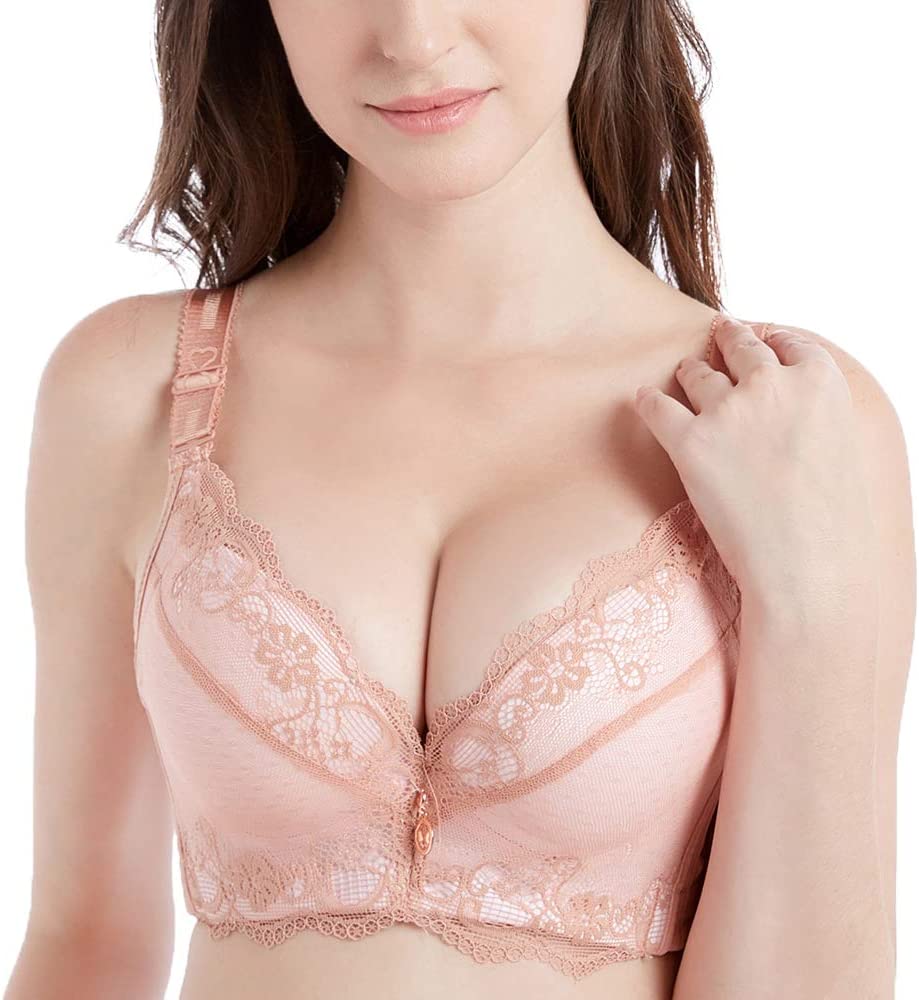 This pretty padded, push-up bra has 1.18 inches (3 cms.) of padding inside the cups, which is thicker than most other bras. The straps can be removed to leave you with a strapless bra that's comfortable and stays in place well. Our testers said this bra is great for small breasts and makes them look big, round and perky.
They said the lace is elegant and beautiful and so well made, they'd expect to pay at least double the price for a similar bra in a large store. The reviewers said that you need to size up on the body-band number. And that you definitely get plenty of lift and support. The removable straps were popular for those who like to wear racer-backs and off-the-shoulder fashion clothes. And it also does a great job smoothing out side bulges!
4. Low Neck-line Padded Bra for Small Chests – Plusexy Padded 'Add One Cup' Underwire Plunge Bra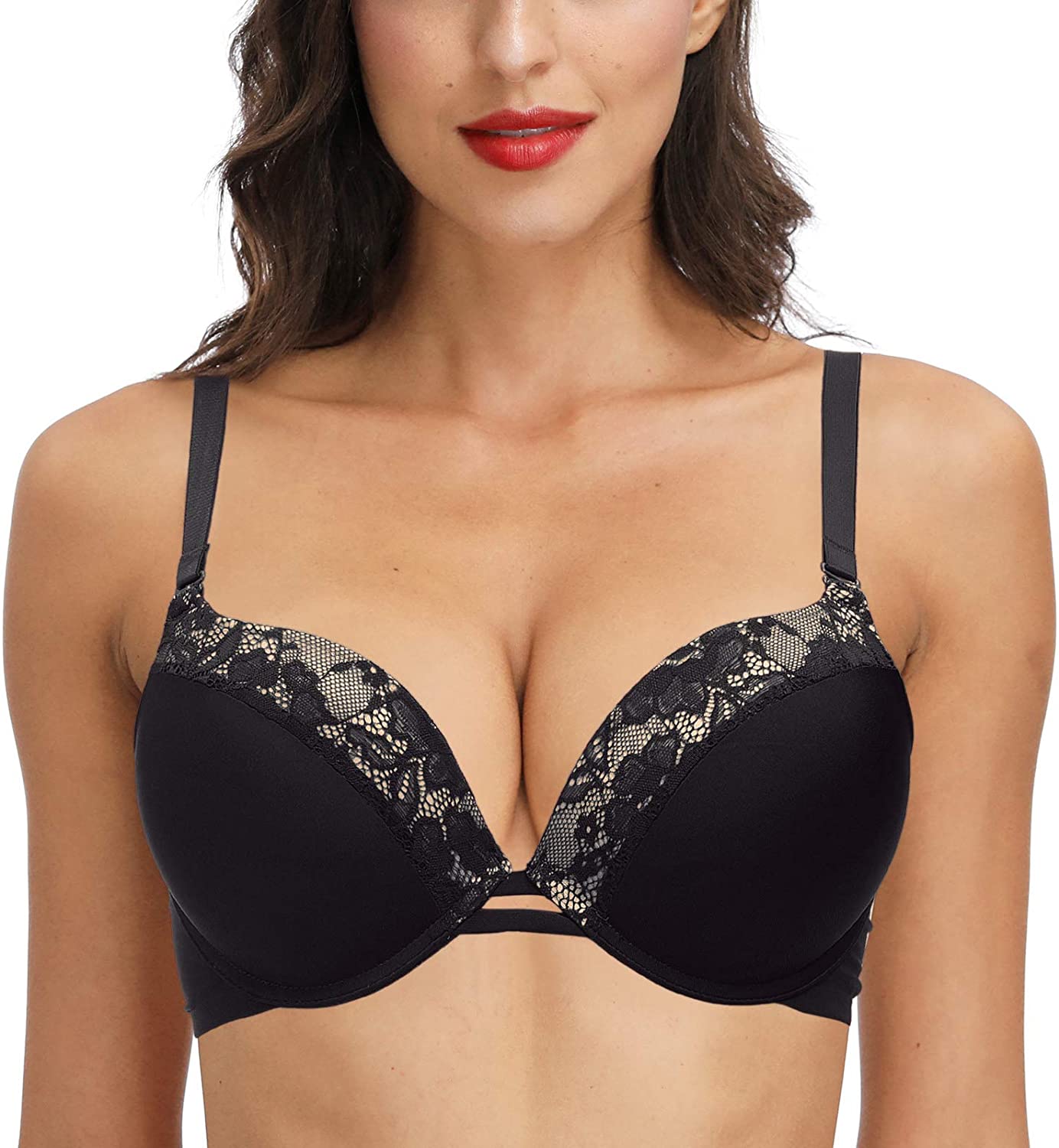 This is a very attractive, thickly padded bra with an elegantly sexy appearance that our testers loved. It's a plunge bra which the testers said was perfect for allowing them to wear low cut clothes and show sexy cleavage. And they also reported that their husbands were very happy to see them wearing this bra that pushes up small breasts and makes them look a lot bigger!
It has molded cups that are soft, supportive and look very smooth underneath thin fabric. It was equally popular with testers in sizes 30B – 40A, who also said they didn't think they would ever find their size in a comfy, padded bra. Testers said they were delighted to be able to fill out a shirt or dress properly for the first time!
5. Best Cleavage Bra for Girls – FallSweet  'Add Two Cups' Push-Up Padded Unlined Bra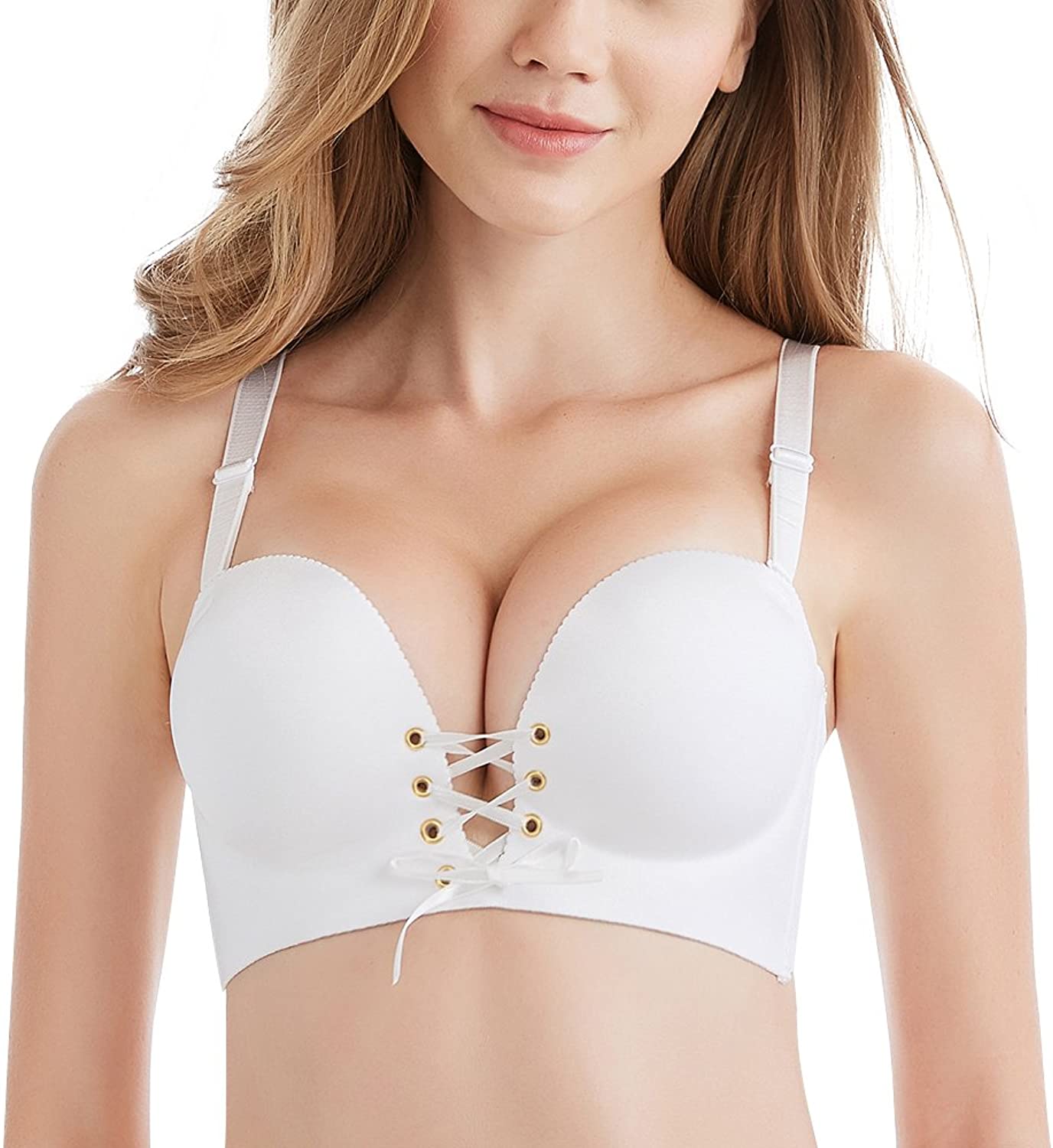 This is a great-looking, sexy bra with a lace-up feature in the front that really does work wonders! It works because you can tighten the lace-up section to bring your possibly wide-set, small breasts together into the middle of your chest. And this is what creates lovely cleavage. The test team was made up of women who normally wear an A or B cup and have tried lots of different padded and push-up bras.
Our testers loved this very popular, best-selling bra and one or two said it was the first time they had had any cleavage at all! They said how useful it is that you can tighten up the laces for maximum cleavage with a low-cut top for an evening out. And yet still wear this style as an everyday bra with the laces loosened to limit the amount of cleavage. You'll probably need to size up, as this is an Asian sized bra.
6. Affordable Padded Bra for Small Bust: Deyllo Push-up Lace Padded Underwire Bra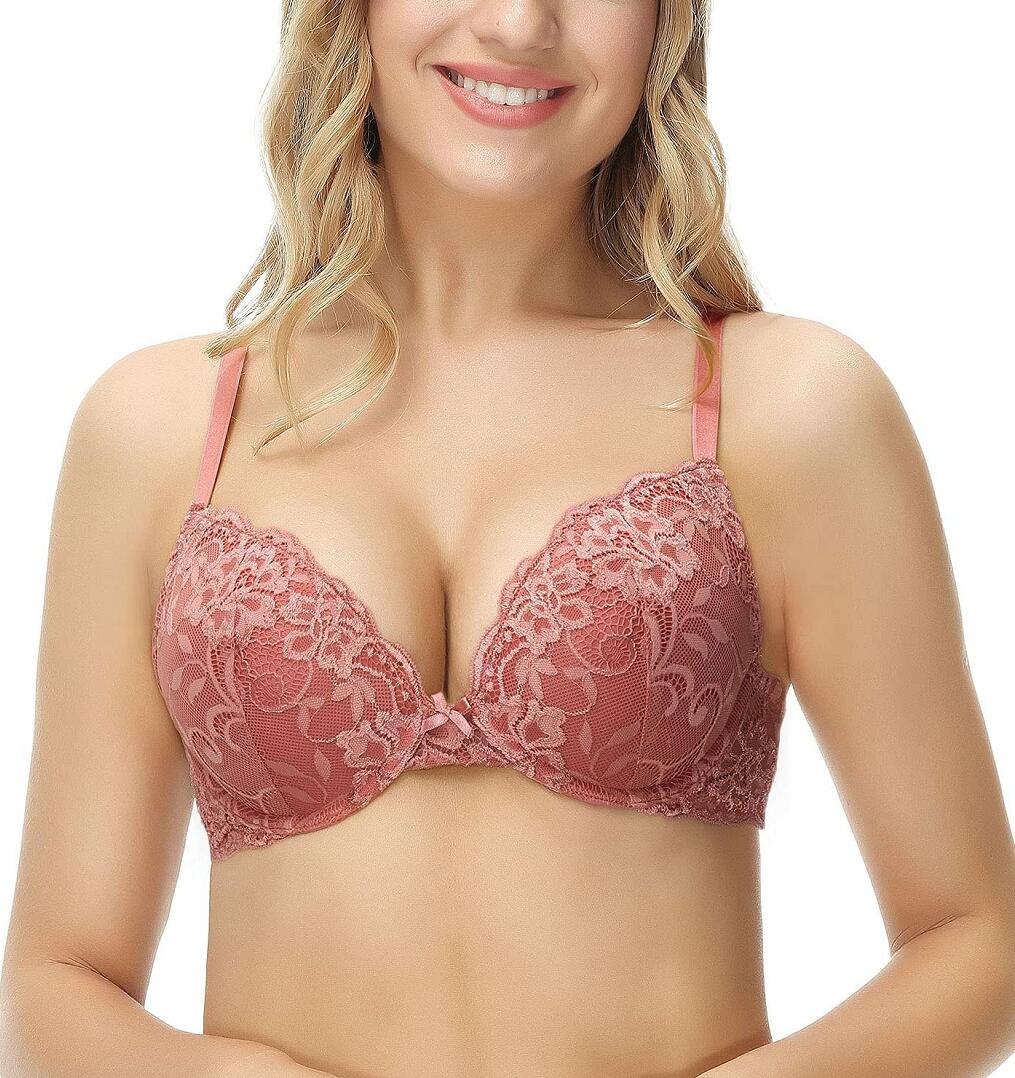 This is a pretty, lacy push-up bra with padded cups the manufacturer claims will add enough volume to small breasts to look like you're one-cup bigger. It has an underwire to maximize push-up and create definition, which always enhances the apparent size of your bust. It looks very much like a Victoria's Secrets bra, but is more affordable.
Testers commented that this is a super-comfy bra that lifts and makes the bust look bigger. Other small chested reviewers said they love this bra, which they said fits true to size. And they liked that the cups were sturdy and padded well. They said that the cups are not too stiff or too soft, so they don't fold or lose their shape – but keep their firm, round shape. You get good lift and the breasts are pushed together just enough to look bigger, but not so much that they are overflowing the cups.
7. Best Padded Bra for Wide-Set Breasts – Natori Feathers Underwire Contour Bra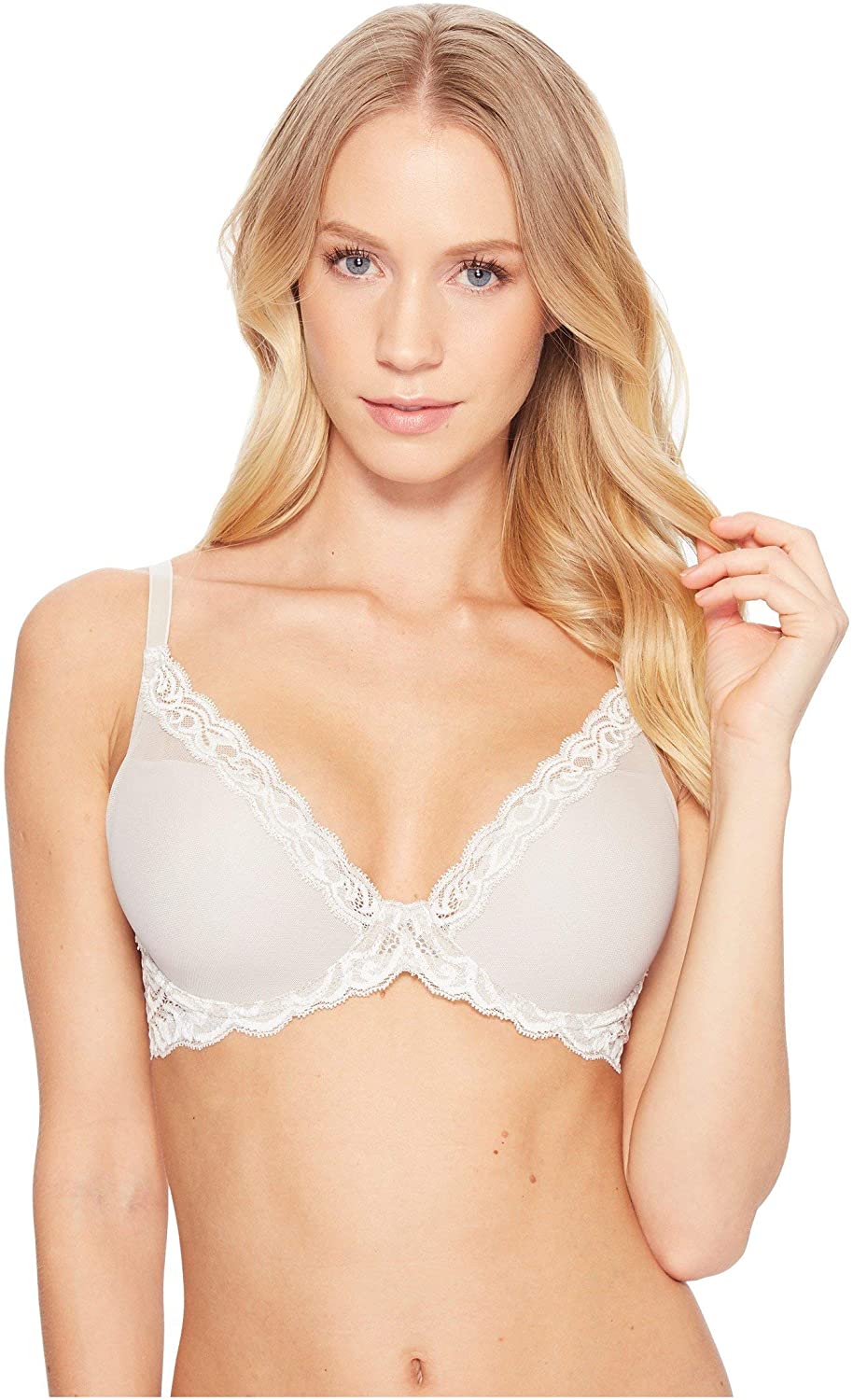 Natori offer this bra as a cute blend between the two best bra designs for small breasts -plunge bras and T-shirt bras. The pretty feathery lace is attractive and romantic, adding a flirty vibe to your everyday bra. The cups are contoured to 'disappear' under clothing, and to allow you to wear low-necked clothing. Natori bras are well-known to be durable and last up to 3 years before they wear out. This is a lightly-padded bra.
Our 32 B tester who has wide-set breasts said it was the most comfortable, sexy and bust-flattering bra she had ever worn. She also highly recommended it to all women with wide-set breasts to get their best fit and bust appearance. Our A cup tester said that although she usually gets a gap with a standard A cup, the cups on this bra run slightly small – which is great for anyone with small A breasts as it gives a better fit!
So there are several excellent bras available to make a small chest look bigger! And we hope you are able to try out these bras soon and enjoy the extra confidence we all feel when our clothes fit as they should and we feel truly feminine and sexy!
What is your favorite type of bra to make your bust look bigger? Do you look for thick padding, amazing push-up or great breast definition that shows your shape under thin fabrics? And what's your favorite fashion trick to get more attention for your bust? Don't be shy – spill the beans and join the HerStyleCode.com community!