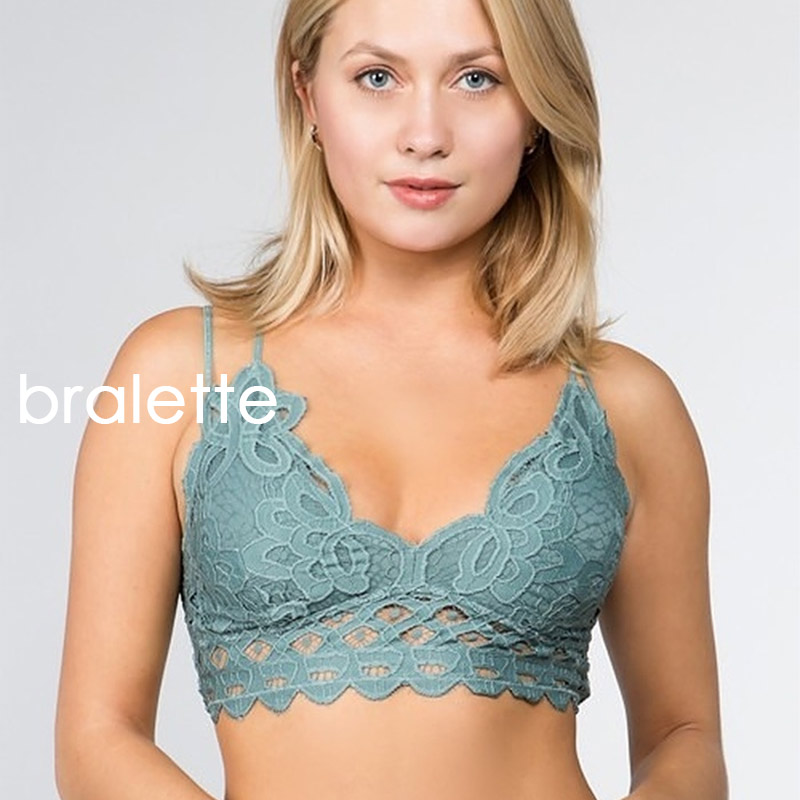 With cropped tops a strong trend for fashion fans this year, bralettes are more popular than ever! A bralette is a bra made from plain or decorative fabric, which is intended to be worn as an outer garment. Most bralettes are designed for teenagers and women with small breasts, but there are some ranges that have more coverage and support for larger busts. So bralette brands for larger busts and plus sizes are included in our comprehensive bralette guide below!
How to wear bralettes this season
Bralettes come in a range of different styles and shapes, so some just cover the breasts and leave the midriff uncovered. And others have more chest coverage and longer front panels. The right way to wear bralettes this year is with mid- or high-rise waistlines, so that only a small amount of flesh above your waist is shown. There's a good fashion rule that says only showcase one part of your body at a time. So if you're wearing a bralette, avoid also wearing a mini-skirt, or low-rise jeans that reveal your navel.
Be flirty
The bralette is definitely a flirty fashion garment, and you can decide which version best suits your personal fashion style. Bralettes are a versatile fashion garment, which can be worn alone or layered under a shirt, a trendy cropped-cardigan or a jacket. And as you can see below, there are lots of different types of bralette to add a little spice to your wardrobe, whether your taste is girly, romantic, Goth, glamorous, sexy, sporty or modest!
32 Different Types of Bralettes – An Ultimate Guide
Read more:  A Guide of 31 Different Types of Bras
Bandage bralette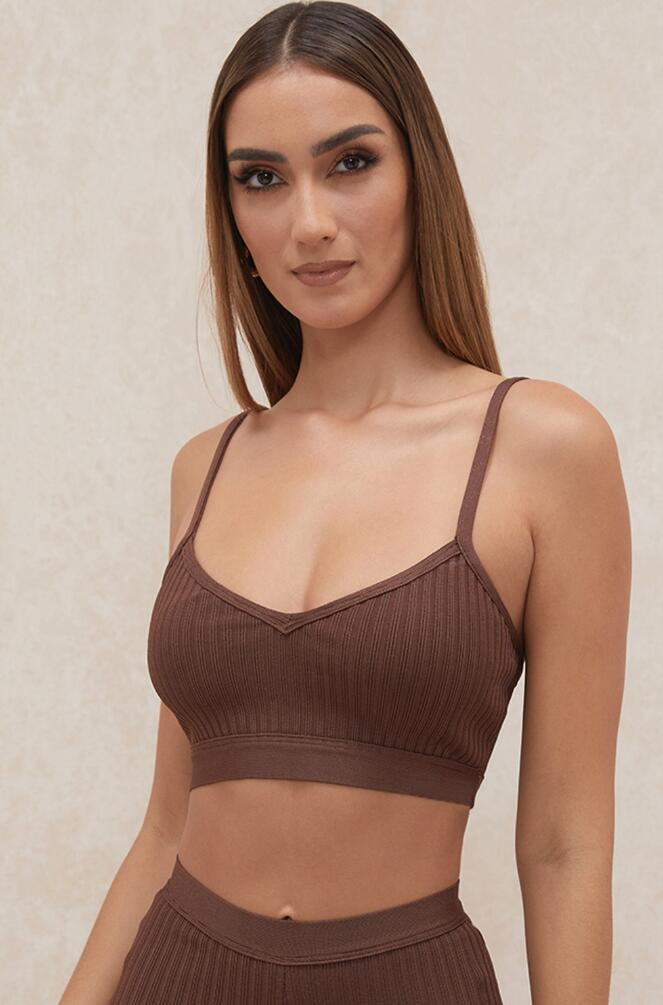 The most basic, bandage-bralette is a style using broad bands of elasticated fabric to create a body-band and wide straps that you wear over the breasts. This type of bandage bralette doesn't have actual cups, so there's little coverage and no shaping. But there are many other versions of the bandage style bralette which offer more coverage and look like bandages wrapped across the body to form a cute, cropped top with straps.
Tightly fitting bandage bralettes suit small breasts best.
Bandeau bralette (boob tubes)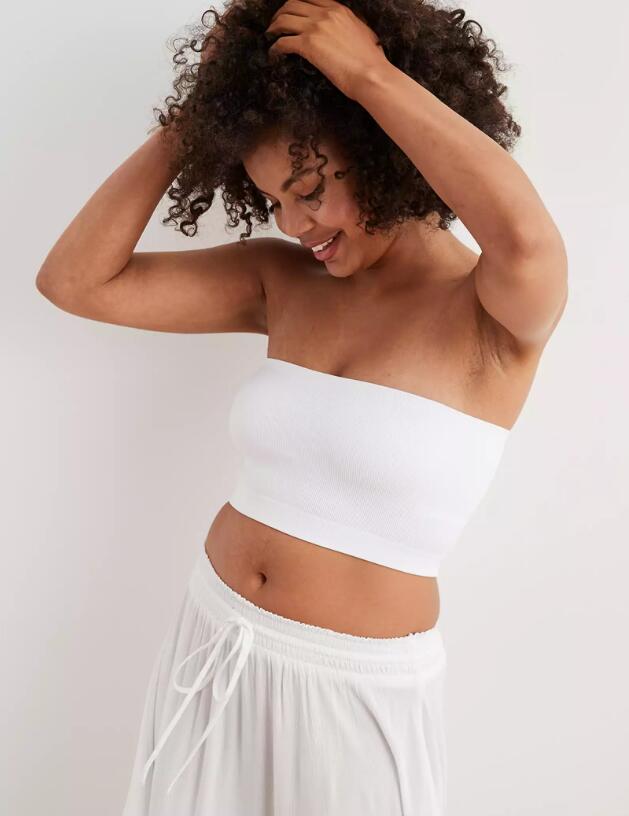 Bandeau bralettes can be narrow, bra shaped bands without straps that you pull on over your head to cover small breasts. Or they can be a contemporary version of the 80's and 90's boob tube, which is a wider, stretchy band that fits closely to the body. Narrow bandeau bralettes sometimes have thin, spongy cups, but they don't offer any real support and are aimed at women with small breasts.
There are lots of different styles to choose from and they are very comfortable, strapless bralettes with plenty of coverage.
Cage Bralette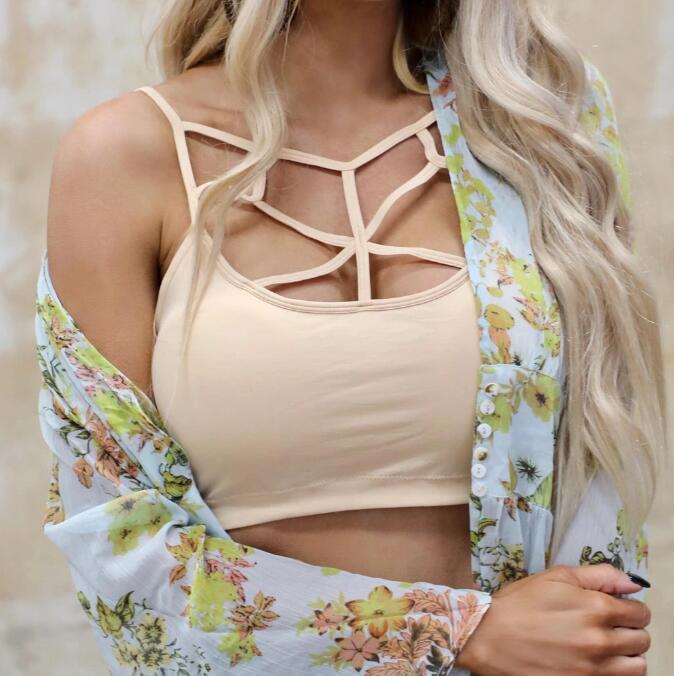 The Cage bralette features decorative, open-mesh and lace fabric with extra straps at the front, side or back to give a 'caged in' vibe. It's a very popular, modern style that only hit the stores a few years ago. A rich, deeper color like black or burgundy is an attractive shade for this detailed and chic bralette type. The cage bralette is based on designs from the realm of erotic, bondage wear. And you'll get an eye-catching, sexy look in any cage bralette.
Cage bralettes are both Goth and mainstream depending on the particular style and color. Wear with paper-bag, waist leather or faux-leather trousers with a loose leg shape for a lovely 'going out', evening outfit!
Chain & Metallic bralette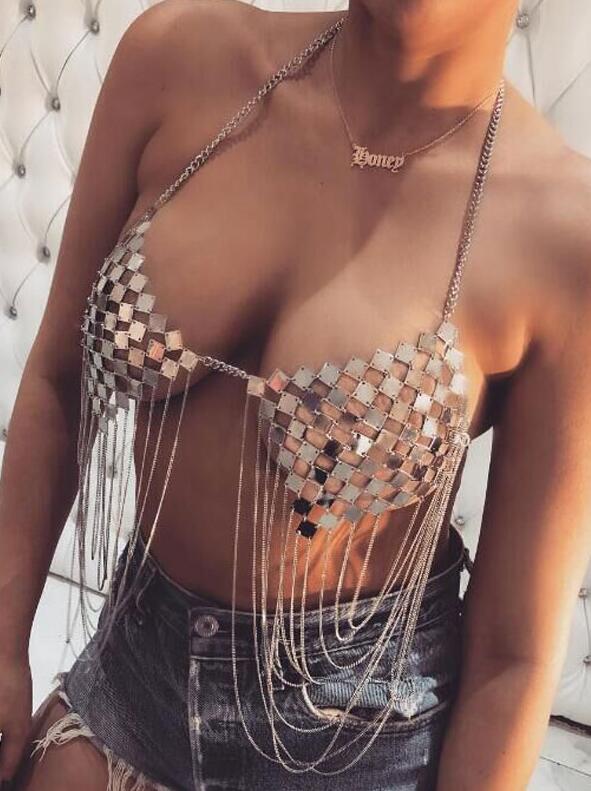 Chain bralettes are pretty exotic and daring items that often just drape down to cover your breasts from a neckline above and don't actually have a body-band of any type. Lots of chain bralettes have chains that are just draped over your bust, and don't provide any real coverage. Chain bralettes are purely decorative items and can also be worn over a close-fitting, ribbed cropped top for a trendy night-club look. And there are other types of shiny, metallic gold or silver bralettes, which have a low, cowl neck style offering complete or half-coverage for small breasts.
So if you like extreme glamour this type of bralette is for you!
Choker-neck bralette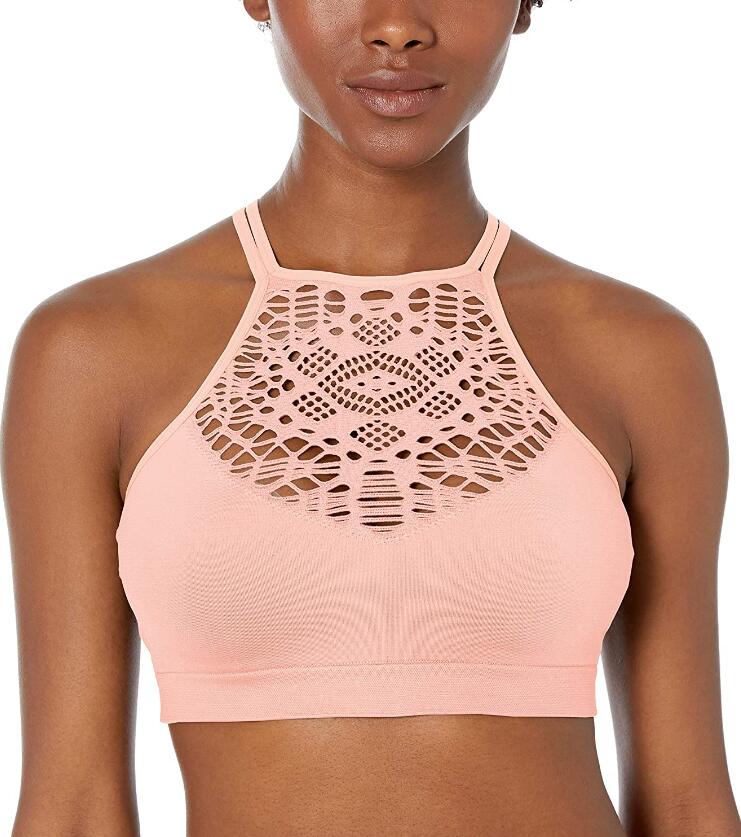 Choker-neck bralettes are another trendy style that has filtered through into the mainstream, from its startsss in bondage underwear. There are lots of different colors and styles on the market, which include plain Goth-style, black boob-tube designs with thick straps that connect to a buckled neck choker. This style can give full coverage to small breasts, but no support.
There are also plenty of other cute, lacy styles in brighter colors to choose from, with finer straps and a slender choker neckband.
Crochet Bralette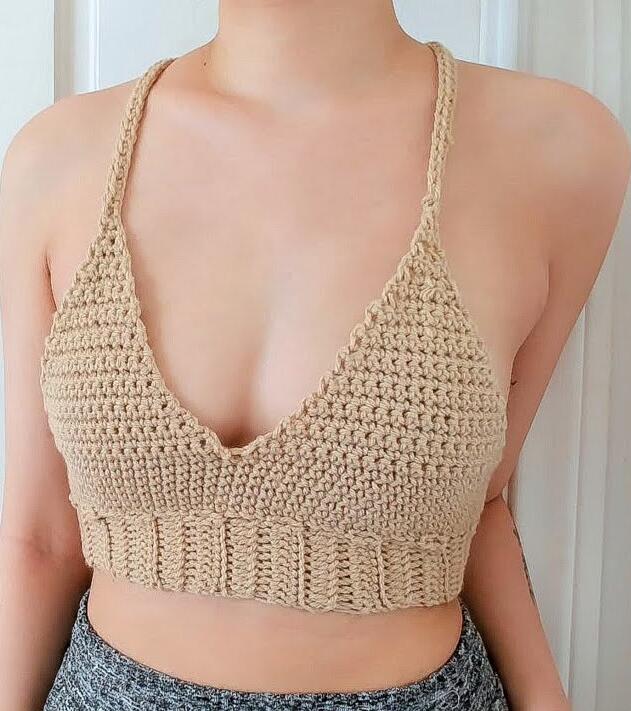 Crochet-style bralettes are retro and recall the Hippy fashions popular in the 1960's. They are also very trendy again right now! They are cute and widely available in this season's lovely, pastel fashion colors. Crochet-bralettes usually have attractive crochet embroidery patterns in the garment. And they are a classic fashion item for young women with small breasts that don't need any support.
Wear with any high-waist jeans and skirts, but for an authentic look, crocheted tops look best with bell-bottoms and flares!
Cross-back bralette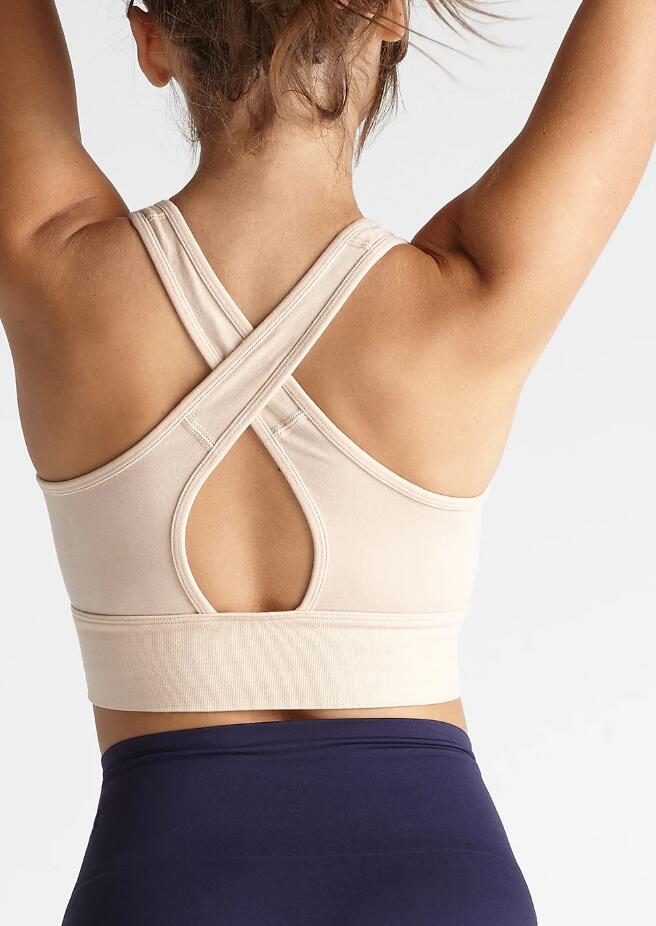 Bralette and pants suits are available from boutiques in lovely, pastel colors and satin-like, fabrics. Some have a very attractive cross-back and extra-long straps that are wound around the waist and fastened in a bow at the back. In coral-pink, this is a super-chic look that could be worn at an informal, cocktail or drinks party. And adjustable straps ensure you get a well-fitting, bralette top.
This new type of suit is a fabulous, glossy magazine fashion-look for sophisticated young women.
Cut-out bralette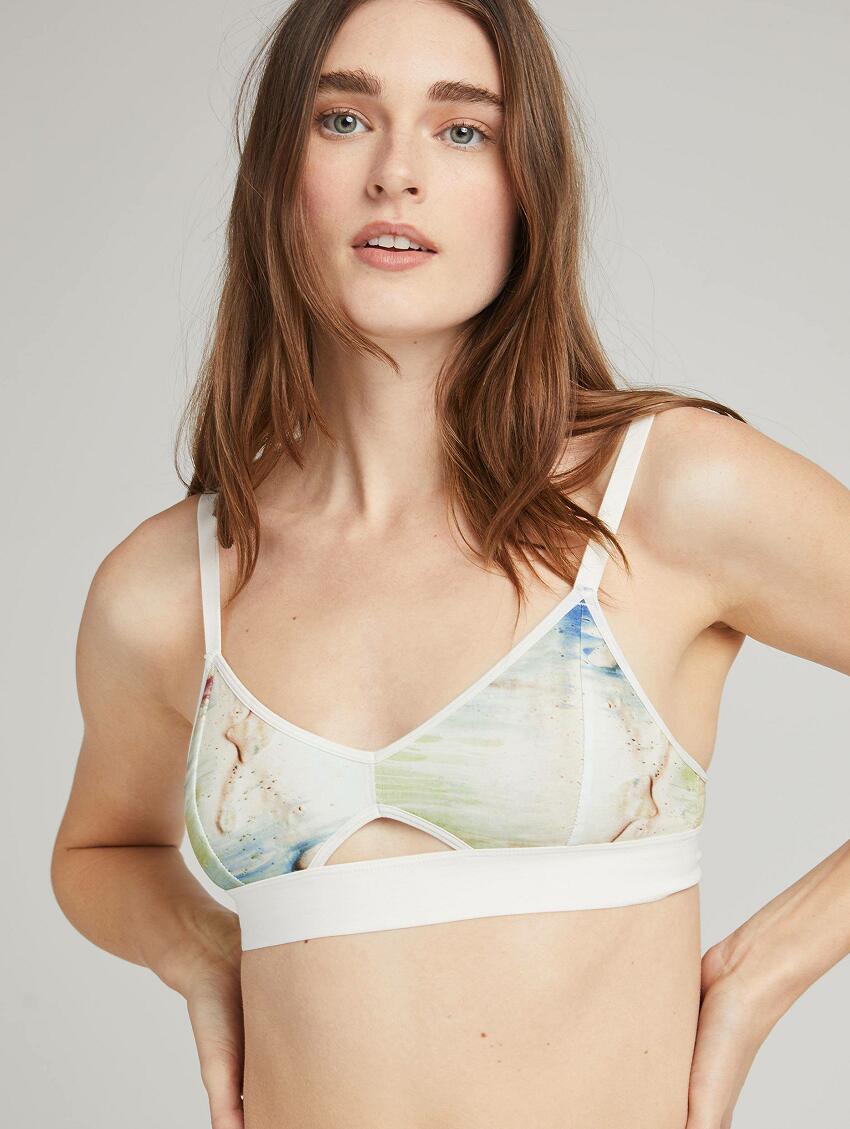 Romantic, pink and pastel colored bralettes look super with blue or cream jeans. And you'll get a modest look with a high neck bralette, which has more fabric covering your chest and a round neckline. This high-necked bralette shows off pretty, bare shoulders and has a trendy, cut-out feature at the front, between the fully-covered breasts.
Cut-out features are a very hot fashion feature right now and they are great for keeping cool and cute in the summer months!
Denim Bralette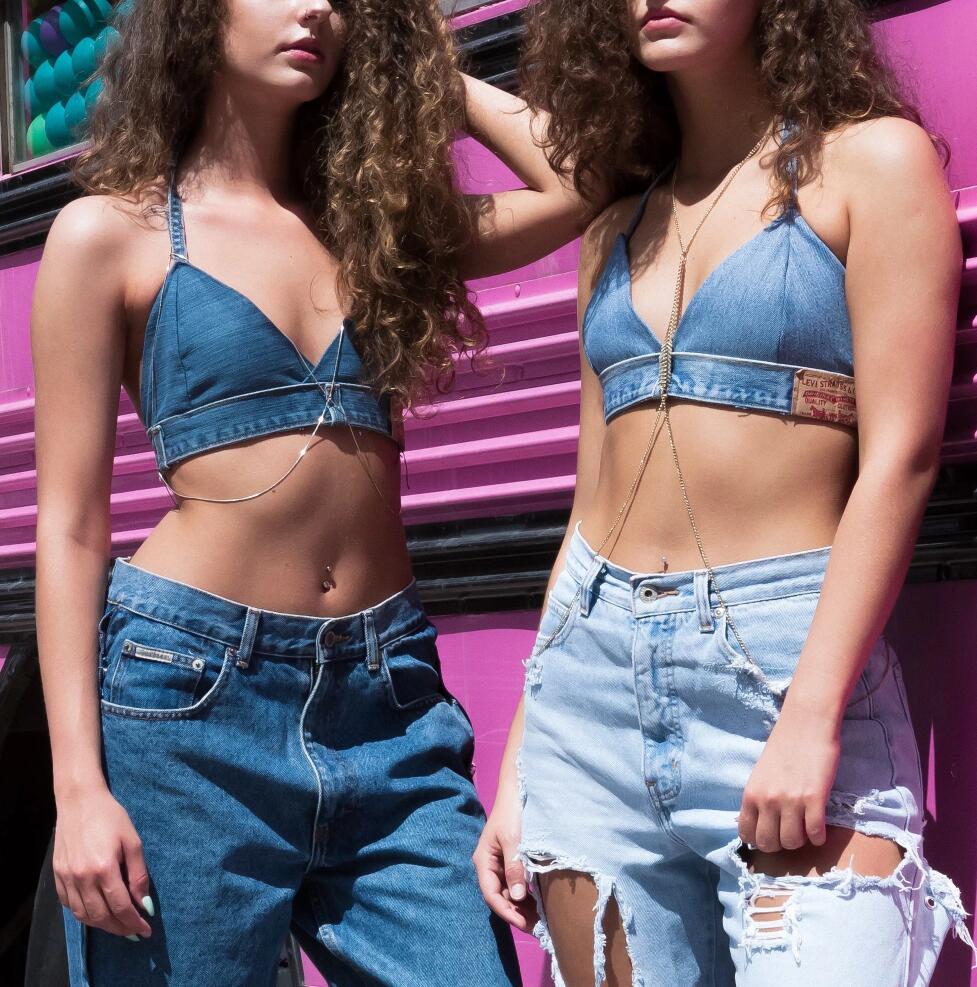 The denim bralette is super-stylish this season and always looks trendy if you wear with high-waisted separates. They can be worn with ragged denim shorts or jeans for beach wear, or with a pretty summer skirt or loose summer trousers for parties and evenings out. Owing to their popularity, there's a wide range of denim bralettes available, and you can choose between light to full coverage. You will get light support from a denim bralette.
Frilled bralette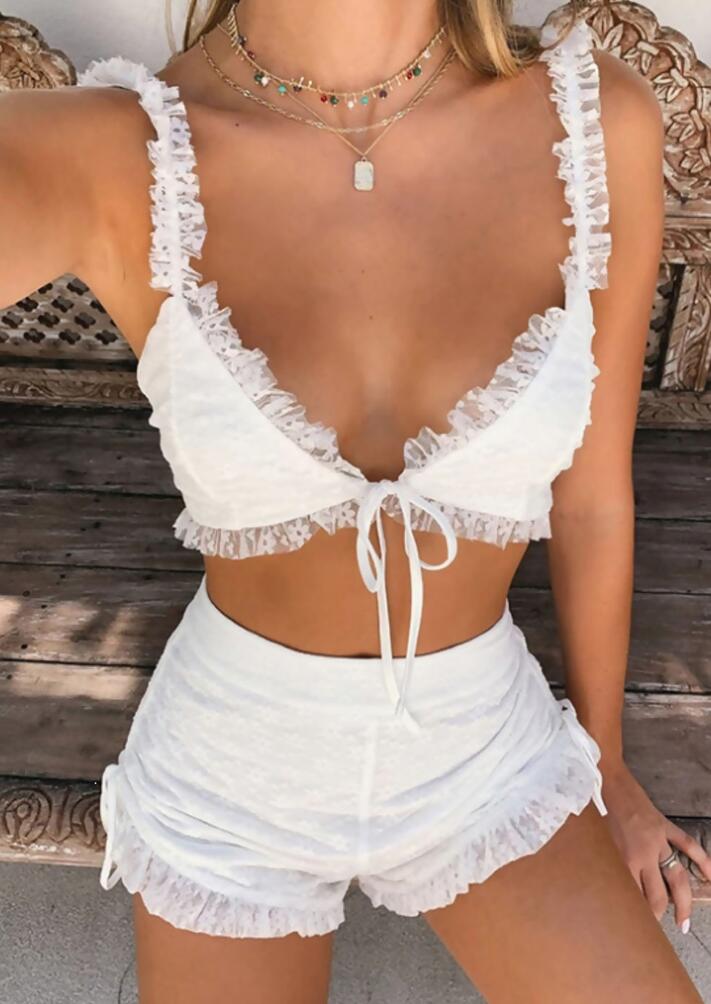 The frilly bralette is a great style for nights in with your lover, or parties and dance clubbing. It may be a lacy, low-cut bra with a pretty gathered lace frill below the body-band for small – medium breasts, when you want a super-sexy look with only a little support. But there is also a huge range of 'going-out' bralette styles with subtle frills or ruffles in different places, which range from full to light coverage.
They are great for women with small to medium breasts and add lots of contemporary style to your summer trousers and skirts.
Fringe bralette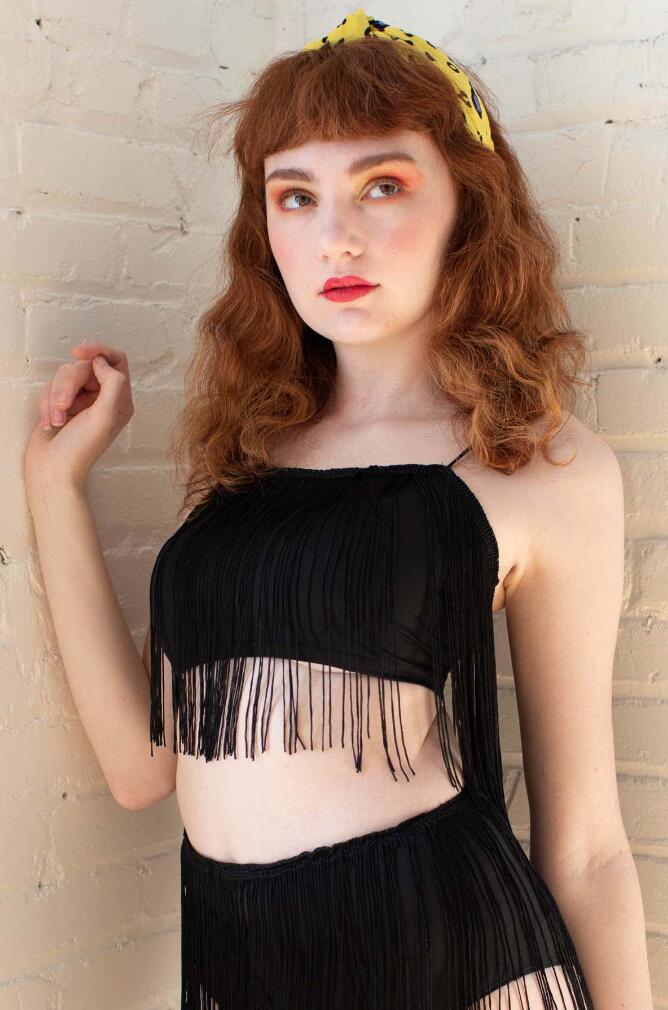 Fun, fringe bralettes are made in a variety of materials, ranging from suede to wool crocheted styles. They were popular with hippies in the 1960's when made from natural materials, and are available for a trendy, unusual look this year. These bralettes are offered in a range of styles with the fringe startsssing at the full-cover neckline and covering the bralette, draping down over the midriff to waist-line.
And there are also glittering, rhinestone fringe bralettes for glamorous look, with bra-cups and a fringe startsssing below the bra section. Suitable for small to medium breasts they offer little to light support.
Gem-studded bralette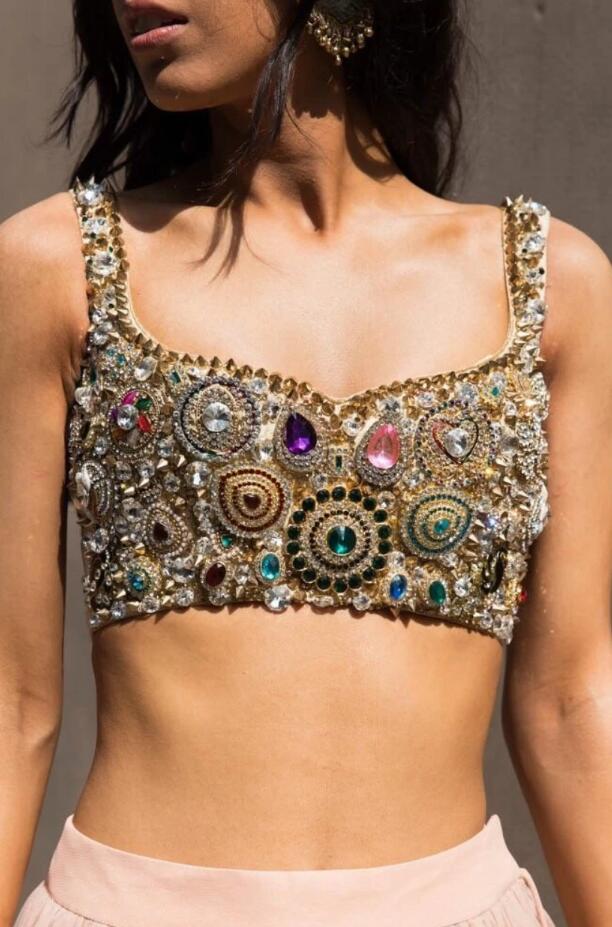 For an out and out extravagant look to wear in dance-clubs and wild parties, the gem-studded bralette is a great choice. They usually look like a bra, or a long-line bra and are also known as bustieres. The are covered with rhinestones, rose-gold, pearls, crystals and other glass gems to create a luxurious and sexy look.
So if you love glamour or want to create a fabulous outfit for a special event or a 'costume party', this type of bralette may be just what you need! Low coverage and light support is normal for highly embellished bralettes.
Halter Bralette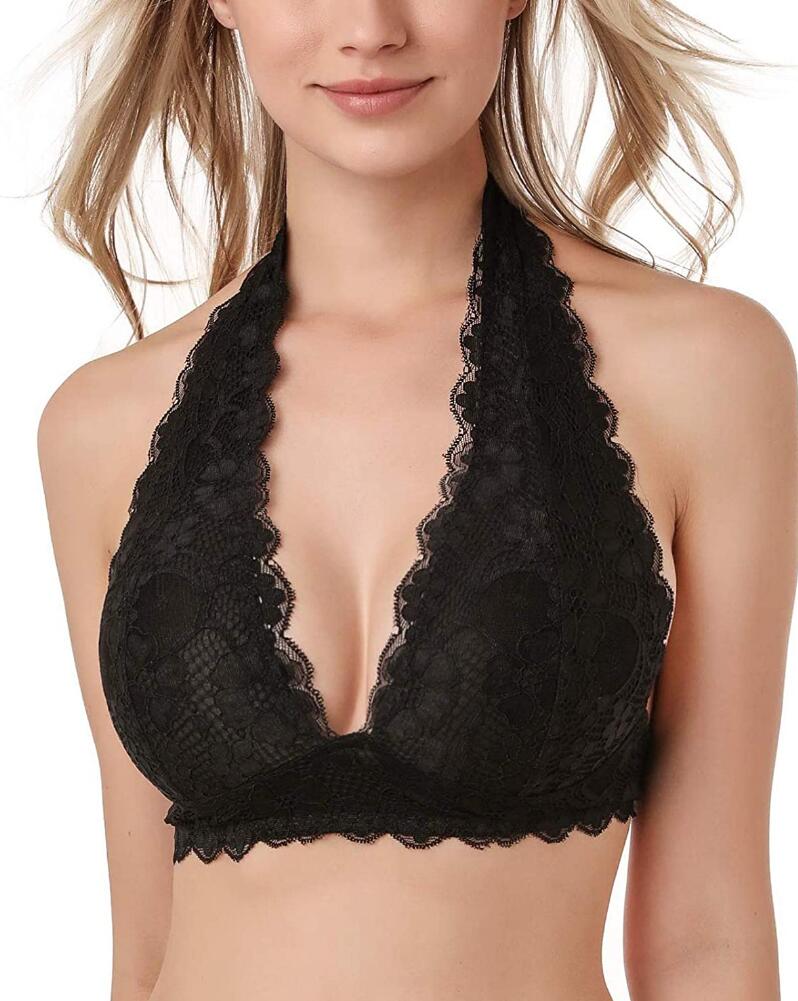 Halter bralettes don't have shoulder straps, just one band that goes around the neck and shows off your shoulders. And with no straps, you can show off your back down to the low body-band.  They can be lacy or plain fashionwear with a plunge neck or a high-necked style. And there are some lovely halter bralettes with a round neck and trendy, cut-out details at the front. Some halter bralettes have small, sponge cups and you can get different levels of coverage from light to full.
High-Neck bralette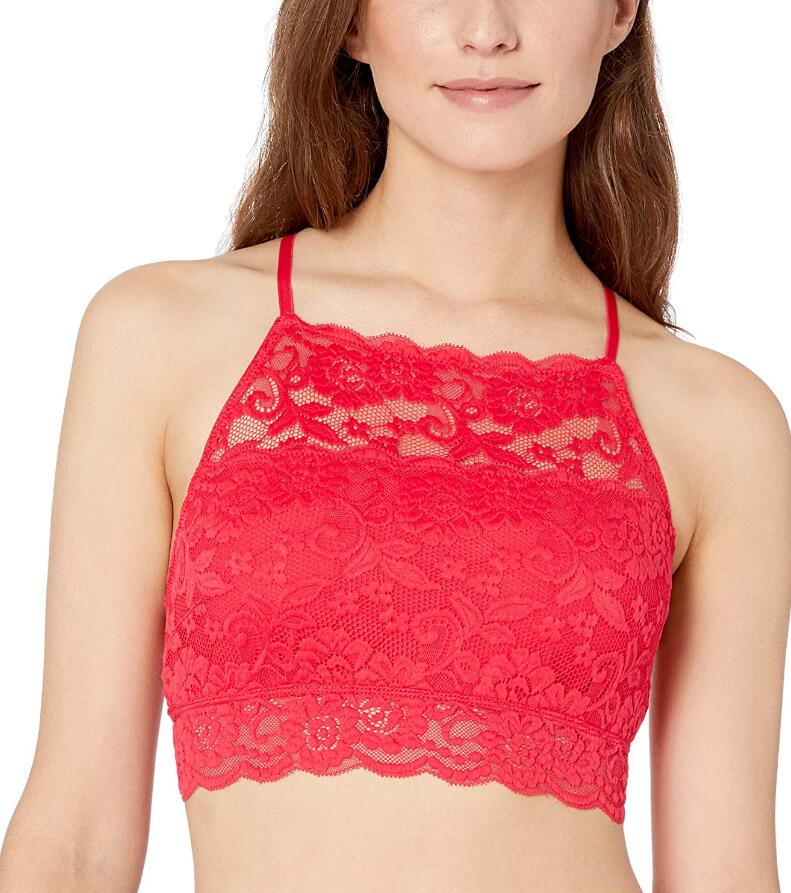 High-necked, lace-fabric bralettes are more elegant and dressy than other types. There's full coverage of the breasts and upper chest, with a nice round or square neck at the top. They give light support for small breasts. And often have a pretty, scalloped edge around the bottom hem.
Wear with high-waist jeans, pants or shorts for a relaxed vibe, or for a night-out, team with a pretty, floaty skirt that comes down to knee-level or below.
Keyhole back bralette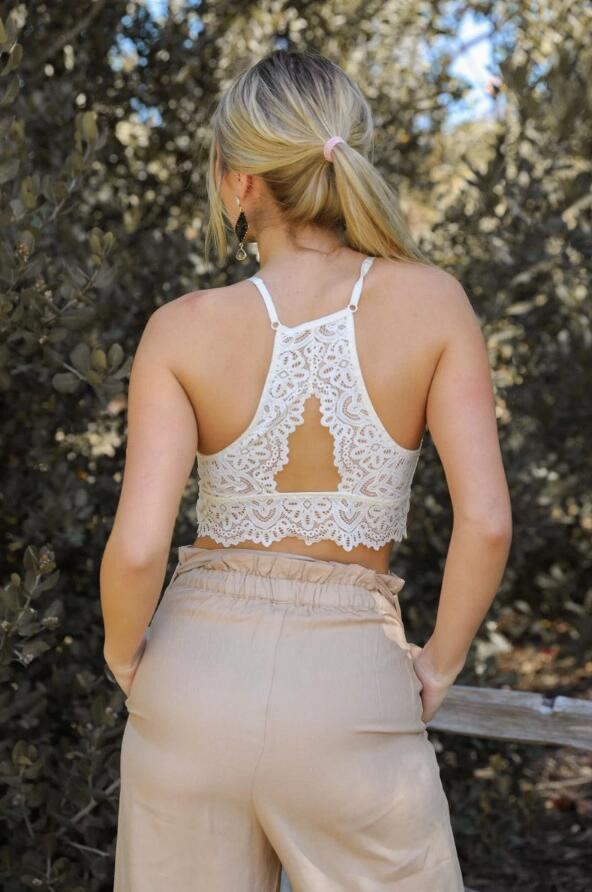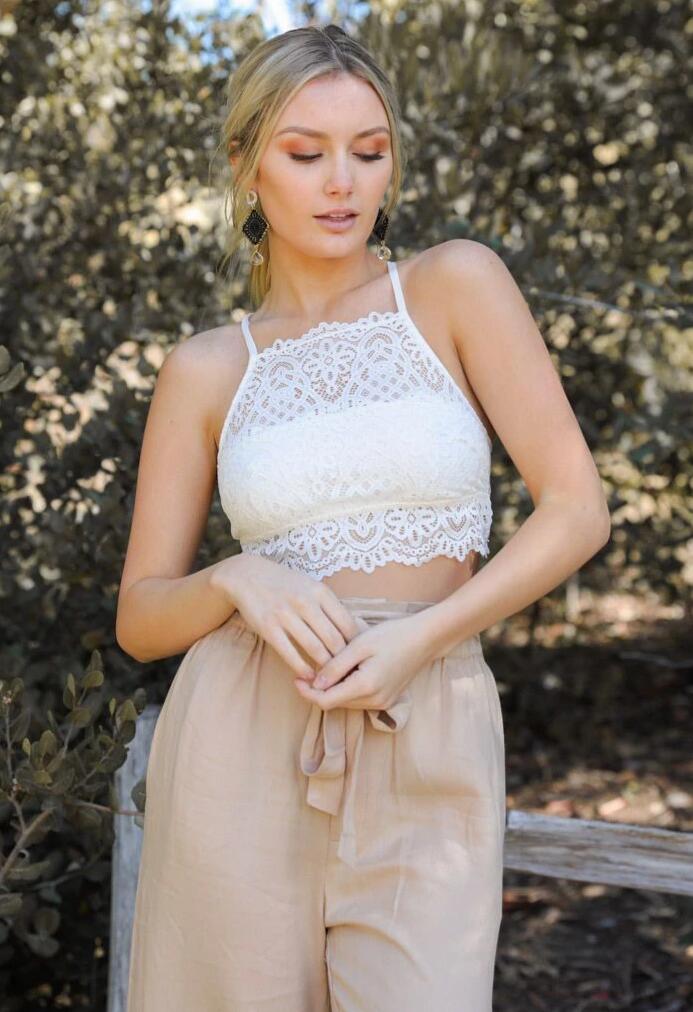 Keyhole-back bralettes can be lacy and sexy or streamlined and modern. They have a variety of differently-shaped, cut-out sections at the back. And some are designed to show off your shoulders, with crossed back straps you could wear under a racerback tee-shirt. It's obvious they are popular as many of the online stores that sell them, including Walmart, have now marked this item, 'out of stock', so they are not easy to find.
Many are made in China, so they run small for UK and USA women, and what is called, 'large' is only a relatively small 34B. But they are very cute and suitable for petite women who don't need any breast support.
Knitted bralette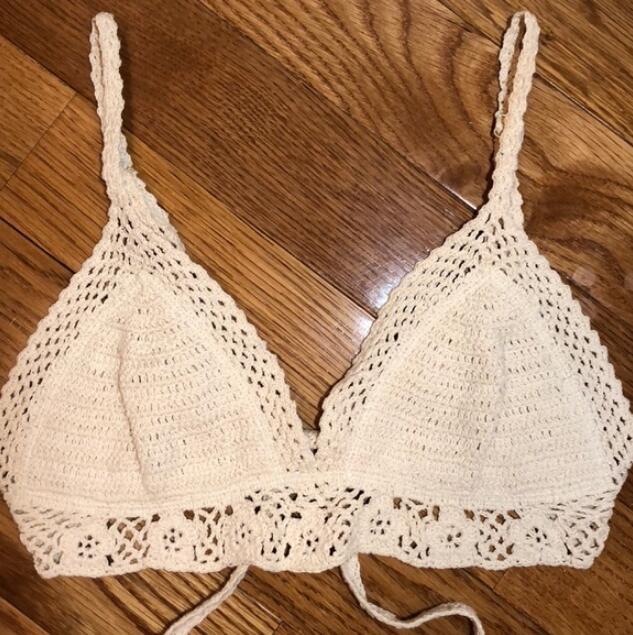 A knitted bralette is more like a short, cropped knitted top and doesn't usually have any cups. It's cute and comfortable with no support, and suits small breasts which don't need a bra. One of the latest styles is a bralette with a shaped area around the bust, and then an extra-thick rib section below. And there are lots of different neck-lines, like square, V and high-neck styles. You can choose from little to full coverage in this type of bralette.
Lace-Up & Criss-Cross bralette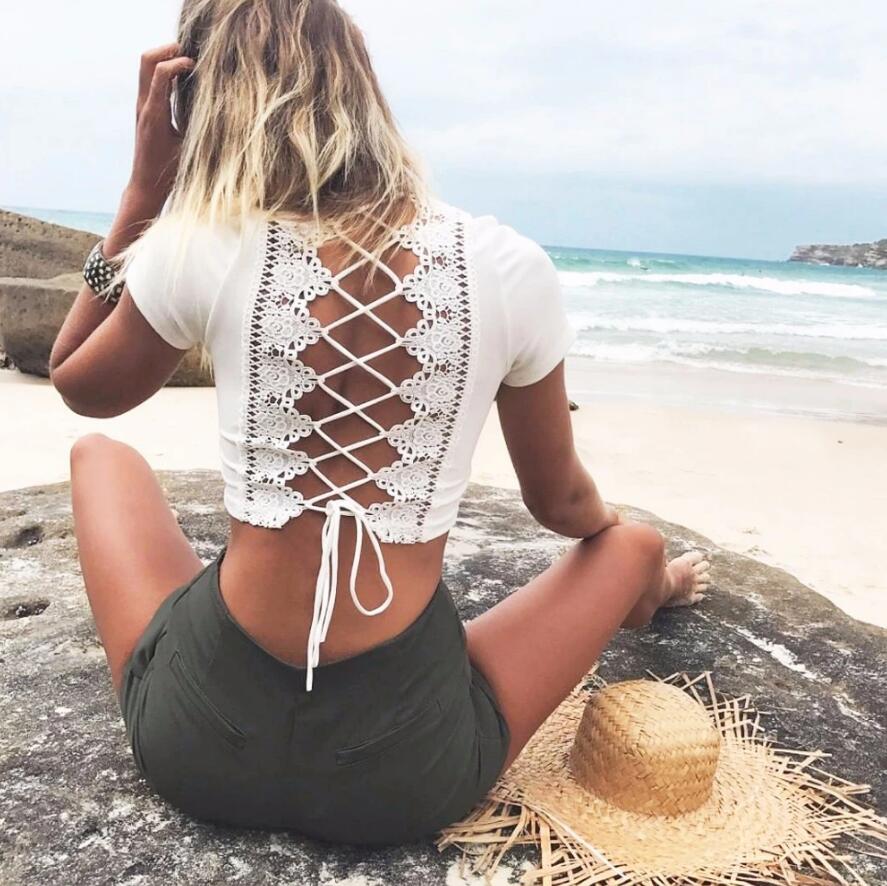 A lace-up bralette creates a sexy look and is designed to push the breasts together with demi-cups covering the outer edges of the breasts. The cups create a low plunge, which is 'covered' by the criss-cross decoration of the laced-up style. Made of plain or lacy fabric, a lace-up bralette can have laces that really work – allowing you to adjust the fit – or fixed Criss-Cross 'laces' that can't be adjusted.
The lacy, lace-up bralette is best for evening wear with high-waist trousers, shorts or skirts. And the plain fabric version is good for daytime wear in the summer. Suits smaller breasts and gives light support.
Longline Lace bralette (padded/unpadded)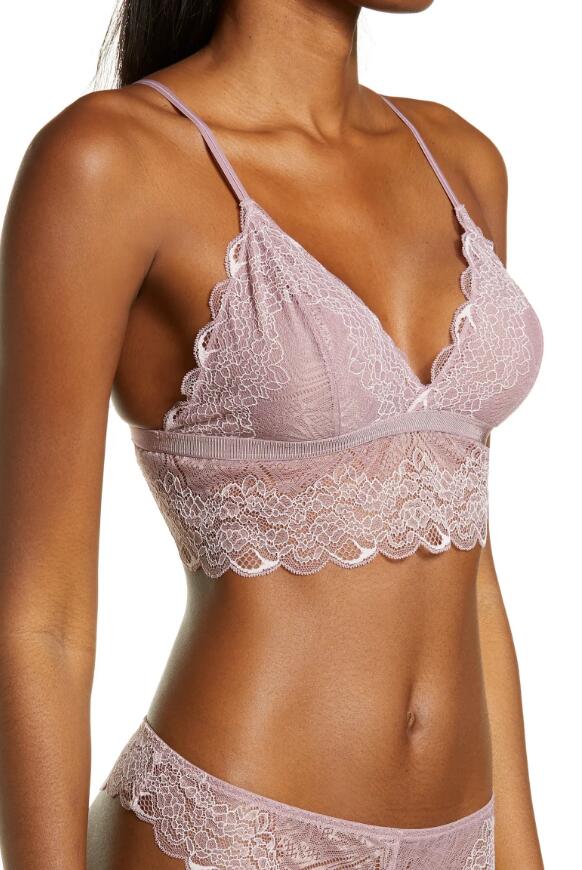 Longline bralettes always have a wide panel around the body, beneath the soft cups, like a longline bra. And some of them come down as far as the waist, to make a summer-top that doesn't show more than a hint of flesh at the waist. In black or red, these bralettes are often intended as erotic underwear that isn't suitable for outerwear. And a lacy, black longline bralette can be just right for a night in with the love of your life! However, there are also plenty of padded longline lace bralettes, which provide full breast cover for small breasts and are intended as outerwear. Wear in pretty, pastel fashion colors for a cute top to team with jeans or skirts for summery style.
One-Shoulder bralette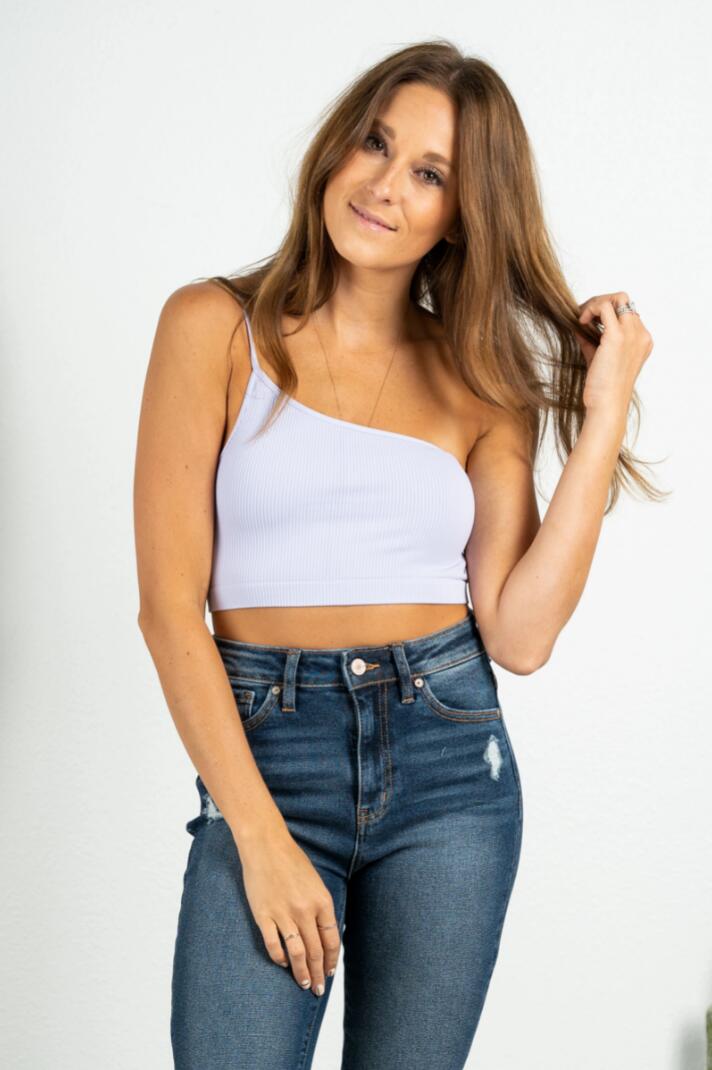 One shoulder bralettes are more formal and look great with high-waisted, bodycon or pencil skirts. If they are both the same color, this creates a chic suit, which is a sexy outfit for a dinner-date or similar occasion. They don't have cups and so are suitable for small breasts that don't need support. A one-shoulder bralette should cover the breasts completely, as you are showing off your shoulders and a little strip of midriff.
Made of stretchy fabric, you need to get a close-fitting size that hugs your body for the best look.
Overlay bralette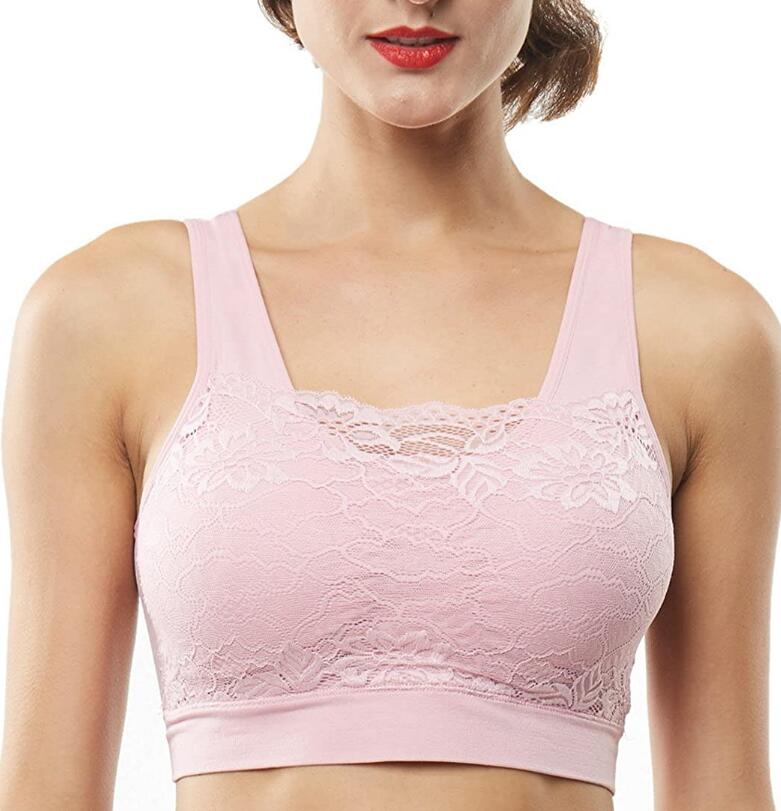 And for larger breasts, you have the overlay bralette, which has a plunge-bra shape but with a section of stretch lace joining the cups and creating a transparent 'cover' across your bust. This is a good choice if you want to show a portion of your breasts, but also have them supported by lace to prevent any overspill. This is a good bralette for women with small to medium breasts, which need light to medium support.
There are other versions of the lace overlay bralette which provide full breast coverage, and thick, supportive straps. So these can be worn as an everyday fashion bralette with gym gear, or summer wear, for a cute, modest look.
Plunge bralette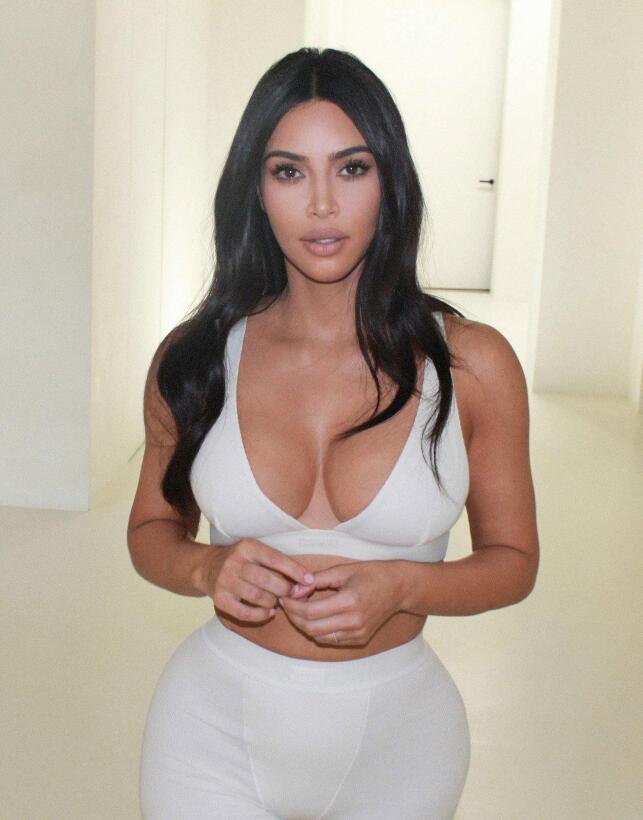 A plunge bralette has the same low neckline as a plunge bra and looks like underwear, without adjustable straps. So it is a very sexy look that's best for small sizes. The bralette has a molded structure and thick cups like a bra.
A plunge bralette covers approx. half of the breast volume and has thin straps, so it only offers light support. Wear under tee-shirts, sweaters and dresses that have low-cut or V-necks.
Racerback bralette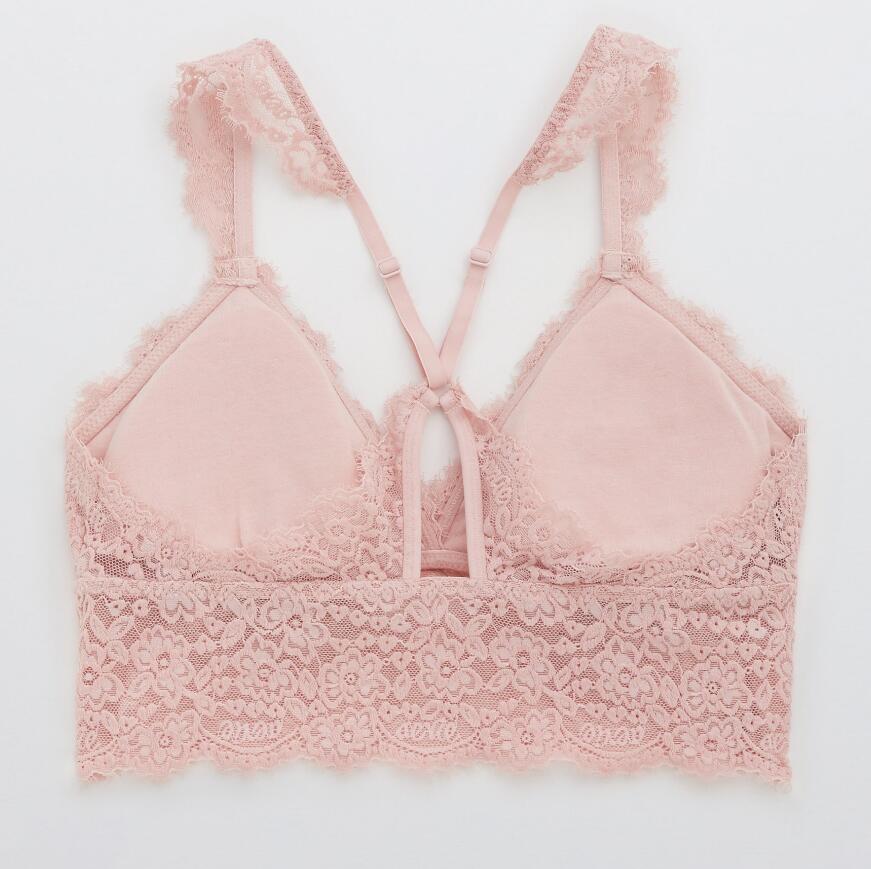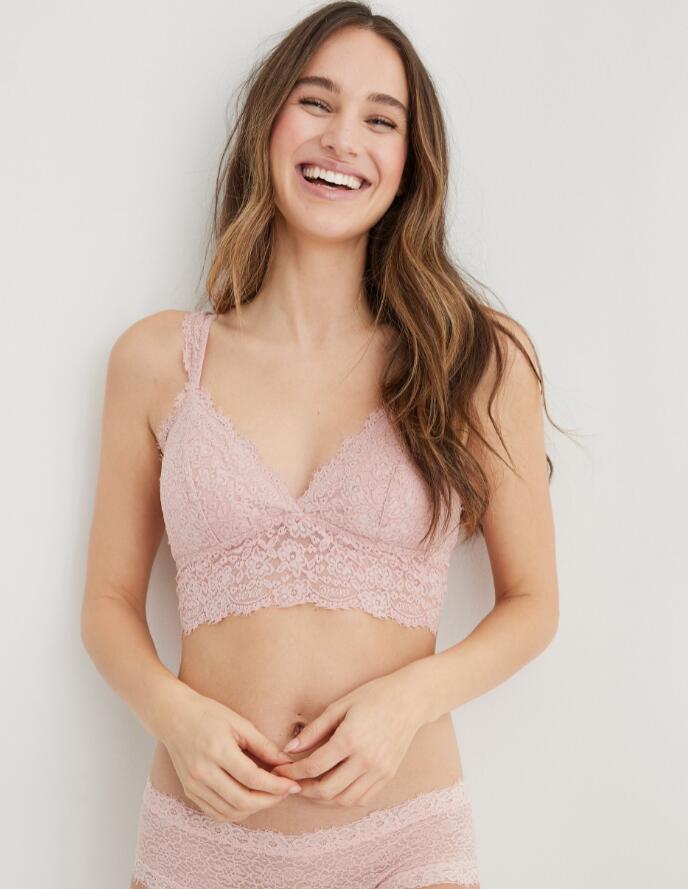 Go chic with a pink, racerback bralette with cut-outs in the back section, showing your skin underneath. You can wear a racerback bralette on its own as fashionwear, or use it as the perfect under-garment to a transparent top, a racerback tee-shirt or layered under a spaghetti-strap tee-shirt. Racer-back styles are good for showing off a nice pair of shoulders and the sporty-looking, racerback bralette is a stylish garment to wear right now!
Seamless bralette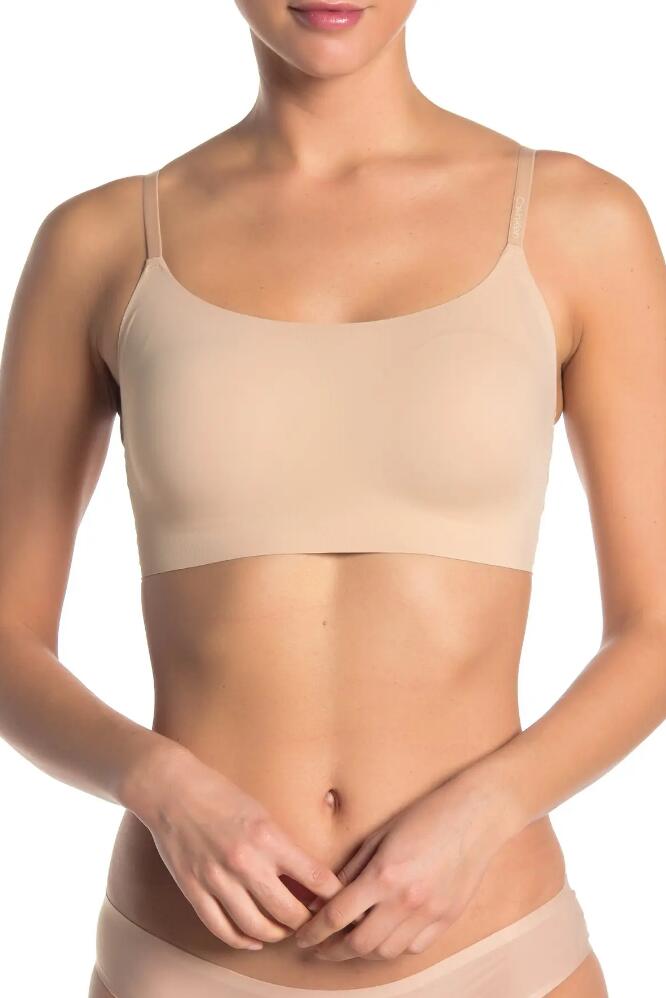 The seamless, stretchy bralette design is great for wearing alone or layered under shirts or a cropped cardigan. A low-cut design will show the top of your breasts and may have a decorative seam below the bust, and a longer front panel, which define the bust and waist well. Wear for a casual look with narrow-leg, sweat pants.
A cream or pastel colored bralette in this style looks great with black pants!
Sporty bralette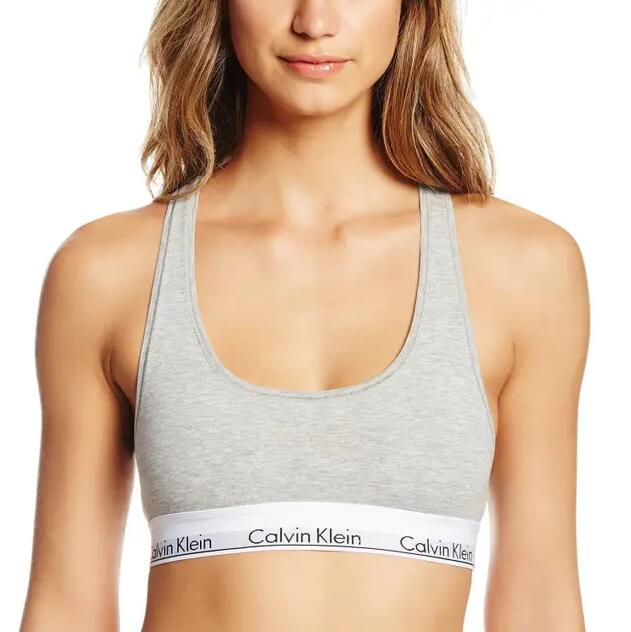 Sporty bralettes in good quality stretchy fabric make great companions for modern yoga pants with broad, high-waistbands. They offer the same coverage of the breasts as a low-necked, cropped tee-shirt and will show a narrow band of midriff. They are made to give a sporty, luxury look and styled to give medium support for small to medium breasts.
The most fashionable sporty bralettes have a contemporary, cut-out feature at the back and maybe extra straps for decoration! This style usually comes in a plain color, so they can be used endlessly as a layering fashion item with shirts and open cardigans.
Strapless bralette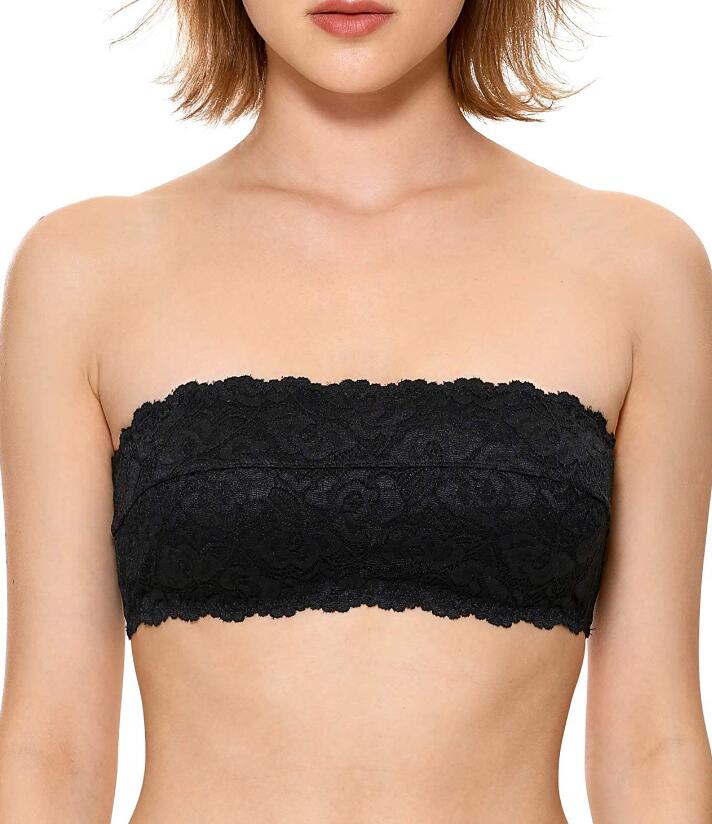 The strapless bralette is also known as a bandeau bra. It is a narrow, 'boob-tube' made from elasticated fabric, with a relaxed, strapless style. It's often covered in feminine lace and covers the whole breast area, whilst revealing the midriff and shoulders. So to be in trend for this year, wear with high-waist jeans and trousers, with shorts as casual wear and with knee or calf-length pencil skirts for a more elegant look.
Strapless bralettes show-off your shoulders and can also be layered under a long- or short-sleeved shirt for a trendy look.
Strappy bralette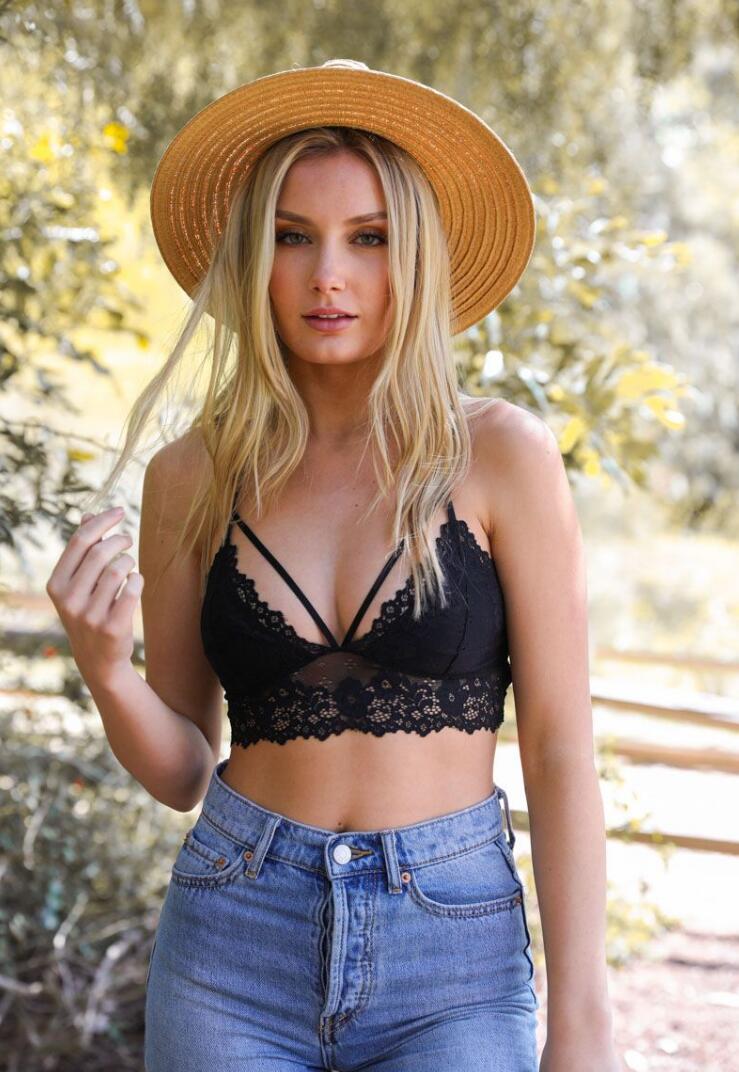 Strappy bras and bralettes are high-fashion right now, and the extra strap detail can be on the front, sides or back of the garment. They are also a fashion off-shoot from bondage-style bras, which have become one of the most popular new bra-styles in recent years. These bralettes are very comfy and can be part of a yoga pants and top set. They are available in lots of different styles and sizes, and can be worn as high-fashion day or evening outfits.
Strappy bralettes that have extra shoulder-straps as a decorative feature also offer stronger support for women with small to medium breasts.
Studded bralette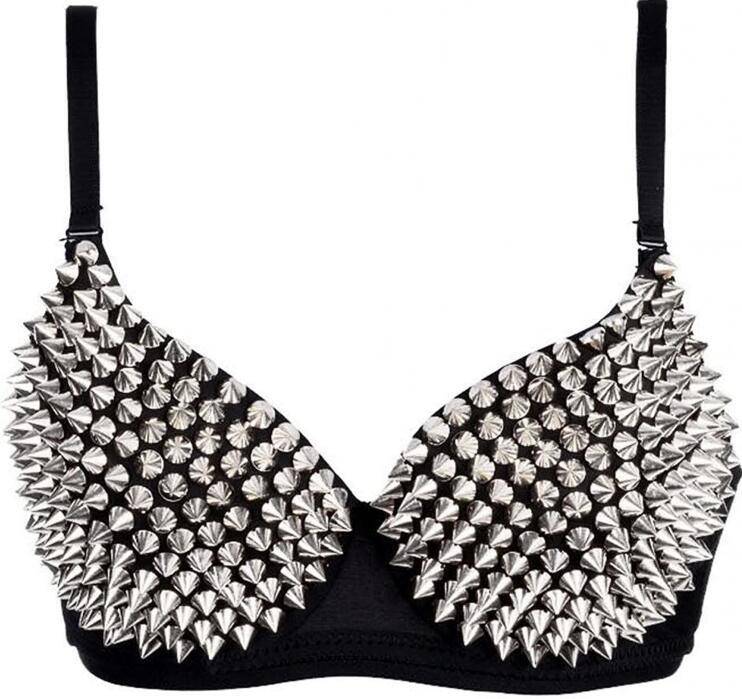 Studded bralettes come in various types depending on the fashion style they represent. For example, there are Punk- and Goth-style studded bralettes decorated with silver-colored metal studs. These are based on the fetish bras popular with bondage fans. And you can also get glamorous gem-studded bralettes, decorated with glass gems or black and colored sequins. This creates a fabulously glamorous look and is a sophisticated bralette style, suitable for wearing to dance clubs.
Studded bralettes usually offer the same amount of breast coverage as a half-cup bra and light to medium support.
T-back bralette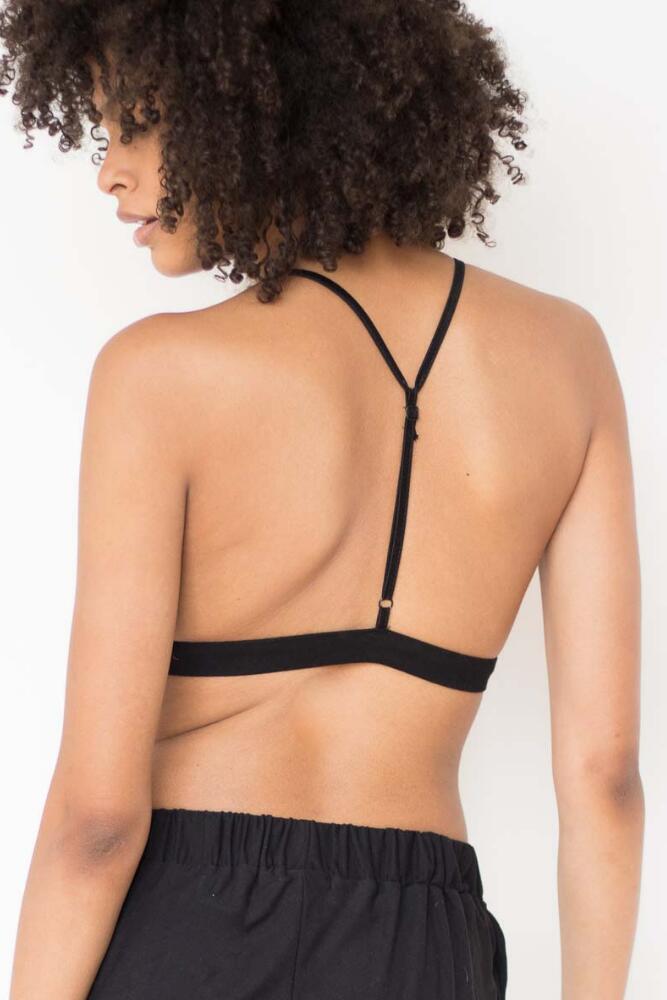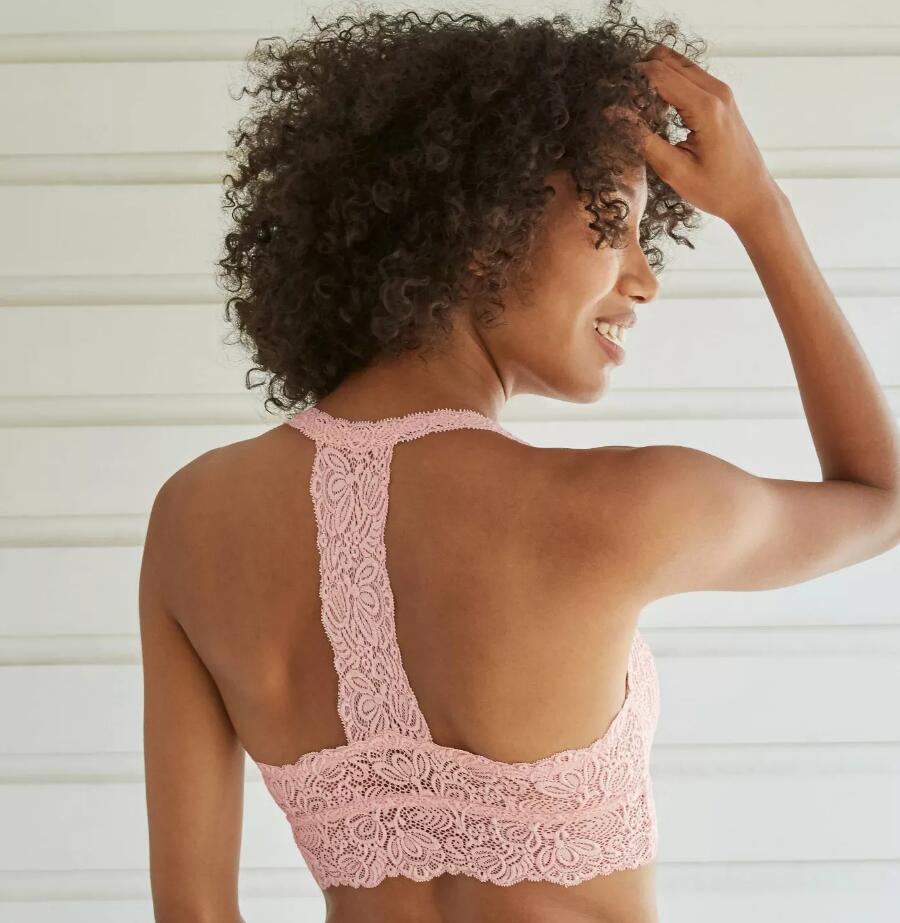 New T-back bralettes have a fabulous single band running down the back to meet the horizontal body-band below. Made from lacy fabric, you can wear a T-back bralette with any type of skirt that is pencil straight or flared, but reaches down to knee-length or below. There's good breast coverage and light support, from this lovely, glam style.
Tie-front bralette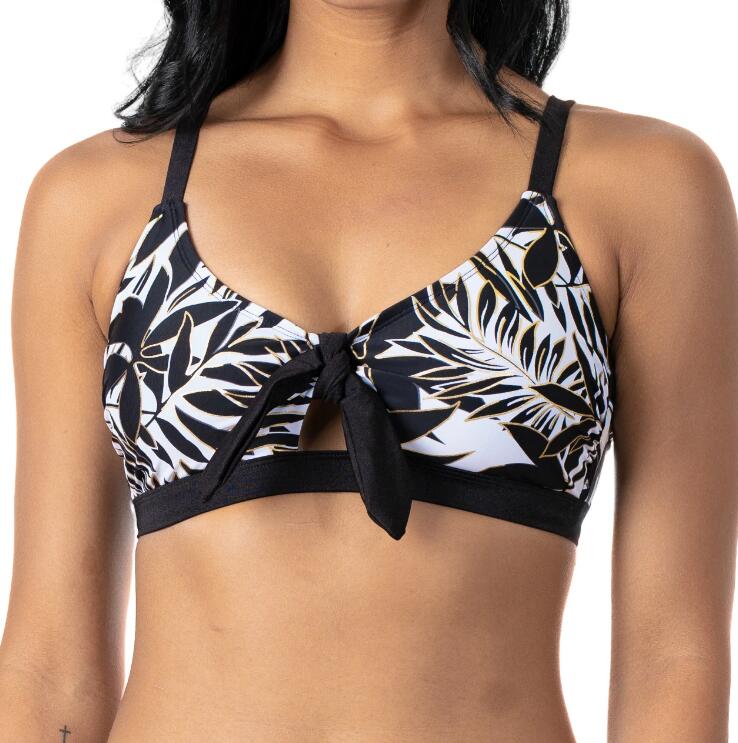 Tie-front bralettes have a cute front closure of tied fabric, like a waist-tied shirt. Some are true bralettes, made with plain fabrics, which offer good coverage and front panels almost down to the waist. This type is great to wear as outer garments with high-waist jeans and skirts. And the lacy type of tie-front bralette is usually a transparent lace bra with a bow-tie at the front, which is erotic underwear for fun-times with your partner.
Triangle-cup bralette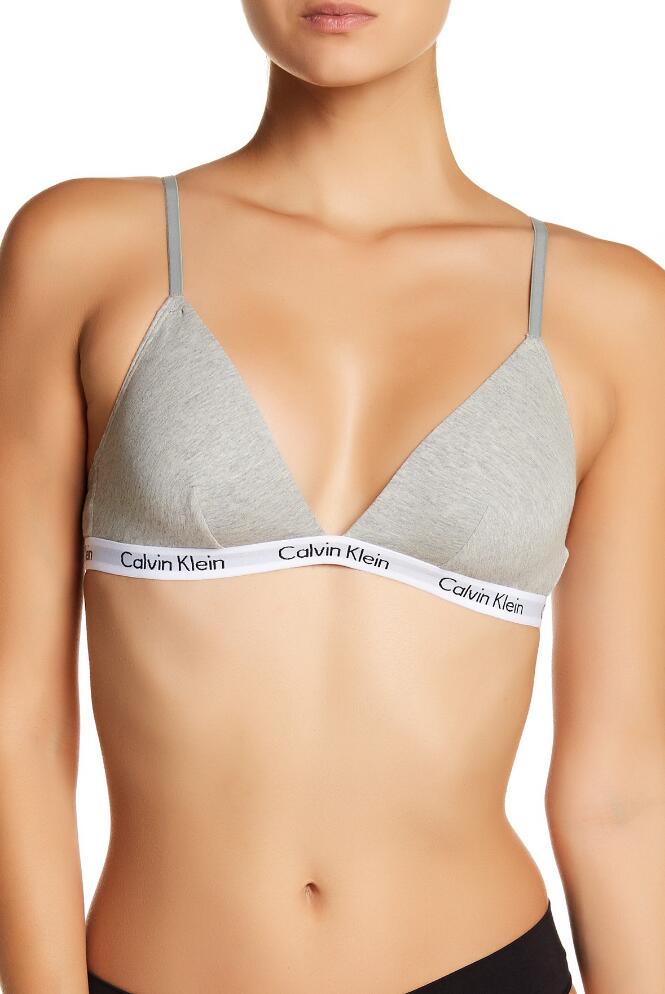 The triangle bralette is a recent design, which has triangular-shaped cups. Unlike the half-cup/demi plunge bralettes which cover the outer edge of the breast, triangle cups offer less coverage. They are seen as a sexy alternative to the padded, wireless bralette and have a deep, 'plunge' which can go right down to the waist. The triangle-cup shape of a bralette doesn't offer much support, but they are comfortable for women with small breasts.
Underwire bralette for plus-sizes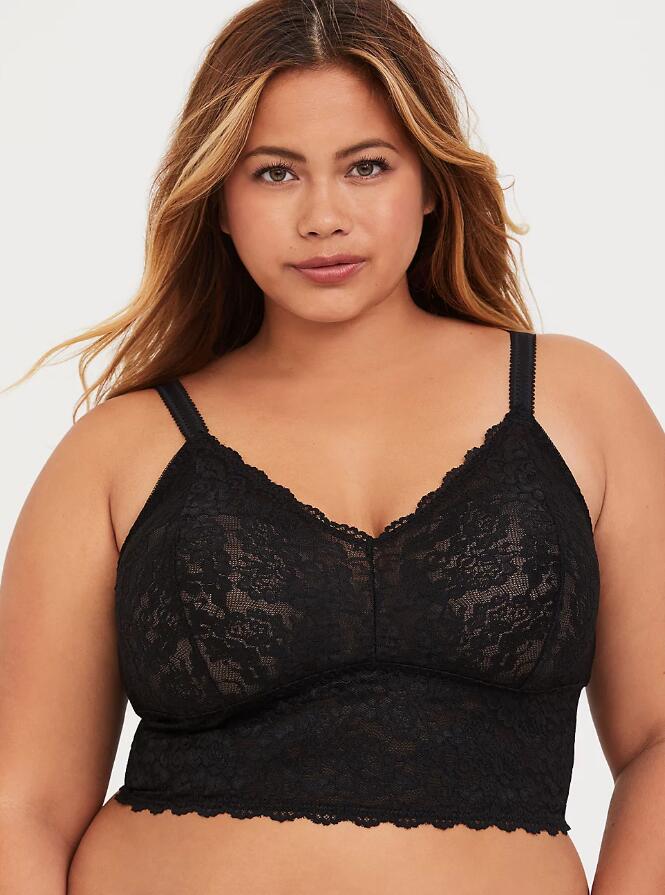 For women with larger breasts, there are lots of underwired bralettes on offer from lingerie brands that cater for larger breasted women. For example, average-sized women with medium to extra-large bust sizes can find a wide range of suitable bralettes from Bravissimo, Fig Leaves and Freya etc. And there are also plenty of different bralette styles available from Torrid.com which caters for sizes 10 – 30. Torrid bralettes are available in sizes up to 6 XL, which in bra sizes is 66 – 70 inches D/DD cup size.
So whether you want a bandeau style bralette with the extra support of underwires and spaghetti straps, or a racer-back bralette or almost any other type, there are online stores ready to offer you the latest, full cover and supportive bralettes.
Zip-up bralette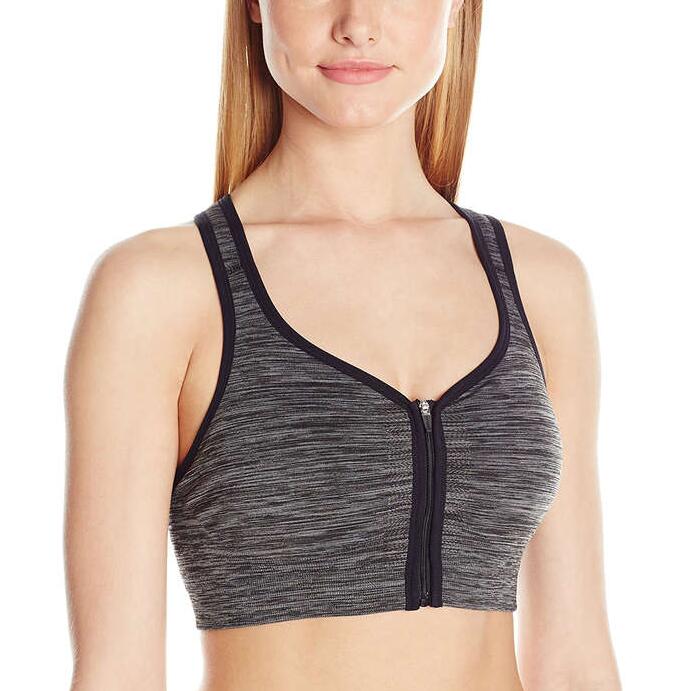 Zip-up bralettes are mostly supportive sports' bra-tops that keep your breasts well-anchored when you go jogging, running or doing aerobic exercises. They give full-coverage and are highly supportive of the breasts. The number of styles varies to suit different sizes and athletic requirements, so some leave the upper chest bare and others are high-necked designs that look like trendy short, cropped tops. And you can buy zip-up bralettes in plus-sizes, too.
In addition, there are also ranges of lacy and floral zip-up bralettes that can be worn as a fashion top with casual or semi-casual outfits for summer. Zip-up bralettes are also offered as part of athleisure shorts/leggings suits that look super-trendy!