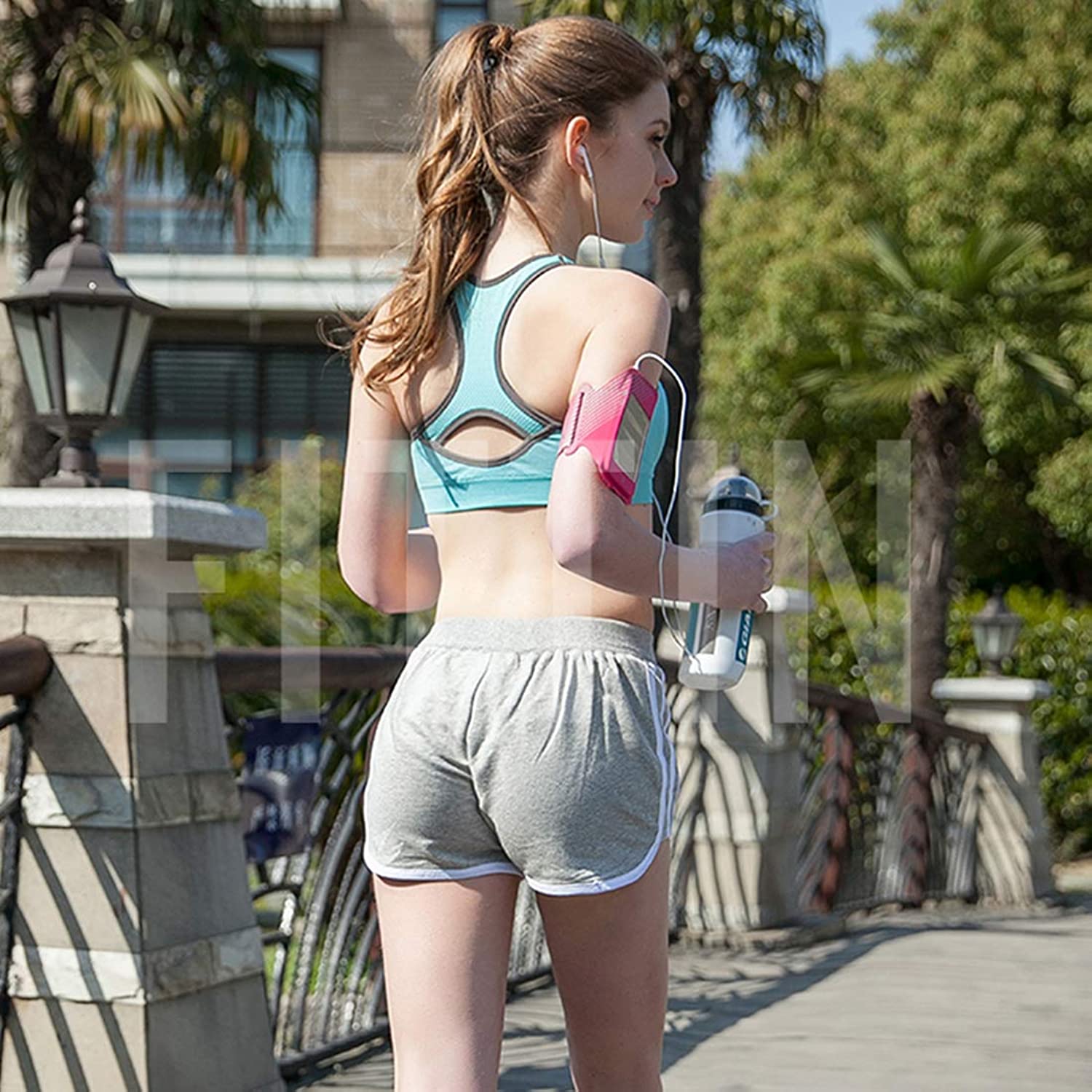 Racerback sports bras solve a number of bra-wearing problems. For example, they hide bra straps when you wear cut-away shoulder styles in dresses and tops. And they are also a great way to get extra support for sports activities or just everyday wear, if you have a large bust. The third benefit of racerback sports bras is that a compression racerback bra looks like an athleisure outer garment. So you can wear a bralette style as leisure-wear, for 'going out' and under an open shirt!
So the right racerback lingerie is bound to be a useful and versatile addition to your wardrobe. But how can you identify the right one for your figure, when there are so many persuasive brand websites with pictures that never show side/back bulge or sore, red, strap marks? And it's so difficult not to be swayed by pictures of lovely models wearing a brand's bras! But what you really need is for women like yourself to try them and tell you what they think about comfort, fit, support and quality.
And that's something we can help you with! HerStyleCode runs regular bra-testing projects to keep up-to-date with the best lingerie available online. We recruit teams of testers from ordinary women, who wear the bras on our 'long-list' for a minimum of two days. And from their straightforward feedback, we discard the styles that don't come up to scratch. And eventually, we narrow it down to a short-list of the best bras.
How to choose Racerback Sports Bras?
Choosing the right racerback sports bra can help you stay comfortable and supported during your workout. Here are some things to consider when selecting a racerback sports bra:
1. Support level: Consider the level of support you need for your workout. If you're doing low-impact exercises like yoga or Pilates, you may need a lighter support bra. For high-impact activities like running or HIIT, look for a bra that provides more support.
2. Material: Choose a breathable, moisture-wicking material to keep you cool and dry during your workout. Look for fabrics like nylon, polyester, or spandex.
3. Size: Make sure you get the right size. A bra that is too tight can be uncomfortable and restrict movement, while one that is too loose won't provide enough support.
4. Straps: Racerback bras have straps that cross over your shoulders, providing extra support and allowing for a full range of motion in your arms. Make sure the straps are adjustable so you can get a custom fit.
5. Padding: Some sports bras have removable padding to provide extra support and coverage. Decide if this is something you want in your bra.
6. Brand and reviews: Research different brands and read reviews from other customers to see if the bra you're interested in has a good reputation for comfort, support, and durability.
So read on and browse the 7 Best Racerback Sports Bras currently on offer:-
1. Best Large Breasts Racerback Sports Bra
Nike – Victory Compression Sports Bra
This extra-support, compression bra is suitable for women with a large bust, who don't like wearing underwires. It features Nike's classic Dri-Fit fabric that's designed to keep wearers comfortable and dry during exercise. The fit is quite snug and it's offered for medium-impact activities.
Our tester with a fairly large C-cup wore a Medium and loved its ability to keep her bust immobile. Testers above a full C-cup should choose larger sizes. And for A and B cups, size Small is recommended by our team, (depending on your band-size). It's comfy and more supportive than other sports bras.
2. Best 'No uni-boob' Compression Racerback Sports Bra
Champion – Curvy X Sports Bra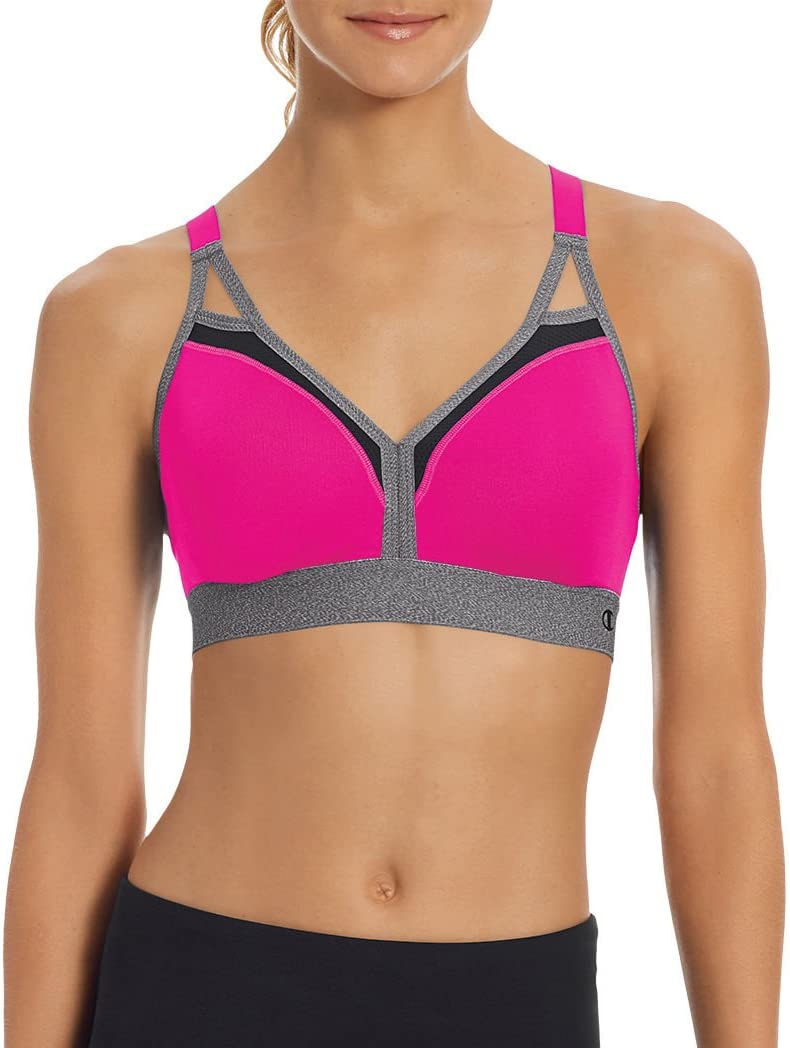 This is a modern, compression, racerback sports bra. It has a hook-and-eye fastener and extra support from adjustable straps and a strappy back. Molded cups provide shape and comfort with sewn-in light padding.
Testers with 'awkward' sizes like 34G said they got an excellent fit and felt secure in this bra. One tester used it for pole fitness and said it fit her well. And it kept her 34D breasts from jumping out when she was upside down! All testers liked the molded cups that gave lift and a natural shape, and didn't create a 'monoboob'. So it's suitable as an everyday bra for work, too.
3. Best High-Impact Encapsulated Racerback Sports Bra
Syrokan – High-Impact Racerback Sports Bra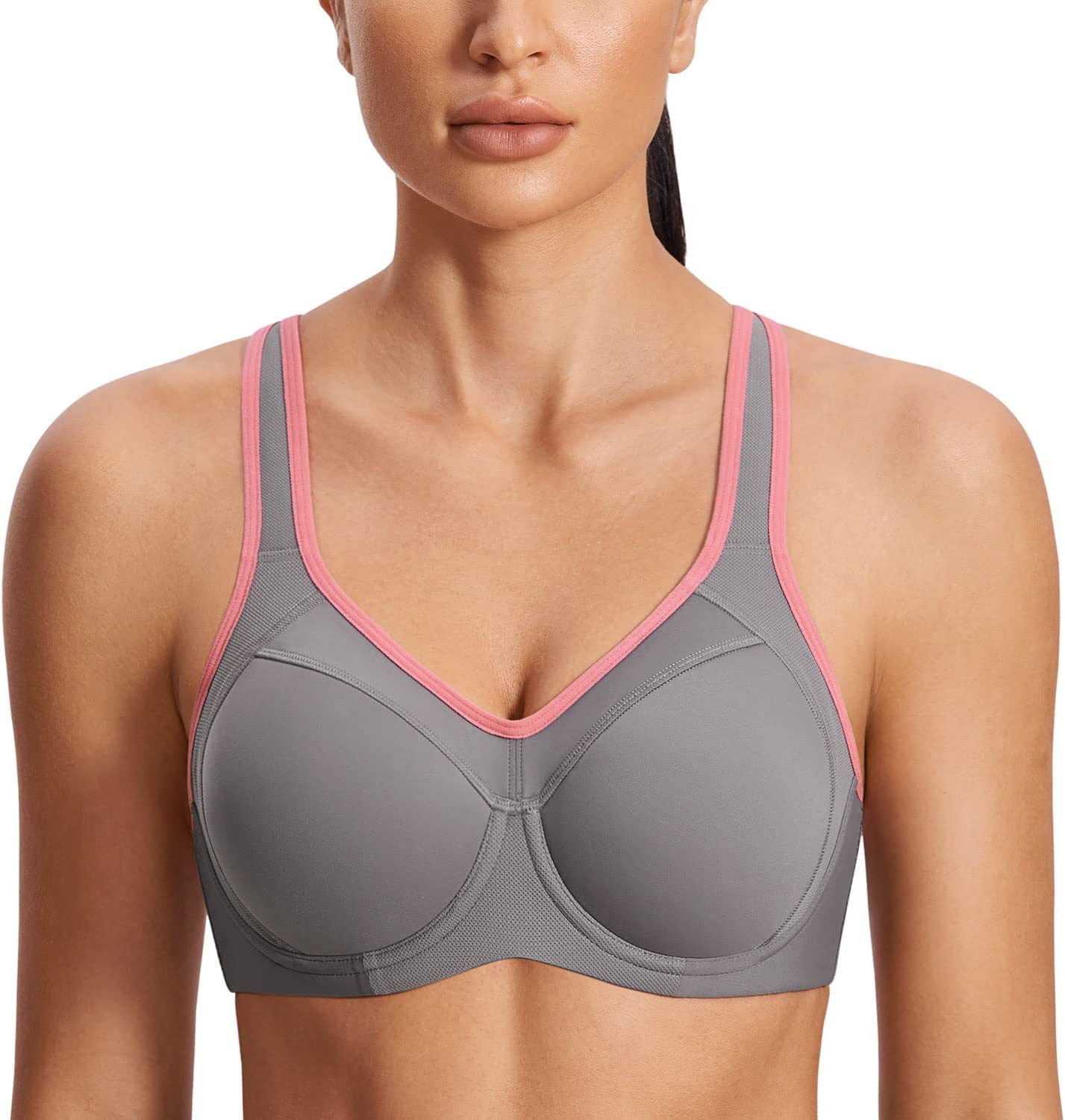 This encapsulated, racerback sports bra has foam-lined, underwired cups and a hook-and-eye fastener. The straps are adjustable and the design is stylish and modern. And encapsulated cups are recommended by all sports-lingerie experts for strong support for larger bust sizes.
Our 36 D and 36 DD testers said they got a perfect fit that held their bust in place during Cross-fit and aerobic exercise. So there's no bounce or bulging with this bra. In addition, our testers loved the good quality fabric. And all of our reviewers praised this bra for being comfortable and supportive at a very affordable price!
4. Best Light Support Racerback Sports Bra
Amazon Essentials – Light Support Sports Bra – 2-Pack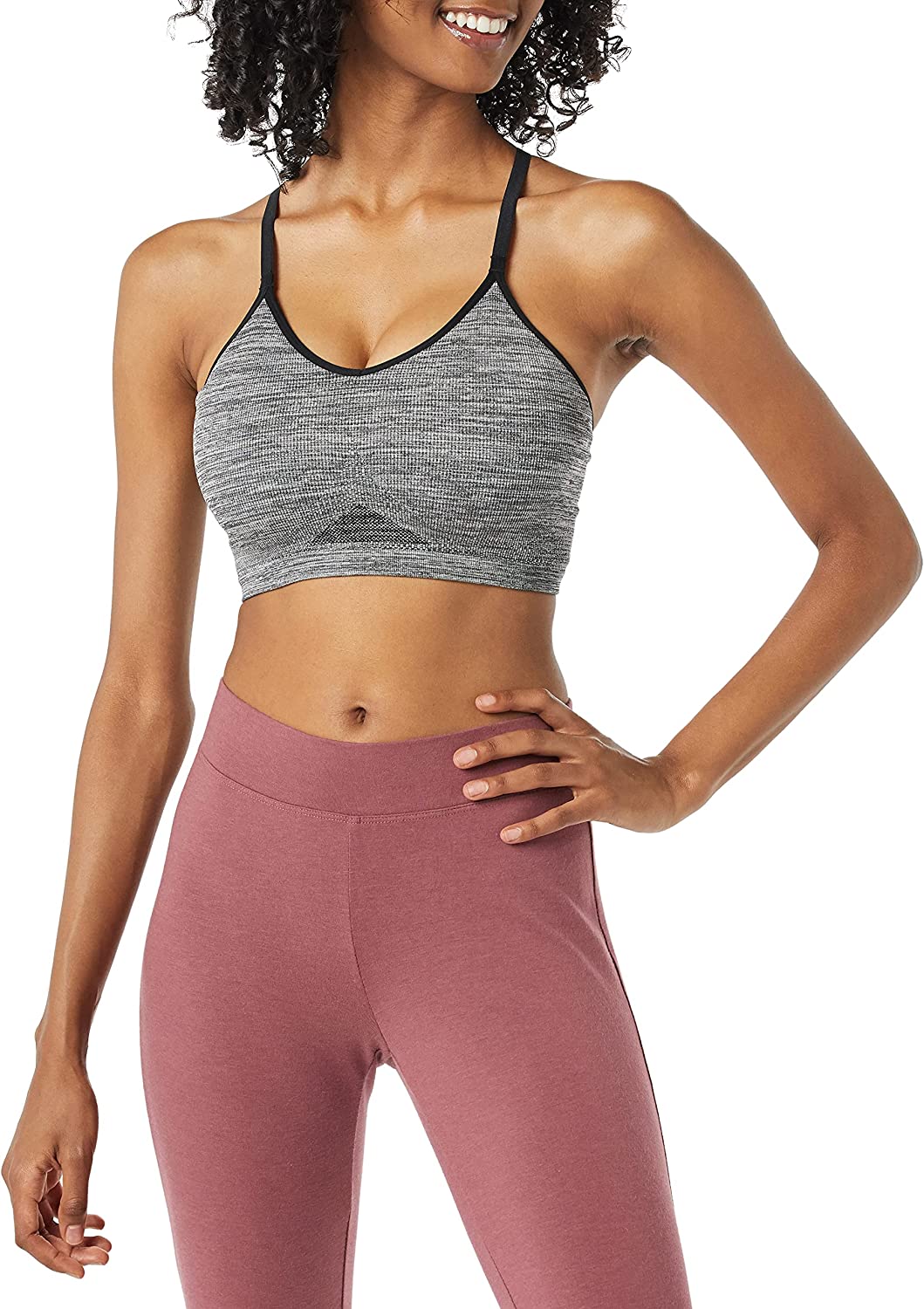 This is a light-support sports bra that uses compression to keep breasts securely contained during low-impact exercise. It goes on over the head and doesn't have any metal fasteners to struggle with. The fabric is lightweight and soft during wear. And some of our testers said it was great as an everyday bra, too.
Our 42 D and 34 E testers wore the XL size, which was a close-fit, comfortable and stopped exercise 'bounce'. A 34C tester wore a Large and said she absolutely loved wearing this light racerback bra. And women with smaller cup sizes said the fabric is soft and the fit was perfect!
5. Best Value for Money Padded Racerback Sports Bra
Fittin – Medium-Support Padded Sports Bras – 3-pack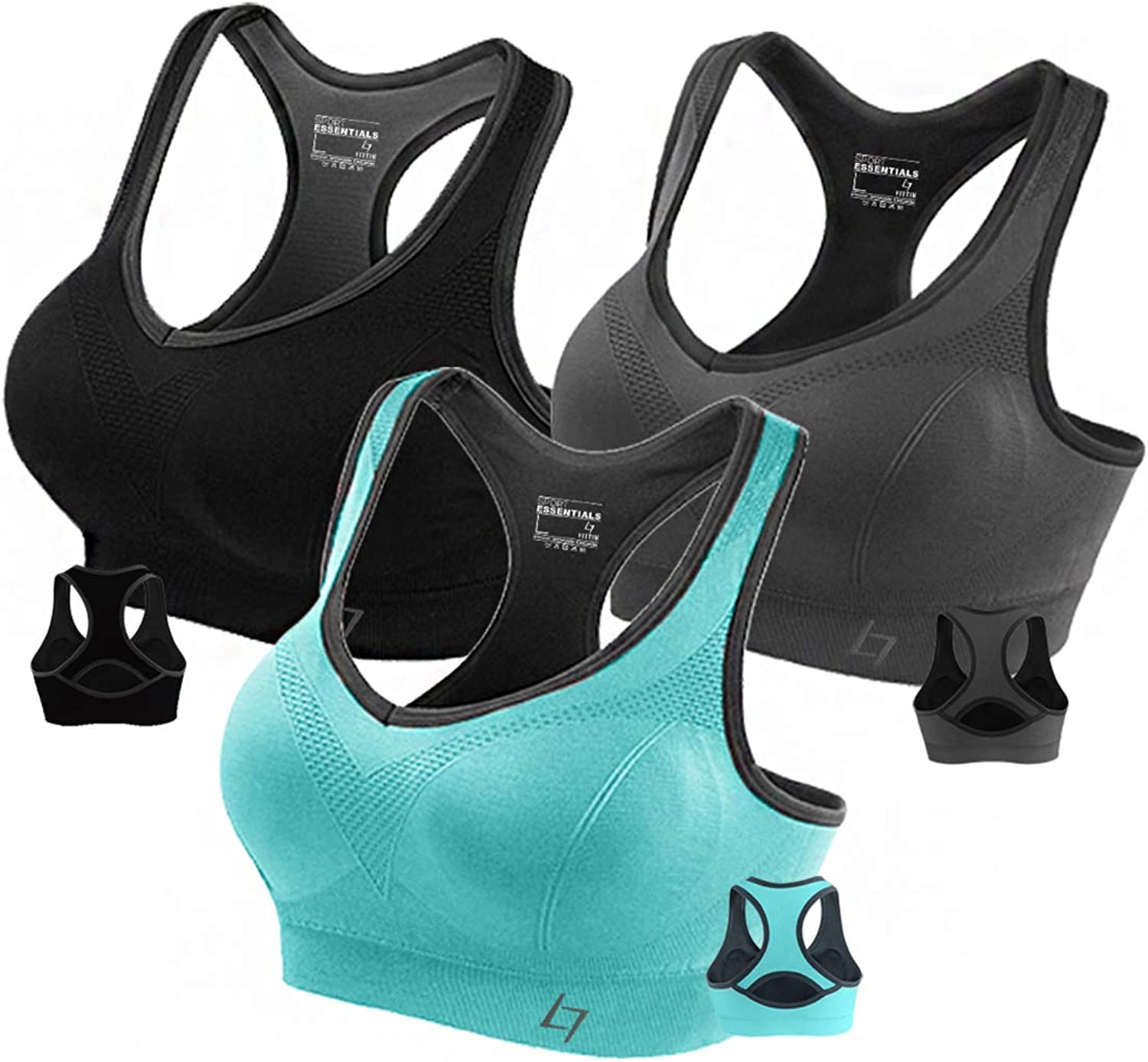 This is a best-selling, compression bra designed for medium-impact exercise, such as Pilates, yoga and weight-training. It is a popular choice for women who like removable padding and a seamless, wire-free design. It's moisture-wicking and very good value if you buy the 3-pack.
Testers loved the incredible comfort of this bra and some said it was a great sleep-bra, too. We had several comments that you hardly know you're wearing it and that the fit was excellent. It gave enough support for a 40 C/D to use a treadmill for a jog, and an elliptical training machine!
6. Best Multi-Pack Racerback Sports Bra
Mirity – High Impact Racerback Sports Bra – 5-pack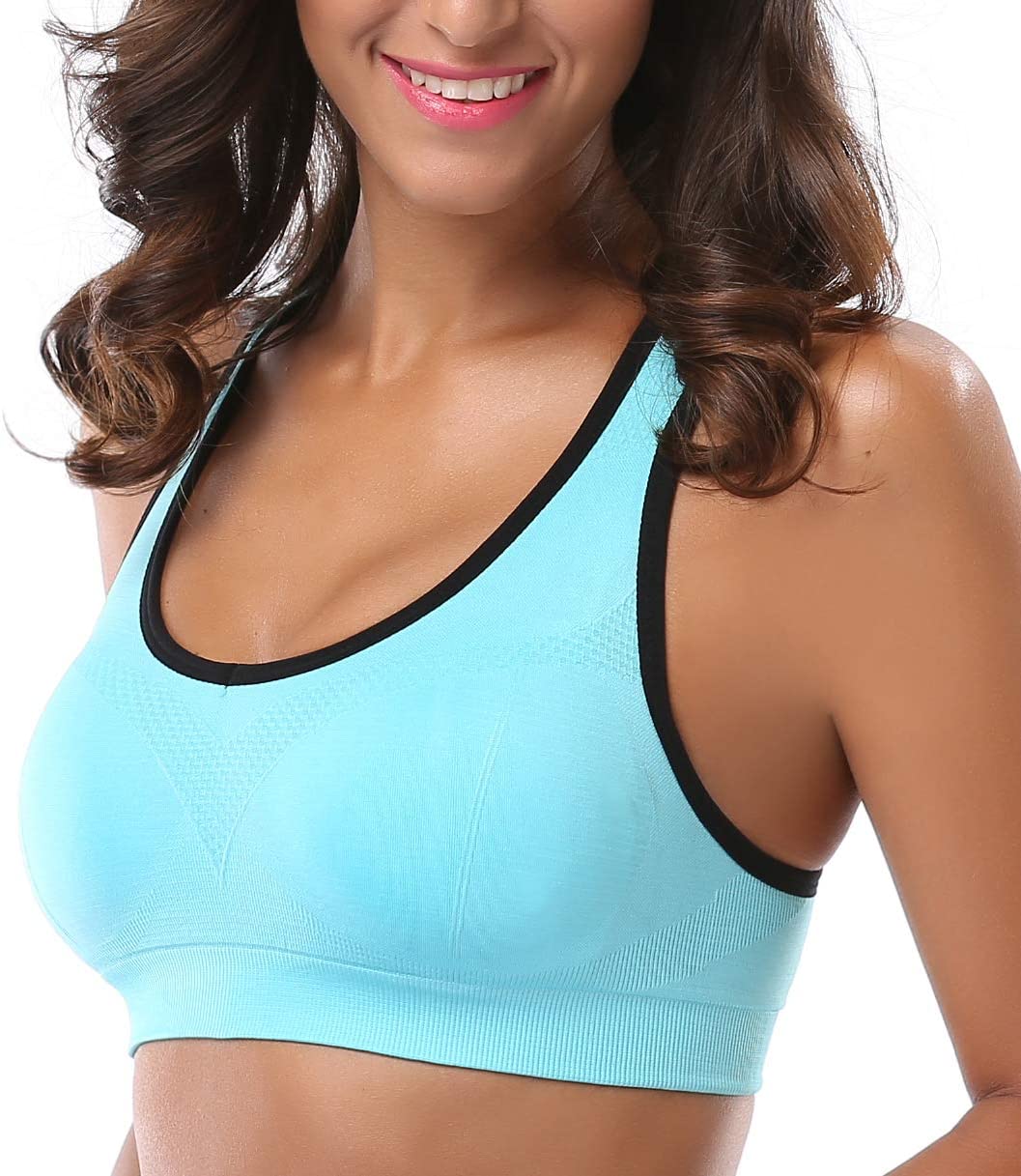 This competitively-priced, wire-free, compression bra is especially suitable for high-impact sports. And it's an attractive bra-top with high coverage to keep the bust in place during all types of exercise. In addition, this trendy, fast-drying style means yukky sweat marks evaporate very quickly.
Testers praised the excellent fit, good compression and bust coverage. Our 38 C- and D-cup testers said they got great support from the Large size. And although it's quite snug at first, it's very comfortable in wear. Testers wore the bra for cardio and said that their breasts were immobile during all movements!
7. Best Post-Surgery Racerback Sports Bra
BRABIC – Post-Surgical Supportive Sports Bra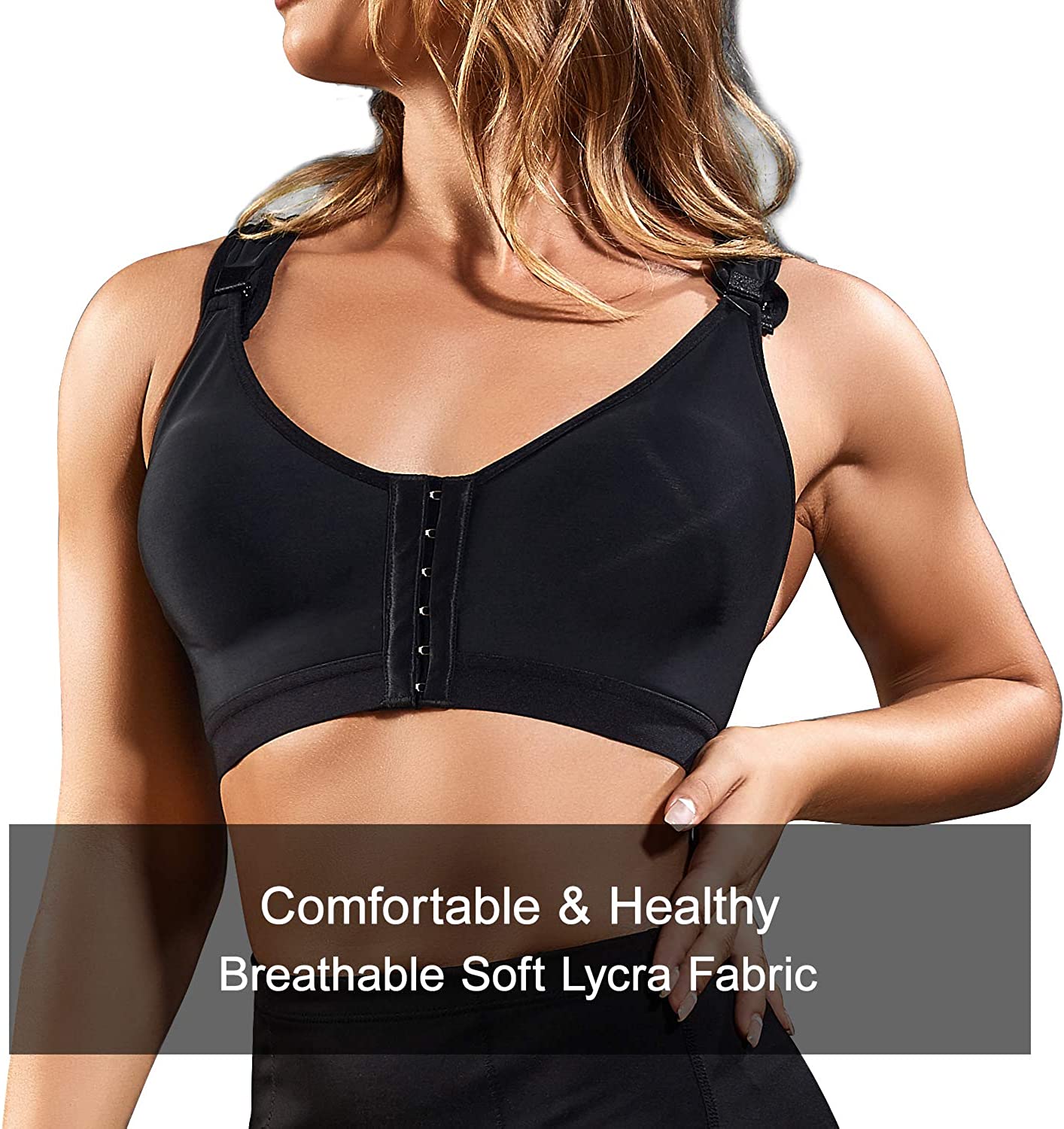 After breast surgery you need a comfortable, total support bra that's easy to put on and take off. This bra has front-closure and a wire-free design. And that's popular with women after surgery and women with large breasts. It has a 3-row, hook-and-eye fastener at the front. And it uses gentle compression to support breast tissue while healing takes place.
Our 'post-surgery' testers said that their previous 'surgical bras' weren't supportive enough. But the BRABIC bra was a superior bra for support. The side-support helps contain swollen breast tissue. And the soft, Lycra fabric is comfortably soft and follows the breast shape well. The bra is firm and flattering, without being tight or 'flattening'!
This selection of light-, medium- and high-support racerback bras will help you, no matter what size you are. So you can enjoy low – high impact sports activities. And as sports bras can be quite a costly item for large cups, we've included a great quality, best-selling 5-pack deal. So no matter what your budget is you can buy the best.
Did you find this guide helpful? Leave us a comment or query and help us build up our HerStyleCode community, where we can all swap our experiences and tips together!