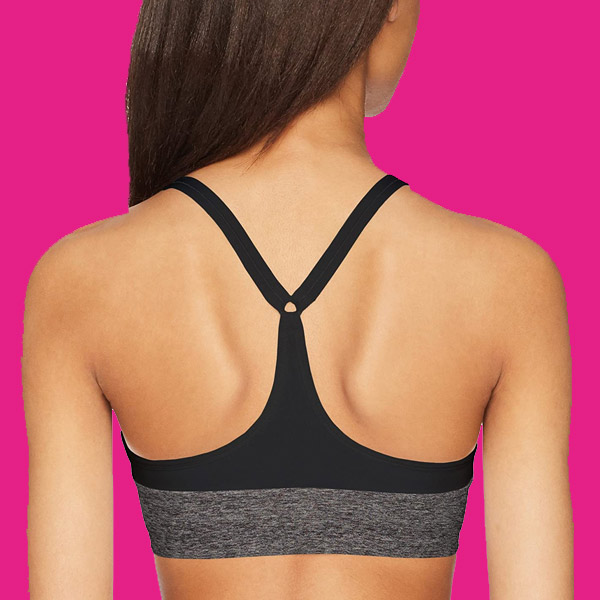 Racerback bras and T-back bras solve a number of common problems with wearing a bra every day. And the first one is straps that slip off your shoulder. Slipping down straps are at least a nuisance and at most, something than can embarrass you at key moments.
The second problem is when you buy a new dress or top with trendy cutaway shoulders and you haven't got a bra you can wear without the straps showing. Plus, if you happen to have narrow shoulders, as I have, you can find it very difficult to buy a bra that doesn't keep slipping off.
Do racerback bras give more support?
So like a lot of women, I've started to wear racerback bras as part of my everyday bra wardrobe. Racerback bras are more than just a fashion style to suit sleeveless tops; they also give extra support to women with larger breasts. The straps meet and cross in the center of your back and this creates an extra angle of uplift to the bra.
How to choose the best racerback bras
But choosing from the wide array of choice online is a real headache. We all know which the top bra brands are, but they can be very expensive. And when you're buying without trying, the fewer variables you have to choose from the better. So "Her Style Code" provides regular bra reviews. And we select the best from the current market for your convenience.
We use regular women in our testing, who wear each bra for at least two days. Then they fill out a comprehensive feedback and review form, which enables us to discard the bras that aren't worth you trying. And ultimately, we offer our readers a short list guide to the 6 Best Racerback Bras currently on offer!
1. Best Everyday Racerback Bra
This bra has a full coverage lining and a front fastener for easy putting on and off. The molded cups have a light padding for comfort and shaping. And the side wings help smooth your figure, leading to a lace back with adjustable racerback straps.
Our testers loved this front-fastening bra, although they agreed that the cups run small. So you may need to go up one cup size. Compared with other top-of-the-range brands, testers said this is a sturdier, better-fitting, better quality bra. The gorgeous lace back was very popular and the sides really do help smooth-out bulges. This was also voted a very soft and comfy style!
2. Best Wire-free Front-Fasten Racerback Bra
This racerback bra has a special lining in the cups which helps you stay cool by wicking away any perspiration that forms. The cups are light and follow the natural shape of your bust, whilst giving support. The front-fastener makes it very easy to use. And the straps can be adjusted at the front.
Our testers really liked how easy it was to fasten this bra and adjust the straps at the front. They also praised the ½" wide straps for comfort and support, which were still thin enough to be hidden under T-back clothes. The V-plunge neck allows you to wear low-cut tops. And the cups run a little small.
3. Best Underwired Front-Closing Racerback Bra
This is a T-back bra with a front barrel-fastener and underwired cups for added support. The cups are unlined and there's a mesh panel above the cups to give good ventilation. The Supplex fabric is soft and the straps are adjustable at the back. Wacoal recommend this front-close style for shallow top, full bottom breasts.
Testers with mobility problems were pleased with the front fastener and said the unpadded, underwired cups were very comfortable. One reviewer said this was the most comfortable bra she had ever worn! All testers said it was supportive and fit incredibly well and being unpadded, you get a nice, natural contour.
4. Best Sports Racerback Bra
This is a pull-on, compression sports bra designed for strong support during activities like circuit training or cycling. It has a built-in bra and ventilations panels. And the wide shoulder straps avoid sore shoulders and give a comfortable fit. This bra has a reflective detail for added safety for outdoor wear.
Our reviewers said the sizing runs small, so they had to choose a larger size than normal. But testers also said they gave an impressive fit once they got the correct size. The compression was strong enough to give good support and keep breasts in place. Best of all, there is no uni-boob, even for large breasts and it can be worn under normal clothes!
5. Best Lacy Racerback Bra
Natori Women's Feathers Front Close T-Back
This lacy T-back bra has a hook-and-eye fastener and an underwire bra to give extra uplift. The wide and flat lace at the back is an attractive feature, compared with simple strap racerback styles. The fabric is soft and thick enough for good coverage and comfort in wear.
Testers loved the gorgeous, lacy trim on this bra, which they thought was a nice change from minimalist styles. Some reviewers said it runs small. It was voted extremely comfortable and reviewers praised the front fastener for holding large breasts, like 34 DDD in place well. Larger sizes loved finding a pretty bra in their size!
6. Best Padded Racerback Bra for A – C cups
If you need a bra that supports well during workouts, this is recommended for high-impact activities for A – C cups. It's a seamless, pullover, compression bra that gives medium support. It comes with removable pads and is recommended for Pilates, yoga or weight training.
Our testers said the pads did not lose their shape in the wash and you can leave them in for handwashing. Other testers removed the thin pads and washed them separately, as they are easy to put back in. Testers reported good fit, including a 32 B and a 36 DDD. And wearers found it was neither too loose, nor too tight. Good quality, soft and comfortable!
Racerback bras began as sports' bras that allowed you to wear racerback T-shirts and athletic tops without showing bra straps. However, they are now a popular bra style that many women wear regularly for freedom of movement, extra support and comfort!
Do you have racerback bras in your bra wardrobe? Did you find it hard to find the best fit without any guidance? Leave us a comment below, we love to hear from our readers all over the world! The more you share your buying problems with us, the better we can help everyone get the lingerie they need, without a lot of fuss! This post was originally published on herstylecode.com.