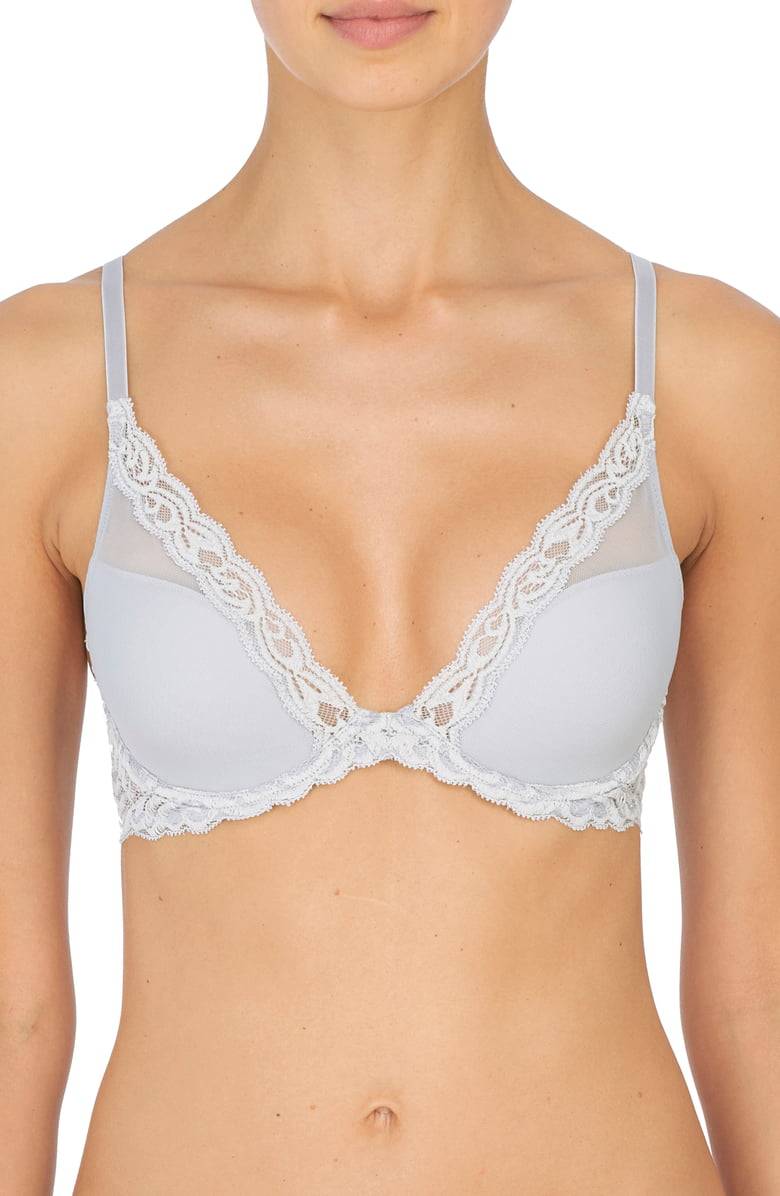 The best underwire bras vary from person to person and a bra that fits you well may be totally useless for another woman. And the trouble with reading online reviews of bras is that you can get completely different opinions for exactly the same garment! Just when you think you've found the perfect bra for you, you read on and see that someone else has said it's uncomfortable, not true to size and they're sending it back!
So HerStyleCode does regular tests of the latest T-shirt bras to ensure our readers get a helping hand in navigating the maze of different bras on offer online and in your local store. We employ teams of real women who try-out a wide range of bras by wearing them for at least two full days. And we think it's the only way to get real feedback on the best bra styles and avoid all the bras that just don't do what they advertise!
Lots of women stick with ill-fitting bras from brands they know, and never dare switch to a modern, new brand. And that can mean you miss out on better-fitting, more supportive new designs. So here are the results of our latest search for the Best Underwired Bras for comfort, support, appearance, neckline, fabric and overall performance!
1. Best Zero-Padding Underwire bra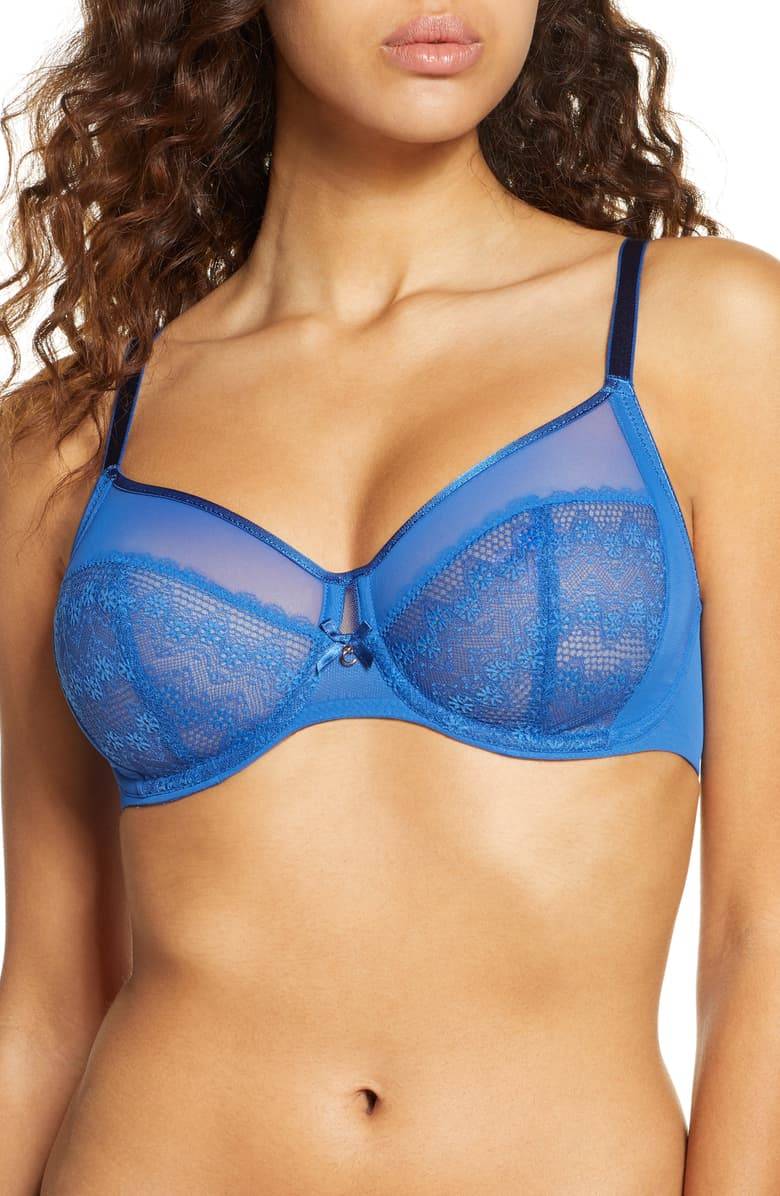 This is a glamorous underwired bra with a very attractive look and a sexy, see-through vibe. It has full coverage cups and unlined, underwired cups with seams that are completely flat and don't show under clothing.
Full cups with an underwire give better shaping for a natural look. And this is a great bra design for large and small breasts. The back is U-shaped allowing you to wear low-back clothes. And double-lined, mesh sides and back ensure comfort around the body.
Our 38G tester said this is the best bra she has ever owned because it fits perfectly and was comfortable all through the day. Another reported that this bra is smooth under clothing, supportive and comfortable.
All testers loved the cute lacy look saying that the bra is lightweight and pretty, whilst holding large breasts in place well. And the larger cup testers were delighted to find a good quality bra in a beautiful style. Revele-moi means, 'Reveal me!' in English, so you'll look and feel daring in this gorgeous style!
2. Best Plus-size Underwire bra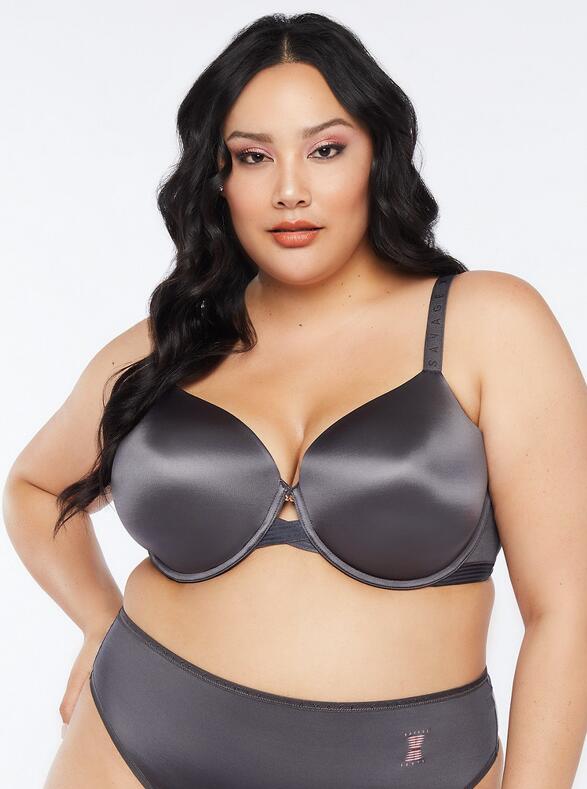 Rihanna's popular lingerie line Savage x Fenty is a modern brand that caters for plus-sizes with very attractive and supportive bras. And as you can see from the lovely, shiny fabric and the cute X charm detail in the center front, this brand offers feminine styles for curvy women.
The molded foam cups are underwired and lightly lined for strong support and comfort. There is a U-shaped back so you can wear low-back clothes. And rose-gold colored hardware adds glamor to a smooth, T-shirt bra.
Our 44D tester loved getting secure support and comfort even though she has an active life. She told us there was no jiggling or spilling out and that she intends to buy this bra.
The band is also reinforced and didn't ride up. You may need to size up one size in the body-band. However, once everyone found the right size, our reviewers loved the thickness of the body-band.
The testers liked the comfortable fabric of the straps and the fact that they are reinforced to support heavier breasts (38DD). And they said that these 'normal width' straps didn't dig into the shoulders. All of our test team liked the high cup coverage that stops movement in the bust.
3. Best Low-necked Underwire bra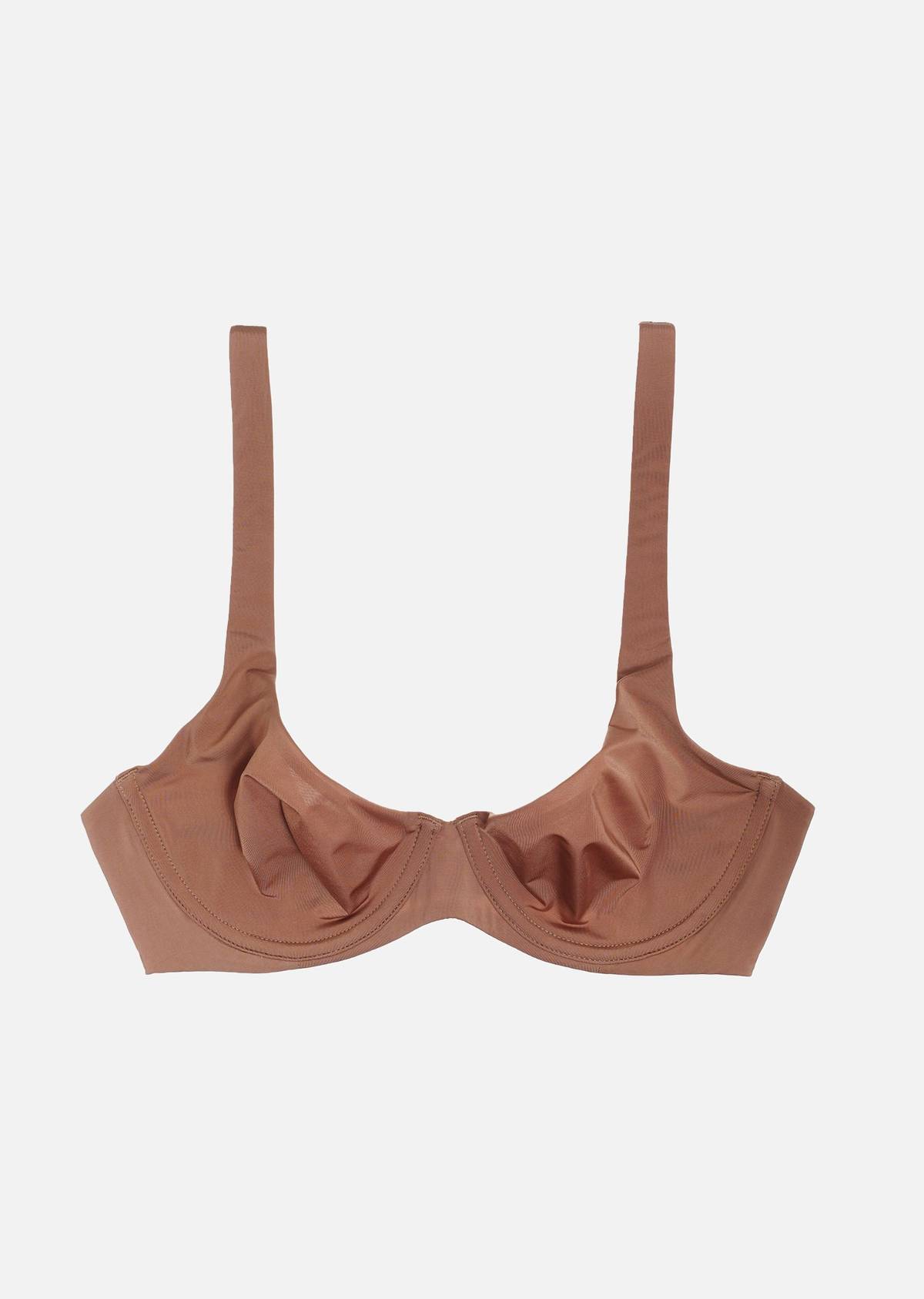 The supportive, Scoop Bra from the new and innovative brand, Cuups, has a curved neckline to wear with low-cut tops at the front and the back. The back is shaped into a 'rounded' ballet-leotard style that looks elegant.
The straps are adjustable and have attractive gold-colored hardware plus a useful triple hook-and-eye fastener at the back, which always gives a better fit. Three line fasteners also mean you're far less likely to see bulges at the sides and back of your bra silhouette.
The fabric is smooth, opaque and extremely soft to the touch and the underwire is lightweight and flexible. Our reviewers all said this is an extremely comfortable bra.
They also said that it fits exceptionally well, after choosing their size from the Cuups website, which is always good to know about a new bra brand. The fabric was very popular for its softness and the fact that you hardly feel you're wearing a bra, even though it offers strong support.
One tester felt the underwire came up a little too high on her body. And testers with a small frame said the straps were a little too wide for them. However, all agreed it's a great bra for those who can't abide padding!
4. Best Overall Underwire bra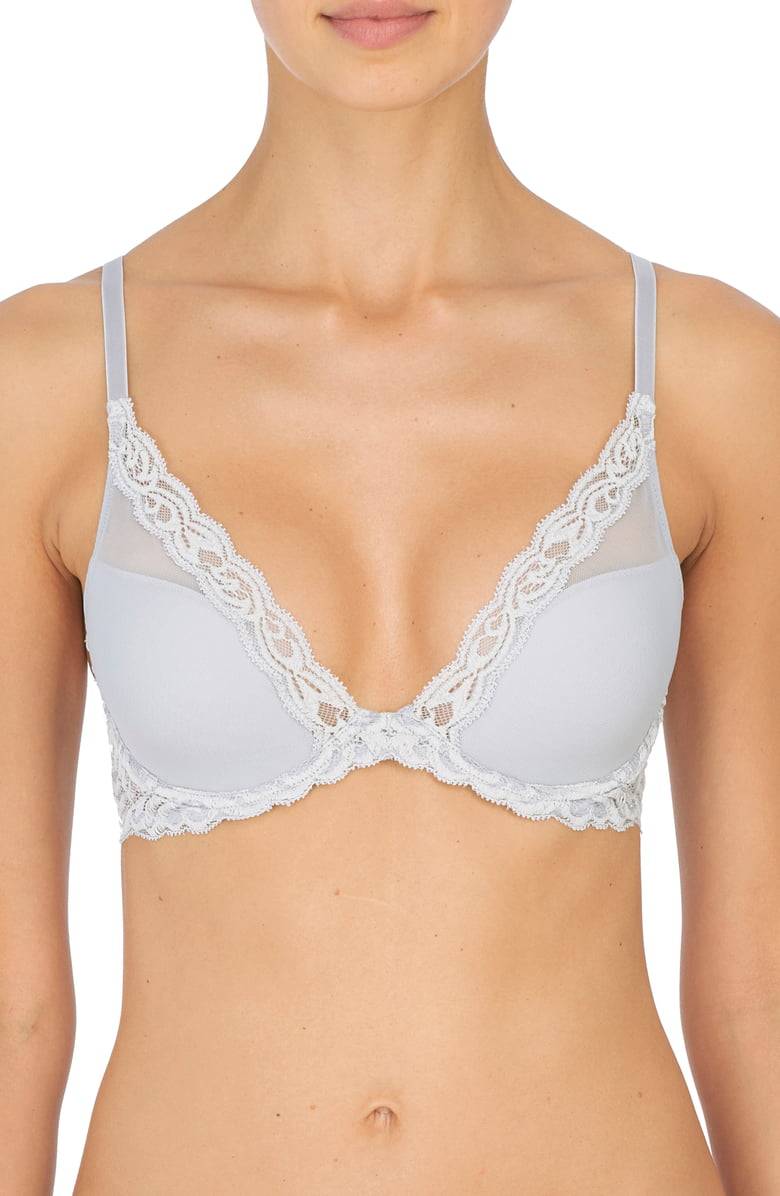 Natori is a global bra brand offering comfortable and supportive T-shirt bras with a romantic vibe. This comes from the elegant and seductive feathery lace design that is a signature look for Natori. The smooth, molded, plunge cups are contoured for better fit and a flattering shape.
The sides are elastic-edged and made of stretch-lace that hugs the body without causing bulges or digging in. Natori is famous for giving superior fit and larger sizes have broader straps for comfort. This bra was a good fit for all sizes in our testing team.
And for small/widely spaced breasts, the reviewers said that there is no gapping at the top of the cup. Testers also said this is a good bra fit for, 'shallow topped but full on the bottom' breasts. The soft lace lies smoothly and there was no skin irritation. No-one experienced the 'four-boobs' spillover effect with this this bra.
One tester who had been wearing 34B and had suffered from gaping cups and bad fit, found she was a 36D in the Natori bra – and she got a perfect fit for the first time in her life! Overall, this was voted the best underwired bra for all sizes, for comfort, support, fit and the lovely, feminine lace!
5. Best Lightweight Underwire Bra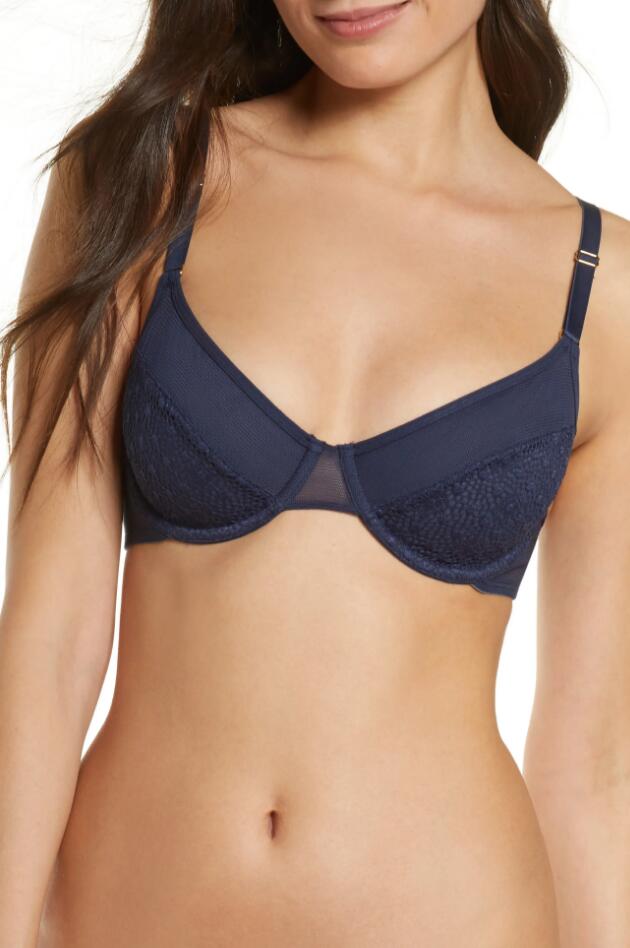 This is a lightweight, unlined bra that gives a natural silhouette and is convertible with an included J-hook to a racer-back style. It is aimed at women who are small to medium size and like to feel as if they aren't wearing a bra.
The ¾ breast cover cups make you feel sexy and the deep V-cut means you can enjoy wearing it with a low-cut top. The strap adjusters are placed at the front, so you can easily adjust them for the perfect length, without pulling a muscle. And this feature alone makes this a better bra for those with limited arm movement.
Rather than being actually crocheted, this bra is made of crochet-look lace, which our reviewers felt looks youthful and attractive. The top section is made of smooth fabric, so no texture from the bottom section shows through clothing.
All testers agreed that this is an extremely comfortable bra, which you can wear through the whole day without any annoying digging in. And it was popular for the front-adjust straps, which our testers really appreciated.
In sizes from 32A up to 38DD, this is a cute, unpadded medium-support bra that reviewers found attractive, comfortable and supportive!
6. Best Elegant Lace Underwire Bra
This is a really classy-looking bra made with lovely contrasting-color lace. The brand is Wacoal, which is a major brand in the U.S., but not so well known in the U.K. and Australia. However, I would like to recommend the Wacoal brand to you for its superior bras and attractive designs.
This is an underwired bra with a ¾ cup that allows you to wear low-necked tops and summer dresses. The lace is smooth and lies flat to the bra, so you won't get the texture showing through clothing. The question is – how supportive is it?
Our review team was delighted to be testing such a pretty bra and they said that this bra is great for wearing on a hot day. It's soft and lightweight and the straps didn't dig in to anyone's skin. Some said it was so comfortable they had forgotten they were wearing it.
And everyone agreed that it gives great lift and support over a range of sizes, including an unusual 32DD. This is a bra to make you look and feel sophisticated, with a natural, but uplifted breast shape!
7. Best Stretch-Mesh Underwire bra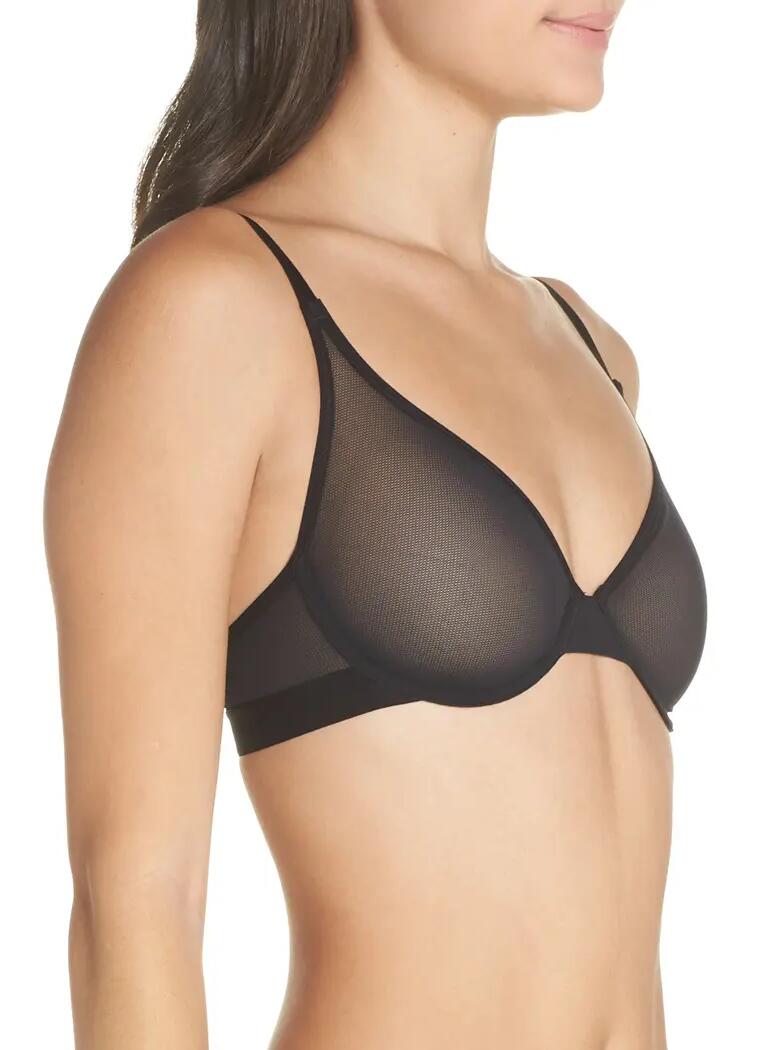 This is a seductive 'demi-bra', which means it only covers half of your breast. It's intended to be worn with low cut clothes and maybe show the top of your bust. It differs from a push-up bra in that a push-up squeezes the breasts together to create a boosted cleavage.
However, a demi-bra isn't specifically designed to create cleavage and its revealing shape creates rounder and perkier looking breasts. Another interesting feature of this bra is the fact that it's made from comfy, stretchy mesh fabric and has seamless, soft, sheer cups.
None of our testers had ever worn a mesh bra before and they commented that they were surprised that an unlined, mesh cup could be as flattering and supportive. With light mesh cups instead of seamed or molded cups, this bra is probably better for round breasts.
But all the testers who wore it said it holds its shape and is incredibly comfortable through the whole day. And the underwires don't cut into the skin. Some testers liked the fact that you can see a bit of the nipple through the mesh, but not through clothes. And they said it was an edgy, sexy look they liked a lot!
8. Best Large Bust Underwire bra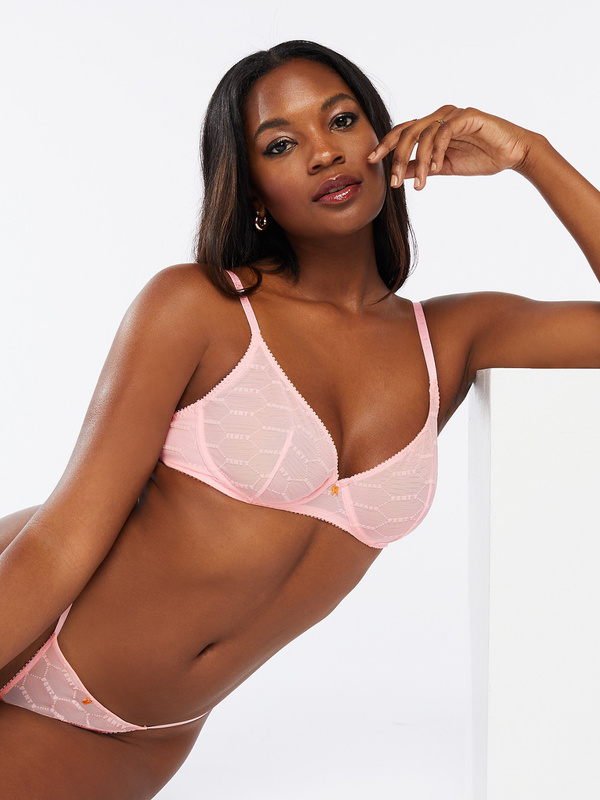 This is a sexy, unlined bra made from a special flocked 'logo' fabric that's decorative without being traditional. The demi-cups cover a half of each breast allowing you to wear this style with low-cut tops and dresses.
The unlined cups have bust-darts to ensure you get a great fit and are suitable for women with large breasts who prefer a completely natural shape. And this bra is available with a matching bodysuit and thong brief to make an attractive lingerie set.
Our testers ranged in size from 34D, 44 DD to 34 – 42 – 46 DDD and they were thrilled with the sexy look of this supportive bra for larger sizes. One of our testers said it was excellent, soft fabric that didn't chafe her normally sensitive nipples and everyone said they got a great fit.
You don't get 'side-boob' problems with this design and the back doesn't roll under back fat. It was voted 'true to size' and even though it's a demi-cup, testers said their breasts never 'fell out' when they bent over.
So maybe it's time you tried out a new bra design from a modern or unfamiliar brand. It may be just what you need to give your figure a sexy makeover and a get a comfortable new relationship with your lingerie!