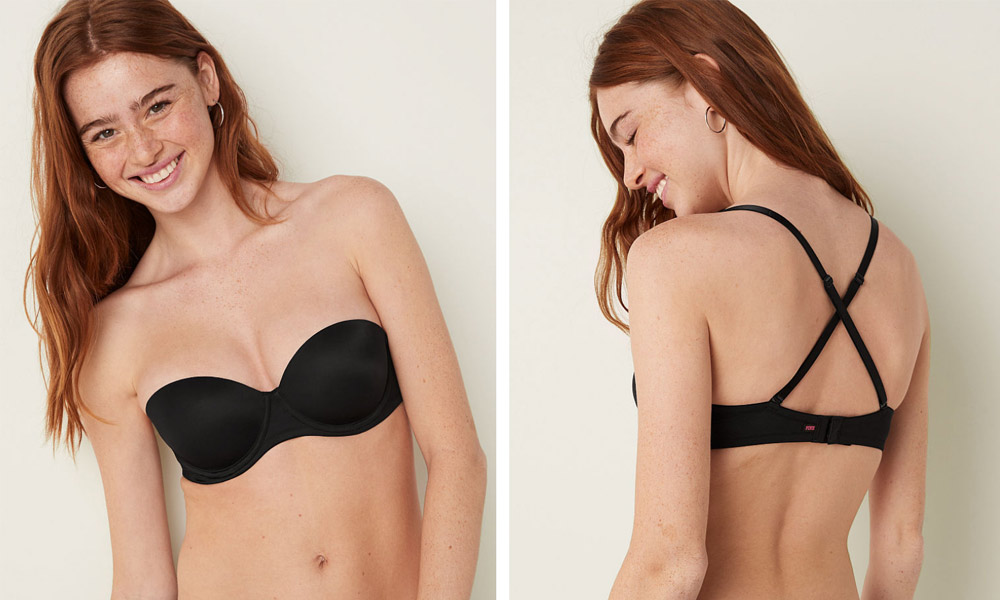 From formal evening gowns and wedding dresses, to cute Bardot tops and one-shoulder dresses, we love to show off a nice pair of shoulders and a cute decolletage! But the problem is how to find a comfy and supportive bra to contain your bust. Strapless bras are a necessity and yet there are so many out there that just don't do a good job! And with so few local specialist bra shops these days, how are you supposed to wade through pages and pages of strapless bras offered online and find the right one for you?( Here is a guide on how to choose the proper strapless bras)
HerStyleCode tests all types of bras to weed out the non-starters, and narrow down your choices to the best for different sizes and shapes. We use different teams of testers, who wear the bras in real time and then report back on all aspects of their performance. Then we publish our guides to help you find the best bra for your body and clothing requirements.(how to determine your bra size at home) So if you'd like to browse the 10 Best Strapless Bras on offer online right now, we've made it easy for you right here!
1. Best Strapless Bra for Lifting – Victoria's Secret – Pink 'Wear Everywhere' Multi-Way Push-Up Bra
Sooner or later we all need some uplift to combat the effects of gravity and a push-up, strapless bra is ideal for this. Unlike the bandeau-style strapless bra, it has a secure underwire to help keep your bust in place. And this, along with a little padding for shaping, makes for a comfortable supportive bra for small to medium breast sizes. It will feel a little tighter around your body than perhaps your everyday bra, but that's because the body-band and underwire need to transfer the weight to your ribs. Silicone bands help keep the bra in place. And this well-designed Victoria's Secret bra gives good coverage and a natural shape. Available in 3 colors and good value as it comes with removable straps, so you can also wear it as an everyday or cross-over back bra.
Available in band sizes 32 – 36 and cup sizes AA – DD
Pros
• Push-up support
• Soft padding for natural shape
• Silicone bands keep it in place
Cons
• Only goes up to size 36
2. Best Strapless Bra for Unique Sizes – ThirdLove – 24/7 Classic Strapless Bra
The Thirdlove Classic strapless bra is part of their 24/7™ range designed to give outstanding fit and long-lasting comfort. And our testers were very impressed by the half-sizes offered by Thirdlove, which enabled a couple of testers to finally get a cup-size that fits – for the first time ever! So if you have problems with too-small/too-big cups in ordinary bras, you owe it to yourself to do the Thirdlove Bra Fit Quiz and see if you need a half-size. This was voted a comfortable, strapless bra that does its job of supporting your bust well, with a smooth contour under clothes. The wide size range shows their confidence in this strapless bra design. And multi-way straps mean you can get lots of every day wear from this attractive, foam cup bra. It comes in four colors.
Available in band sizes 32 – 48 and cup sizes AA – I
Pros
• Free exchanges/returns are for 60 days
• Wide size range, including half cup sizes
• Comfortable and supportive for large sizes
Cons
• More expensive than some other strapless bras
3. Best Strapless Bra for Small Busts – Harper Wilde – The Flex Bra
This strapless bra was especially popular with testers who wear a B-cup. They said it's a good fit, looks smooth and nicely shaped under clothes and supports the bust well. It looks attractive, with the cute cross-over detail at the front. And it is also offered in an A-cup size, which is sometimes hard to source. Apart for the good quality of their bras, Harper-Wilde also stand out from the crowd for their amazing free postage both ways deal. And this is intended to let you order several different sizes to try on at home, and when you find the best fit, it won't cost you a cent to send back the extra bras! It comes in four nude colors. Here are more bras for small busts.
Available in band sizes 32 – 42 and cup sizes A – F
Pros
• A-cup size available
• Popular with B-cup wearers
• Crossover detail
Cons
• Too much padding for larger breast sizes
4. Best Strapless Bra Wacoal – Red Carpet Strapless Bra
This is more expensive than some other strapless bras here, but it scored almost perfect marks in all areas, so it's worth the investment. And this is especially true for larger-busted women, who may have lost hope in finding a strapless bra that can give strong support, and absolutely stay in place all day! Testers in large cup sizes like 34 DDD and 34 F loved this bra and said the cups provide a natural, rounded silhouette. It has extra boning at the sides to give plenty of support, so you don't have to keep heaving it up in an ungainly way every half-hour! It comes in several nude shades. If you need a minimizer bra, check it out here.
Available in band sizes 30 – 44 and cup sizes B – H
Pros
• Doesn't move out of place
• Supportive and comfortable
• Available in a wide size range
Cons
• More expensive than some strapless bras
5. Best Sticky Strapless Bra – Niidor – Adhesive Bra
This clever invention is great for wearing very low-cut, backless and tight-fitting strapless gowns and tops. And this bra brand is the best-seller in this type of stick-on bra. According to our testers, it doesn't suit breasts that are placed far apart or larger cup sizes, such as D – F. However, for up to C sizes the feedback was excellent, with testers saying it stayed in place for an evening and that it can be rinsed in water and used many times, without losing its adhesive properties. It's rated as easy to put on and has an invisible contour under clothing. It comes in beige. You can wear this when you can't wear a bra, and here are more choices.
Available in cup sizes A – F
Pros
• Stays in place well
• Great for strapless/backless clothing
• Smooth contour
Cons
• Not perfect for larger sizes
6. Best Strapless Bra for Large Busts – Freya – Idol Allure Strapless Bra
Freya is a well-respected bra brand, which specializes in designing bras for D-cups and larger. It feels a little tight when you first put on your correct size, but after a couple of wears it eases and becomes comfortable. A close-fitting body band is essential for successfully supporting the bust, as without straps the band transfers the weight onto the ribs. And the close-fit band also kept this bra in place well. Testers felt this was a well-made bra and some users found they got the best comfort and support by sizing down to a one-size smaller cup size. Some testers didn't like the amount of padding in this bra.
Available in band sizes 28 – 38 and cup sizes D – GG (equivalent to US cups D – J)
Pros
Secure support for larger busts
Pretty appearance
Full-coverage
Cons
7. Best Strapless Bra for Plus Sizes – Vanity Fair – Beauty Back Strapless Bra
Designed for women with a full figure, this bra offers 4-way stretch fabric for an overall smoothing look. And all Vanity Fair's Beauty Back bras have a wide band of smooth fabric at the back which stops you getting unsightly bulges. And this point alone, makes Vanity Fair popular with our testers. The silicone strips on the top and bottom of the bra help keep it in place well. And our testers said the full-cover bras provided good support and comfort, without adding too much unwanted padding. Convertible so you can wear it as a strapless, traditional, halter or criss-cross bra.
Available in band sizes 34 – 44 and cup sizes B – DD
Pros
Smoothing panels get rid of bulges
Stays in place
Full cover and full support
Cons
Not available in cup sizes larger than DD
8. Best Value Strapless Bra -Delimira – Underwire Contour Strapless Bra
Quality strapless bras can be pricey, especially styles for larger busts and full figures. However, if you like quality, but struggle to fit costly bras into your budget, take a closer look at this Delimira strapless bra. It's designed for regular to larger breast sizes, including women with a fuller figure and is a very affordable bra. Best of all, it was very popular with our testers who gave it especially high ratings for support, accurate sizing and overall fit and comfort. Lots of women love this bra for giving them the fit they've always wanted, but never found before!
Available in band sizes 32 – 46 and cup sizes B – G
Pros
Affordable
Supportive and comfortable fit
Highly recommended by real women
Cons
Doesn't fit all breast shapes
9. Best Wireless Strapless Bra – Wacoal – Staying Power Wire-Free Strapless Bra
This Wacoal Staying Power Wire-free bra was highly praised for its ability to stay on place really well, which is unusual for wireless bras. However, it uses built-in boning that gives you a good shape and an elegant look, with no need to keep hoisting it up! The foam cups give good cover and a wide, smoothing body-band adds to the strong support needed for larger cup sizes. However, it didn't perform perfectly for a tester with a 40 DD bosom, who said it squashed her bust and was unflattering. So although this has some excellent reviews to recommend it, it's probably not the best for larger sizes. It comes with convertible straps to wear as four other styles!
Pros
No underwire
Good built-in boning
Good support
Cons
10. Best Bandeau Bra – Cosabella – 'Never Say Never' Flirtie Bandeau Bra
Bandeau bras are often quite cheap and unfortunately, they may use scratchy, low-cost lace on them, too. But this lovely bandeau bra looks elegant and attractive, with special, soft lace that won't scratch your skin! You can wear this bandeau under a half-open shirt, for a trendy, layered look that definitely is 'flirty'! Our testers said that this was a good fitting bandeau and very, very comfortable. It has silicone strips and side-boning for extra support and structure, which is unusual in bandeau bras, so this one is definitely a 'cut above' the normal bandeau bra.
Available in sizes Petite – L
Pros
Pretty soft-lace details
Wire-free comfort
Silicone strips help it stay in place
Cons
Low support and shaping ability
So whatever party or special event you're invited to this year, why not push the boat out and get yourself a swanky, strapless gown or top! You're sure to look and feel fantastic in one of the 10 Best Strapless Bras that Actually Stay in Place! Subscribe to get more latest shopping guides on herstylecode.com!