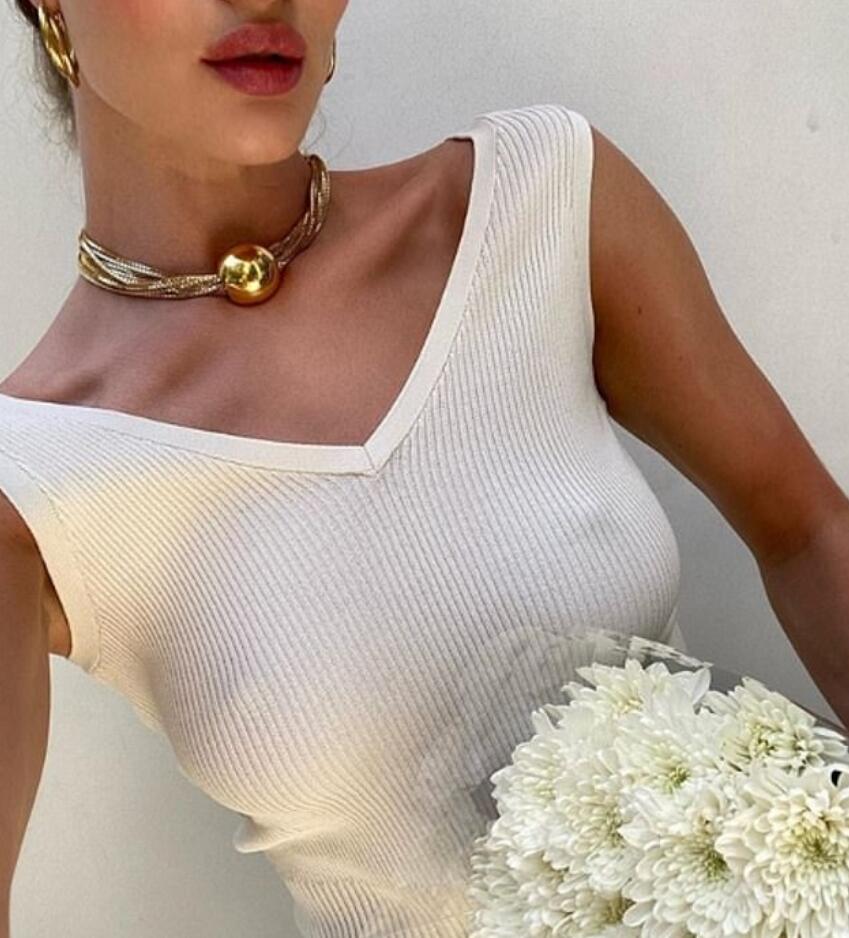 Anyone with boobs will understand the frustration of an outfit that doesn't compliment your favorite bra. There are many occasions when tops and dresses simply don't make sense with a bra. Low cut necklines, scooping sides of leotards, bandeaus or spaghetti strap summer dresses are all examples of clothing that if worn with a typical bra, could potentially ruin the entire look.
Bras can be beautiful, but there are times where they contrast an outfit, which is the last thing you need after carefully picking out a cool collection of clothes.
If you're used to wearing a bra every day, it can feel very intimidating to go without it. Yet this is not what fashion is about. Women should feel confident and comfortable in any outfit, with any accessories they choose. Fashion is how we express ourselves, let's not let the question of wearing bras get in the way of you showcasing your new favorite looks.
Here are some solutions and ideas for what to do when your normal bra won't look right with an outfit. Hopefully these inspire you to feel confidence. No matter what, women should never feel ashamed of their boo-bs and whatever you use to support or cover them is a completely personal choice. Don't let anyone else tell you otherwise!
Go braless
This is not for everyone as it totally depends on the outfit, your shape and size and whether you need a bit of extra support. Usually women with smaller boo-bs find going braless a little easier than women with larger boo-bs (best Minimizer bras ), but if with the right top, going braless can actually look fantastic on pretty much anyone!
Tops and dresses with thicker material actually provide a decent level of boo-b support and protection, so before heading to the shops to buy any other bra replacements, try the outfit braless and see if it could work.
Going braless is a good confidence exercise too. If its unfamiliar to you, it might be good to push this boundary. Just because it's now a social norm to wear a bra doesn't make it natural. Going braless is far more so in fact! After all, it is our right to choose whatever we feel comfortable wearing, so if you usually wear a bra but are interested in wearing it less, try going braless some time and see how it makes you feel (Strapless bras).
N-ipple stickers/breast petals
Leotards, transparent materials, bandeaus and items with scooping necklines or backs all reveal bra straps, backs and maybe even might involve a 'nip slip' if worn with no bra. N-ipple stickers provide extra security that your outfit is going to stay intact and looking great even after a couple of drinks and a boogie.
N-ipple stickers are usually made with silicone and have an adhesive quality, so they stick to your skin and protect your n-ipple from being on show and also hide any cold pointiness that may occur. They're an added layer of protection which allows you to feel more confident and secure, instead of consciously checking if your n-ipples are hard or poking out of your outfit. They are usually skin coloured to blend in with your body and they provide piece of mind to the wearer. Just remember to carefully take them off and don't rip them quickly. Depending on their stickiness, this could hurt!
(Check out the best N-ipple stickers on Amazon)
The way a bralette or bandeau would look would vary completely on the outfit, but the idea here is to wear something a little more like a mini top than a bra. Bandeaus are strips of supportive material that wrap all the way around the body like a crop top and bralettes are pretty and casual bras that aren't usually underwired. Bralettes can look more like bikini tops or casual sports crop tops rather than a traditional underwired bra, so they're more acceptable and aesthetic if seen underneath or through clothing.
Essentially these items of clothing can look more like little tops than bras, so they wouldn't create that uncomfortable 'I can see your bra' moment!
Sew bra cups into your top or dress
If you're worried about people being able to see your n-ipple or want to alter the appearance of your boo-bs, you could always achieve the padded bra effect by instead sewing the padding into the top.
You could do this yourself with any material, spare cups from a bikini you have or even ordering some cups online. It shouldn't be too difficult to find the materials to make your own cups and sewing them in can be simple and involve no damage to the garment.
Having cups in your top or dress will give a little more security and compliment the shape of your boo-bs. You won't feel on show, instead you'll feel protected. It's an excellent way of recreating the layer of a padded bra in an outfit that isn't compatible with one. You just need to put in a little more work.
It's difficult to be a woman, to see amazing clothes that you'd love to wear, but feeling too afraid to switch away from your trusty bra. Luckily, there are many options like n-ipple stickers, bandeaus or simply going braless, which will allow you to wear any clothes you like, no matter how low cut or daring. Feel confident and sexy in every outfit, and be proud of your boo-bs no matter the shape or size!