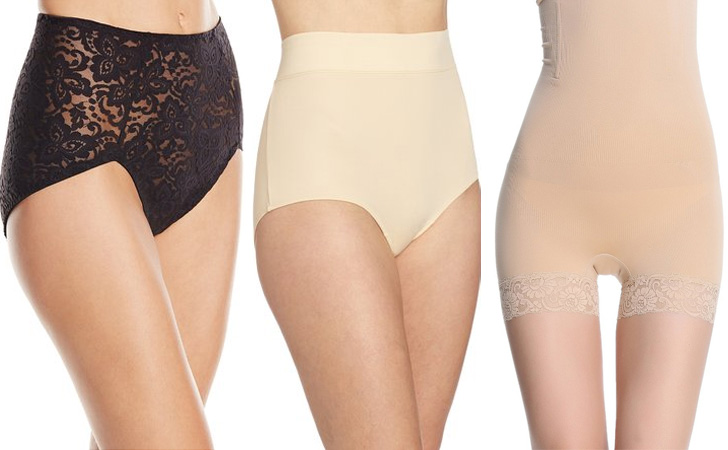 For women who need a little extra support and coverage to keep their curves in check, control panties can be a transformative wardrobe addition. Control panties are designed to comfortably keep your tummy and hips in check in order to create the illusion of a slimmer waist and a flatter stomach with a smooth, firm finish.
If you feel self-conscious about how your curves look in certain outfits, control panties can help raise your confidence and make you feel and look great no matter what you're wearing. Read on these control panties reviews to learn about the top ten best control panties currently available.
10. 

Bali Women's Shapewear Shaping Brief Ultra Control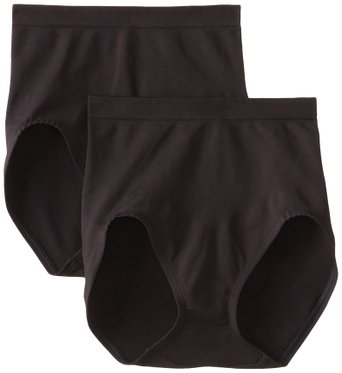 This two-pack of control panties from Bali are crafted from eighty percent nylon and twenty percent spandex to create a flawless blend of stretchy and firm material. The fabric of the panties stretches in all direction to ensure maximum comfort during wear.
These panties are invisible under even tight clothing and can be worn everyday like regular underwear briefs. They are full-coverage panties that cover the maximum amount of skin to comfortably smooth and shape your butt, hips, and your tummy at the same time.
9. 

Bali Women's Shapewear Lace 'N Smooth Brief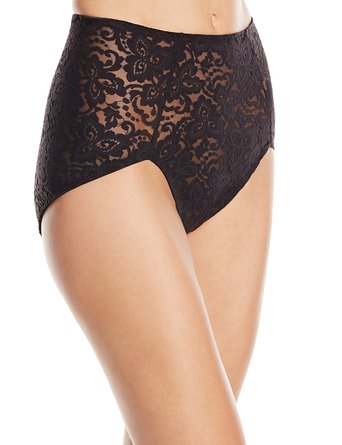 Who says that control panties can't be sexy? There is no reason that you can't smooth and shape your curves while looking sexy in lacy lingerie.
These control panties from Bali are created from a blend of nylon, spandex, and lace. The lace detailing on the panties helps increase breathability of the panties while also adding a sexy finish to the underwear. The panties cover the entirety of your butt and the lower half of your stomach to smooth and shape as much skin as possible.
8. 

SPANX Undie-Tectable Lace Hi-Hipster Panty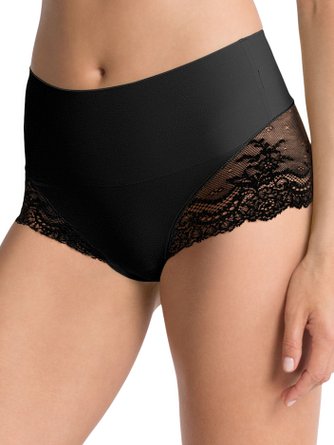 These hipster control panties from SPANX are designed to sit invisibly underneath dresses or jeans. Their edges are free of any elastic that can cause tell-tale lines under certain clothing to ensure invisibility under even the tightest of outfits.
The panties are crafted from a blend of nylon and spandex but have a cotton gusset in order to improve the breathability of the garment in the sensitive areas where it counts. These panties include lace detailing down the sides to increase the sexiness of the smoothing and firming underwear.
7. 

Warner's Women's No Pinching. No Problems. Modern Brief Panty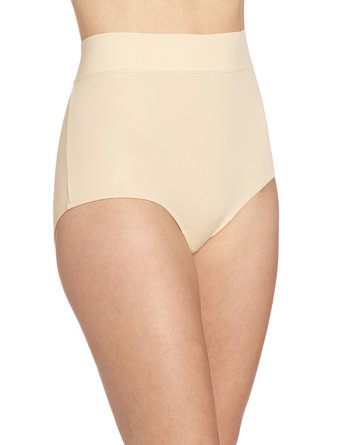 These panties from Warner's are designed not to pinch or rub against your skin to decrease the risk of irritation and dents in your skin after wear. The panties are crafted from a silky microfiber material that is breathable and comfortable, but is sturdy enough to smooth and shape your curves.
The panties feature a wide elastic waistband for extra shaping and added comfort. They offer full-seat coverage to shape your butt and sit above your belly button to smooth and firm the entirety of you stomach.
6. 

Angelina All-Around Lace Light-Control Full-Coverage Briefs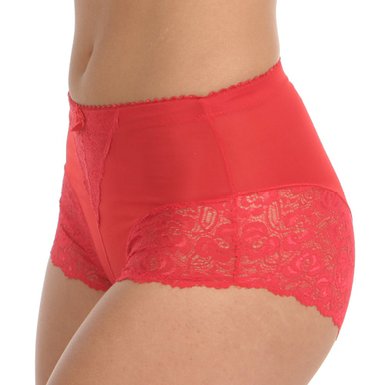 These panties are made from ninety percent polyester and ten percent spandex to ensure firm, stretchy comfort. They are lined with cotton to improve breathability and prevent infection.
The Angelina panties offer very light coverage that smooths the curves on your butt and tummy without digging into your skin or feeling uncomfortable or visible under clothing. The panties are available in multiple bright colors and feature cute and sexy lace detailing around the bottom edges and waistband.
5. Barbra Lingerie 

Women's High Waist Full Coverage Brief Plus Size Underwear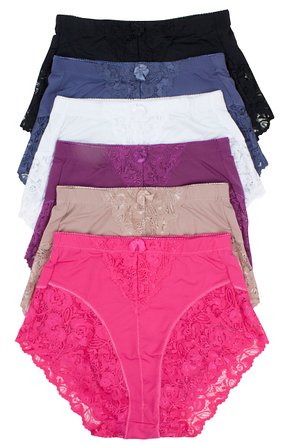 This six-pack of control panties from Barbra Lingerie is designed specifically for comfortable use by plus-sized women. It includes a variety of panties in different styles to ensure that you have the perfect panties to wear depending on your outfit and coverage needs.
The six-pack includes a high-waist briefs that provide full coverage for your tummy and butt, full-coverage girlies that feature floral lace and light tummy control, cool feel briefs that offer a comfortable brief design with full coverage, and lace decorated girlies that include tummy control, full coverage, and floral lace.
4. Shymay Women's Lace Bodyshaper Corset Body Briefer Bodysuit Slimming Shapewear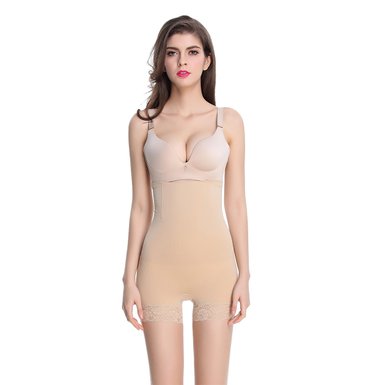 High waist Control Panties for women: These panties from Shymay offer full, complete coverage from your mid-thigh up to the base of your breasts. They are perfect to wear underneath a tight dress that requires smoothing, firming, shaping coverage on your tummy, butt, legs, hips, and back.
The panties are made from a blend of polyester and spandex. They feature lace detailing around the bottom edges. The panties are invisible under even the tightest dresses and skirts and are very breathable to ensure maximum comfort at all times.
3. 

Hanes Shapewear Women's Light Control Cotton Shaping Briefs (10 colors)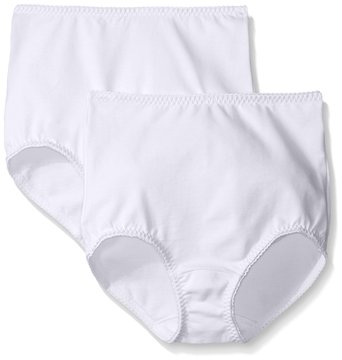 This two-pack of shaping control pantie briefs from Hanes is the perfect control pantie choice for women who have sensitive skin that is prone to irritation or infection. The body of the panties is crafted from ninety-three percent cotton with some spandex blended in to help the panties firm and stretch. The lining of the panties is made from one hundred percent cotton to ensure maximum breathability and prevent even the slightest irritation of your sensitive skin.
The panties offer light full coverage control all over from your hips to your tummy. The blend of spandex and cotton allows the panties to smooth and shape while stretching with you while you move to ensure comfort.
2. SPANX Shapewear for Women, High-Waisted Tummy Control Higher Power Panties

Review of Control Panties: These control panties from SPANX offer full-coverage, smoothing and shaping control for your tummy and hips. However, they also feature a thong design that is rare for control panties to ensure the comfort and invisibility of the panties under short skirts, tight dresses, or shorts.
The panties have a high-waisted design that offers full coverage to shape your tummy. They are made from a blend of nylon and spandex and offer moderate control that firms and shapes without smothering your skin. The panties are seamless to prevent tell-tale underwear lines no matter what you wear over. They add dimension to your hips while shaping and smoothing the curves on your butt, tummy, and waist.
1. Daoxiang Shapewear for Women Hi-Waist Tummy Control Slimming Panties Black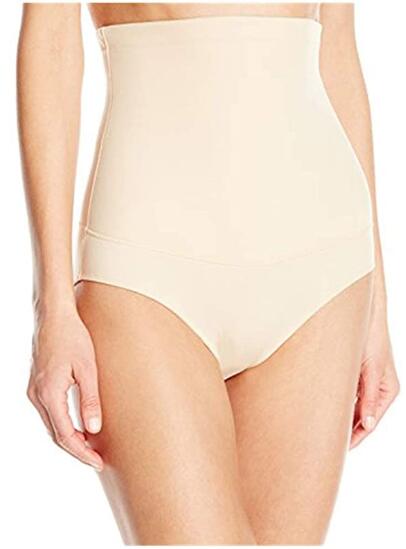 Great shapewear for women: These control panties from Daoxiang both slim, shape, and firm your tummy and hips while also providing smooth padding to your butt to enhance its shape and size. The panties feature removable pads that can be inserted into the backside of the panties to provide you with an enhanced, lifted, and shaped butt whenever you want it. These panties shape and firm your butt while providing it with extra shape and curves.
The panties are made from a blend of stretchy, firm nylon and spandex. They offer lightweight tummy control that shapes, slims, and smooths your tummy without smothering your skin. These seamless panties allow you to look slim, firmed, and shapely no matter what you wear.
If you want something to help firm up your tummy and make you look slimmer, firmer, and more shapely in even the tightest or most revealing clothing, look no further than this list. All of the products included within this post are some of the best control panties on the current intimates market and are sure to solve your tummy-pooching problems instantly and effortlessly.
BTW, do you need Corsets? Check out the Top Rated 10 Best Corsets for Women here.