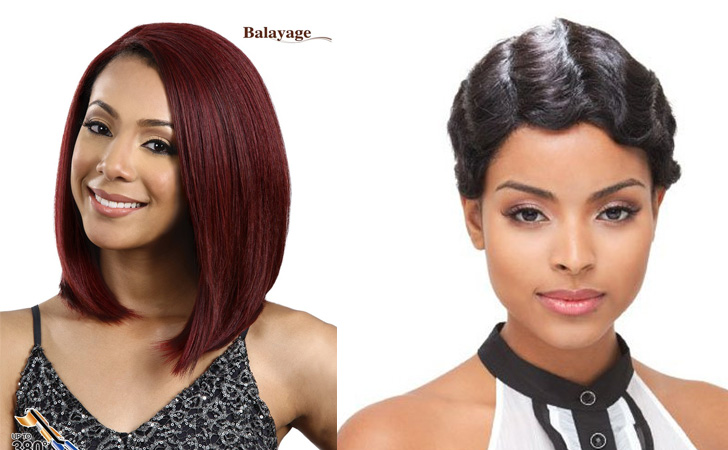 Short hair can be a fun style to try, but actually cutting all of your hair off is a very permanent, drastic choice that many women are too afraid to make. If you want to see what you'd look like with short hair but don't want to get your locks cut, try out a short wig. Short wigs help you achieve the look of short hair without requiring you to take a trip to your hair dresser.
If you're interested in trying out a short hairstyle, keep reading the following short wigs reviews to learn more about the best selling short wigs .
10. Sensationnel Empress "L" Part Lace Front Edge Wig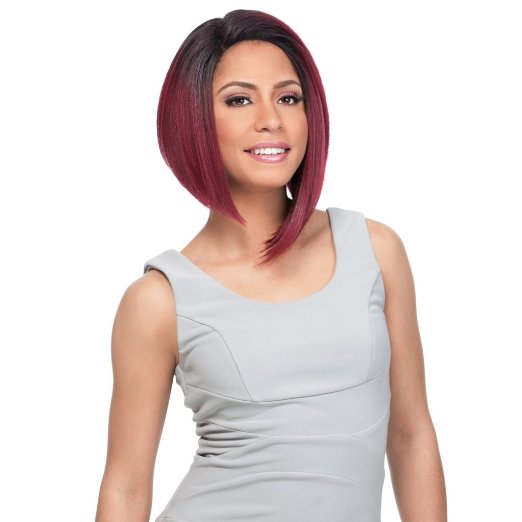 Designed in the style of celebrity trend-setter and popular pop star Rihanna, this short bob wig combines black roots with dark red ends for a unique ombré look. It is crafted from synthetic fiber hair that looks and feels soft, glossy, and real.
This wig is resistant to heat and will not be damaged by heated styling products. You can use your curling iron or flat iron to style it at temperatures of up to four hundred degrees Fahrenheit without melting it or reducing its original quality. And here are more bob haircuts for you to choose from.
9. Beauty Secret Black to Gray Ombré Bob Style Wig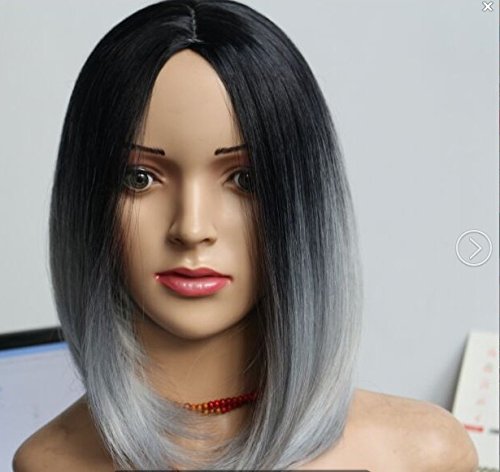 If you're looking for a fun short wig, this black and gray ombré bob wig is a great choice. It incorporates the current trendy hairstyle trends of both ombré and gray color flawlessly within one wig.
The wig is hand-crafted by professional workers in the silk industry out of durable synthetic fibers. It feels and looks incredibly real and retains the healthy, glossy shine of natural human hair despite its construction from synthetic fibers.
8. Sensationnel Bump Human Hair Urban Pixie Wig – African American Wigs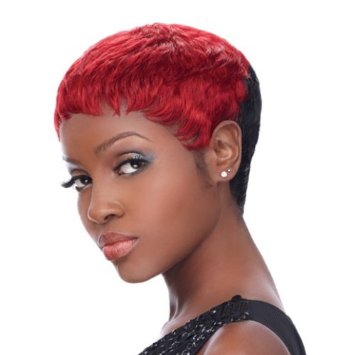 This red and black pixie wig from Sensationnel provides you with a super short hair cut effortlessly. It is a pre-styled wig that comes perfectly styled in order to save you time and allow you to attach it to your head without worrying about styling it.
The wig is crafted from real, one hundred percent human hair. Because it is made from actual human hair, it looks and feels much more natural than wigs made from synthetic fibers ever can. This wig is also designed with a bump style to add natural-looking volume and texture to your hairstyle.
7. Kamo Short Straight Bob Sexy Stylish Heat Resistant Synthetic Hair Creamy White Blonde Wig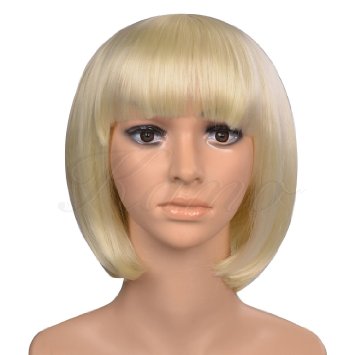 A bleach blonde bob is a pretty daring style that most women aren't comfortable getting permanently. However, it can be a fun style to try out temporarily with a wig like this one pictured above from Kamo. The wig is designed for costume parties and special events as well as everyday use.
Crafted from heat-resistant synthetic fibers, this blonde bob wig looks and feels natural, smooth, soft, and shiny. Plus, because it is durable and resistant to heat, you can style it with a flat iron or curling rod to customize it to your unique preferences.
6. OneDor 10″ Short Straight Flapper Bob Heat Friendly Cosplay Party Costume Hair Wig
Transform into a gorgeous redhead instantly with this dark red wig in a fashionable, short bob style. The wig is made out of one hundred percent synthetic fibers that look and feel real. The fibers are also fully resistant to heat, so you can style your new wig to look exactly how you want using heated styling tools at high temperatures.
The wig is designed to fit any head, no matter its shape or size. It comes with an attached mesh head cap that automatically centers itself on your head for a natural look. This wig is specifically crafted to fit securely on your head without feeling too tight for comfortable, all-day wear.
5.
This adorable short wig can immediately transform you into a beautiful fairytale princess with its pixie-cut style. Made from synthetic fibers of the highest quality, the wig looks and feels completely soft and natural.
This wig includes combs on both the top and bottom to provide a secure fit for your head and prevent the wig from slipping off or sliding out of place while you wear it. It also features a hidden adjustable strap that allows you to tighten or loosen the wig cap to fit it to the unique specifications of the size and shape of your head.
4. Janet Collection Human Hair Wig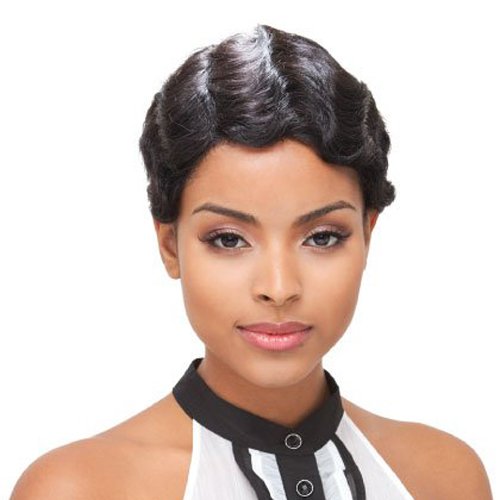 There's no way to look more natural than by wearing a wig crafted from one hundred percent human hair. Synthetic fiber wigs have come a long way in terms of their natural appearance, but nothing can beat real human hair.
This wig from Janet Collections consists of one hundred percent premium human hair that looks and feels soft, healthy, glossy, and incredibly realistic. No one will be able to tell you're wearing a wig at all. The wig is designed in a short, finger roll wave that is pre-styled and looks effortlessly trendy and fashionable at all times.
3. eNilecor Women Short Bob Fluffy Hair Full Wig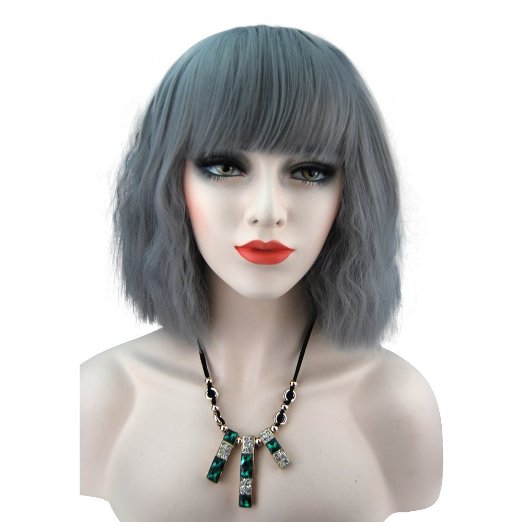 Get in on the top trend in hair color now without having to actually dye your hair. This whimsical, fashionable gray wig has a fluffy, voluminous bob style with straight, defined bangs that flawlessly frame your face.
The wig is crafted from one hundred percent top-quality synthetic fibers that are resistant to tangles and snags in order to allow your wig to maintain its original quality for as long as possible. It is also a heat-friendly wig; you can use heated styling tools that heat up to temperatures of two hundred fifty to three hundred Fahrenheit directly on its fibers without damaging them.
2. BobbiBoss Copper Lace Front Wig
This short wig has a smooth, bob style with a lustrous finish. It is made from synthetic fibers that look natural and glossy like real, healthy hair. Plus, the wig is resistant to heat, so you can use your favorite blow dryer, flat iron, or curling iron on it in order to customize it to your preferences without worrying about damaging it.
You don't need to mess with pins or tape to fit this wig securely onto your head. It comes with built-in inner combs that hold the wig exactly in place on your head without sliding or slipping off or feeling too tight for a perfect fit.
1. eNilecor Straight Short Hair Bob 14″ Wig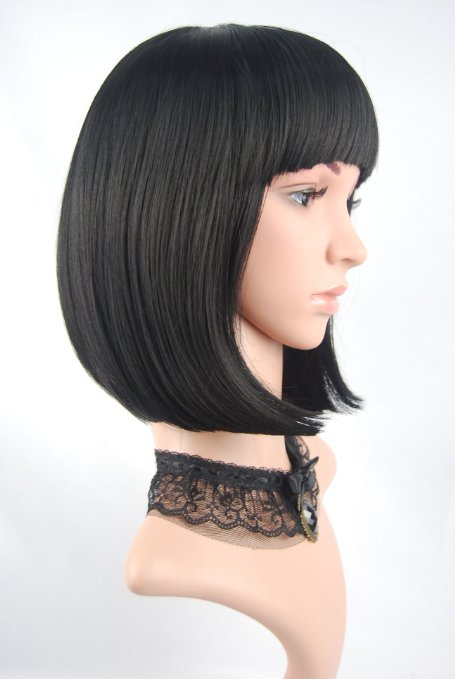 Durable and long-lasting, this straight bob-style wig from eNilecor is a high-temperature synthetic fiber wig. It is extremely breathable and adjustable without pins or tape in order to fit the unique size and shape of your head perfectly.
The wig is fully heat-friendly. You can use its straight base style to customize it how you want with curls and more. If you want to switch up the look of the wig with different styles, you can easily restore it to its original style by washing it with mild shampoo in a bath of cold water.
Short wigs that are crafted from high-quality materials and look natural can be hard to find. If you want to achieve temporary short hair, use the list in this post to discover some of the best short wigs available and find one that matches your style preferences.